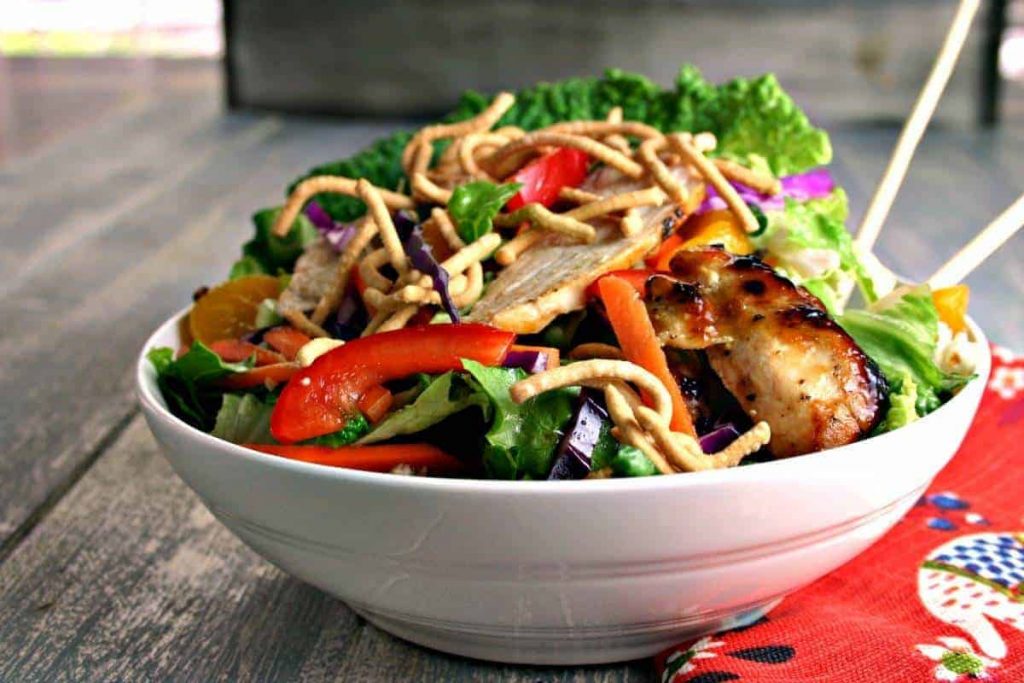 Lots of color and crunch combine to create a beautiful and delicious, not to mention healthy, version of Asian Chicken Salad that you can make at home. Get creative with your ingredients and mix and match for your own tastes. My salad includes savoy cabbage — I love those curly leaves — for the oriental flair and a mixture of red cabbage and romaine lettuce as the base. Already there's plenty of crunch going on in this salad! You could substitute napa cabbage or use a combination of just two of the "greens".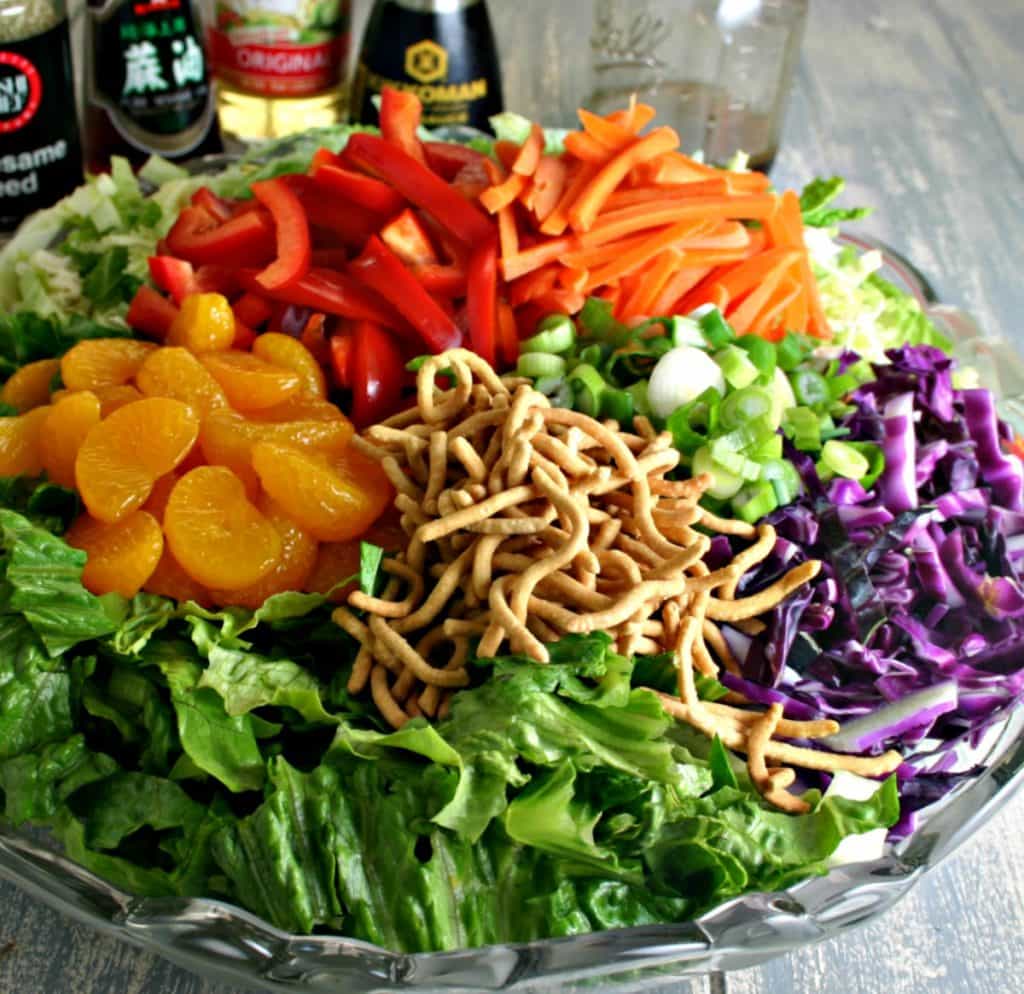 Add in a few matchstick carrots, red bell pepper, green onions, and mandarin oranges and you've got a literal rainbow going on in this bowl! Isn't that beautiful? Other possible ingredients could be snow peas, edamame, or bean sprouts. Let your imagination run wild with this dish!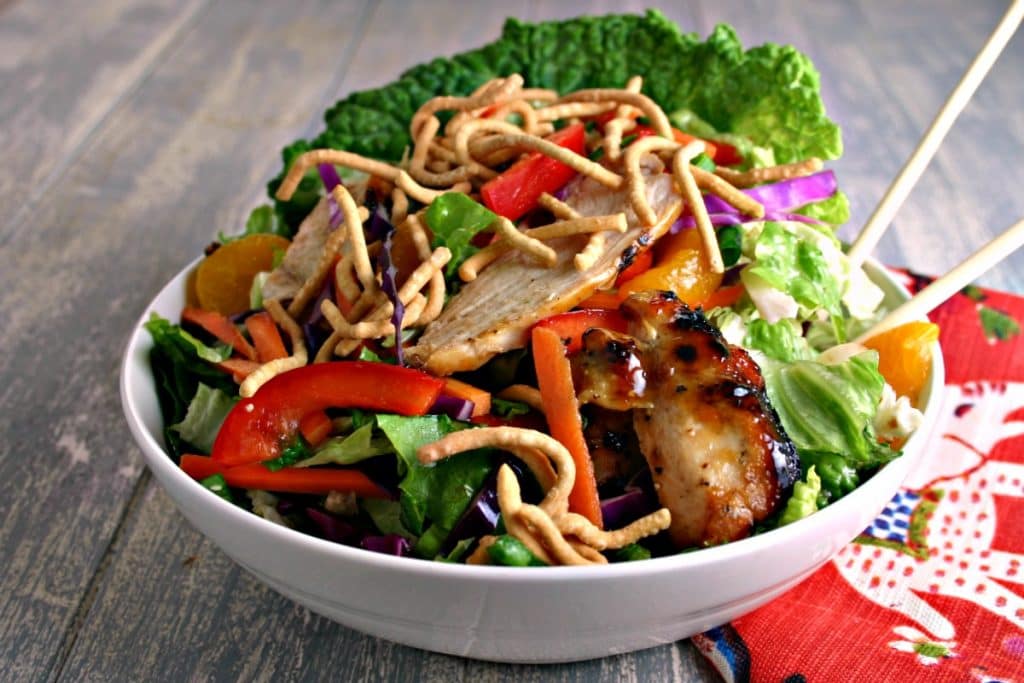 The sesame vinaigrette recipe comes from the Damn Delicious blog and is a healthier version than most restaurant versions. Lately, I've decided that rice vinegar and sesame oil should definitely become pantry stables!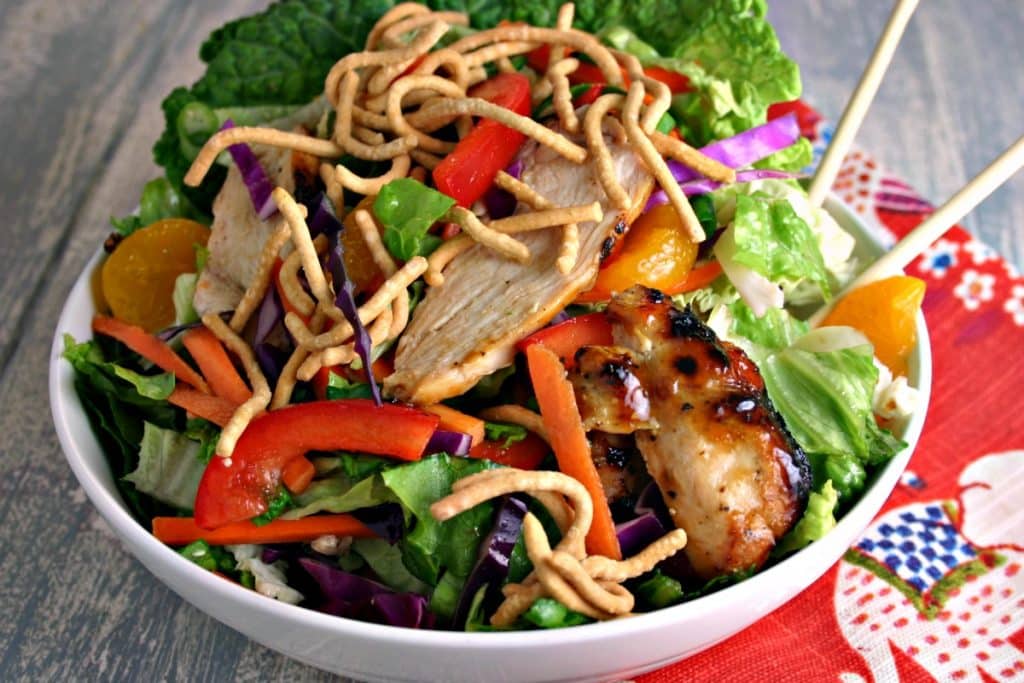 Another recent pantry find was a new Kroger private label simmer sauce, Spicy Orange, that I thought paired well with this salad. Instead of using it to simmer the chicken, I used it as a basting sauce on the grill.  It was the perfect compliment for this main dish salad!
You might not know that by day I manage the day-to-day operations at Info-graphics, a technical design firm – projects, budgets, schedules, etc. – but after 5 o'clock, my foodie-self is busy cooking and capturing my kitchen adventures here on my blog. I've just been issued my first "press pass", so I'm headed to check out the World Culinary Showcase at the National Restaurant Show in Chicago this weekend. I'm looking forward to being inspired and am extremely excited about reviewing new kitchen products in between sampling food and drink prepared by some of the best in the industry, and I can't wait to tell you all about it when I return!
Yields 4 servings
Asian Chicken Salad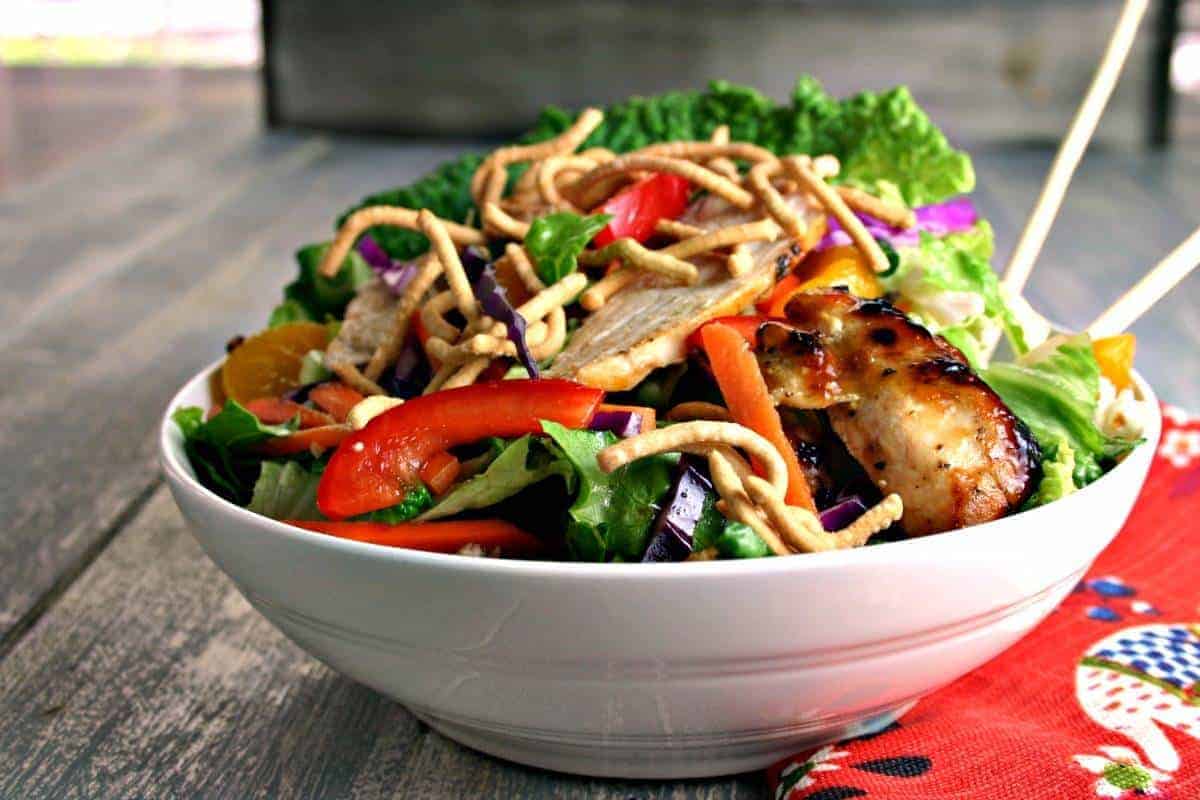 Ingredients
Chicken

3 boneless chicken breasts
1/2 cup Spicy Orange Asian Inspired Simmer Sauce (Private Selections-Kroger)
1 tablespoon olive oil
salt & pepper, to taste

Salad

1/2 small red cabbage, shredded
1/2 savoy cabbage, shredded
1/2 bunch romaine lettuce, chopped
1 red bell pepper, julienned
1 cup matchstick carrots
2 green onions, sliced
1 small can mandarin oranges, drained
1 small can chow mein noodles

Vinaigrette

1/4 cup plus 2 tablespoons rice wine vinegar
1 clove garlic, pressed
1 tablespoon sesame oil
1 tablespoon sugar
1 teaspoon freshly grated ginger
1 teaspoon soy sauce
Instructions
Chicken

Preheat grill to medium high heat. Brush olive oil on all sides of chicken and season with salt and pepper.
Grill over medium high heat, turning frequently, until juices run clear.
Baste chicken with the Asian sauce and grill another 3-4 minutes, until the chicken has a little char. Remove from grill and let it rest for 5-10 minutes before slicing into salad bite size pieces.

Vinaigrette

Combine all ingredients in a jar with a tight fitting lid. Shake or whisk to until well combined.

Salad

Toss all salad ingredients, except for the chow mien noodles, in a large bowl. Add grilled chicken and the vinaigrette and toss until evenly coated. Top with chow mien noodles and serve immediately.
Notes
Vinaigrette recipe by Damn Delicious
7.6.2
293
http://lifeloveandgoodfood.com/asian-chicken-salad/