Classic Quiche Lorraine, a savory egg custard baked in a pie crust with crisp-fried bacon, scallions, and Swiss cheese.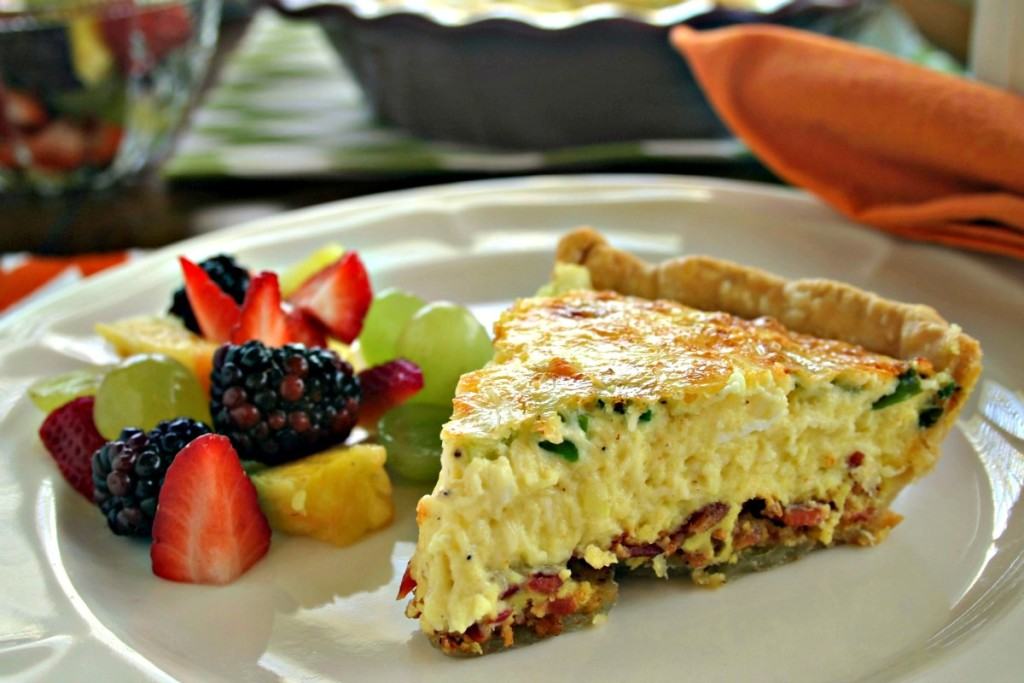 Over 50 years ago, the legendary Julia Child introduced French cuisine to American housewives with her cooking series, The French Chef, on PBS. Since then, many of the dishes she introduced have become fairly commonplace. Even so, there's nothing ordinary about Classic Quiche Lorraine.
This savory quiche is created by layering crisp-fried bacon, scallions, and Swiss cheese inside a pie crust and then filling with a creamy egg custard. Julia's original recipe was baked inside a homemade pastry crust, but there's no shame in taking a shortcut by using a refrigerated pie dough AND it saves considerable prep time!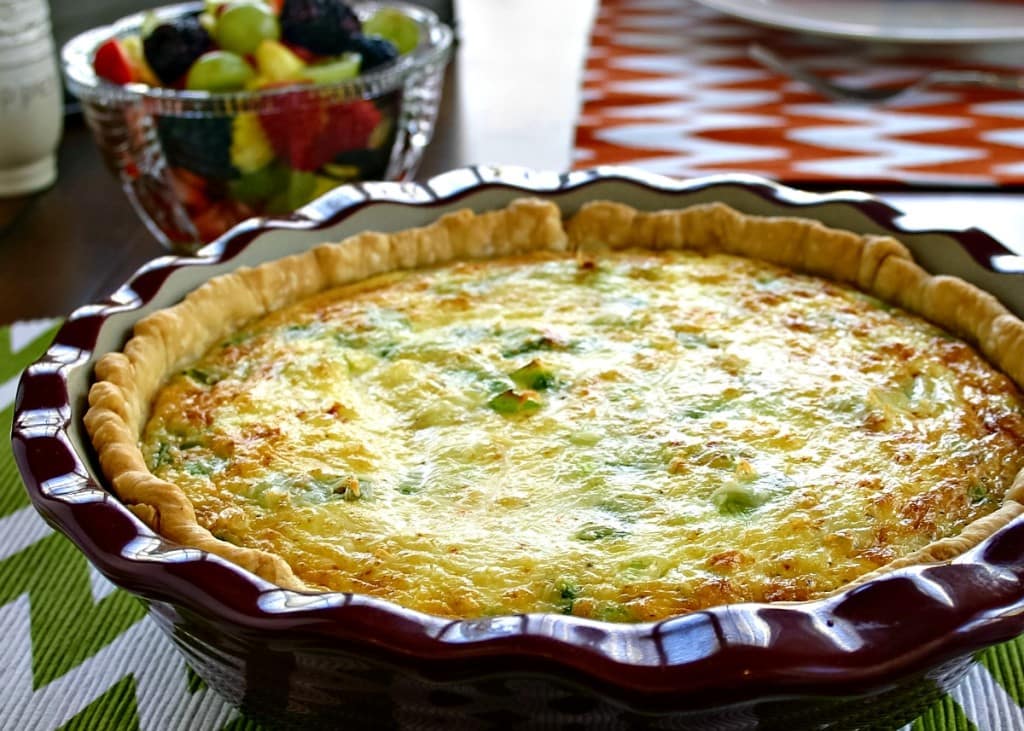 If you prefer to make a homemade crust, this one is my favorite, but be sure to bake it for a few minutes before filling with the quiche ingredients (this step is not necessary if you use a refrigerated crust).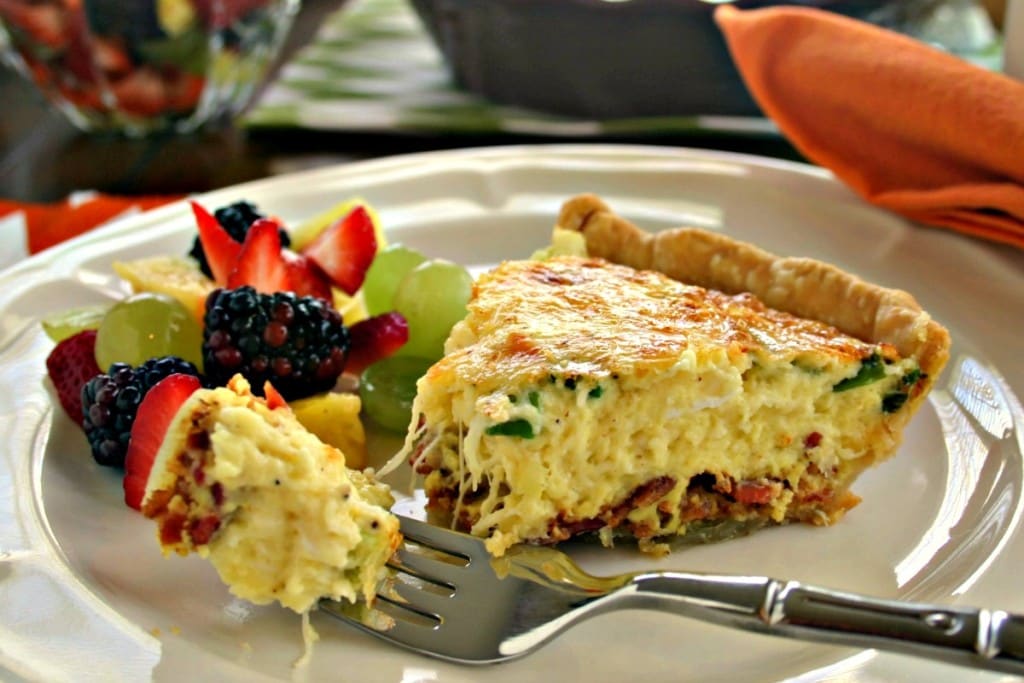 It's also important to let the quiche set for about 15 minutes after removing from the oven before slicing. Baking times may vary, but 40 – 45 minutes should do it. Just be sure to bake until the middle no longer jiggles. Bon appétit!
Find something you're passionate about and keep tremendously interested in it. – Julia Child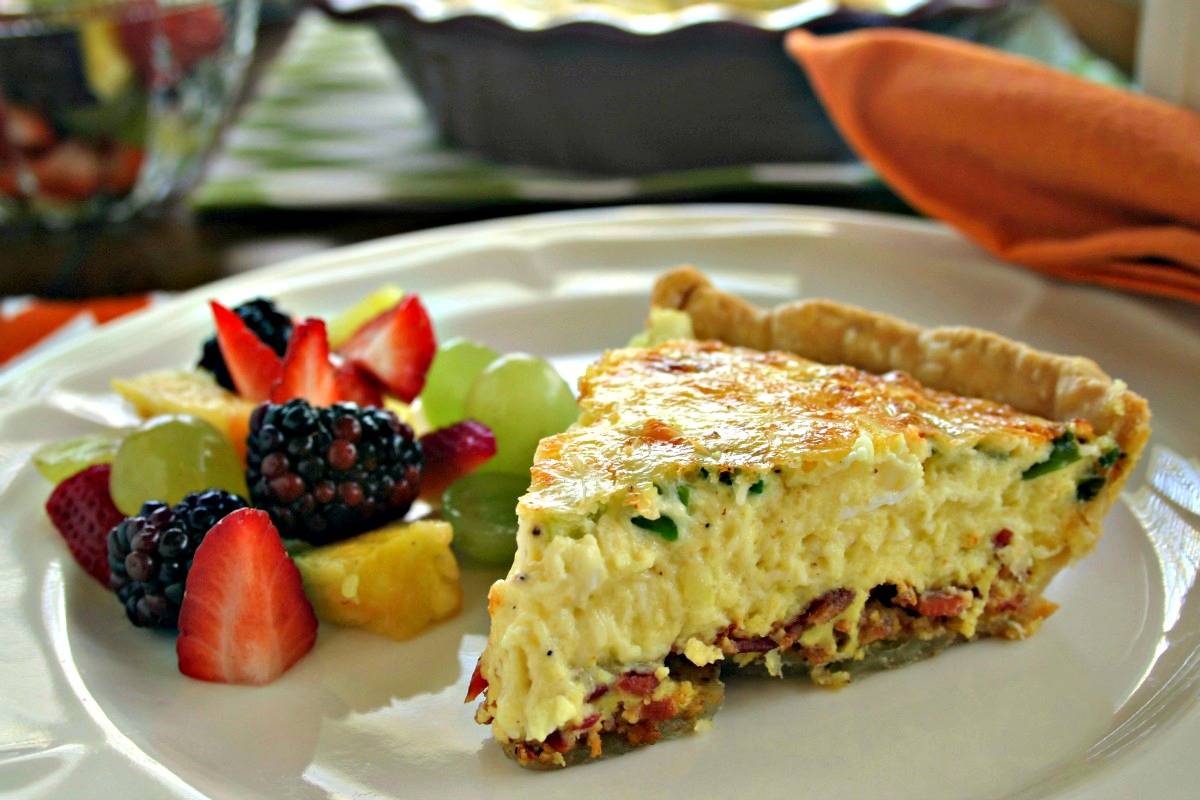 Ingredients
1/2 package refrigerated pie crusts
8 - 10 slices bacon, fried crisp and crumbled
1/4 cup scallions, chopped
1-1/2 cups grated Swiss cheese, divided
6 large eggs, beaten
1 cup heavy cream
1/2 cup milk
1 teaspoon salt
1/2 teaspoon pepper
1/8 teaspoon ground nutmeg
Dash of ground red pepper
Instructions
Preheat oven to 350 degrees.
Allow pie dough to come to room temperature, about 15 minutes. Unroll and place in pie plate, turning edges under and crimping.
Sprinkle the crumbled, cooked bacon over the crust. Sprinkle scallions and 1 cup of the Swiss cheese on top of the bacon.
Whisk together eggs, cream, and milk. Add salt, pepper, and nutmeg. Carefully pour egg mixture into crust. Sprinkle with remaining cheese and a dash of ground red pepper.
Bake 40 - 45 minutes or until lightly browned and set in middle. Cool 15 minutes before serving.
7.6.2
279
http://lifeloveandgoodfood.com/classic-quiche-lorraine/