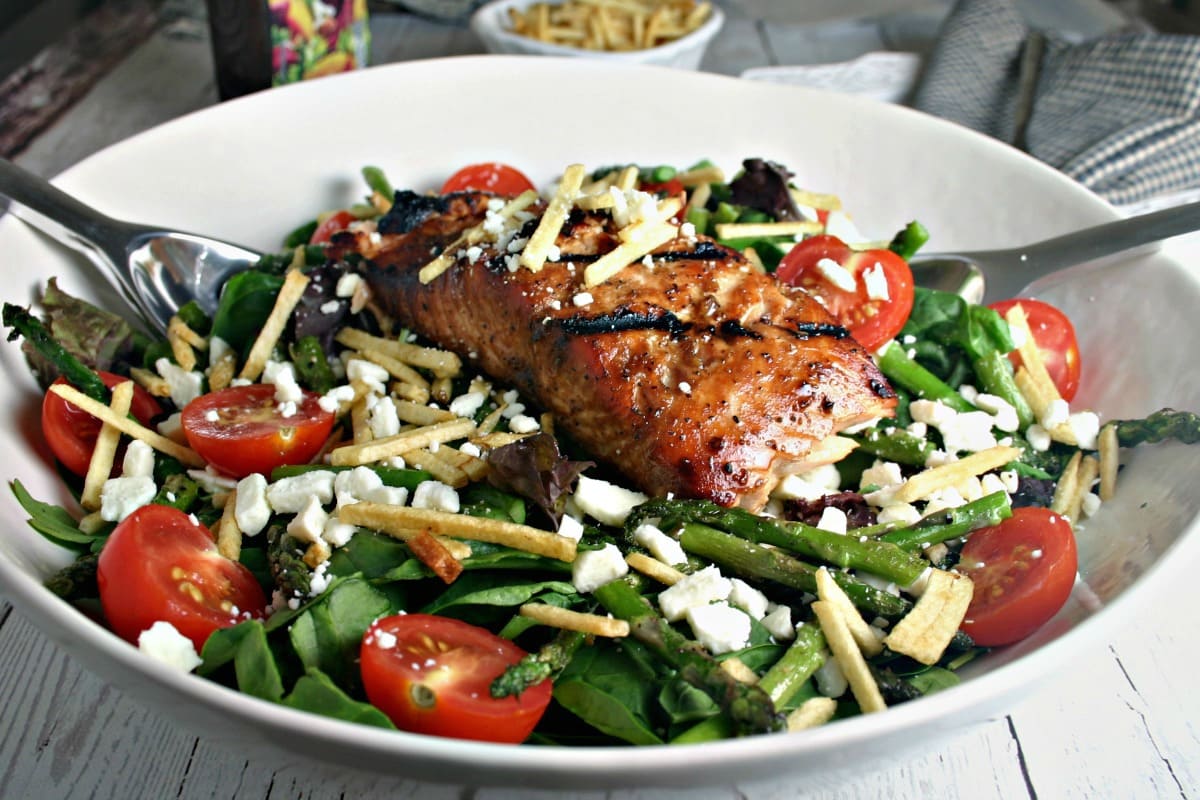 Field greens, tomatoes, grilled asparagus, crispy shoestring potatoes, Feta, and balsamic vinaigrette topped with Best Grilled Salmon come together to make today's delicious summer time entree salad, my copycat version of Bravo's Grilled Salmon Salad. The best part of this salad is that using just a few convenience items paired with fresh veggies and the BEST grilled salmon  – I'm not kidding about it being the best! – is the perfect way to enjoy a light gourmet meal even on busy weeknights.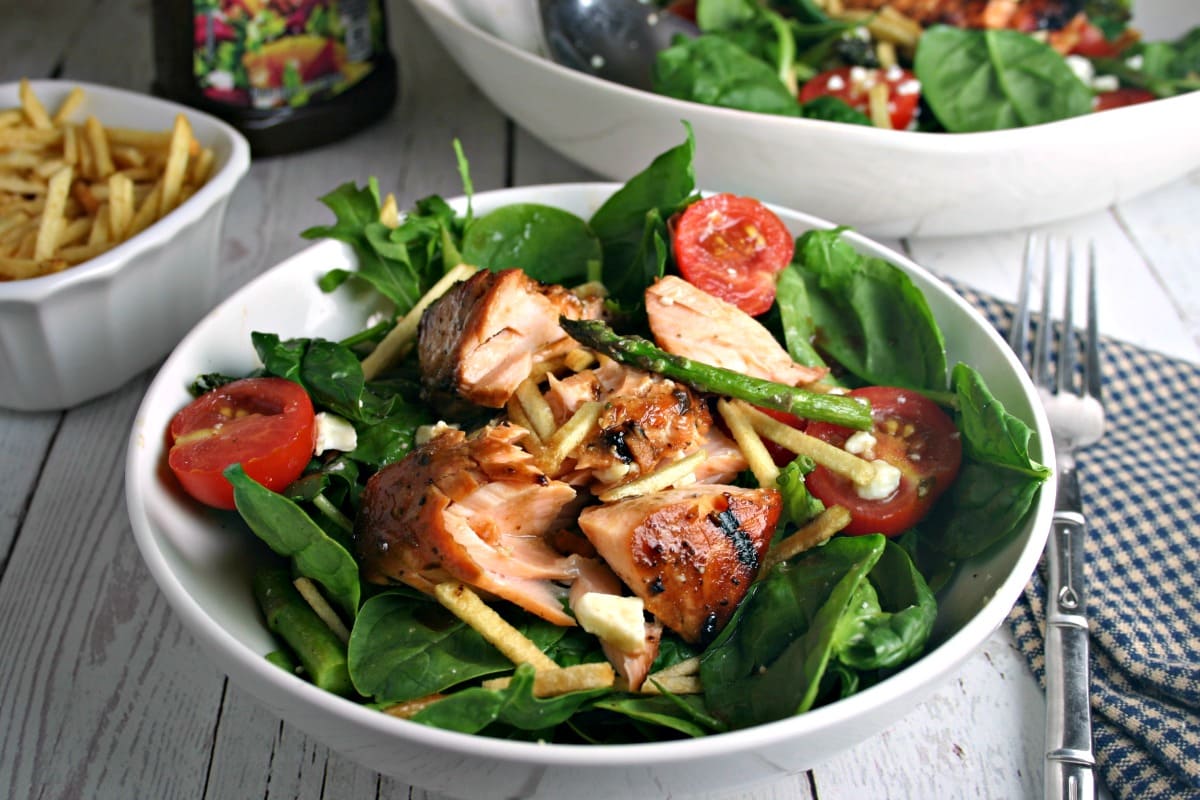 Use fresh field greens or go the convenience route and purchase a pre-washed bag of your favorite salad greens (no one has to know!).  Other than marinating the salmon for an hour, there's really very little prep work required to put this salad together. The sweetness of the salmon's marinade and the saltiness of the potato straws blend together for a nice flavor contrast, and let's not foget to mention that those addictive little potato straws add just the right amount of crunch! You can make the homemade balsamic vinaigrette if you prefer, but for those busy nights a quality bottled version is a nice substitute.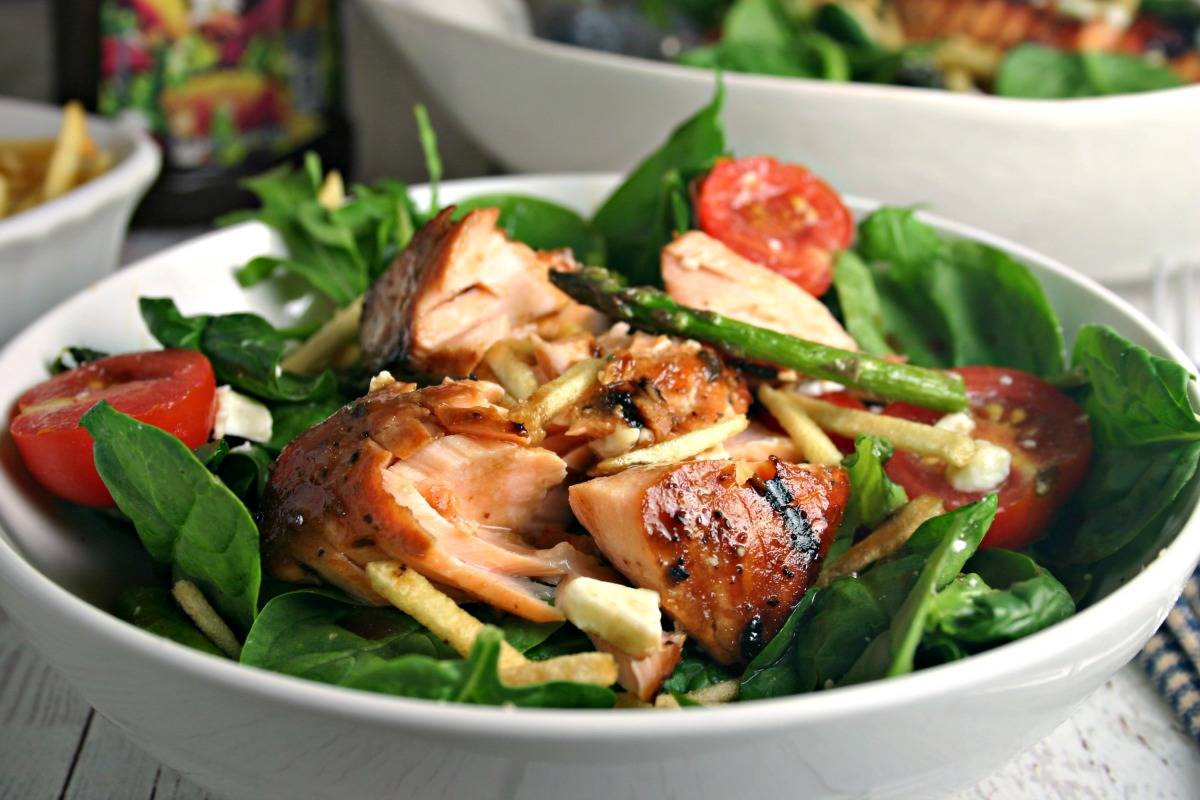 In case you have trouble locating the shoestring potatoes, or potato straws, I found them in the grocery aisle with snack foods like Pringles and Bugles. I had remembered them being packaged in cans similar to the French's Fried Onions, but these were packaged like chips in a small bag so I overlooked them initially.
Enjoy your weekend, friends!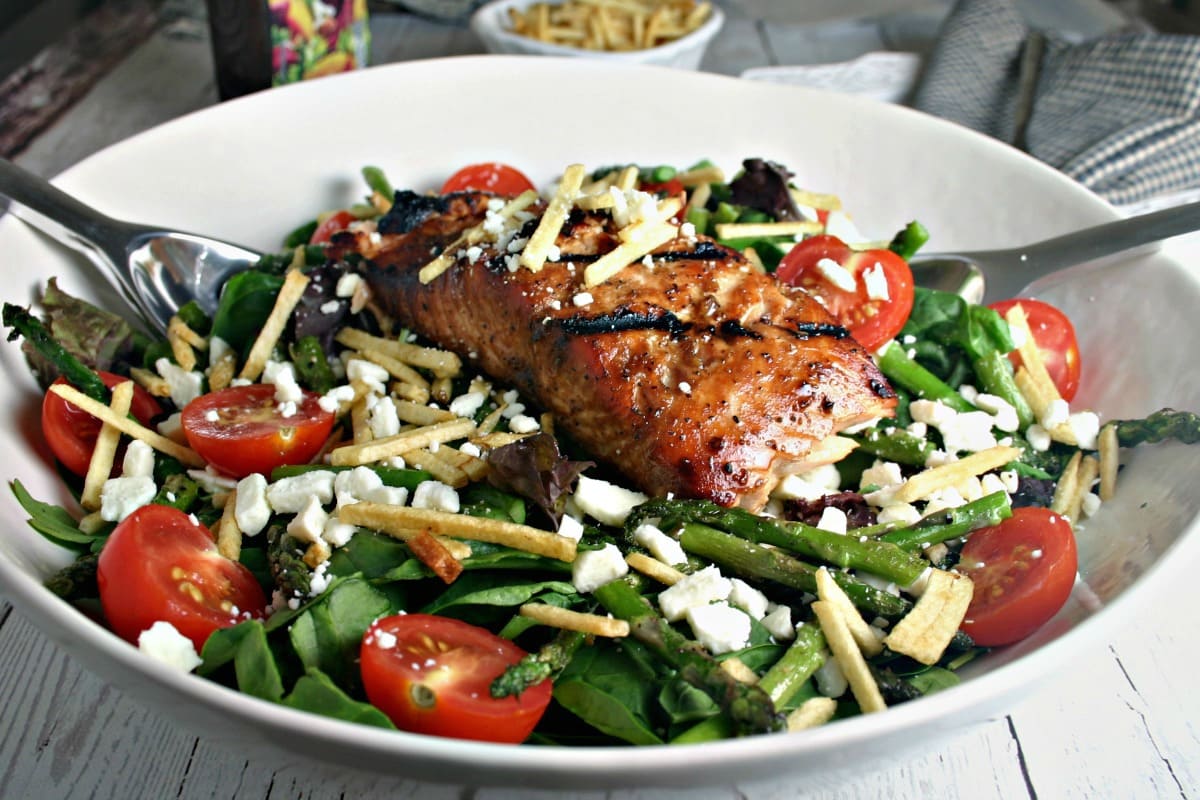 Ingredients
Balsamic Vinaigrette

2 tablespoons balsamic vinegar
1 teaspoon brown sugar
1 small garlic clove, minced
1/3 cup olive oil

Salad

2 grilled salmon filets
1 bunch asparagus
1 tablespoon olive oil
salt and pepper, to taste
1 pkg. mixed salad field greens
8 cherry tomatoes, halved
4 oz. Feta cheese, crumbled
1/2 cup potato straws
Instructions
Vinaigrette

In a small bowl, whisk together all ingredients for the vinaigrette except for the olive oil. While whisking, add olive oil in a steady stream and combine well.

Salad

Marinate and grill salmon filets - see recipe link below.
Wash and trim asparagus. Toss with olive oil and season with salt and pepper. Grill over medium high heat for 3-4 minutes or until crisp tender, turning frequently. (Using a grill basket works well!)
Add salad greens to a large bowl. Top with tomatoes, grilled asparagus, and feta cheese. Add grilled salmon and top with potato straws.
Drizzle with balsamic vinaigrette and serve.
Notes
7.6.2
306
http://lifeloveandgoodfood.com/grilled-salmon-salad/