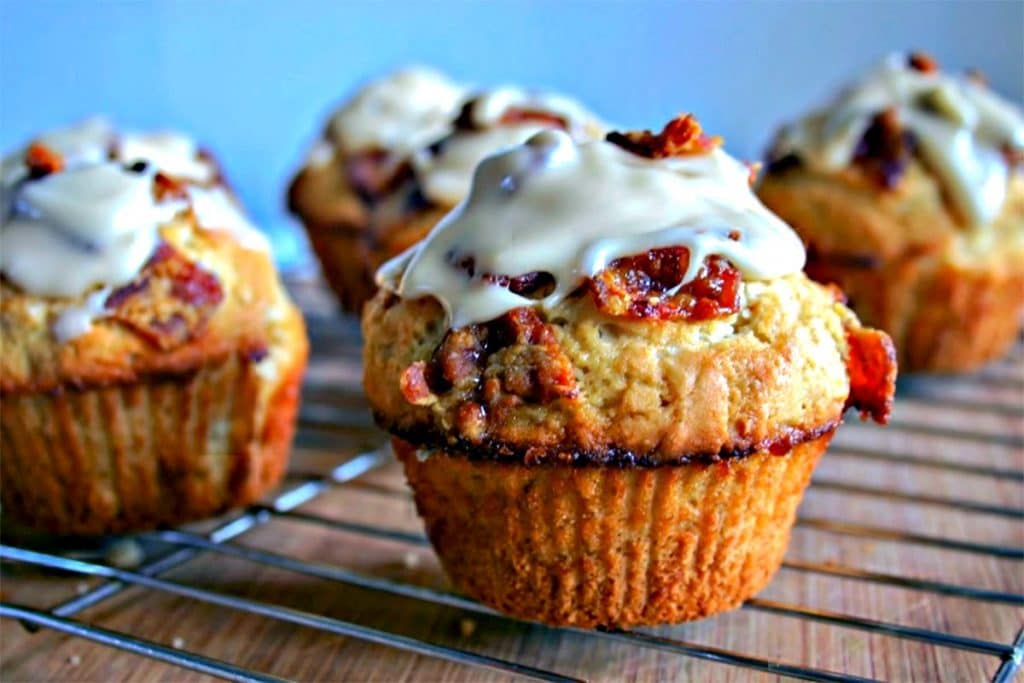 The smell of frying bacon is one sure way to wake up the husband. Contrary to popular belief, I really don't cook ALL the time. Weekdays it's every man for himself, especially in the mornings! But, for some reason lately I'm an early riser on the weekends. I enjoy the quiet of the early hour, sipping my coffee, a little devotion time, and leisurely cooking breakfast.
This past weekend, I chose to try a King Arthur Flour recipe for Maple-Glazed Bacon Muffins. And yes, about the time these went into the oven, John walks into the kitchen with a grinning, "Do I smell bacon?" Of course, I expected this and saved one slice for him…well, actually only a half-slice…I might actually be guilty of snacking on the other half.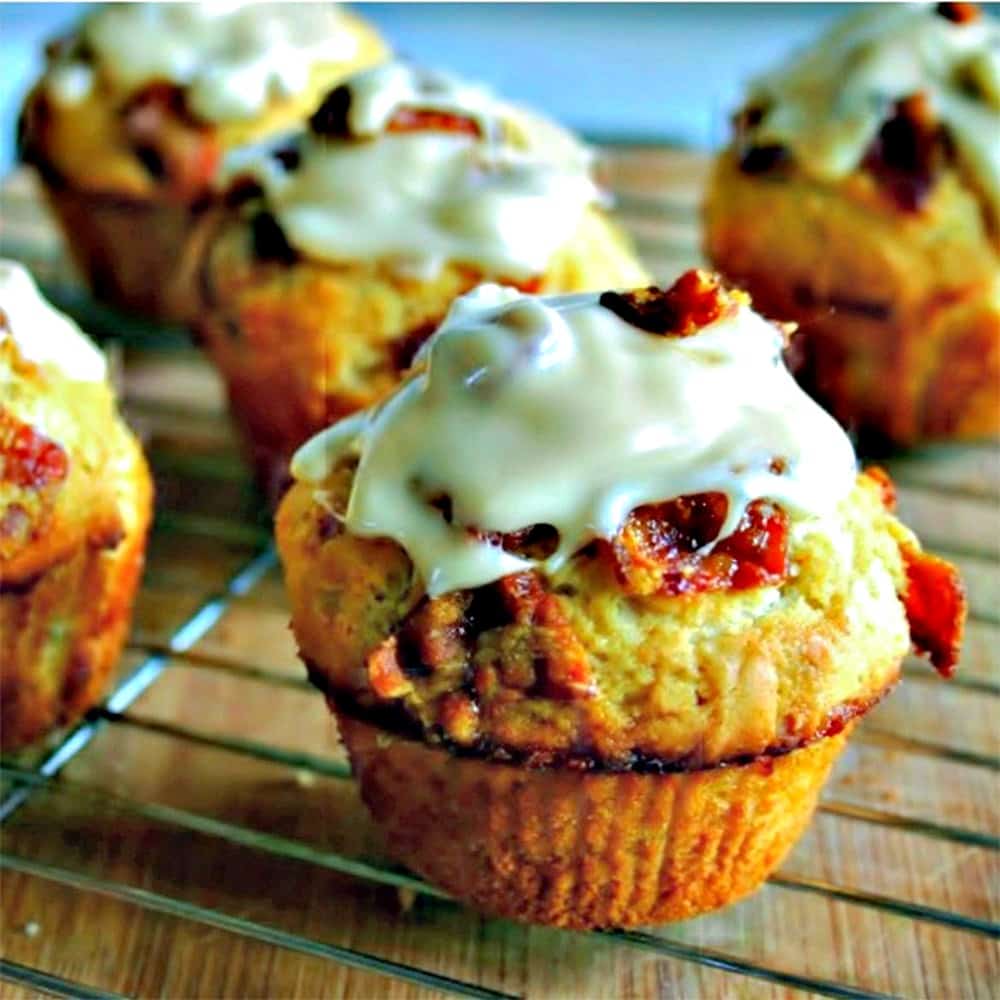 The original recipe for these Maple-Glazed Bacon Muffins was for baked donuts, but we really enjoyed the muffin version. If you like sweet and salty together–and especially if you like bacon–you'll love these muffins! Be stingy with the glaze unless you have a serious sweet tooth, though, as we found these to be almost sweet enough before adding the glaze. Enjoy!

sheilathigpen
Yields 12
Maple-Glazed Bacon Muffins
15 minPrep Time
15 minCook Time
30 minTotal Time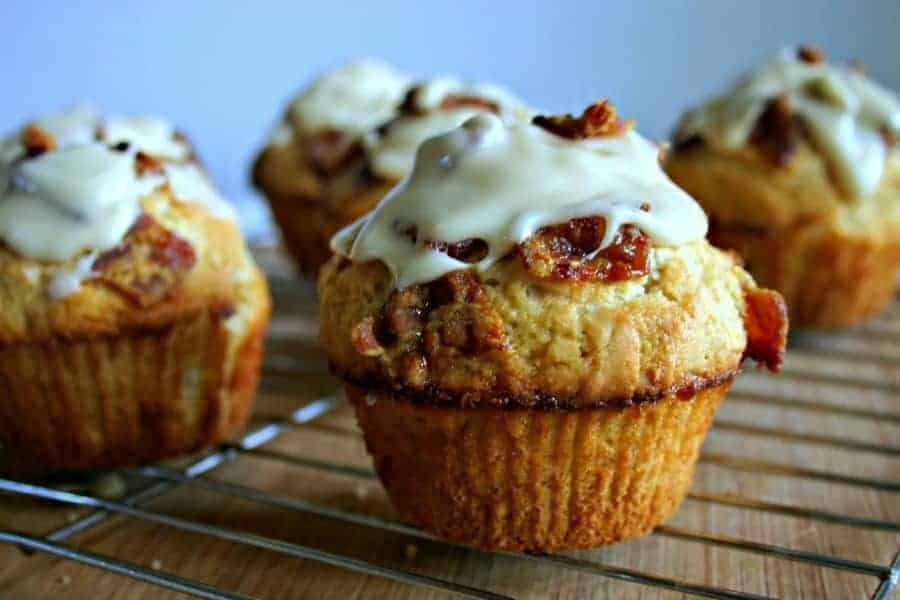 Ingredients
Muffins

1/4 cup butter
1/4 cup vegetable oil
1/2 cup granulated sugar
1/3 cup brown sugar
2 large eggs
1 1/2 teaspoons baking powder
1/4 teaspoon baking soda
3/4 teaspoon salt
1 teaspoon vanilla extract or 1/2 teaspoon maple flavor (or to taste)
2 2/3 cup King Arthur Unbleached All-Purpose Flour
1 cup milk

Topping

6 slices bacon, cooked, cooled, and snipped into squares
3 to 4 tablespoons maple syrup

Glaze

1 cup confectioners' sugar
pinch of salt
about 1/4 cup maple syrup, enough to make a spreadable frosting
Instructions
To make the muffins:

Preheat the oven to 425°F.
In a medium-sized mixing bowl, beat together the butter, vegetable oil, and sugars till smooth.
Add the eggs, beating to combine.
Stir in the baking powder, baking soda, salt, and vanilla or maple flavor.
Stir the flour into the butter mixture alternately with the milk, beginning and ending with the flour and making sure everything is thoroughly combined.
Scoop the batter into the lightly-greased or paper-lined standard muffin pan.
Top with the bacon, and drizzle with syrup (about 1 teaspoon per muffin), being sure to keep the bacon mounded in the center (it will distribute during baking).
Bake in a preheated 425°F oven for about 15 minutes, or until a toothpick inserted into the middle of one of the center muffins comes out clean. Remove from the oven, and transfer the muffins to a rack to cool. When they're nearly cool, spread with the glaze.

To make the glaze:

Stir together the confectioners' sugar, salt, and enough maple syrup to make a spreadable glaze.
Spread the glaze over the muffins. Serve warm, or at room temperature. Wrap any leftovers loosely in plastic, and store for 1 day at room temperature; refrigerate or freeze for longer storage.
Yield: 12 muffins
Notes
7.6.2
82
http://lifeloveandgoodfood.com/maple-glazed-bacon-muffins/