Tex-Mex Chicken Burrito Bowl. Seasoned chicken with a rice and bean stir-fry, fresh avocado, tomatoes, green onions, and creamy queso fresco crumbles.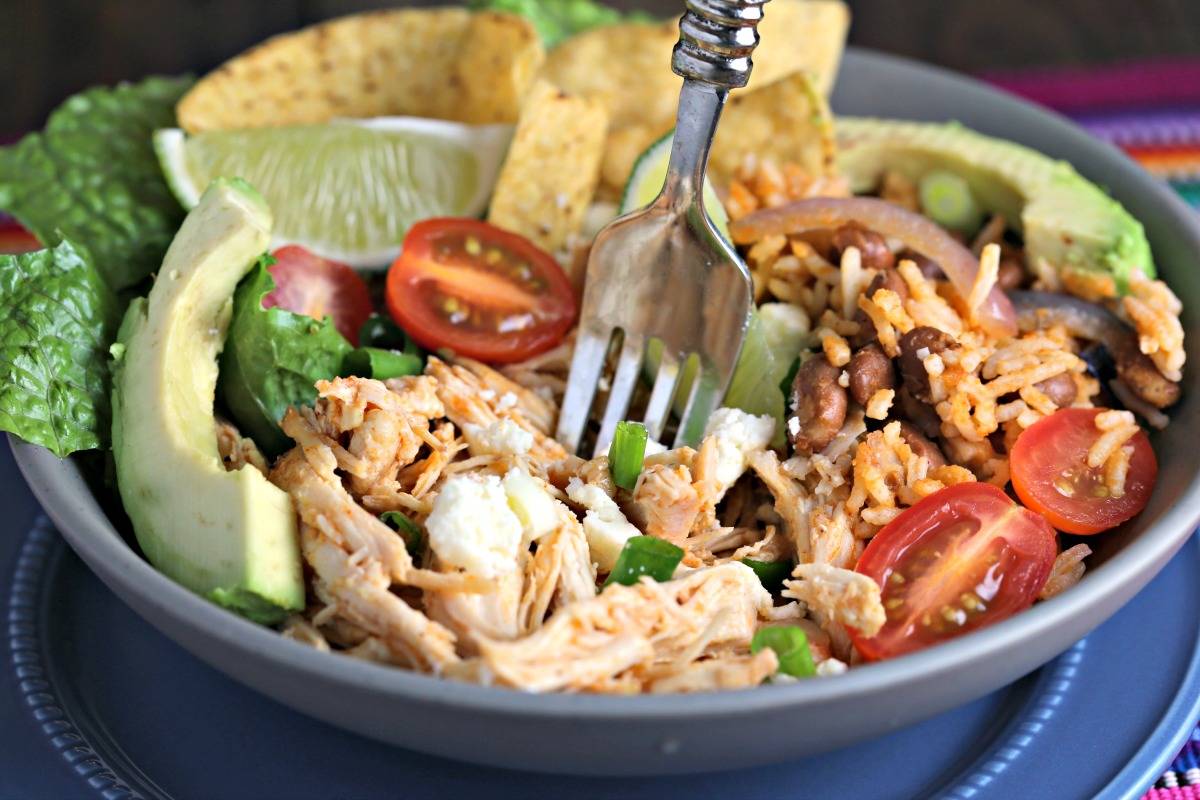 Do you have any of those picky eaters in your family who don't like their food to touch each other or who will only eat one thing at a time on their dinner plate? Thankfully, that's not the case with us because I love serving quick and easy one-bowl meals like this Tex-Mex Chicken Burrito Bowl. Nestled on a layer of crisp romaine lettuce, this bowl is built with equal portions of seasoned chicken and a rice and bean stir-fry, if you will. Top it all with fresh avocado, tomatoes, green onions, and creamy queso fresco crumbles and you have a quick, healthy meal—all in one delicious bowl!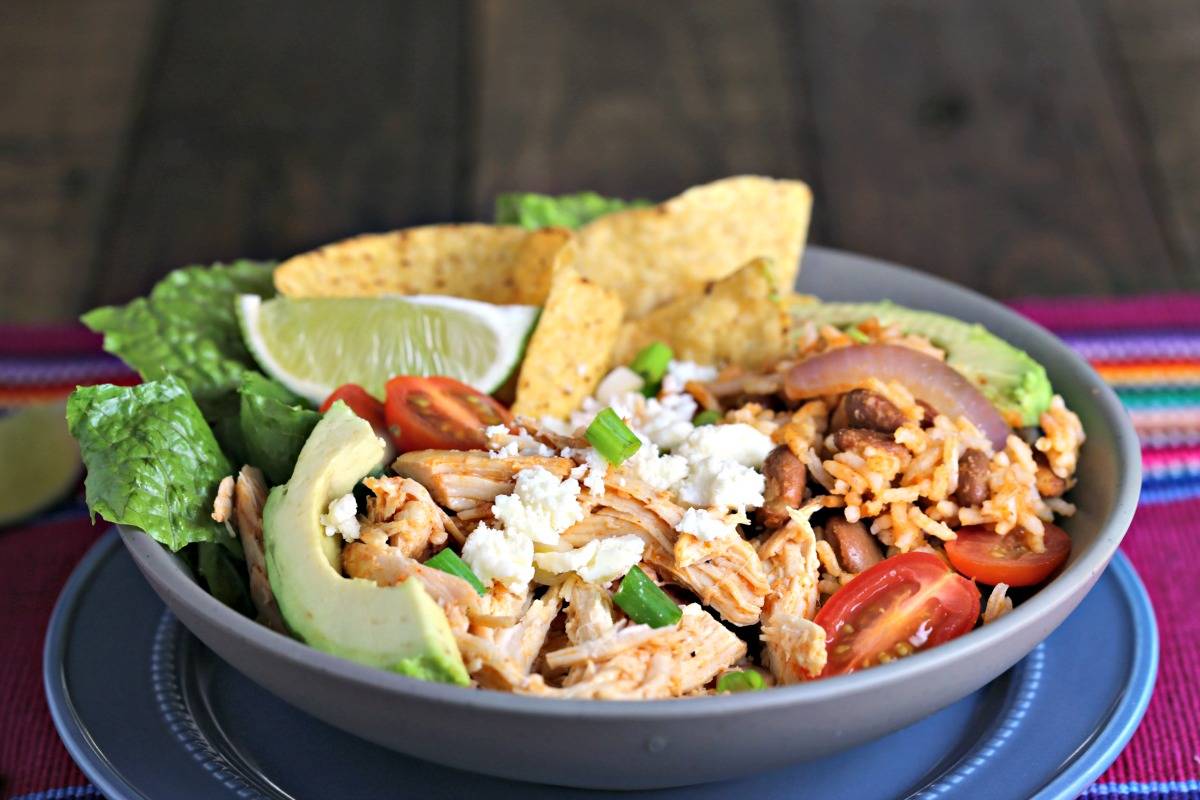 If you've spent any time on Pinterest lately, you know that BOWLS are pretty popular among food bloggers right now. Restaurants like Chipotle introduced burrito bowls to satisfy their low-carb guests by offering burritos without the tortilla. This was such a novel concept that now everyone is jumping on board with taco bowls, burrito bowls, rice bowls, meal prep bowls, noodle bowls, even Buddha bowls!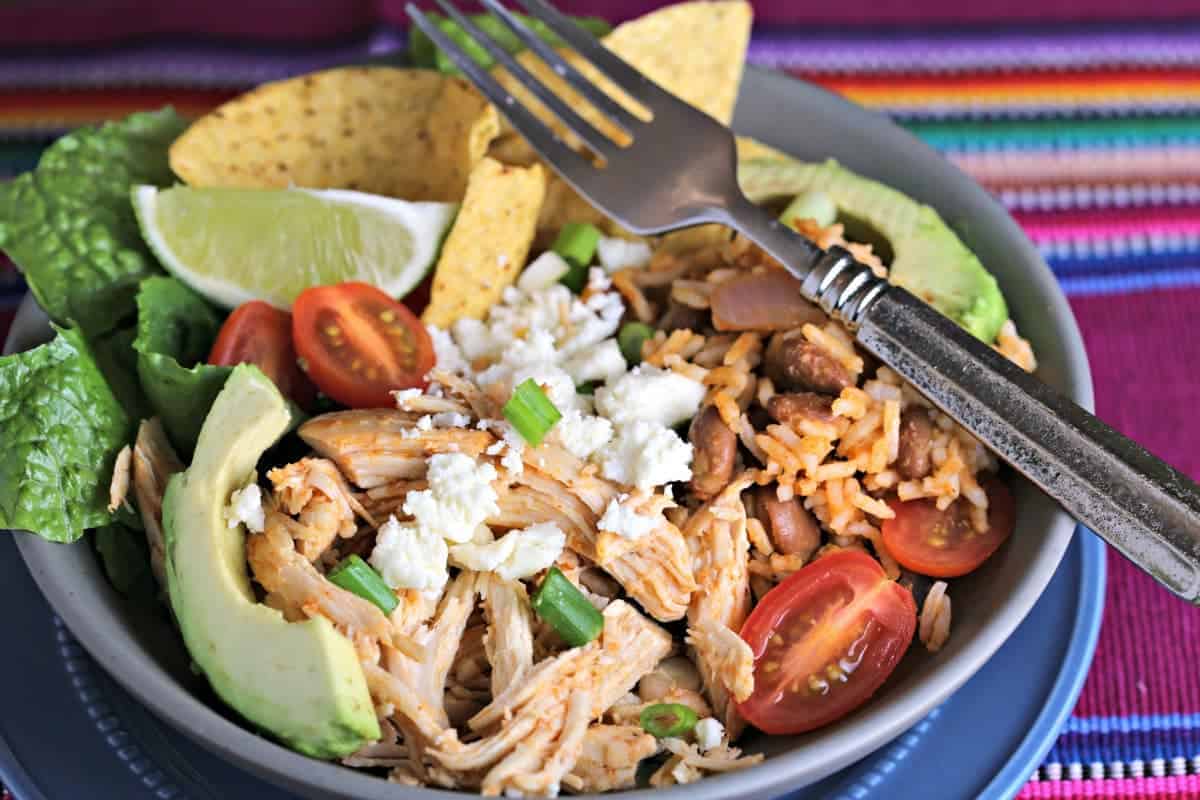 Add just a few tortilla chips helps satisfy my craving for crunch without making this into a full-blown taco salad. The recipe for this bowl doesn't include a lot of heavy sour cream, guacamole, or even salsa or cheeses. Instead, use a lime wedge to brighten up the dish and season with a sprinkle of sea salt and a small amount of queso fresco crumbles. The flavor in this dish comes from the chicken being cooked in enchilada sauce and the rice and bean stir-fry—sautéed onions cooked with rice, pinto beans, and more enchilada sauce.
You may also enjoy these other creative bowl recipes:
Yields 4 servings
Tex-Mex Chicken Burrito Bowl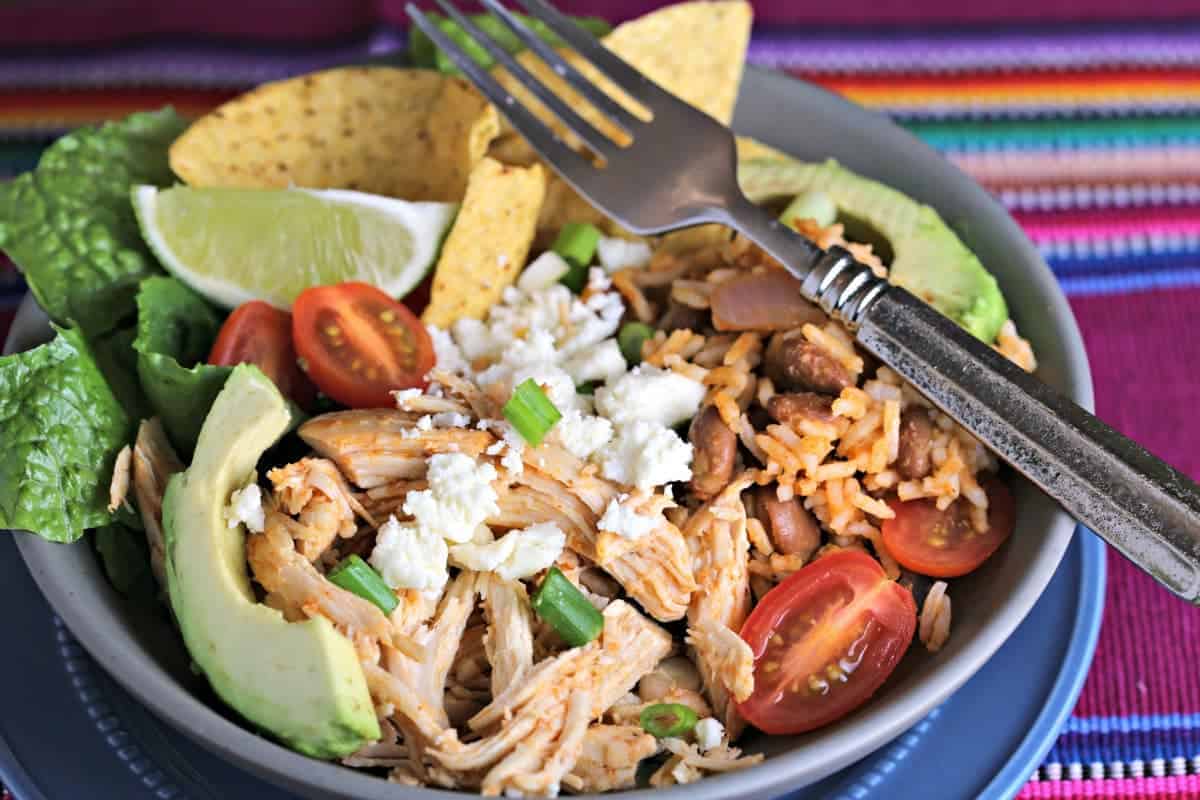 Ingredients
2-3 skinless, boneless chicken breasts
1 10-oz. can enchilada sauce
1 tablespoon olive oil
1/2 medium onion, sliced vertically
2 cups cooked rice (white or brown)
1 15-oz can pinto beans, rinsed and drained
3 cups chopped romaine lettuce
1 1/2 cups chopped tomato
1 ripe avocado, thinly sliced
1/2 cup crumbled queso fresco
2-3 green onions, sliced
lime wedges
tortilla chips
salt and pepper, to taste
Instructions
Simmer chicken breasts in the enchilada sauce over medium heat until cooked through, about 30 minutes. Remove chicken from the sauce and shred with two forks, reserving the sauce.
Heat the olive oil in a large skillet over medium heat. Add onions and saute until tender. Add cooked rice and the beans and about 1/2 of the reserved enchilada sauce. Cook and stir until heated through.
Pour the remaining enchilada sauce over the shredded chicken and toss.
Divide the lettuce evenly between 4 bowls. Top with equal amounts of the rice/bean mixture and shredded chicken. Top with chopped tomatoes, avocado, and sliced green onions. Squeeze a lime wedge over top of each bowl and sprinkle with the crumbled queso fresco. Serve with tortilla chips, if desired.
Notes
Recipe adapted from Cooking Light http://www.cookinglight.com/recipes/carne-asada-bowls
7.6.2
357
http://lifeloveandgoodfood.com/tex-mex-chicken-burrito-bowl/