The 10 Best Gifts for BBQ Smoke Pitmasters is a gift guide for either hobbyists or professional BBQ smoking enthusiasts. BBQ Smoke Pitmasters know that smoke creates anticipation, tempting our taste buds by the intoxicating smells as a slab of meat roasts for hours.
Pitmasters enjoy the process, the comradery, and the good eatin' at the end of a long day of smoking.
It doesn't matter if your pitmaster prefers charcoal, wood-fired, or electric smoking, this specially curated list has something for everyone. Keep reading for my list of the 10 Best Gifts for BBQ Smoke Pitmasters that was vetted and approved by my very promising pitmaster hubby!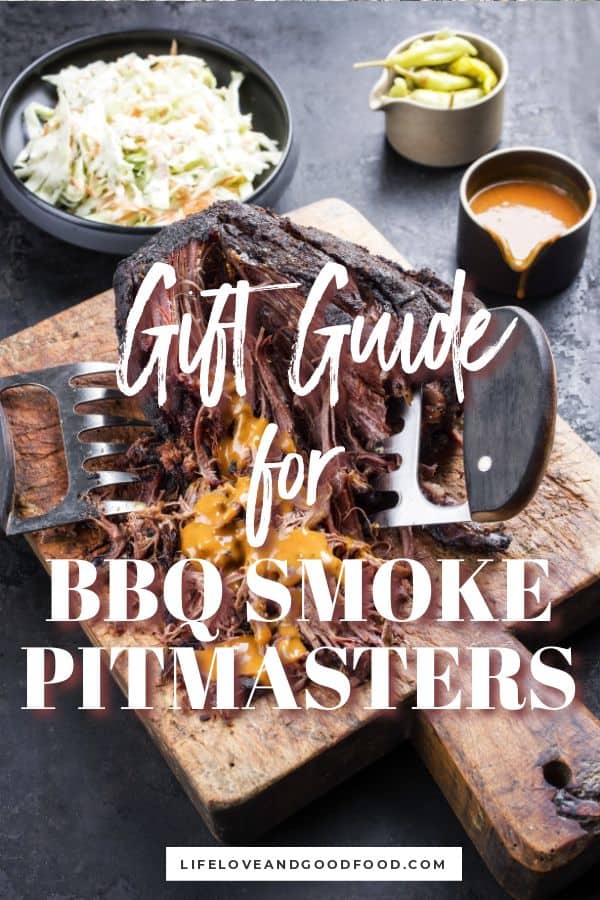 10 Best Gifts for BBQ Smoke Pitmasters
Here's my list of the 10 best gifts for BBQ Smoke Pitmasters. I've included a variety of gifts and price ranges in this guide so that there's something for everyone. The gifts on this list were approved by my own pitmaster husband.
Smoking meat has become quite an event around our house. It all started when my brother-in-law got a smoker and cooked ribs for the family. I knew my husband was hooked and gave him an electric smoker the next Father's Day.
Since then, he's thoroughly enjoyed experimenting with different smoking recipes. Now, he and our future son-in-law (who also owns a smoker) compare notes on the best place to buy meat, their favorite smoking techniques, and rub recipes. There's even talk of a BBQ Smoking Cook-Off for our family and friends in the near future!
WEEK THREE OF GIFT GUIDES AND GIVEAWAYS!
This is week three of our gift guides and giveaways—be sure to read to the end to see what we're giving away this week! Then, be sure to check back each Monday through November 25 for another gift guide and another giveaway!
Photo Credit: www.amazon.com
Duh? You must have wood chips if you're going to create smoke! These tipsy wood chips add a mouth-watering combination of Jack Daniels Old No. 7 Brand whiskey and oak wood smoke to meats and can be even be used with gas grills, as well as charcoal or electric smokers.
Photo Credit: www.amazon.com
Lots of pitmasters like to create their own rubs, but if your pitmaster is just getting started, these award-winning rubs by Rufus Teague make a good stocking stuffer— plus, they are delicious, too!
Photo Credit: www.amazon.com
Every pitmaster should have a set of claws for pulling and shredding pork butts. The curved design on these claws also make them perfect for lifting a slab of meat off the smoker, too.
Photo Credit: www.amazon.com
This is a gift for the SERIOUS pitmaster. Complete with its own travel case, this injector syringe comes with three needles and cleaning brushes. This would definitely be useful for "shooting up" a turkey for smoking.
Photo Credit: www.amazon.com
A long set of locking tongs comes in handy for lifting and turning slabs of ribs. This set by OXO has non-slip rubber grips which I love and the lock which is extremely useful for storage.
Photo Credit: www.amazon.com
Complete with an attached bottle opener and hand towel, this bibbed BBQ apron has useful deep pockets, too.
Photo Credit: www.amazon.com
One of my favorite kitchen tools, this OXO instant read thermometer is extremely helpful for testing whether meat has cooked to the proper temperature. The Thermocouple Thermometer provides temperature readings in just 2-3 seconds with an accuracy of ±0.9°F, so you can ensure perfection in every piece of meat.
Photo Credit: www.amazon.com
My hubby loves using his basting mop to ensure his ribs stay moist and tender. This mop has extra replacement heads so you don't need to worry about cleaning.
Photo Credit: www.amazon.com
What I love about these BBQ gloves is that they are rubber and easy to clean! Plus, they are heat resistant and extra long to protect those arm hairs, too!
Photo Credit: www.amazon.com
Highly recommended for beginning pitmasters, this Masterbuilt Digital Electric Smoker is the one my husband owns. He's been very pleased with how it operates and I must say, we've eaten a lot of good ribs coming out of this smoker!
MORE GIFT GUIDES
Enter the OXO Good Grips 12-Inch Stainless-Steel Locking Tongs giveaway!
Leave a comment on this post answering this question — What is your favorite BBQ sauce flavor — sweet, spicy, or tangy? — to be entered into a drawing to win the OXO Good Grips 12-Inch Stainless-Steel Locking Tongs. The winner will be chosen randomly and will be notified by email on the following Monday.
a Rafflecopter giveaway