The 10 Best Gifts for Grill Masters is a gift guide for both pro and amateur grill masters who like to host sizzling Summer barbecues. They may not enjoy being in the kitchen, but once the weather turns nice, they'll happily flip burgers or steaks on the grill.
Your grill master may even have their own special marinade or BBQ sauce recipe. If you have an avid grill master on your gift list, keep reading for a specially curated list of the 10 Best Gifts for Grill Masters that was vetted and approved by my own grill master hubby!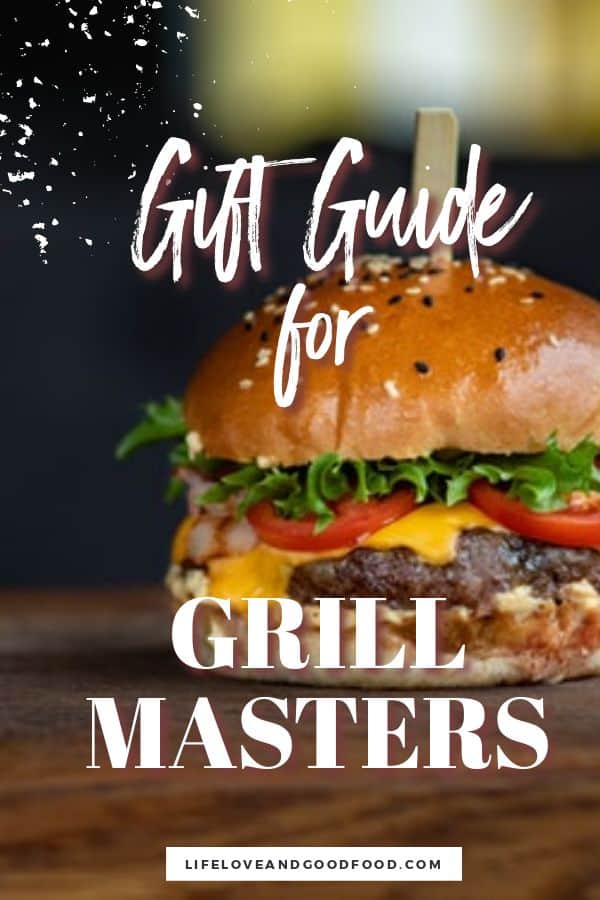 10 Best Gifts for Grill Masters
Here's my list of the 10 best gifts for Grill Masters. I've included a variety of gifts and price ranges in this guide so that there's something for everyone. The gifts on this list were approved by my own grill master husband.
Once the weather gets warm enough to be outside, my husband is itching to start grilling. Here in Tennessee, we literally use our outdoor grill from March to November. Sometimes it's still quite chilly, but he's that enthusiastic about grilling!
WEEK TWO OF GIFT GUIDES AND GIVEAWAYS!
This is week two of our gift guides and giveaways—be sure to read to the end to see what we're giving away this week! Then, be sure to check back each Monday through November 25 for another gift guide and another giveaway!
The following are affiliate links. We are a participant in the Amazon Services LLC Associates Program, an affiliate advertising program designed to provide a means for us to earn fees by linking to Amazon.com and affiliate sites.
Photo Credit: www.amazon.com
This heavy duty saucepan is just the thing you need for warming up Homemade BBQ Sauce to baste on chicken or ribs.
Photo Credit: www.amazon.com
Grilling chicken can get pretty messy, especially when you baste it with a sauce. This handy grill brush is made with stainless steel woven wire and is safe to use on either gas or charcoal grills.
Photo Credit: www.amazon.com
Kabobs are one of our very favorite things to prepare on the grill — especially Smoky Chicken Kabobs or Greek Chicken Kabobs. Take it from me, once you try out a good, heavy set of stainless steel skewers, you'll wonder why you ever used wooden skewers. With stainless steel, no soaking required and no flames from wooden skewers!
Photo Credit: www.amazon.com
How cool would it be to roast your own rotisserie chicken on the grill? With this attachment for Weber gas grills you can do just that!
Photo Credit: www.amazon.com
This sturdy stainless steel roaster rack catches all the drippings and prevents flame-up. The result is a delicious, juicy roasted chicken.
Photo Credit: www.amazon.com
My son-in-law has one of these chimney charcoal starters and loves using it. No more lighter fluid to start the charcoal and you have hot coals in a fraction of the time.
Photo Credit: www.amazon.com
This kettle grill with built-in lid thermometer is my absolute first choice for charcoal grilling.
Photo Credit: www.amazon.com
Imagine Dad flipping burgers with the BOSS FlipFork! Stainless Steel with a natural acacia wood handle, this 5-in-1 utensil brings all the tools you need to be the GRILL BOSS in one. The BOSS works as a spatula, knife, meat tenderizer, fork, and even a bottle opener!
Photo Credit: www.amazon.com
Photo Credit: www.amazon.com
Over the years we've owned several gas grills and made the mistake of buying cheaper models which would quickly rust and the burners would fail. Finally, we invested in this Weber grill and have been very pleased with it's performance and that it looks brand new after several years. Definitely worth the investment for grill masters that's on Santa's Good List!
MORE GIFT GUIDES
ENTER TO WIN a Cast Iron Sauce Pan with Silicone Basting Brush!
Leave a comment on this post answering this question — What is your favorite food to cook on the grill? — to be entered into a drawing to win a Cast Iron Sauce Pan with Silicone Basting Brush. The winner will be chosen randomly and will be notified by email on the following Monday.
a Rafflecopter giveaway
ABOUT SHEILA
Sheila Thigpen, author of Easy Chicken Cookbook and The 5-Ingredient Fresh and Easy Cookbook, is a recipe developer, food photographer, and food writer. She spent 20+ years as a business manager in the publishing industry before she retired in 2018 to focus on her passions — cooking, photography, and writing. Living near the beautiful Smoky Mountains, Sheila and her husband have two adult daughters and two fine sons-in-law, are active in their church, love to travel, and have a precious little granddaughter who has stolen their hearts. Follow Sheila on YouTube, Pinterest, Instagram, Facebook, and Twitter!