This post may contain affiliate links. Please read my disclosure policy.
The 10 Best Gifts for Kids Who Like to Cook is a gift guide for aspiring little bakers and creative kid chefs. Kids who learn to cook also practice skills like reading, measuring, and following directions all while having fun in the process. These gift idea help encourage learning in the kitchen.
Not only is teaching kids to cook at an early age a great way to practice math skills, it can help instill healthy eating habits, too. Cooking is a wonderful way to spend time with your kiddos doing something you both enjoy.
This specially curated list of kid kitchen gear has plenty of fun gifts for every kid chef that includes real-size kitchen tools made especially for little-hands. Keep reading for my list of the 10 Best Gifts for Kids Who Like to Cook.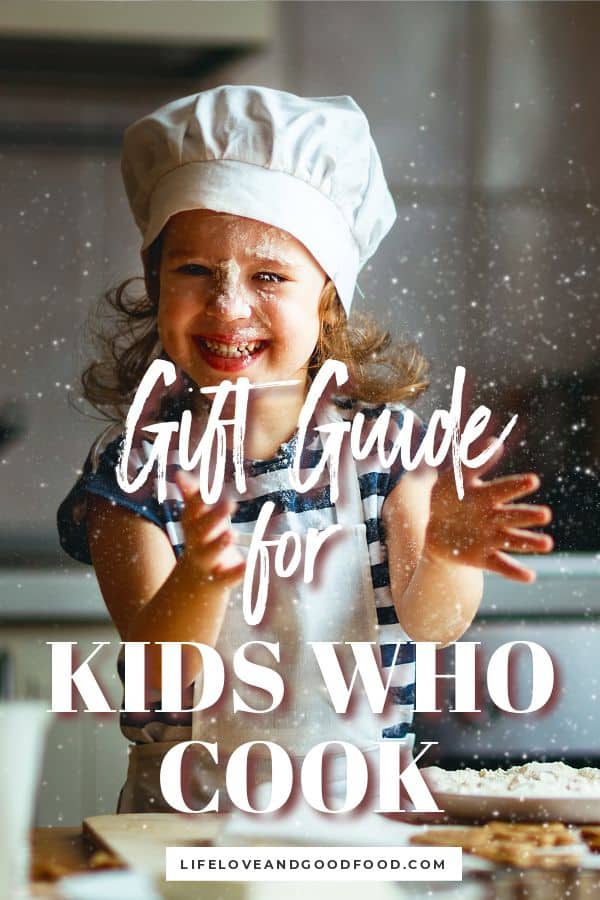 10 Best Gifts for Kids Who Like to Cook
Here's my list of the 10 best gifts for Kids Who Like to Cook. I've included a variety of gifts and price ranges in this guide so that there's something for everyone.
Some of my favorite memories from raising our girls were made around our kitchen table. Of course we gathered at the kitchen table for our family meals, but we also gathered there to work on craft projects and to roll out and decorate cookies.
Every Christmas we'd spend hours laughing — while usually making a huge mess — as we made batches of Ginger Cookies and decorated sugar cookies. Those were such fun times that I can't wait until our little granddaughter is big enough to help me make a mess — I'm worse than the kids! — in the kitchen, too!
WEEK FOUR OF GIFT GUIDES AND GIVEAWAYS!
This is week four of our gift guides and giveaways—be sure to read to the end to see what we're giving away this week! Then, be sure to check back each Monday through November 25 for another gift guide and another giveaway!
Photo Credit: www.amazon.com
Kids will love baking with these colorful measuring spoons and cooking utensils by Curious Chef. This cute gift set comes with a fun yellow apron, a balloon whisk, star cookie cutter, large silicone mixing spatula, and spoon. All Curious Chef products are designed with safety in mind and conform to recommended requirements by the US Consumer Products Safety Commission.
Photo Credit: www.amazon.com
These colorful nylon knives help safeguard little fingers from the dangers of sharp metal knives. The 8-knife set is suitable for cutting fruit, bread, cake, lettuce, and salad fixings.
Photo Credit: www.amazon.com
No more cuts or scrapes! A great idea for kids (8-12 Years) or even adults with small hands, these no-cut gloves have a superior grip with a snug, elastic fit. Wear them when prepping food or when working on craft projects involving scissors or paper cutters, as an extra precaution to keep kid's hands from slipping.
Photo Credit: www.amazon.com
What's could be more fun than baking and decorating cupcakes with your kids? This 16-piece kit has everything you need — silicone liners, muffin tin, and decorating tips.
Photo Credit: www.amazon.com
Breakfast pancakes like these are almost too fun to eat! This Emoji Mini Pancake and Flapjack Maker is easy-to-clean with its nonstick coating, plus it as a cool-to-the-touch handle to help protect little fingers from getting burned
Photo Credit: www.amazon.com
This is just too cute! This smiley face turner is nylon so it won't scrape up non-stick pans or griddles. Kids will enjoy using it to flip pancakes or remove cookies (like these yummy Chocolate Drop Cookies) from baking sheets. I think this would be a fun stocking stuffer for your little baker!
Photo Credit: www.amazon.com
Another creative gift idea from Curious Chef, this prep kit helps little bakers develop measuring and math skills while they learn basic cooking skills. The handles are designed especially for little hands, too.
Photo Credit: www.amazon.com
Kids will have fun wearing this chef hat and apron while helping in the kitchen or even when doing craft paint projects. It can also help protect little clothes from getting stained if you have messy little cooks (I'm a messy big cook!).
Photo Credit: www.amazon.com
These soft-grip cutters are easy to handle for little hands and come in 10 fun shapes, including Mickey Mouse, Dinosaur, Heart, Star, Flower, and a Christmas Tree. Use them to cut out homemade sugar cookies or to cut the crust off sandwiches, and more.
Photo Credit: www.amazon.com
This 20-piece gift set includes everything you need to bake yummy mini cupcakes with your kids and even includes four easy recipes.
MORE GIFT GUIDES
Enter the Sandwich Cookie Cutters for Kids giveaway!
Leave a comment on this post answering this question — What is your favorite Christmas cookie? — to be entered into a drawing to win a set of Sandwich Cookie Cutters for Kids. The winner will be chosen randomly and will be notified by email on the following Monday.
a Rafflecopter giveaway