This post may contain affiliate links. Please read my disclosure policy.
The 10 Best Gifts for Pizza Lovers is a gift guide for the pizza lover in your life who enjoys making gourmet pizza in their own kitchen. They make their own pizza dough, come up with creative pizza combinations, and love hosting pizza parties with their friends.
Most pizza lovers could eat pizza for breakfast, lunch, or dinner without ever getting tired of it! This specially curated list has plenty of fun and useful gadgets for live-and-breathe pizza foodies. Keep reading for my list of the 10 Best Gifts for Pizza Lovers.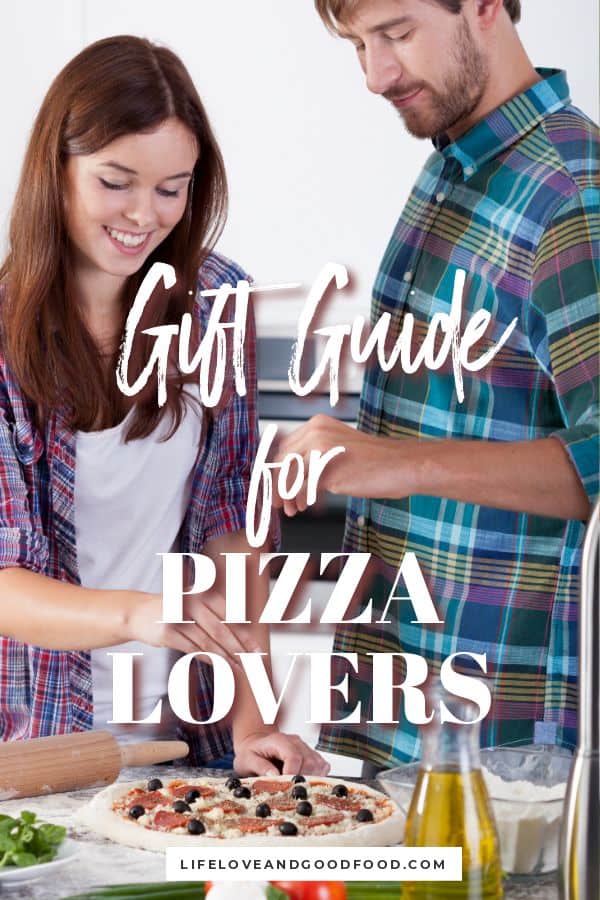 10 Best Gifts for Pizza Lovers
Here's my list of the 10 best gifts for pizza lovers. I've included a variety of gifts and price ranges in this guide so that there's something for everyone.
For the last few years, we've probably made pizza at home more often than ordering take-out. Why? For one thing, making pizza is one thing John and I can do together without getting in each other's way in our kitchen!
Also, with just the two of us, pizza is a quick and easy dinner to cook together. One of our favorite pizza combinations to make at home is Salami Pizza with Garlic Dijon Aioli.
We eat pizza at least once a week for dinner—and sometimes even twice! If you know someone as crazy for pizza as we are, then you must keep reading!
WEEK SIX OF GIFT GUIDES AND GIVEAWAYS!
This is week six of our gift guides and giveaways—be sure to read to the end to see what we're giving away this week! Then, be sure to check back each Monday through November 25 for another gift guide and another giveaway!
Photo Credit: www.amazon.com
Pizza peels are used to slide unbaked pizza into a hot oven or onto a hot stone. This one has a slanted edge to make sliding the pizza off easier. Not only that, it's a beautiful serving platter when the pizza comes out of the oven.
Photo Credit: www.amazon.com
I always have a difficult time stretching out my homemade pizza dough, and I certainly can't toss dough like those chefs in a real pizzerias! This nifty tool is awesome for rolling out dough directly onto a pizza peel.
Photo Credit: www.amazon.com
One of my favorite ways to amp up my homemade pizza is simply brushing my dough with olive oil and minced garlic. This OXO Good Grips Soft-Handled garlic press is the one I own myself. It will hold 2 or 3 garlic cloves and is super easy to clean up and is dishwasher safe.
Photo Credit: www.amazon.com
On our trip to Italy last year my favorite souvenir was a hand painted ceramic olive oil dispenser similar to this one. Not only is it one kitchen item I use every single day, It looks so pretty that I display it on my kitchen counter all the time.
Photo Credit: www.amazon.com
For serious pizza makers, baking pizza on a stone is the only way to go. This Emile Henry stone is the perfect size and has convenient handles to make removing it from the oven a little easier. It is safe to use in an oven up to 750 degrees F. and is easy to clean as well.
Photo Credit: www.amazon.com
I love the look of this beautiful cherry wood bowl and parmesan cheese grater! Just imagine a pizza party with this passed around so everyone can add more cheese to their slice of pie!
Photo Credit: www.amazon.com
Cut pizza like the pros with this stainless steel rocker style pizza cutter. It's sharp, so you'll appreciate the blade cover that's included. Dishwasher safe, you can also use this knife to chop the veggies to top your pizzas.
Photo Credit: www.amazon.com
This handy pan is designed to bake up a crisper pizza crust because it allows the air to flow. In full disclosure, I like especially like this pan for reheating leftover pizza.
Photo Credit: www.amazon.com
Planning a make-you-own pizza party? If so, how awesome are these Kate Spade designer pizza plates for entertaining? I love them! Sold in sets of 4.
Photo Credit: www.amazon.com
Wood fired pizzas at home? YES! This portable outdoor pizza oven uses either charcoal, wood pellets, or a gas burner attachment (sold separately) to bake authentic wood fire and gas brick oven pizza and will heat up to 930 degrees F. 
MORE GIFT GUIDES
Enter the Wood Pastry/Pizza Roller giveaway!
Leave a comment on this post answering this question — What is your all-time favorite pizza combination? — to be entered into a drawing to win a Wood Pastry/Pizza Roller. The winner will be chosen randomly and will be notified by email on the following Monday.
a Rafflecopter giveaway