This post may contain affiliate links. Please read my disclosure policy.
The 10 Best Stocking Stuffers for Cooks is a gift guide for that special cook in your life who feeds you well! Show your cook you appreciate their prowess in the kitchen with one—or two—of these unique small-size gifts in their stocking this year.
This specially curated list has plenty of fun and useful gadgets for foodies, home chefs, and even the person just learning how to cook. Keep reading for my list of the 10 Best Stocking Stuffers for Cooks.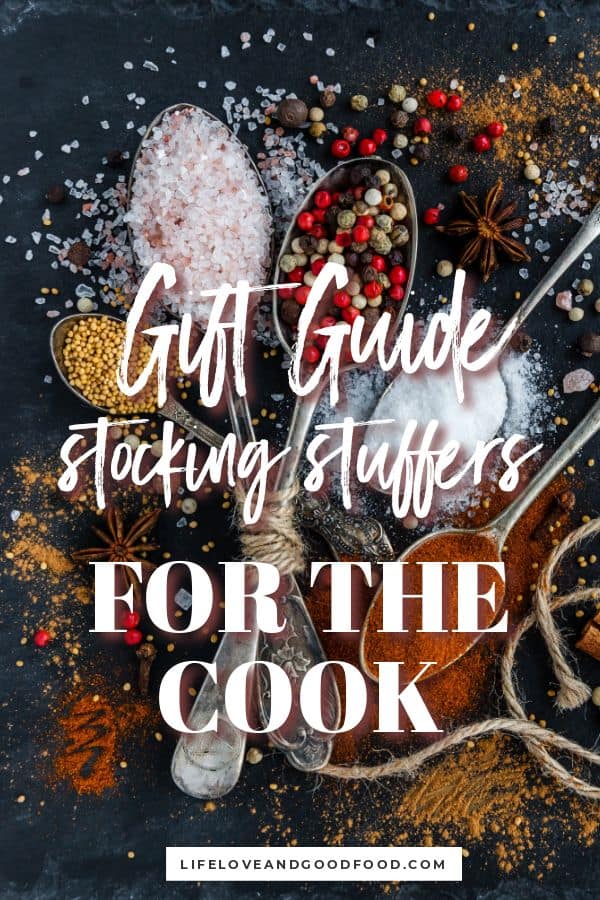 10 Best Stocking Stuffers for Cooks
Here's my list of the 10 best stocking stuffers for cooks. I've included a variety of gifts and price ranges in this guide so that there's something for everyone.
Everyone gets excited about checking out what's in their stockings at our house on Christmas morning — even our adult children! Usually the stockings are stuffed with favorite candies, restaurant or movie gift cards, and of course a few special surprise gifts.
Since we haven't had small children at our house for a few years, everyone gets involved in secretly leaving a gift in each stocking. Before breakfast, we all gather to see what was left in our stockings and have the best time with plenty of laughs and hugs. So, if you have someone at your house who enjoys cooking, keep reading for some fun stocking stuffer ideas!
WEEK FIVE OF GIFT GUIDES AND GIVEAWAYS!
This is week five of our gift guides and giveaways—be sure to read to the end to see what we're giving away this week! Then, be sure to check back each Monday through November 25 for another gift guide and another giveaway!
Photo Credit: www.amazon.com
Surprise your favorite cook with a package of this beautiful spice in their stocking! These dried spice pods are often used as a flavoring spice for cookies, jams, and even mulled wine, but they aren't readily available in most mainstream grocery stores.
Photo Credit: www.amazon.com
This pepper mix amps up the flavor in any recipe that calls for whole or ground black pepper and is especially good in marinades or meat rubs.
Photo Credit: www.amazon.com
The best part about this pizza wheel is that it has a special blade just for cutting along the edge of the pan! The Pampered Chef nailed it with this gadget and your cook will love it!
Photo Credit: www.amazon.com
I polled my Ladies Small Group to find out one kitchen gadget they couldn't live without and this Pampered Chef Mix N Chop was the clear winner. Everyone loves using this tool to break up ground beef in the skillet when they make soups or chili.
Photo Credit: www.amazon.com
Your Mama doesn't live here! was often posted on the microwave door in our office kitchen, so when I found this fun microwave steam cleaner I just had to chuckle! This gadget helps loosen stubborn messes without scrubbing or using harsh chemicals in just minutes.
Photo Credit: www.amazon.com
Every cook could use a little helper in the kitchen. These little guys are so fun and handy for propping up lids on saucepans to release the steam.
Photo Credit: www.amazon.com
These stylish wooden spoons are stamped with a pretty paisley pattern that creative foodies will love. Sold in a set of six.
Photo Credit: www.amazon.com
Photo Credit: www.amazon.com
This electric coffee grinder has two removable stainless steel bowls — one for dry and one for wet grinding. Use it for an ultra-fresh cup of morning coffee or use it to grind up spices for gourmet rubs like my Citrus Salmon Dry Rub.
Photo Credit: www.amazon.com
I've used other thermometers, but none have been as easy to use—I love the digital display! This model provides temperature readings in just 2-3 seconds with an accuracy of ±0.9°F. Your cook will love the instant read, especially when baking that Christmas turkey.
MORE GIFT GUIDES
Enter the Pampered Chef Mix N Chop giveaway!
Leave a comment on this post answering this question — What is your favorite Winter soup? — to be entered into a drawing to win a Pampered Chef Mix N Chop. The winner will be chosen randomly and will be notified by email on the following Monday.
a Rafflecopter giveaway