This post may contain affiliate links. Please read my disclosure policy.
Disclosure: This is a sponsored post, but as always my opinions are 100% my own.
Italian Skewers are a tasty combination of fresh veggies, including Tasteful Selections Sunrise Medley potatoes, and savory sausage.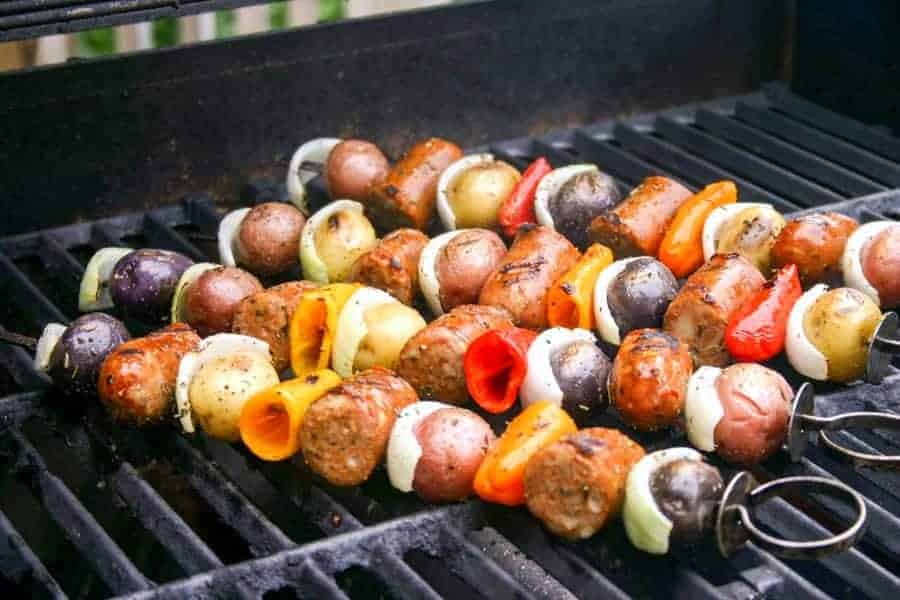 Do you ever feel like you're on a never-ending merry-go-round ride? That's been my life for the past 6 weeks, and even though some exciting stuff is happening, I am so ready for this ride to slow down!
We are literally days from making the big move to our new home and I'm bumping into towers of boxes every time I turn around!
With all this sorting and packing the last few weeks, I've been focusing on making meals that are ultra-easy and quick, like these savory six-ingredient Italian Skewers.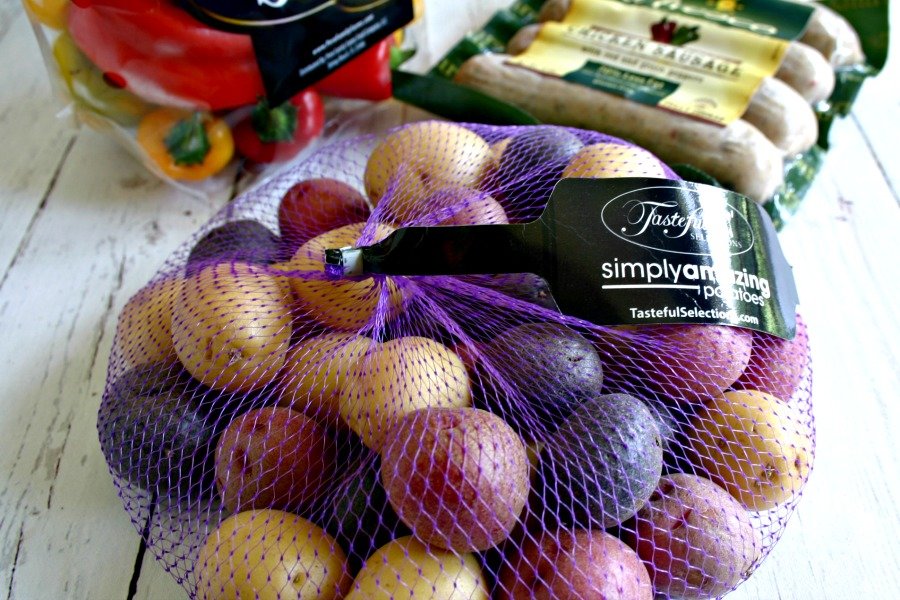 This simple grilled dinner-on-a-stick starts with Tasteful Selections Sunrise Medley Potatoes—little one-bite sized red, white, and purple spuds—a quartered sweet onion, mini sweet peppers, and Italian-style chicken sausages.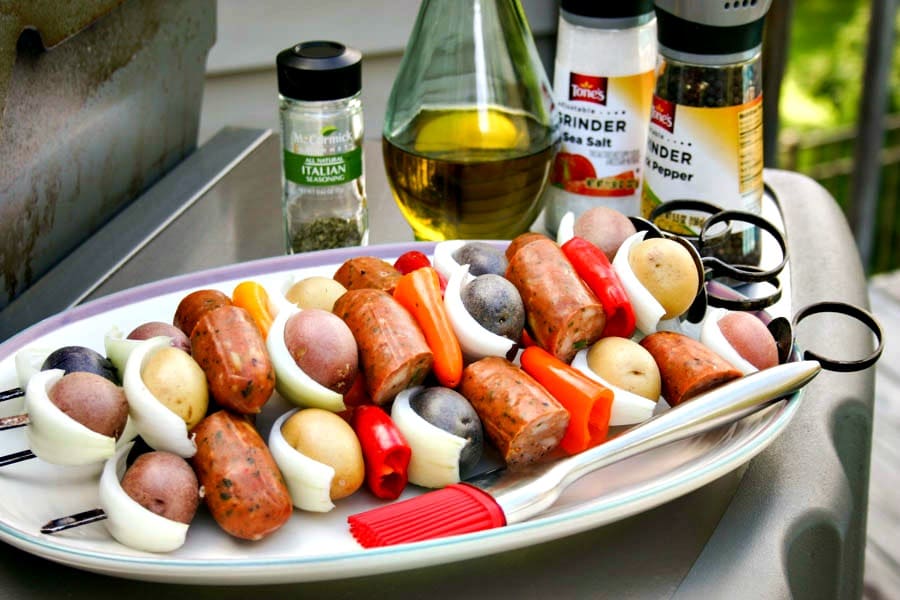 There's minimal prep work required before grilling this meal. Cut the onions, peppers, and sausages into 1 to 2 inch pieces and parboil the potatoes for just five minutes (making them easier to skewer).
I discovered that Tasteful Selections Sunrise Medley Potatoes have a sweet, almost nutty flavor and a consistently soft texture.
(Tasteful Selections are sold at Fresh Market, Food City, and Walmart Supercenter locally. Check their website for other retailers in your area.)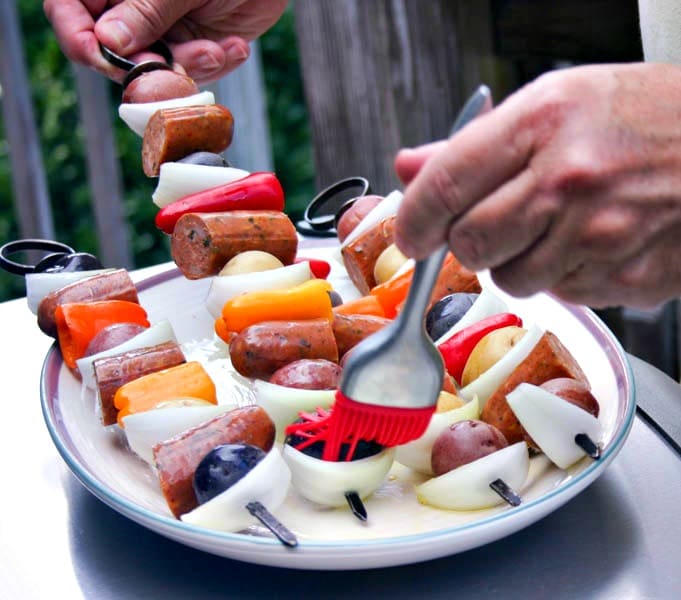 Next, liberally brush the skewers with extra-virgin olive oil then season with Italian seasoning and freshly ground sea salt and black pepper. Place skewers on a hot grill and cook 8-10 minutes until the veggies are tender and slightly charred.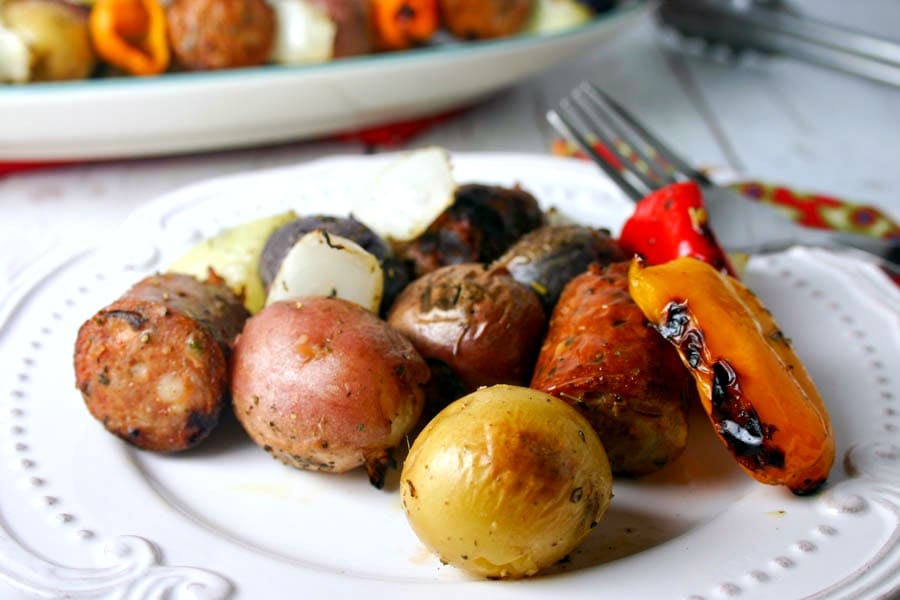 As simple as that, you've got a tasty and colorful combination of fresh veggies and savory sausage.
The best part about preparing this meal at home was that it took less than 30 minutes, leaving a few precious moments for a relaxed dinner and a breather from the chaos of packing up our house!
I have to admit that John and I were a little intrigued by these purple potatoes. Although the texture is slightly drier than the red and white potatoes, I thought they were tasty and also great fun!
I am thinking up some other creative ways to serve them and would love to hear your ideas, too. Not only that, I'd love to send the first three readers who comment on this post a coupon for a FREE bag of Tasteful Selections potatoes.
How about them apples? Or, I guess I should say, how about them taters?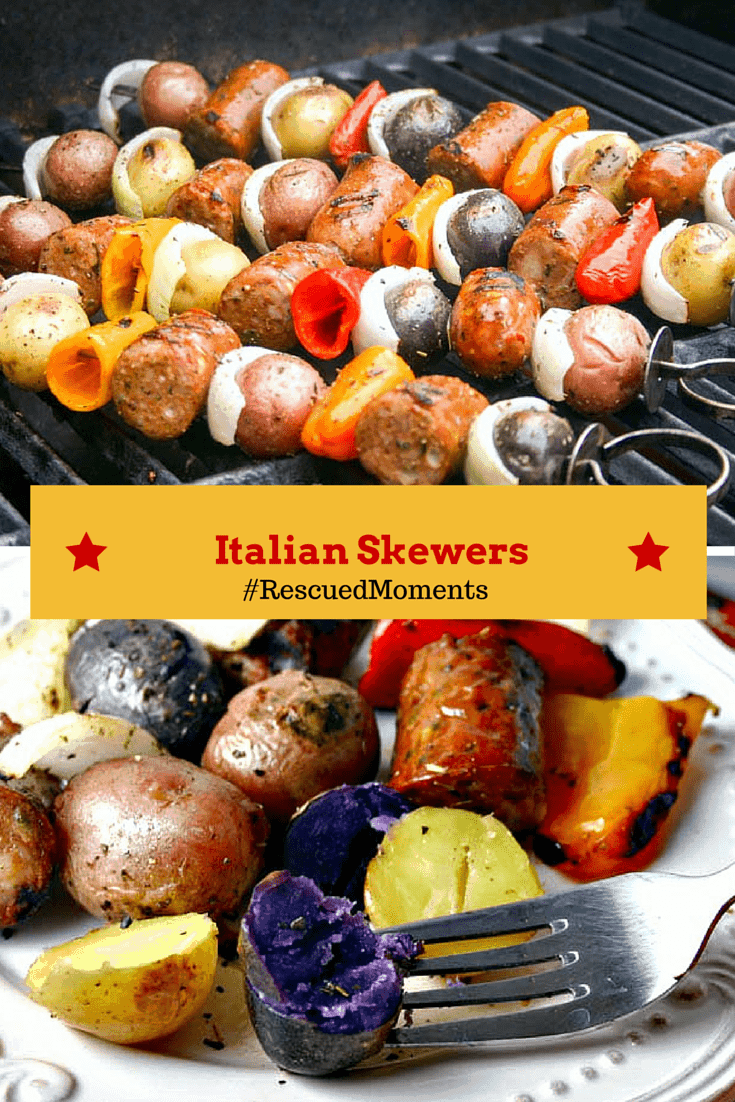 And there's more! Tasteful Selections can help you rescue moments to spend with your family with more time-saving recipes and useful cooking tips.
Enter their sweepstakes to win a trip for two to San Francisco to have your own private cooking session with an award-winning chef at his newest restaurant, Cadence in downtown San Francisco!
Chef Joey Elenterio is ready to give you some amazing tips to make life easier in the kitchen and Rescue your Moments!
Please share!
Your shares are how this site grows and I appreciate each one. Do you know someone who would enjoy this recipe? I'd love it if you would share it on Facebook or on your favorite Pinterest board!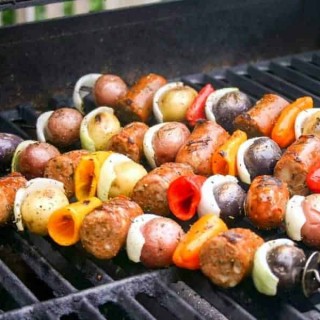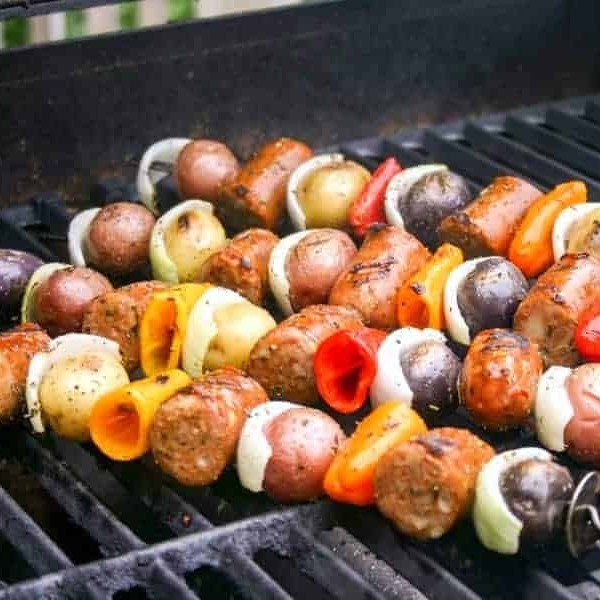 Italian Skewers
Italian Skewers. A tasty combination of fresh veggies, including Tasteful Selections Sunrise Medley potatoes, and savory sausage.
Ingredients
Tasteful Selections Sunrise Medley Potatoes

red, white, and blue

sweet Italian-style chicken sausage

or your favorite pre-cooked sausage

mini sweet peppers

1

large

sweet onion

quartered

olive oil

1-1/2

teaspoons

Italian seasoning

salt and pepper

to taste
Instructions
Wash potatoes and leave whole; do not peel. Bring a pot of water to a boil and add potatoes. Parboil potatoes for about 5 minutes. Drain and rinse with cold water.

Slice the sausages into 1-inch pieces.

Slice peppers in half and remove seeds. Quarter the onion and separate into pieces.

Preheat grill to medium high heat.

Skewer potatoes, peppers, onion, and sausage on metal skewers. Brush all over with olive oil and sprinkle with the Italian seasoning, salt and pepper.

Grill, turning often, for about 8-10 minutes, or until peppers and onion are tender and lightly charred.
Notes
© 2015 Life, Love, and Good Food
Nutrition
Serving:
1
g
Calories:
216
kcal
Carbohydrates:
22
g
Protein:
9
g
Fat:
10
g
Saturated Fat:
3
g
Polyunsaturated Fat:
6
g
Cholesterol:
28
mg
Sodium:
355
mg
Fiber:
2
g
Sugar:
6
g