Mango Guacamole. Simply adding diced mango gives traditional guacamole a fresh and unexpected tropical sweetness—unexpected and delightful!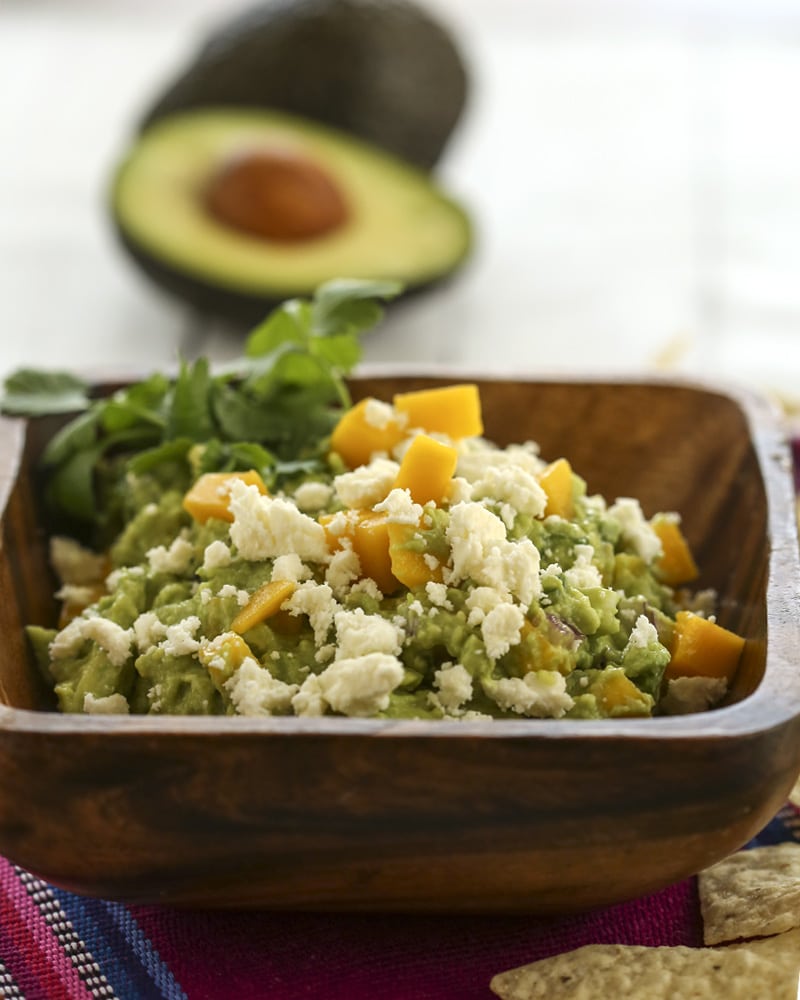 Mango Guacamole
When it comes to loading up tortilla chips, what type of dip do you prefer? Cheesy queso? Fresh salsa? Or creamy guacamole?
When tomatoes are in season, I usually lean toward fresh salsa, but lately I've been eating more avocados. Let me tell you, I've become a real fan of this recipe for Mango Guacamole!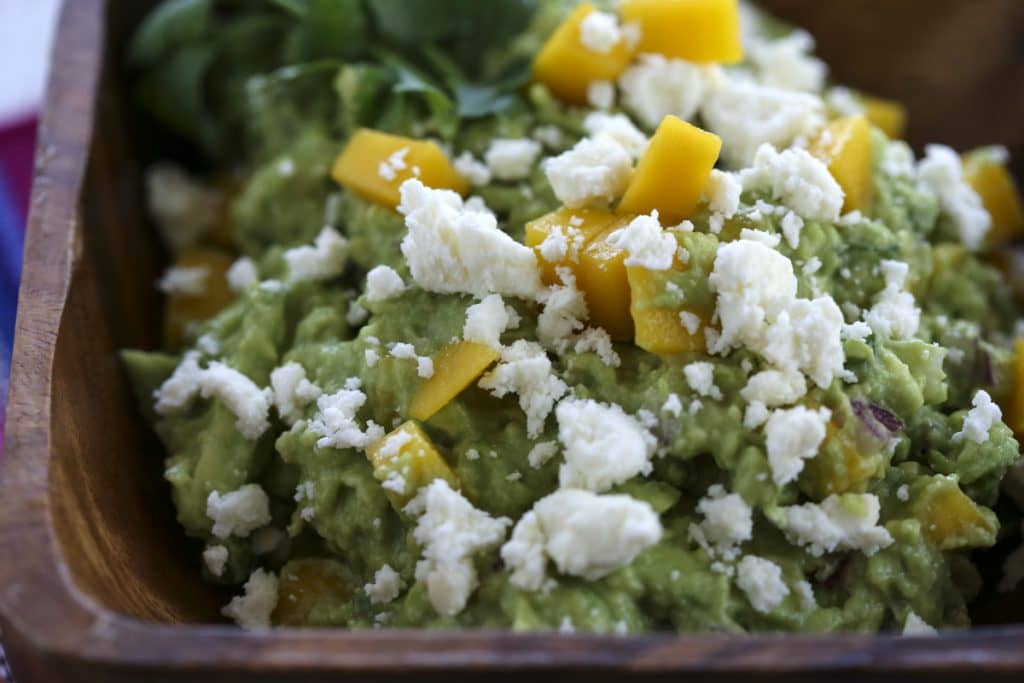 It may seem unusual, but adding a diced, ripe mango to guacamole is really ingenious.
The fruit's sweetness paired with the saltiness of tortilla chips satisfies both of those cravings, and the good thing is that the sweetness is a natural sugar.
If you've been following my blog lately, you know that I'm working toward a balanced diet that's more heart friendly—less salt, less sugar, and more vegetables.
That being said, in this recipe I used a very small amount of Morton's Lite Salt (significantly less sodium) and allowed myself to enjoy just a few chips instead of the whole bag!! Moderation is key here, friends!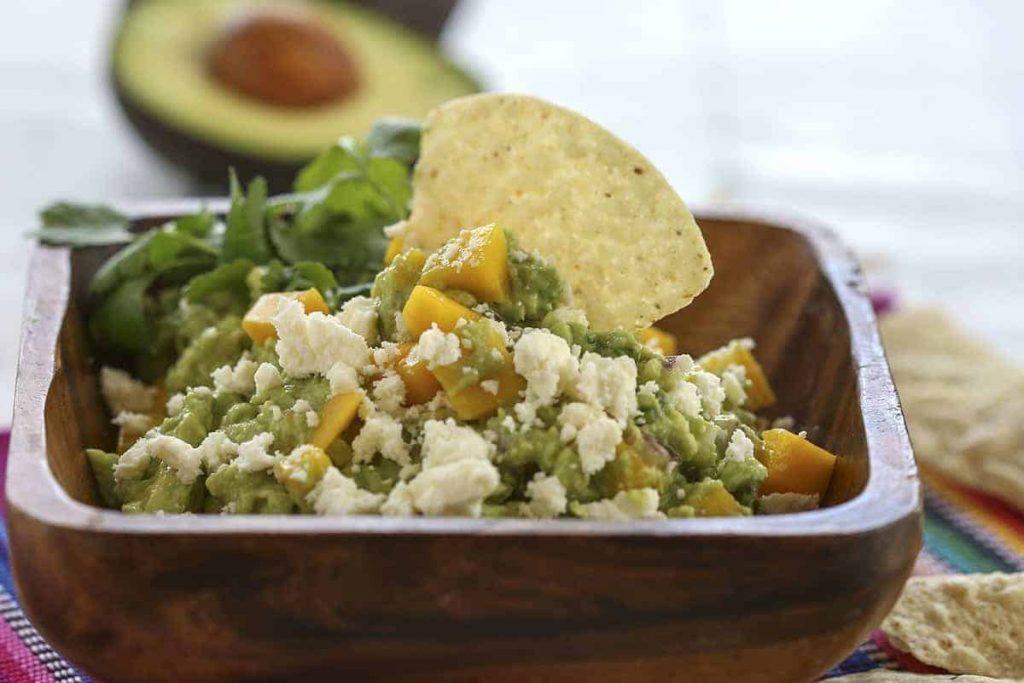 You'll also notice that I garnished my mango guacamole with a little crumbled Queso Fresco, although it's just as delicious without and leaving it off will save a few calories and fat.
If you're being really good this week, try the guacamole with fresh vegetable sticks instead of the chips!
I used to avoid avocados because I knew they contained a lot of fat, but actually they contain heart-healthy monounsaturated fat. And, adding avocado to your diet actually results many health benefits, including being a great source of potassium and vitamins C, E, K, and B-6. That's a definite plus!
Related recipes
Please share!
Your shares are how this site grows and I appreciate each one. Do you know someone who would enjoy this recipe? I'd love it if you would share it on Facebook or on your favorite Pinterest board!
Yield: 10 servings
Mango Guacamole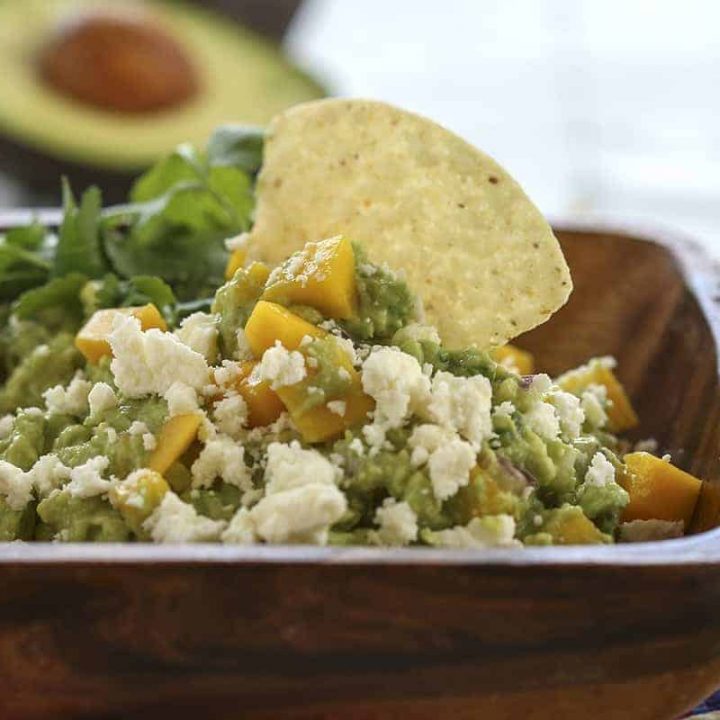 Adding diced mango gives traditional guacamole a fresh and unexpected tropical flavor.
Ingredients
3 large avocados
1/2 small red onion,, diced
1 jalapeno pepper,, seeded and finely chopped
2 tablespoons chopped fresh cilantro
2 tablespoons fresh lime juice
1 ripe mango,, peeled and diced
1/4 cup queso fresco,, crumbled
1/4 teaspoon Morton's Lite Salt
Instructions
Cut the avocados in half, running your knife around the pit from stem to blossom end and back up again. Twist the halves in opposite directions to free the pit, and pull the halves apart. Dislodge the pit, then scoop the avocado flesh into a large bowl. Coarsely mash the avocado with a large fork or potato masher. Rinse the onion under cold water, shake off the excess water, then add it to the avocado along with the serrano, cilantro and lime juice.
Mix in 2/3 of the diced mango. Taste and season with salt. If not using immediately, cover with plastic wrap pressed directly on the surface of the guacamole and refrigerate—preferably for no more than a few hours.
When you're ready to serve, scoop the guacamole into a serving bowl and garnish with the remaining diced mango and cilantro sprigs.
Recommended Products
As an Amazon Associate and member of other affiliate programs, I earn from qualifying purchases.
Nutrition Information:
Yield:
10
Serving Size:
1
Amount Per Serving:
Calories:

128
Total Fat:

10g
Saturated Fat:

2g
Trans Fat:

0g
Unsaturated Fat:

7g
Cholesterol:

2mg
Sodium:

81mg
Carbohydrates:

11g
Fiber:

5g
Sugar:

5g
Protein:

2g