This post may contain affiliate links. Please read my disclosure policy.
I'm not talking about soup today, but I am talking about my longtime good intentions to practice meal prepping. Why haven't I done it consistently? No good reason, other than procrastination and laziness, I guess!
Good intentions are not enough. They've never put an onion in the soup yet. —Sonya Levien
I've had good intentions for a long time, but without action good intentions don't go anywhere!
Today, I'm taking baby steps and am sharing my meal prep snack ideas plus a collection of 10 granola bar and energy bite recipes from a few of my blogging friends. If I can prep these quick snack ideas for the week, so can you!
Quick Snack Ideas to Prep for the Week
Let's start with the easy stuff and the right containers. This set of GoodCook Meal Prep two-compartment snack containers is compact and perfect for portion control.
Yes, I'm the person who can eat an entire bag of chips or popcorn if I'm not careful! These ideas for quick morning or afternoon snacks don't require any cooking or real prep work—you've got this!
Yogurt + granola + fresh fruit (strawberries, blueberries, etc.)
Salami + olives + sharp cheddar cheese slices
Apple slices + trail mix
Dried apple or banana chips + peanut butter
Hummus + carrot or celery sticks
Almonds or mixed nuts + cheese
Ham and cheese roll-up (a slice of deli ham with cheese in the center) + pickle
Cantaloupe + prosciutto + balsamic vinegar
Vegetable sticks + low-fat ranch dressing
Popcorn + M&Ms + peanuts (live a little!)
10 Granola Bar and Energy Bite Recipes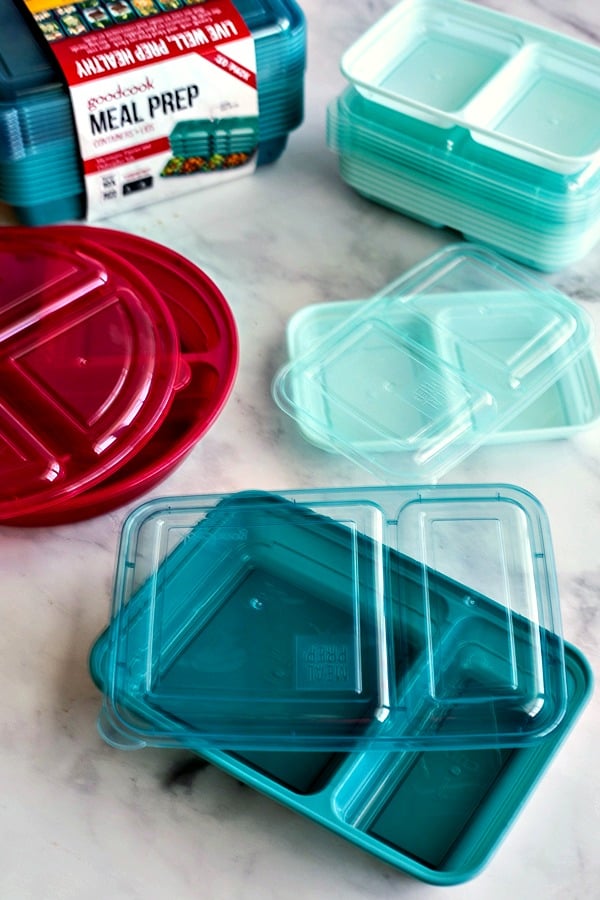 To effectively meal prep, you may need a little help from GoodCook…
GoodCook meal prep containers are thoughtfully designed for pre-portioned meals. The assortment is available in five sizes that come in a set of 10 and a starter guide by Meal Prep on Fleek—an influential online meal prepping resource and community, which provides healthy recipes designed for each container. The containers are color coded by type, reusable, microwave, freezer and dishwasher safe, and BPA free.
The following are affiliate links. We are a participant in the Amazon Services LLC Associates Program, an affiliate advertising program designed to provide a means for us to earn fees by linking to Amazon.com and affiliate sites. Here are the GoodCook containers that I own.
GoodCook Meal Prep on Fleek, 2 snack compartment kit — 10 sets, enough for 2 snacks/day or 1 power snack each for a working couple
GoodCook Meal Prep on Fleek, 2 compartment main meal kit —10 sets, perfect for a portion controlled main meal and a side dish
GoodCook Meal Prep on Fleek, 3 compartment main meal kit — 10 sets, round dinner plate style follows the recommended portions of a balanced diet, labeled with specific food groups
GoodCook Meal Prep containers are also available at Target and BedBathandbeyond.com.