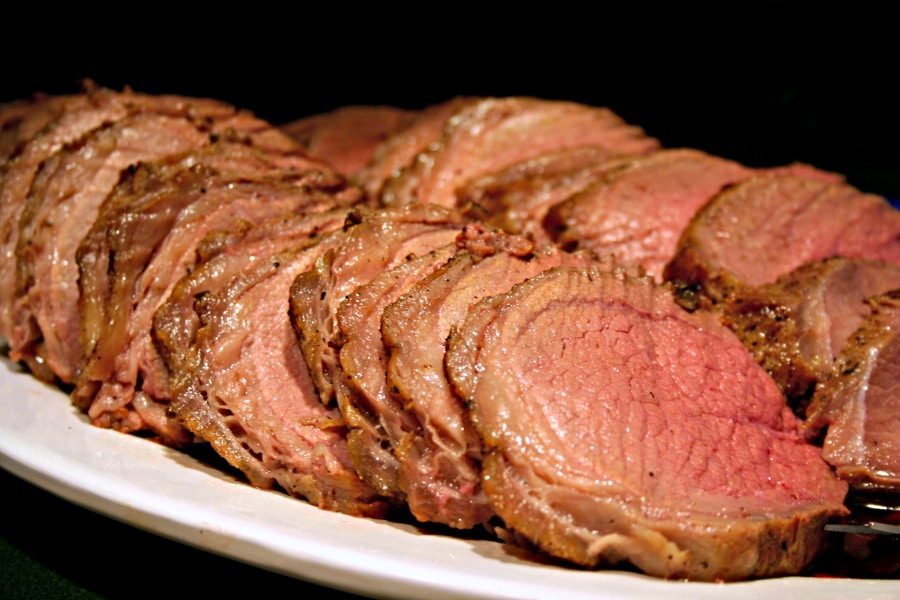 Just before Thanksgiving, I entered one of those Facebook giveaway contests. You know, one of those contests where you like a page and share a post…and guess what? I won a new Viking Culinary Roasting Pan! This 3-ply stainless steel roasting pan is a beast! I was excited when it arrived in time for me to try it out for our Christmas dinner. However, I will confess that I was just a wee bit nervous about attempting this Slow Roasted Beef for the first time without a trial run, but there was no need for worry because it turned out great!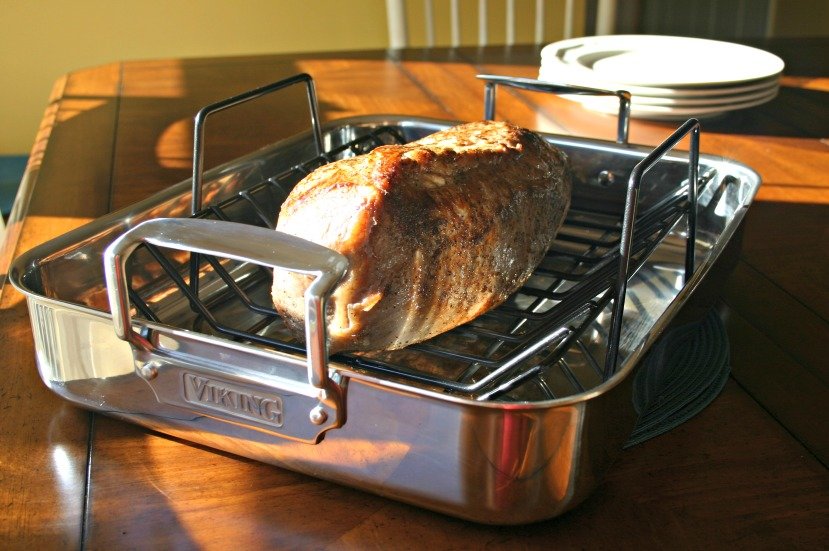 Getting our meal ready was truly a family affair. John and the girls helped with the prep and his Mom and sister chipped in with a couple of side dishes. We started with an inexpensive cut of beef, a boneless chuck eye of round roast, and adapted a roasting recipe I found on the One Dad's Kitchen blog. The first step was to salt the meat and wrap it in plastic wrap and refrigerate for 24 hours. We cut the amount of salt in half and the meat was still plenty tender and well-seasoned. Christmas morning, we needed to sear the roast before putting it into the oven. This presented a small dilemma — I didn't have a frying pan large enough to accommodate our huge chunk of meat! I really didn't want to cut the roast in half before baking. Not to worry, Lindsay, our problem-solver, thought to use the electric griddle — perfect!
Once the meat was browned, it went into a slow oven for about two hours. We let it rest probably another hour while we completed the rest of our cooking. Allison prepared a delicious Molasses and Apples Baked Brie as an appetizer (I will be sharing that recipe soon, too!). To accompany the Slow Roasted Beef, we served Linda's cream cheese mashed potatoes, Sue's homegrown green beans, a little homemade gravy, my Roasted Brussel Sprouts with Parmesan Cheese, and an out-of-this-world moist Lemon Pound Cake for dessert, thanks to my friend Mitzi! The Roast Beef was extremely tender, very delicious, and made plenty to serve our crowd!
Thank you, Viking Culinary, for my fabulous new stainless steel roasting pan! I love the stay-cool handles and the non-stick rack makes clean-up easy!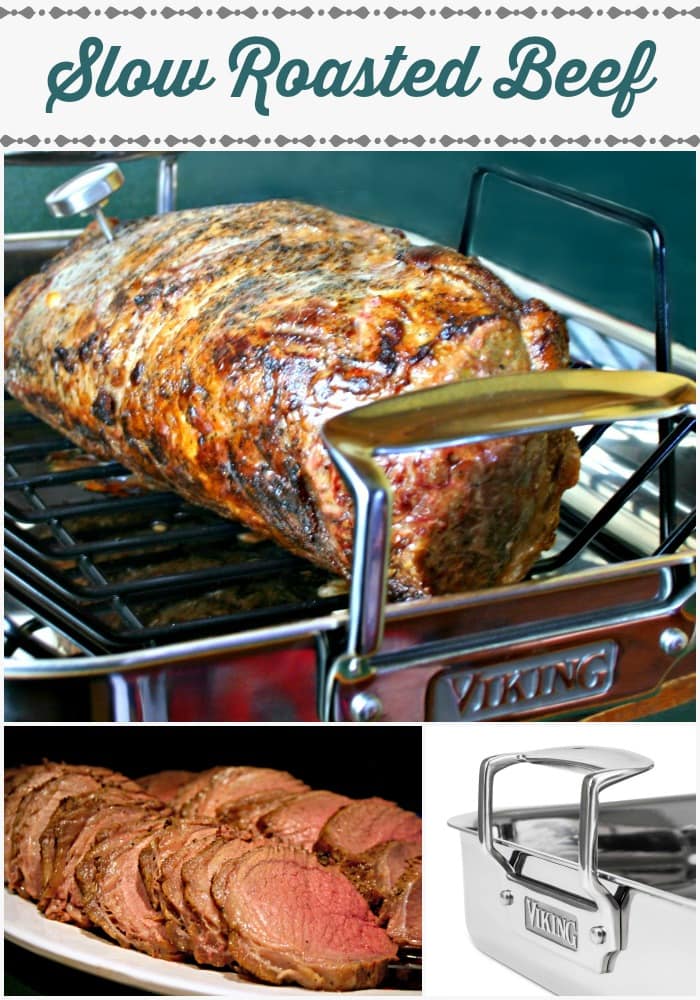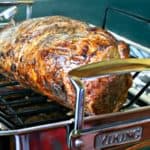 Slow Roasted Beef
Ingredients
1

boneless chuck eye of round roast

6 to 7 pounds

1-1/2 to 2

teaspoons

table salt

2

teaspoons

vegetable oil plus 1 tablespoon

2

teaspoons

ground black pepper
Instructions
Sprinkle all sides of the roast evenly with the salt. Wrap the roast in plastic wrap and refrigerate for 18 to 24 hours. Adjust an oven rack to the middle position and heat the oven to 225 degrees. Pat the roast dry with paper towels and rub with teaspoons of the oil and sprinkle all sides evenly with pepper.

Heat the remaining tablespoon of oil in a large skillet or griddle over medium high heat until starting to smoke. Sear the roast until browned on all sides, 3 to 4 minutes per side. Transfer the roast to a wire rack set in a roasting pan. Roast the meat until an instant read thermometer inserted in the center of the roast registers 115 degrees for medium rare, 1-1/4 to 1-3/4 hours, or 125 degrees for medium, 1-3/4 to 2-1/4 hours.

Turn the oven off; leave the roast in the oven, without opening the door, until an instant read thermometer inserted in the center of the roast registers 130 degrees for medium-rare or 140 degrees for medium, 30 to 50 minutes longer. Transfer the roast to a carving board and let rest for 15 minutes. Slice the meat crosswise as thinly as possible and serve.