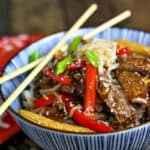 Print
Korean Beef Stir Fry
Cook thinly sliced beef quickly at high heat and skip the marinating time without sacrificing tenderness or flavor with this short-cut Korean Beef Stir Fry recipe.
1

pound

lean steak, strip or sirloin

1

red bell pepper

1

can

bean sprouts, drained

1

can

whole baby corn, drained

3

green onions

1

clove

garlic, minced

1-1/2

tablespoons

Thrive Algae Oil

1

tablespoon

sesame seeds, if desired for garnish

lo mein noodles or rice

prepared per pkg. directions
Sauce
1/4

cup

lower-sodium soy sauce

2

tablespoons

sesame oil

2

tablespoons

brown sugar

2

tablespoons

mirin

2

cloves

garlic, minced

1

tablespoon

fresh ginger, minced

1/4

teaspoon

red pepper flakes

2

tablespoons

water

2

teaspoons

corn starch
Prep Ingredients
Thinly slice steak across the grain; set aside.Mince 1 clove garlic and place in a small prep bow. Thinly slice the white potion of the green onions and add to the garlic. Diagonally slice the green portion of the onions into 1/2-inch pieces and place in another prep bowl.Slice red bell pepper into thin slices (julienned) and place in a prep bowl; set aside.Drain baby corn and bean sprouts.

For the sauce, in a small bowl stir together 2 tablespoons water and 2 teaspoons corn starch until smooth. Add the remaining sauce ingredients and whisk until combined; set aside.
Stir Fry
Add Thrive Algae Oil to a wok or large cast iron skillet and heat on high. Add the bowl of garlic and onion—it should sizzle immediately—and cook and stir until fragrant, about 30 seconds. Add the beef and cook until no longer pink, about 4-5 minutes.

Add the red bell pepper and cook for 1-2 more minutes, stirring frequently. Add baby corn and the sauce and cook until thickened. Stir in the bean sprouts.

Remove from heat and serve over lo mein noodles or rice and garnish with the remaining bean sprouts, green onions, and sesame seeds, if desired.