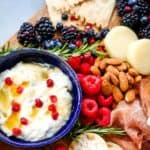 Print
Whipped Sage Honey Ricotta Spread
An array of colorful berries and fresh herbs on this Holiday Cheese Board with Sage Honey Ricotta makes an impressive table scape of delicious nibbles for all party guests.
Cheese Board Ingredient Suggestions
hard cheese (i.e., Manchego)

blue cheese

nuts (almonds, pistachios, walnuts)

dried figs or candied citrus slices

berries of your choice (strawberries, raspberries, blackberries, blueberries)

grapes or apple/pear slices

rosemary sprigs for garnish

pomegranate arils for garnish (optional)
In a small bowl, whisk the ricotta together with lemon juice, olive oil, and a sprinkle of sea salt. Add the minced sage and honey and stir. You may adjust the amount of honey to your taste.