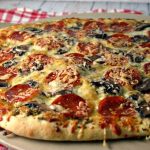 Print
Pepperoni Pesto Pizza & Homemade Pizza Dough
Pepperoni Pesto Pizza made with homemade pizza dough from an online Craftsy class!
Pizza Dough (makes four 12-14 inch crusts)
Pizza (amount for topping one pizza)
1-2

tablespoons

olive oil

2

tablespoons

Classico prepared basil pesto

1

cup

shredded mozzarella cheese

3

oz.

Hormel pepperoni slices

1

cup

mushroom slices

1/4

cup

freshly grated Parmesan cheese
Dough
Place all dry ingredients into bowl of a stand mixer, including yeast. Mix for a 3-5 seconds to combine. Add olive oil and water. Mix for one minute, then let rest for 5 minutes.

Mix for just one more minute, then turn dough onto a well oiled surface. Gently stretch and fold in dough on all four sides, then flip over. Place an inverted bowl over dough and let rest for 5 minutes. Repeat this process four times (See Craftsy video for technique.) Dough will continue to become elastic and rise during this process.

Divide dough into 4 balls and place on a parchment lined baking sheets or pizza stones. Dough balls may be placed in oiled freezer bags and frozen up to 3 months or placed in an oiled glass bowl covered with plastic wrap in the refrigerator for up to 3 days.

Pat dough into desired size (or stretch using technique found on Craftsy video).
Pizza
Preheat oven to 450 degrees.

Brush olive oil over pizza crust, then evenly spread pesto over top and top with the mozzarella cheese.

Add pepperoni and mushrooms, then shave Parmesan all over top.

Bake for about 12 minutes or until cheese is bubbly and just beginning to brown.