Do you ever get in a rut and realize that you are eating the same for lunch every day? Or is your morning routine so rushed that you skip packing a lunch before heading out the door? When I was working in an office full time, I found myself rotating between the same three or four lunch spots and was spending money on eating out everyday that didn't bring me all that much joy. What I was missing was just a little planning and inspiration. One answer for me was Harvest Chicken Salad. With about 30 minutes of prep work, I could pack a week's worth of delicious, healthy lunches with just a few convenience items! That's a win in my book!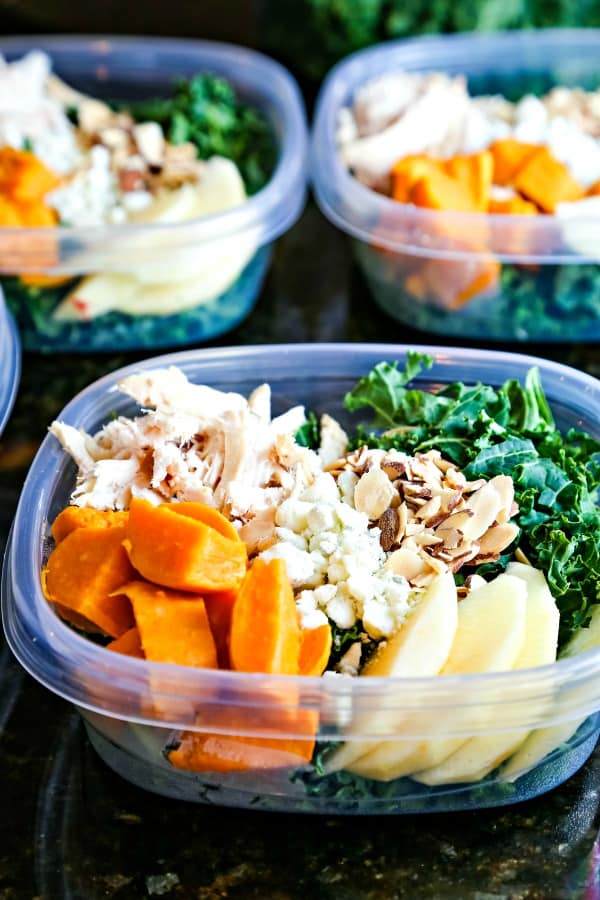 I gotta tell you, my daughter is the queen of meal prep and planning. Every Sunday evening, my career girl cooks and preps her lunches (and sometimes dinners) for the week. She eats healthy and saves a lot of money by taking her lunch to work most days.
On the other hand, I always have good intentions but never seem to get it in gear when it comes to packing my lunch—until now! Thanks for the inspiration, Girl! Harvest Chicken Salad only takes a few minutes of prep work to pack a week's worth of delicious, healthy lunches.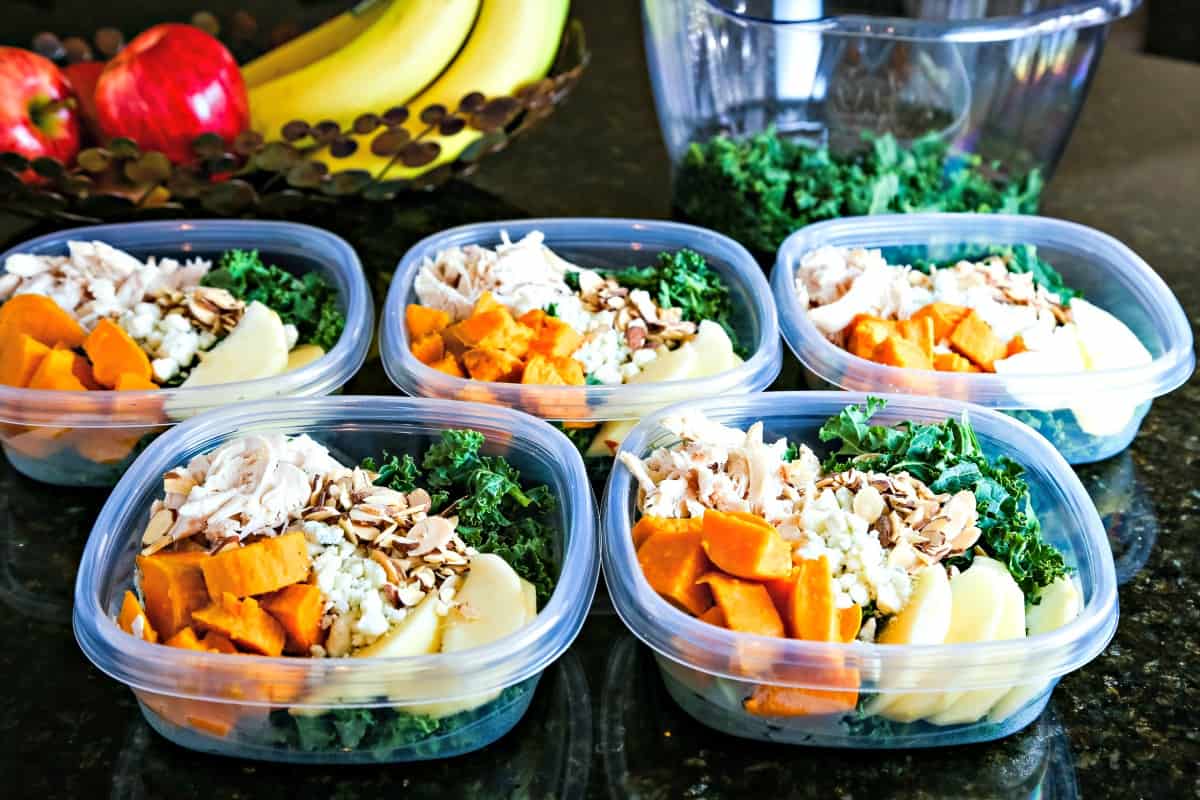 The key to making this meal prep EASY is choosing a few convenience items from your grocery's deli.
Kale. You can find kale in the produce aisle that's already washed, chopped, and ready to eat. I also find that prepping a bunch of fresh kale is really quick by pulsing in my food processor. I like it in a small chop, so this works well for me.
Rotisserie chicken—all cooked and ready to go. At my neighborhood Kroger, I buy rotisserie chicken from the deli that's already been removed from the bone. It's perfect for making chicken salad or for pasta dishes, and for this salad!
Petite sweet potatoes in ready to steam bags in the produce aisle. Steam in the package for just 5 minutes and then peel and chop.
Roasted salad almonds (found sometimes in the produce aisle or the condiments aisle).
You may need these items to get into the meal prep routine: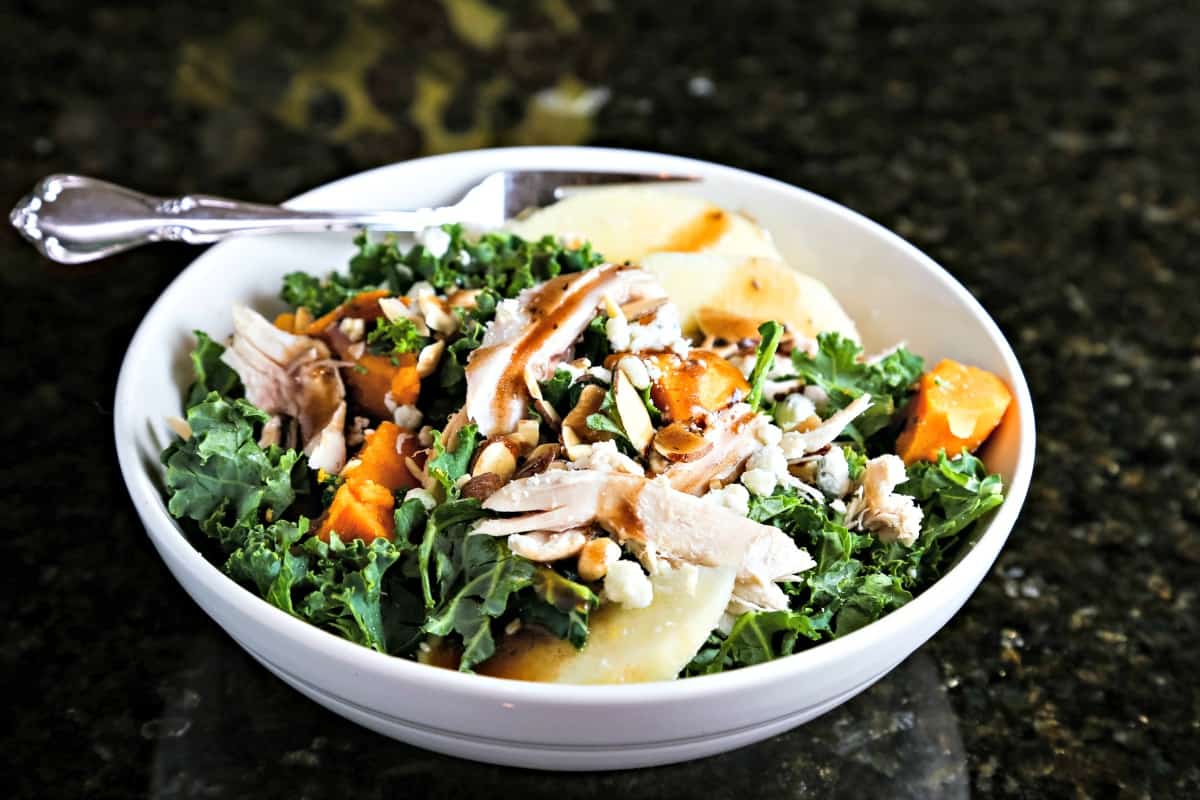 Harvest Chicken Salad
Prep and divide the ingredients among five containers (these Glad disposable/reusable containers work great!) and then sprinkle with blue cheese and almonds. Seal and store until ready to eat, then add a good balsamic dressing just before serving. Again, for ease and convenience use a bottled dressing, but this homemade version is super quick and delicious, too!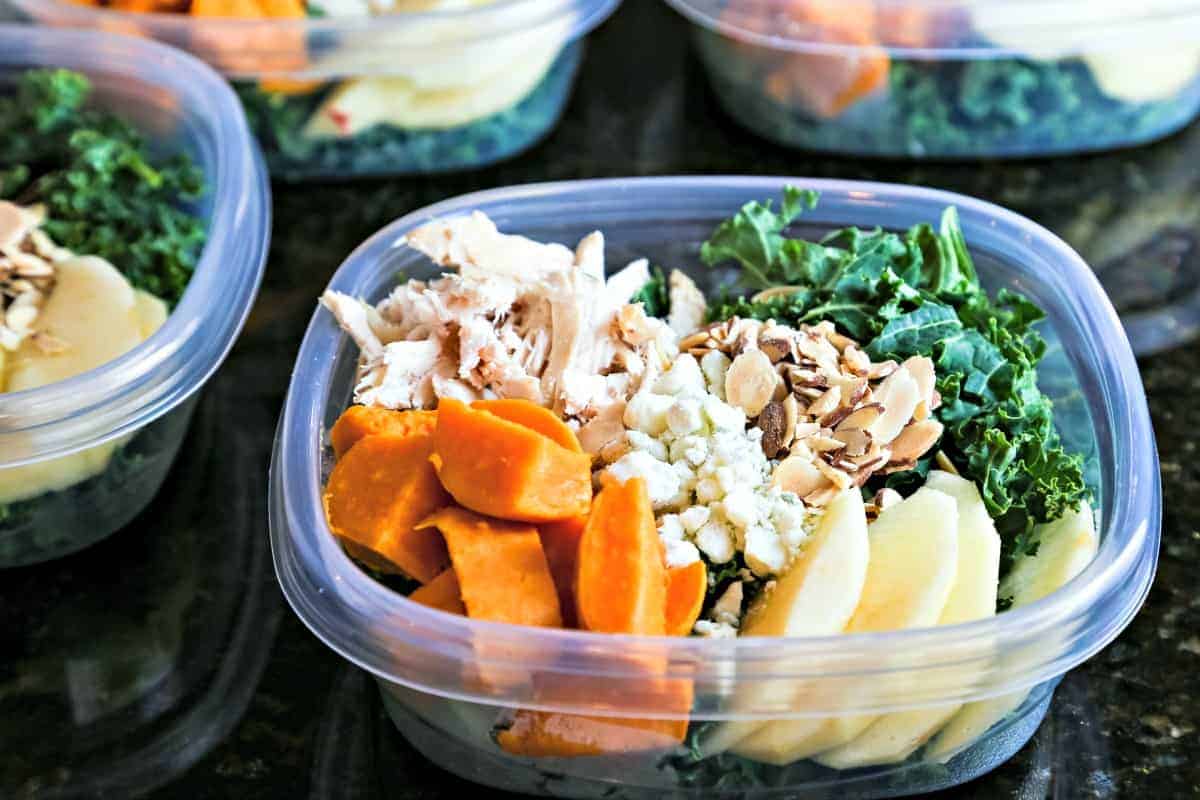 You may also like these other chicken salad recipes:
Did you try this Harvest Chicken Salad recipe?
If you like this recipe, please do me a favor and give it a 5-star rating!
Yield: 5 servings
Fall Harvest Chicken Salad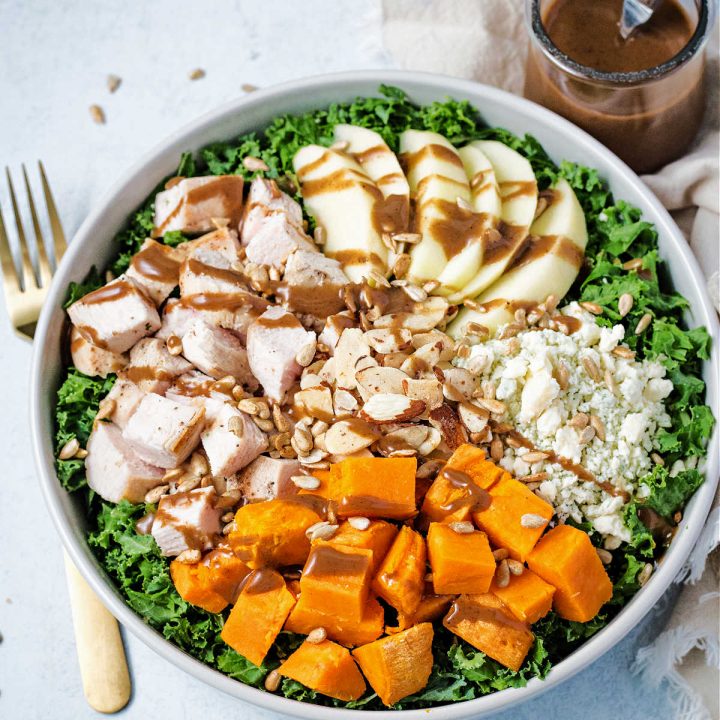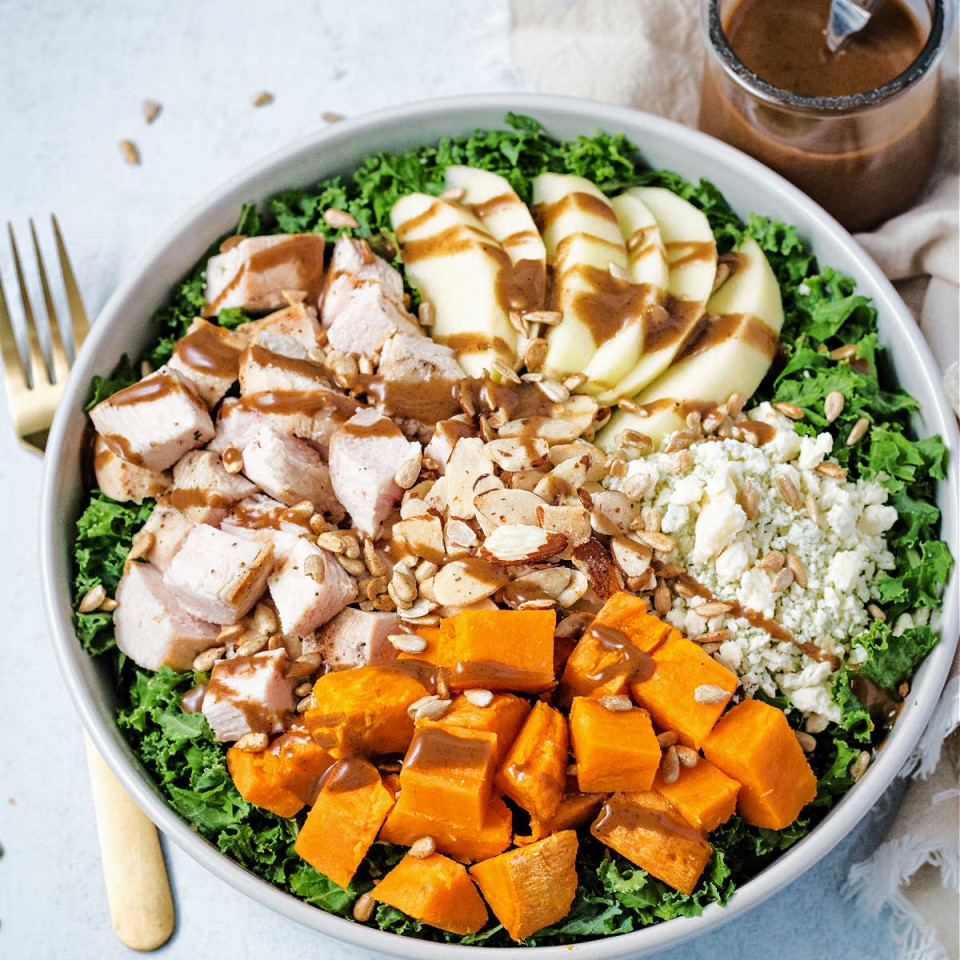 Harvest Chicken Salads: Prep a week's worth of delicious lunches in less than 30 minutes with just a few convenience items!
Ingredients
1 bunch kale, shredded
1-2 apples, thinly sliced
5 petite sweet potatoes
1 rotisserie chicken
5 tablespoons blue cheese
5 tablespoons roasted almonds
balsamic vinaigrette, (bottled or homemade balsamic vinaigrette)
1 tablespoon lemon juice
Instructions
Salad Prep:
Remove skin and chicken from the bone. Pull into large chunks. (Some grocery deli departments sell rotisserie chicken already removed from bone and ready to use on salads, etc.).
Shred kale into bite size pieces (use a food processor and pulse for a few seconds at a time, being careful to avoid mincing the kale).
Steam sweet potatoes according to package directions. Cool and peel. Cut into bite-size chunks.
Peel and slice apples. Place in a small bowl with 1 tablespoon lemon juice and toss to combine.
Salad portioning:
Layer into each container, 1-1/2 cups kale, 1/2 cup chicken, and 1/2 cup sweet potatoes. Evenly divide apple slices (discarding any lemon juice) between containers. Top each bowl with 1 tablespoon blue cheese and 1 tablespoon roasted almonds. Cover and store in refrigerator until ready to eat. Serve with your favorite bottled or homemade balsamic vinaigrette.
Nutrition Information:
Yield:
5
Serving Size:
1
Amount Per Serving:
Calories:

354
Total Fat:

13g
Saturated Fat:

3g
Trans Fat:

0g
Unsaturated Fat:

9g
Cholesterol:

64mg
Sodium:

454mg
Carbohydrates:

38g
Fiber:

7g
Sugar:

16g
Protein:

23g