Bacon-Wrapped Asparagus Bundles are roasted in the oven with a brown sugar soy sauce until the bacon is perfectly crisp and the asparagus spears are slightly caramelized.
This elegant asparagus wrapped in bacon is the perfect side dish for your Easter ham, Thanksgiving turkey, or even a nice grilled steak. Please don't think you have to wait for a special occasion to make Bacon-Wrapped Asparagus Bundles! This recipe is a special treat any time.
Asparagus is one of my favorite in-season Spring vegetables. It's tasty steamed, roasted, or even grilled, but I think asparagus is especially delicious when it's wrapped in bacon! Anything wrapped in bacon has to be good, right?!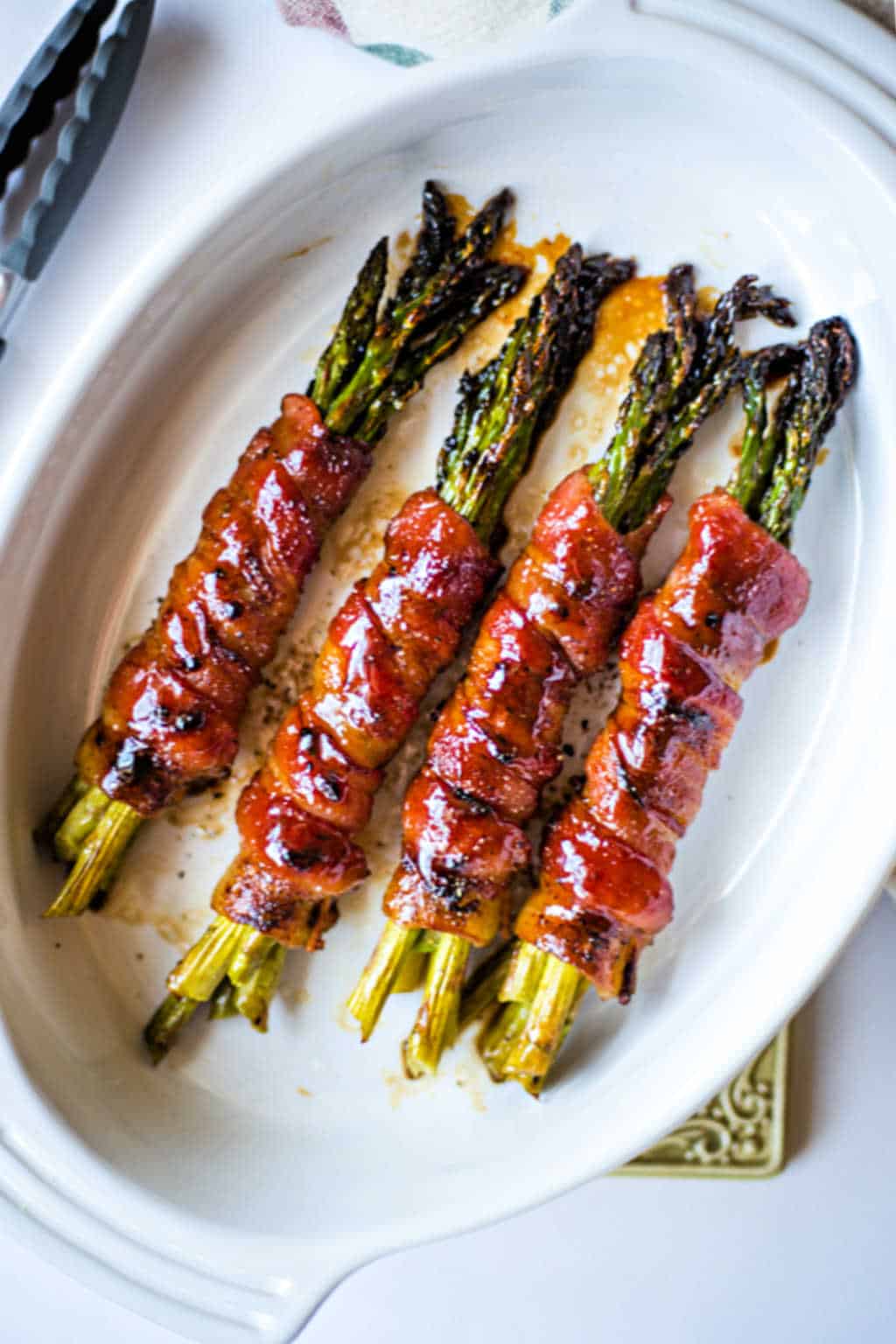 Bacon-Wrapped Asparagus Bundles
This Bacon-Wrapped Asparagus Recipe was adapted from one featured by Trisha Yearwood on her Food Network show where she does her own cooking for family and friends.
Don't you sometimes wonder whether certain celebrities are normal people who do normal things even though they have extraordinary opportunities? I like to think that Trisha is one of those rare down-to-earth celebrities.
After watching her show, I started searching for her original recipe when I landed on her Facebook page. Did you know she does a live video feed Saturday morning called coffee talk in her pjs and without makeup. Go, Trisha!
About Trisha's asparagus and bacon, it's a delicious side dish for Thanksgiving or it can double as an appetizer. Crispy bacon and a sweet glaze, this oven baked asparagus is heavenly!
How to prep asparagus
Rinse asparagus spears under cool water to remove any grit.
Hold the asparagus by the tip in one hand and the end in the other hand. Bend gently and the spear will naturally snap off the tougher end leaving the tenderest part of the stalk.
Dry the asparagus by rolling the stalks between paper towels or kitchen towels.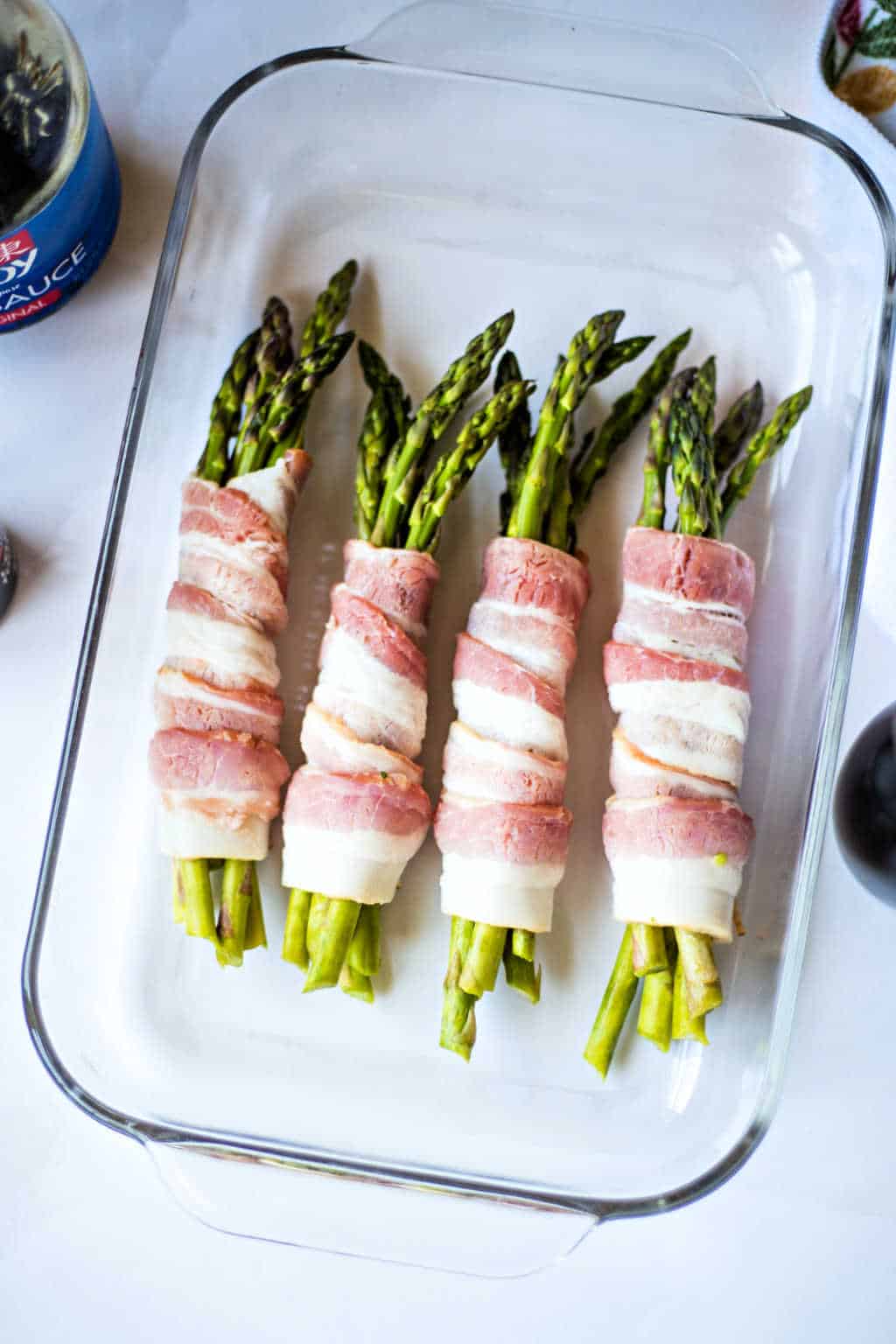 Instructions
Preheat the oven to 400 degrees. Prep the asparagus, then divide it into bundles of 3 to 5, depending on the thickness of the stalks.
Wrap a piece of thin-sliced bacon around each bundle and secure it with a toothpick. Add the bundles to a baking dish.
In a small saucepan over medium high heat, bring the brown sugar, butter, soy sauce, and garlic powder to a boil. Pour the mixture mostly over the bacon pieces in the casserole dish.
Bake for 20 minutes, then place under the broiler to crisp up the bacon.
Remove the toothpicks and serve.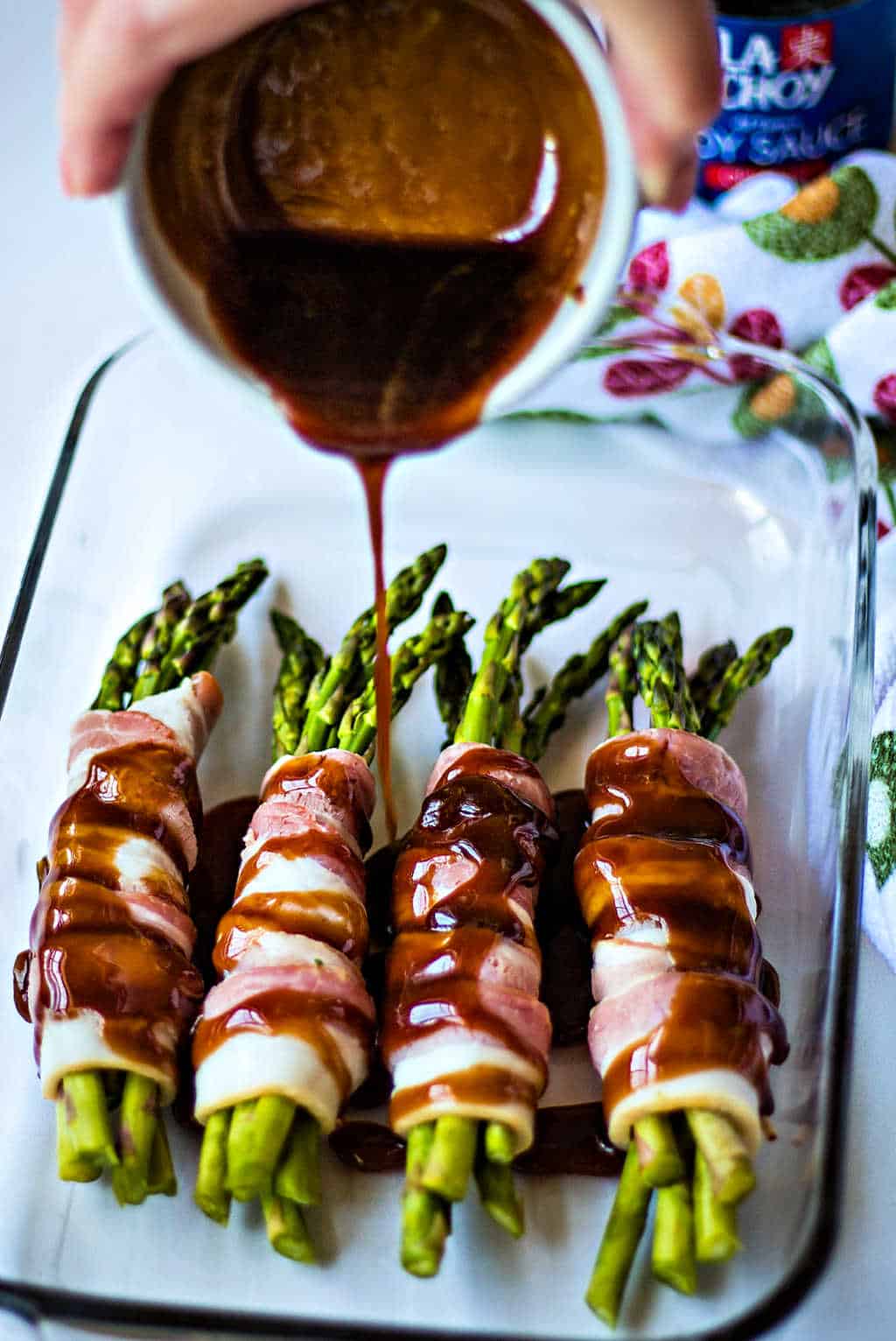 Tips for wrapping asparagus bundles in bacon
As a general rule, thinner bacon works best for recipes like these asparagus bundles or even bacon wrapped shrimp.
If using thicker cut bacon, cook the bacon partially or until it begins to become transparent. Otherwise, the bacon will have a hard time getting crisp in the oven.
Secure bacon slices by threading a toothpick through the bacon. This will make it easier to remove once the bacon has cooked.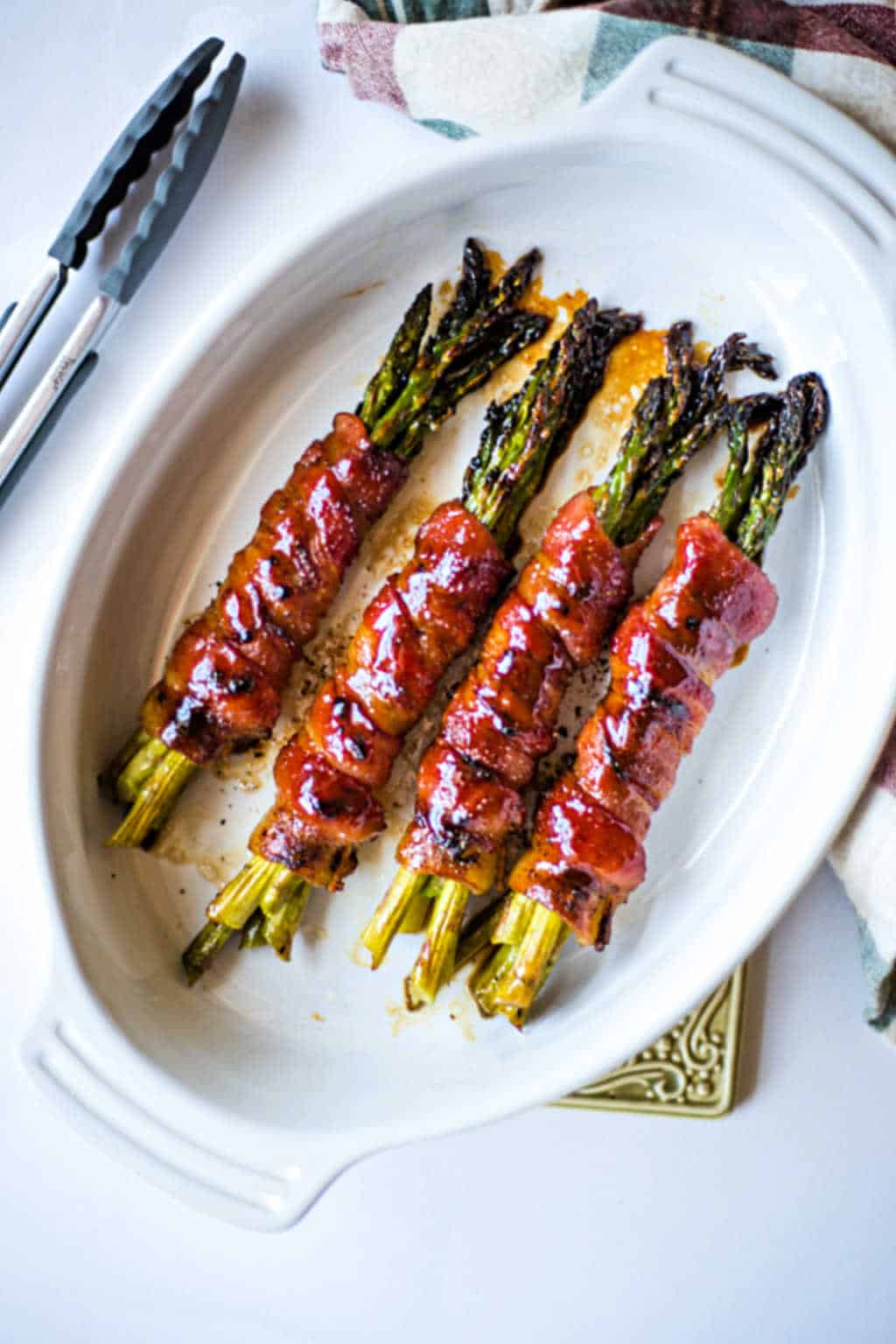 More asparagus recipes
There are so many delicious ways to enjoy fresh asparagus. Here are a few of my favorites: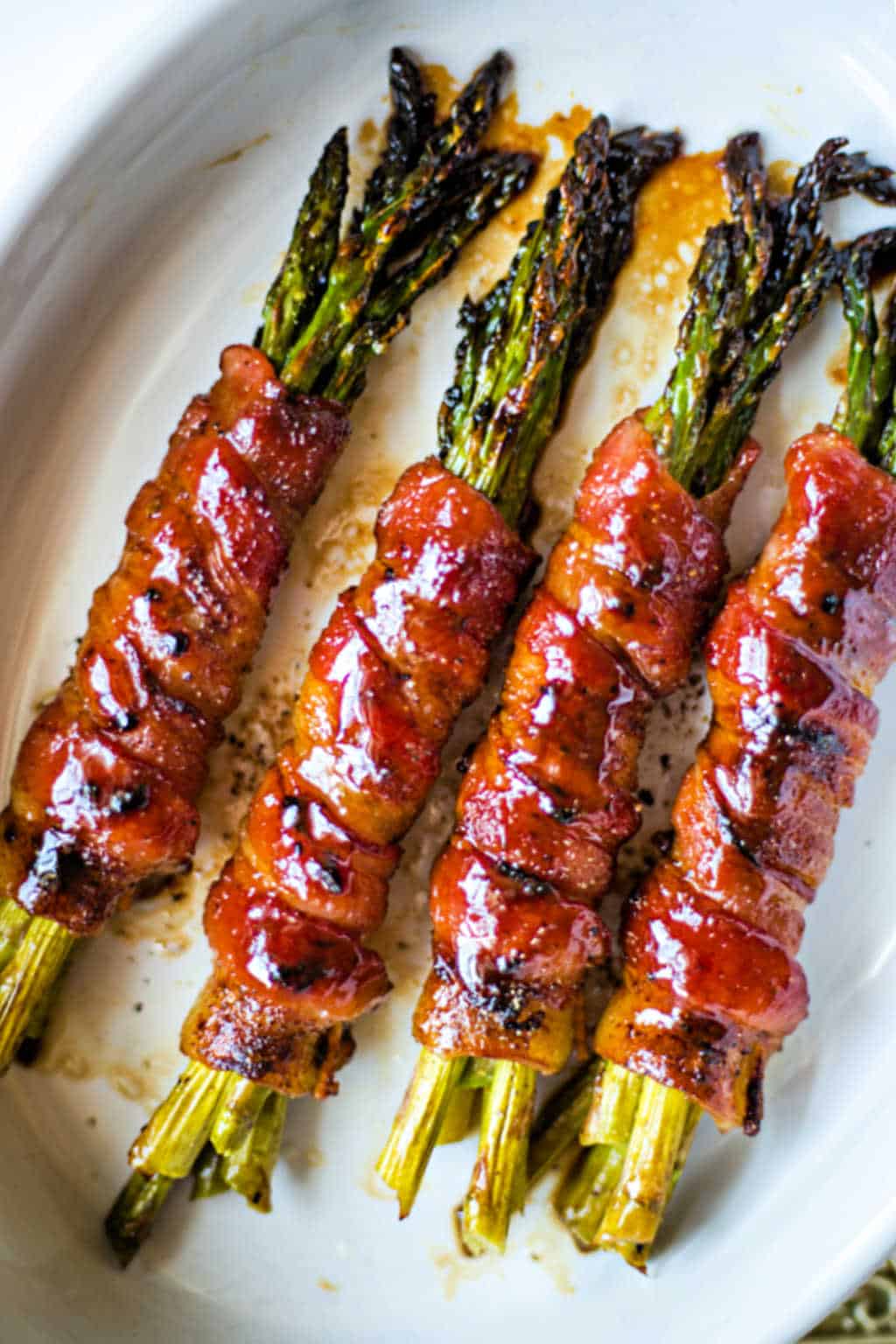 Let's cook!
For my version of Trisha's recipe, I chose medium asparagus stalks and wrapped them in bundles of five, however larger stalks will also work if you wrap them in bundles of three.
It's important to use thin bacon or to pre-cut thicker bacon for a bit so that the bacon gets good and crispy as the asparagus cooks.
Please share!
Your shares are how this site grows and I appreciate each one. Do you know someone who would enjoy this recipe? I'd love it if you would share it on Facebook or on your favorite Pinterest board!
First Published: April 29, 2016. Last Updated: September 10, 2020.
Yield: 6 servings
Bacon-Wrapped Asparagus Bundles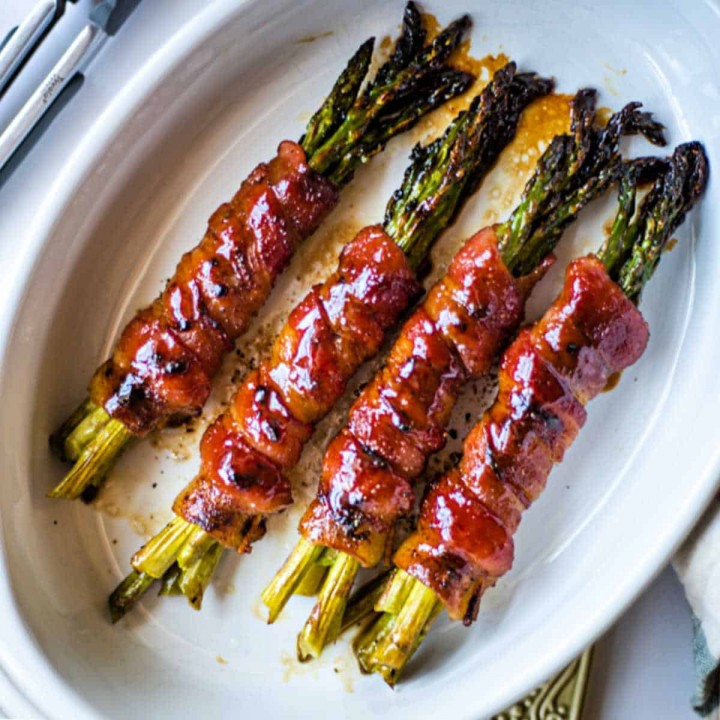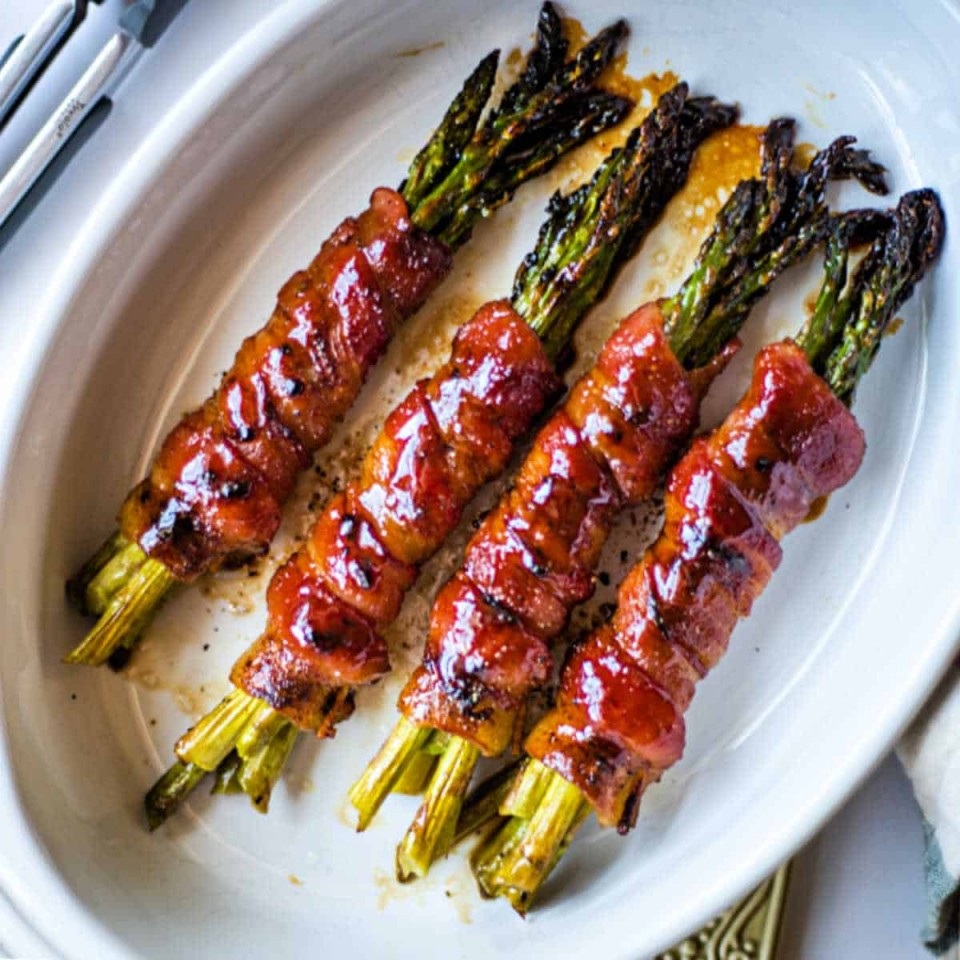 Bacon-Wrapped Asparagus Bundles are a delicious and beautiful side dish for that special meal.
Ingredients
1 pound fresh asparagus, ends trimmed
5-6 slices bacon
1/4 cup light brown sugar
2 tablespoons butter
1-1/2 teaspoons soy sauce
1/4 teaspoon garlic powder
freshly ground pepper
Instructions
Preheat oven to 400 degrees. Divide asparagus into five or six bundles, depending on the size of your asparagus, and carefully wrap a piece of bacon around each and secure with a toothpick. Place the bundles in a casserole dish.
Combine the remaining ingredients in a small sauce pan and bring to a boil over medium high heat.
Pour this mixture over the asparagus bundles and place the dish in the preheated oven
Bake for about 20 minutes, then increase the heat to broil and bake for 5-6 minutes watching carefully and turning often, until the bacon is crisp.
Remove the toothpicks before serving.
Notes
Recipe adapted from Home Cooking with Trisha Yearwood (c) Clarkson Potter 2010
Recommended Products
As an Amazon Associate and member of other affiliate programs, I earn from qualifying purchases.
Nutrition Information:
Yield:
6
Serving Size:
1
Amount Per Serving:
Calories:

135
Total Fat:

8g
Saturated Fat:

4g
Trans Fat:

0g
Unsaturated Fat:

4g
Cholesterol:

22mg
Sodium:

310mg
Carbohydrates:

11g
Fiber:

2g
Sugar:

8g
Protein:

6g