This post may contain affiliate links. Please read my disclosure policy.
One delicious way to cool off and quench your thirst on these hot, muggy Summer days is with a big glass of ice-cold fruit-flavored sweet tea.
My blueberry tea is made with perfectly brewed black tea and fresh blueberry-mint simple syrup. Pour it over ice in a tall glass and garnish with fresh mint sprigs for a lovely and refreshing taste of Southern hospitality!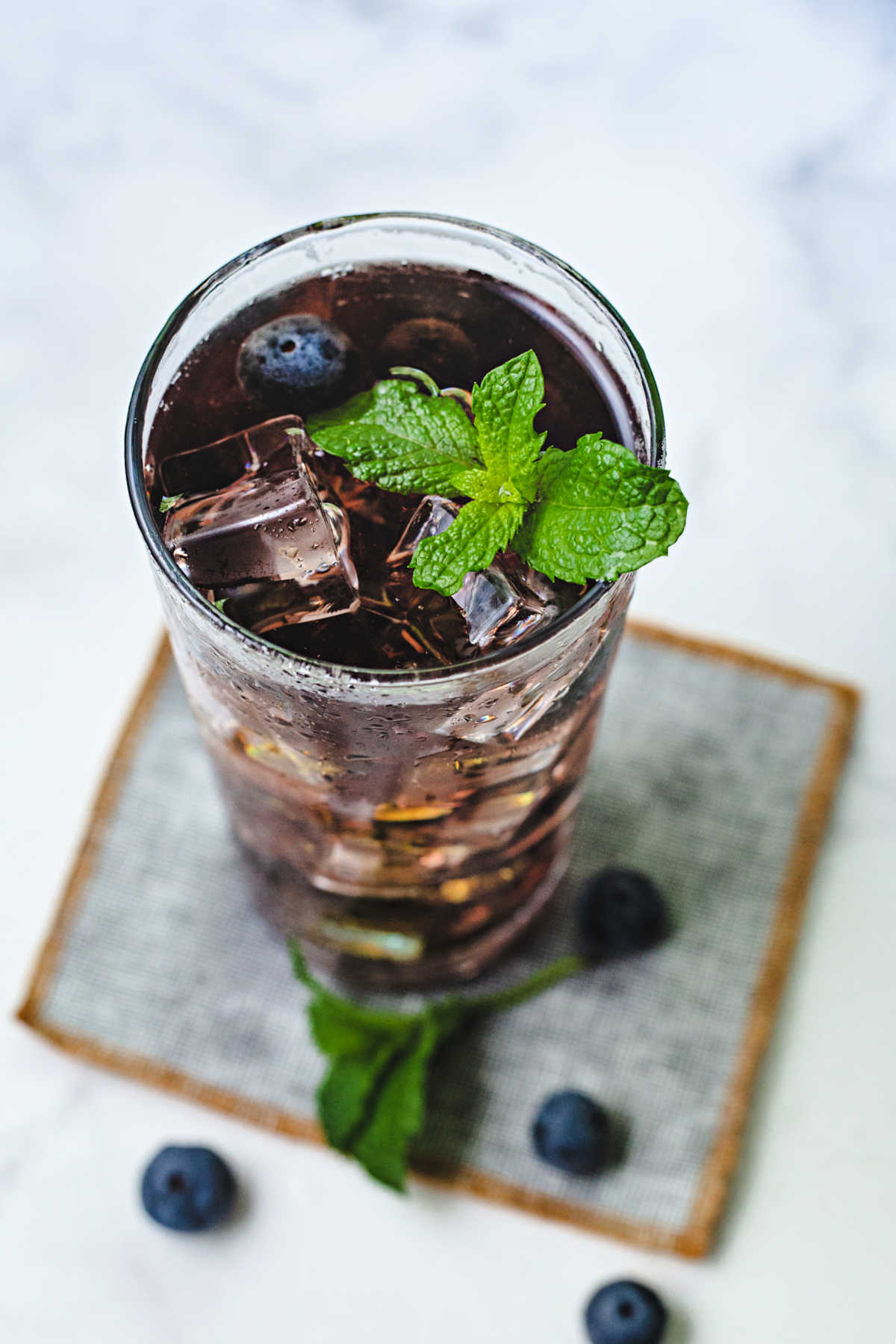 With just enough sweetness, this fruity iced tea is perfect for Summer parties, picnics, family reunions, wedding showers, or simply an evening of porch-sitting and conversation.
After all, any good Southern hostess knows a glass of sweet tea, a slice of pie, and a front porch swing go a long way toward solving the world's problems and making forever friends.
Although it isn't difficult, there is an art to brewing delicious tea. Today, I'm sharing tips for making a pitcher of blueberry tea that's every bit as tasty as any fruit tea on a trendy bistro menu.
Looking for more ways to enjoy Summer harvest blueberries? These blueberry cheesecake popsicles are fun low-calorie summer treats. Or, try my blueberry white chocolate cookie bars — they are absolutely melt-in-your mouth delicious!
Why you're going to love it!
Refreshing taste. The perfect blend of tea and fruit flavor.
Easy to make. Takes less than 15 minutes.
Serves a thirsty crowd. One batch makes 18 -20 servings — or half the recipe for a smaller group!
Blueberry Tea: behind the recipe
Growing up in the South, iced sweet tea was always served with our supper. My mom brewed a fresh batch every day and it disappeared quickly, especially when we sat down at the dinner table hot and sweaty from being outside.
According to What's Cooking America, iced tea was popularized during the especially hot summer of the 1904 World's Fair in St. Louis. People went in search of cold drinks, including iced tea, and the craze for iced tea spread across America.
Chances are if you live in the North, you prefer iced tea without sweetener, while Southerners opt for adding sugar. Either way, I believe you'll enjoy the level of sweetness in my blueberry tea.
Growing up Southern is a privilege, really. It's more than where you're born, it's an idea and state of mind that seems imparted at birth. Its more than loving fried chicken, sweet tea, football, and country music. It's being hospitable, devoted to front porches, magnolias, moon pies and coca-cola, and each other. We don't become Southern, we're born that way. -Anonymous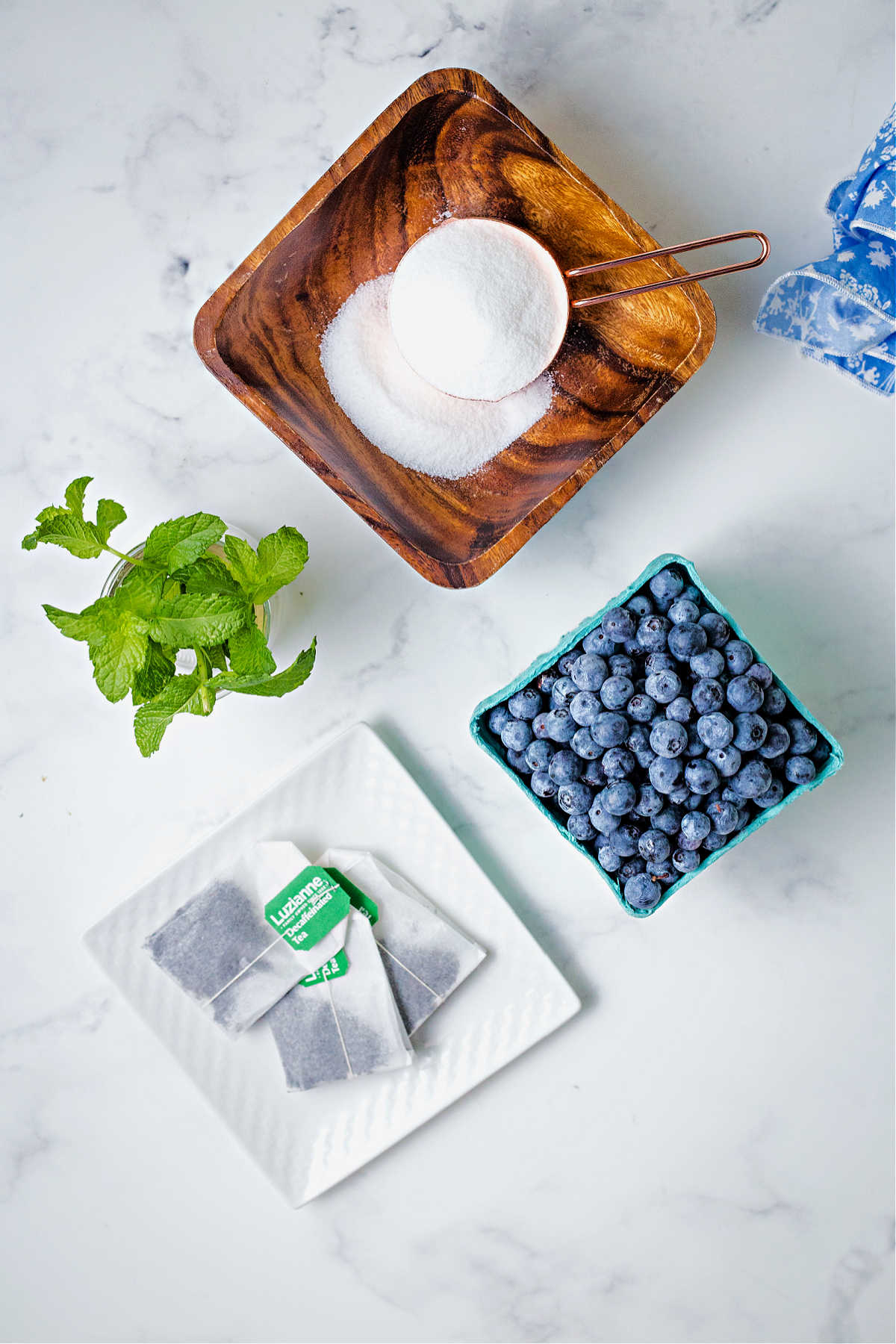 Key ingredients and substitutions
Black tea — Black tea is stronger than green tea, making it perfect for brewing iced tea. Use either black tea or a blend of orange pekoe and black tea. I use family size tea bags for convenience.
Blueberries — Use either fresh or frozen berries, but if using frozen allow them to thaw first, then drain off any accumulated juices.
Sweetener — Sweet tea must have sugar! I use granulated sugar, but you may also use the sugar substitute of your choice.
Mint — Fresh mint leaves add to the refreshing flavor of the tea.
Special equipment needed
Tea kettle — For years, I owned an electric iced tea maker and it worked great, but after I wore it out I opted to go with a stainless tea kettle. Truthfully, I can get boiling water on my gas stove in the same amount of time it takes to heat up an electric kettle.
Strainer — A fine mesh strainer with a handle is what I use to remove the seeds and pulp from the blueberry simple syrup.
How to make blueberry sweet tea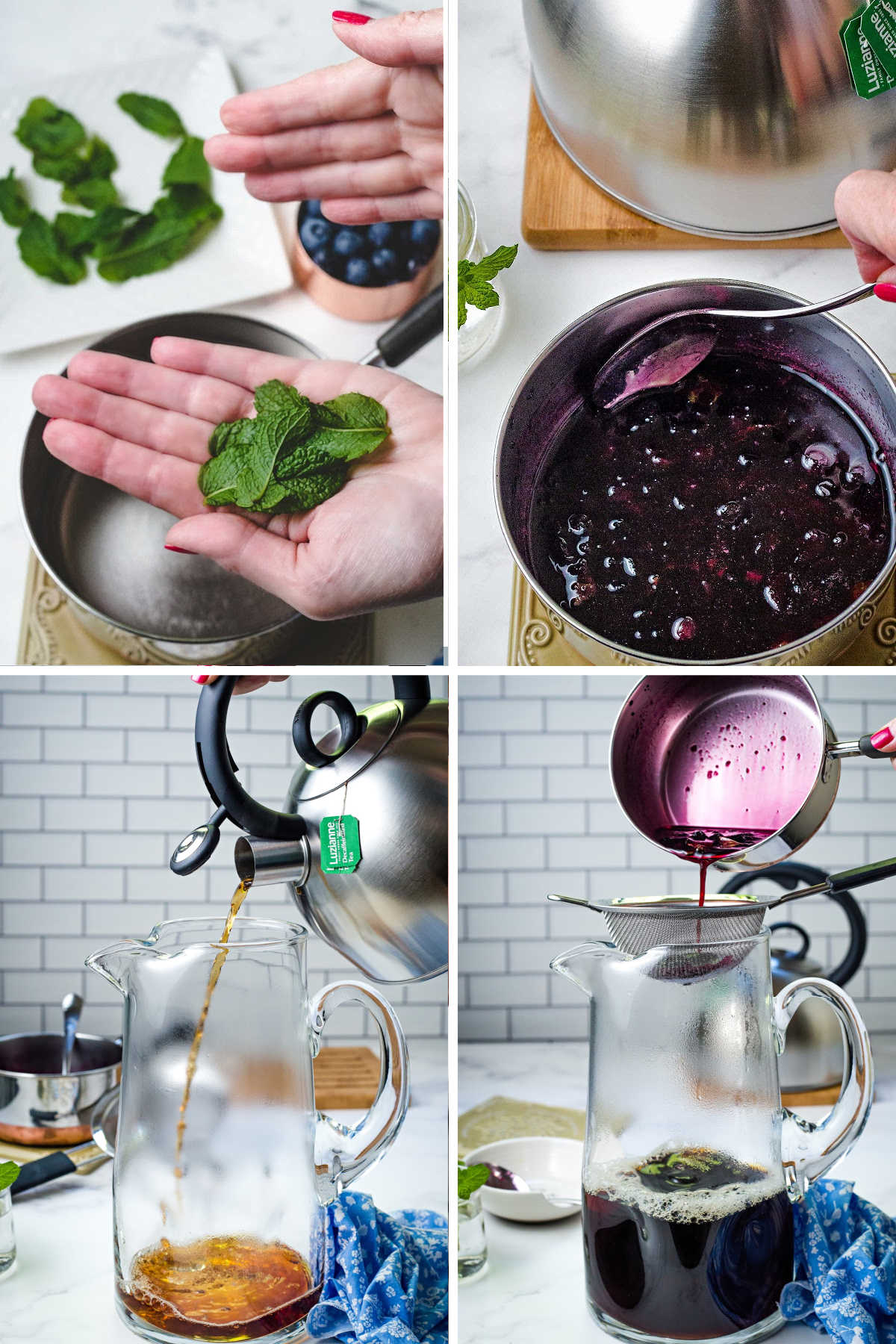 STEP 1 | Make blueberry simple syrup
Heat sugar and water over medium heat until the sugar is dissolved completely, stirring frequently.
Gently slapping the mint leaves between your palms releases their essential oils so that you get the most flavor.
Bring the sugar water, mint leaves, and blueberries to a boil. Reduce the heat and cook just until berries are soft enough to crush with the back of a spoon against the side of the pan.
Remove from heat and cool to room temperature.
STEP 2 | Brew tea
Add cold water to a tea pot, preferably filtered water so that you end up with the clearest tea.
Bring the water to a barely rolling boil, add the tea bags, cover and remove from the heat.
The perfect steeping time is between 3 to 5 minutes. If tea steeps longer, it may begin to release bitterness.
Remove the tea bags and cool to room temperature.
STEP 3 | Combine ingredients
Pour the cooled tea into a gallon-size container.
Pour the cooled blueberry simple syrup through a strainer into the same container.
Add more cold water and ice until the container is full. Chill and enjoy!
tips
Brewing a tea concentrate, letting it cool, and then adding additional water is the key to reducing cloudiness for a clearer, tastier tea.
When storing tea in the refrigerator, always use a pitcher with a lid or cover the top with plastic wrap. This will keep the tea fresh longer and will also slow down the release of tannins which make tea cloudy.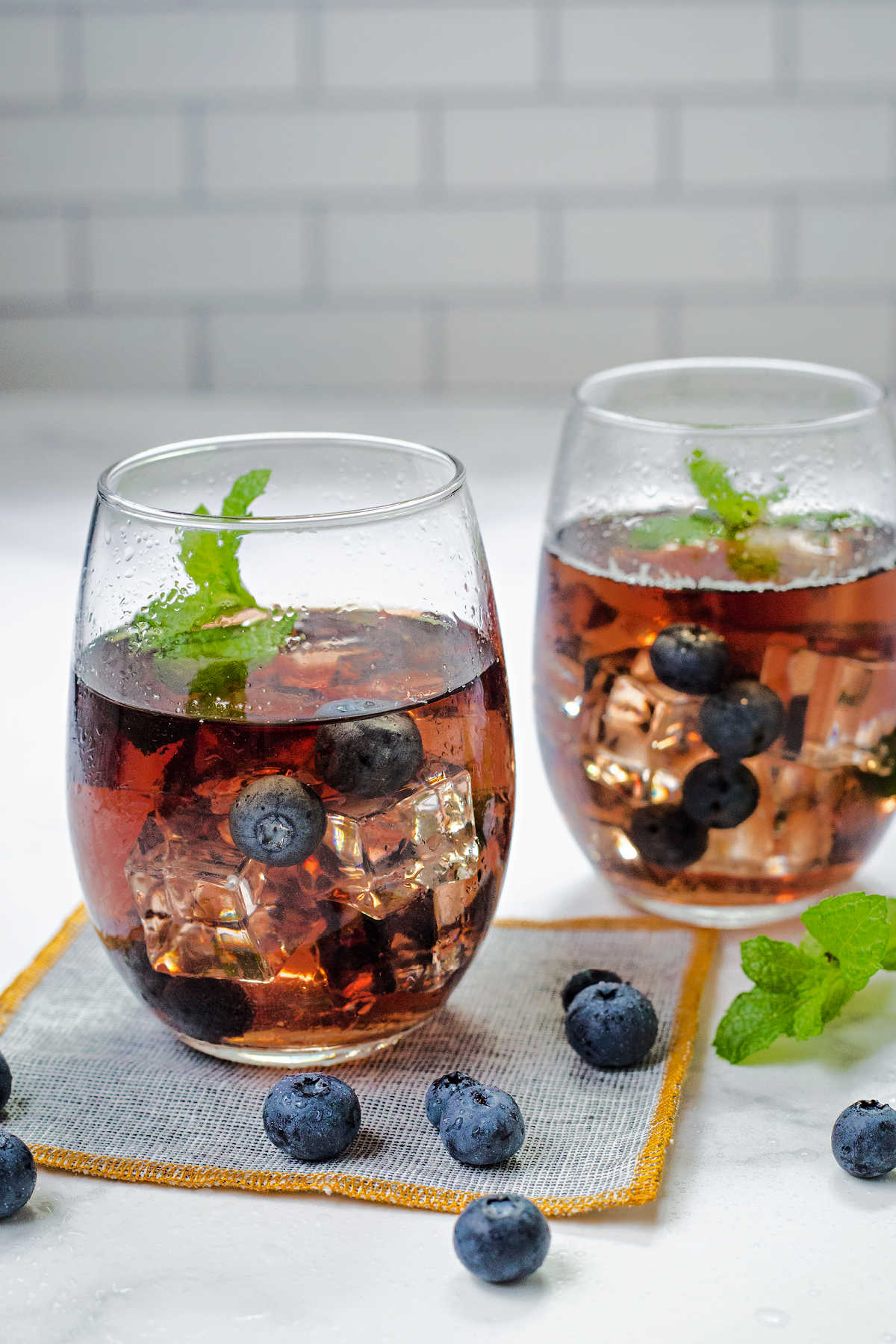 Serving suggestions
For parties, use a nice beverage dispenser on a stand so guests can serve themselves.
Make blueberry ice cubes to float in the tea.
Add fresh mint sprigs or lemon slices for garnish.
Frequently asked questions
How long does sweet tea last?
I've found that blueberry tea will stay fresh for about 3 to 5 days when stored in the refrigerator. Because it is made with a fruit syrup, don't leave it sitting on the counter.
Can I use another fruit in place of blueberries?
Yes! Strawberries or fresh peaches pair deliciously with mint and tea. Just substitute the same amount of fruit and follow the recipe directions.
Please share!
Your shares are how this site grows, and I appreciate each one. Do you know someone who would enjoy this recipe? I'd love it if you would share it on Facebook or Pinterest!
First published: June 18, 2014. Last updated: June 30, 2021.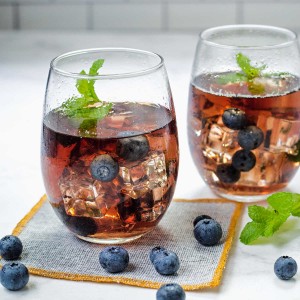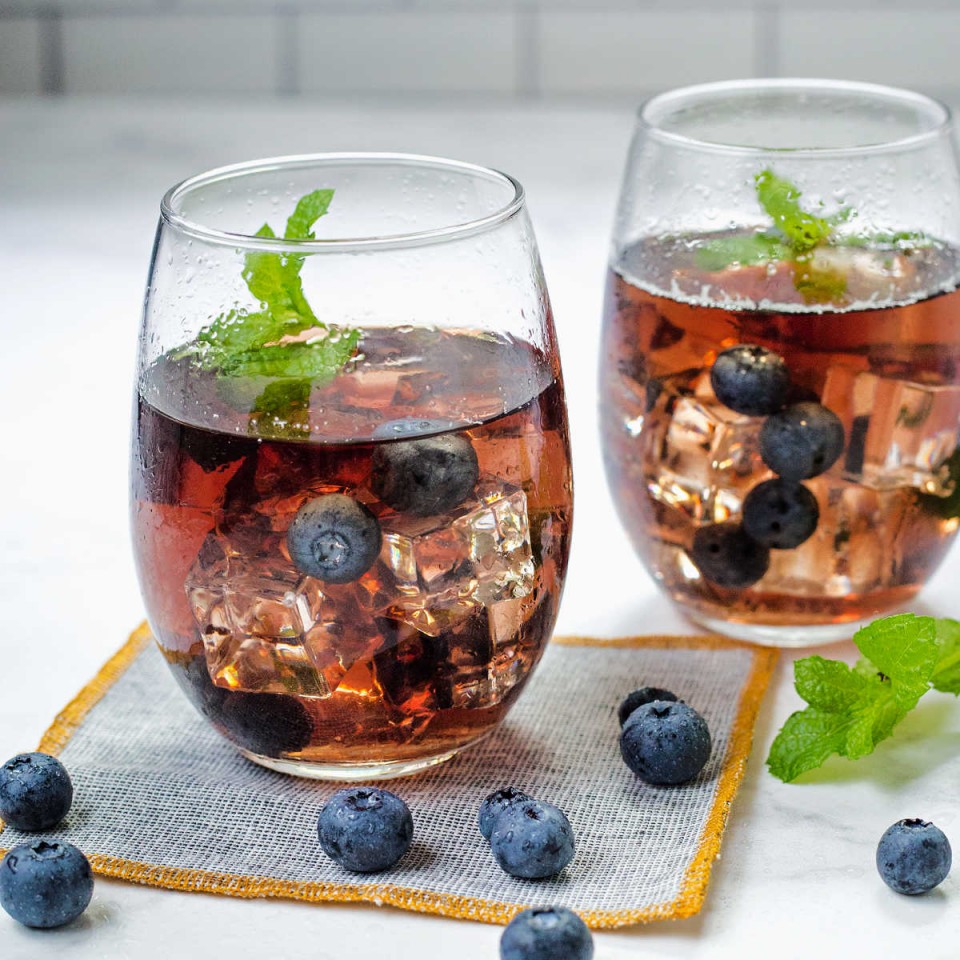 Blueberry Tea
Perfectly brewed black tea and fresh blueberry-mint simple syrup served over ice with fresh mint sprigs is a refreshing taste of Southern hospitality!
Ingredients
1 1/4

cups

sugar

1 1/2

cups

water

2

tablespoons

fresh mint leaves

loosely packed (plus more for garnish)

1/2

cup

fresh blueberries

plus a few extra for garnish

2

family-size

black tea bags

water

ice
Instructions
Blueberry Simple Syrup
In a medium saucepan over medium heat, stir together the sugar and 1 1/2 cups water until dissolved.

Gently crush the mint leaves between your palms and add to the saucepan along with the blueberries.

Bring to a boil, then reduce the heat to medium low. Cook and stir until the blueberries are soft enough to crush with the back of a spoon against the side of the pan, about 5 minutes.

Remove from heat and cool to room temperature.
Iced Tea
Add 1 quart of cold water to a tea kettle and bring just to a boil.

Remove from the heat, add the tea bags, and cover. Steep the tea for 3 to 5 minutes. Remove the tea bags and let the tea concentrate cool to room temperature.

Pour the brewed tea concentrate into a gallon size beverage container.

Strain the simple syrup and add to the tea in container. Continue filling with additional water and ice. Serve immediately.
Notes
Store leftovers covered in the refrigerator for 3 to 5 days.
Nutrition
Serving:
1
g
Calories:
51
kcal
Carbohydrates:
13
g
Sodium:
2
mg
Sugar:
13
g
Life Love and Good Food does not claim to be a registered dietician or nutritionist. Nutritional information shared on this site is only an estimate. We recommend running the ingredients through an online nutritional calculator if you need to verify any information.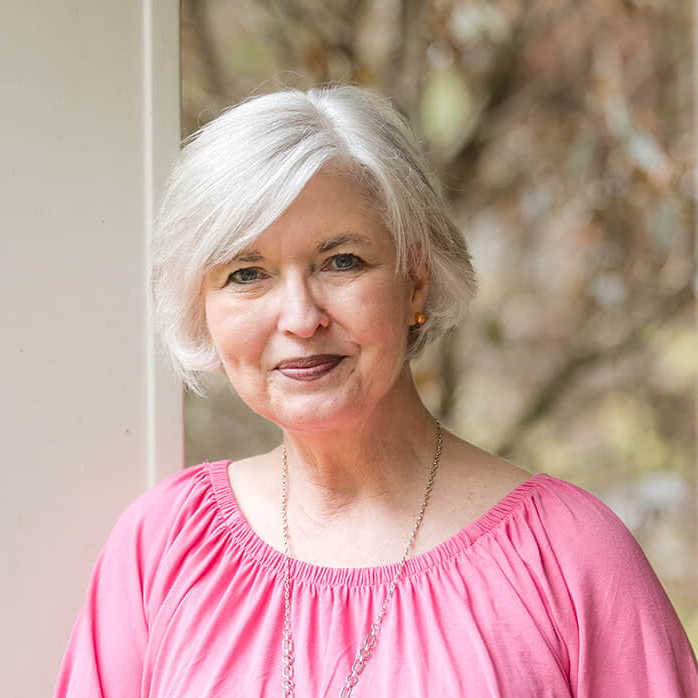 About Sheila Thigpen
Recipe Developer, Food Photographer, Food Writer
Sheila Thigpen is the publisher of Life, Love, and Good Food — a Southern food blog — and the author of Easy Chicken Cookbook and The 5-Ingredient Fresh and Easy Cookbook. After 20+ years in the publishing industry, she retired in 2018 to focus on her own creative endeavors full time. She and her husband live near the beautiful Smoky Mountains and have a precious little granddaughter who has stolen their hearts. As an influencer, Sheila has collaborated with brands like Creamette, Kroger, HERSHEY'S, Hamilton Beach, Garafalo Pasta, OXO, Smithfield, Valley Fig Growers, and more.