Thank you I Love Ice Cream Cakes for sponsoring this post. Make I Love Ice Cream Cakes the centerpiece at your gathering and find an ice cream cake in a grocery store near you!
Hop on into Spring with this adorable Easter dessert, an Oreo Ice Cream Cake decorated with a "nest" of speckled Easter eggs and crowned with pink bunny and yellow chick Oreo® cookie pops!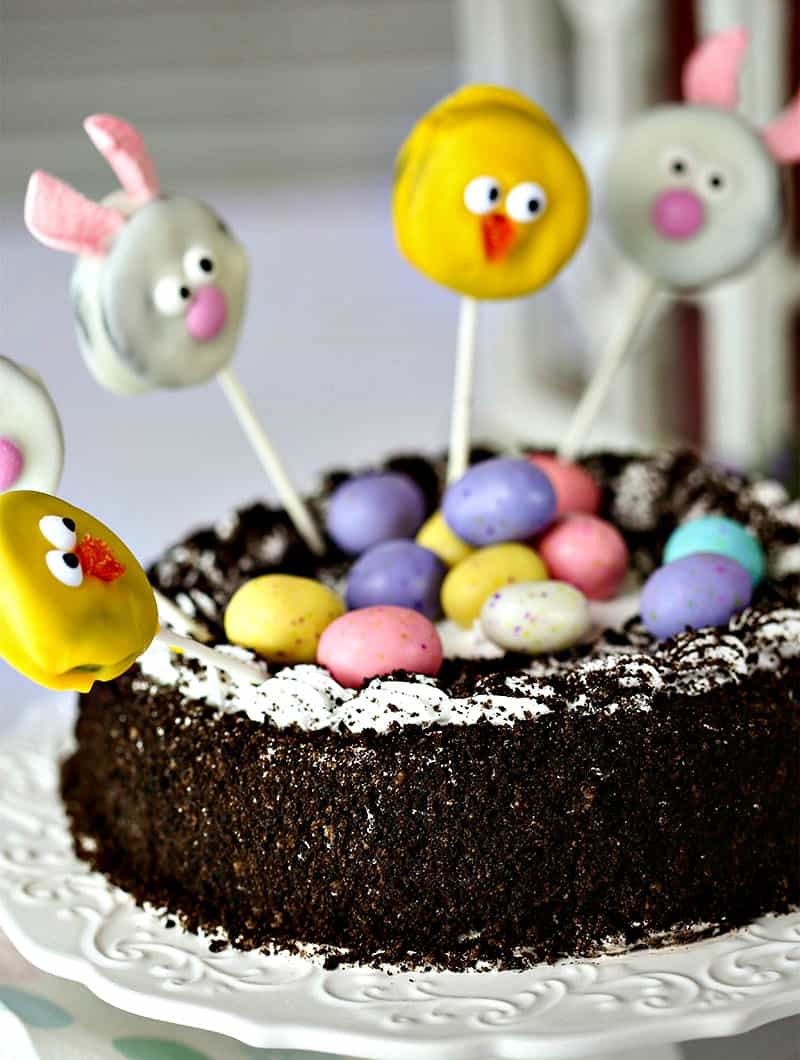 It's our turn to host the family Easter dinner, and I'm excited about adding this fun, creative, and easy dessert to our menu.
Everyone loves cookies and cream ice cream, right? That's why I decided to use an OREO® Premium Ice Cream Cake as the base for my Easter creation.
I Love Ice Cream Cakes showcases delicious frozen ice cream cakes for all occasions and springtime celebrations and are conveniently available in grocery stores nationwide. (I found mine at our local Kroger in the bakery section).
The Ice Cream Cakes come in many different styles and sizes, including original Carvel®, Jon Donaire® and OREO® — my personal favorite.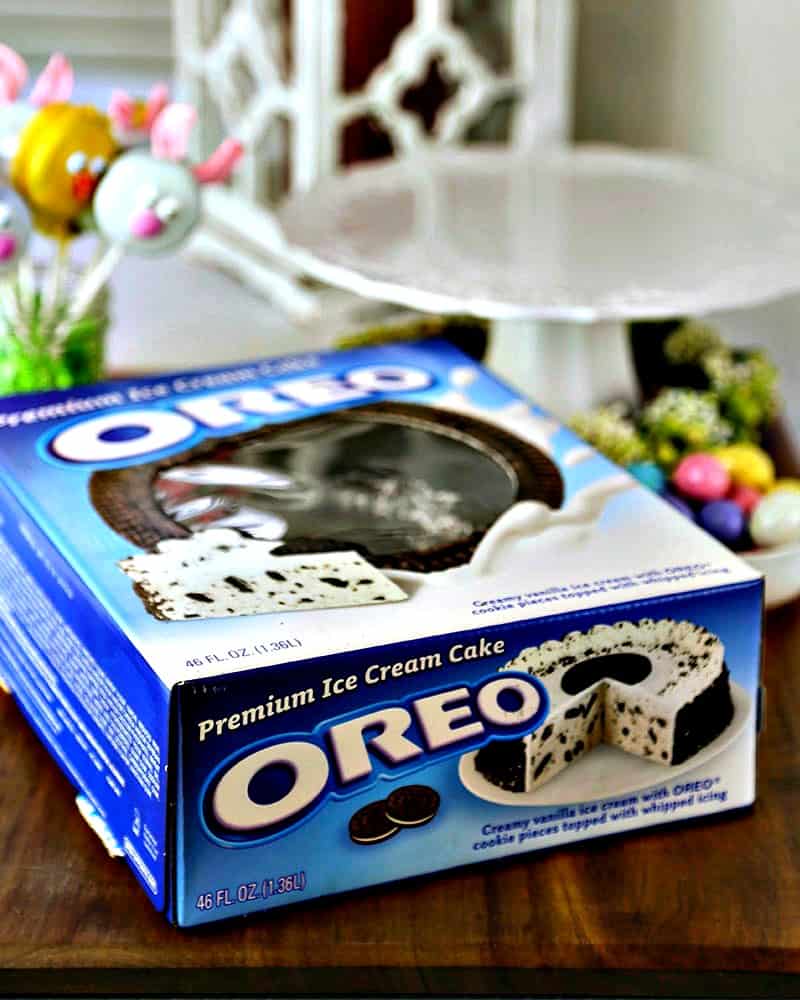 Keeping with the Oreo theme, I made cookie pops using Double Stuffed Oreos and candy melts in white and yellow to create bunnies and chicks.
All you need for cookie pops are Double Stuf Oreos, candy melts, cookie treat sticks, and a few decorating candies—eyes, M&Ms, orange slices or jelly beans, and marshmallows (for the bunny ears).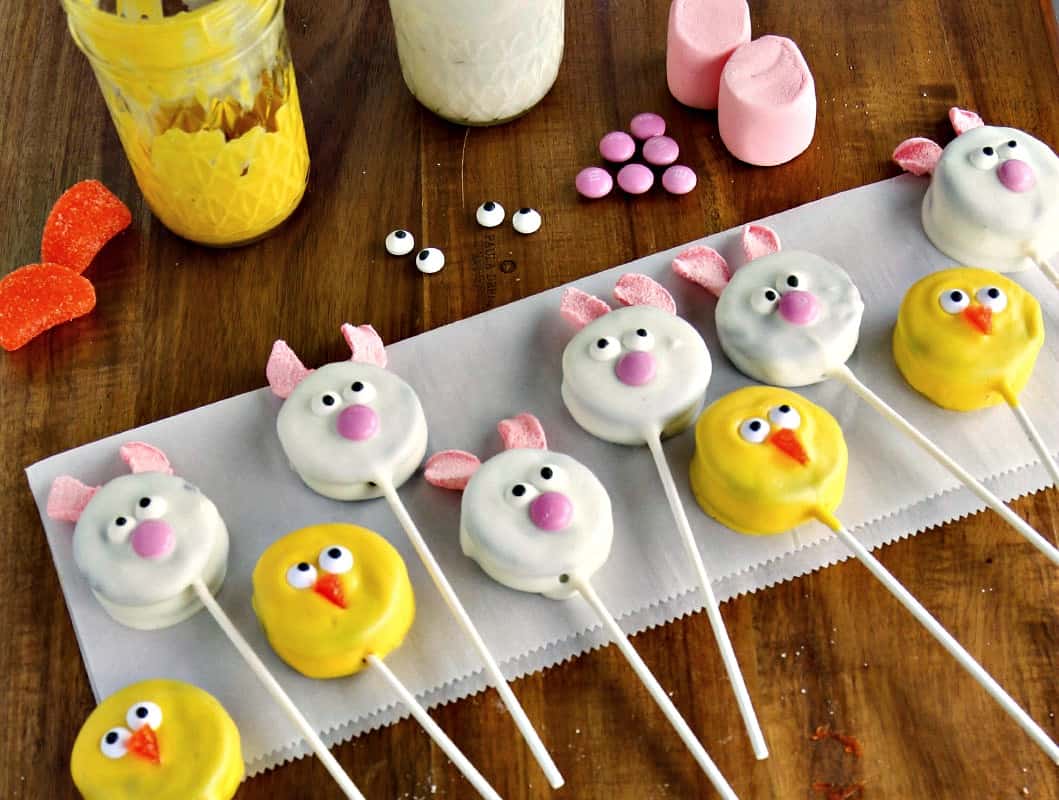 To make the cookie pops, follow these easy steps:
Twist apart the Oreo cookies and lay them on a cookie sheet lined with wax or parchment paper with the OREO imprint side down.
Pour the candy melts in a small microwave safe cup and melt in the microwave according to the package directions.
Put a small amount of the melted candy melts on one side of the Oreo, place a cookie treat stick, and cover with the opposite side of the Oreo. The candy melt and the Oreo filling will act as the "glue" to hold the cookies together. Allow the cookies set for about 10 minutes.
Dip the cookies on the sticks into the melted candy melts and swirl until covered completely. Allow the excess to drip off, then return to the wax paper-lined cookie sheet.
While the cookies are still wet, add decorations to form the faces of the bunnies or chicks. For the bunny, dip in white candy melts and decorate with candy eyes, a pink M&M for the nose, and marshmallow ears. Use kitchen shears to cut the ears from strawberry marshmallows. Dip the cut sides in sugar, if desired. For the chick, dip in yellow candy melts and decorate with candy eyes and orange slices or gummy candy cut into a small triangle for the nose.
Allow the cookie pops to dry thoroughly before removing from the wax paper. Store in ziplock bags until ready to serve.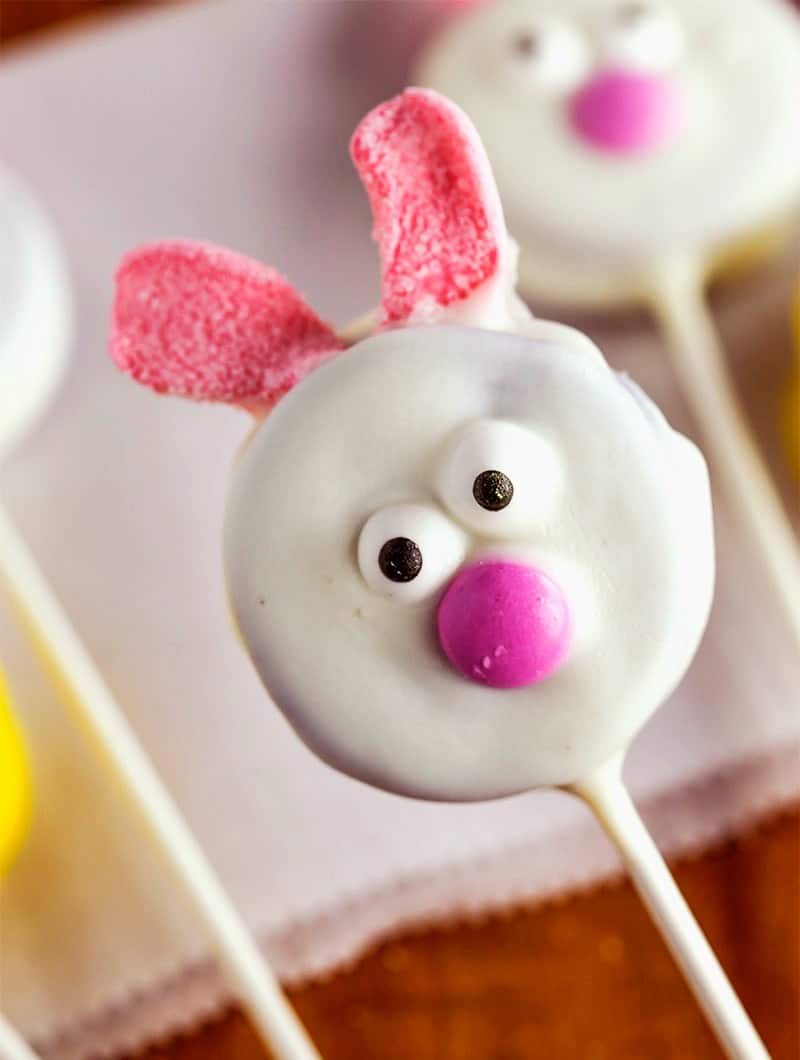 Make the cookie pops a day or two ahead of time, then when you're ready to serve the OREO® Premium Ice Cream Cake, simply add chocolate malted Easter eggs to the center of the cake (like in a nest), then insert cookie pops around the cake as desired. Super fun!
I Love Ice Cream Cakes also offers a Carvel® Bunny shaped cake for festive Easter gatherings. Click here to learn where you can find I Love Ice Cream Cakes in your area. They are readily available in grocery stores across the country.
ABOUT SHEILA
Sheila Thigpen, author of Easy Chicken Cookbook and The 5-Ingredient Fresh and Easy Cookbook, is a recipe developer, food photographer, and food writer. She spent 20+ years as a business manager in the publishing industry before she retired in 2018 to focus on her passions — cooking, photography, and writing. Living near the beautiful Smoky Mountains, Sheila and her husband have two adult daughters and two fine sons-in-law, are active in their church, love to travel, and have a precious little granddaughter who has stolen their hearts. Follow Sheila on YouTube, Pinterest, Instagram, Facebook, and Twitter!