This post may contain affiliate links. Please read my disclosure policy.
A crowd pleaser… as well as a personal favorite chicken dinner, is this easy and cheesy Chicken Broccoli Casserole recipe!
Creamy sauce topped with a cheesy, buttery crumb topping creates an irresistible and yummy flavor in my down-home Chicken Broccoli Casserole.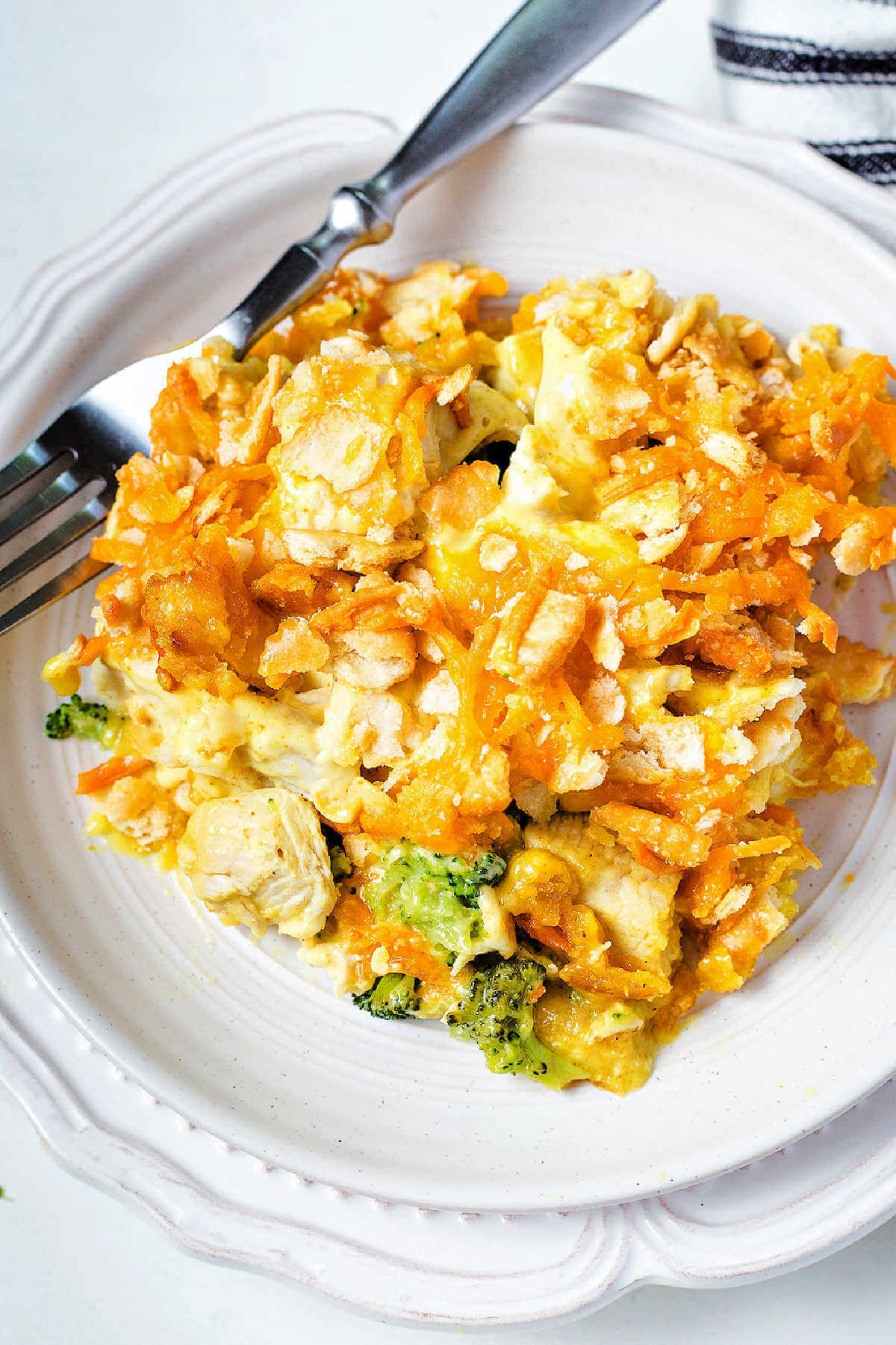 This broccoli chicken casserole has been making an appearance on my family's dinner table for years — I can't even begin to count how many times I've made this dish!
Recently, I decided to tweak it a bit and use a fresh homemade version of condensed soup introduced to me by the Center Cut Cook instead of that gooky canned stuff!
The result — a creamier, tastier, and fresher casserole that's even more delicious than it already was. Add one to the win column!
Are you all about quick and easy one-dish dinner recipes?
You will also want to whip up one of these casseroles: Southern Broccoli Cheese Rice Casserole, Creamy Spinach Spaghetti Casserole, and this delicious Sausage Apple Breakfast Casserole.
Key ingredients & substitutions for Chicken Broccoli Casserole
Broccoli — Either frozen or fresh broccoli florets works.
Chicken — Boneless skinless chicken breasts work best since you won't have to navigate around the bones, and it's easier to cut into cubes. To make it really easy, pick up a rotisserie chicken from the market.
Mayonnaise — I prefer lite olive oil mayonnaise, and it's a gluten-free option.
Lemon juice — Use lime or orange juice as a substitute, vinegar, or citric acid.
Yellow curry powder — Ground cumin, coriander seeds, or curry paste can be used if you don't have any on hand.
Homemade chicken condensed soup
Butter — For a dairy substitute, use Ghee, Greek yogurt, or olive oil.
All-purpose flour — Rice, almond, or wheat flour are a few replacements you can use here.
Chicken broth — If you don't have chicken broth on hand, use chicken bouillon, or vegetable broth if you have to.
Milk — Coconut milk will offer a sweeter flavor, but other kinds of milk like almond, cashew, or oat milk also work.
Crumb topping
Ritz crackers or bread crumbs — If you don't have either on hand, crunch up croutons or use crushed almonds.
Unsalted butter — You want unsalted here, so it showcases the flavor.
Cheddar cheese — Another cheese can be substituted like Colby.
How to make Easy Chicken Broccoli Casserole
Putting this casserole together is simple. Just layer the steamed broccoli and cooked chicken in the dish, then cover with the cream soup mixture and cheesy cracker topping. It is ready for the oven in no time and turns out irresistibly tasty.
STEP 1 | Preheat and spray
Preheat the oven to 350 degrees and lightly spray a 9×12 casserole dish with your cooking spray of choice so the cheesy goodness won't stick to the casserole dish.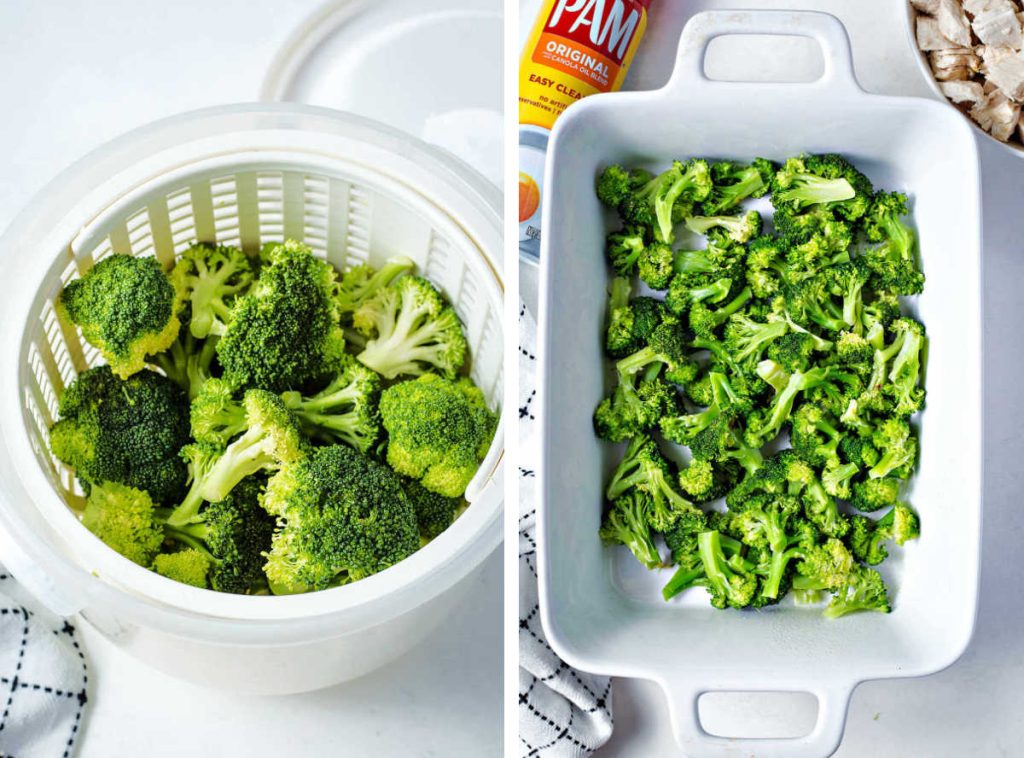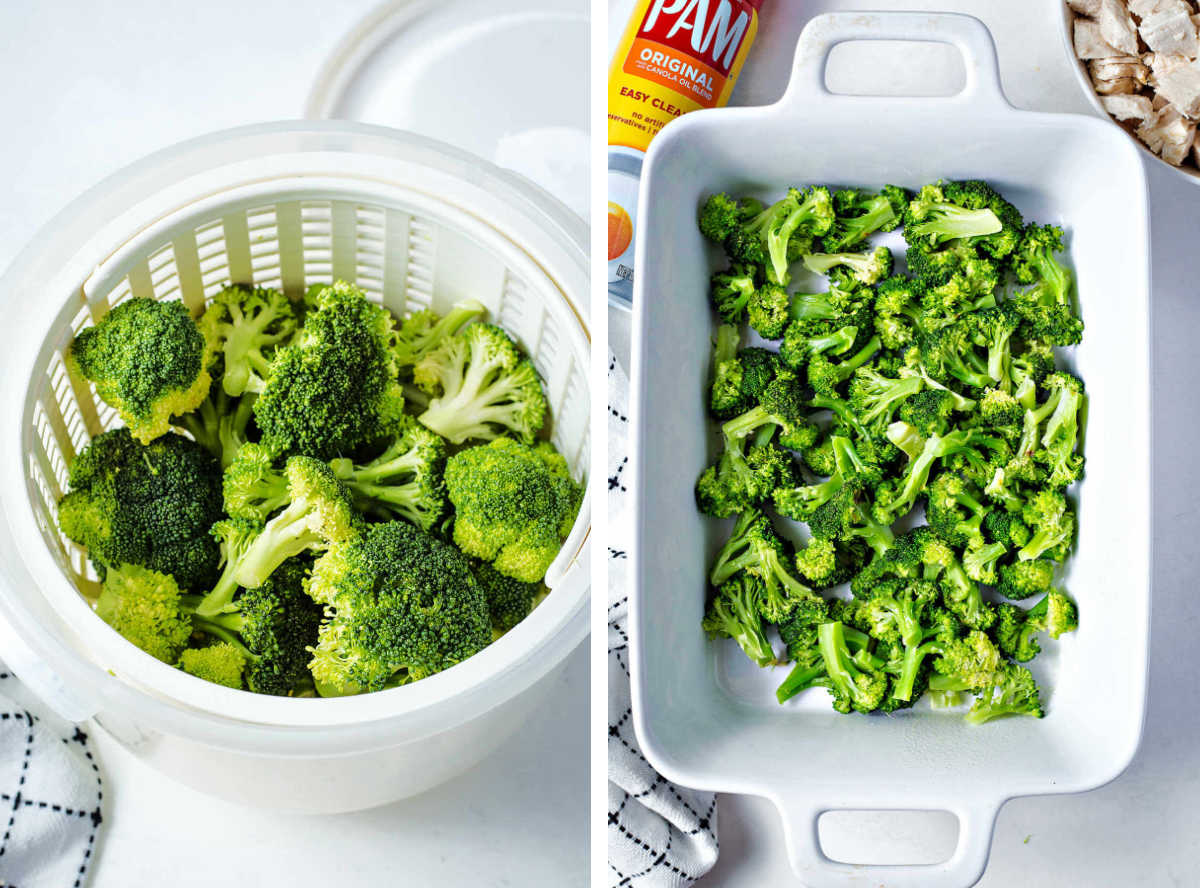 STEP 2 | Cook the broccoli
Let's face it, we don't always have fresh veggies lying around. If you're using frozen broccoli, cook it according to the package directions. Drain the broccoli and place it in the casserole dish.
If it's fresh, cook until tender, drain, and transfer to the dish. Once cooked to your desired tenderness, spread the broccoli evenly across the bottom.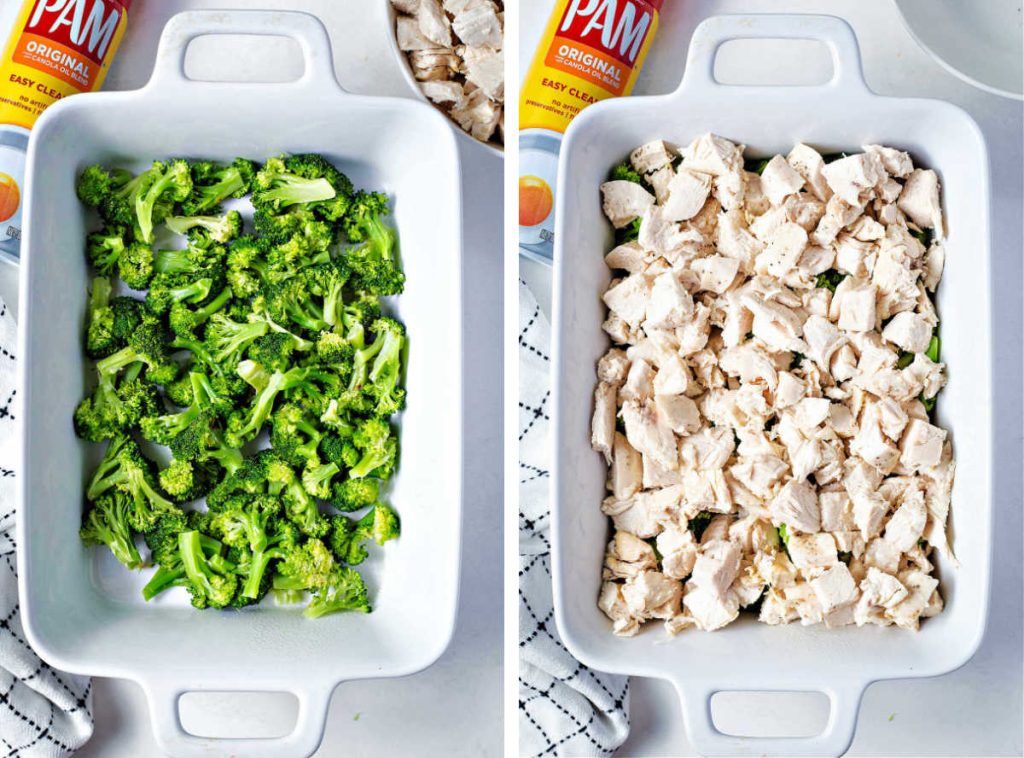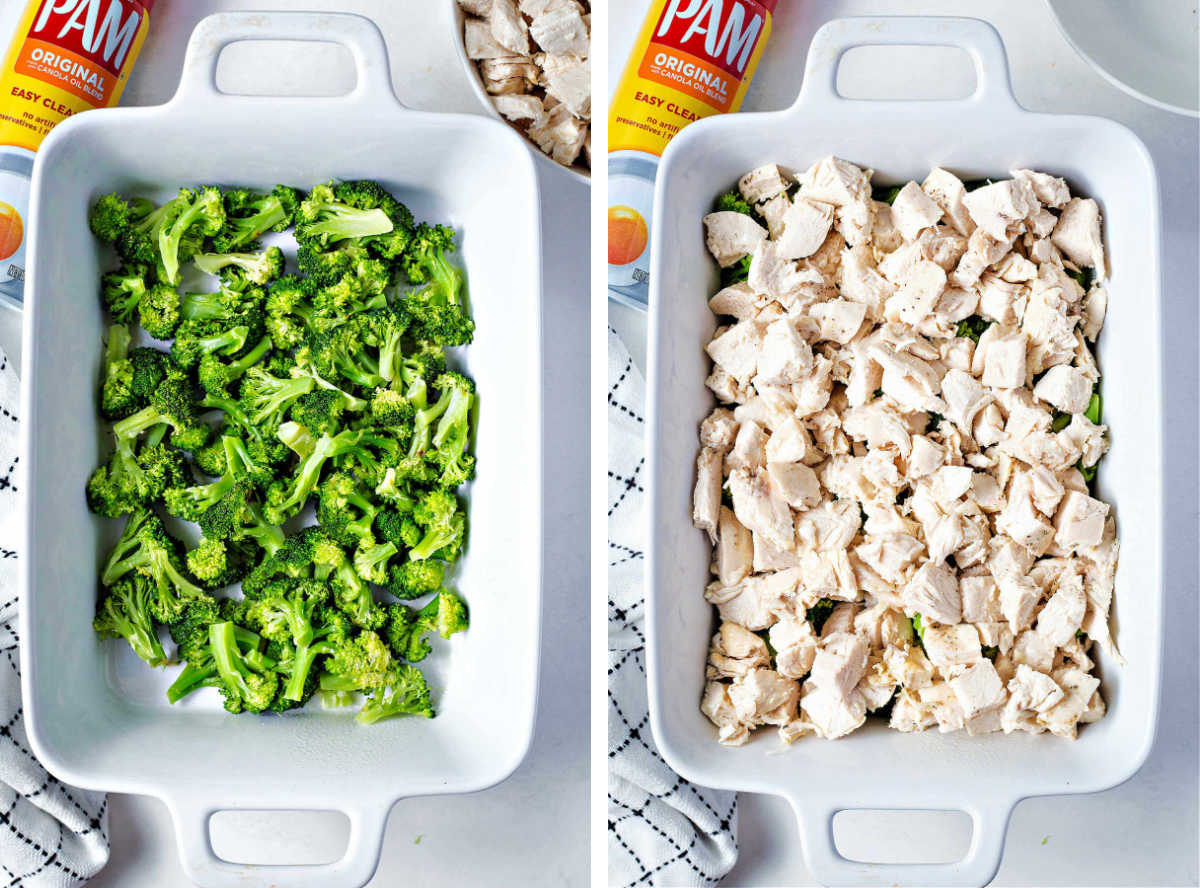 STEP 3 | Layer the curry chicken casserole
After the broccoli, add the chicken (already cooked and chopped) evenly across the top. Now it is starting to come together.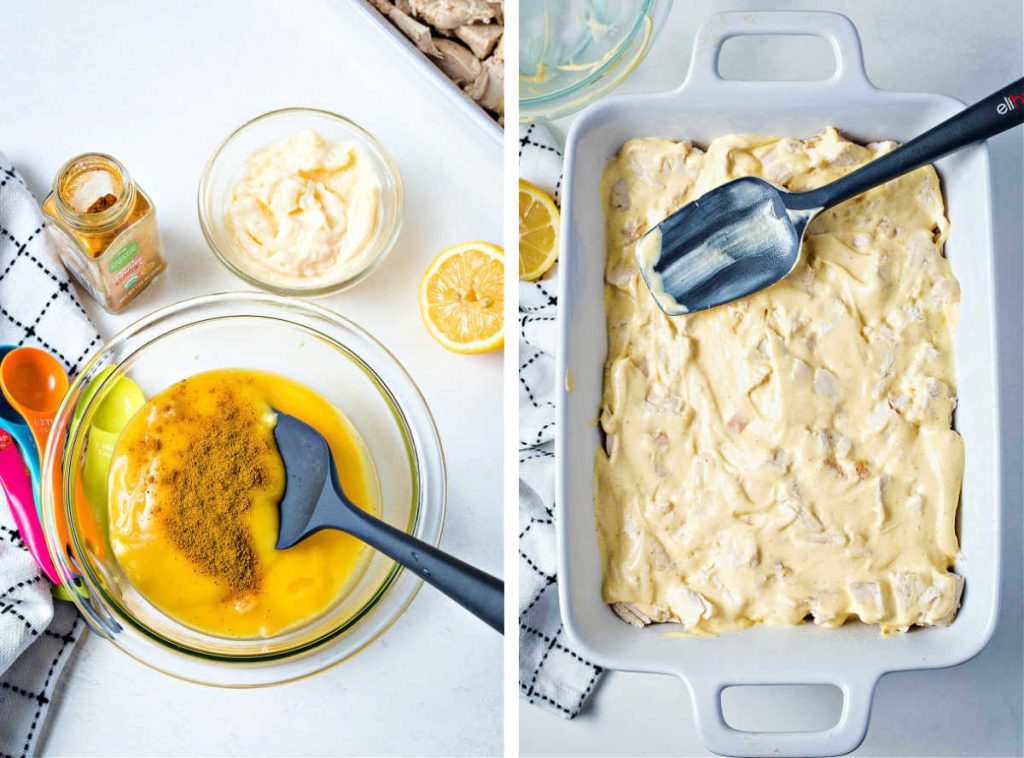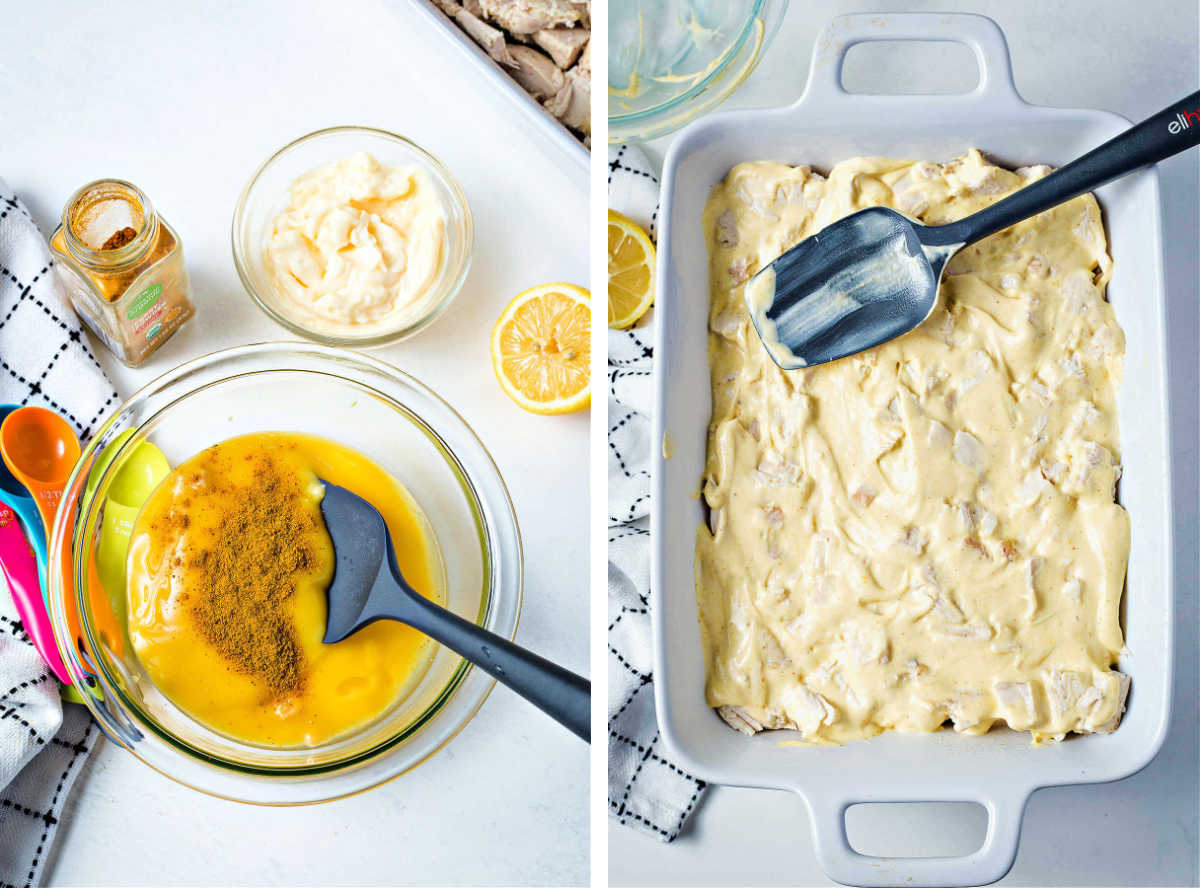 STEP 4 | Mix the creamy sauces
Really, this part is what makes the dish so good. Mix the curry powder, lemon juice, and mayonnaise to the homemade chicken condensed soup and stir until it's smooth. (Or if you're using canned soup, do the same.)
Now, spread the cream sauce with a rubber spatula evenly on top of the chicken in the casserole dish.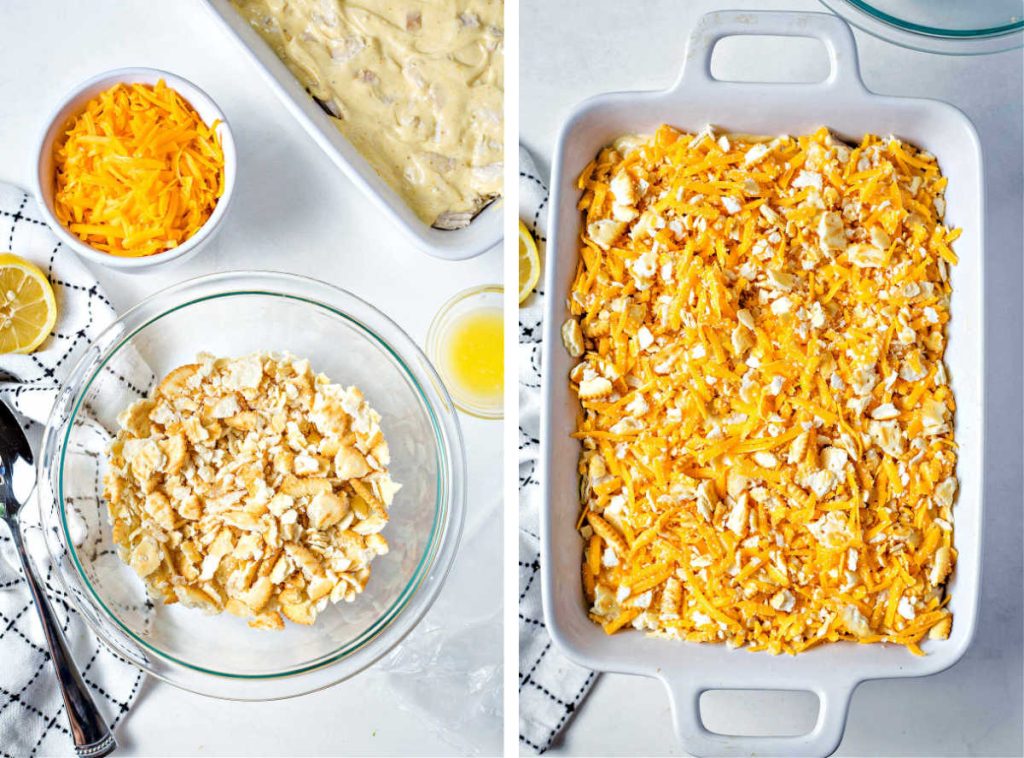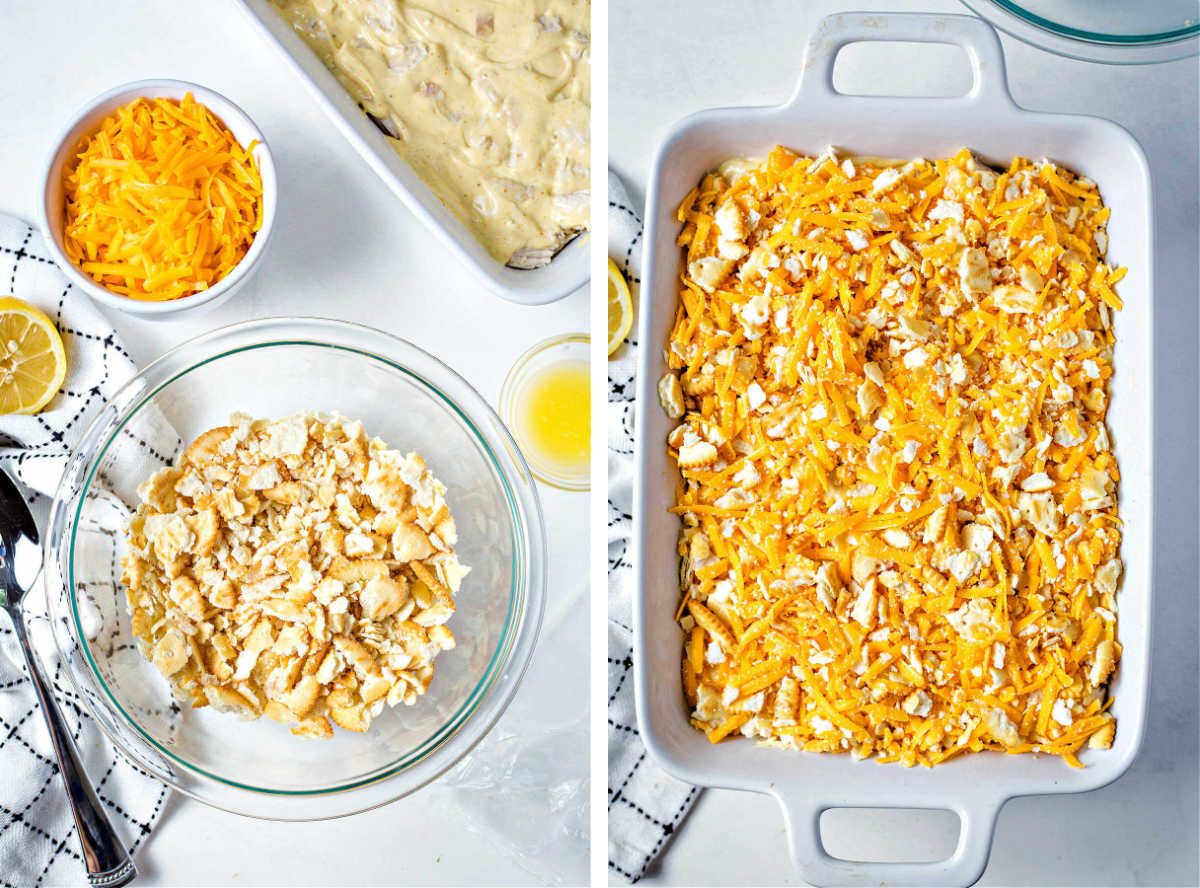 STEP 5 | Assemble and sprinkle the topping
Crush the crackers and combine them with the cheese. Generously sprinkle the mixture on top of the casserole, making sure to cover the corners and sides.
This is the best part — take the golden melted butter and drizzle it all over the cracker cheese topping.
tips
No time — If you're in a hurry or would rather use the canned, substitute a 10-oz. can of chicken condensed soup instead of the homemade version.
Drain — For fresh broccoli, steam it for 5 minutes and drain it well before adding it to the casserole.
More flavor — Double the yellow curry powder if you like a more robust curry flavor.
STEP 6 | Bake
Time for the oven. In 25 to 30 minutes, the curry casserole should be hot and bubbly and smelling so delicious. Bake the casserole uncovered, so the topping gets nicely crisp and golden brown.
Additional toppings
A couple of ideas to add to your chicken and broccoli bake for added flavor and crunch are chow mein noodles or those crispy onion pieces typically reserved for green bean casseroles.
You can also try thinly sliced onions. Caramelize them until the edges are crisp, and place them on top of your casserole.
Homemade chicken condensed soup in 3 easy steps!
Really, you must try the homemade cream soup route. It's flavorful and only takes a few extra minutes, and it definitely looks much more appetizing than what pops out of a condensed soup can!
STEP 1 | Melt the butter
In a small saucepan, melt four tablespoons of butter over medium heat. Add your flour and stir it until it's smooth and well blended.
Continue cooking for 1-2 minutes, stirring continuously as the slurry lightly browns. Then it will thicken and be creamy and smooth like a paste.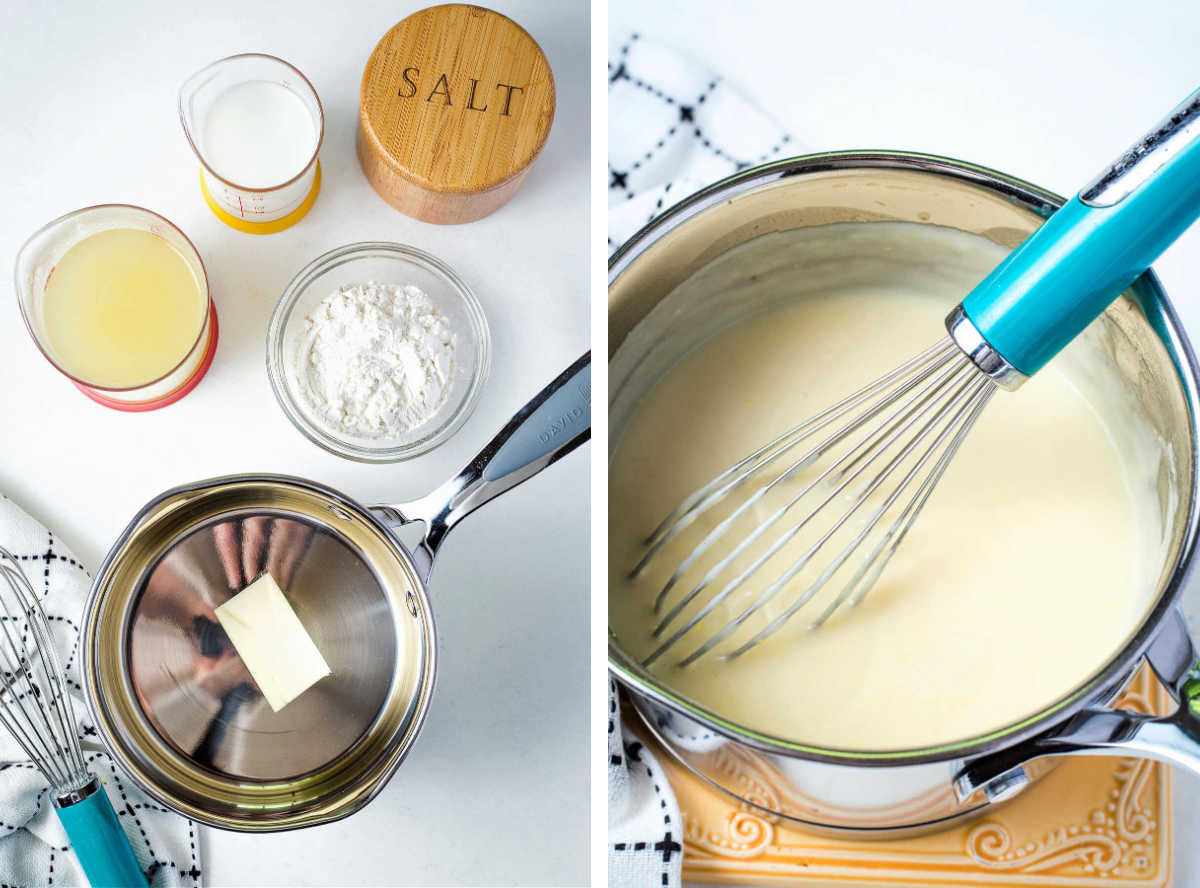 STEP 2 | Add in the milk
Now slowly add the ½ cup of milk and chicken broth while whisking the mixture until it has a nice creamy and thick texture.
STEP 3 | Season the cream sauce
Remove the chicken soup from the heat and stir in the salt and freshly ground black pepper.
I think once you try it, you'll be using this homemade version for all your favorite casserole recipes. Of course, I won't judge if you decide to use canned condensed soup in this recipe simply for ease!
Serving suggestions
What goes better with a serving of satisfying comfort food than bread? My Biscuit Bread or Peppery Cheese Quick Bread is a tasty pairing with this chicken recipe.
Then finish the night with this balanced combo of tartness and sweetness in my Mini Coconut Key Lime Pies. And, you can't go wrong with this fresh summer Tropical Fruit Salad.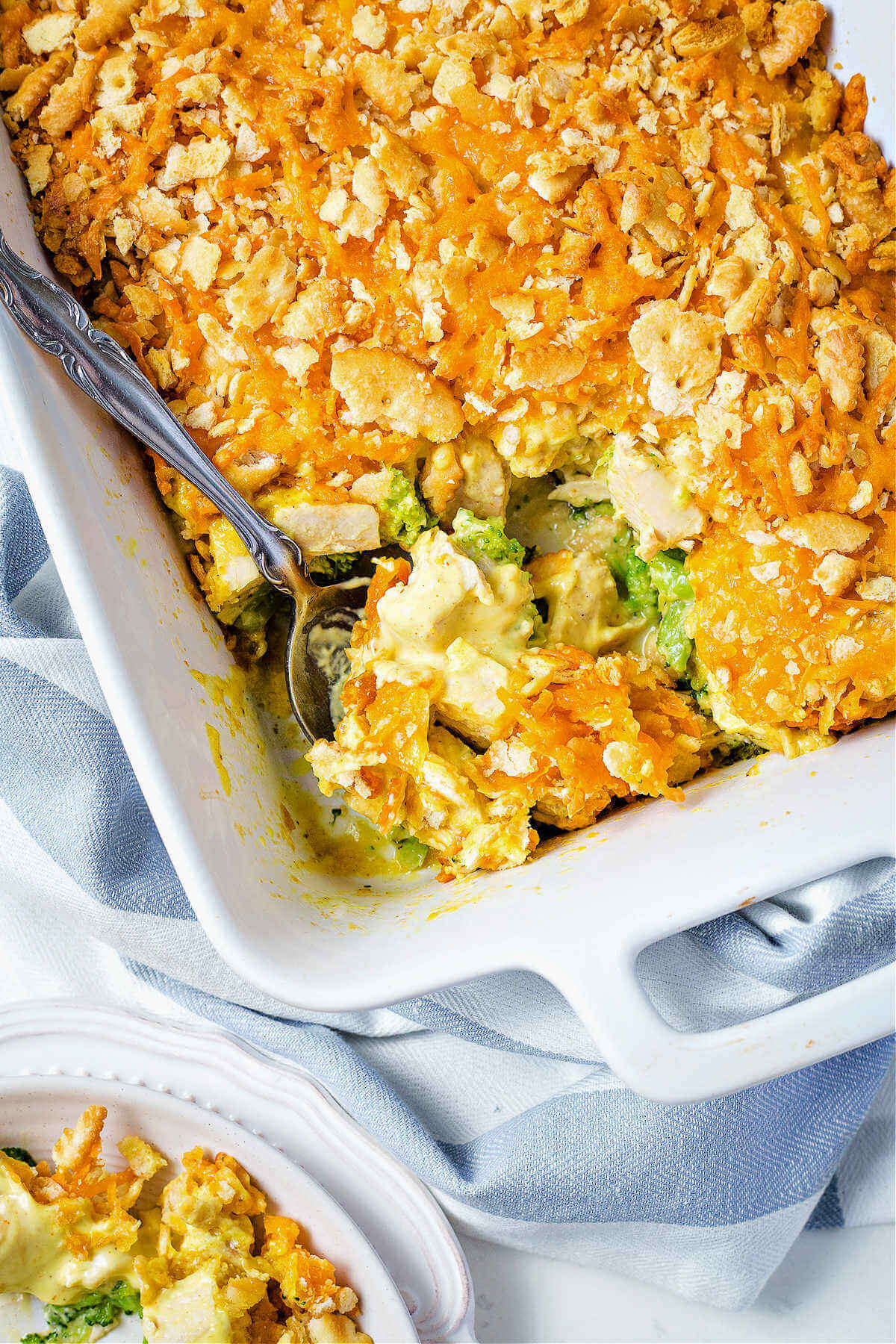 Frequently asked questions
Can I use a metal pan for my casserole?
Yes, you can use a metal pan. Metal pans may give you a browned crust on the bottom, whereas glass casserole dishes cook with a creamier base. 
Can I keep the casserole in the oven to keep warm if I turn the oven off?
Remove the casserole and cover with aluminum foil. If it's going to be a longer wait, then you can place it back in the oven to keep warm after a few minutes when the heat's had a chance to subside.
Is it possible to overcook a casserole?
You want to follow the instructions when cooking a casserole. Overcooking can dry it out and cause ingredients to break down.
Is it okay to reheat a casserole more than once?
Sure, it's fine to reheat more than once. However, if you know you're going to reheat again, portion out what you won't eat before heating so it doesn't get dried out. 
Behind the recipe: Curry Chicken and Broccoli Casserole
Casseroles are a mixture of lots of ingredients that create a tasty meal. Cube your meat, throw in some veggies, a dash of seasoning, and yummy toppings, and you're done.
Besides being the ultimate comfort food, easy prep is one reason the casserole appears so often at potluck dinners and family reunions. And, it's always a good choice if you want to take a meal to a sick friend or a family with a new baby.
In fact, since all the ingredients in this casserole are precooked, this recipe is a good one to double and share, or freeze one to bake later.
Please share!
Your shares are how this site grows, and I appreciate each one. Do you know someone who would enjoy this recipe? I'd love it if you would share it on Facebook or Pinterest!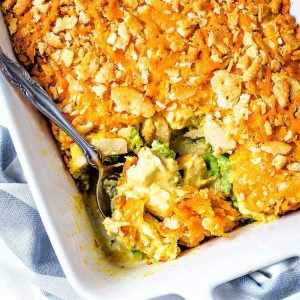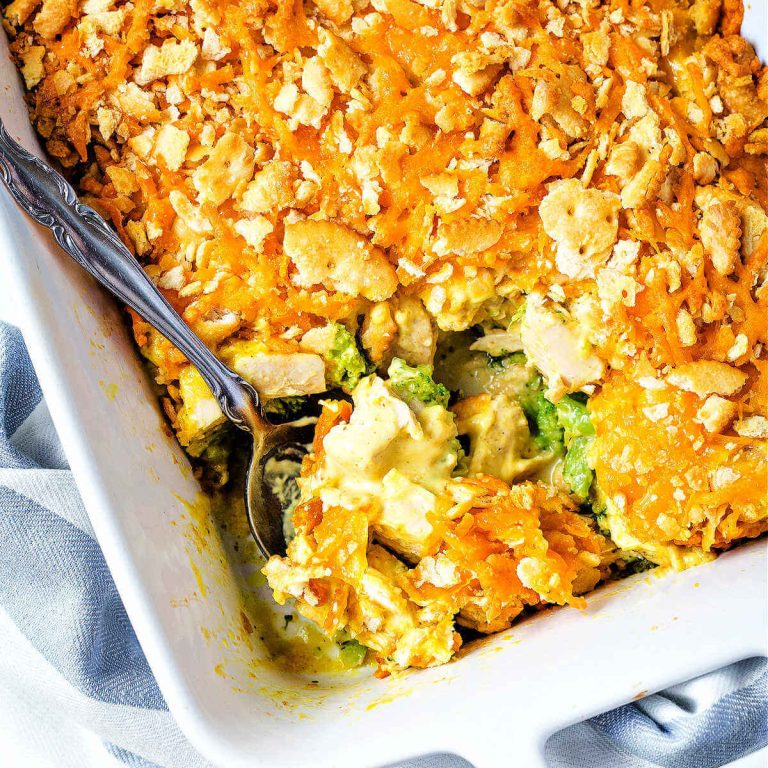 Chicken Broccoli Casserole
Curry powder and a little mayo added to the sauce in this chicken casserole blend together for an unexpected, but delicious flavor.
Ingredients
2

10 oz. pkg.

frozen broccoli florets

or 3 cups fresh broccoli florets

1

lb.

boneless skinless chicken (cooked and cut into 1-inch cubes)

1/2

cup

lite olive oil mayonnaise

1

teaspoon

lemon juice

1/2

teaspoon

yellow curry powder

or more if you like
Homemade Chicken Condensed Soup
4

tablespoons

all-purpose butter

6

tablespoons

all-purpose flour

1

cup

low-sodium chicken broth

1/2

cup

2 percent milk

1/4

teaspoon

salt

1/4

teaspoon

black pepper
Crumb Topping
1

cup

crushed Ritz crackers or bread crumbs

2

tablespoons

unsalted butter

melted

1/2

cup

sharp cheddar cheese

shredded
Instructions
Preheat oven to 350 degrees. Lightly coat a 9×12 casserole dish with cooking spray.

Cook broccoli according to package directions; drain and place in casserole dish.

Layer cooked, chopped chicken on top of broccoli.

Add curry powder, lemon juice, and mayonnaise to the homemade chicken condensed soup (or a can of chicken condensed soup) and stir until smooth. Spread the mixture evenly on top of chicken in the casserole dish.

Combine the crushed crackers and cheese and sprinkle on top of the casserole. Drizzle the top with 2 tablespoons melted butter.

Bake uncovered at 350-degrees for 25-30 minutes or until hot and bubbly. 
Homemade Chicken Condensed Soup
In a small saucepan, melt 4 tablespoons butter over medium heat. Stir in the flour until smooth. Continue cooking for 1-2 minutes, stirring constantly.

Add milk and chicken broth, whisking continually until mixture thickens.

Remove from heat and stir in salt and pepper.
Notes
Substitute 1 10-oz. can chicken condensed soup in place of the homemade condensed soup.
If using fresh broccoli, steam for 5 minutes and drain well before adding to the casserole dish.
If you like a stronger curry flavor, double the amount of yellow curry powder.
Nutrition
Serving:
1
g
Calories:
581
kcal
Carbohydrates:
29
g
Protein:
35
g
Fat:
37
g
Saturated Fat:
15
g
Polyunsaturated Fat:
18
g
Trans Fat:
1
g
Cholesterol:
129
mg
Sodium:
725
mg
Fiber:
4
g
Sugar:
3
g
Life Love and Good Food does not claim to be a registered dietician or nutritionist. Nutritional information shared on this site is only an estimate. We recommend running the ingredients through an online nutritional calculator if you need to verify any information.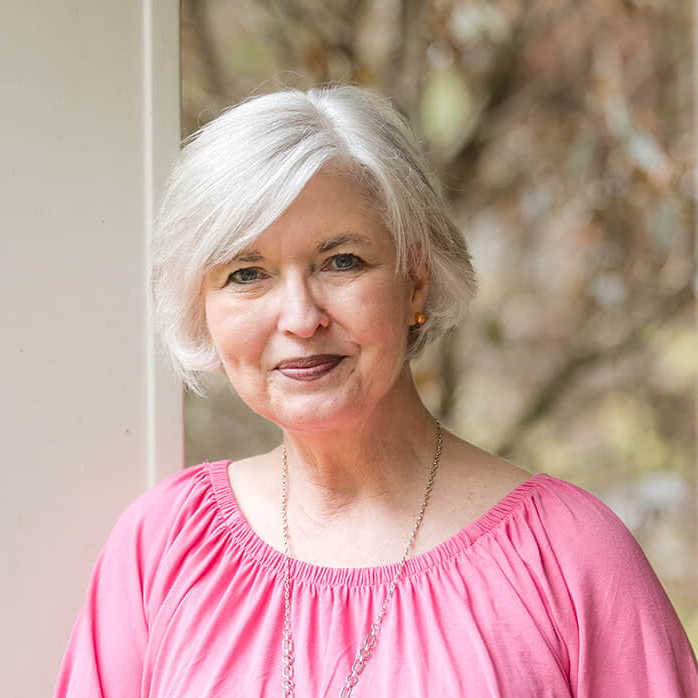 About Sheila Thigpen
Recipe Developer, Food Photographer, Food Writer
Sheila Thigpen is the publisher of Life, Love, and Good Food — a Southern food blog — and the author of Easy Chicken Cookbook and The 5-Ingredient Fresh and Easy Cookbook. After 20+ years in the publishing industry, she retired in 2018 to focus on her own creative endeavors full time. She and her husband live near the beautiful Smoky Mountains and have a precious little granddaughter who has stolen their hearts. As an influencer, Sheila has collaborated with brands like Creamette, Kroger, HERSHEY'S, Hamilton Beach, Garafalo Pasta, OXO, Smithfield, Valley Fig Growers, and more.