This post may contain affiliate links. Please read my disclosure policy.
This smoky, tangy Smoked Meatloaf isn't your Granny's meatloaf. The smoker brings the tender and savory meatloaf to a whole new level of goodness!
From the mesquite wood chips to the blended seasonings to the BBQ glaze, this newfound Smoked Meatloaf recipe is a blue ribbon winner at your next backyard barbecue.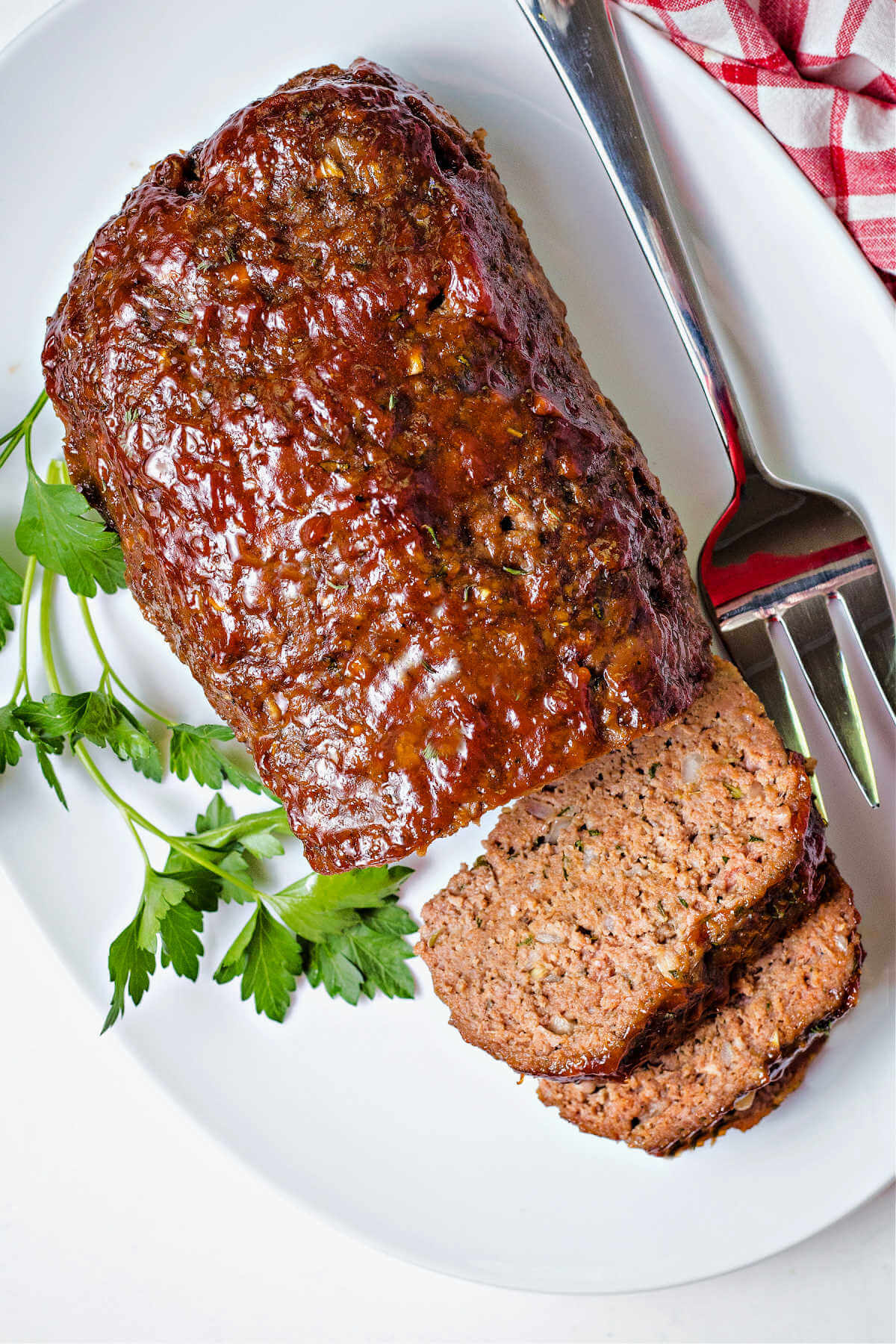 Nothing says comfort like meatloaf! And nothing is better than a twist to that classic comfort food. That's what happens when you're smoking a meatloaf.
Add a pellet grill and wood chips, and the one who used to be considered a cook has now turned into a full-fledged pitmaster. Bonus points!
Is there a pitmaster in your house? The next time you're short on gift-giving ideas, let me help with these 10 Best Gifts for BBQ Smoke Pitmasters.
Then, try this Smoked Whole Chicken. It is a yummy recipe to cook with these new and fun toys and the family will love it!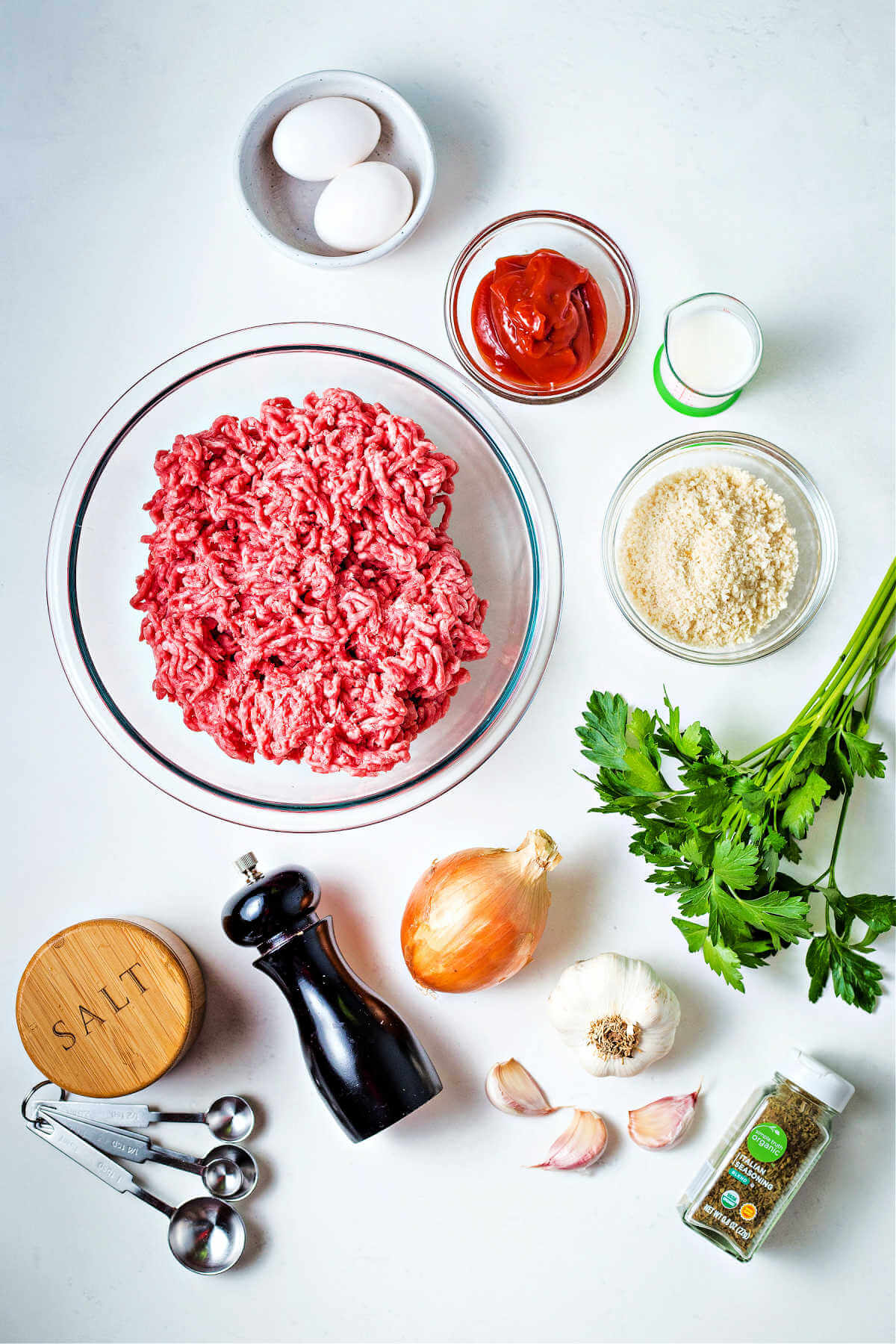 Key ingredients for Smoked Meatloaf
Ground chuck — An 80/20 ratio perfectly balances lean ground beef and fat, so the fat gives it flavor for this recipe. Try using half ground beef and half ground pork for a juicy meatloaf every time.
Onion — Choose a yellow or sweet onion. If chopping onions is your nemesis, use 1 tablespoon of onion powder or 3 tablespoons of onion flakes.
Breadcrumbs — Out of breadcrumbs? Use croutons, stuffing mix, or crumbled saltine crackers. For gluten-free, try the GF breadcrumbs or sliced almonds for a little crunch.
Ketchup or barbecue sauce — This is strictly a personal preference or you can use whatever you have on hand. Honestly, you can't go wrong whether you like a sweet flavor or want to turn it up with a spicy sauce. Of course, the classic ketchup is always a good choice.
Milk — Nowadays, there are so many milk substitutions, thankfully. Try coconut milk, soy, almond, or oat milk.
Eggs — I've seen several egg replacement options at the market. Bob's Red Mill Egg Replacer is one option, or use ¼ cup of Greek yogurt for 1 egg.
Garlic — If you're out of fresh garlic cloves, use ½ teaspoon garlic powder for every large garlic clove. Or, to use an alternative to garlic, use shallots and chop them up finely.
Parsley — The fresh taste of parsley is so good in this meatloaf. Swap tarragon, chives, and oregano for parsley if you prefer.
Italian seasoning — Fresh herbs make great substitutes: basil, oregano, theme, sage, and/or rosemary.
BBQ sauce for basting — Again, this goes to personal preference. Try this Easy Homemade Barbeque Sauce for that tangy and sweet taste. You'll love it!
Equipment needed
Electric Smoker – If you're new to smoking meats, you'll love how easy it is with an electric smoker. It doesn't have to be super fancy — I recommend making a purchase like this one.
Mesquite Wood Chips — Look for mesquite, which will give you that good smoky flavor.
Digital Probe Meat Thermometer — You definitely want to have one of these on hand. It allows you to read the temps on the outside, so you don't have to open the smoker and lose precious heat.
2 Disposable Aluminum Pans — Smoking can ruin a good pan. Disposable makes for easy cleanup, and we're all about that!
How to make this Smoked Meatloaf Recipe
STEP 1 | Preheat the smoker and prep the pans
Start by preheating the electric smoker to 225 degrees. Take one of the aluminum pans and carefully puncture holes about an inch apart into the bottom using a paring knife or a knife with a sharp tip.
The holes help to circulate the smoke all throughout the meat and allow the greasy drippings to drain into a second aluminum pan you'll place on the rack below.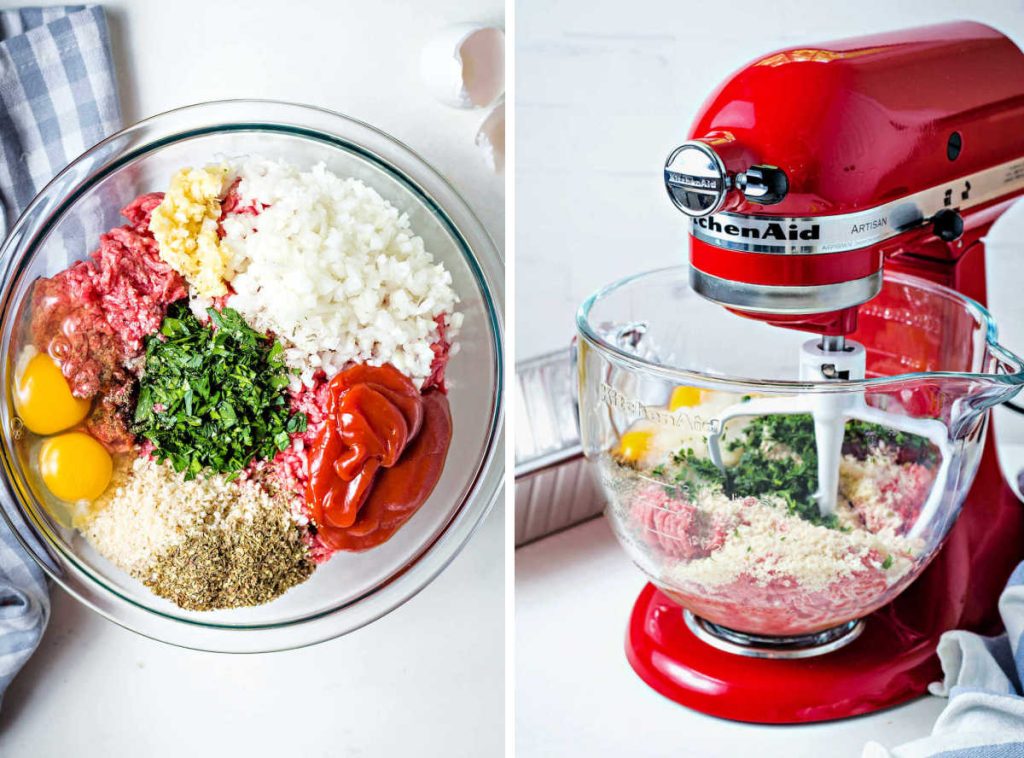 STEP 2 | Mixing the ingredients
Crumble the ground chuck in a large mixing bowl. Then add your minced onion, bread crumbs, ketchup, milk, whisked eggs, garlic, parsley, and spices.
Time to mix. Use your hands (which works best) or a large wooden spoon to mix the ingredients until they are well blended.
tips
I like to add all the spices to the eggs so they get evenly distributed — but of course it's quicker to just plop them on into the bowl.
Don't like messy hands? Use a mixer with a paddle attachment instead, but be sure to only mix until the ingredients are incorporated or the meat will get tough.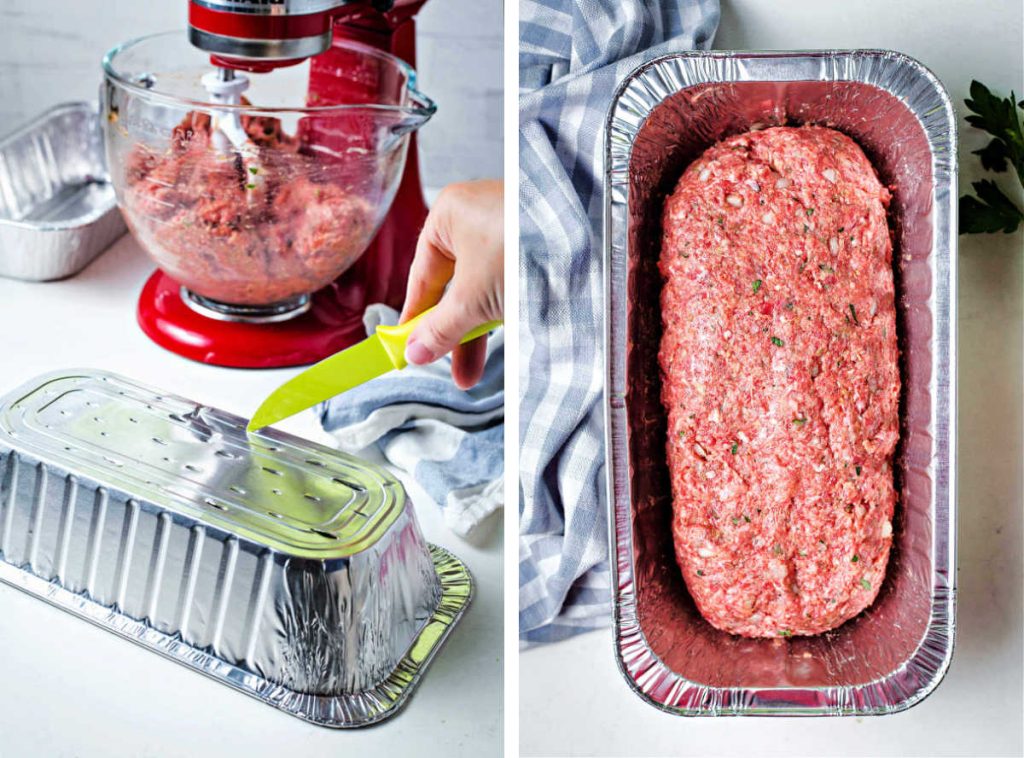 You are ready to transfer the meatloaf mixture into the prepared aluminum pan and form it into a loaf shape. Now, go wash your hands!
STEP 3 | Bring meat to room temp
Allow the meatloaf to sit at room temperature for about 30 minutes or until the smoker has reached its temperature. This resting time will help eliminate odors or flavors absorbed from sitting in the fridge and brings out its authentic flavor.
STEP 4 | Add wood chips
Before placing the meatloaf pan on the smoker grate, add the wood chips to the wood chip box. Then place a second pan on the grate below to catch any drippings from the meatloaf. Less cleanup later. Yay!
STEP 5 | Insert the thermometer
After about 1 hour, you want to insert the digital thermometer into the center of the meatloaf. Cook another 2 hours or until the meatloaf's internal temperature reaches 160 degrees.
The digital thermometer lets you know the temp exactly, and it takes the guesswork out of smoking meat.
STEP 6 | Add the BBQ sauce
During the last 30 minutes of cooking, pour or brush the barbeque sauce evenly across the top of the meatloaf letting the sauce drip down over the sides.
When time is up, remove the meatloaf from the smoker and slice it nicely. Serve your gorgeously smoked meatloaf immediately while that sauce is bubbly hot.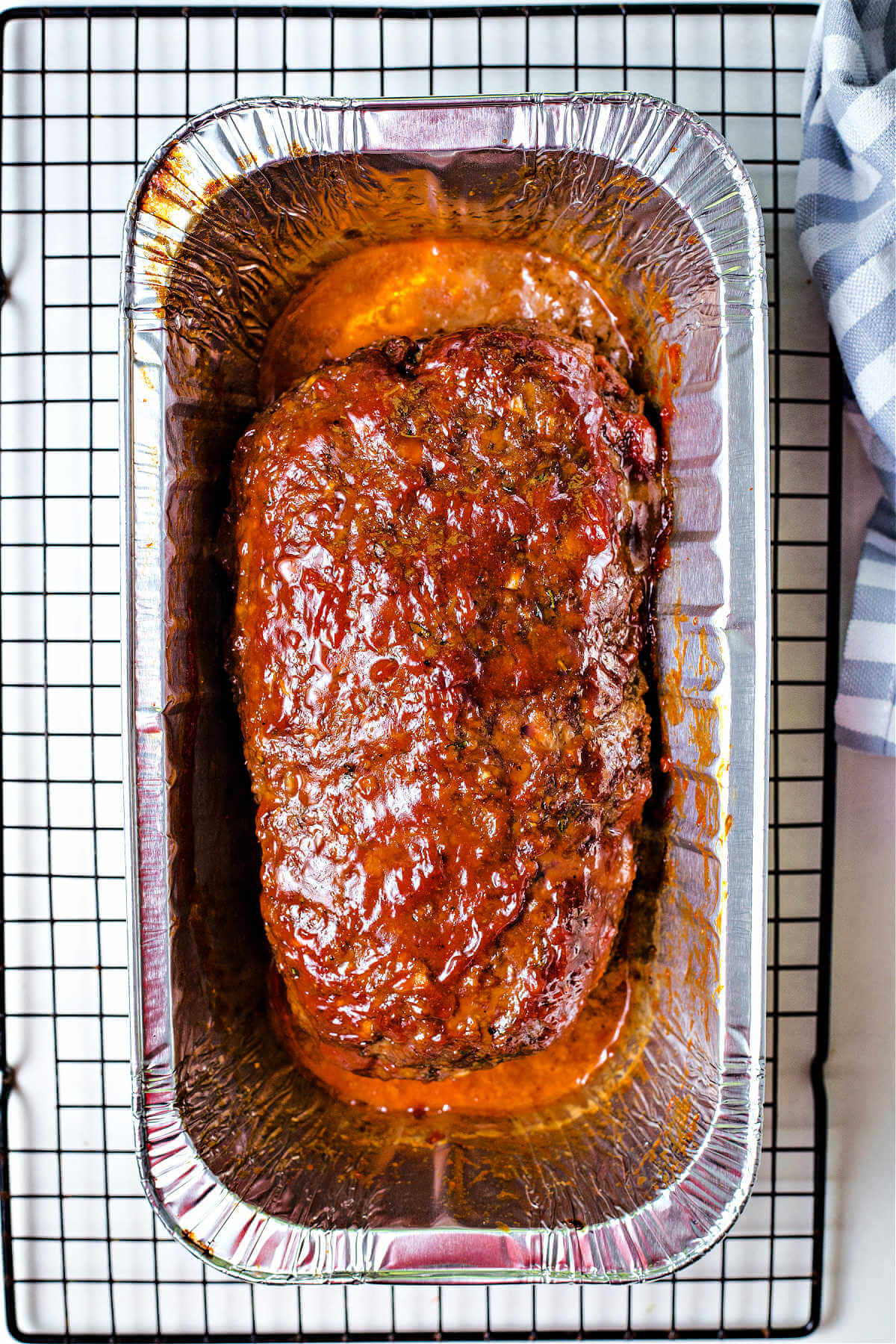 Frequently asked questions
What causes a meatloaf to fall apart?
Not using the right ingredients like eggs and breadcrumbs will keep it from binding or holding together. These are super important and they help keep the meatloaf moist, too!
I know the prep time doesn't take that long, but is it okay to make it ahead of time and store it in the refrigerator until I smoke it? 
Yes. Feel free to mix up the meat and ingredients ahead of time. It will keep for 2-3 days, depending on how fresh the ground meat is. You may also wrap and freeze it in an airtight container for up to 3 months. Then just defrost when ready to smoke and serve.
What is the best way to reheat leftover meatloaf? 
A microwave is always an option, but a lesser choice, in my opinion. Preheat the oven to 325, add a couple of tablespoons of beef broth, and heat for 15-20 minutes or until it is warm throughout. 
Serving suggestions
What goes better with anything than mac and cheese? How about making it with a twist? Whip up this Smoked Mac and Cheese for extra comfort and goodness.
Or, pull out the cast iron skillet and create these fantastic Woodshed Potatoes while the meatloaf is smoking.
Finish it off and make it a comfort meal all the way around with my Quick 3-Ingredient Dinner Rolls. There's nothing better than having a piece of piping hot bread with your easy meatloaf recipe. Mmmm!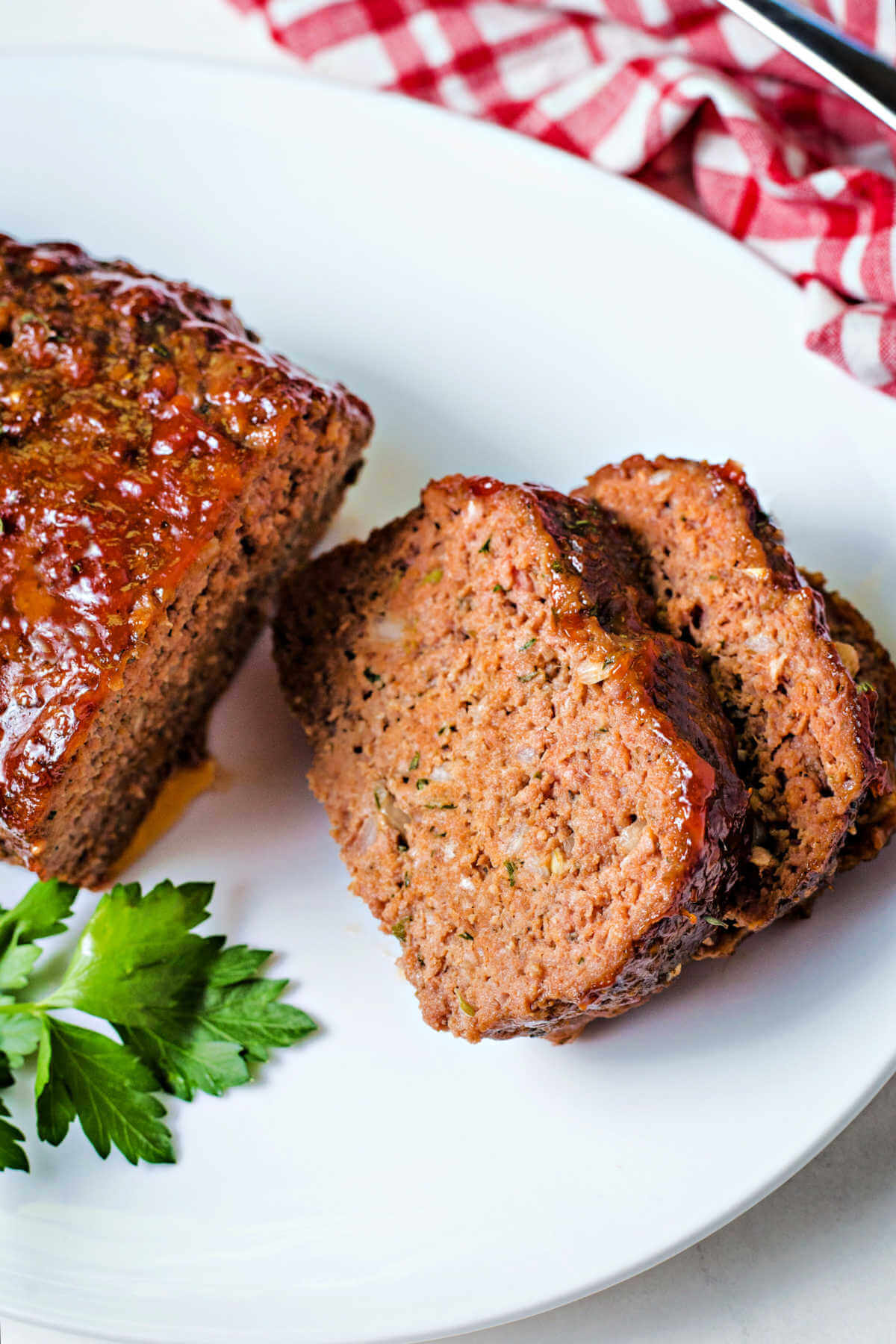 Behind the recipe: Smoked Meatloaf
Even those who wouldn't consider themselves a chef can usually create a tasty meatloaf. It's not only very forgiving, but it's also very inexpensive.
The hardships of the Great Depression taught our parents and grandparents the value and appreciation of food.
Meatloaf was actually one of the meals used to stretch what they had. Inexpensive meats with leftover ingredients and seasonings helped the budget and filled bellies. They also added saltine crackers, bread, and cereal grains to add volume, something we still use today.
Listening to some of the stories passed down gives me such appreciation of the blessing of the abundance of food we have today.
Please share!
Your shares are how this site grows, and I appreciate each one. Do you know someone who would enjoy this recipe? I'd love it if you would share it on Facebook or Pinterest!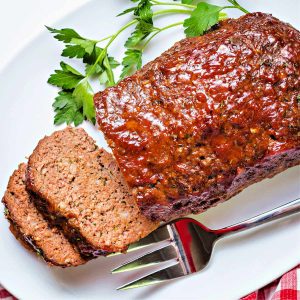 Smoked Meatloaf
This smoky, tangy Smoked Meatloaf isn't your Granny's meatloaf. The smoker brings the tender and savory meatloaf to a whole new level of goodness!
Equipment
Mesquite Wood Chips

2 Disposable Aluminum Pans
Ingredients
2

lbs.

ground chuck

80/20 ratio

1

small

onion

grated

2/3

cup

panko breadcrumbs

1/3

cup

ketchup

or barbecue sauce

1/4

cup

milk

2

large

eggs

slightly beaten

3

cloves

garlic

minced

2

tablespoons

freshly chopped parsley

2

teaspoons

Italian seasoning

1

teaspoon

kosher salt

1/2

teaspoon

freshly ground black pepper

2/3

cup

barbecue sauce

for basting
Instructions
Preheat the electric smoker to 225 degrees. Use a paring knife with a sharp tip to carefully puncture holes about an inch apart into the bottom of one of the aluminum pans.

Into a large mixing bowl, crumble the ground chuck. Add the onion, breadcrumbs, ketchup, milk, eggs, garlic, parsley, and spices. Use your hands or a large wooden spoon to combine the ingredients. Shape into a loaf about 3 inches high and place in the prepared aluminum pan.

Allow the meatloaf to sit at room temperature until the smoker has come up to temperature (about 30 minutes).

Add wood chips to the wood chip box and place the meatloaf pan on the smoker grate. Place a second pan on the grate below to catch the drippings.

After 1 hour, insert a digital thermometer into the center of the meatloaf. Cook another 2 hours or until the meatloaf's internal temperature reaches 160 degrees.

During the last 30 minutes of smoking, evenly pour or brush the barbecue sauce on top of the meatloaf. Once done, slice and serve immediately.
Notes
Don't want to get your hands dirty? Add the meatloaf ingredients to the bowl of a stand mixer. Use the paddle attachment and mix on low until all the ingredients are combined.
Nutrition
Calories:
518
kcal
Carbohydrates:
24
g
Protein:
30
g
Fat:
33
g
Saturated Fat:
12
g
Polyunsaturated Fat:
1
g
Monounsaturated Fat:
14
g
Trans Fat:
2
g
Cholesterol:
171
mg
Sodium:
1015
mg
Potassium:
612
mg
Fiber:
1
g
Sugar:
15
g
Vitamin A:
371
IU
Vitamin C:
4
mg
Calcium:
93
mg
Iron:
4
mg
Life Love and Good Food does not claim to be a registered dietician or nutritionist. Nutritional information shared on this site is only an estimate. We recommend running the ingredients through an online nutritional calculator if you need to verify any information.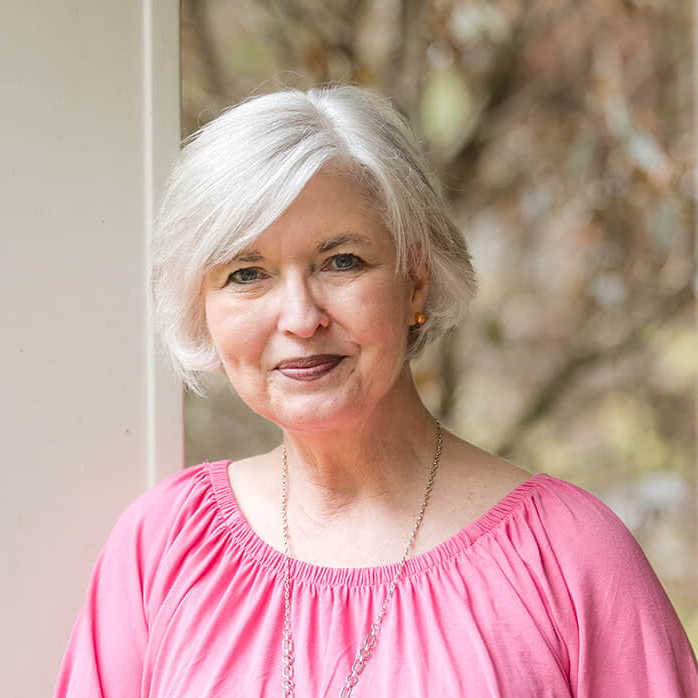 About Sheila Thigpen
Recipe Developer, Food Photographer, Food Writer
Sheila Thigpen is the publisher of Life, Love, and Good Food — a Southern food blog — and the author of Easy Chicken Cookbook and The 5-Ingredient Fresh and Easy Cookbook. After 20+ years in the publishing industry, she retired in 2018 to focus on her own creative endeavors full time. She and her husband live near the beautiful Smoky Mountains and have a precious little granddaughter who has stolen their hearts. As an influencer, Sheila has collaborated with brands like Creamette, Kroger, HERSHEY'S, Hamilton Beach, Garafalo Pasta, OXO, Smithfield, Valley Fig Growers, and more.