Two favorite foods—cheeseburgers and pizza—collide to make one delicious and fun family-friendly meal! Homemade Cheeseburger Pizza is made with seasoned ground beef, special sauce, onions, banana peppers (or pickles), melty mozzarella, and smoked gouda cheese! Wowza!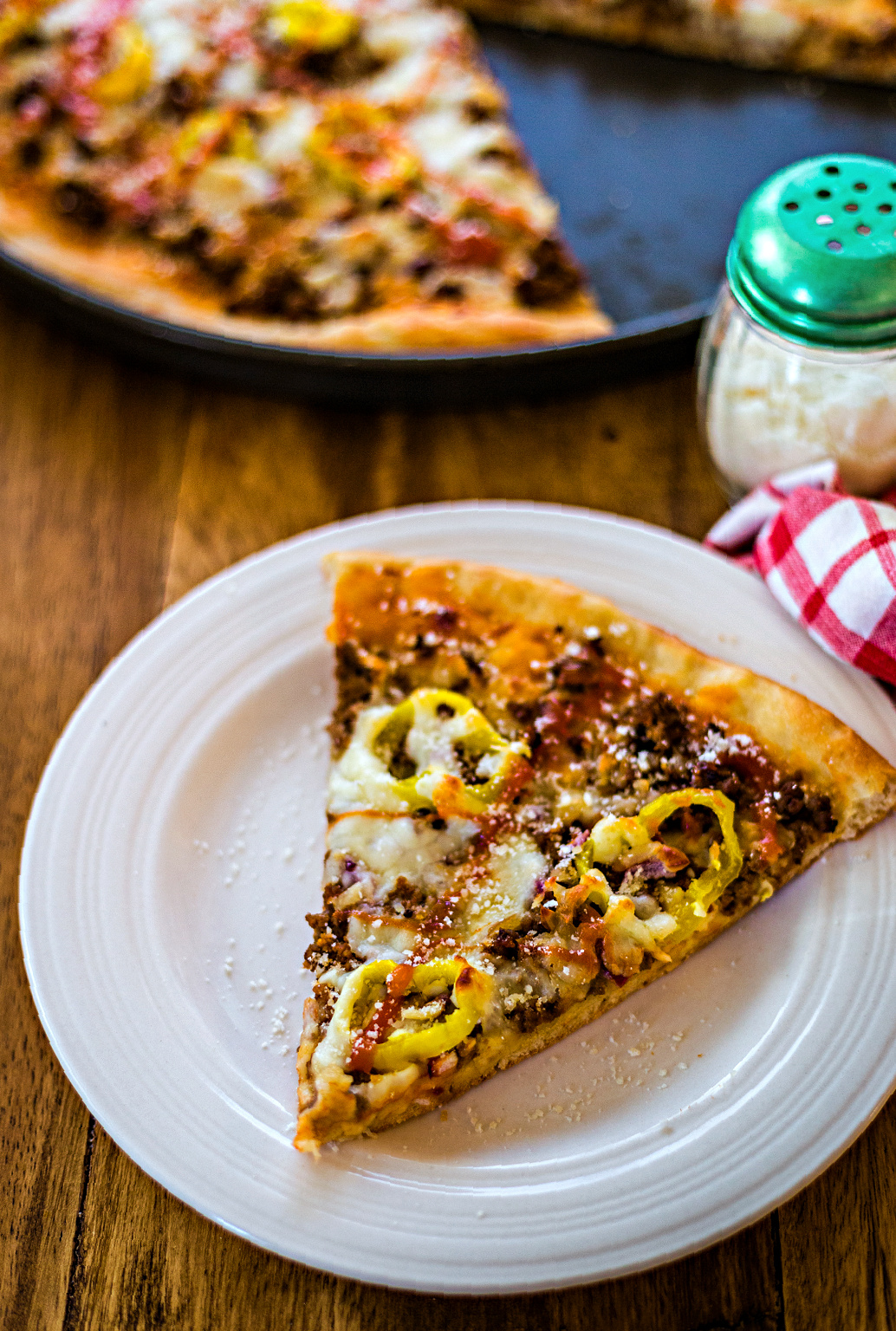 Cheeseburger Pizza
We have some pretty serious pizza aficionados in our family. Our daughter and son-in-law got an outdoor pizza oven as a wedding gift and have been perfecting their homemade dough and creating all kinds of pizza combinations.
Lucky me, I've been happily sampling some really tasty pepperoni pizzas, pulled pork bbq pizzas. margherita pizzas, and this new CHEESEBURGER pizza over the last few weeks.
Although an outdoor pizza oven is pretty awesome, you don't need one to make delicious pizza at home. Today's Cheeseburger Pizza recipe bakes in your normal oven on a regular pizza pan or pizza stone.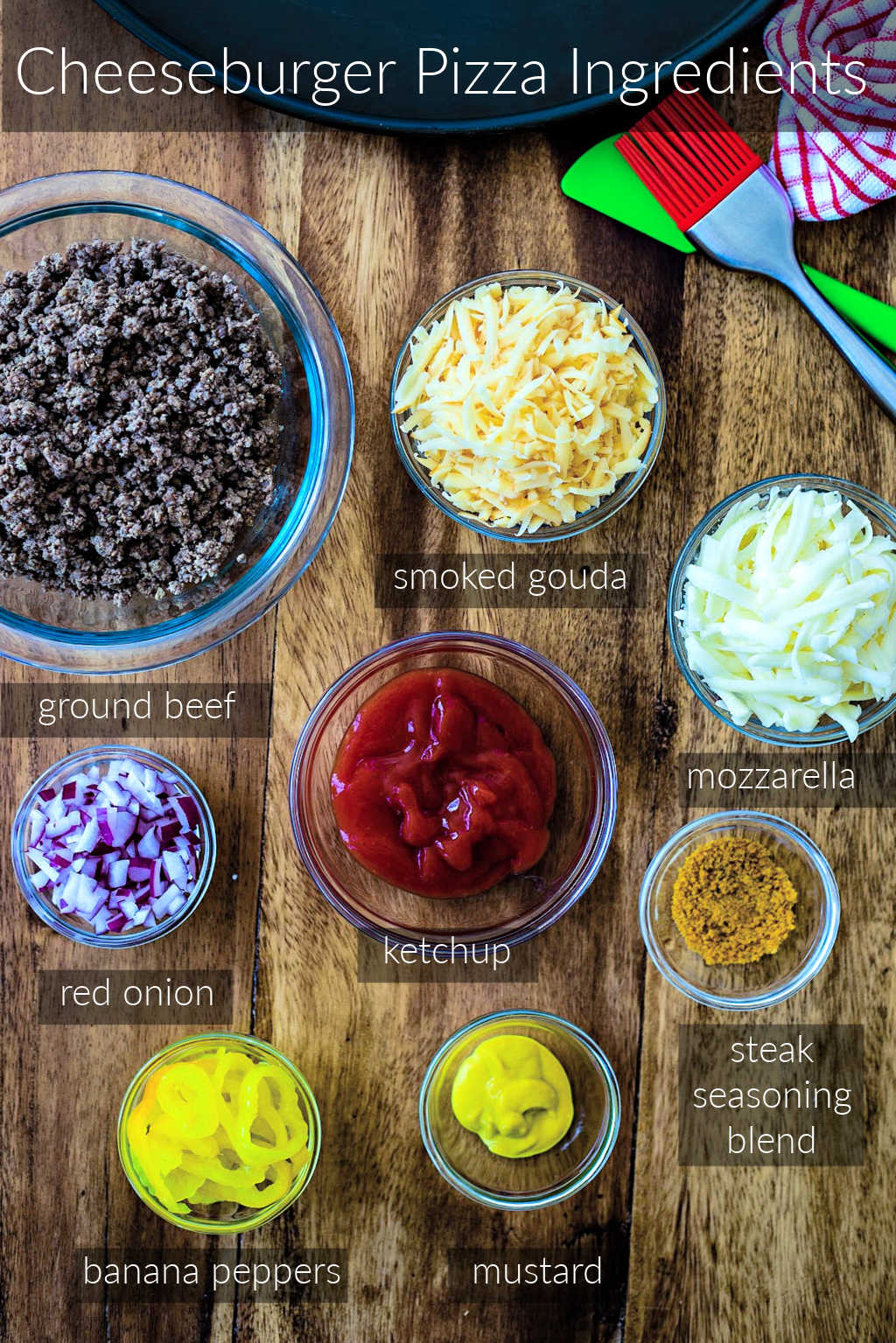 Ingredients
Ground beef — crumbled and cooked until brown
Cheese — I like to combine smoked gouda and mozzarella cheese
Steak seasoning blend — like Montreal's or Emeril's Essence
Red onion — or yellow onion
Sliced banana pepper rings — or dill pickle slices
Ketchup
Mustard
Tips for making pizza at home
Start with a hot oven. We can't all have professional pizza ovens, so the next best thing is to start with a hot oven, at least 475 degrees. Pizzas need to bake hot and fast!
Bake on a hot pizza stone. If you do own a pizza stone, preheat it then transfer pizza to the hot stone using a pizza peel.
Let the dough come to room temperature. Whether you make your own dough or use pre-made refrigerated dough, don't start out cold. Room temperature dough stretches into shape much easier.
Stretch, don't roll. Using a rolling pin to shape your dough into a pizza pie will deflate the dough and make it tough. Instead lift and stretch the dough until it is the size you need.
Go thin with the sauce. Too much sauce and the pizza may become soggy on the bottom.
Brush the edges with olive oil. A light brush of olive oil helps promote nicely golden pizza crust.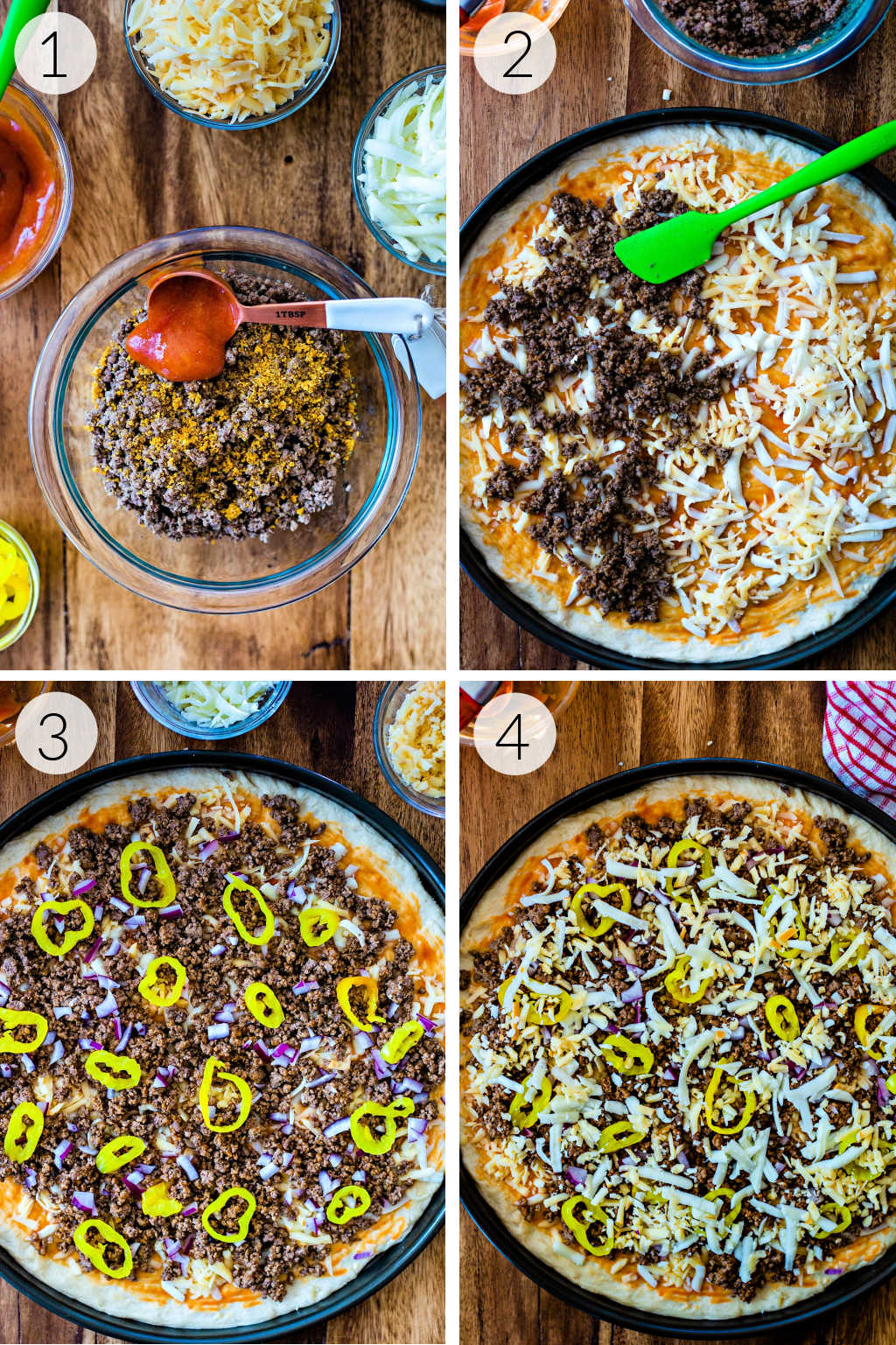 PRO TIP: Lightly coat your pizza pan with cooking spray and sprinkle evenly with a tablespoon of cornmeal before adding the pizza dough. This will keep the dough from sticking and will result in a crisper crust on the bottom.
How to make cheeseburger pizza
Preheat the oven and press refrigerated pizza dough into a prepared pizza pan.
Combine ketchup and mustard to make the special sauce.
Cook the ground beef then stir in steak seasoning, salt, and a couple tablespoons of the sauce.
Brush about half of the remaining sauce evenly on top of the pizza dough and brush the edges with olive oil. Sprinkle half the cheese on top of the sauce.
Add the ground beef mixture, the diced onions, and banana pepper rings.
Top with the remaining cheese and bake for 10 to 12 minutes.
Drizzle the pizza with the remaining sauce and serve.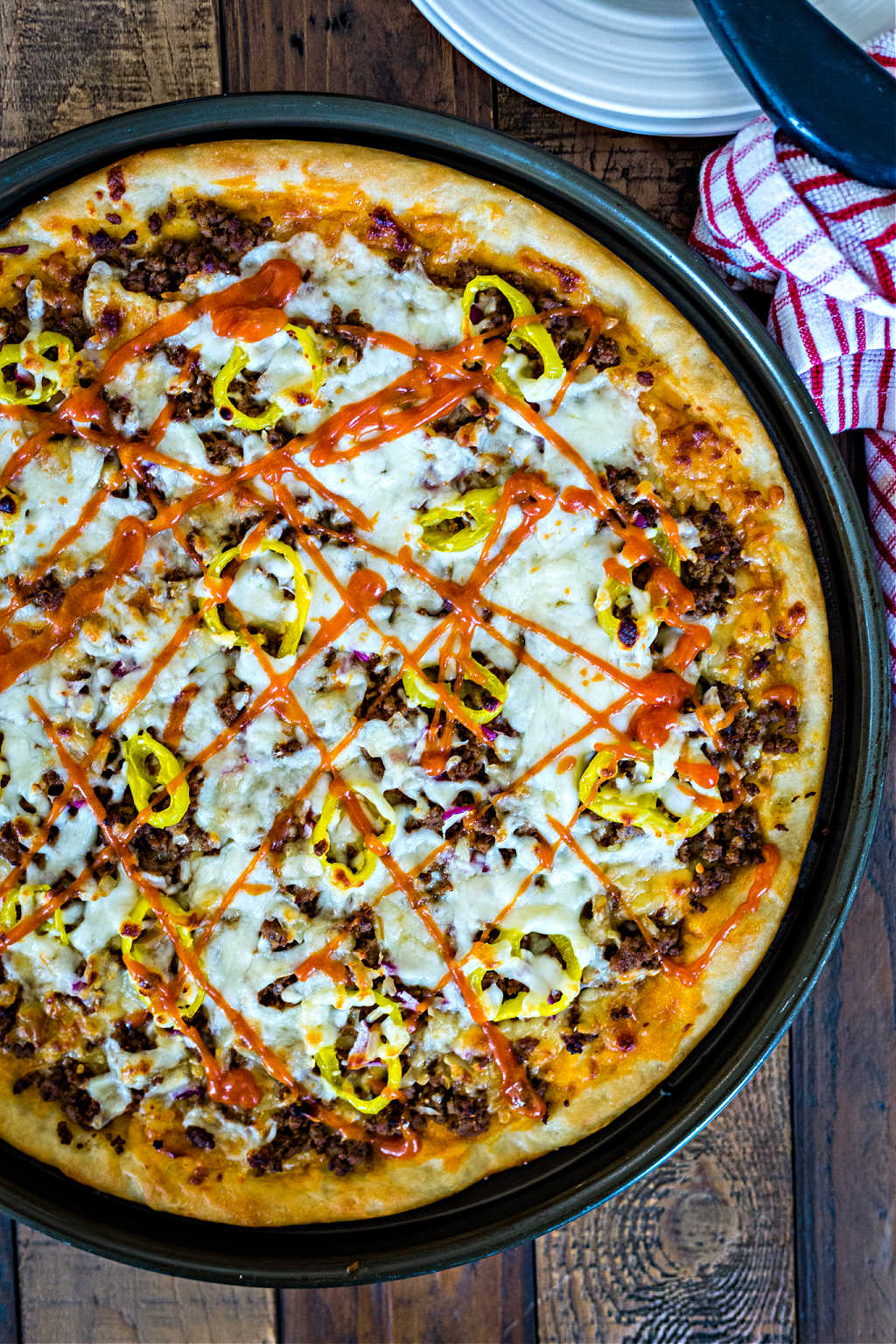 Variations
Bacon Cheeseburger Pizza. Add fried and crumbled bacon to the pizza toppings.
Russian Cheeseburger Pizza. Instead of the ketchup-mustard mixture, substitute bottled Russian or Thousand Island dressing as the pizza sauce.
The Works Cheeseburger Pizza. Serve topped with shredded lettuce, chopped tomatoes, and more pickles.
Tex-Mex Cheeseburger Pizza. Substitute taco sauce for the ketchup-mustard sauce, Pepper Jack cheese in place of the smoked Gouda, and pickled jalapeño slices for the banana peppers.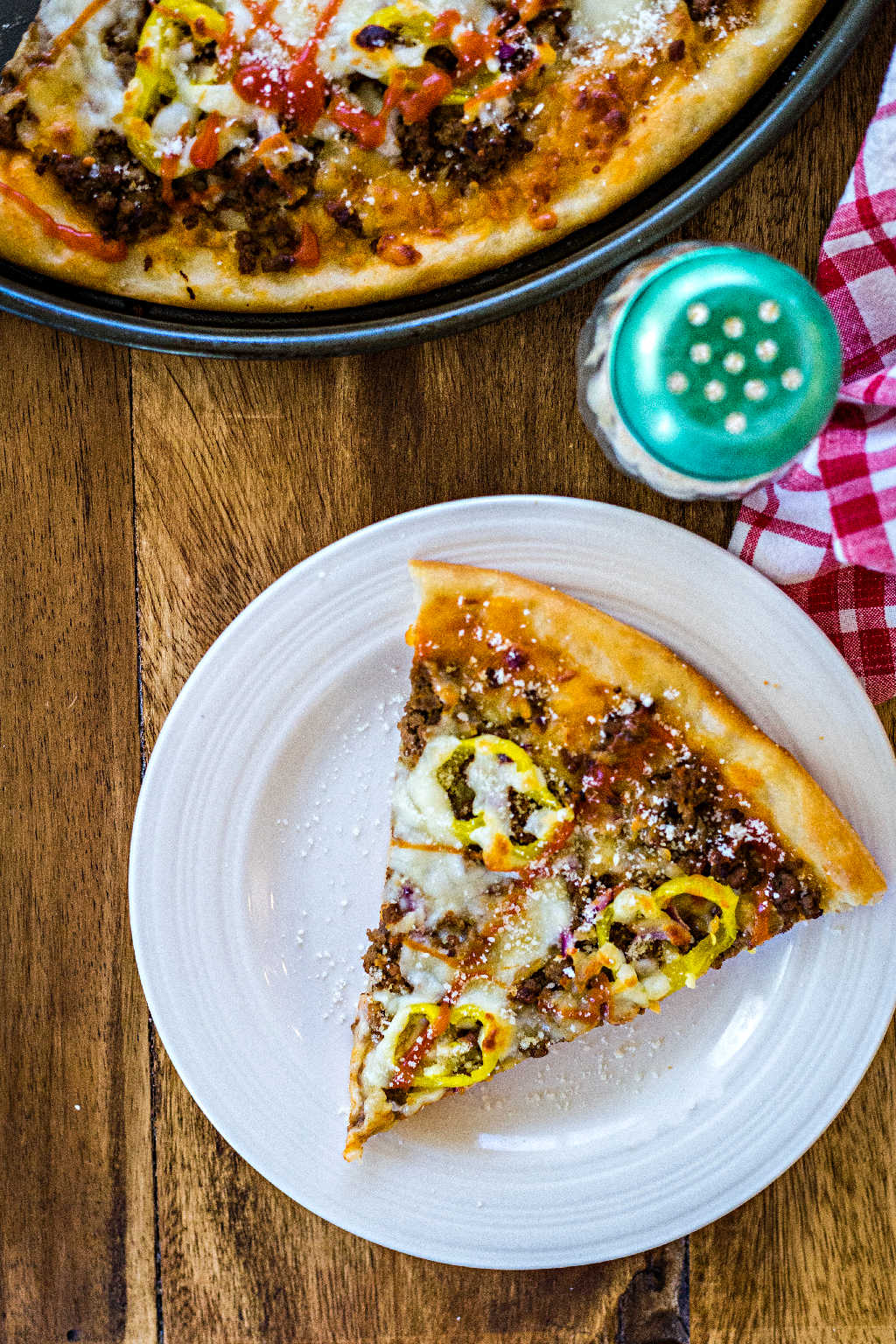 Do you put pizza on the top or bottom rack?
For a crisper crust, bake pizza on a rack in the lower third of your oven.
How do I make the bottom of my pizza crispy?
Avoid soggy pizza crust by making sure you only use a thin layer of sauce, precook meat toppings, and add a sprinkle of cornmeal to the bottom of the pan before baking.
Do you cook pizza dough before adding toppings?
Since we prefer thin crust, I don't find that cooking the pizza dough before adding toppings is necessary. That being said, if you prefer thick crust pizza, you may want to pre-bake the crust for 5 minutes before loading it with toppings.
Related recipes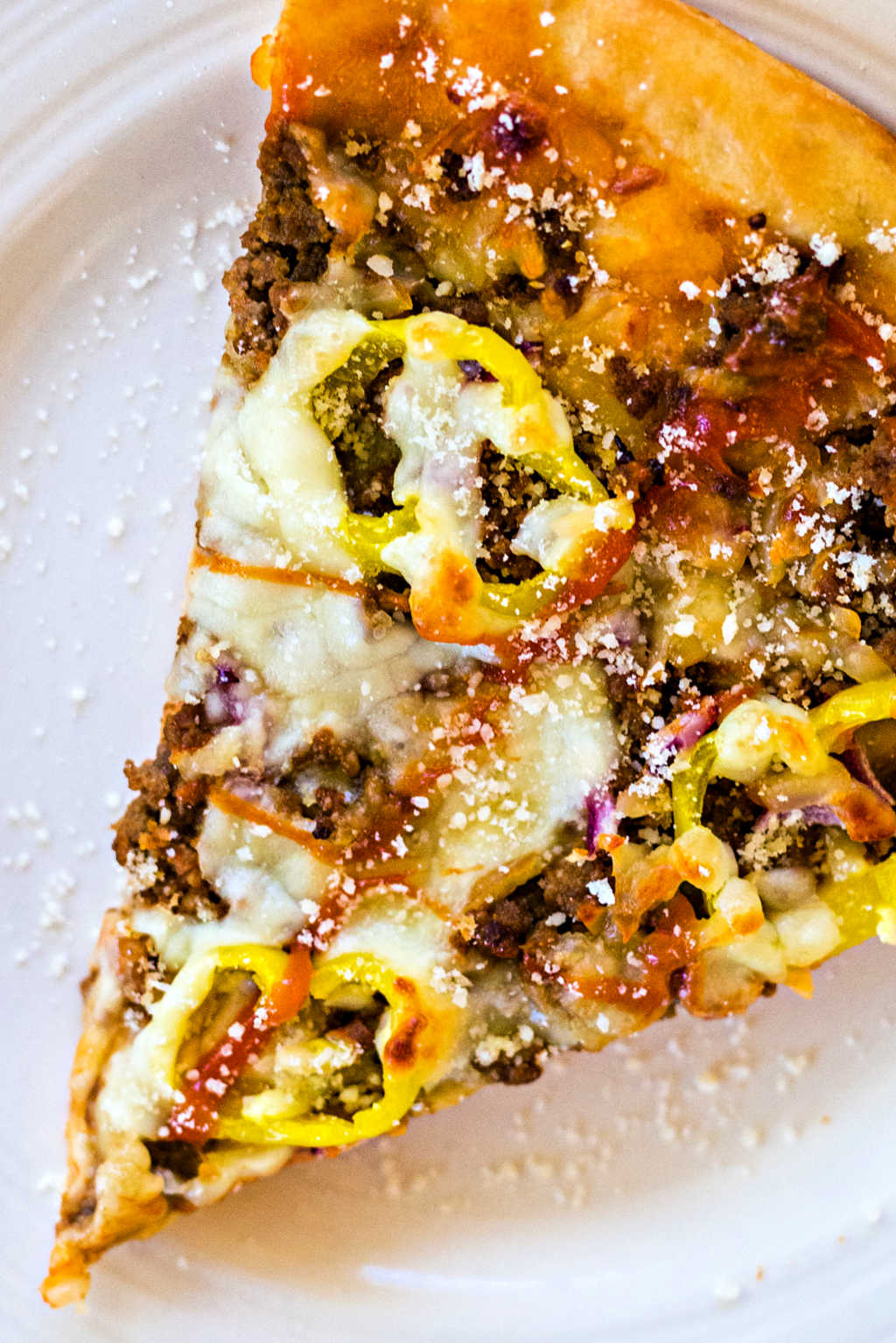 Please share!
Your shares are how this site grows and I appreciate each one. Do you know someone who would enjoy this recipe? I'd love it if you would share it on Facebook or on your favorite Pinterest board!
Yield: 8 servings
Cheeseburger Pizza
Two favorite foods—cheeseburgers and pizza—collide to make one delicious and fun family-friendly meal!
Ingredients
Refrigerated pizza dough
3/4 pound lean ground beef
1/2 cup ketchup
2 tablespoons yellow mustard
1 teaspoon steak seasoning
1/2 teaspoon kosher salt
1 cup shredded smoked gouda cheese
1 cup shredded mozzarella cheese
1/4 cup diced red onion
1/4 cup banana pepper rings
Instructions
Preheat the oven to 475 degrees. Lightly coat a non-stick pizza pan with cooking spray and sprinkle evenly with 1 tablespoon cornmeal. Transfer the pizza dough to the pan and press it to 1/8-inch thickness for thin crust or to 1/4-inch thickness for thick crust pizza.
In a large skillet over medium high heat, cook and crumble the ground beef until no longer pink. Drain off the grease.
In a small bowl, whisk together the ketchup and mustard. Stir 2 tablespoons of this sauce into the ground beef along with the steak seasoning and salt.
Brush about half of the remaining sauce evenly over the pizza dough and brush the edges of the dough with olive oil.
Sprinkle half the smoked gouda and half the mozzarella cheese on top of the sauce, then add the ground beef mixture. Top with the diced onions, banana pepper rings, and the remaining cheese.
Bake for 10 to 12 minutes, until the crust is crispy and the cheese is melted and bubbly.
Remove from the oven and drizzle with the remaining sauce and serve.
Notes
Let refrigerated pizza dough sit at room temperature for at least 30 minutes before stretching into shape.
If using a pizza stone, place it in the oven to preheat first. Shape the pizza dough on parchment paper and transfer carefully to the hot stone to bake.
Recommended Products
As an Amazon Associate and member of other affiliate programs, I earn from qualifying purchases.
Nutrition Information:
Yield:
8
Serving Size:
1
Amount Per Serving:
Calories:

210
Total Fat:

11g
Saturated Fat:

6g
Trans Fat:

0g
Unsaturated Fat:

4g
Cholesterol:

60mg
Sodium:

605mg
Carbohydrates:

8g
Fiber:

1g
Sugar:

4g
Protein:

19g