Enjoy gourmet pizza at home with a wholesome and delicious Chicken Florentine Pizza. Florentine pizzas replace traditional marinara sauce with creamy béchamel, or white sauce, as the pizza base.
In today's Chicken Florentine Pizza, fresh spinach and garlic are cooked with the sauce, then spread on top of whole wheat pizza dough and layered with caramelized onions, tender chicken, mushrooms, and plenty of melty cheese.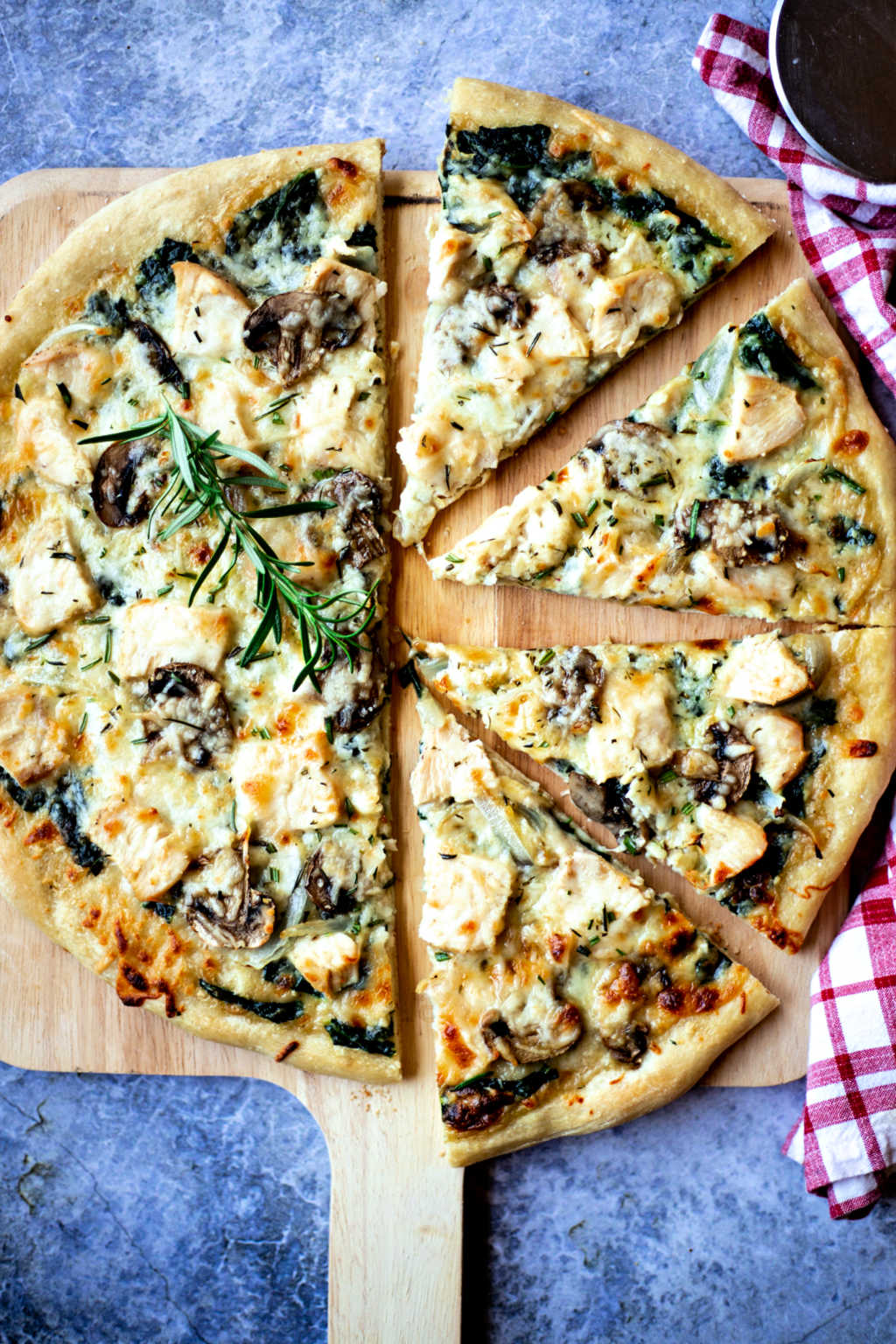 Chicken Florentine Pizza
When our girls were small, we'd celebrate making it through the work week with Friday night pizza and a movie. That meant picking up a pizza on the way home and vegging out in front of the TV watching the latest Disney movie.
Fast forward 20 years and now a fun Friday night includes making our own HOMEMADE pizzas, like BBQ Chicken Pizza or easy Cheeseburger Pizza and today's decadent Chicken Florentine Pizza.
Cut into eight pieces, each slice is around 300 calories so you can feel good about splurging on this delicious pizza!
For this pizza, I like to use whole wheat pizza dough (I find mine at Trader Joe's), but any refrigerated crust will work.
For the chicken, you can either bake or sauté a few chicken tenders or use leftovers or rotisserie chicken. Or, for that matter, you can skip the chicken all together to make a vegetarian pizza Florentine!
What does Florentine style mean?
Recipes with Florentine in the name always include spinach as a main ingredient. Named for the region of Florence, Italy, it is believed Florentine style cooking (with spinach) was first adopted to please the tastes of Queen Catherine de Médicis.
What is a Florentine pizza?
A Florentine pizza starts with a white sauce and includes spinach as one of the toppings.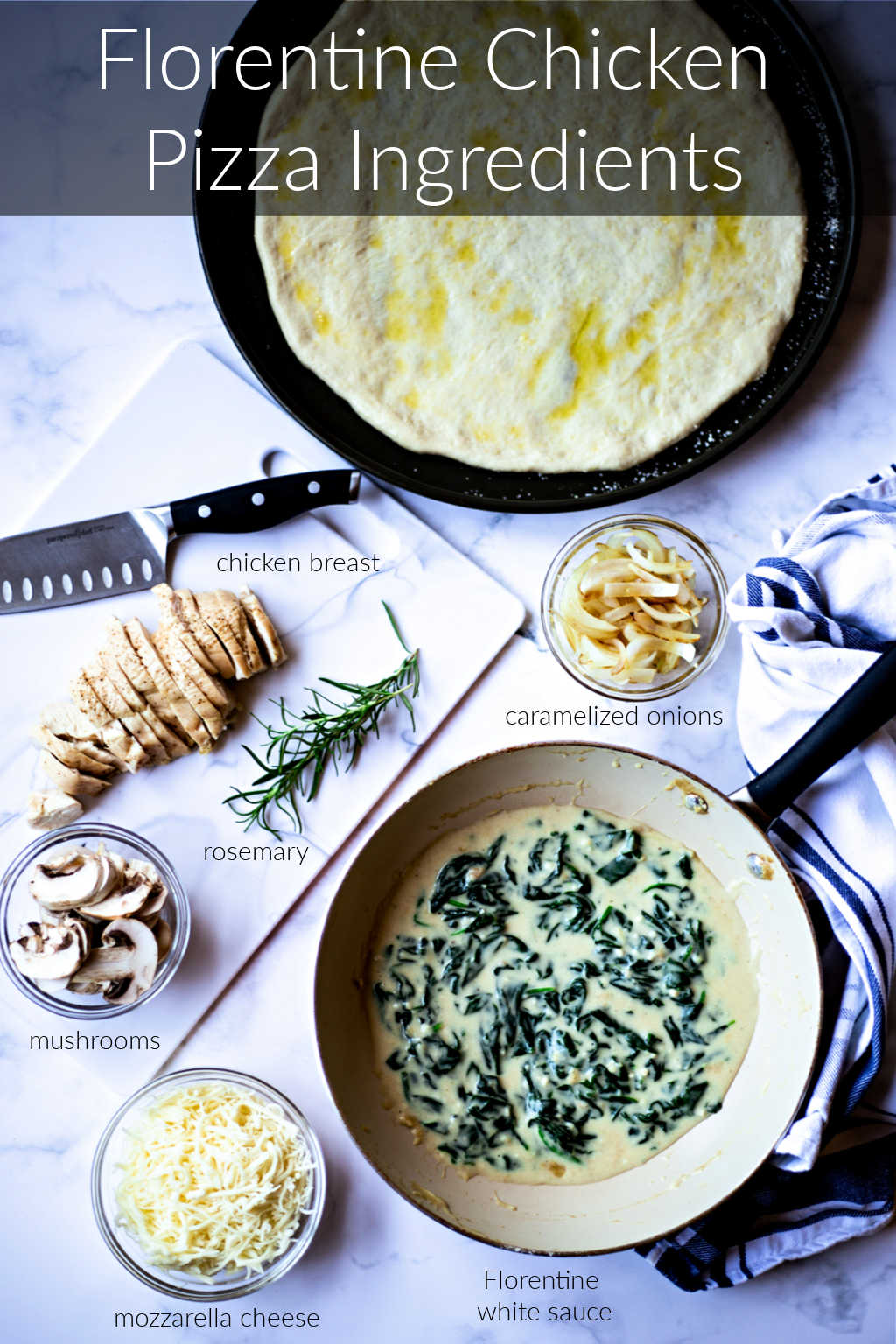 Ingredients
Pizza dough — make your own homemade pizza dough or pick up a refrigerated dough (whole wheat or plain) from the grocery deli department
Chicken — cooked and sliced; leftovers work great for this recipe!
Fresh spinach — may also use frozen spinach, thawed and squeezed dry
Onion — sweet or white onions
Mushrooms — if you're not a mushroom fan, just leave them off!
Mozzarella cheese
Milk, flour, and butter — for the white béchamel sauce
Garlic — for added flavor
Fresh rosemary — for a bit of fresh flavor at the end.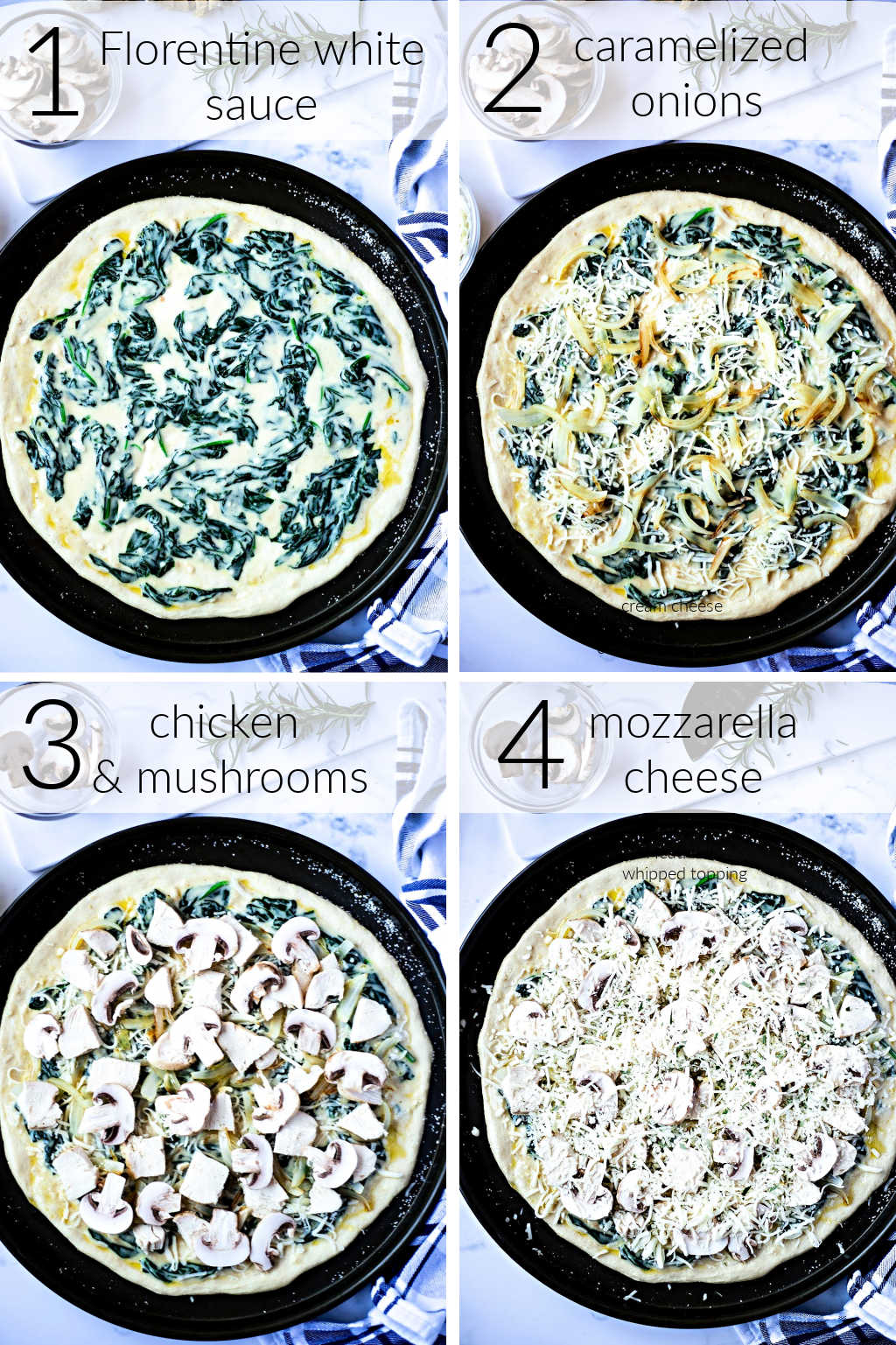 Instructions
Spread a refrigerated pizza dough into the pizza pan. Make the béchamel, or white sauce. Make a simple roux of flour and butter, then add minced garlic and milk, cooking until slightly thickened. Stir in the spinach until wilted, then spread on the crust.
Sauté onions until caramelized and place on top of the sauce.
Add chicken and sliced mushrooms.
Top with cheese and bake!
Should I cook chicken before putting on pizza?
As with any meat topping, always cook chicken before adding to a pizza. If you don't the chicken won't cook through before the pizza gets too brown.
How do I make the bottom of my pizza crispy?
Lightly spraying the pizza pan with nonstick cooking spray, then evenly sprinkling with a tablespoon or two of cornmeal before you spread out the pizza dough will give the crust a nice, crispy texture.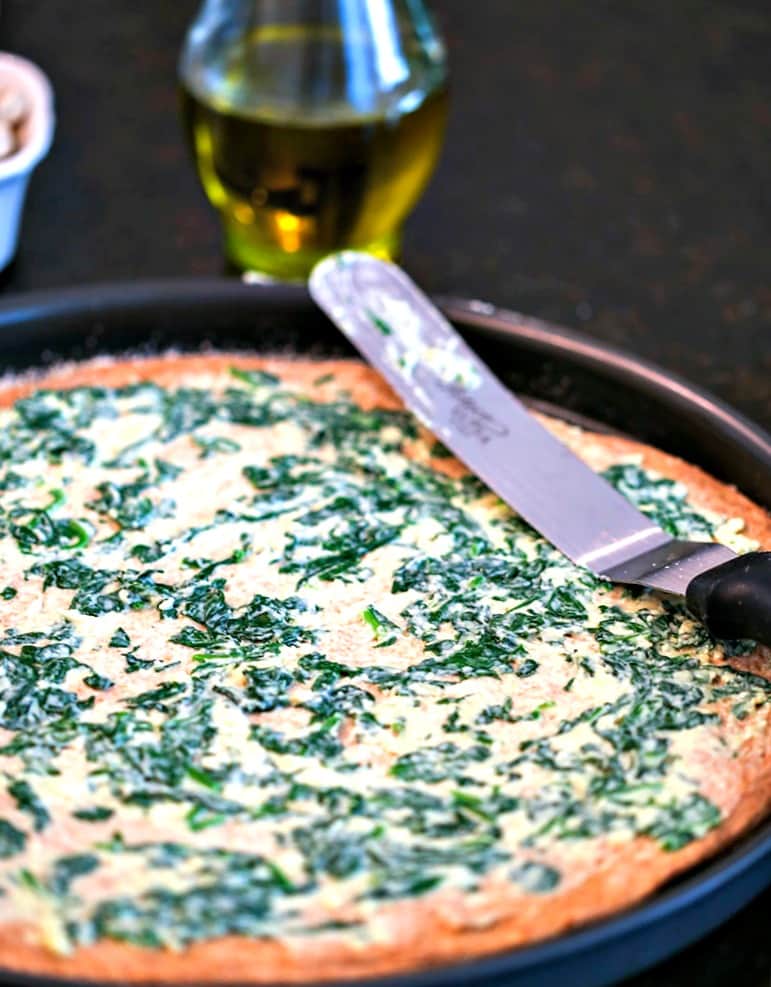 More tips on the white sauce
I tend to go light when it comes to garlic, but if you enjoy a stronger garlic flavor, use two minced cloves in the white sauce.
The finished sauce will be quite thick and you won't think there's enough of it, but no need to worry!
Brush the pizza dough with a little olive oil and then use a spatula to evenly spread the Florentine sauce. You'll find it's the perfect amount for a thin layer!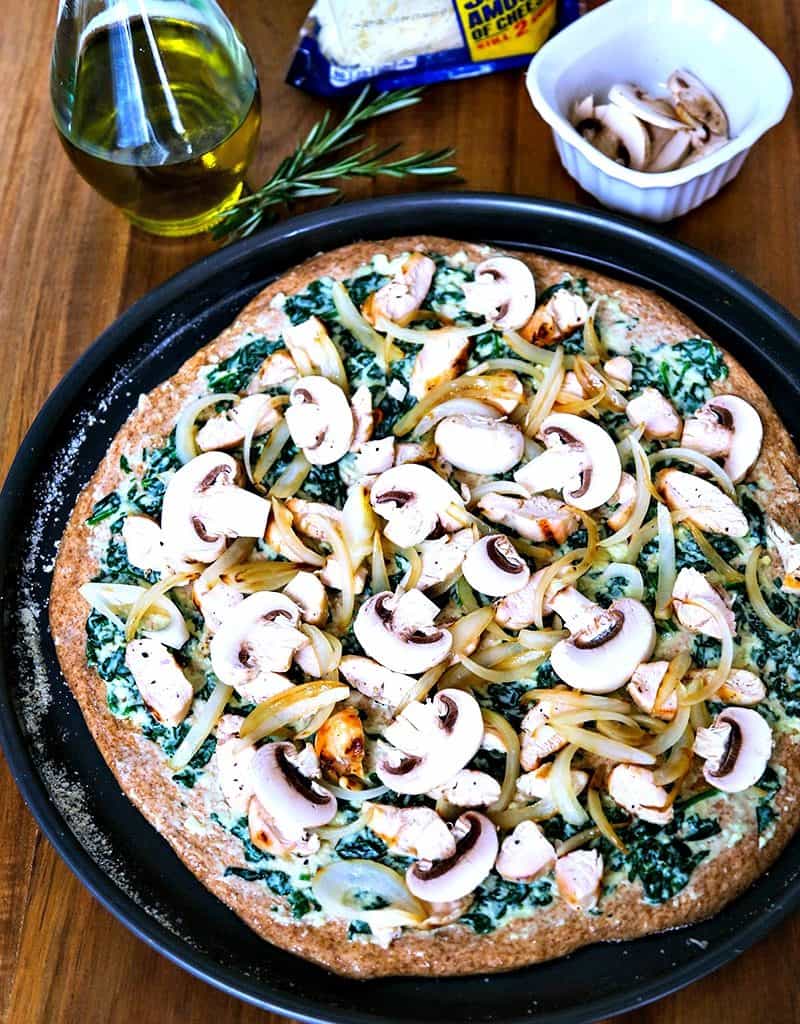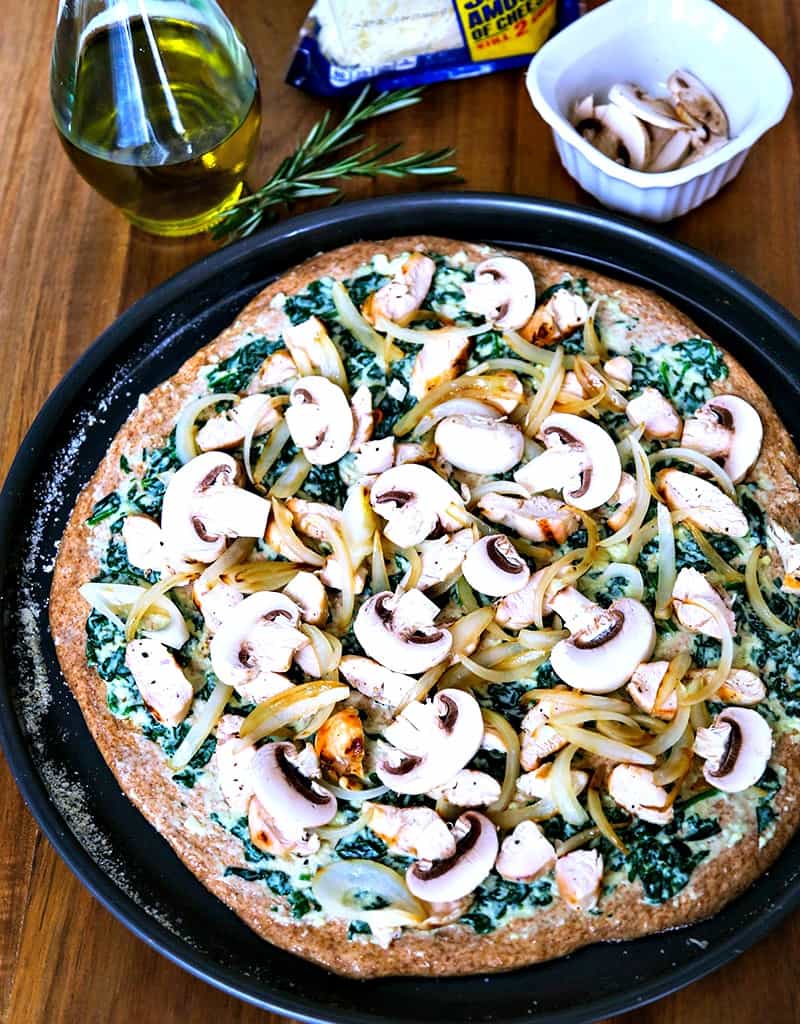 Related recipes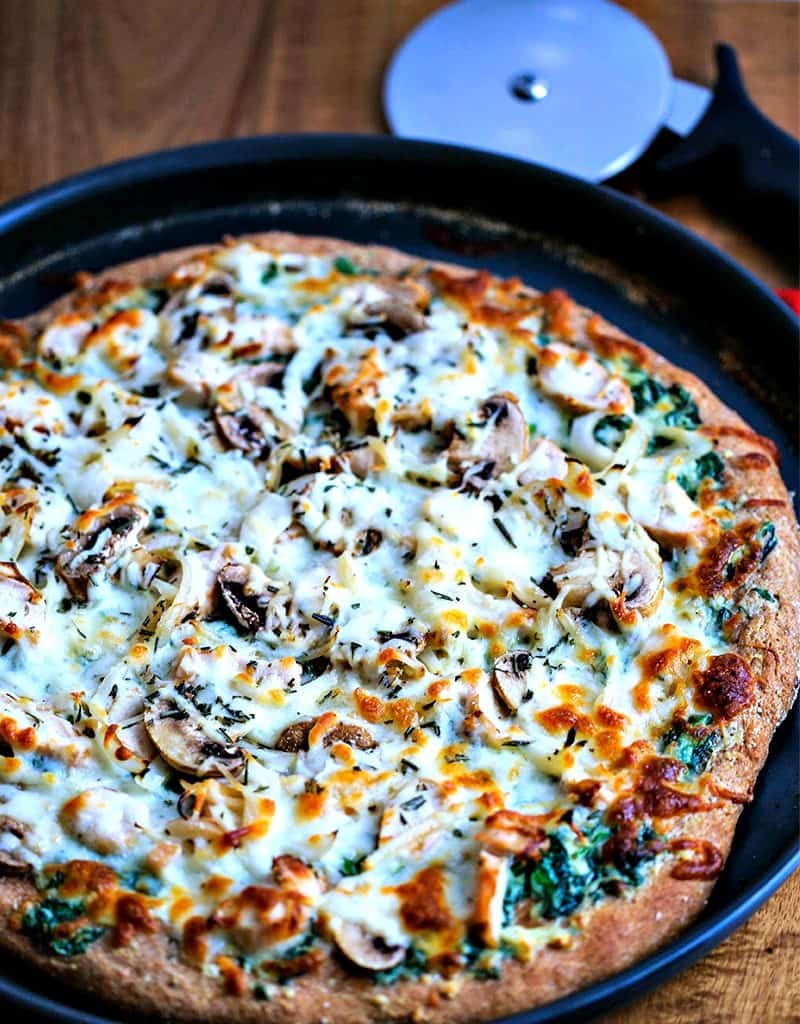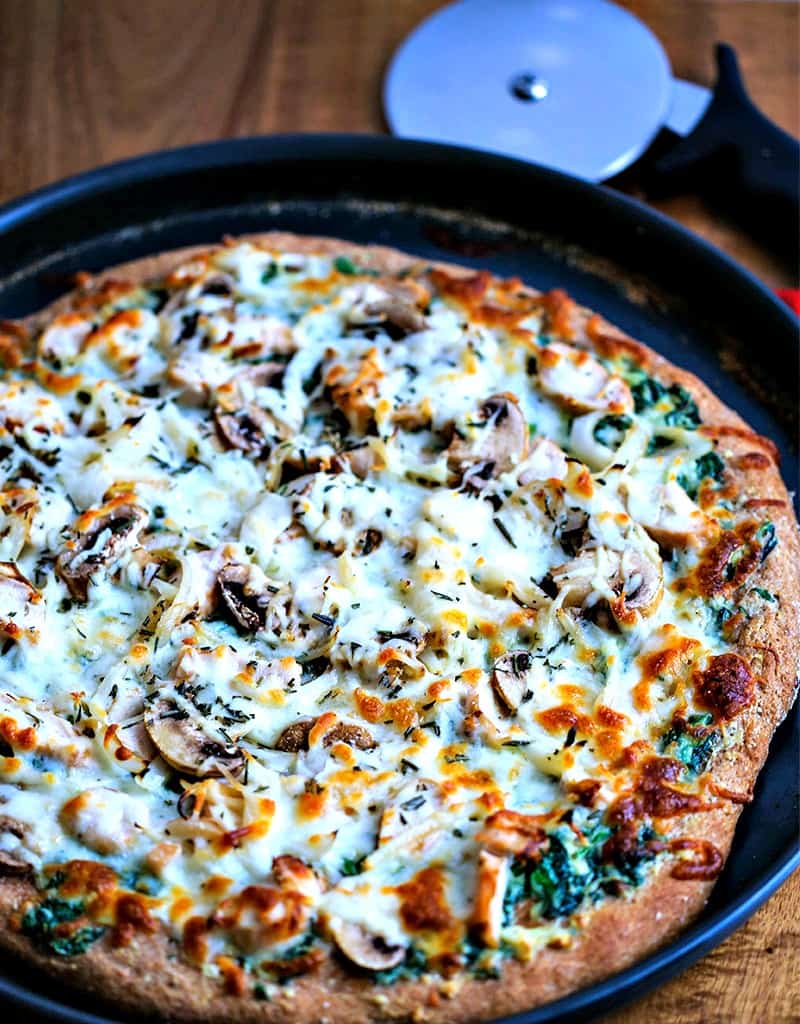 Let's cook!
Top Chicken Florentine Pizza with mozzarella cheese, a bit of shredded Parmesan, some fresh rosemary. Bake until the crust is crispy on the bottom and the cheese is melted and bubbly, then dive in!
One last note, I used light butter and low-fat milk and my white sauce was still rich and creamy.
Please share!
Your shares are how this site grows and I appreciate each one. Do you know someone who would enjoy this recipe? I'd love it if you would share it on Facebook or on your favorite Pinterest board!
First Published: July 27, 2017. Last Updated: January 16, 2021.
Yield: 8 servings
Chicken Florentine Pizza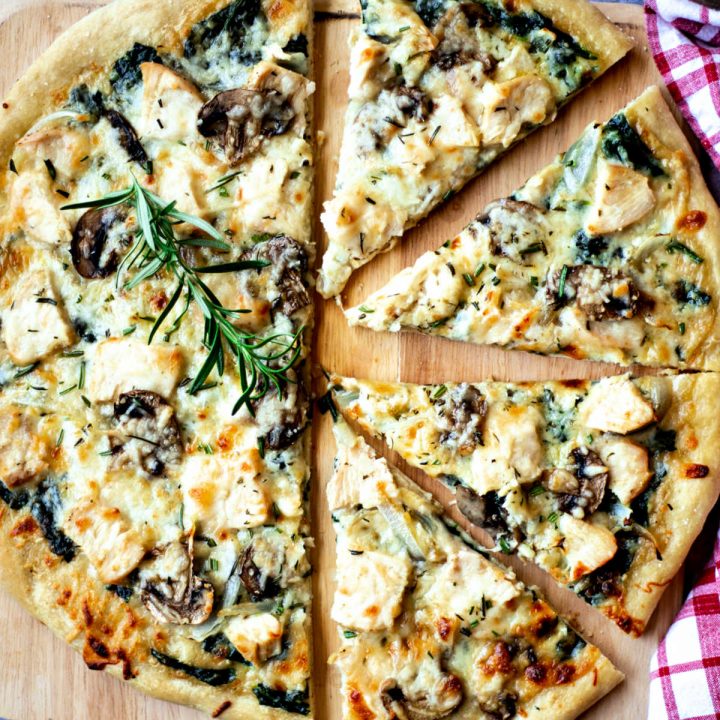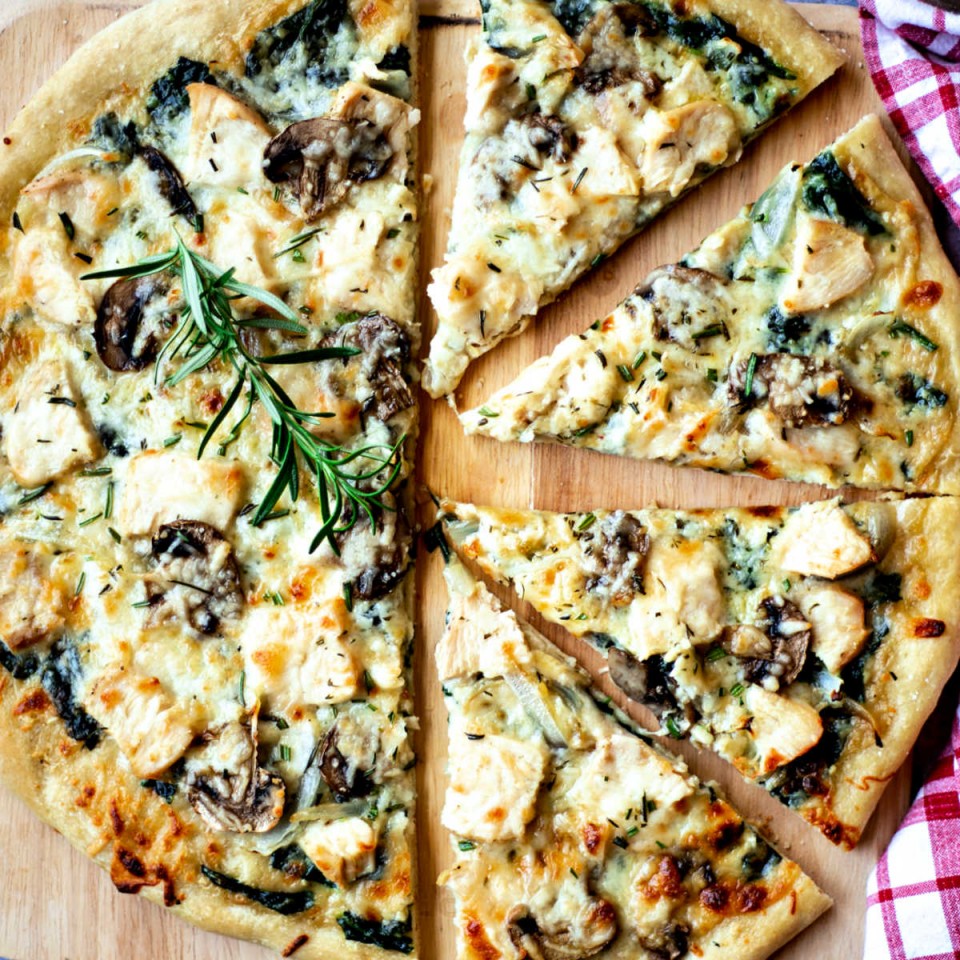 A creamy homemade Florentine sauce replaces the traditional marinara in this cheesy pizza on a whole wheat crust.
Ingredients
Non-stick cooking spray
1 tablespoon cornmeal
1 (16-oz.) whole wheat pizza dough
1/2 pound chicken tenders, cooked and diced
1 tablespoon extra-virgin olive oil
1/2 medium onion, sliced thin top to bottom
1 cup mushrooms, sliced
2 cups part-skim shredded mozzarella cheese
1/4 cup shredded Parmesan cheese (optional)
1 tablespoon fresh rosemary, minced
Florentine White Sauce
1 tablespoon unsalted butter
1 tablespoon all-purpose flour
1 garlic clove, minced
3/4 cup low-fat milk
1/2 teaspoon kosher salt
3 cups fresh spinach, chopped
Instructions
Preheat the oven to 425 degrees. Lightly coat a 14-inch pizza pan with cooking spray and sprinkle with 1 tablespoon cornmeal.
Remove the pizza dough from refrigerator and allow to rest for 20 minutes before pressing onto the prepared pizza pan. The dough should make a 12-inch to 14-inch pie depending on your desired thickness.
In the meantime, in a large skillet over medium high heat, warm one tablespoon olive oil. Add the onions and cook until slightly caramelized. Remove to a plate.
Next, make the Florentine sauce. Melt the butter in the skillet, then stir in the flour and minced garlic. Gradually add the milk, stirring constantly to remove any lumps. Cook until the mixture begins to slightly thicken, about 5 minutes.
Add the spinach and cook just until the spinach is wilted. The mixture will be thick.
Brush one tablespoon of olive oil over the prepared pizza crust. Add the spinach mixture and spread to within 1/2 inch of the edge. Top with the cooked onions, chicken, and mushrooms. Then sprinkle the cheeses and fresh rosemary evenly on top.
Bake for 13-15 minutes or until the cheese is melted and bubbly.
Notes
I use light butter and low-fat milk and my white sauce is still rich and creamy.
Recommended Products
As an Amazon Associate and member of other affiliate programs, I earn from qualifying purchases.
Nutrition Information:
Yield:
8
Serving Size:
1
Amount Per Serving:
Calories:

298
Total Fat:

13g
Saturated Fat:

5g
Trans Fat:

0g
Unsaturated Fat:

7g
Cholesterol:

32mg
Sodium:

589mg
Carbohydrates:

29g
Fiber:

4g
Sugar:

3g
Protein:

17g