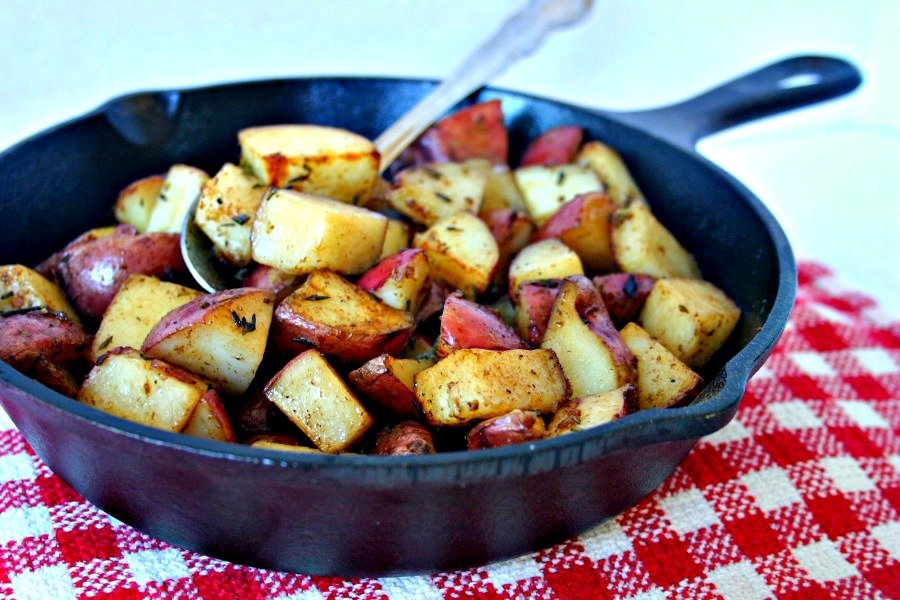 One of my very favorite cooking ingredients is balsamic vinegar. I like to use balsamic vinegar in salad dressings and marinades, and especially in these roasted red potatoes. This quick and easy side dish goes well with grilled burgers or chicken, or even as a breakfast side. Have you noticed that many of my favorite recipes are QUICK and EASY?
Tips: If you're a balsamic vinegar fan like me, drizzle a little extra on top of the potatoes just before serving. When using balsamic vinegar, do not use aluminum pans, instead your cookware should be non-reactive. Although cast-iron is considered reactive, if it is an extremely well-seasoned pan it seems to do fine in this recipe since the balsamic is added at the end of cooking for only a very few minutes.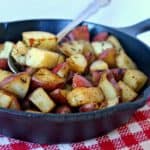 Balsamic Roasted Red Potatoes
Ingredients
2

Tablespoons

olive oil or butter

2

pounds

red potatoes

unpeeled and cut into 1-inch cubes (if using new potatoes, just quartered)

1

Tablespoon

minced garlic

1

teaspoon

chopped fresh thyme

1

teaspoon

chopped fresh rosemary

1/8

teaspoon

ground nutmeg

3

Tablespoons

balsamic vinegar

1/2

teaspoon

salt

1/4

teaspoon

pepper
Instructions
Preheat oven to 425 degrees.

Heat oil or butter in a large cast-iron skillet over medium-high heat. Add potatoes and next 4 ingredients. Toss. Remove skillet from heat; place in oven.

Roast potatoes, uncovered, for 30 minutes or until potatoes are tender, stirring occasionally. Add vinegar, and toss well. Sprinkle with salt and pepper. Roast, uncovered, 6 more minutes. Serve immediately.