Made famous by Chef Bill Smith of Crook's Corner restaurant in Chapel Hill, N.C., Atlantic Beach Pie is a delicious mix of creamy lemon-lime filling and a salty-sweet crust made from saltine crackers.
The summery lemon pie filling is usually made with a mixture of fresh lemon and lime juices. However, if you prefer it can be made with just all lemon or all lime juice as well.
Served with fresh whipped cream and a sprinkle of sea salt, this pie is also known as the OMG Pie as recounted on NPR's All Things Considered Found Recipe series. Tangy and sweet, this delicious pie will leave you speechless!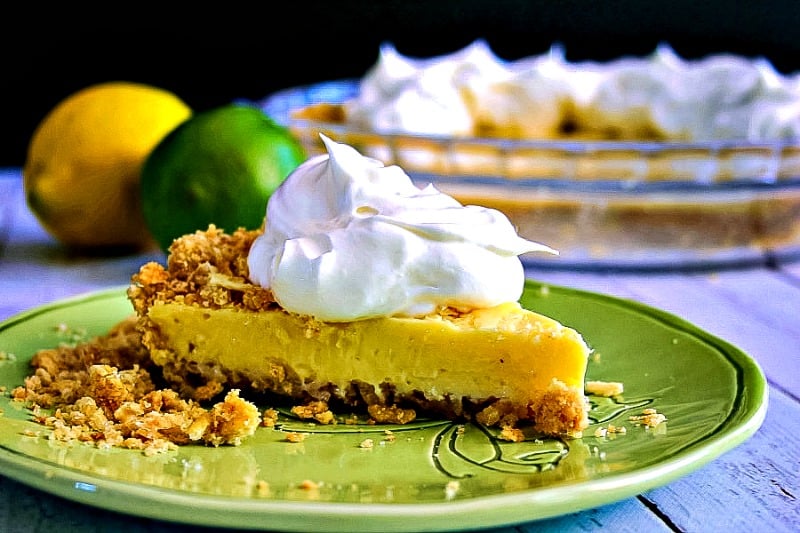 Atlantic Beach Pie
As I'm writing today's recipe post, I'm daydreaming about being at the beach. Partly because Atlantic Beach Pie (duh! ) is a vintage recipe made famous at restaurants along the North Carolina coast and partly because I've been listening to Hillsong's Oceans-Where Feet May Fail.
As for this pie, let me just say that it's a delicious mix of creamy lemon-lime filling and a salty-sweet crust made out of saltine crackers! It's just so crazy that it actually works!
As for the ocean…how can you walk on the beach and not contemplate what's out in the deep or keep from thinking about the awesomeness of God and his creation?
You call me out upon the waters;
The great unknown where feet may fail.
And there I find You in the mystery;
In oceans deep my faith will stand.

And I will call upon Your name;
And keep my eyes above the waves.
When oceans rise my soul will rest in Your embrace;
For I am Yours and You are mine. (Hillsong)

Recipe tips
To crush the saltine crackers, you can use a food processor or place them in a large heavy-duty ziploc bag and crush with a rolling pin.
Make sure the crackers are finely crushed, but not like dust.
It is very important that the filling ingredients are mixed thoroughly and so that it does not separate during baking.
For best results, chill the pie completely—make sure it is really cold

—before slicing.
For this recipe, you may need…
Related recipes
Let's bake!
Lemon pie fans will love this new twist on their traditional favorite. The salty crust is unexpected, yet Atlantic Beach Pie is the perfect mix of tangy, salty, and sweet!
I just know you'll find yourself making this pie again and again!
Please share!
Your shares are how this site grows and I appreciate each one. Do you know someone who would enjoy this recipe? I'd love it if you would share it on Facebook or on your favorite Pinterest board!
Yield: 8 servings
Atlantic Beach Pie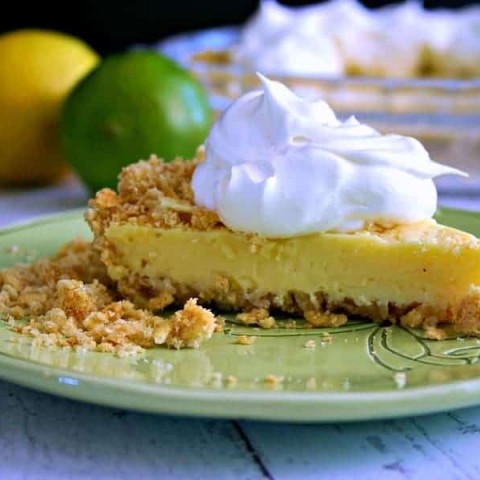 Atlantic Beach Pie combines a creamy lemon-lime filling with a salty-sweet crust. Garnish with fresh whipped cream and a sprinkle of sea salt for a refreshing Summer dessert.
Total Time
2 hours
49 minutes
Ingredients
For the crust:
60 saltine crackers (1-1/2 sleeves)
1/2 cup softened unsalted butter
3 tablespoons sugar
For the filling:
1 14-oz. can sweetened condensed milk
4 egg yolks
1/2 cup lemon or lime juice (or a mix of the two)
Fresh whipped cream, for garnish
Coarse sea salt, for garnish
Instructions
Preheat oven to 350 degrees.
Finely crush the saltine crackers (but not to dust) and place in a large bowl with 1/2 cup sugar. Cut in the butter until the crumbs hold together like dough. Press into an 8-inch pie pan and chill for 15 minutes
Bake the pie for 18 minutes, or until the crust is golden brown. Remove from oven to cool on a wire rack.
Using a hand mixer, mix the egg yolks and milk together until completed combined. Add the citrus juice and mix again until completely combined.
Pour the mixture into the pie crust. Return to the oven and bake for 16 minutes, or until the filling has set.
Cool completely, then refrigerate for 2-3 hours before slicing. Serve with fresh whipped cream and garnish with a sprinkling of sea salt.
Notes
Recommended Products
As an Amazon Associate and member of other affiliate programs, I earn from qualifying purchases.
Nutrition Information:
Yield:
8
Serving Size:
1 Servings
Amount Per Serving:
Calories:

463
Total Fat:

22g
Saturated Fat:

12g
Trans Fat:

0g
Unsaturated Fat:

9g
Cholesterol:

146mg
Sodium:

375mg
Carbohydrates:

60g
Fiber:

1g
Sugar:

42g
Protein:

9g