This post may contain affiliate links. Please read my disclosure policy.
This tasty appetizer (or dinner) is easier than you might think!
The best Bang Bang Shrimp Tacos are deliciously homemade with crispy golden fried shrimp, fresh taco fixings, and that amazing bang bang sauce.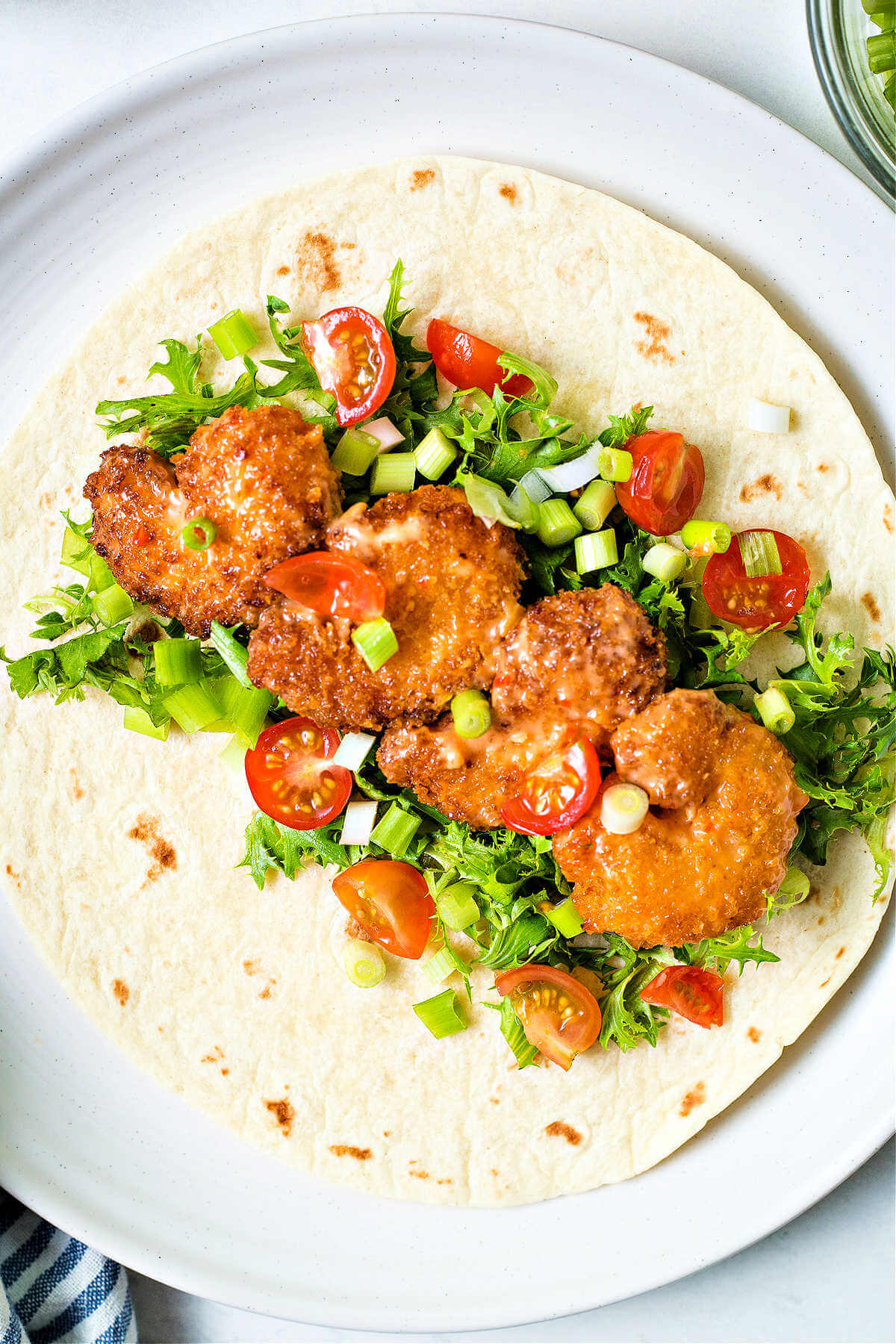 Lightly fry the shrimp, then whisk together the ingredients and adjust the heat to your liking for that authentic Bonefish Grill Bang Bang Shrimp recipe — right at home!
The whole family is sure to love this fried shrimp recipe for bang-bang tacos! So simple and scrumptious — even if it is slightly messy when you are preparing the shrimp — it is so worth it!
Take Taco Tuesday to the next level! I love a good taco night as much as the next girl. Some of my favorites are Smokey Chicken Street Tacos and Slow Cooker Pork Carnitas with Chimichurri.
And, my Redneck Tacos with juicy pulled pork and hoecakes are a real game changer. They are all so much more than the typical ground beef tacos.
Key ingredients & substitutions for Bang Bang Shrimp
Bang Bang Sauce
Mayonaise — This creamy ingredient brings everything together and really lets the flavors shine. For a lighter option, replace half of the mayo with sour cream or plain Greek yogurt.
Thai Sweet Chili Sauce — Or, sweet chili sauce. Bonefish Grill uses the brand Mae Ploy Sweet Chili Sauce which is readily available on Amazon.
Rice Wine Vinegar — Compared to white distilled vinegar, Rice vinegar is less acidic than other vinegar with a mild and slightly sweet flavor balancing out the heat of the sauce.
Sriracha Hot Sauce — Use this ingredient to adjust the heat of the dish.
Shrimp Tacos
Medium Shrimp — Peeled and deveined, medium shrimp are the perfect bite-size and provide the best breading to shrimp ratio.
Buttermilk — Don't have buttermilk at home? No problem. Just add a cap full of vinegar to the milk and let it rest. The curdling action will let you know the buttermilk is ready.
Cornstarch — Cornstarch is a great alternative to flour. Not only is it gluten-free, but it adds crispiness you do not get with flour.
Panko Breadcrumbs — Regular bread crumbs can be used, but the panko gives another layer of buttery crunch to the shrimp.
Vegetable Oil — Canola oil or peanut oil can be used. Just don't try using olive oil. It burns too fast.
Tortillas — I prefer flour tortillas. I like how they fold up and are so soft and yummy. But corn tortillas work just fine and are a gluten free option.
How to make shrimp tacos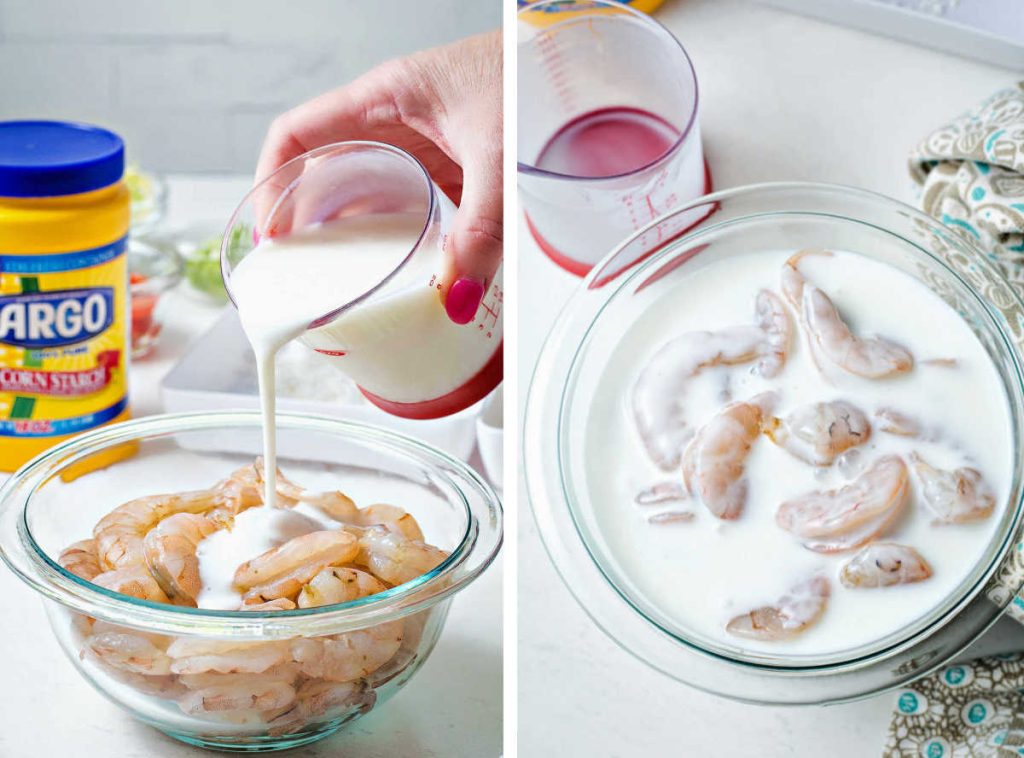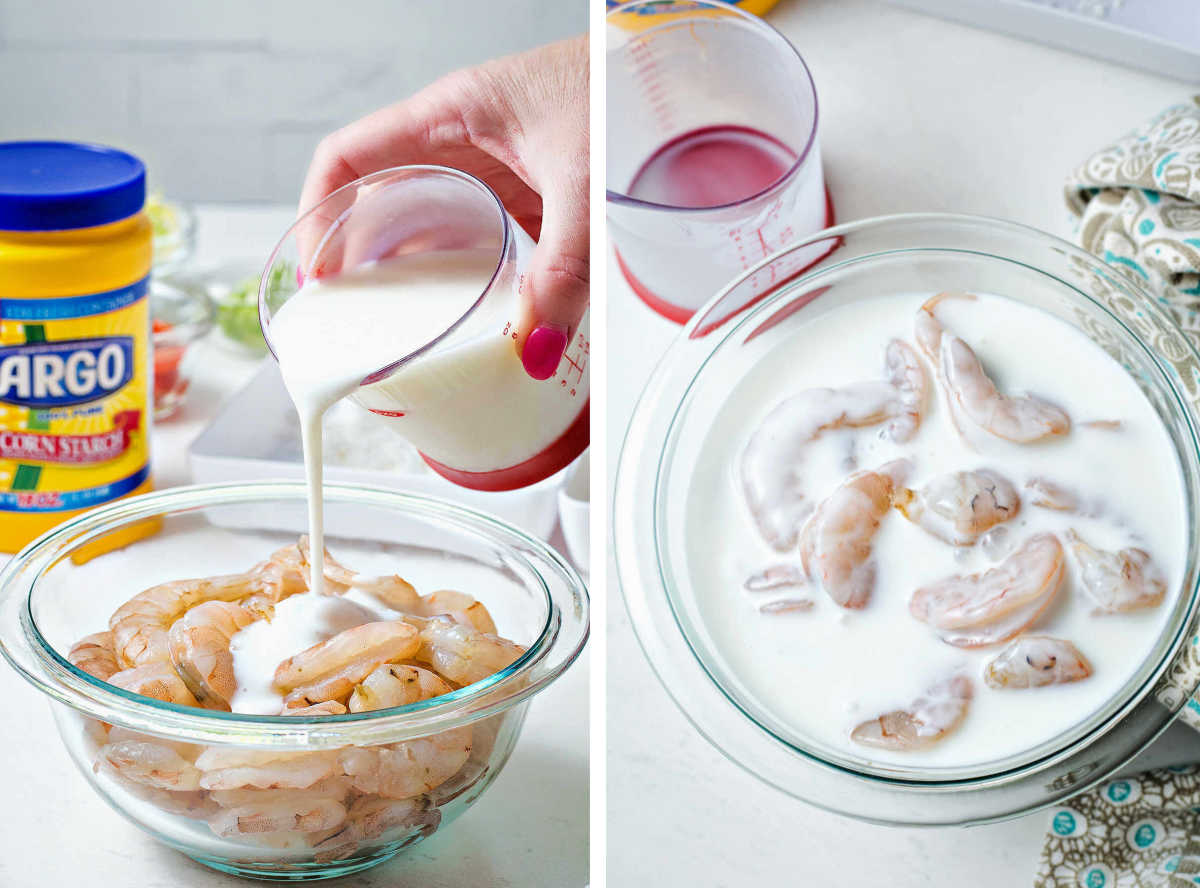 STEP 1 | Marinating the Shrimp
Start with a large bowl. Add in your shrimp and the buttermilk and allow it to marinate while you get the remainder of the ingredients ready to coat the shrimp.
The secret to this crispy, crunchy shrimp is cornstarch in the breading process.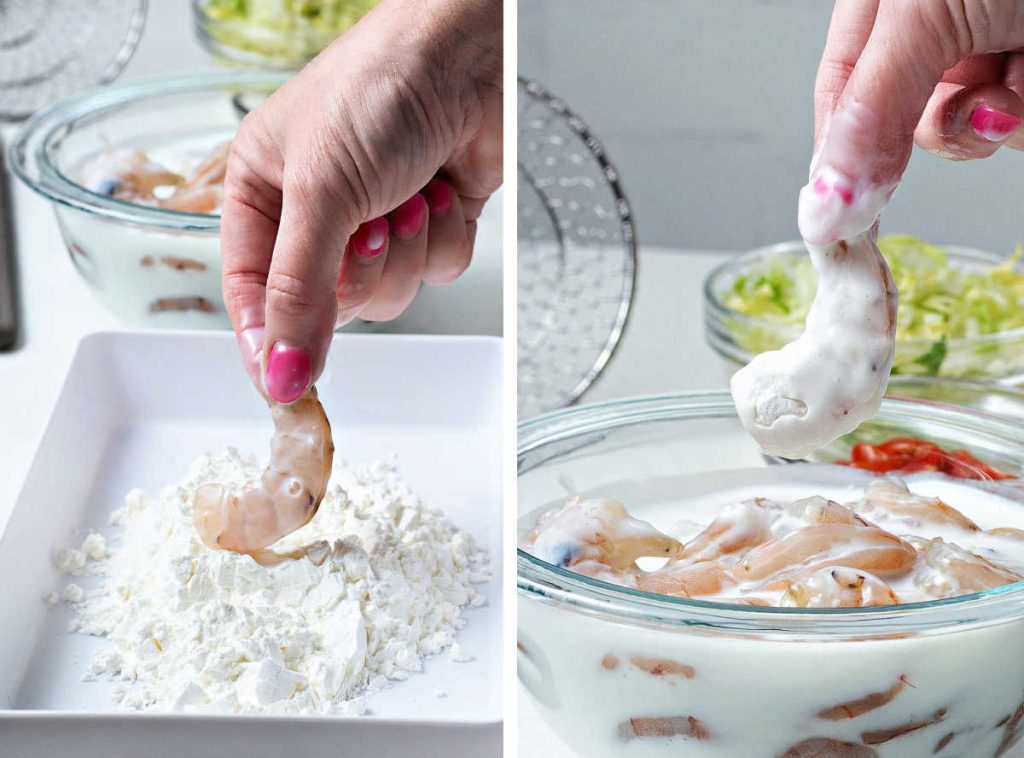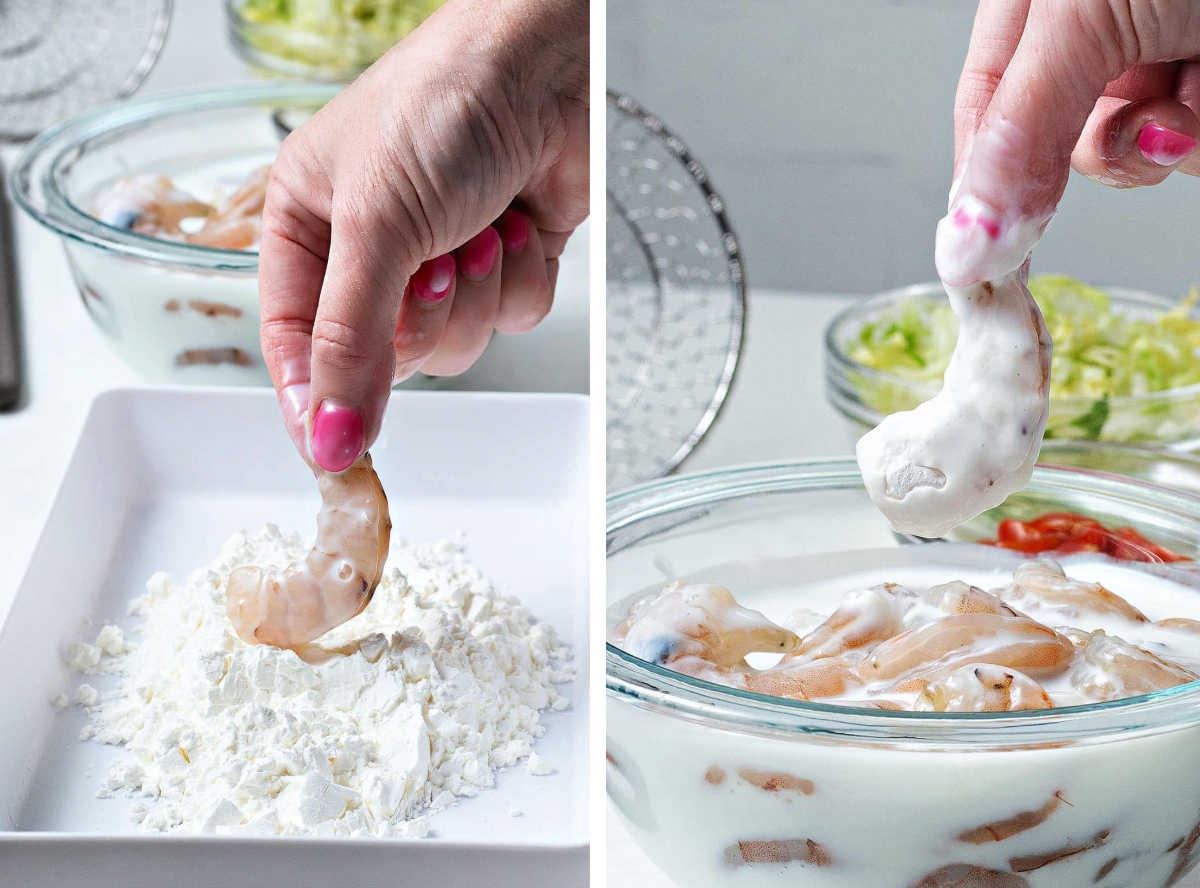 STEP 2 | Coat the shrimp
Now, take a baking sheet or a tray and line it with parchment paper. Set that aside for a moment.
Place the cornstarch and the panko in separate shallow dishes. Then one by one, take a shrimp from the buttermilk and coat in the cornstarch.
Dip once more in the buttermilk and then right into the panko. Lay each one on the parchment-lined tray to dry while you finish each one.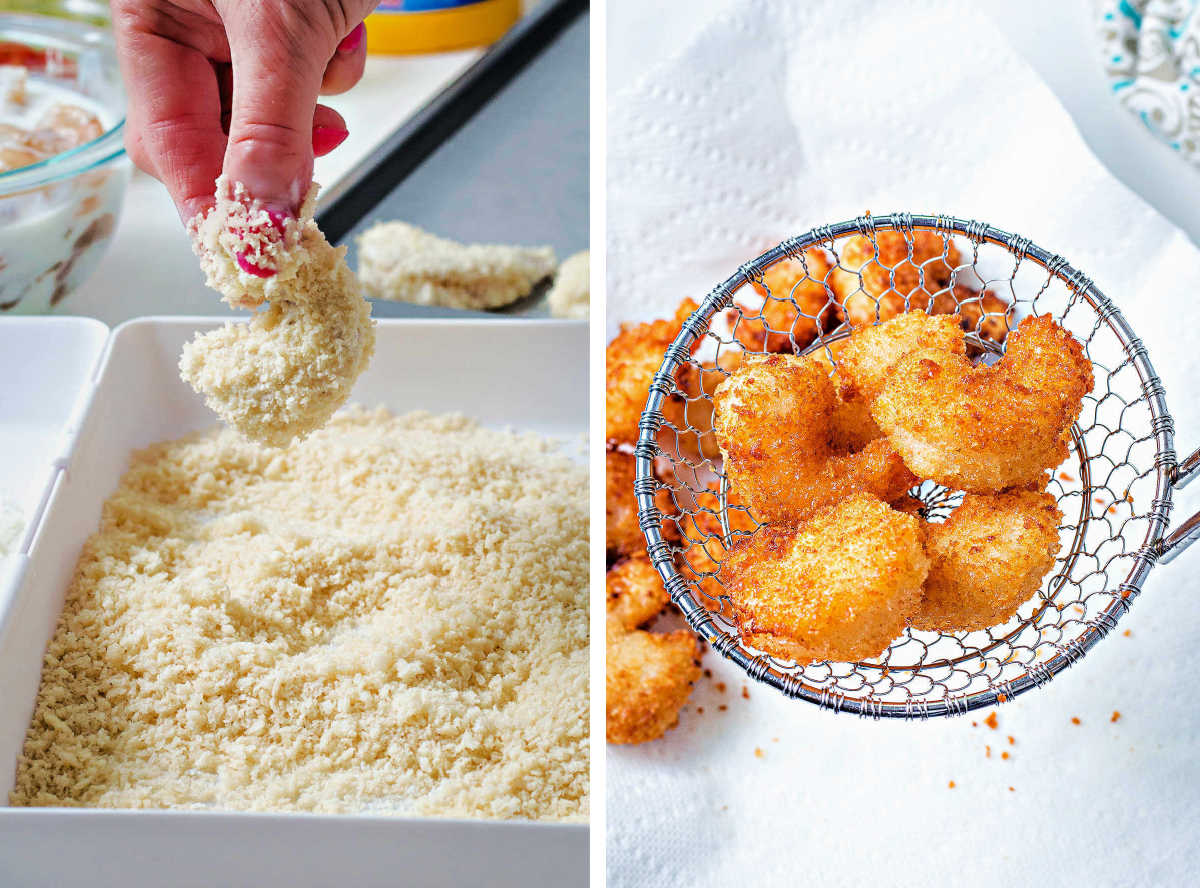 STEP 3 | Frying the shrimp
In a large, deep skillet or wok, add the vegetable oil and heat. You can toss a piece of panko into the oil to see if it is ready. If the crumb fries right away, it should be hot enough. If it sinks- it is not ready.
Cook the shrimp in batches for a minute or two each batch. Be careful not to crowd the pan or your oil temp will drop and the shrimp will be soggy instead of crispy and crunchy.
Once they are that gorgeous golden brown, remove each batch to paper towels to drain.
Although I love making coconut shrimp in my air fryer, for this recipe I prefer cooking the shrimp in a small amount of oil in a large skillet. They fry up in just a couple of minutes.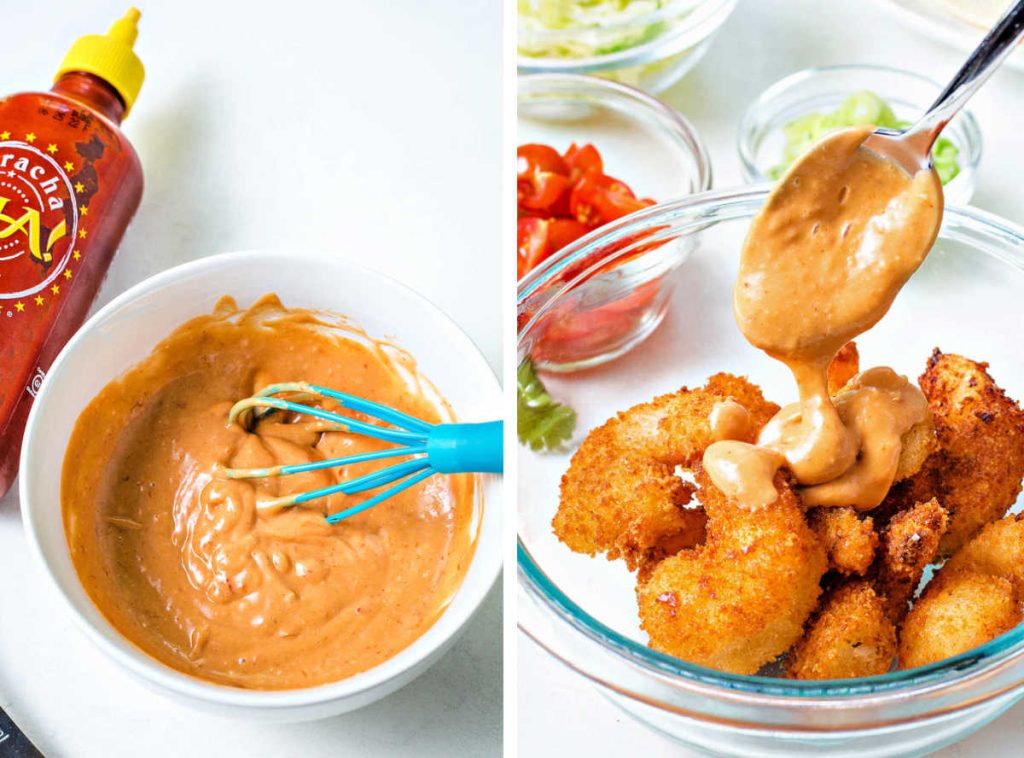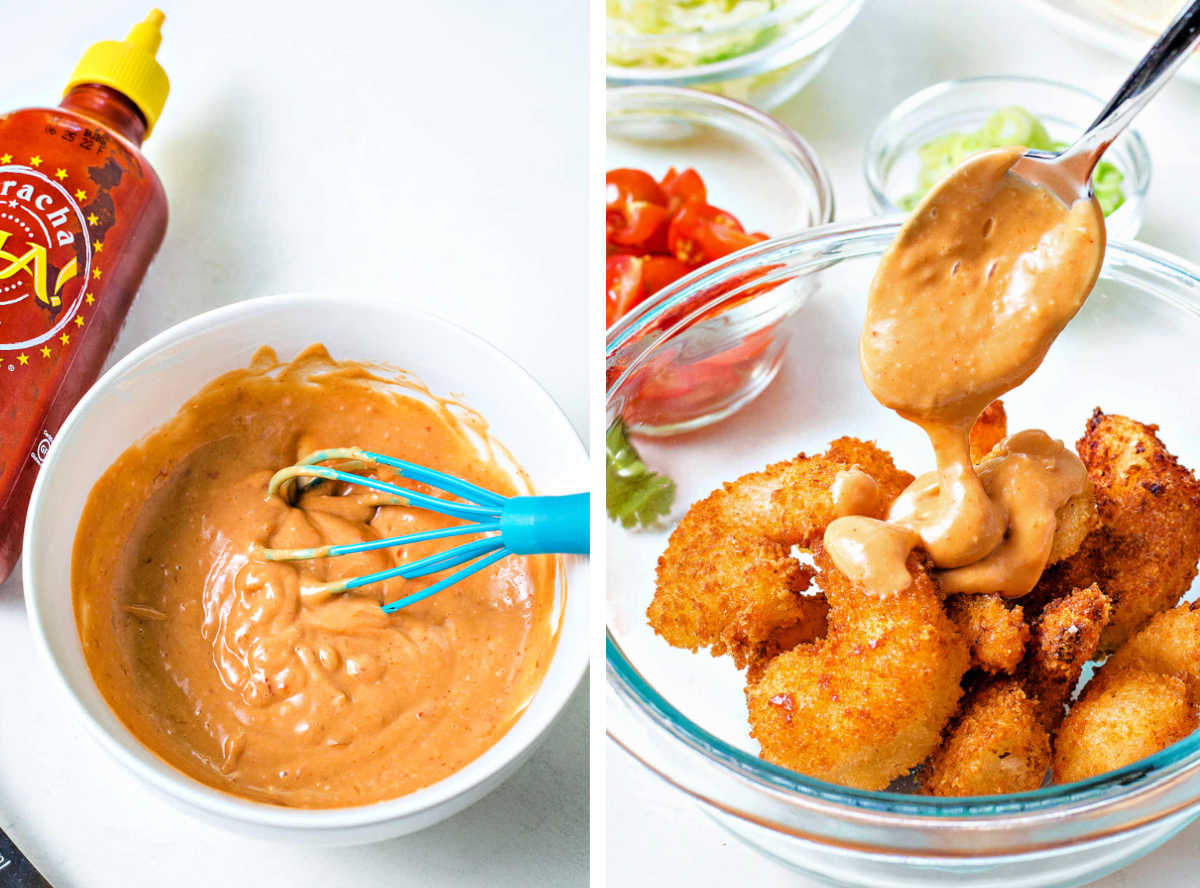 STEP 3 | Make the bang bang sauce
The most essential step in making this famous creamy sauce is to get the heat of the tangy bang bang just right.
All you need to do is whisk together the 4 ingredients in the sauce recipe and adjust the sriracha to your liking. Then chill until you are ready to coat the warm and crunchy shrimp.
STEP 4 | Sauce the shrimp
While the shrimp are still hot, place them in a clean bowl and spoon on half of the yummy bang bang sauce. Gently toss them to coat.
Then you are all ready to assemble and serve your Spicy Shrimp Tacos. Place a layer of lettuce or cabbage down then 3 or 4 shrimp on the tortilla and add your favorite seafood taco toppings.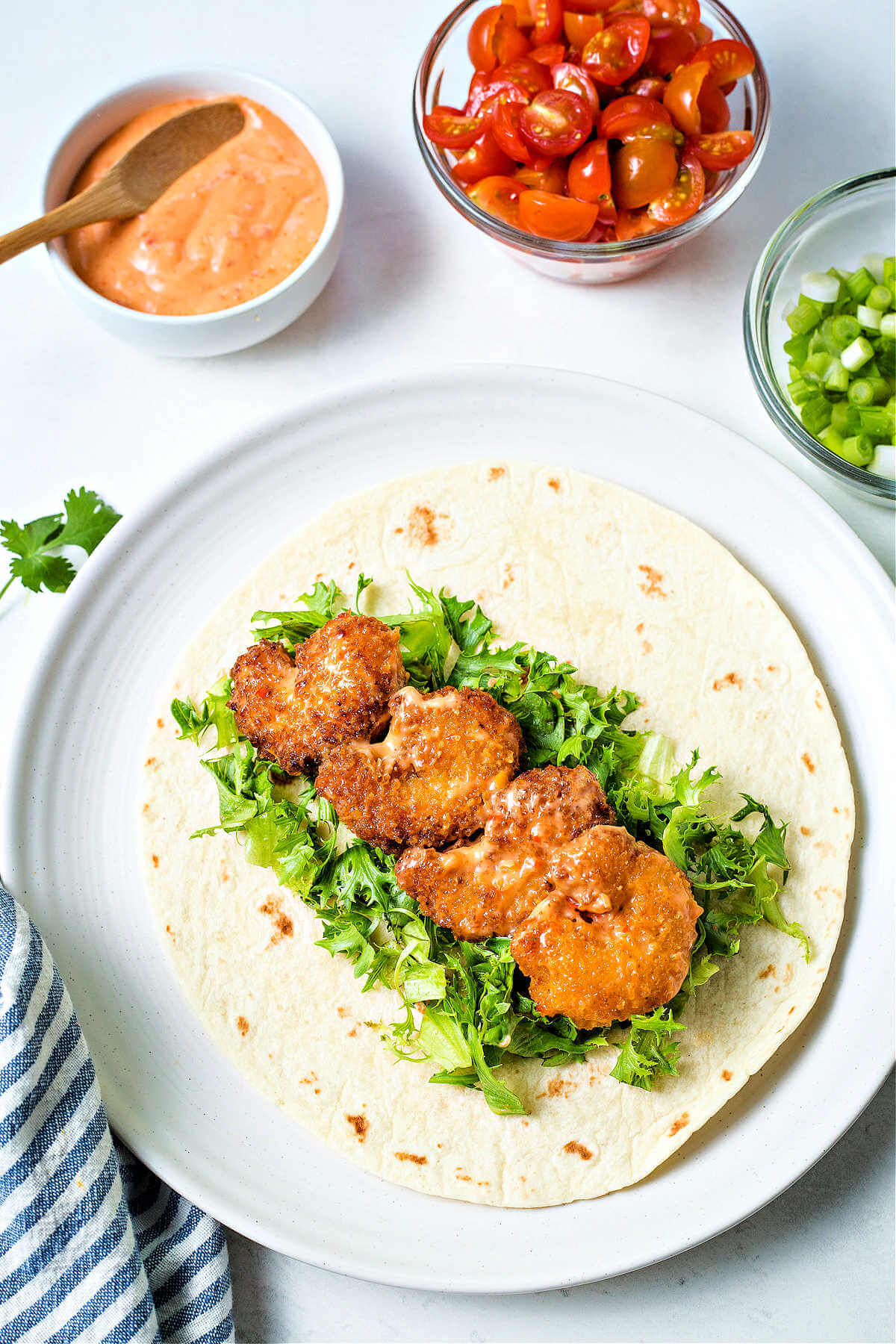 Don't forget to add a bowl of the rest of the bang bang dressing to the table for those who like it extra saucy!
tips
Portion control — Cook only as many shrimp as you will eat — since the shrimp will get soggy from the sauce and not be quite as good the next time.
Save time — You can bread the shrimp ahead of time and keep it refrigerated until you are ready to cook (getting the messy part out of the way).
Warm your tortillas — Whether you use flour tortillas or corn tortillas, warming them will make the tacos fold easier. You can put a stack in the microwave with a moist paper towel on top for 30 seconds. Or you can place them in the oven just before serving.
As if this is not enough, add a quick squeeze of fresh lime juice to the final creation and you take the flavors up one more notch! Too much? I think not!
Frequently asked questions
Is this a gluten-free recipe?
Yes, it can be with a few very minor adjustments. Make sure the panko is a GF version and use corn tortillas. The rest is all naturally gluten-free!
How can I make this bang bang shrimp with fewer carbs?
Skip the tortillas and serve the shrimp on a bed of shredded lettuce doused in bang bang sauce for an appetizer just like the one on the menu at Bonefish Grill! Want even fewer carbs? Leave off the panko or the panko and cornstarch and saute the shrimp. Then sauce it up!
Serving Suggestions
There is no reason to be bored on taco night with all these taco night ideas and variations. Your family will look forward to Bang Bang Shrimp Taco night!
Taco Toppings
What do you like on your tacos? You can top bang bang shrimp tacos with any fresh taco topping you would like. Try shredded lettuce, shredded cabbage, diced tomatoes, diced scallions, sour cream or greek yogurt, and more!
Behind the recipe: Bang Bang Sauce on Shrimp Tacos
Bang bang shrimp has a long history starting as Dynamite Shrimp from The Cheesecake Factory, then adopted by Bonefish Grill as Bang Bang Shrimp. And while theirs is served on lettuce as an appetizer, I thought, why not make a whole meal out of it!
Please share!
Your shares are how this site grows, and I appreciate each one. Do you know someone who would enjoy this recipe? I'd love it if you would share it on Facebook or Pinterest!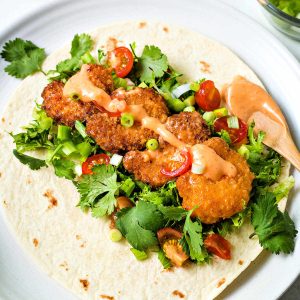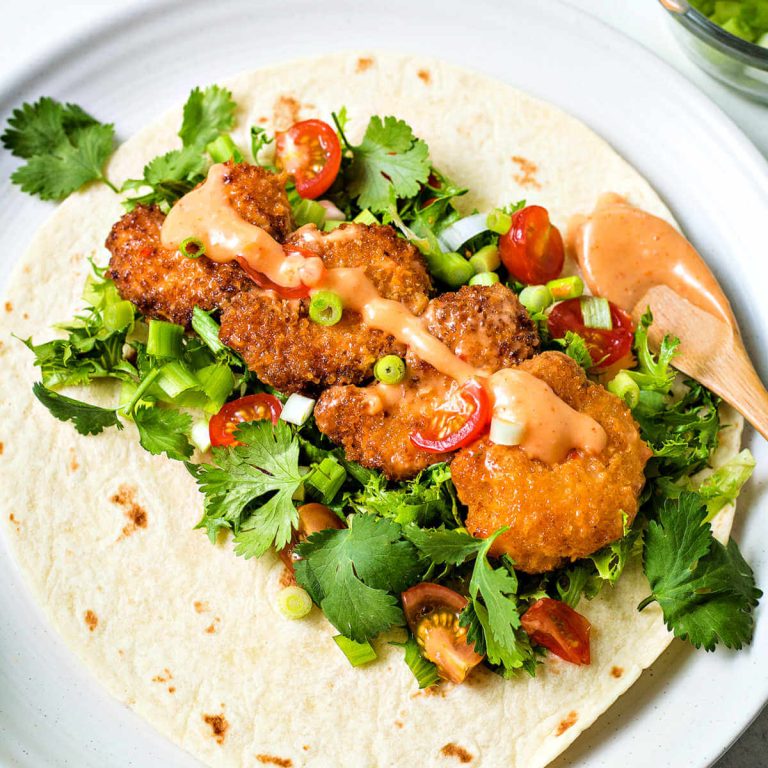 Bang Bang Shrimp Tacos
The best Bang Bang Shrimp Tacos are deliciously homemade with crispy golden fried shrimp, fresh taco fixings, and that amazing bang bang sauce.
Ingredients
Bang Bang Sauce
1/3

cup

mayonnaise

3

tablespoons

Thai sweet chili sauce

1

tablespoon

rice wine vinegar

2

teaspoons

sriracha hot sauce
Shrimp Tacos
1

lb.

medium shrimp

peeled and deveined

1

cup

buttermilk

3/4

cup

cornstarch

1 1/2

cups

panko breadcrumbs

1

cup

vegetable oil

for frying

10

6-inch

flour tortillas

taco size

shredded lettuce or cabbage, diced tomatoes, and diced scallions

for serving
Instructions
Bang Bang Sauce
In a small bowl, whisk together the mayonnaise, chili sauce, rice wine vinegar, and sriracha until smooth. Adjust the amount of sriracha if you like more or less spice! Refrigerate until ready to serve.
Shrimp
Place the shrimp in a large bowl. Pour in the buttermilk and marinate for a few minutes while you prepare the breading station.

Line a baking sheet or tray with parchment paper. Place the cornstarch In one shallow dish and the panko breadcrumbs in another shallow dish.

One at a time, remove shrimp from the buttermilk, allowing the excess to drain off, and roll in the cornstarch. Dip the shrimp again briefly in the buttermilk, then roll in the panko breadcrumbs and lay on the parchment paper to dry. Repeat for all the shrimp.

In a large, deep skillet or wok, add enough oil to come up 1/2 inch in the pan. Heat the oil on medium high heat, being careful not to let it smoke. Cook the shrimp in batches, being careful not to crowd the pan, on each side for 1 – 2 minutes, until golden. Remove to paper towels to drain.

While the shrimp is still hot, add to a bowl and spoon on half the bang bang sauce. Toss to coat.

To serve, arrange 3-4 shrimp, shredded lettuce, diced tomatoes and scallions on flour tortillas. Serve with additional bang bang sauce and sour cream, if desired.
Notes
For the best crispy results, only cook as many shrimp as you plan to eat. Leftovers will not be as crunchy as freshly cooked.
Nutrition
Calories:
558
kcal
Carbohydrates:
68
g
Protein:
27
g
Fat:
19
g
Saturated Fat:
5
g
Polyunsaturated Fat:
9
g
Monounsaturated Fat:
4
g
Trans Fat:
1
g
Cholesterol:
158
mg
Sodium:
973
mg
Potassium:
421
mg
Fiber:
3
g
Sugar:
11
g
Vitamin A:
91
IU
Vitamin C:
1
mg
Calcium:
236
mg
Iron:
4
mg
Life Love and Good Food does not claim to be a registered dietician or nutritionist. Nutritional information shared on this site is only an estimate. We recommend running the ingredients through an online nutritional calculator if you need to verify any information.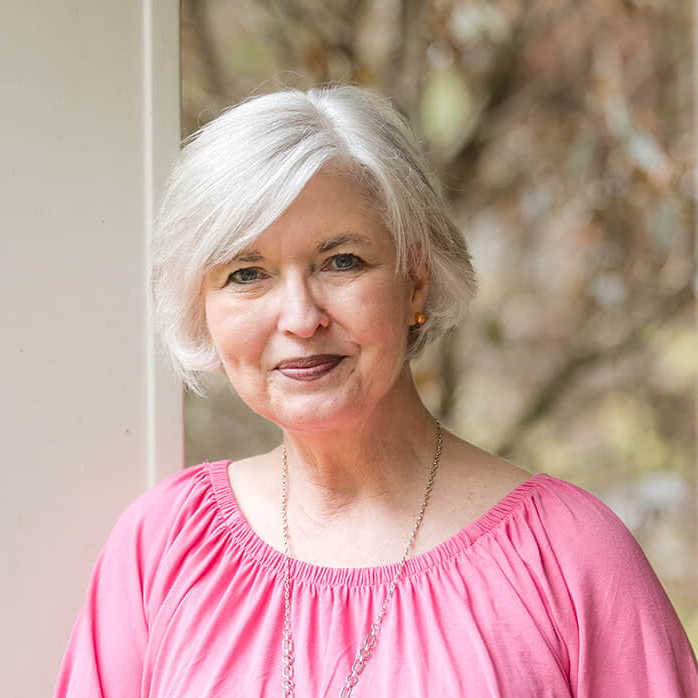 About Sheila Thigpen
Recipe Developer, Food Photographer, Food Writer
Sheila Thigpen is the publisher of Life, Love, and Good Food — a Southern food blog — and the author of Easy Chicken Cookbook and The 5-Ingredient Fresh and Easy Cookbook. After 20+ years in the publishing industry, she retired in 2018 to focus on her own creative endeavors full time. She and her husband live near the beautiful Smoky Mountains and have a precious little granddaughter who has stolen their hearts. As an influencer, Sheila has collaborated with brands like Creamette, Kroger, HERSHEY'S, Hamilton Beach, Garafalo Pasta, OXO, Smithfield, Valley Fig Growers, and more.