This post may contain affiliate links. Please read my disclosure policy.
Sea scallops cooked in a homemade brown butter sauce, complete with garlic, fresh lemon juice, and capers.
Seared Scallops with Brown Butter are delicious, elegant, and the perfect combination of zesty and savory. This easy meal is sure to become a family favorite!
One food that always screams vacation is seafood! Nothing beats fresh, good-quality seafood. I was on a mission to create my own version of brown butter scallops so I can enjoy the flavors anytime I want. Not just on vacation.
This recipe only takes 15 minutes, so it's incredibly fast. Searing the scallops using high heat will add a buttery crust that is downright amazing! They can be served as the main course when you have a casual gathering or an appetizer when it's more of a fancy party.
If you are in the mood for more Seafood recipe ideas, try my Shrimp on the Barbie, and Salmon Croquettes. They are both flavorful and sure to please a crowd of hungry guests.
Or, if you want a little spice in your life, go for my Southwest Shrimp and Succotash! This one-pot meal is healthy, filled with Tex-Mex flavors, and is simple to make.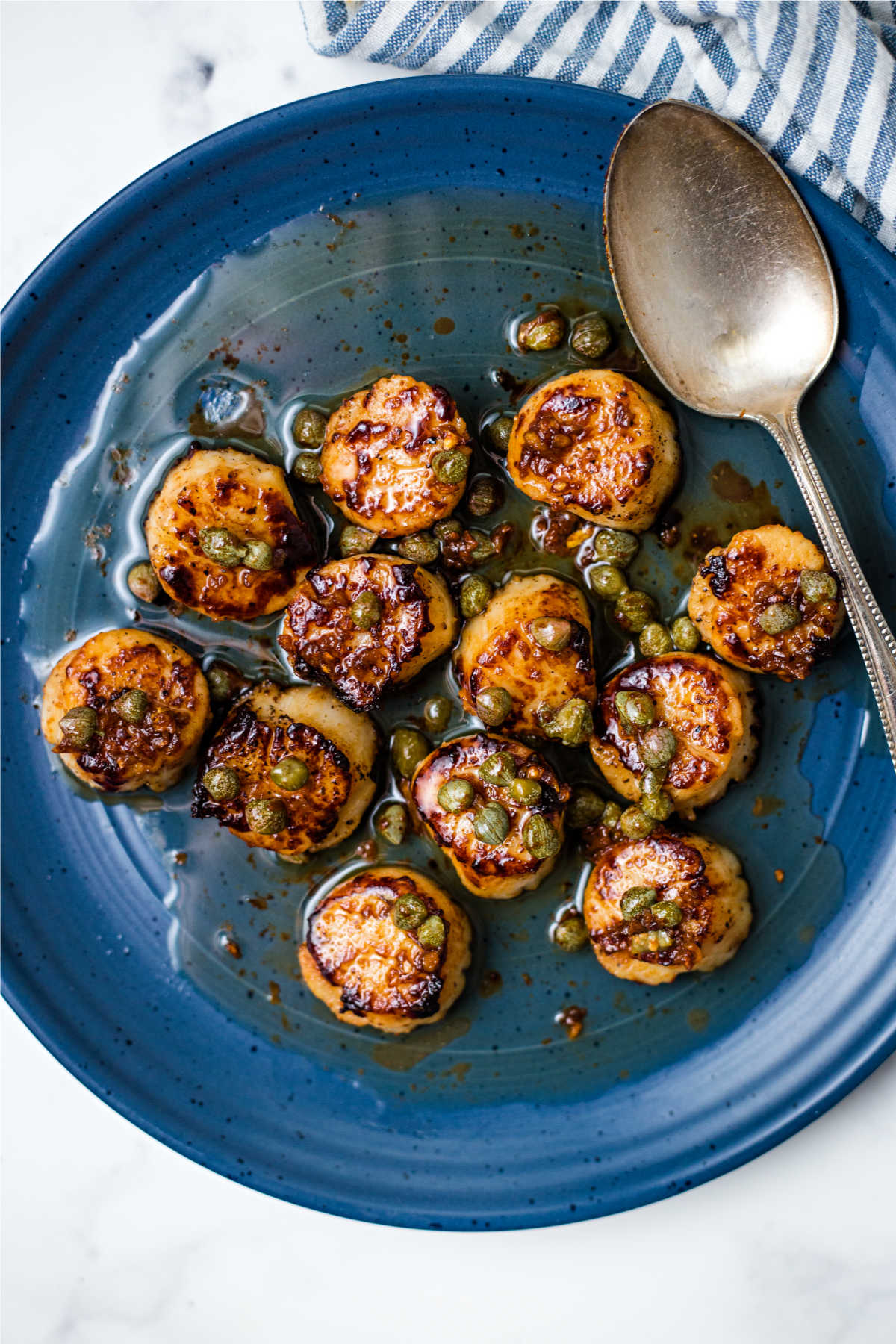 Why you're going to love it!
This meal is restaurant quality
It only takes 15 minutes to prepare
Can be a main course or appetizer
Seared Scallops in Brown Butter: behind the recipe
It's no secret that my kitchen is my home away from home. There is nothing more relaxing than creating delicious food that my friends and family will devour.
Dining out can get extremely expensive, especially when you order scallops, salmon, shrimp or any other seafood.
So, putting in a little effort to learn how to cook seared scallops the right way (I was scared the first time too!), gives me the best of both worlds.
I can please the palettes of my picky friends and enjoy a meal that is much cheaper than a fancy restaurant. Oh, and I could go on and on for days about how great it tastes!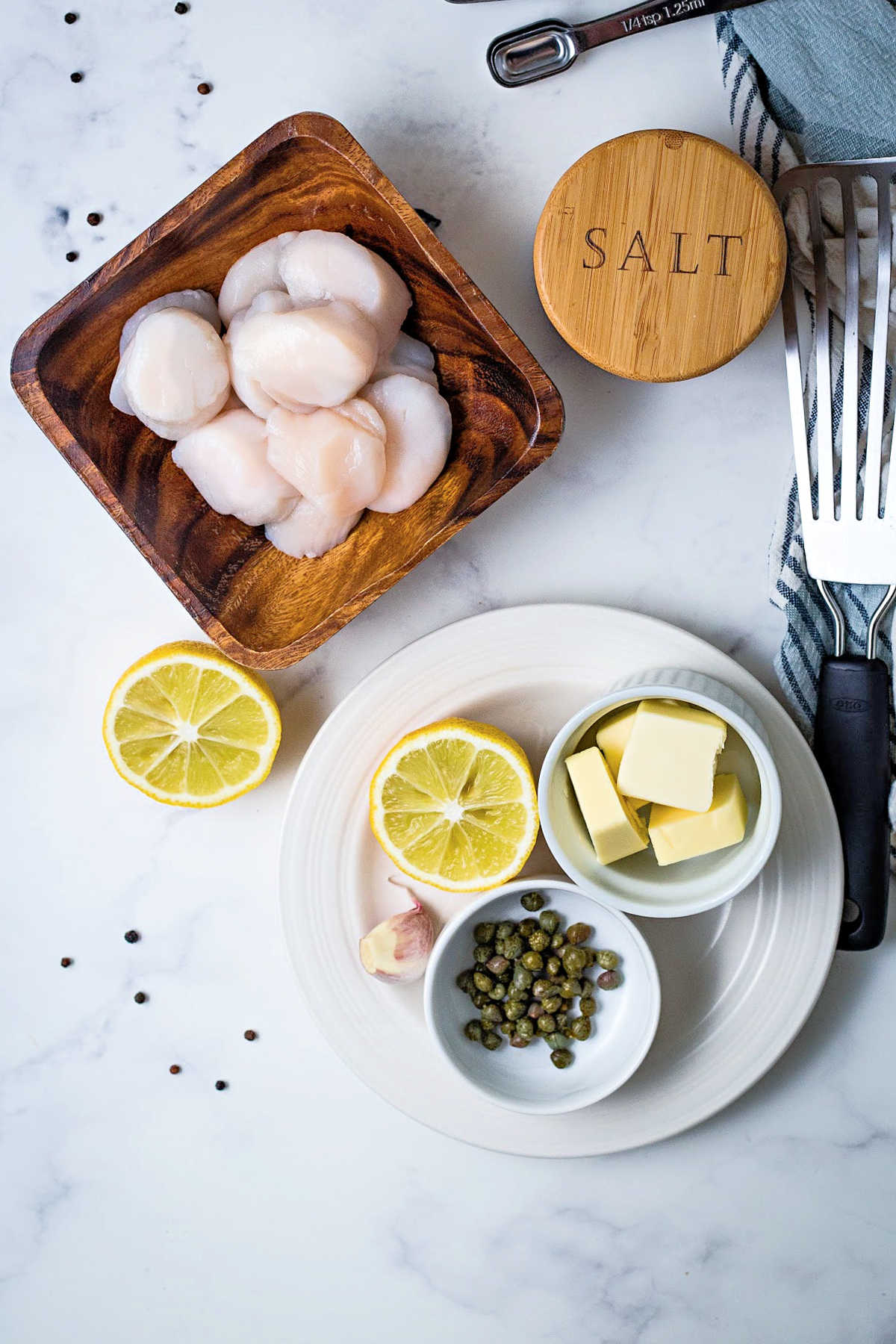 Key ingredients and substitutions
Sea Scallops — When shopping for sea scallops be looking for meat that is white or a slight beige color. When you touch it, the meal should feel fairly firm. Never buy scallops that have started to turn brown or it seems as though the meat is shredding.
Butter — Using real butter, not the fake stuff, makes all the difference in the final result! Unless you are dairy free, then opt for an alternative such as ghee.
Garlic — You'll get more of an intense flavor if you use freshly minced garlic as opposed to jarred garlic. Feel free to add in extra cloves for a deeper garlic flavor.
Capers — If you are new to using capers, don't be afraid! They add a lovely tangy and salty flavor that marries beautifully with the lemon juice.
Lemon Juice — Steer clear of the bottled lemon juice and go with freshly squeezed lemon juice! I promise it's worth the extra effort.
How to make seared scallops with brown butter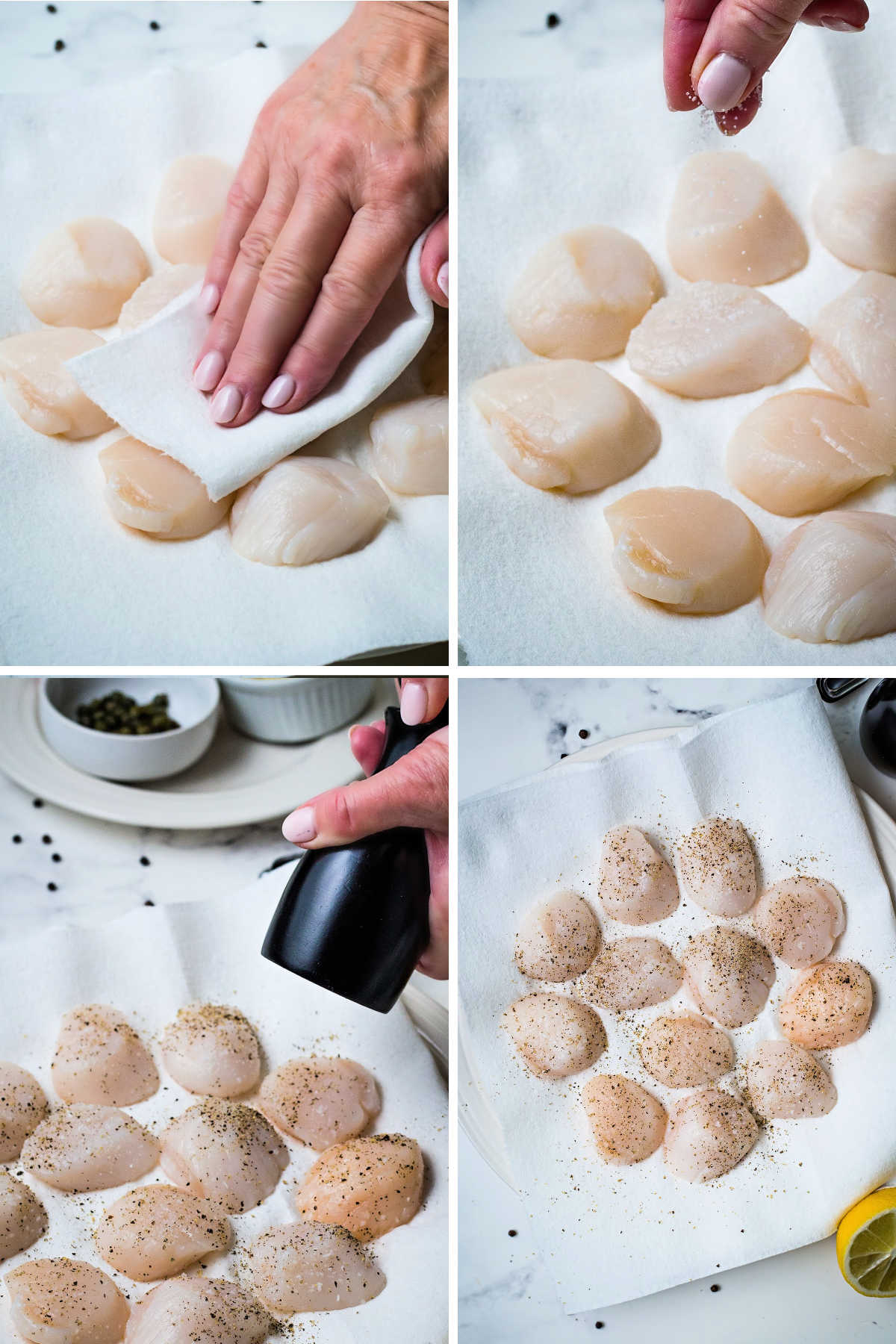 STEP 1 | Prepare the scallops
Place the scallops on a paper plate and gently dry them with a paper towel. Season with salt and black pepper.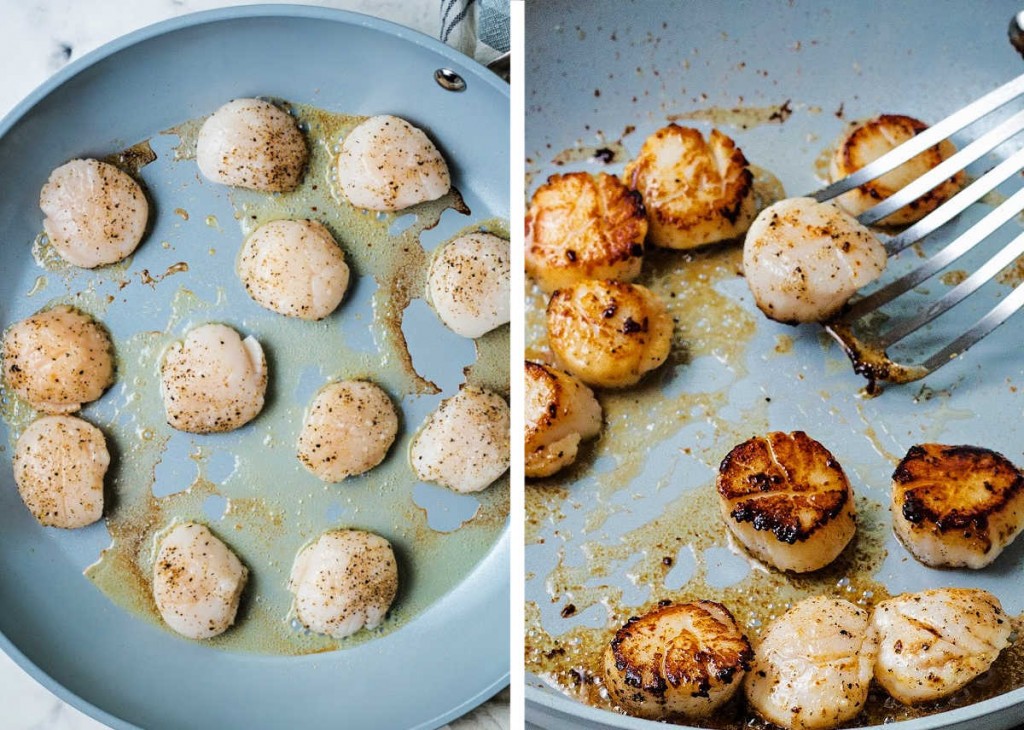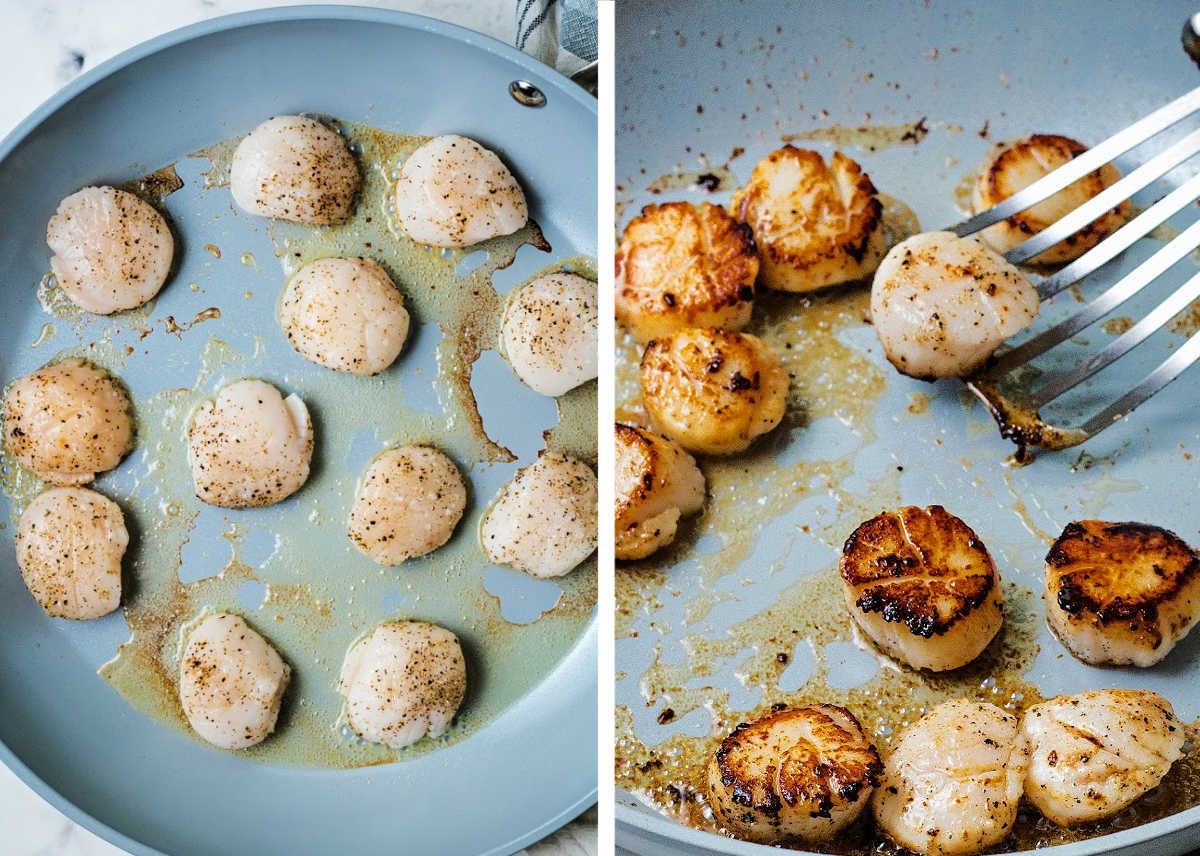 STEP 2 | Sear the scallops
First, heat a large skillet with high heat and melt the butter.
Add the scallops to the hot skillet and sear for 2 minutes, flip and sear for 2 additional minutes.
Remove the scallops from the pan and keep warm.
tips
Chef's Tip #1: Make sure that the skillet is not, not smoky! Starting with a hot pan ensures that the scallops will sear and not burn. Heat the pan until you see the first wisp of smoke or the butter begins to shimmer.
Chef's Tip #2: Your goal is to get seared scallops, not steamed. To accomplish this, you need to allow space between the scallops so they can brown evenly. Overcrowding leads to boiled or steamed scallops and they just won't taste as appetizing.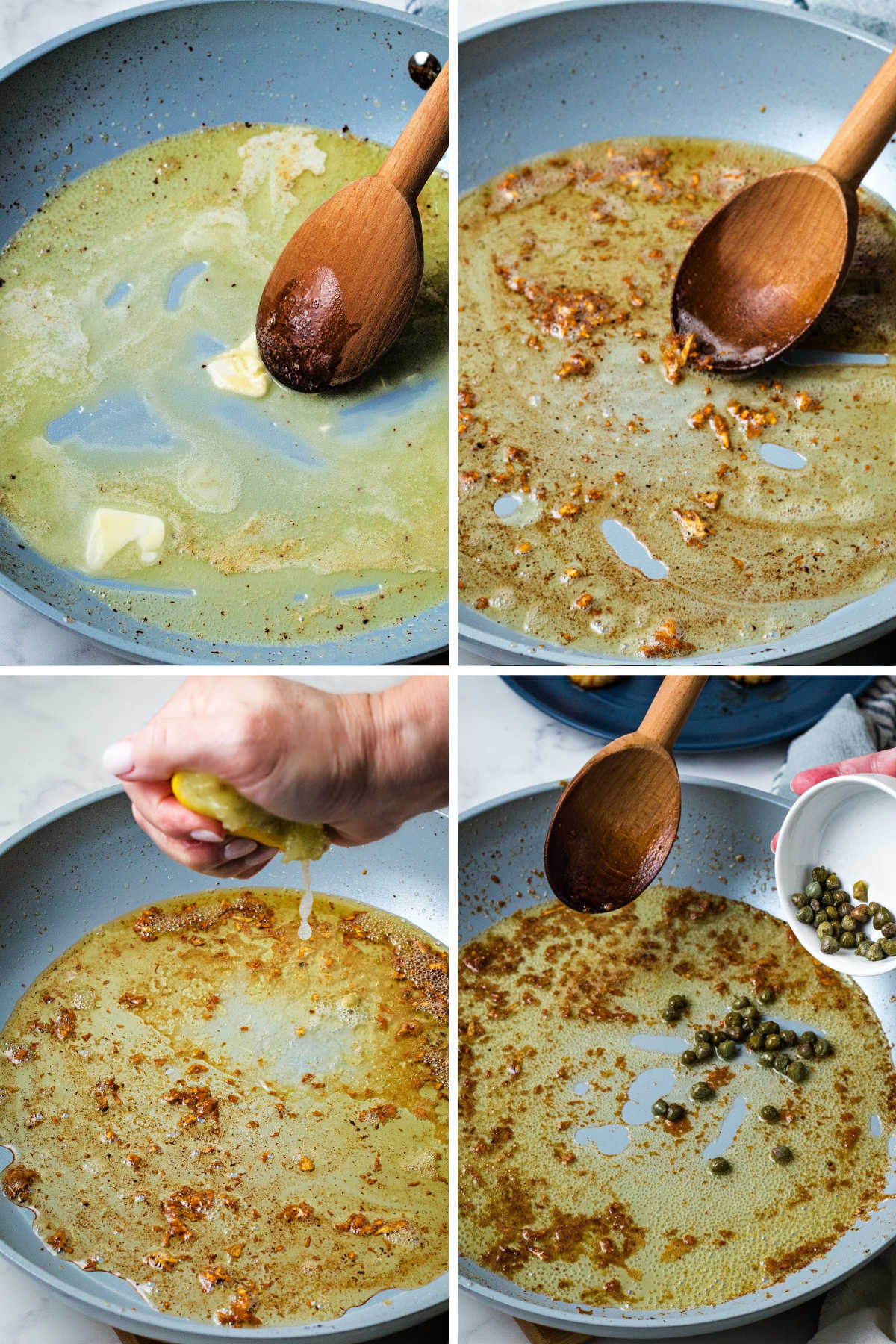 STEP 3 | Prepare the brown butter sauce
Lower the heat to medium high.
Add 3 tablespoons of butter and garlic to the skillet.
Cook for 1-2 minutes or until the butter begins to turn golden brown.
Once done, turn off the heat and drizzle in the lemon juice and top with capers.
Spoon the sauce over a bed of seared scallops and serve. Enjoy!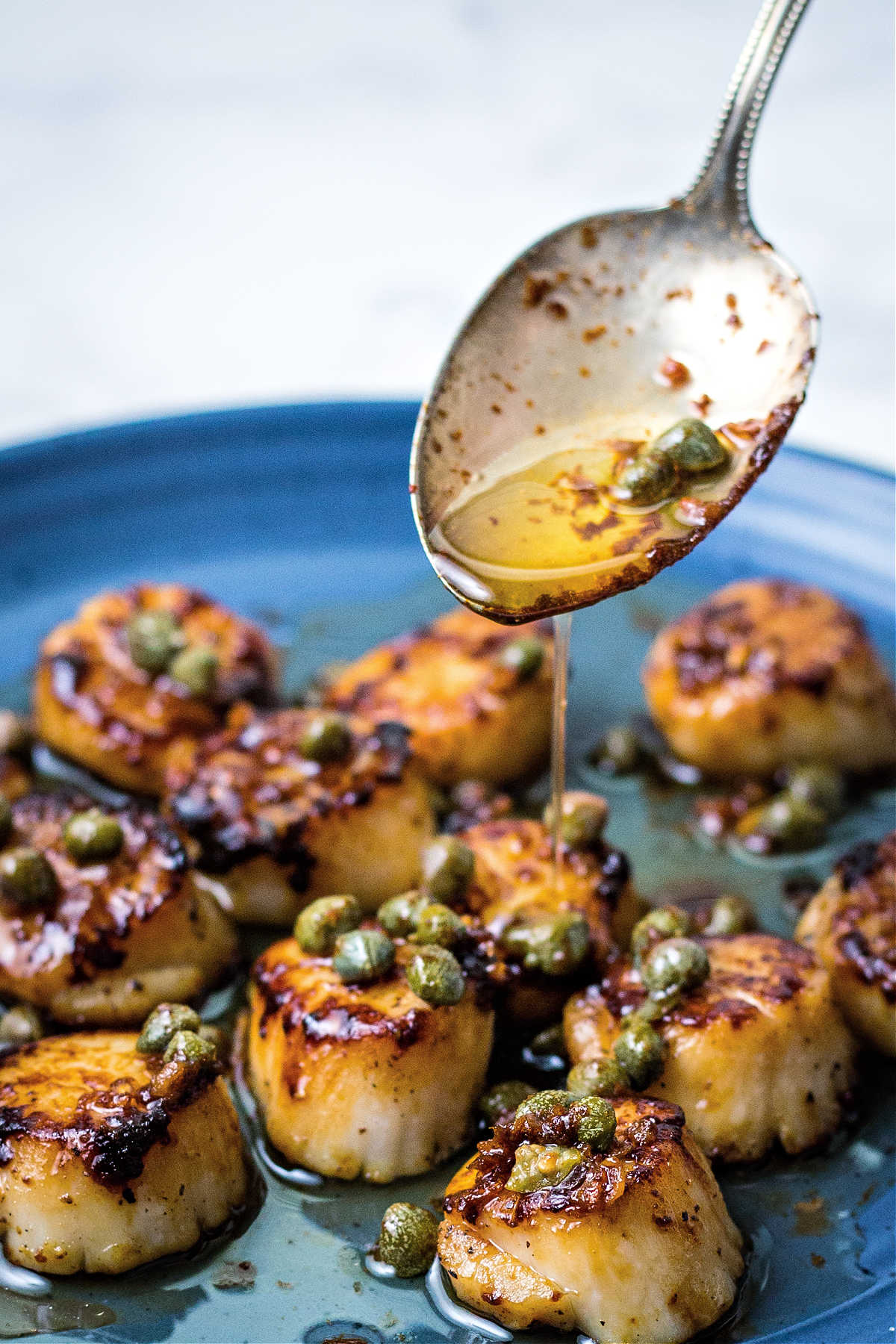 Serving suggestions
This pan seared scallops recipe goes fantastic with a bed of fluffy angel hair pasta. It also tastes pretty good with butter noodles.
If you are serving the brown butter scallops as the main course, I recommend adding a nice wedge salad and some homemade bread to complete the meal.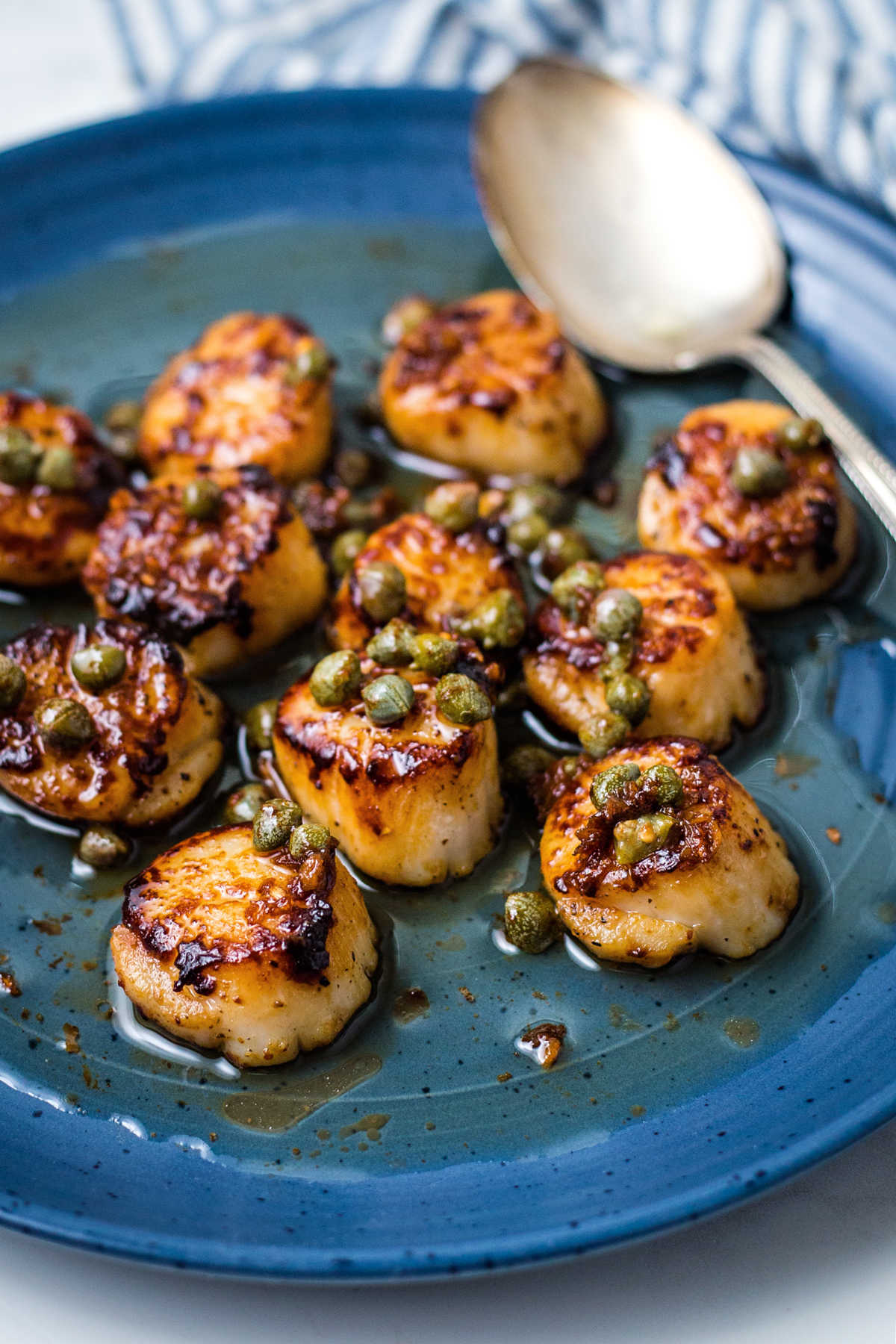 Frequently asked Questions
How long should scallops be cooked?
They cook FAST and only need to be seared for 2 minutes on each side. Overcooking them will lead to rubbery and less than delicious scallops. 

They are done cooking as soon as the second side you are cooking has crusted and they appear opaque throughout. 
What kind of skillet do I need?
The key to perfectly seared scallops is using a well seasoned cast iron skillet or stainless steel. Using a pan that is too thin can cause them to burn rather quickly. Plus, you may deal with them sticking to the skillet. 
Should scallops be rinsed?
It's important to lightly rinse them before patting them dry with a paper towel. This will remove any grit that happens to be on them. 

Rinsing them should not be confused with soaking them! If you attempt to soak the sea scallops in water you can fully expect that they are going to have minimal flavor. Plus, searing them isn't going to go well because they absorb water naturally which means when you cook them it's going to seep out. 

Alternatively, some people choose to soak them in milk before cooking. This is fine because the milk is a natural tenderizer and it helps reduce the fishy flavor. Doing this is ideal if you are serving people who don't love seafood. 

Please share!
Your shares are how this site grows, and I appreciate each one. Do you know someone who would enjoy this recipe? I'd love it if you would share it on Facebook or Pinterest!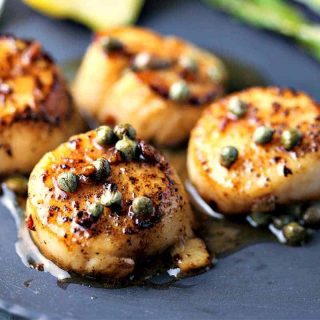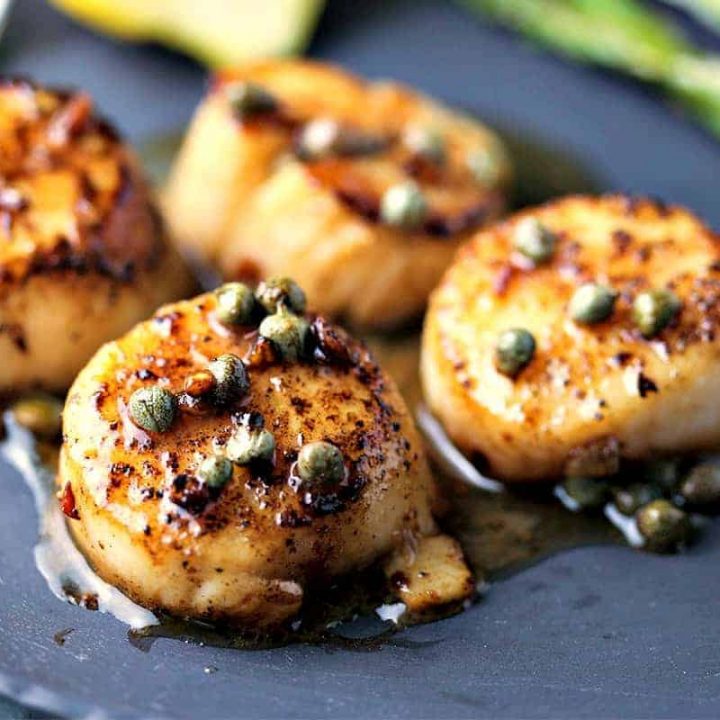 Brown Butter Scallops
Sea scallops cooked in a homemade brown butter sauce, complete with garlic, fresh lemon juice, and capers.
Ingredients
Brown Butter Sauce
3

tablespoons

butter

1

clove

garlic

minced

2

tablespoons

fresh lemon juice

1

tablespoon

capers

drained
Instructions
Line a plate with paper towel. Place scallops on the plate and gently pat dry on all sides.

In a large

non-stick skillet

, melt 1 tablespoon butter over high heat. Add scallops to the skillet and sear 2 minutes on each side. Remove scallops from the skillet and keep warm. 
Brown Butter Sauce
Reduce heat to medium high and add 3 tablespoons butter to the skillet with the garlic. Cook for 1-2 minutes or until the butter turns golden brown, being careful not to burn the garlic. 

Turn off the heat and stir in the lemon juice and capers.

Spoon sauce over the scallops and serve with angel hair pasta, if desired.
Notes
Original recipe by Coastal Living
Nutrition
Serving:
1
g
Calories:
463
kcal
Carbohydrates:
14
g
Protein:
47
g
Fat:
25
g
Saturated Fat:
15
g
Polyunsaturated Fat:
8
g
Trans Fat:
1
g
Cholesterol:
154
mg
Sodium:
2325
mg
Life Love and Good Food does not claim to be a registered dietician or nutritionist. Nutritional information shared on this site is only an estimate. We recommend running the ingredients through an online nutritional calculator if you need to verify any information.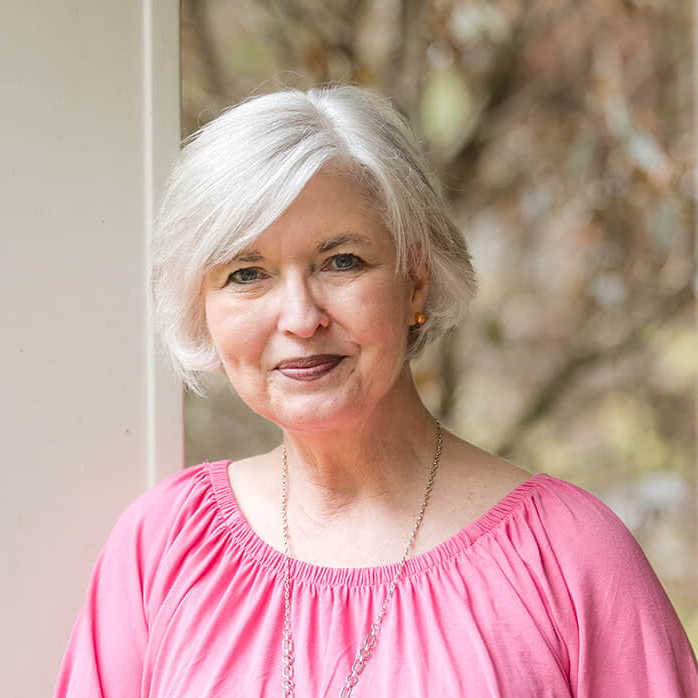 About Sheila Thigpen
Recipe Developer, Food Photographer, Food Writer
Sheila Thigpen is the publisher of Life, Love, and Good Food — a Southern food blog — and the author of Easy Chicken Cookbook and The 5-Ingredient Fresh and Easy Cookbook. After 20+ years in the publishing industry, she retired in 2018 to focus on her own creative endeavors full time. She and her husband live near the beautiful Smoky Mountains and have a precious little granddaughter who has stolen their hearts. As an influencer, Sheila has collaborated with brands like Creamette, Kroger, HERSHEY'S, Hamilton Beach, Garafalo Pasta, OXO, Smithfield, Valley Fig Growers, and more.