Easy Chicken and Cheese Enchiladas is one of my all-time favorite Mexican casserole recipes. Each tortilla is filled with a generous amount of shredded chicken breast, smothered with garlic-infused enchilada sauce, and topped with more cheddar cheese.
These EASY Chicken and Cheese Enchiladas are really something special. The chicken for the filling simmers in enchilada sauce until cooked through and tender enough to shred with a fork, infusing it with delicious flavor.
These cheesy enchiladas come out of the oven with a slight crunch, which I love. So easy to make, this chicken enchilada recipe is pretty-much fool-proof!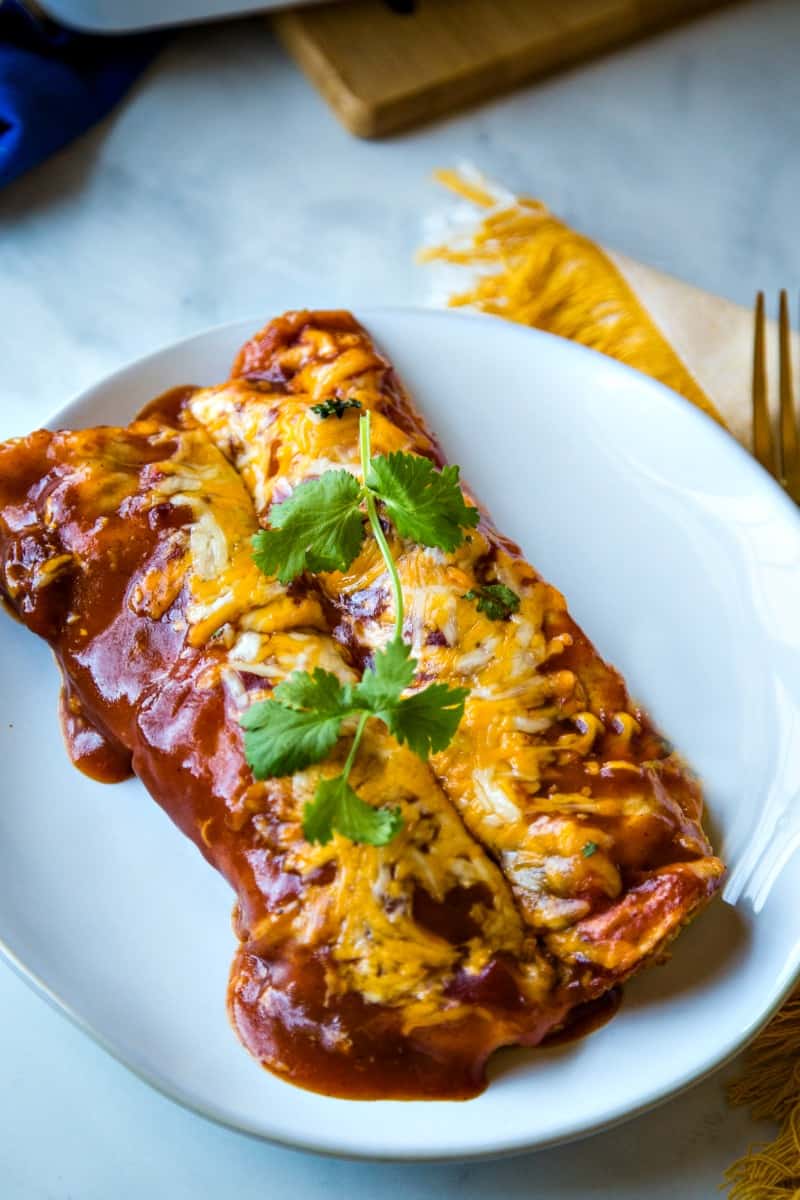 Easy Chicken and Cheese Enchilada Recipe
Want in on a little secret? I thought so! Unlike many enchilada recipes, these chicken enchiladas start in the oven uncovered and without any sauce or cheese on top.
Why? Because this little secret baking method ensures the enchiladas create a slight crunch before adding the sauce and cheese.
That way, they don't get so soggy. I like this because too many times I've tried to serve enchiladas to just have them fall apart before I could transfer them from the pan to the plate!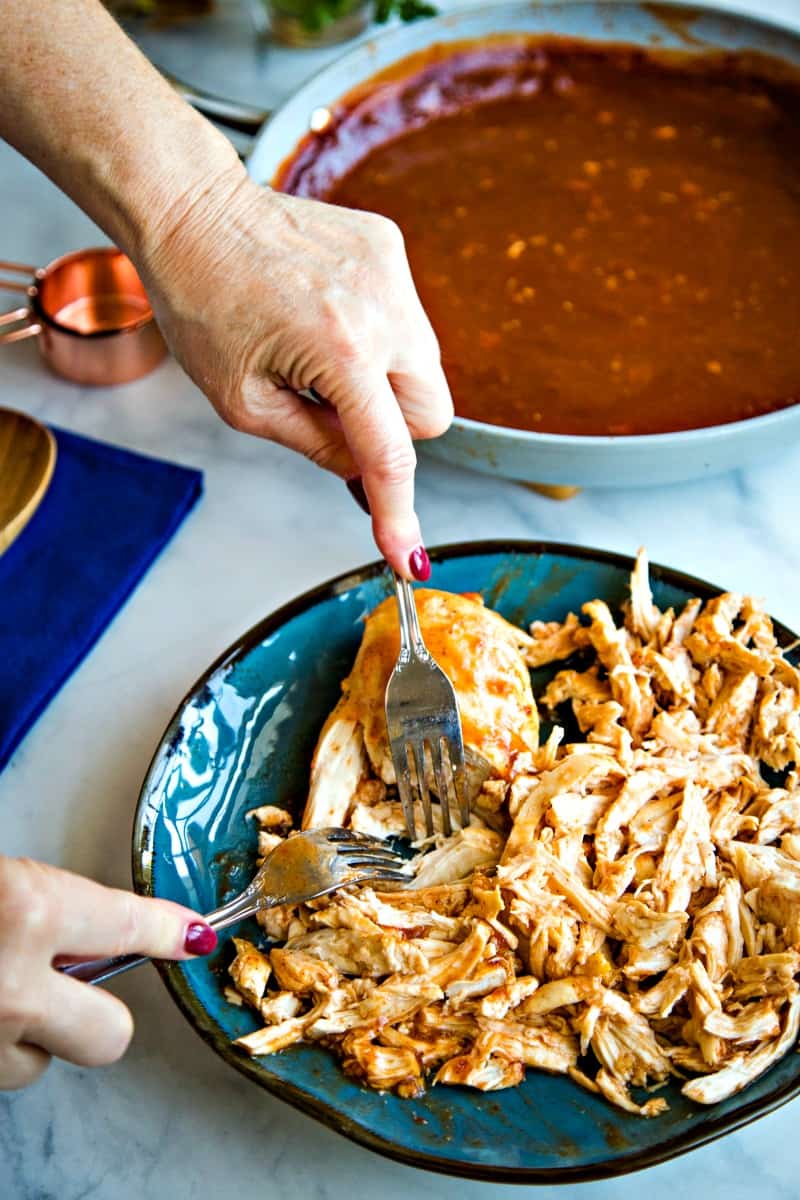 How to make chicken enchiladas
First, poach the chicken in a large skillet in simmering enchilada sauce with minced garlic until the chicken is cooked through and tender.
Remove and shred the chicken, then toss it with some of the enchilada sauce and a cup of cheese. Add cilantro if you like.
Warm the tortillas, then assemble the enchiladas by spooning a heaping 1/3 cup of the chicken mixture along the center of each tortilla. Roll them up and place seam-side down in a lightly greased casserole dish.
Brush the tops of the enchiladas with a small amount of olive oil, then place in a preheated 425-degree oven uncovered for 8-10 minutes, until the tortillas begin to lightly brown—this is part of the secret baking method!
After ten minutes, lower the oven temperature and top the enchiladas with enchilada sauce and more cheese. Cover the casserole with aluminum foil, and return to the oven to bake 20 minutes.
At the end of baking, remove the foil and bake uncovered for another five minutes or so to crisp them up!
Garnish with cilantro and serve!
Chicken enchiladas FAQs
How do you fill and wrap enchiladas?
Place the tortilla on a plate and place the filling down the center — do not spread it to cover the entire tortilla. Fold one side over the filling, then fold the other side to overlap. Place the filled tortilla seam side down in the baking sheet so that it stays closed.
Do you put foil over enchiladas before baking?
For this recipe, the enchiladas bake for the first ten minutes uncovered. This gives the tortillas a nice crunch. Cover the enchiladas with foil and continue baking for the specified time, removing the foil during the last five minutes to allow the cheese to get golden.
How do you keep enchiladas from getting soggy?
A lot of recipes suggest frying the tortillas for a few seconds in hot oil before filling them to keep the enchilada sauce from soaking into the tortillas too much. I don't find that step necessary if you bake the enchiladas uncovered at a higher temperature for the first ten minutes.
What are the best side dishes to serve with chicken enchiladas?
Traditionally, enchiladas are served with a side of Mexican seasoned rice and beans, either refried beans or black beans. Often, I'll make this yummy Mexican Street Corn Salad for a change of pace. We like to top our enchiladas with a little extra cilantro, fresh Avocado Salsa, and sour cream.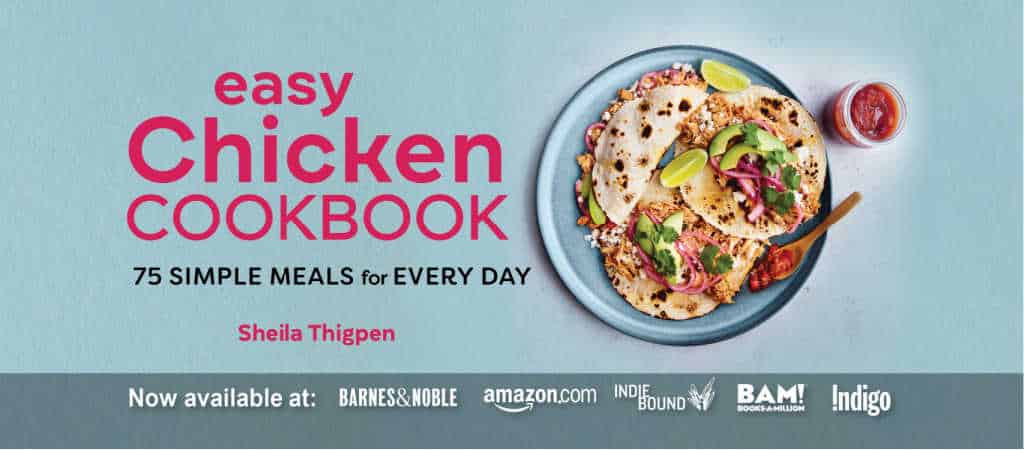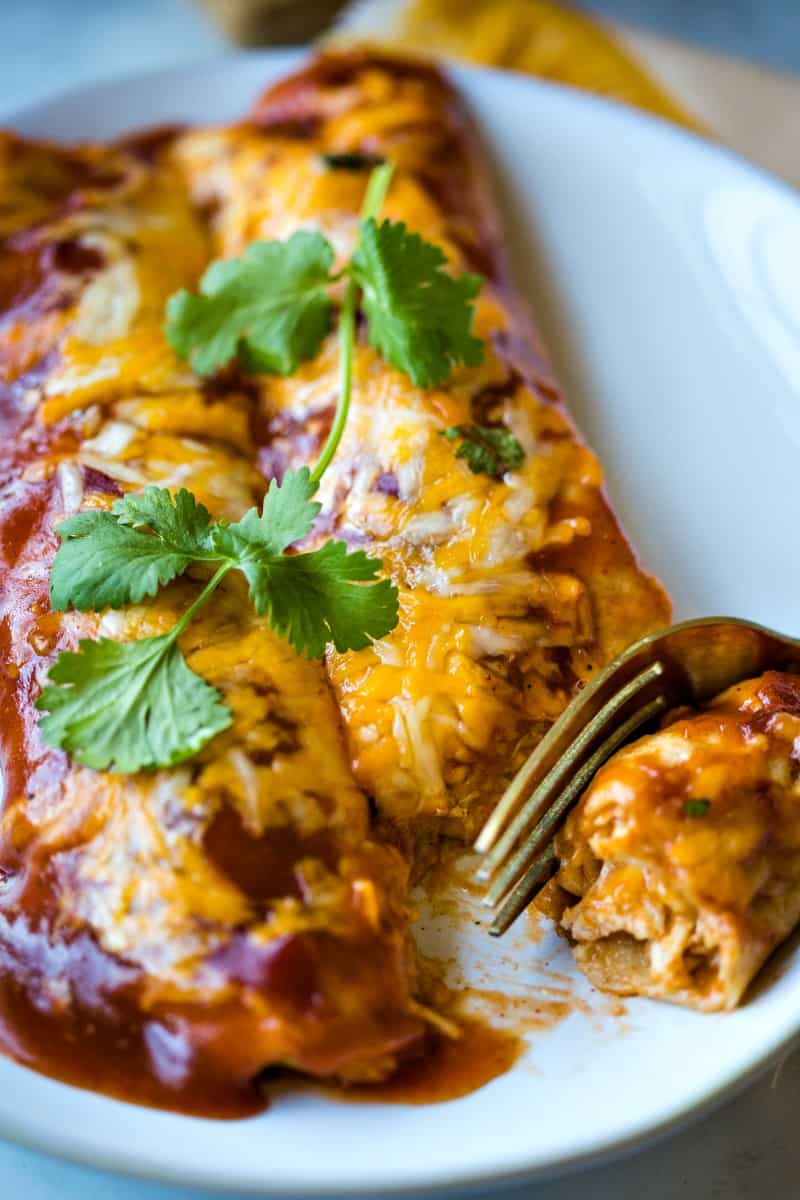 ---
---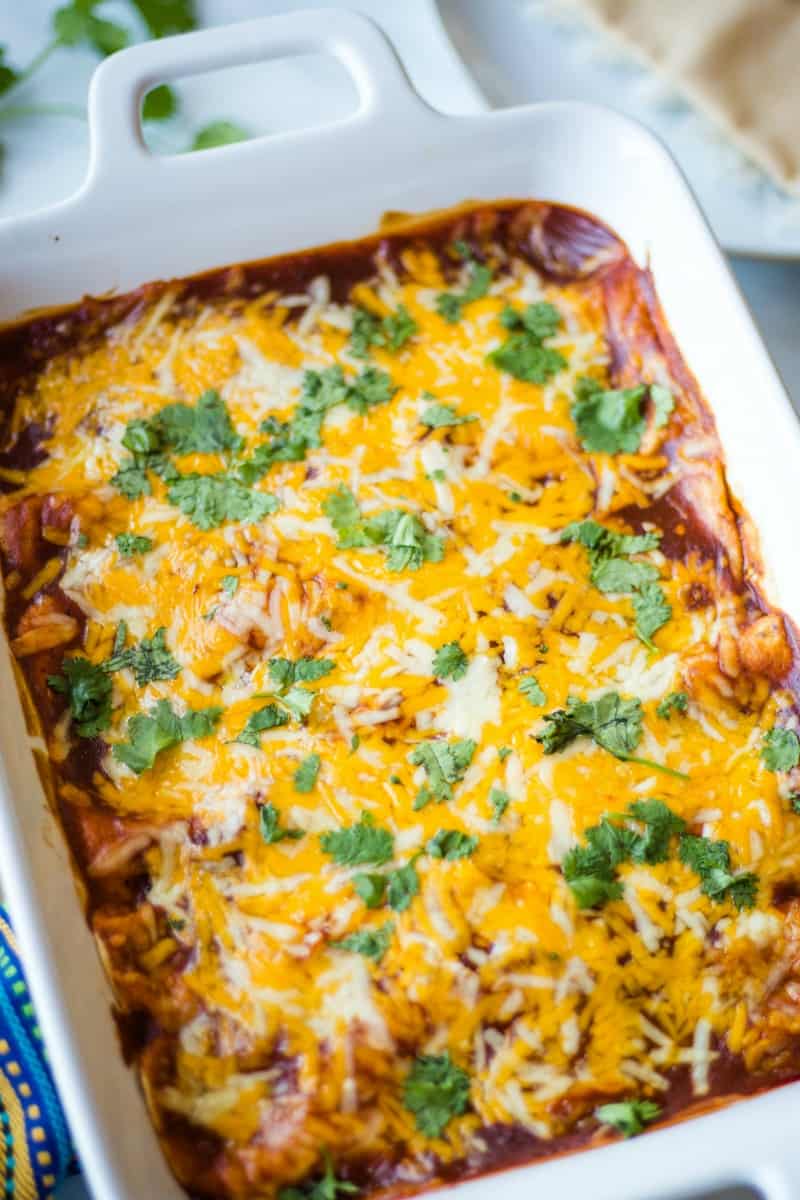 More Mexican casserole recipes!
Perdue Farms' most popular organic chicken products are now in one handy pack! Order here today.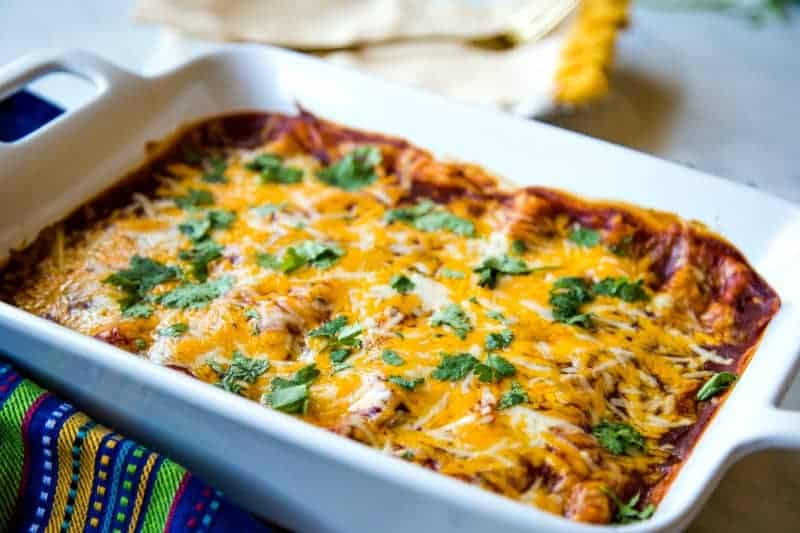 Let's cook!
Hands down, this Easy Chicken and Cheese Enchilada recipe is requested at our house more often than any other Mexican casserole. I like it because it truly is simple — just chicken and cheese rolled up in tortillas and baked in enchilada sauce — and truly tasty!
I make my enchiladas with flour tortillas, but you can substitute corn tortillas if that's your preference.
Please share!
Your shares are how this site grows and I appreciate each one. Do you know someone who would enjoy this recipe? I'd love it if you would share it on Facebook or on your favorite Pinterest board!
First Published: September 5, 2016. Last Updated: September 6, 2020.
Yield: 4 servings
Cheesy Chicken Enchiladas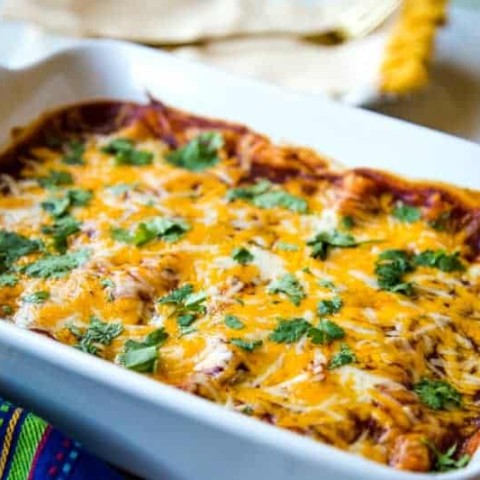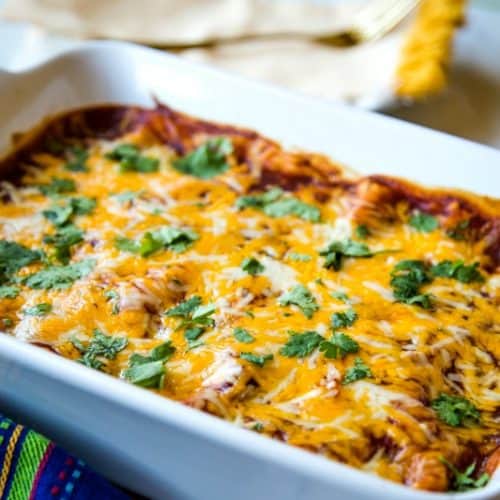 Loaded with chicken and cheese, these EASY Cheesy Chicken Enchiladas come out of the oven with a slight crunch, which makes them a little extra special.
Total Time
1 hour
10 minutes
Ingredients
2 cloves garlic, minced
3 cans (3 cups) enchilada sauce
salt
ground black pepper
2 boneless, skinless chicken breasts
2 cups shredded cheddar jack cheese
8 flour tortillas
cooking spray
1/2 cup fresh cilantro, roughly chopped (optional)
Instructions
Preheat oven to 425 degrees.
Pour enchilada sauce into a deep skillet and add the minced garlic; heat to boiling. Season the chicken breasts with salt and pepper on both sides and add to the skillet, nestling into the sauce. Reduce to low heat and cover. Cook for 15-20 minutes or until the chicken is cooked through.
Remove the chicken from the sauce and let the chicken and the sauce cool slightly. Use two forks to shred the chicken (pierce the chicken with one fork and hold it steady while slowly scraping the other fork, prongs faced backwards, away from the other fork).
Lightly coat the bottom of a 9-inch x 13-inch baking dish with cooking spray and set aside.
Add chicken, 3/4 cup reserved enchilada sauce, and 1 cup cheese to a large bowl. Add cilantro (if desired) and stir gently to combine.
Warm the tortillas wrapped in a damp cloth or paper towel in the microwave on high for 20-30 seconds. Assemble the enchiladas by spooning a heaping 1/3 cup of the chicken mixture along the center of the tortilla. Roll the tortilla around the filling and place into the baking dish, seam-side down. Repeat with remaining tortillas.
Brush the tops of the enchiladas with a small amount of olive oil. Place the dish into the oven and bake uncovered for 8-10 minutes or until the tortillas begin to turn golden.
Reduce the oven temperature to 400 degrees. Remove the baking dish from the oven and pour the remaining sauce over the enchiladas and sprinkle with the remaining cheese over the sauce. Lightly cover with aluminum foil and return to the oven for 20 minutes.
Carefully remove foil and bake uncovered for an additional 5-10 minutes or until the cheese is golden.
Let stand 5-10 minutes prior to serving. Garnish with cilantro and serve with sour cream or salsa, if desired.
Recommended Products
As an Amazon Associate and member of other affiliate programs, I earn from qualifying purchases.
Nutrition Information:
Yield:
4
Serving Size:
1
Amount Per Serving:
Calories:

728
Total Fat:

32g
Saturated Fat:

15g
Trans Fat:

1g
Unsaturated Fat:

14g
Cholesterol:

116mg
Sodium:

1507mg
Carbohydrates:

65g
Fiber:

5g
Sugar:

5g
Protein:

43g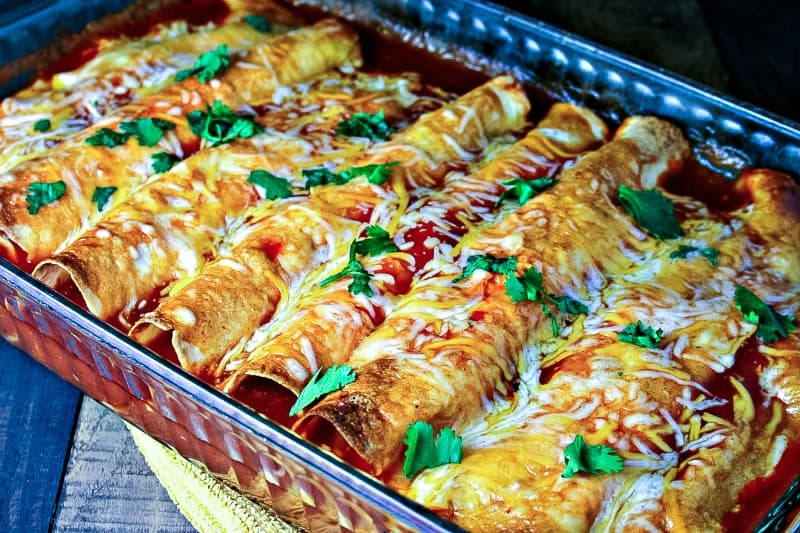 ABOUT SHEILA
Sheila Thigpen, author of Easy Chicken Cookbook and The 5-Ingredient Fresh and Easy Cookbook, is a recipe developer, food photographer, and food writer. She spent 20+ years as a business manager in the publishing industry before she retired in 2018 to focus on her passions — cooking, photography, and writing. Living near the beautiful Smoky Mountains, Sheila and her husband have two adult daughters and two fine sons-in-law, are active in their church, love to travel, and have a precious little granddaughter who has stolen their hearts. Follow Sheila on YouTube, Pinterest, Instagram, Facebook, and Twitter!