This post may contain affiliate links. Please read my disclosure policy.
This delicious meal can be on your table in just 30 minutes!
Balsamic pork chops are extremely tender and full of incredible flavor. Prep them in minutes with fresh rosemary and simple pantry staples!
Flour and rosemary-dredged pork chops are pan-fried to form a gorgeous golden-brown crust. Then, they are simmered in a balsamic vinegar sauce until each chop is deliciously moist and tender.
For another quick-and-easy pork chop recipe, try this baked version with a sticky honey garlic sauce. I also like to keep a jar of my Magic Rub on hand for all kinds of grilled meats and vegetables.
Need something a bit fancier? Dinner guests will love my Chili-Orange Glazed Tenderloin or Pork Medallions in Mushroom Marsala Sauce. Both create an impressive display and come together just as quickly as these balsamic glazed pork chops.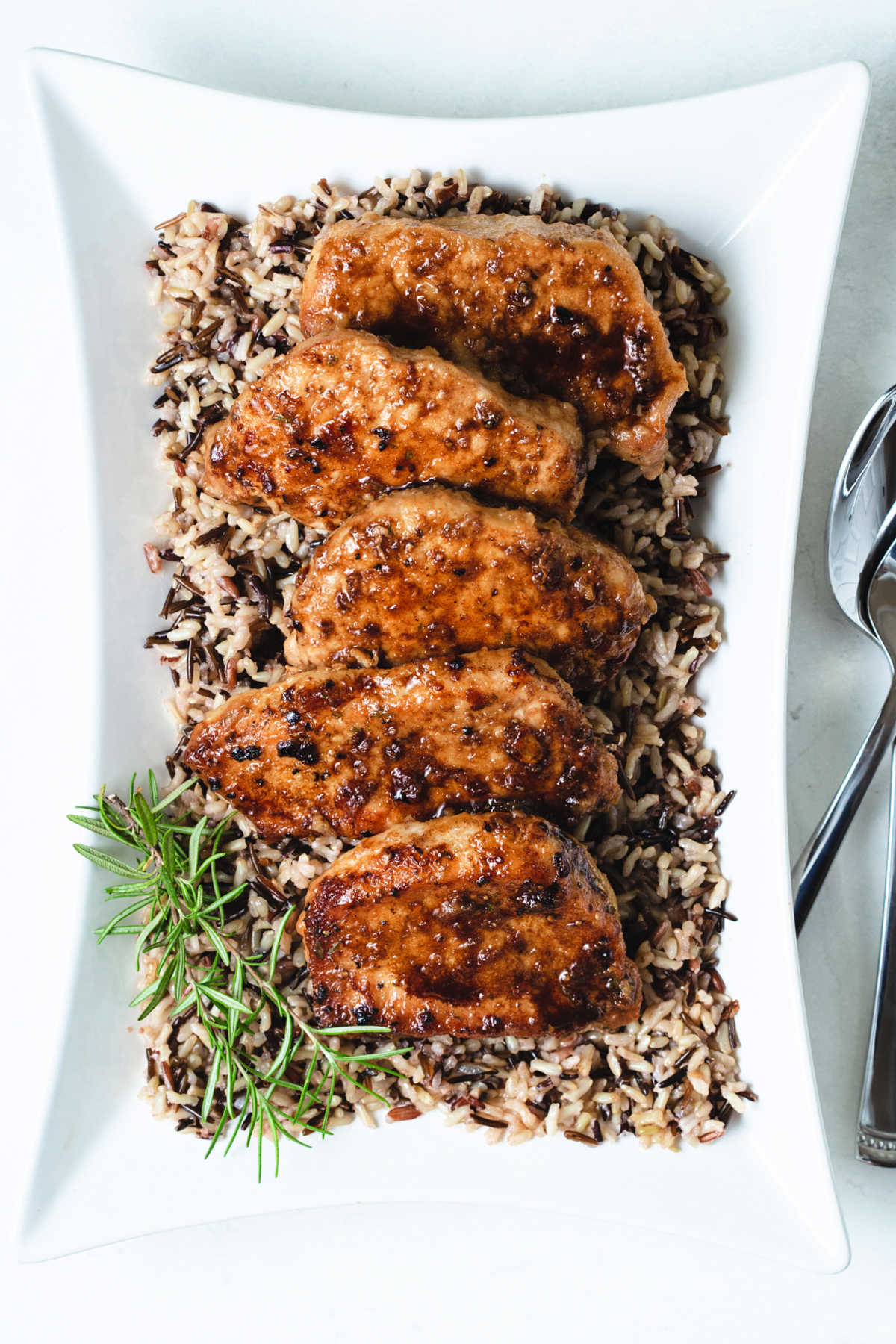 Key ingredients & substitutions for Balsamic Pork Chops
Meat — I used ¾-inch thick boneless chops for this recipe, but you can certainly use bone-in if you prefer. Just be sure to adjust the cooking time according to the thickness of each chop.
Rice — A fast-cooking version simply cuts down on preparation time, so feel free to use whichever variety you prefer. Either way, start the rice first so the meat doesn't get cold while you wait for it to finish cooking.
Balsamic vinegar — Use the highest quality you can afford for the best flavor. If the glaze is too bitter for your taste, stir in a pinch of sugar or a small drizzle of maple syrup.
Rosemary — Fresh herbs make a big difference in this recipe, but dried rosemary can be used in a pinch. Reduce the amount by half and crush the leaves with your fingers to release the flavor and aroma.
How to make balsamic glazed pork chops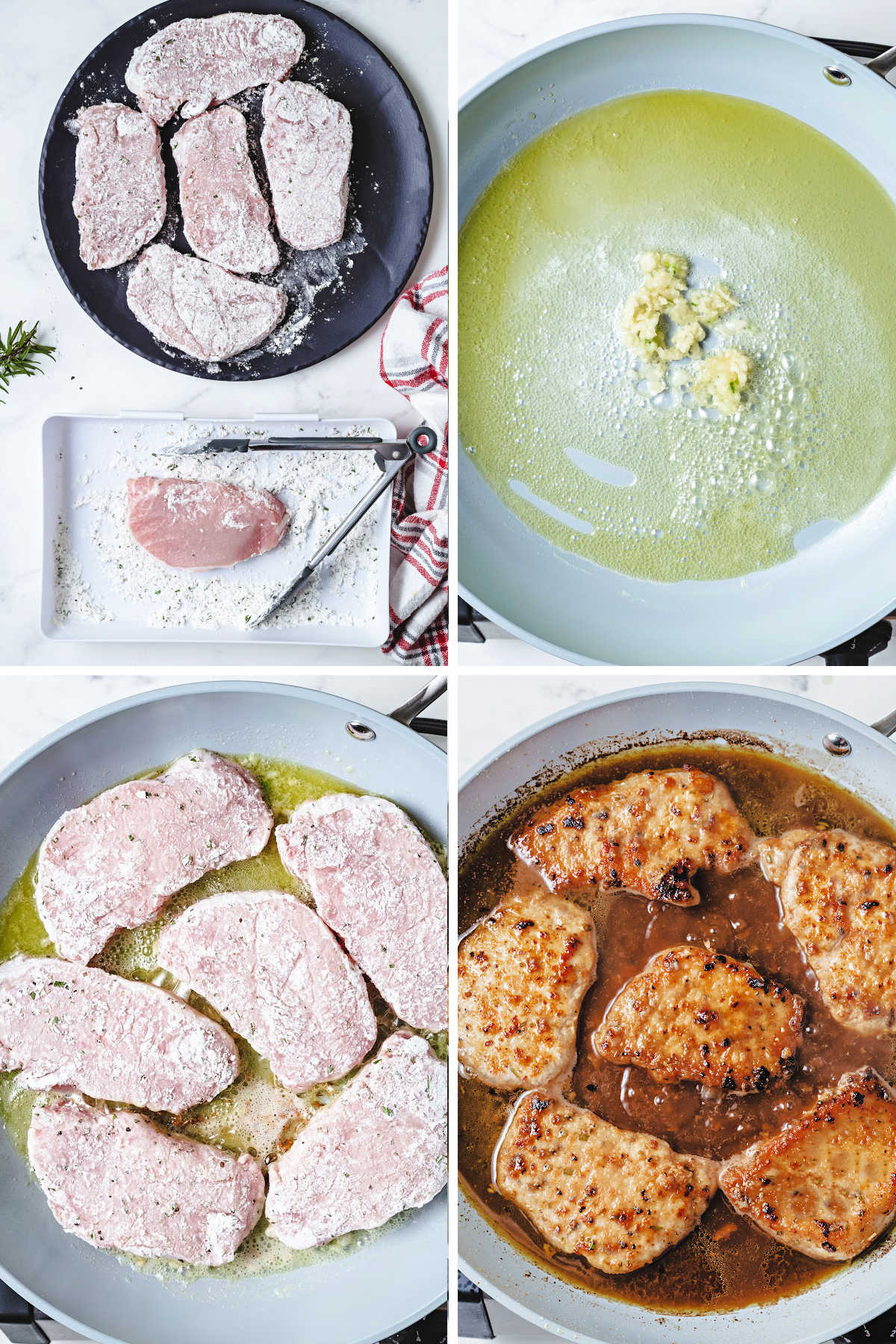 STEP 1 | Dredge the meat
Combine flour, herbs, and seasoning in a wide shallow bowl, then place one chop at a time in the mixture and coat the entire surface. Repeat until all of the pieces are done.
STEP 2 | Pan fry each chop
Sauté some minced garlic in olive oil and butter before adding the meat to the pan. If you don't have a wide skillet, you may need to work in batches so each chop browns properly. Once a nice crust is formed, transfer the meat to a plate and tent with foil.
STEP 3 | Make the glaze
Add the liquids to the pan to soften any bits that are stuck along the bottom, scraping them off the bottom with a spatula. Simmer until liquid is reduced by about half.
STEP 4 | Finish and serve
Return the meat to the pan and cook for several more minutes, flipping to coat both sides. Test for doneness (see tips below), then serve the balsamic vinegar pork chops with additional rosemary sprigs as garnish.
tip
Pull the chops out of the refrigerator when you start the rice. Removing the chill will help them cook more evenly.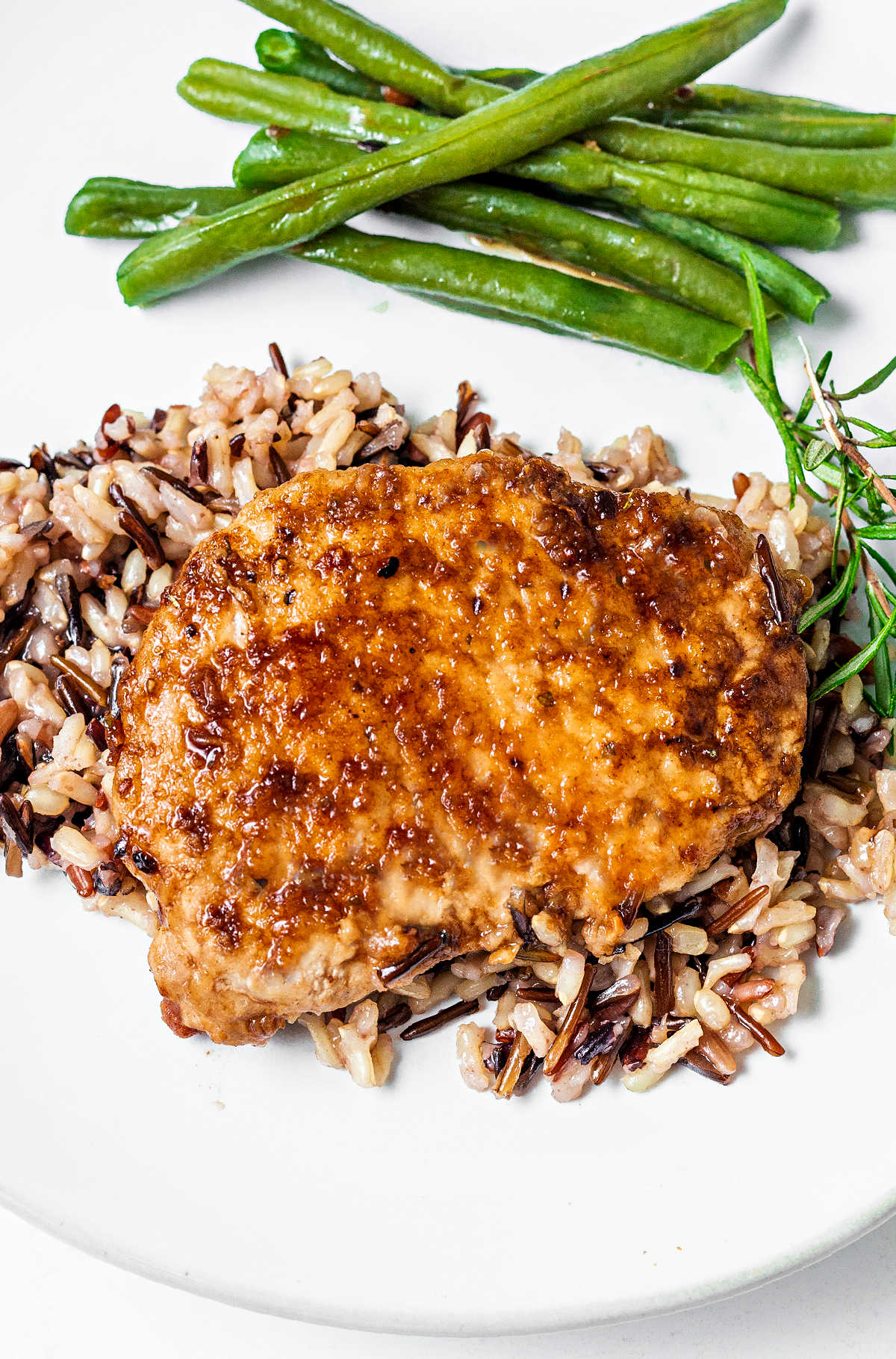 Frequently asked questions about balsamic pork chops
How do I know when my pork chops are done?
The safest way to tell is with a digital probe thermometer, which should read 145 degrees Fahrenheit for any cut of pork according to the USDA.

Another method involves cutting into the thickest part of the chop. The center should be mostly white and opaque (a little pink is alright) and the juices should run clear.
Should I pat the meat dry before dredging?
Yes! Any wetness will prevent the flour mixture from adhering to the surface, so pat all sides with a few paper towels.
Why did mine come out tough?
Unfortunately, that means that they are overcooked. Always be sure to fry them just until golden brown since they will finish cooking in the glaze at the end.
Serving suggestions
Serve balsamic vinegar pork chops over a bed of quick-cooking long-grain wild rice and a spoonful of this homemade apple chutney. Add a side of roasted whole carrots or these crispy air fryer Brussel sprouts and you have yourself a tasty, quick-and-easy weeknight dinner!
If you're trying to cut down on starches, replace the rice with mashed cauliflower, quinoa, or whole wheat soba noodles. Even a simple side salad is a healthy option for any entrée.
Recipe inspiration
It's no secret that I'm a big fan of balsamic vinegar. In fact, you'll find many recipes here on the blog that use similar ingredients as these balsamic glazed pork chops.
From Slow Cooker Chicken and Browned Butter Roasted Asparagus to Espresso Caprese Salad and Cantaloupe Prosciutto Antipasti, there's sure to be something for everyone!
What I love most about this recipe is its simplicity. And, since I stay stocked up on traditional aged balsamic vinegar from my local olive oil shop, all I need to grab from the store is the meat and fresh rosemary.
Please share!
Your shares are how this site grows and I appreciate each one. Do you know someone who would enjoy this recipe? I'd love it if you would share it on Facebook or on your favorite Pinterest board!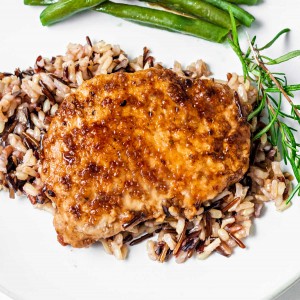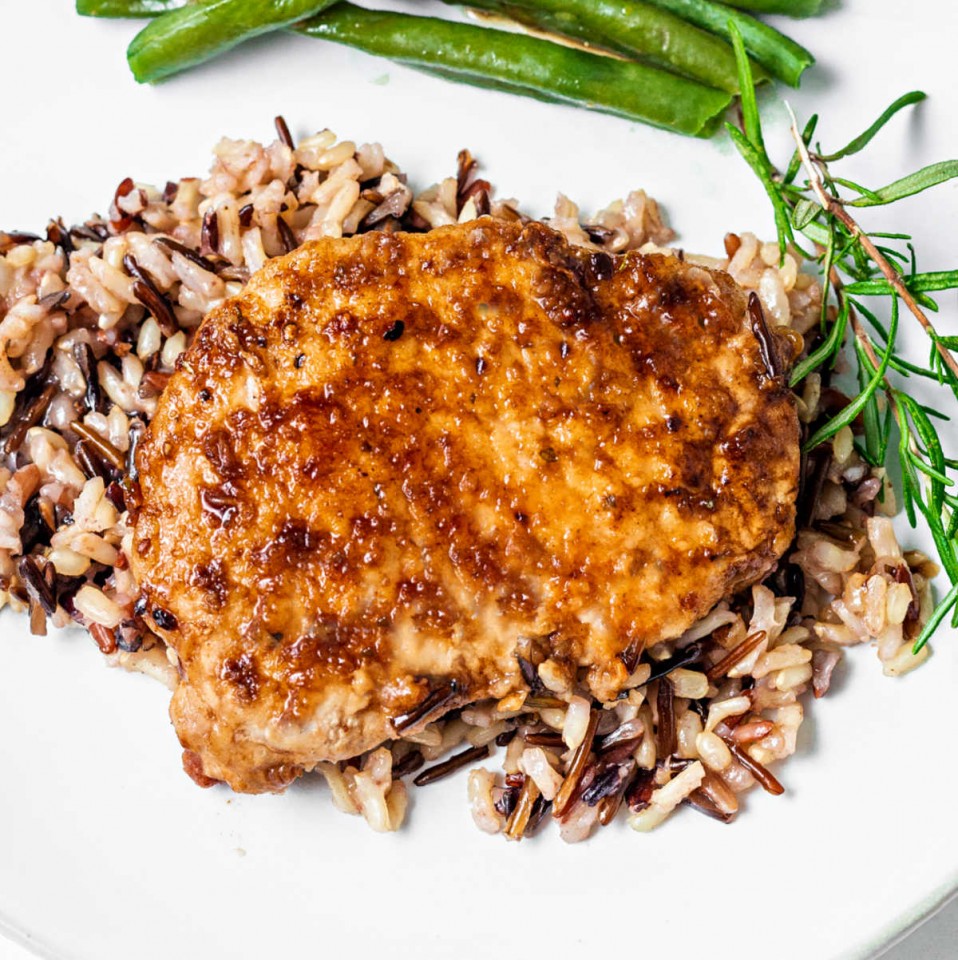 Balsamic Pork Chops
Balsamic pork chops are extremely tender and full of incredible flavor. Prep them in minutes with fresh rosemary and simple pantry staples!
Ingredients
1

6-oz. pkg.

fast-cooking long-grain and wild rice mix

3

tablespoons

all-purpose flour

1

teaspoon

fresh rosemary

chopped

1/2

teaspoon

salt

1/2

teaspoon

pepper

6

boneless pork chops

3/4-inch-thick

2

tablespoons

butter

2

tablespoons

olive oil

2

cloves

garlic

minced

1

14-1/2-oz. can

chicken broth

1/3

cup

balsamic vinegar

fresh rosemary sprigs

for garnish
Instructions
Cook wild rice according to the package directions and keep warm.

Combine the flour with freshly chopped rosemary, salt, and pepper In a shallow dish. Dredge the pork chops on both sides in the flour mixture. Shake gently to remove the excess; set aside on parchment paper or a platter.

Melt butter and olive oil in a large nonstick skillet over medium-high heat. Add garlic and sauté 1 minute or until fragrant. Add the pork chops to the skillet and cook on each side about 4 minutes or until nicely browned. Remove chops from the skillet and keep warm.

Add the chicken broth and balsamic vinegar to the skillet and stir, loosening any particles from the bottom of the pan. Reduce heat to medium and cook for 6 minutes. The liquid should reduce by about half. 

Return the pork chops to skillet and cook another 5 minutes or until done. Serve over rice and garnish with fresh rosemary sprigs, if desired.
Notes
Original recipe by Southern Living, October 2001 Pull the chops out of the refrigerator when you start the rice. Removing the chill will help them cook more evenly.
Nutrition
Serving:
1
g
Calories:
188
kcal
Carbohydrates:
12
g
Protein:
8
g
Fat:
12
g
Saturated Fat:
4
g
Polyunsaturated Fat:
7
g
Cholesterol:
29
mg
Sodium:
510
mg
Fiber:
1
g
Sugar:
3
g
Life Love and Good Food does not claim to be a registered dietician or nutritionist. Nutritional information shared on this site is only an estimate. We recommend running the ingredients through an online nutritional calculator if you need to verify any information.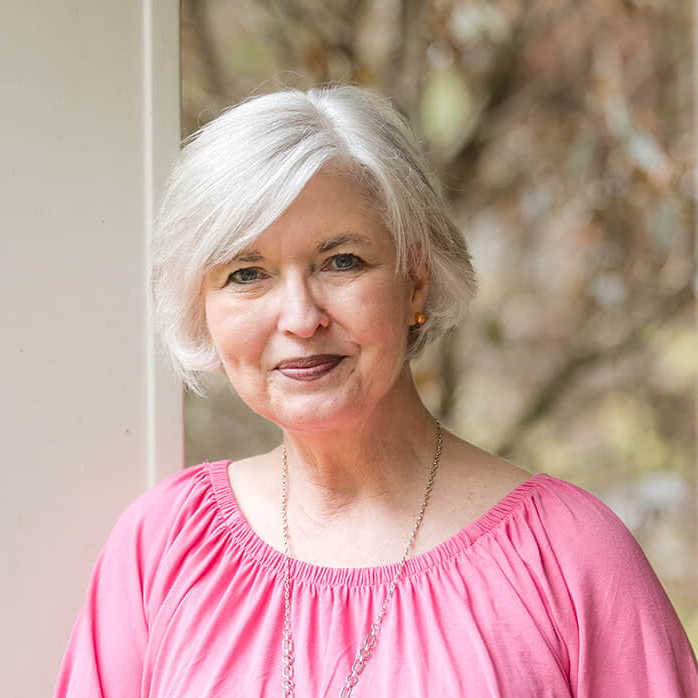 About Sheila Thigpen
Recipe Developer, Food Photographer, Food Writer
Sheila Thigpen is the publisher of Life, Love, and Good Food — a Southern food blog — and the author of Easy Chicken Cookbook and The 5-Ingredient Fresh and Easy Cookbook. After 20+ years in the publishing industry, she retired in 2018 to focus on her own creative endeavors full time. She and her husband live near the beautiful Smoky Mountains and have a precious little granddaughter who has stolen their hearts. As an influencer, Sheila has collaborated with brands like Creamette, Kroger, HERSHEY'S, Hamilton Beach, Garafalo Pasta, OXO, Smithfield, Valley Fig Growers, and more.