Balsamic Pork Chops are so full of flavor and so extremely tender, you won't believe that they can be on your table in just 30 minutes!
With today's Balsamic Pork Chop recipe, flour and rosemary dredged pork chops are first pan fried until they have a golden-brown crust. Next, the pork simmers in a balsamic vinegar sauce which results in a deliciously moist and tender chop.
Serve these balsamic vinegar pork chops over a bed of quick-cooking long-grain wild rice and add a side of steamed broccoli or asparagus and you have yourself a tasty, quick-and-easy weeknight dinner!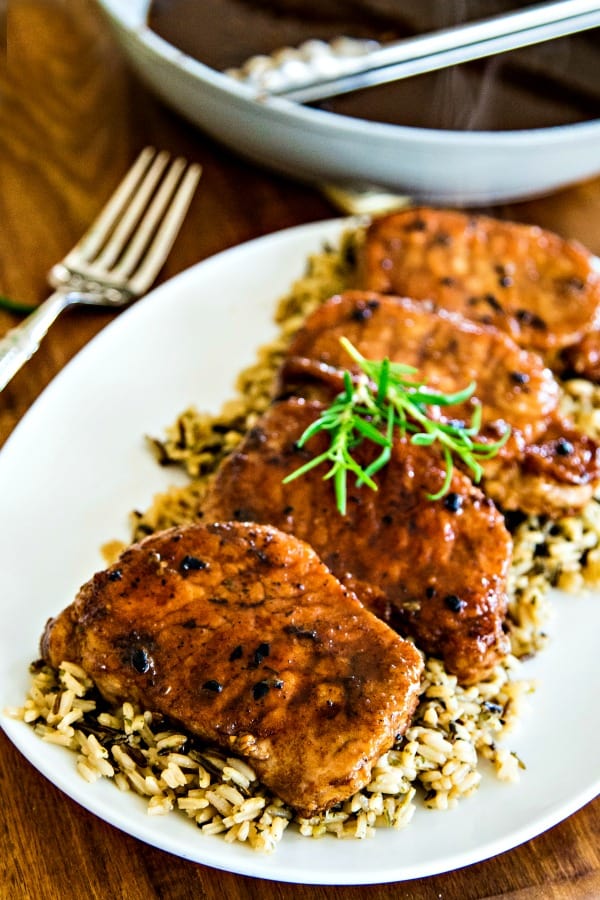 Balsamic Pork Chops
It's no secret that I'm a huge fan of balsamic vinegar. In fact, you'll find many recipes here on the blog include the stuff in the ingredient list. From Slow Cooker Balsamic Chicken to Browned Butter Roasted Asparagus to Espresso Caprese Salad — even Cantaloupe Prosciutto Antipasti — the list goes on and on!
What I love about these Balsamic Pork Chops is the simplicity of the recipe and the ingredients. Since I stay stocked up on traditional aged balsamic vinegar from a local olive oil shop, other than fresh rosemary everything is already in my pantry.
Nothing too fancy required for this recipe! By the way, I keep saying this is the year I'll start growing my own herbs…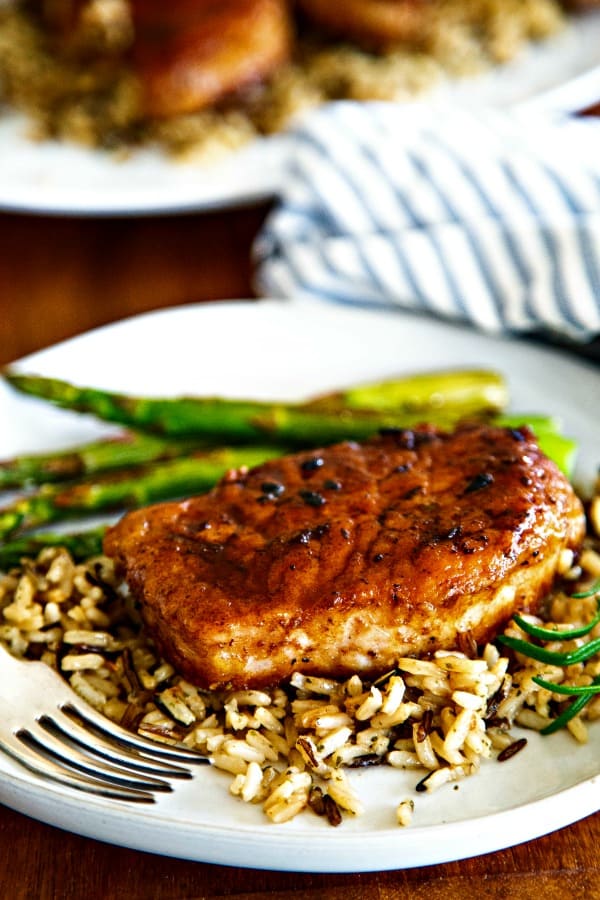 How to make balsamic vinegar pork chops
Prepare long-grain wild rice according to the package directions. While that simmers, start the pork chops.
In a shallow dish, add minced fresh rosemary to flour, salt, and pepper. Give it a quick stir, then dredge the chops on both sides in the mixture and shake off the excess.
Next, melt butter with olive oil in a large skillet. Add minced garlic and cook for a minute until the garlic is fragrant. Add the pork chops to the hot pan and cook four minutes on each side until they are nice and golden brown. Remove the chops to a plate and keep warm.
The last step is to make the balsamic vinegar sauce. Add the vinegar and chicken broth to the skillet and stir to loosen any particles from the bottom of the pan. Cook and stir over medium heat until the liquid reduces by half. This should take about six minutes.
Add the chops back to the pan and let them simmer in the sauce another five minutes or until the pork chops are done.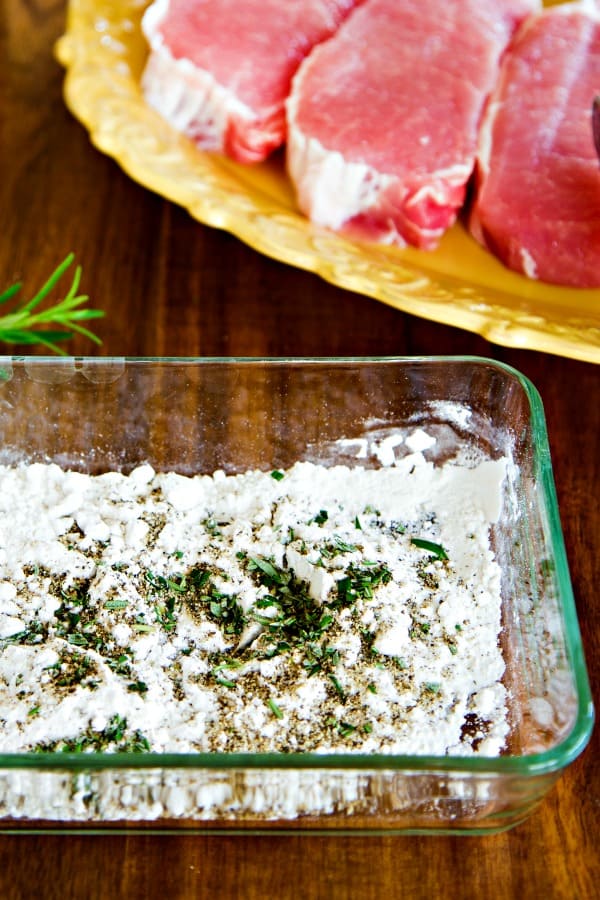 How do I know when my pork chops are done?
The safest way to tell that pork chops are done is to use a meat thermometer. The National Pork Board recommends cooking Pork to 145 degrees Fahrenheit.
I've gotta say I love my OXO Good Grips Thermocouple Thermometer. Getting an instant read on the temperature helps take the guess work out of making sure my meat is properly cooked.
Another way to test the doneness is to cut into the thickest part of the pork chop and look at the color. It's alright if the meat is a little pink, just be sure that the juices run clear.
What can I serve instead of wild rice with Balsamic Pork Chops?
At our house we love rice of any kind, but I realize that some people prefer to cut down on starches. Why not serve Balsamic Pork Chops over a bed of mashed cauliflower, quinoa, or whole wheat soba noodles? Or, a side salad and steamed or roasted vegetables is always a good and healthy option for any entrée.
Should I use bone-in or boneless pork chops in this recipe?
Some people think that bone-in pork chops are more flavorful, but I don't think that makes a huge difference in this particular recipe. If you prefer bone-in, it will certainly work in this recipe, just be sure to adjust the cooking time dependent on the thickness of the chop.
As reference, I used 3/4-inch thick boneless pork chops with the cooking times listed in the recipe.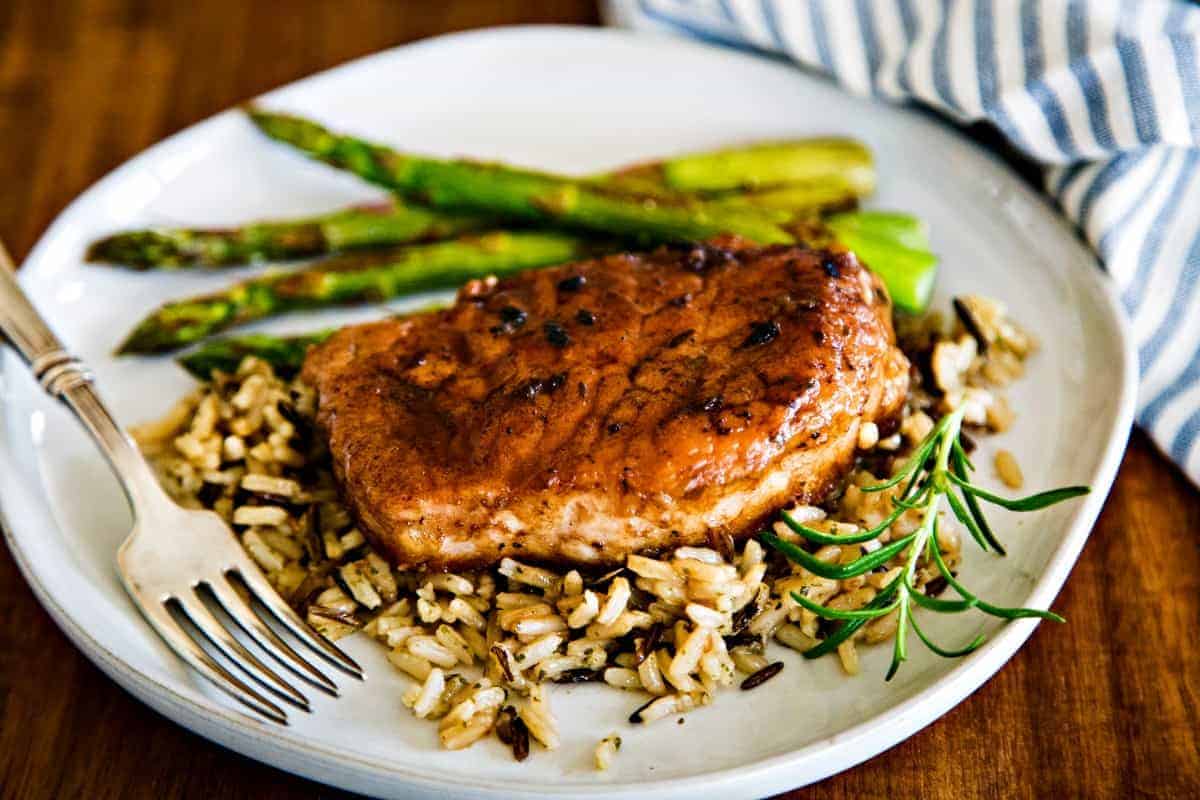 Related recipes
Let's cook!
Serve Balsamic Pork Chops over the wild rice and garnish with a sprig or two of fresh rosemary. So simple and so delicious!
Please share!
Your shares are how this site grows and I appreciate each one. Do you know someone who would enjoy this recipe? I'd love it if you would share it on Facebook or on your favorite Pinterest board!
Yield: 6 servings
Balsamic Pork Chops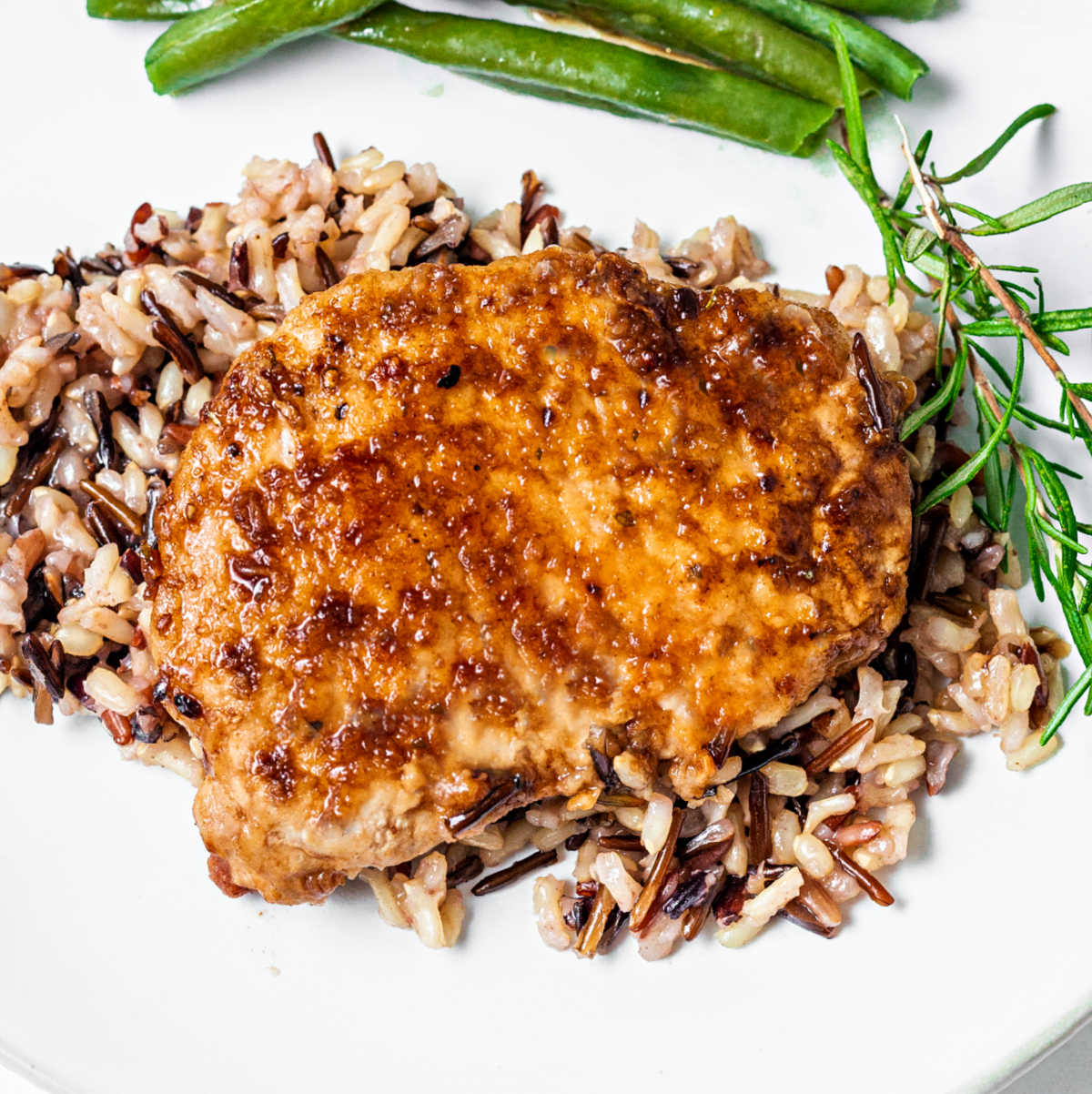 Full of flavor and extremely tender, these boneless pork chops simmer in a balsamic vinegar sauce and can be on your table in just 30 minutes!
Ingredients
1 6 oz. pkg. fast-cooking long-grain and wild rice mix
3 tablespoons all-purpose flour
1 teaspoon fresh rosemary, chopped
1/2 teaspoon salt
1/2 teaspoon pepper
6 3/4-inch-thick boneless pork chops
2 tablespoons butter
2 tablespoons olive oil
2 cloves garlic, minced
1 14-1/2 oz. can chicken broth
1/3 cup balsamic vinegar
Garnish: fresh rosemary sprigs
Instructions
Cook wild rice according to the package directions and keep warm.
Combine the flour with freshly chopped rosemary, salt, and pepper In a shallow dish. Dredge the pork chops on both sides in the flour mixture. Shake gently to remove the excess; set aside on parchment paper or a platter.
Melt butter and olive oil in a large nonstick skillet over medium-high heat. Add garlic and sauté 1 minute or until fragrant. Add the pork chops to the skillet and cook on each side about 4 minutes or until nicely browned. Remove chops from the skillet and keep warm.
Add the chicken broth and balsamic vinegar to the skillet and stir, loosening any particles from the bottom of the pan. Reduce heat to medium and cook for 6 minutes. The liquid should reduce by about half.
Return the pork chops to skillet and cook another 5 minutes or until done. Serve over rice and garnish with fresh rosemary sprigs, if desired.
Notes
Southern Living, October 2001
Recommended Products
As an Amazon Associate and member of other affiliate programs, I earn from qualifying purchases.
Nutrition Information:
Yield:
6
Serving Size:
1
Amount Per Serving:
Calories:

188
Total Fat:

12g
Saturated Fat:

4g
Trans Fat:

0g
Unsaturated Fat:

7g
Cholesterol:

29mg
Sodium:

510mg
Carbohydrates:

12g
Fiber:

1g
Sugar:

3g
Protein:

8g