Saucy Spaghetti and Meatballs with homemade marinara is a family favorite around our house. Seasoned with Italian spices, Parmesan cheese, and garlic, these flavorful meatballs bake in a pan with beef broth to keep them moist.
Pan drippings are added to the homemade marinara which gives it a delicious richness the longer it simmers. This homemade meatball recipe heartily serves a family of four with plenty of leftovers to make meatball sandwiches or that can be frozen for later use.
These Italian meatballs are delicious and extremely tender, and although they take a little time to prep, they are very easy…just mix, shape, and bake!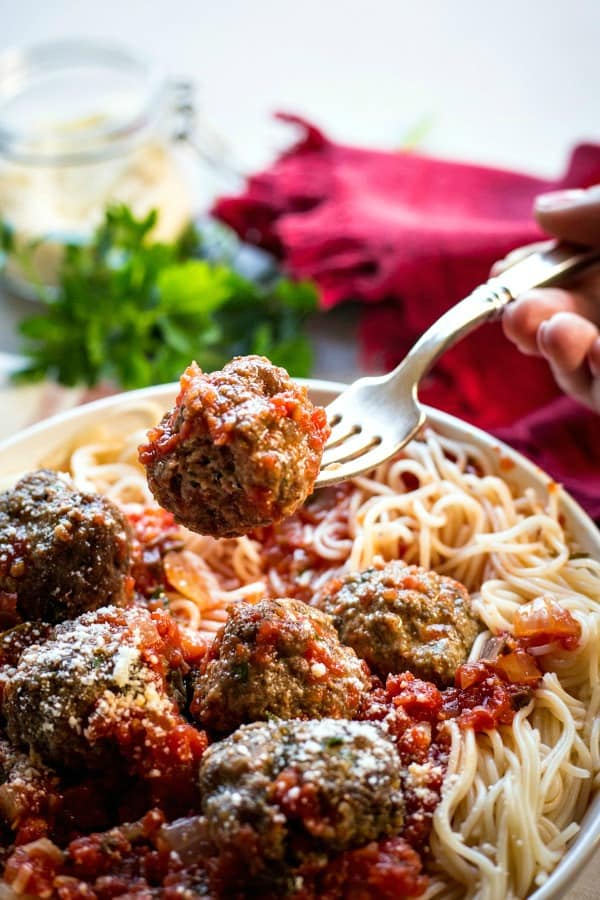 Mama Mia, that's a spicy meatball! Remember the old Alka-Seltzer commercial with the Italian gentleman eating spaghetti and meatballs?
Well, you won't need an antacid with these meatballs, but they are tasty and can be spiced up if you like by adding a little extra crushed red pepper flakes.
I've been making these meatballs for several years after I first found the recipe in a Cuisine at Home magazine that showed up in our mailbox.
As an added bonus, these basic meatballs can be served along with the homemade marinara (see the recipe below) over your favorite pasta. One recipe makes a lot of meatballs, so I usually freeze half of them after they have baked and cooled to use at a later time.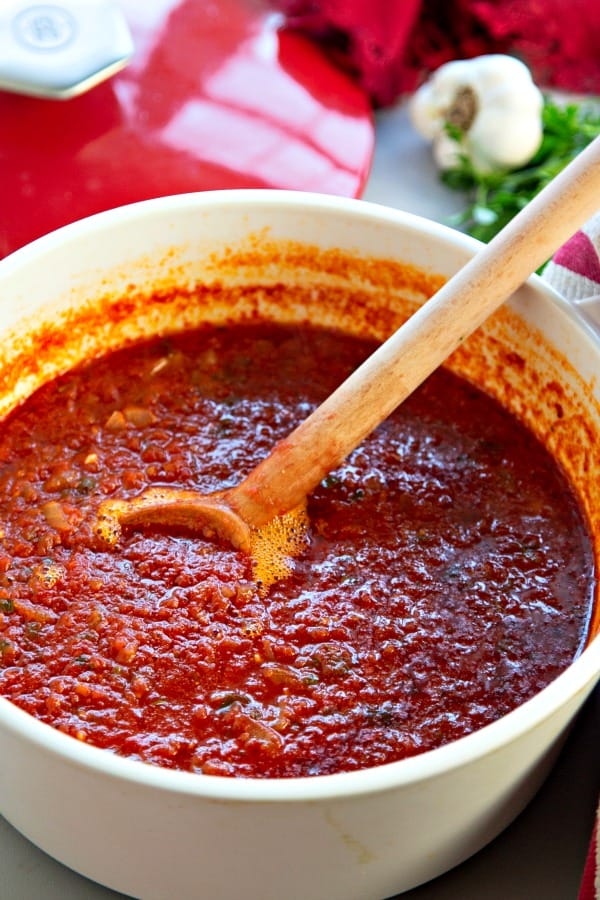 Helpful tips for making perfect meatballs:
Use ground beef chuck or 80 percent lean ground beef to add flavor and to help hold the meatball's shape during baking.
Eggs in the meat mixture also helps to bind the meatballs together.
Use a one ounce scoop, such as a cookie or ice cream scoop, to make uniform size meatballs. Scoop the mixture into your hands and then roll gently to finish shaping the meatballs.
Place the meatballs on a rimmed baking sheet and pour enough beef broth onto the pan to cover the bottom. This keeps the meatballs moist.
Don't overcrowd the meatballs on the baking sheet so that they can brown nicely on all sides.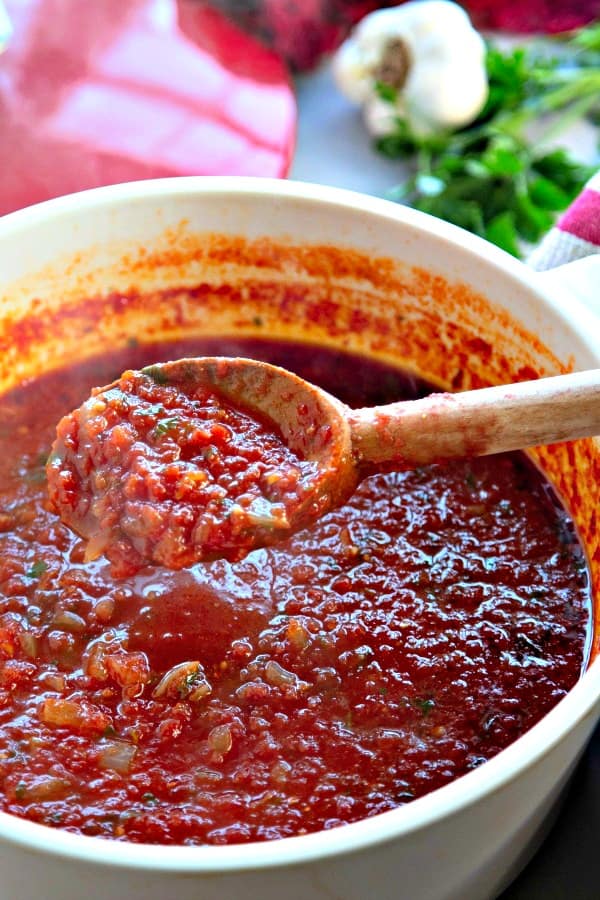 For this recipe you may need…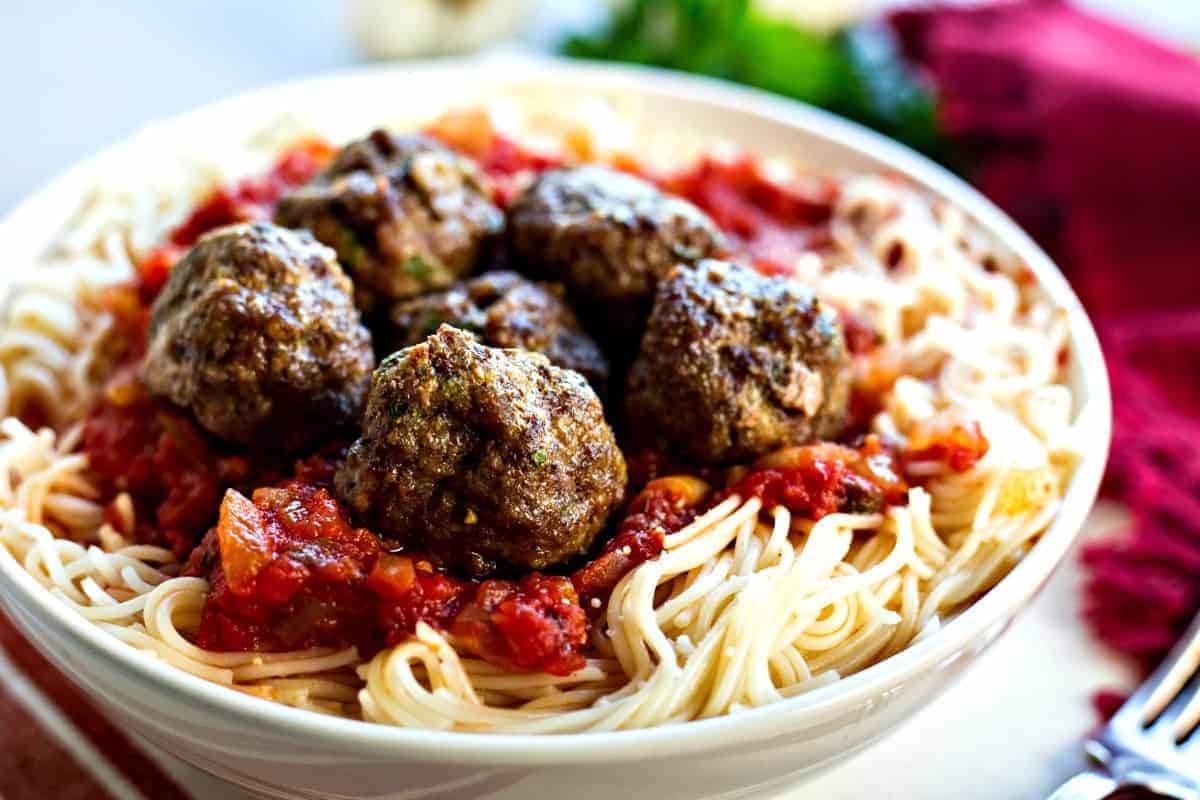 Saucy Spaghetti and Meatballs
Spaghetti and meatballs is a great meal idea when you are hosting a crowd. With this recipe you'll get 4 to 5 dozen meatballs, depending on the size you make.
I usually freeze half of the baked meatballs to use later, but if you are serving them all at the same time, you will want to double the ingredients for the marinara just to make sure you have enough sauce.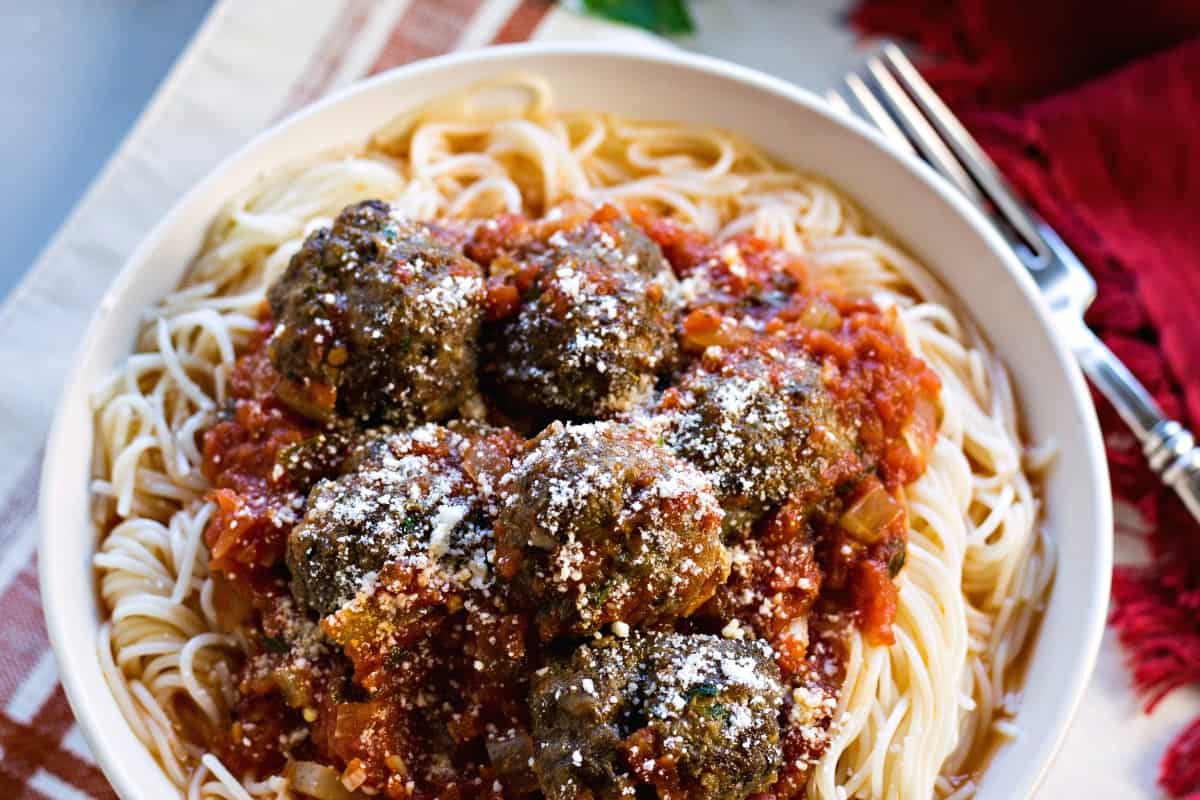 You may also like these quick and easy dinner recipes that also use ground beef:
Did you make this Saucy Spaghetti and Meatballs recipe?
If you like this recipe, please do me a favor and give it a 5-star rating!
Follow me on YouTube, Pinterest, Instagram, Facebook, and Twitter!
Yield: 8 servings
Saucy Spaghetti and Meatballs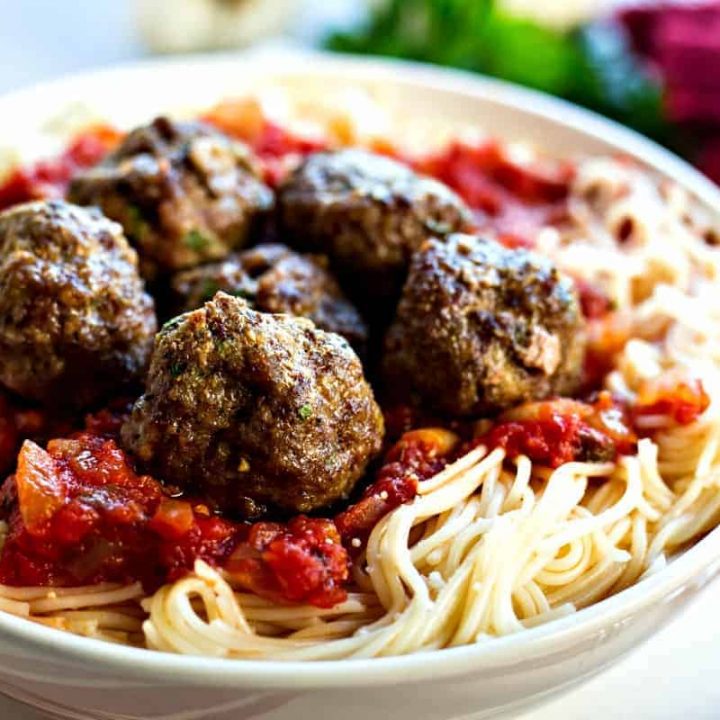 These Italian meatballs are delicious and extremely tender, and although they take a little time to prep, they are very easy...just mix, shape, and bake!
Total Time
1 hour
30 minutes
Ingredients
Meatballs
1 cup unseasoned bread crumbs
3/4 cup grated Parmesan cheese
1/2 cup milk
1-2 cups beef broth, divided
1/2 cup chopped fresh parsley
3 eggs, beaten
2 tablespoons oregano
1 tablespoon garlic, minced
1/2 tablespoon salt
1 tablespoon pepper
2 teaspoons dried basil
1/2 teaspoon crushed red pepper flakes
2 pounds ground chuck
Marinara
1/4 cup olive oil
1-1/2 cups onion, diced
2 teaspoons garlic, minced
3 cans, 14.5 oz crushed tomatoes
1/2 cup reserved meatball pan drippings
1/2 cup chopped fresh parsley
1 tablespoon sugar
1/2 teaspoon crushed red pepper flakes
Instructions
For Meatballs:
Preheat oven to 450 degrees.
Stir together all ingredients (except ground chuck) using only 1/2 cup of the beef broth. Add the ground chuck and mix together thoroughly.
Shape into meatballs about 2" in diameter (may use a 1 ounce scoop to make this easier). Place on baking sheets lightly coated with cooking spray; do not crowd together. Cover bottom of pan with additional beef broth.
Bake for 25 minutes, or until just cooked through. (Reserve pan juices for the marinara.)
For Marinara:
In a large pan, sauté onions in olive oil over medium high heat until tender.
Stir in garlic and cook until fragrant, about 30 seconds.
Add remaining ingredients and bring to a boil. Reduce heat and simmer 15 minutes.
For spaghetti and meatballs, add desired number of cooked meatballs to sauce and simmer uncovered another 10 minutes, or until heated through.
Recommended Products
As an Amazon Associate and member of other affiliate programs, I earn from qualifying purchases.
Nutrition Information:
Yield:
8
Serving Size:
1 Servings
Amount Per Serving:
Calories:

626
Total Fat:

36g
Saturated Fat:

12g
Trans Fat:

1g
Unsaturated Fat:

19g
Cholesterol:

189mg
Sodium:

1413mg
Carbohydrates:

33g
Fiber:

6g
Sugar:

12g
Protein:

44g