This post may contain affiliate links. Please read my disclosure policy.
We're getting pretty fancy around here today by making a decadent French pâte à choux (pastry shaped like a cabbage) or simply Cream Puffs with Chocolate Custard. Don't worry, these sweet treats taste nothing like cabbage!
Light and airy, cream puffs start with a dough that is cooked on the stove. Once they are baked, the tops are sliced off and the soft centers are removed to make a well for the sweet filling.
Dust the tops with powdered sugar or drizzle with a glaze. Watch out, these delicious treats will be devoured right before your eyes!
Fun Fact: Cream Puffs are made from French choux pastry and can be filled with any sweet filling like whipped cream, custard, pastry cream, or even ice cream. When choux pastry is filled and frozen, it is called a profiterole.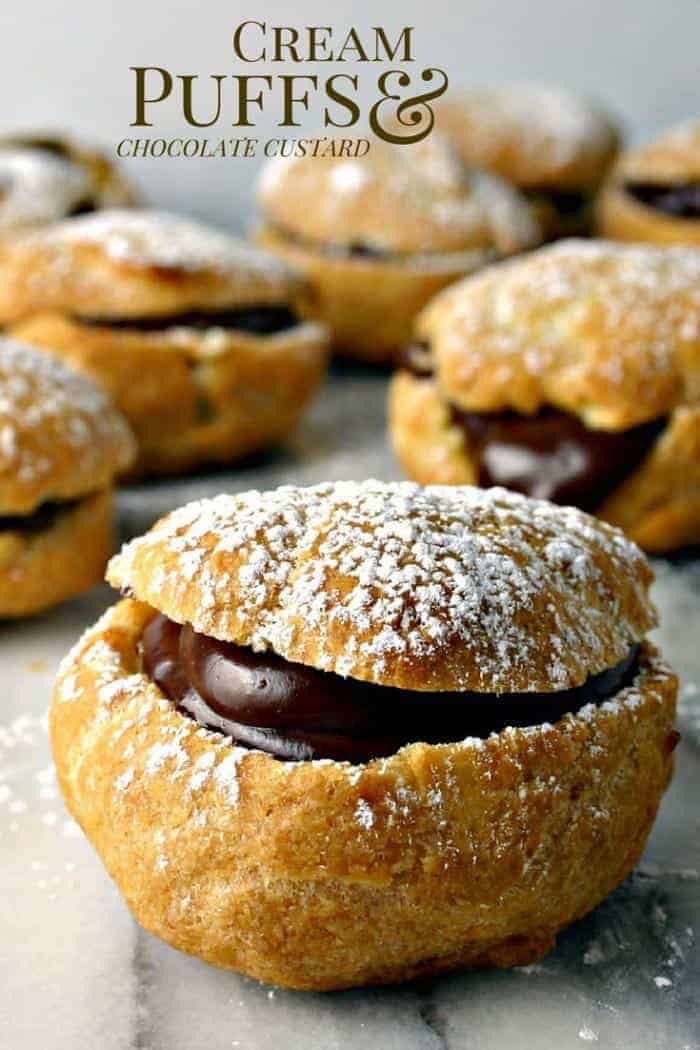 Cream Puffs with Chocolate Custard
I've got to admit that an afternoon sitting in the warm sun is very refreshing after these past couple of cold and snowy weeks in Tennessee. We drove across the plateau yesterday afternoon and although the snow was melting and the temps were near 40, the tree branches were still glistening under a layer of ice.
It was truly beautiful, but right now I'm enjoying writing my blog post outdoors on this glorious sunshiny 58 degree day! A day like this deserves a special treat, so allow me to give you a play-by-play on making Cream Puffs with Chocolate Custard, a light and airy pastry with a decadent chocolate filling.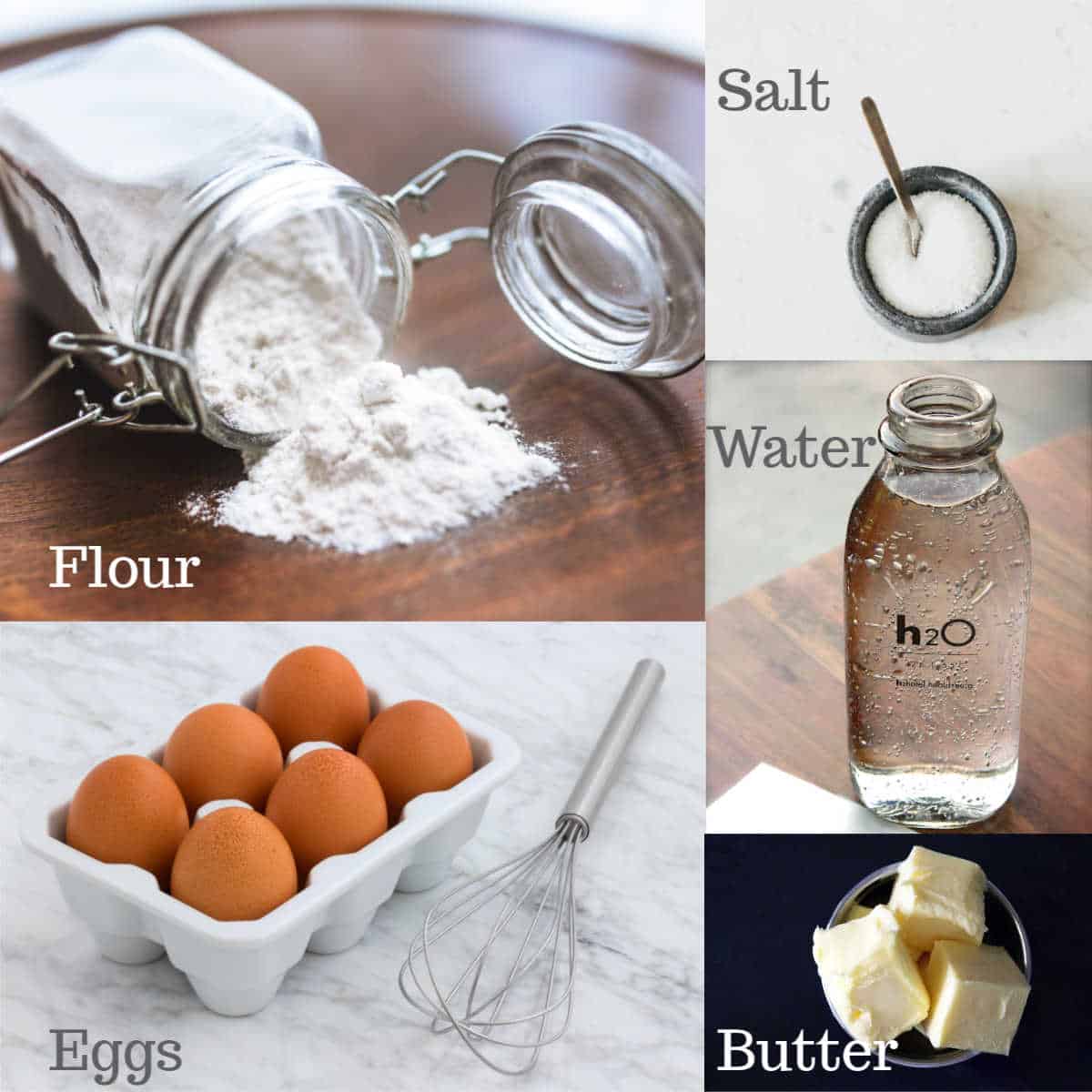 Choux Pastry Ingredients
Make the pastry dough with just a few basic ingredients. Be sure to have everything measured and ready before you get started for the best results.
All-Purpose Flour
Butter
Eggs
Water
Salt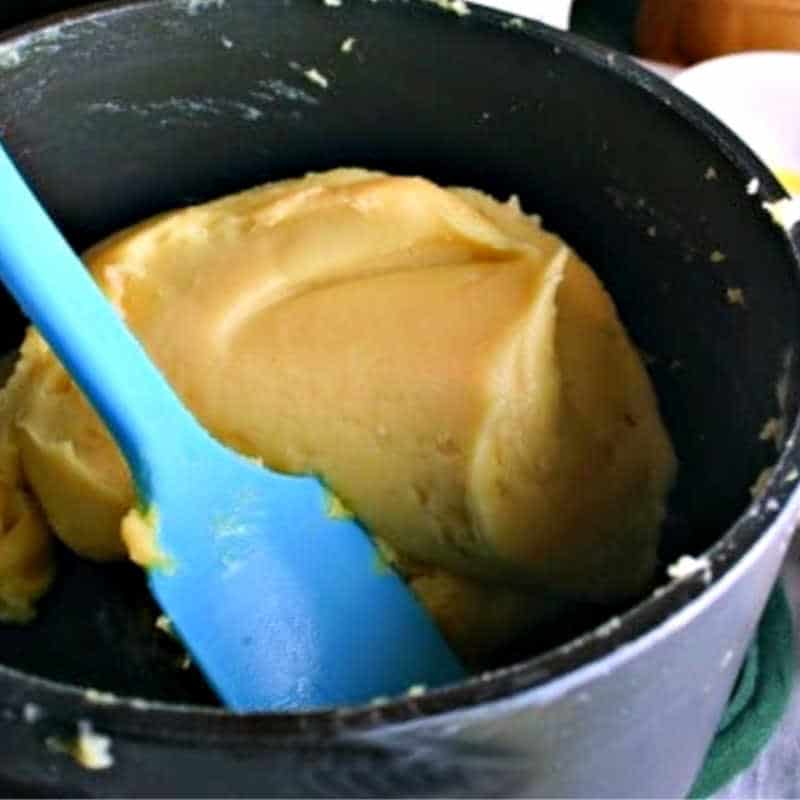 Pastry Dough Instructions
Bring water, butter, and salt to a rolling boil.
Add the flour all at once, reducing the heat to low and stirring vigorously. After a minute the dough should form a ball and leave the side of the pan. Immediately remove the dough from the heat.
Add the eggs — one at a time — and stir until each egg is incorporated and the dough is smooth and velvety before you add the next egg.
Once all the eggs are added, drop the dough (about 1/4 cup per puff) onto a cookie sheet. Bake for about 40 minutes.
While the puffs are warm, slice off the tops. Remove the soft dough in the middle — just pinch it out — and let the puffs cool completely.
IMPORTANT: Try not to let the egg hit the bottom or side of the hot pan or it will begin to cook, Instead, make a small well in the dough and break an egg directly into the well and stir.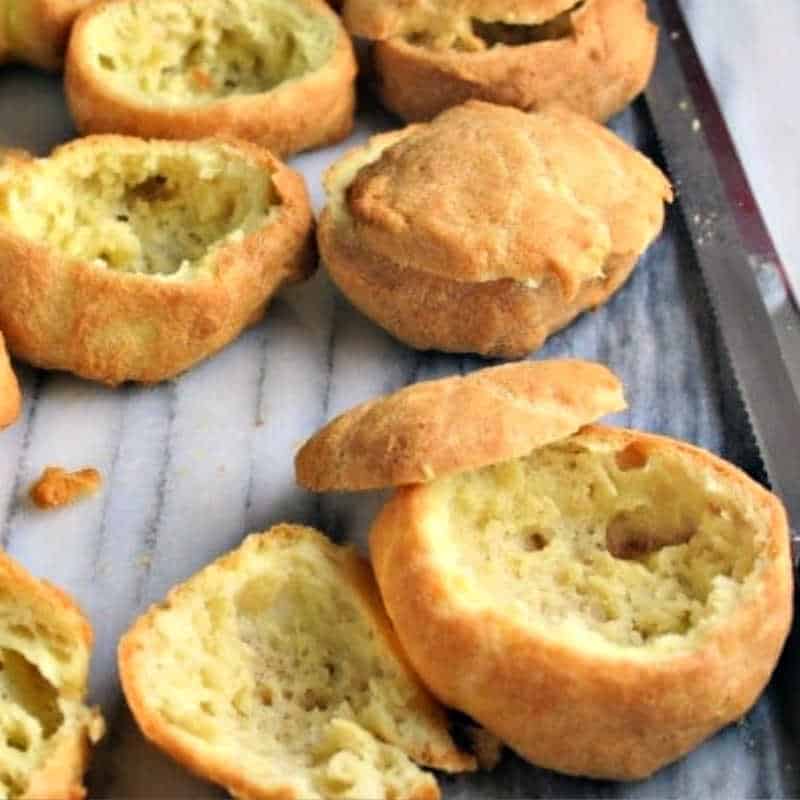 The finishing touch…
While the puffs cool, prepare the filling. Use a spoon to fill the puffs, then replace the tops. Sprinkle with powdered sugar and store in the refrigerator until ready to serve.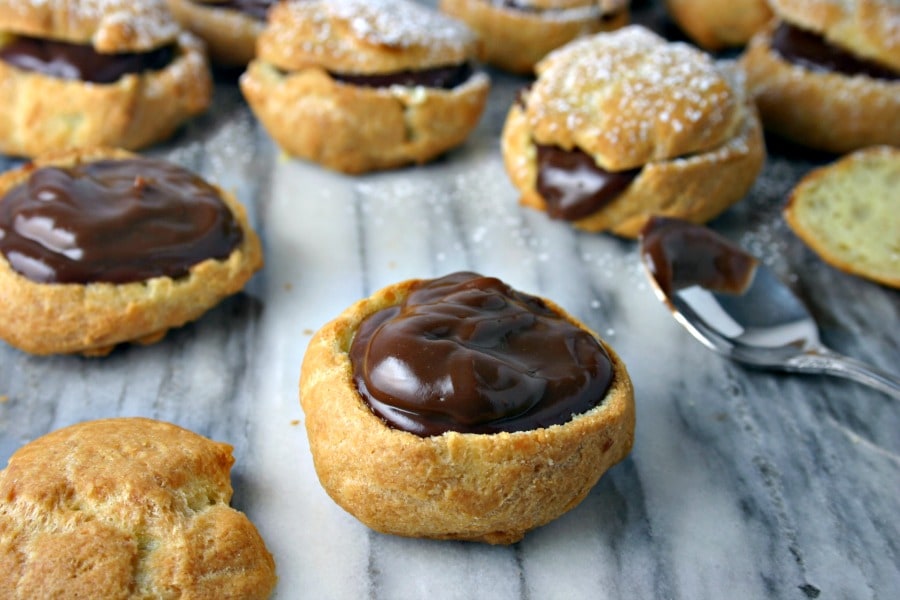 To make this recipe, you may need…
Since the hot dough is mixed by hand, I like using my GIR spatula because it is heat resistant, very sturdy, and easy to handle.
More fancy sweet treat recipes!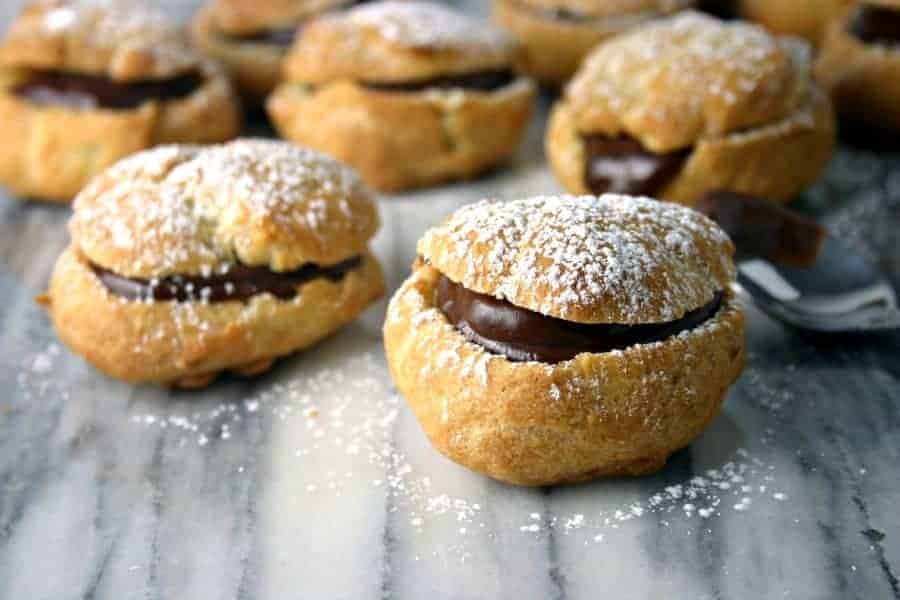 Let's bake!
This recipe includes a chocolate custard for the filling, but you may wish to experiment with lemon curd or a vanilla custard, too.
Being a confessed chocoholic, I filled my puffs with a dreamy-rich homemade chocolate custard, but they would be tasty with a cheesecake or lemon filling, too — the possibilities are endless!
Also, cream puffs are best eaten the same day as they can get soggy the longer they sit. At my house there's really no need to worry much about that — they always disappear quickly!
Please share!
Your shares are how this site grows and I appreciate each one. Do you know someone who would enjoy this recipe? I'd love it if you would share it on Facebook or on your favorite Pinterest board!
Last Updated: 14 Feb 2020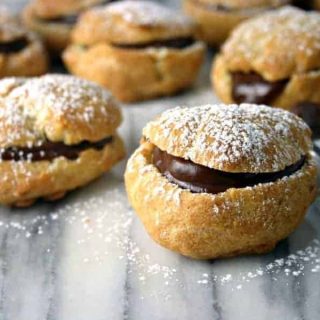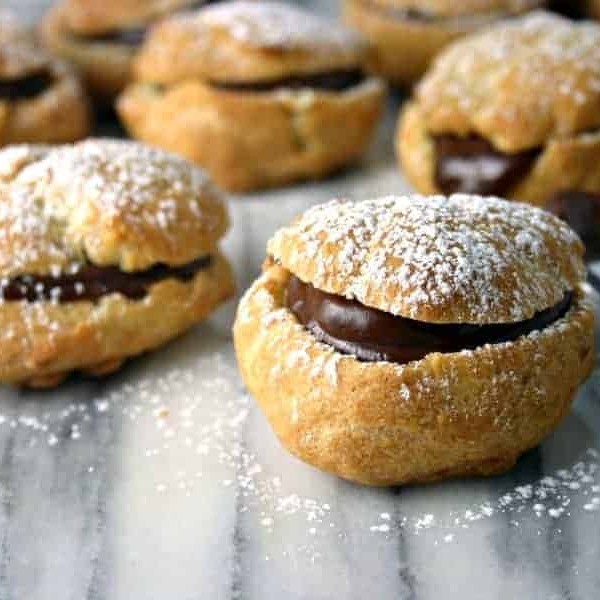 Cream Puffs & Chocolate Custard
Cream Puffs with Chocolate Custard – light an airy pastry with a decadent chocolate filling.
Ingredients
Cream Puffs
1

cup

water

1/2

cup

butter

1/4

teaspoon

salt

1

cup

unsifted all-purpose flour

4

large

eggs
Chocolate Custard
1 1/4

cups

sugar

1/3

cup

cocoa

1/3

cup

cornstarch

1/4

teaspoon

salt

3

cups

milk

3

large

egg yolks

slightly beaten

2

tablespoons

butter or margarine

1 1/2

teaspoons

vanilla
Instructions
Cream Puffs
Preheat oven to 400 degrees.

In a medium saucepan, bring water, butter, and salt to a rolling boil. Add the flour all at once and stir vigorously over low heat for about a minute or until a dough is formed and leaves the side of the pan.

Remove from heat and make a well in the middle of the dough. Add the eggs one at a time by cracking an egg into the dough and beating by hand until the dough is smooth and velvety before adding the next egg.

Drop the dough onto an ungreased cookie sheet–about 1/4 cup per puffs–and bake for 35-40 minutes or until puffed and golden.

While still warm, slice off the tops. Remove the soft dough inside and allow to completely cool before filling with prepared custard.

Replace tops and sprinkle with powdered sugar. Chill until ready to serve.
Chocolate Custard
In a medium saucepan, combine sugar, cocoa, cornstarch, and salt. Add milk and bring to a boil over medium heat, stirring constantly.

Boil and stir for another minute. Remove from heat.

Add a small amount of the chocolate mixture into the beaten egg yolks, stirring well. Add the egg mixture back to the chocolate mixture in the saucepan.

Stir and heat again just until boiling. Remove from heat and add butter and vanilla.

Pour into a bowl and press plastic wrap directly on the surface of the custard. Cool completely.
Notes
The chocolate custard may be made a day ahead of time and refrigerated until ready to use.
To make miniature cream puffs, drop the dough by level teaspoons onto ungreased cookie sheet and bake for just 15 minutes.
Source: Hershey's Chocolate Cookbook, 1989
Nutrition
Serving:
1
g
Calories:
232
kcal
Carbohydrates:
20
g
Protein:
7
g
Fat:
14
g
Saturated Fat:
8
g
Polyunsaturated Fat:
5
g
Cholesterol:
138
mg
Sodium:
223
mg
Fiber:
1
g
Sugar:
4
g