This post may contain affiliate links. Please read my disclosure policy.
Today, we're getting pretty fancy by making a decadent French pâte à choux—which translates to "pastry shaped like a cabbage." But you may know them better as Cream Puffs with Chocolate Custard — light and airy pastry with a decadent chocolate filling. Don't worry! These sweet treats taste nothing like cabbage!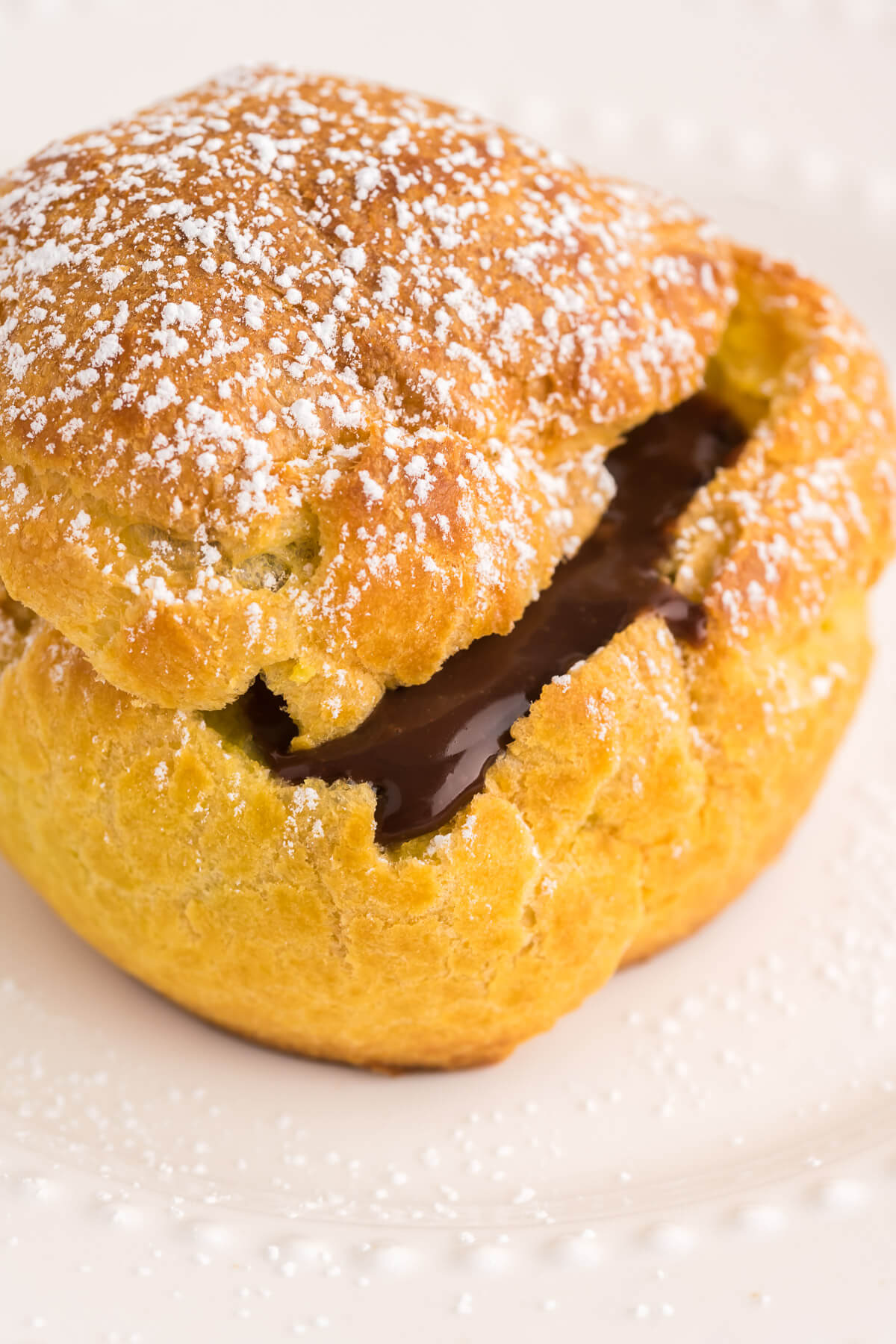 Light and airy, cream puffs start with a dough cooked on the stove. Once they are baked, the tops are sliced off, and the soft centers are removed to make a well for the sweet chocolate filling.
Being a confessed chocoholic, I filled my puffs with creamy and rich homemade chocolate custard, but they would be tasty with a cheesecake, lemon, or vanilla filling, too — the possibilities are endless!
Finally, top off your delicious chocolate cream puffs with a sprinkle of powdered sugar — YUM!
Warning: These tasty treats will be devoured right before your eyes!
You probably guessed it. I have plenty more recipes for my fellow chocolate lovers! Try these decadent Malted Mousse Brownies, my Chocolate Chess Pie, or this delicious Chocolate Pudding Cake.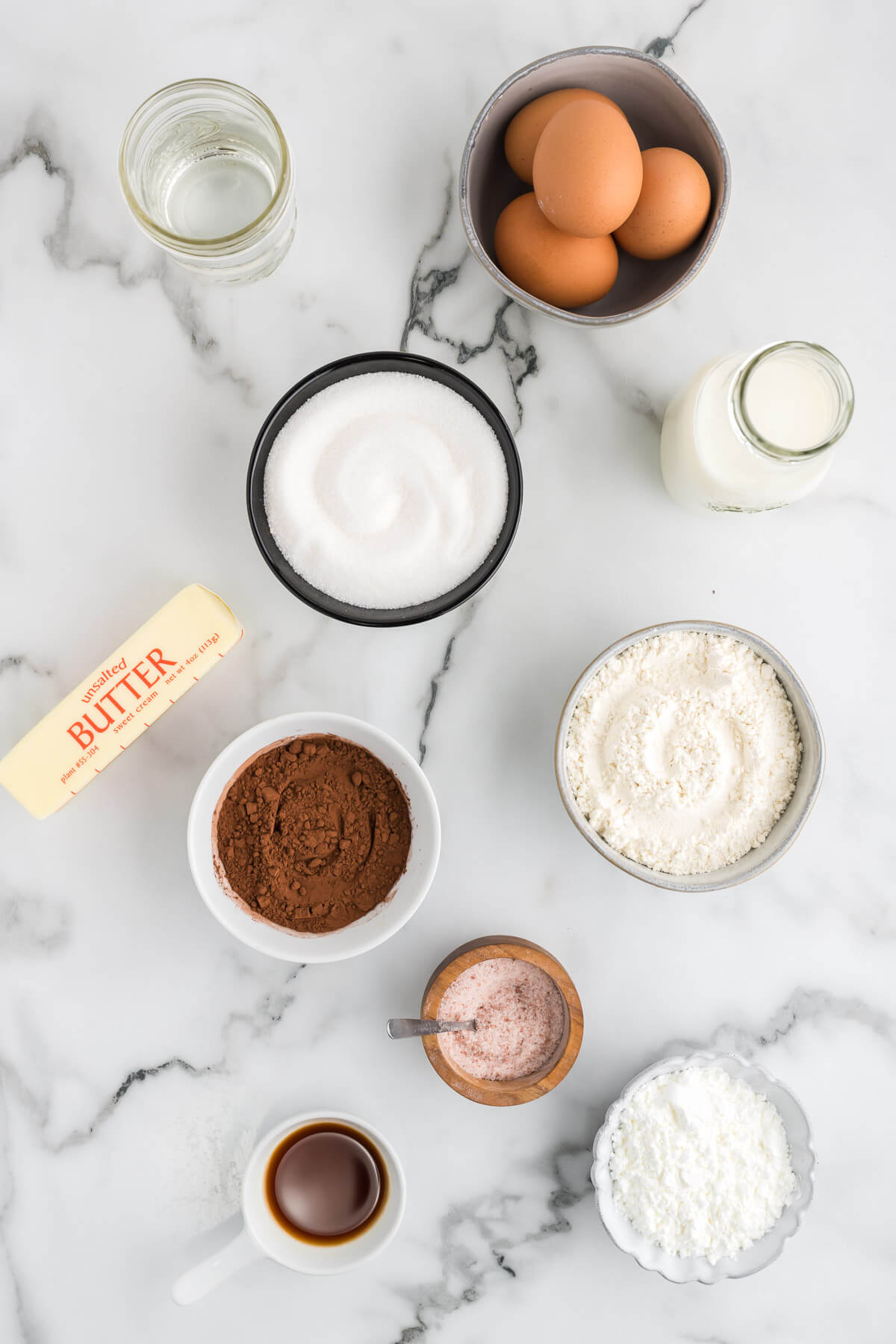 Key ingredients & substitutions for Chocolate-Filled Cream Puffs
Cream Puffs
Water | Water is one of the most vital ingredients for cream puff dough. The water produces steam as the puffs bake, making them fluffy and light. If preferred, you may use half water and half milk instead.
Butter | Add butter to the recipe to make the puffs creamy and bring more moisture to the dough.
Salt | Just a dash of salt enhances the recipe's sweeter notes.
Flour | A little bit of flour gives the puffs some structure.
Eggs | Eggs also help the pastry dough to become airy. Set them out, so they are room temperature.
Chocolate Custard
Sugar | Make your chocolate filling nice and sweet by adding just the right amount of granulated sugar.
Cocoa | You want the custard to have a rich chocolatey flavor. Cocoa powder gives it an authentic chocolate taste.
Cornstarch | Cornstarch helps to thicken the sweet cream puff filling.
Salt | Sprinkle in a pinch of salt to bring the sweeter flavors to life! 
Milk | While any milk will work, this custard is extra creamy and rich when you use whole milk. If desired, substitute the milk with a dairy-free alternative, like coconut, oat, or almond milk.
Egg yolks | Make the chocolate filling silky smooth by mixing the ingredients with slightly beaten egg yolks.
Butter | Use butter or margarine to deepen the flavor of the custard.
Vanilla | Vanilla extract brings a rich and creamy taste to the chocolate pastry cream. For a more robust flavor, use bourbon vanilla extract. Of course, you can swap the vanilla for almond extract.
How to make Homemade Cream Puffs
Making cream puffs can be a little intimidating. But, with this easy recipe, you should have no trouble. Follow each step closely, and you'll be proud of the delicious results!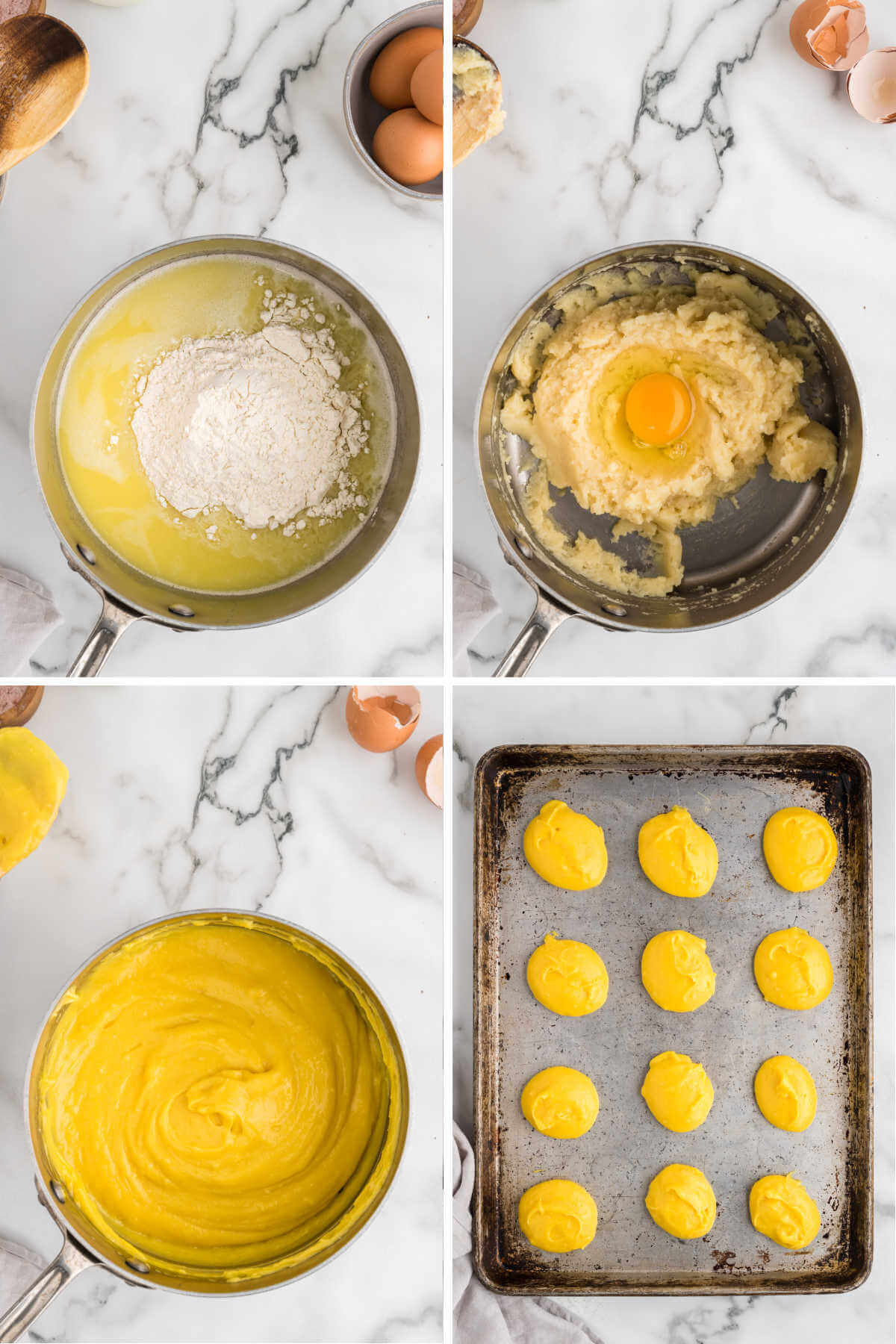 STEP 1 | Make the dough
Before you begin, preheat the oven to 400 degrees F so it is ready when you are.
Now let's get into the recipe! Grab a medium saucepan and add the water, butter, and salt. Bring the ingredients to a rolling boil.
Next, carefully add the all-purpose flour to the pan all at once. Set the heat to low and stir the ingredients vigorously for about a minute.
When the dough is formed and leaves the side of the pan, immediately remove it from the heat. Overcooking the dough can be a huge mistake for this cream puff recipe. So, be sure to pay close attention and act quickly!
tip
Since the hot dough is mixed by hand, I like to use my GIR Spatula because it is heat resistant, very sturdy, and super easy to handle.
STEP 2 | Add the eggs one at a time
Then, make a well in the middle of the dough. Add just one egg at a time by cracking it into the well and beating it by hand.
Once the dough is velvety smooth, and the egg is thoroughly mixed in, add the next egg. Continue the process for the remaining three eggs.
IMPORTANT: Avoid letting the egg hit the bottom or side of the hot pan. It will begin to cook, which is certainly not ideal for your cream puffs. Instead, break the egg directly into the well and carefully stir until incorporated.
STEP 3 | Bake
Next, set out a cookie sheet. You won't need to spray it with oil or grease it with butter.
Use a spoon to drop about ¼ cup of dough onto the baking sheet until all the dough has been used. Each drop will be an individual cream puff. Then, bake the puffs for about 40 minutes.
When they are puffy with golden brown tops, carefully remove the baking sheet from the oven.
STEP 4 | Slice the tops and cool
While the freshly baked puffs are still warm, slice off the tops with a sharp knife. Then, remove the soft dough from the center using your fingers to pinch it out. Allow each puff to cool completely.
How to make Chocolate Custard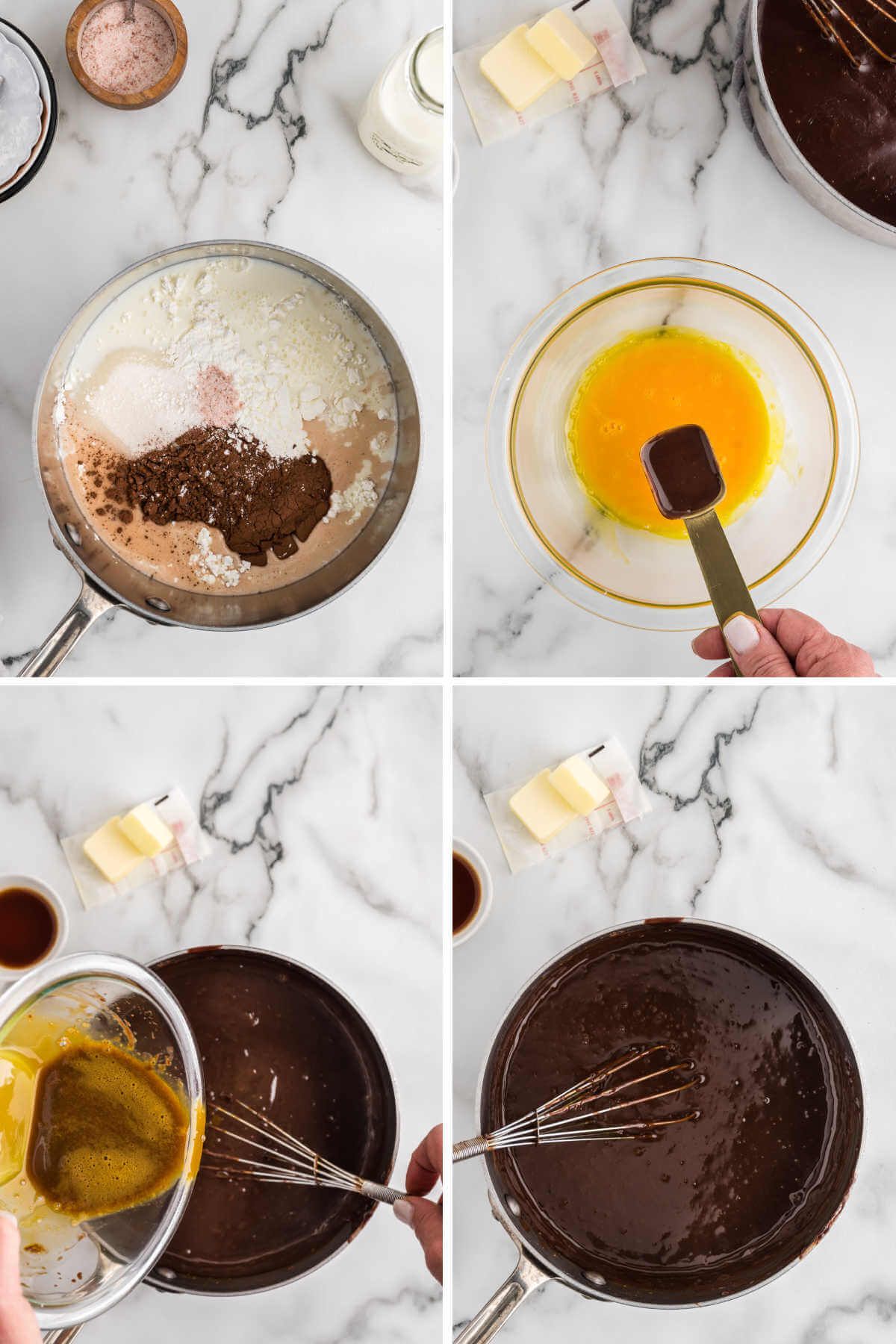 STEP 1 | Heat the filling ingredients
First, place a medium saucepan over medium heat to make your delicious custard filling. Combine the sugar, cocoa, cornstarch, and a pinch of salt.
Then, pour in the milk and bring the mixture to a boil, keeping the temperature at medium. Be sure to stir the ingredients constantly to help them heat evenly and prevent burning.
STEP 2 | Boil the custard base
Once your mixture is boiling, stir it for another minute or so. Then, remove the saucepan from the heat to add the eggs.
STEP 3 | Mix with the egg yolks
Next, add egg yolks to a medium mixing bowl and beat them slightly. Pour a small amount of the custard base into the beaten egg yolks, stirring them well.
Then, add the egg and chocolate mixture back to the remaining ingredients still in the saucepan.
Combining the egg yolks with part of the chocolate mixture without heat is critical to ensuring the eggs do not cook.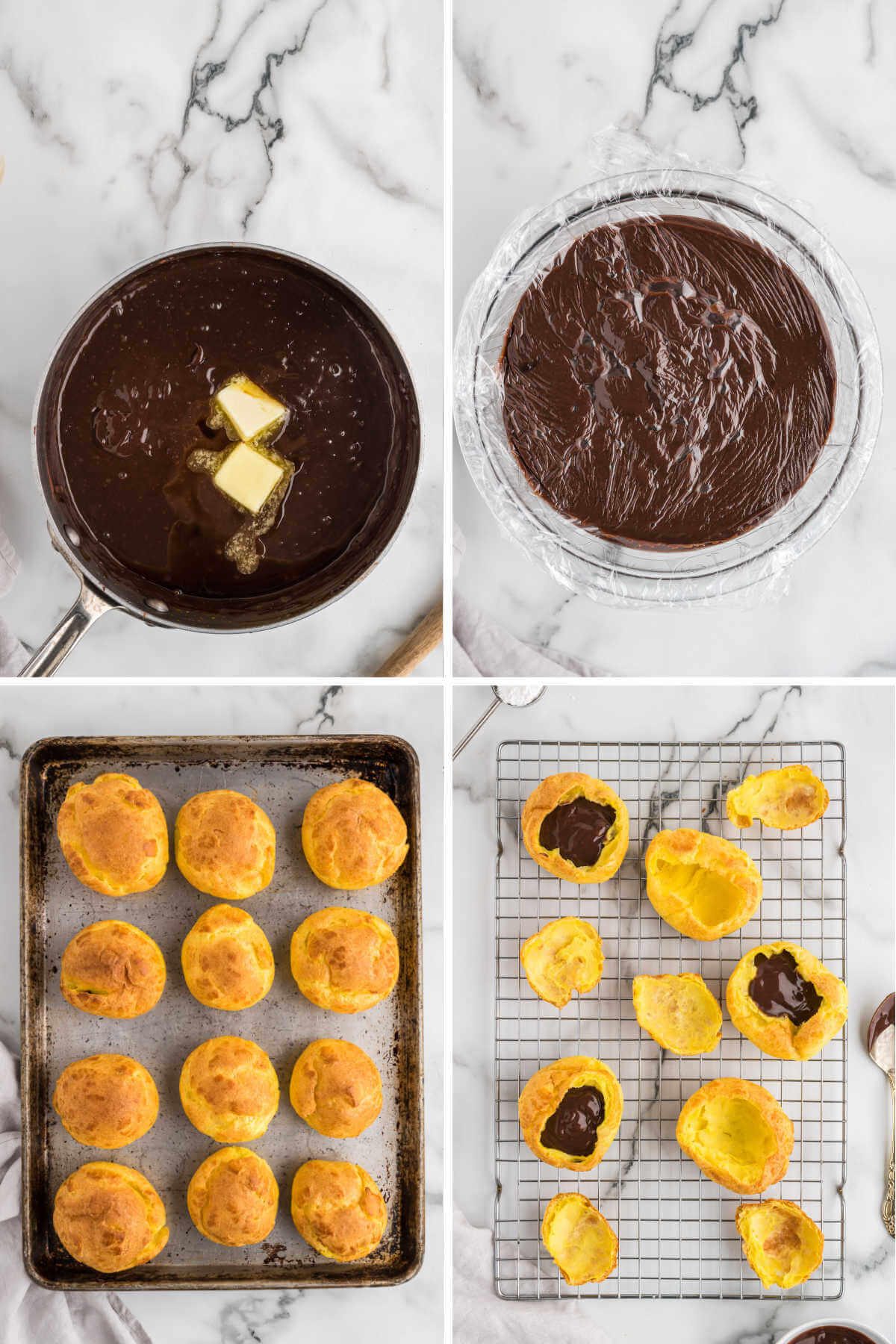 STEP 4 | Add the butter and vanilla
Stir to incorporate the eggs into the custard base and set the saucepan back onto the stovetop. Again, heat the mixture just until it boils. Then, quickly remove it from the heat to add the creamy butter and vanilla extract.
STEP 5 | Let the custard cool
Your custard is complete! All you need to do now is pour it into a bowl and press some plastic wrap directly onto the surface of the chocolate filling. Finally, allow it to cool completely before spooning it into the cream puffs.
tips
You can make the chocolate custard a day ahead of time and refrigerate it until you're ready to make the puffs and they have cooled completely.
Miniature cream puffs, anyone? How Adorable! Just drop less of the dough, about a teaspoon per puff. Then, bake for only 15 minutes.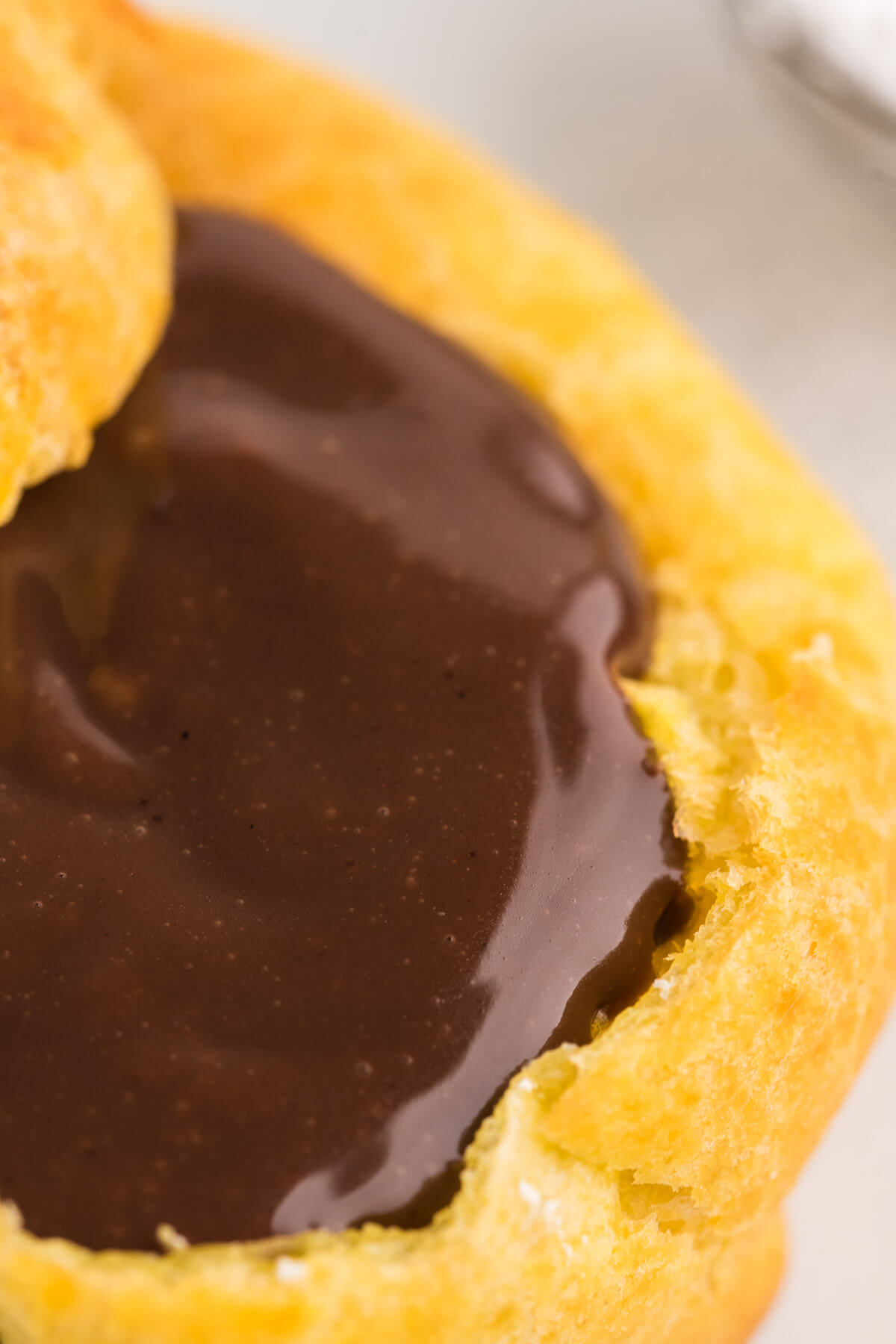 STEP 5 | Add the powdered sugar and chill
Once the custard and the cream puffs have cooled completely, use a spoon to fill each puff with the custard. Then, replace the tops and sprinkle them with sweet powdered sugar!
Finally, store the filled cream puffs in the refrigerator, so they chill some before serving. Soon, you and your guests will bite into the light, airy, and perfectly sweet cream puffs — ENJOY!
These sweet and light cream puffs are best enjoyed the same day you make them. Unfortunately, they get soggy as they sit.
However, this isn't typically a challenge. At my house, there's no way they sit too long — the chocolate-filled cream puffs always disappear quickly!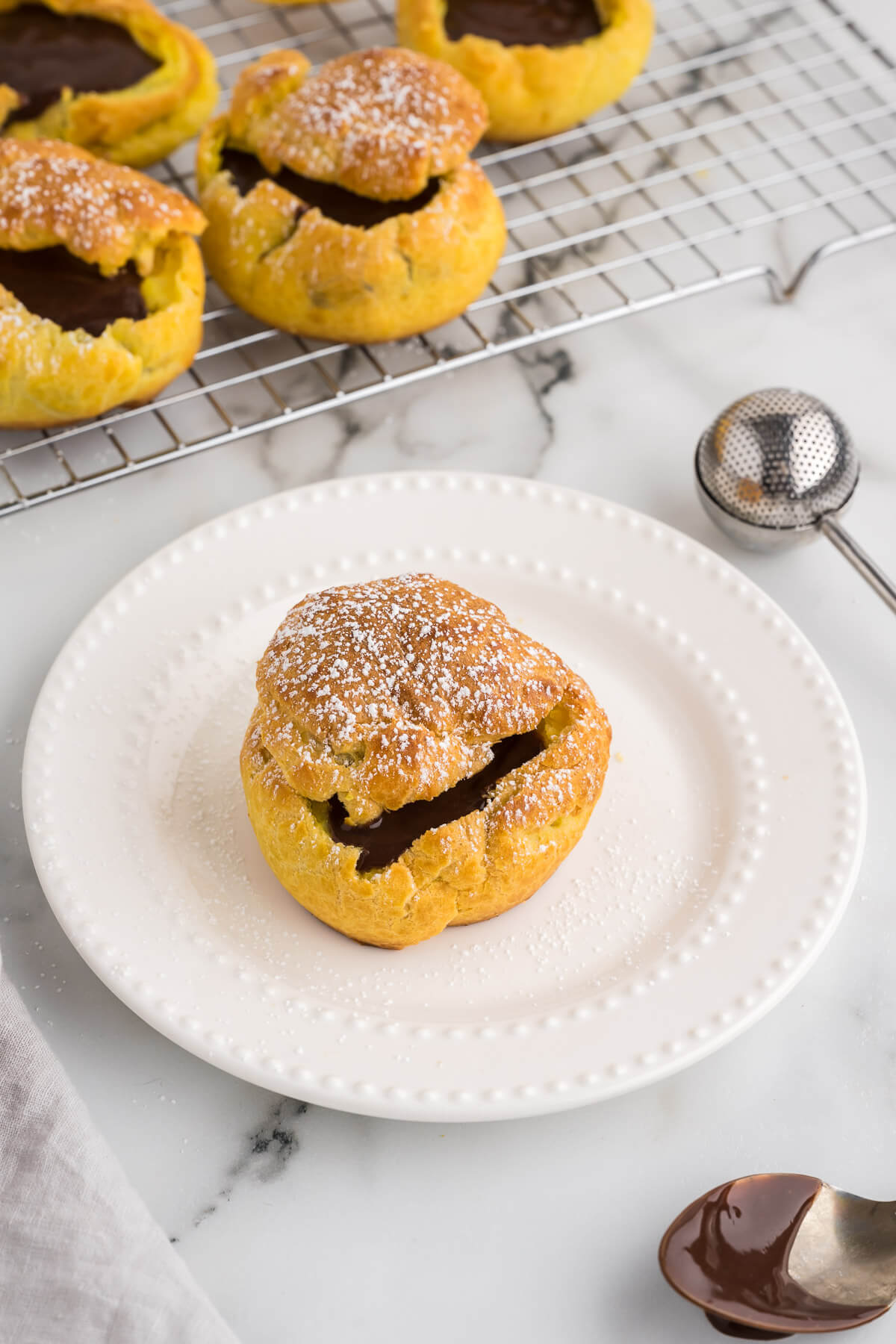 Frequently asked questions
Can you make cream puffs ahead of time?
I've mentioned how you can make the custard filling the day before you complete the recipe. But you can also make the puffs ahead of time, which comes in handy when life gets busy as it tends to do.

Up to three days before serving, you can make and store the puffs in an airtight container on the countertop. Just be sure to keep them out of direct sunlight. Make the filling a couple of days before, too. Store it in a tightly sealed container in the refrigerator.

When you're ready to serve your sweet little treats, all that's left to do is assemble them. EASY!

What is the difference between cream puffs and eclairs?
Eclairs are very similar to cream puffs. In fact, you typically make them with the same ingredients and a very similar method. The only real difference between the two is the shape. Cream puffs are round and often smaller, while eclairs are rectangular and larger in most cases. 

Of course, there are the exceptions, like extra large cream puffs or mini eclairs.

Why did my Cream Puffs deflate after I pulled them out of the oven?
These little airy puffs may collapse easily. However, some simple tips will help you prevent this from happening. First, never open the oven door as the puffs bake. The rush of air will likely cause them to collapse. Also, you want to leave plenty of space between each one.

If you stick to this simple advice and your puffs still fall in when you remove them from the oven, you may need to adjust the temperature and cooking time with the next batch. Lower the heat from 400 to 375 degrees and bake for a few extra minutes until the puffs are a light golden brown. This should solve the deflating problem.

Serving suggestions
I like to dust my cream puffs with powdered sugar. But you may also drizzle them with a glaze, dip them in melted milk chocolate, add sprinkles, or even top them with shaved chocolate if you prefer.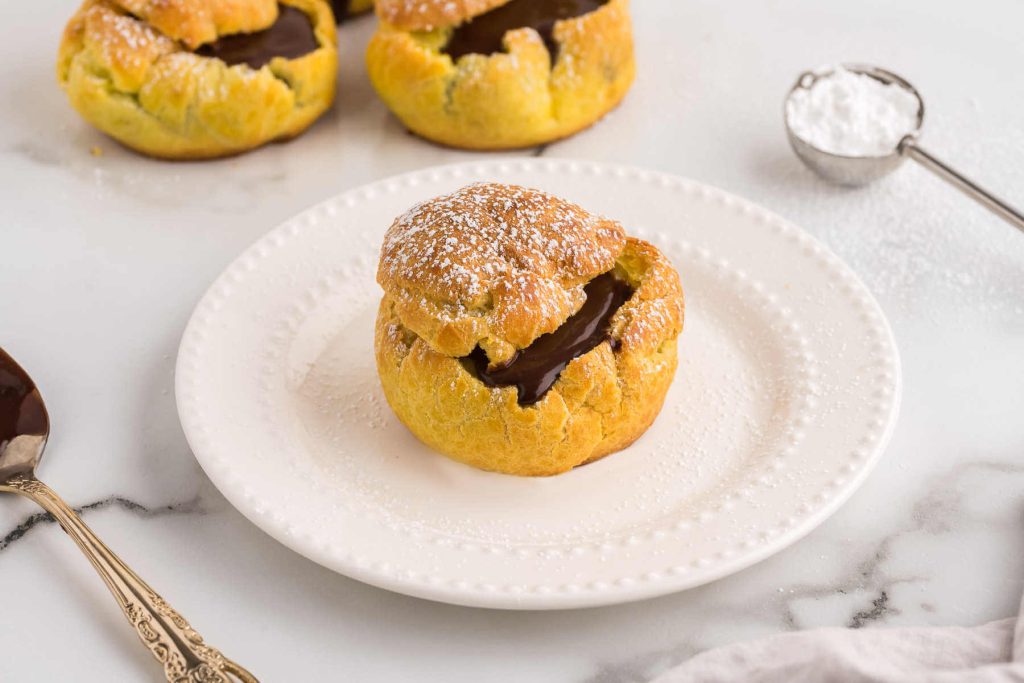 Behind the recipe: Cream Puffs with Chocolate Custard
The puffs of cream puffs, eclairs, and other similar treats are made with choux pastry dough or pâte à choux. It is a dough typically made with basic ingredients like butter, flour, water, eggs, sugar, and salt.
What makes this dough extra light and airy is the high moisture content. When the puffs bake, they create steam that evaporates, causing all the little air bubbles that make it fluffy.
Next time you make these delicious desserts, try filling them with homemade whipped cream or a fruity custard. And why stop there?
You can even fill your puffs with chilly vanilla or chocolate ice cream! Here's a fun fact—When choux pastry is filled and frozen, it's no longer considered a cream puff. Now, you've made a profiterole!
Please share!
Your shares are how this site grows, and I appreciate each one. Do you know someone who would enjoy this recipe? I'd love it if you would share it on Facebook or Pinterest!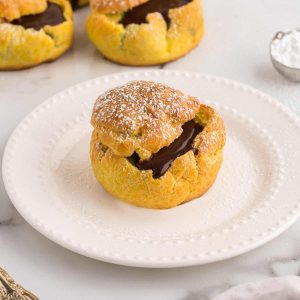 Cream Puffs & Chocolate Custard
Cream Puffs with Chocolate Custard – light and airy pastry with a decadent chocolate filling.
Ingredients
Cream Puffs
1

cup

water

1/2

cup

butter

1/4

teaspoon

salt

1

cup

unsifted all-purpose flour

4

large

eggs
Chocolate Custard
1 1/4

cups

sugar

1/3

cup

cocoa

1/3

cup

cornstarch

1/4

teaspoon

salt

3

cups

milk

3

large

egg yolks

slightly beaten

2

tablespoons

butter or margarine

1 1/2

teaspoons

vanilla
Instructions
Cream Puffs
Preheat oven to 400 degrees.

In a medium saucepan, bring water, butter, and salt to a rolling boil. Add the flour all at once and stir vigorously over low heat for about a minute or until a dough is formed and leaves the side of the pan.

Remove from heat and make a well in the middle of the dough. Add the eggs one at a time by cracking an egg into the dough and beating by hand until the dough is smooth and velvety before adding the next egg.

Drop the dough onto an ungreased cookie sheet–about 1/4 cup per puffs–and bake for 35-40 minutes or until puffed and golden.

While still warm, slice off the tops. Remove the soft dough inside and allow to completely cool before filling with prepared custard.

Replace tops and sprinkle with powdered sugar. Chill until ready to serve.
Chocolate Custard
In a medium saucepan, combine sugar, cocoa, cornstarch, and salt. Add milk and bring to a boil over medium heat, stirring constantly.

Boil and stir for another minute. Remove from heat.

Add a small amount of the chocolate mixture into the beaten egg yolks, stirring well. Add the egg mixture back to the chocolate mixture in the saucepan.

Stir and heat again just until boiling. Remove from heat and add butter and vanilla.

Pour into a bowl and press plastic wrap directly on the surface of the custard. Cool completely.
Notes
The chocolate custard may be made a day ahead of time and refrigerated until ready to use.
To make miniature cream puffs, drop the dough by level teaspoons onto ungreased cookie sheet and bake for just 15 minutes.
Source: Hershey's Chocolate Cookbook, 1989
Nutrition
Serving:
1
g
Calories:
232
kcal
Carbohydrates:
20
g
Protein:
7
g
Fat:
14
g
Saturated Fat:
8
g
Polyunsaturated Fat:
5
g
Cholesterol:
138
mg
Sodium:
223
mg
Fiber:
1
g
Sugar:
4
g
Life Love and Good Food does not claim to be a registered dietician or nutritionist. Nutritional information shared on this site is only an estimate. We recommend running the ingredients through an online nutritional calculator if you need to verify any information.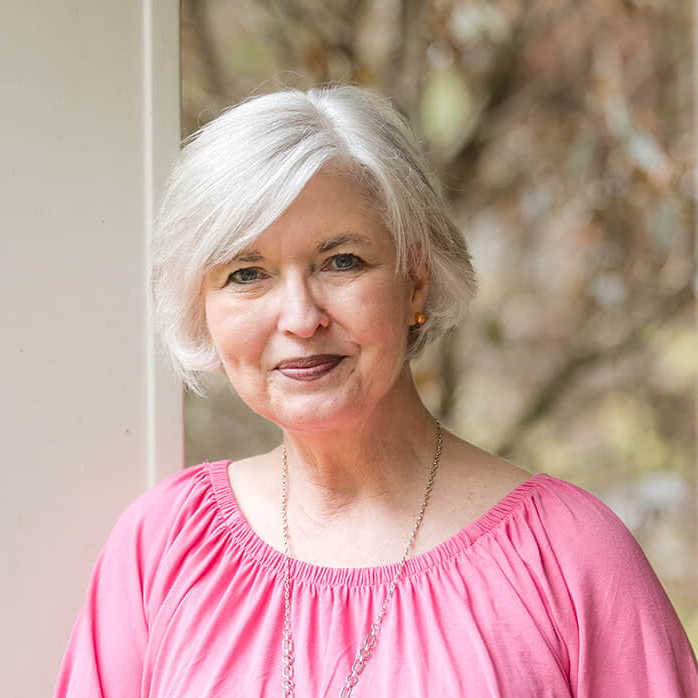 About Sheila Thigpen
Recipe Developer, Food Photographer, Food Writer
Sheila Thigpen is the publisher of Life, Love, and Good Food — a Southern food blog — and the author of Easy Chicken Cookbook and The 5-Ingredient Fresh and Easy Cookbook. After 20+ years in the publishing industry, she retired in 2018 to focus on her own creative endeavors full time. She and her husband live near the beautiful Smoky Mountains and have a precious little granddaughter who has stolen their hearts. As an influencer, Sheila has collaborated with brands like Creamette, Kroger, HERSHEY'S, Hamilton Beach, Garafalo Pasta, OXO, Smithfield, Valley Fig Growers, and more.