Soft, flaky, and slightly sweet, Fresh Strawberry Scones with Dark Chocolate Drizzle are made from a basic scone recipe that works for all kinds of berries. Serve these scones warm from the oven with a cup of coffee or tea for a tasty breakfast, brunch, or afternoon treat.
Delicious all on their own, the chocolate drizzle is optional, but why not? Strawberries and chocolate were meant for each other, right?! In my opinion, this combination is heavenly.
Laden with sweet strawberries, brushing the tops of these melt-in-your-mouth scones with heavy cream and a dusting of sugar results in a beautiful golden-brown crust.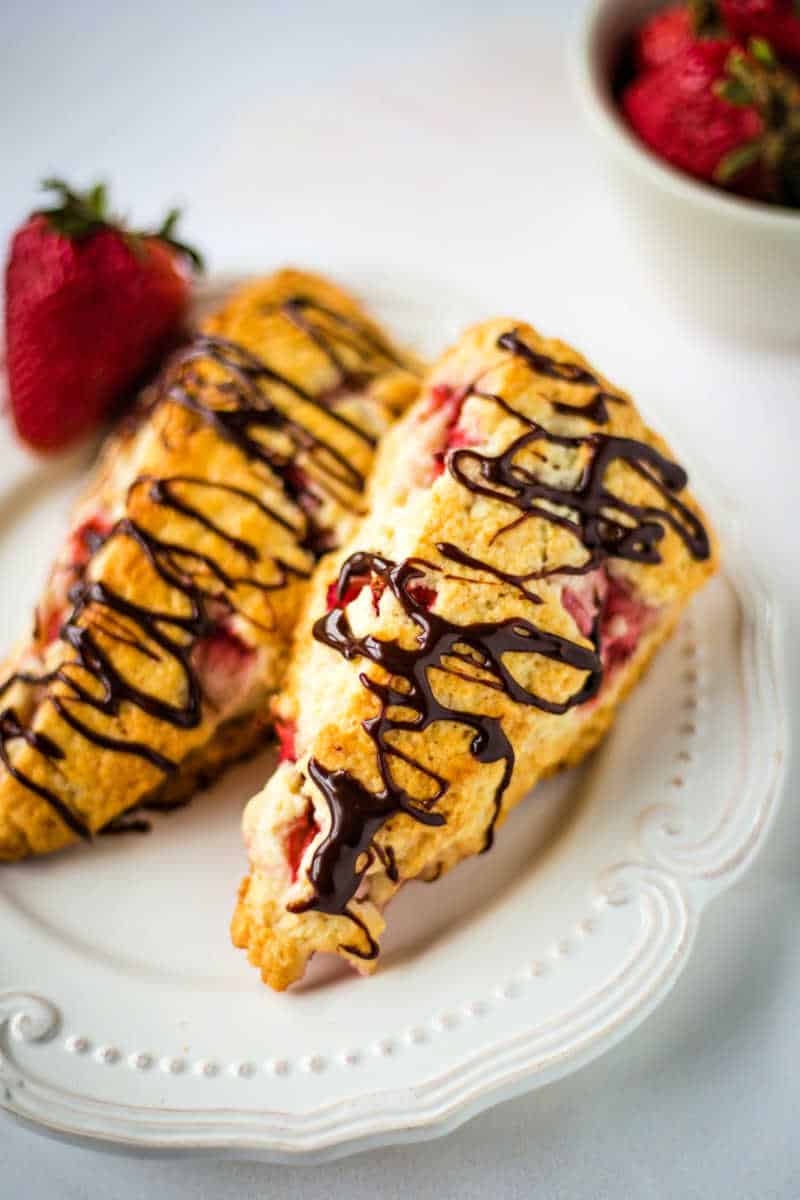 Fresh strawberry scones
Fresh Strawberry Scones, a cup of coffee flavored with vanilla cream, and warm sunshine. Now, that's what I call the beginning of a beautiful day!
When I'm in a baking mood, scones — sweet or savory — are one of my favorite things to make. I almost always have the basic ingredients for scone batter (flour, sugar, butter, and cream) and love that it's easy vary most scone recipes by simply adding fresh or dried fruit and nuts.
Let me challenge you, if you haven't baked scones at home before, give it a try! You'll be hooked!
Tips for making perfect scones
Start with really cold butter. Better yet, use frozen butter and use a box grater to shave it directly into your bowl of dry ingredients. Starting with cold ingredients will give your scones a better rise.
Don't over mix the dough. This is a rule that applies to most quick breads. Don't worry about getting a smooth dough — lumps or a shaggy dough is actually a good thing!
Freeze fresh fruit. If you are using fresh fruit, be sure to rinse, drain, and dry it well. You don't want soggy fruit messing with your scone dough. A good trick is to prep the fruit and put it in the freezer while you mix up the dough, then fold it in at the last minute.
Use a pastry scraper. Avoid sawing the dough with a serrated knife, instead use a pastry scraper (or large flat knife) and press straight down to cut the dough into wedges.
Chill the dough before baking. After shaping the dough and cutting it into wedges, pop them in the freezer for five minutes before baking. This relaxes the gluten and keeps the butter from melting ahead of baking so you get a tender and flaky texture.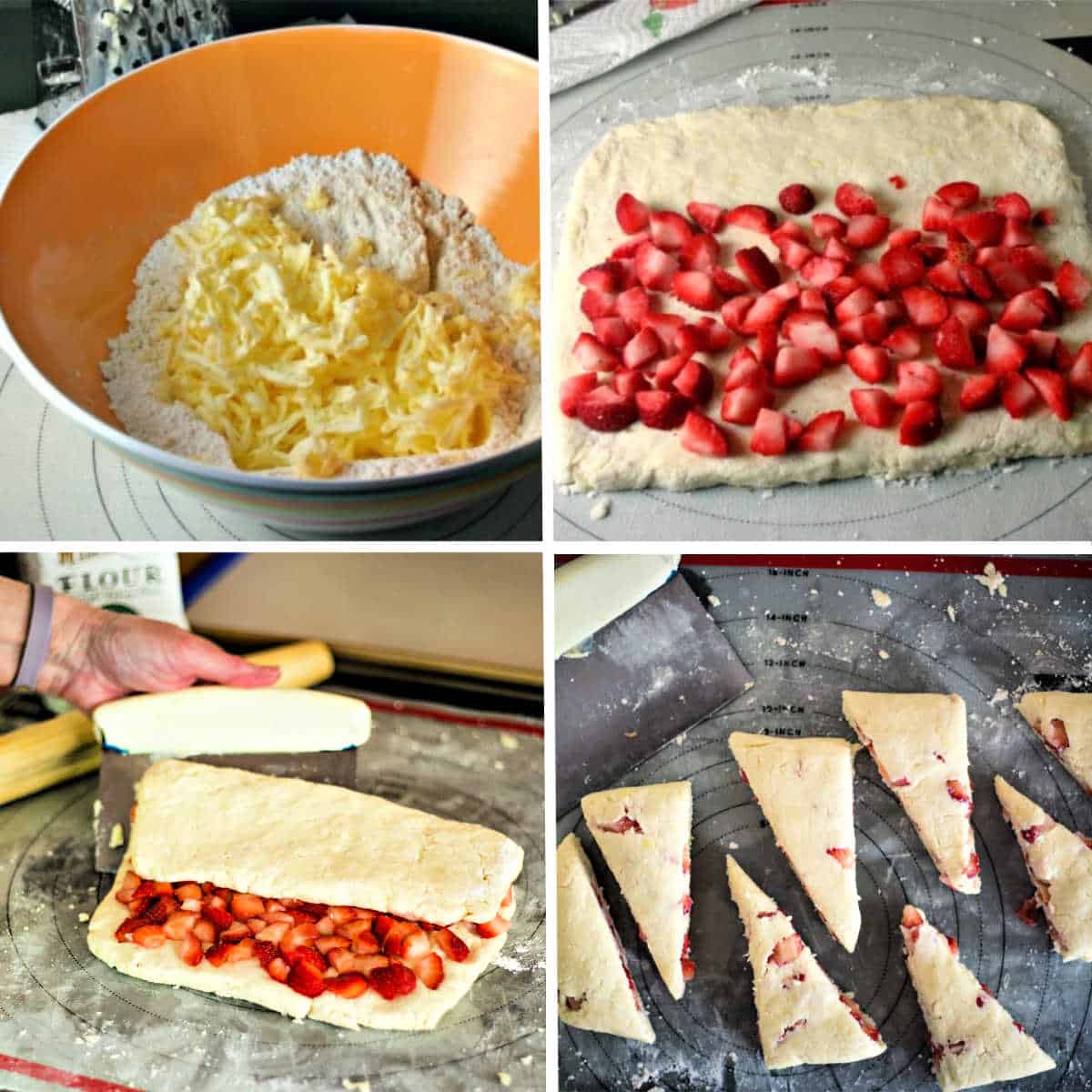 Instructions
Since we use fresh fruit in this scone recipe, instead of folding it into the dough (like you would with dried fruit) it gets pressed in when you shape the dough. Here's how to do that:
Roll or shape the dough into a rectangle on a floured surface.
Sprinkle frozen diced strawberries on the bottom two-thirds of the rectangle. Remember, we're keeping it all good and cold before popping our scones into a hot oven!
Starting at the one-third without the berries, use a pastry scraper or a large spatula to gently fold the dough over the fruit, then fold it over again (pressing in the fruit as needed). The goal is to make a log that is one-third the original rectangle width.
If the dough crumbles a little, just press it together gently and continue until you have a shaped log about one-inch thick.
Slice the log into four equal pieces and then slice each piece diagonally to make eight triangles.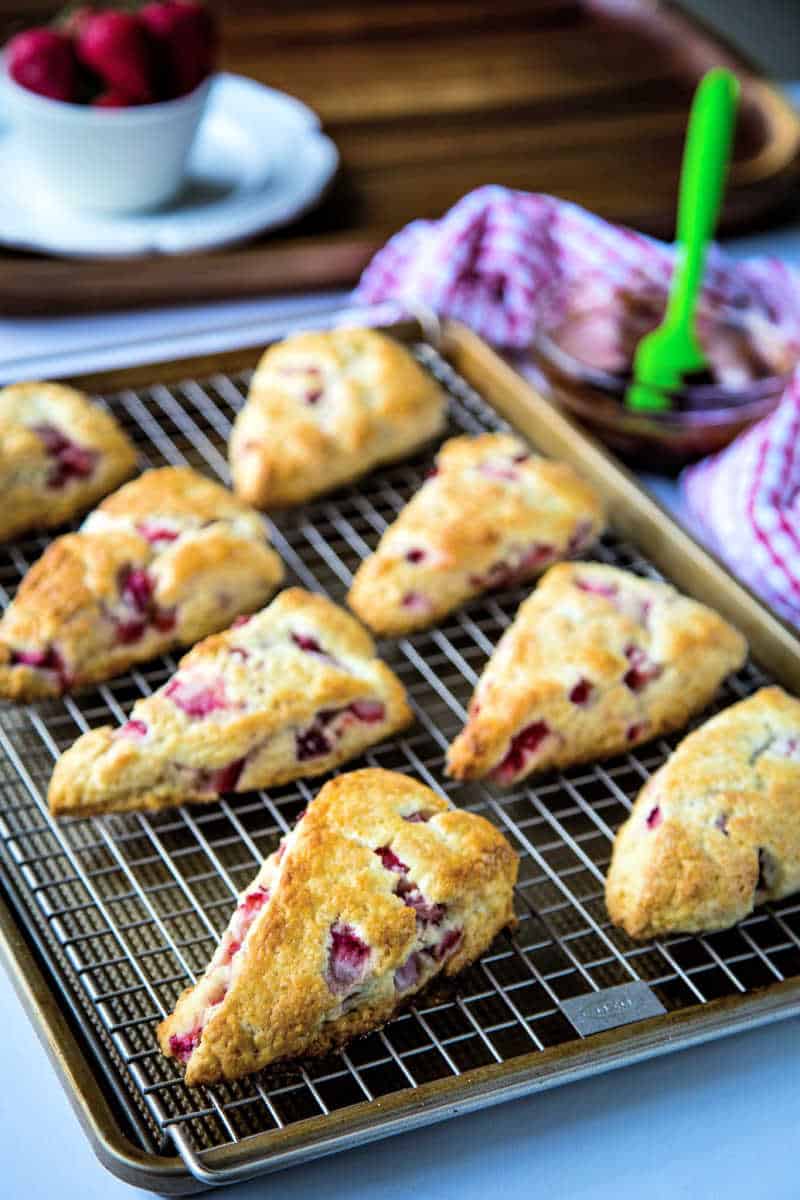 Recipe variations
Instead of the fresh strawberries and the dark chocolate drizzle, you many enjoy one of these other tasty scone variations:
Use fresh blueberries and make a lemon glaze by combining 1 cup of powdered sugar with 2 tablespoons fresh squeezed lemon juice.
Use fresh diced peaches and make a powdered sugar drizzle by combining 1/2 cup powdered sugar with 1 tablespoon heavy cream.
Substitute raspberries for the strawberries, but still drizzle with the dark chocolate found in the recipe below.
To make this recipe, you may need…
My favorite baking sheet is this OXO Good Grips Non-Stick half sheet pan. I also love the non-stick cooling rack which fits right in the pan and is perfect for making bacon in the oven, too!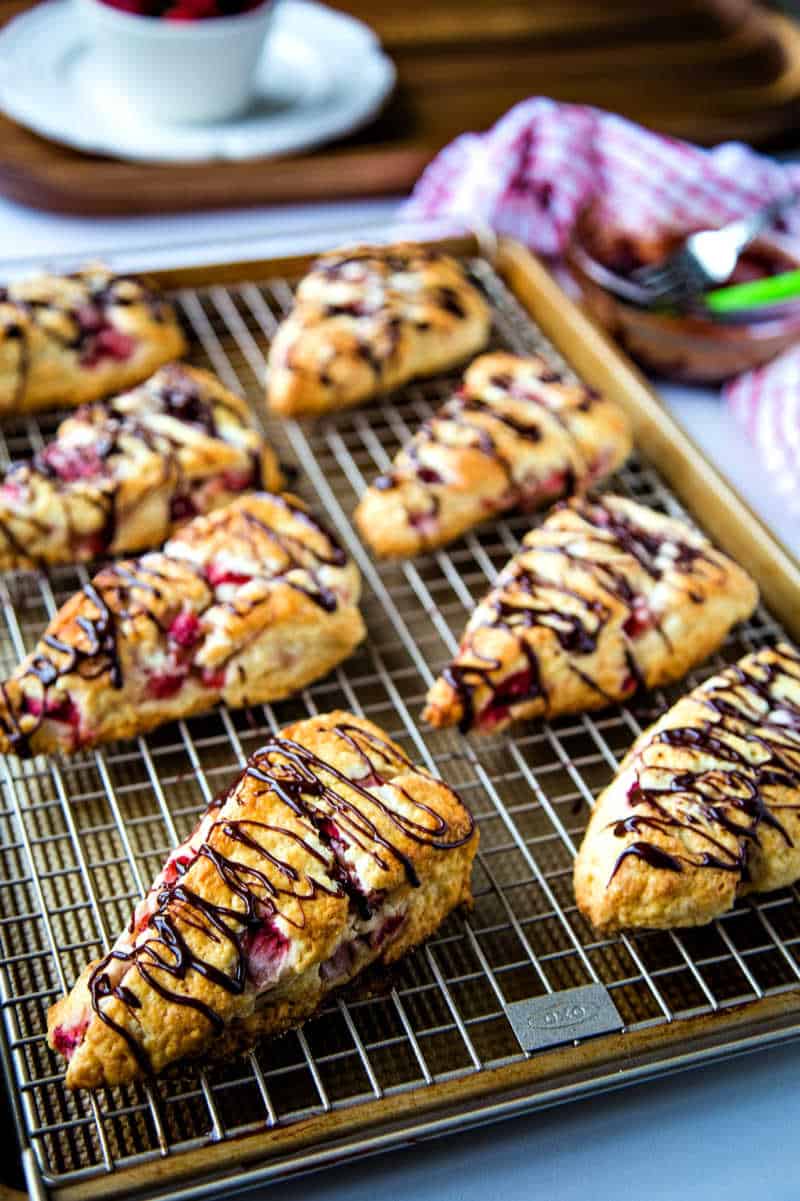 Related recipes
This delicious homemade Strawberry Bread is jam-packed with fresh strawberries and toasted pecans and served with a smear of whipped strawberry butter.
Strawberries aren't just for dessert, they're also delicious in these breakfast Strawberry Muffins made with oat "flour" and low-fat yogurt.
Low-fat Strawberry Vanilla Yogurt Pops — Believe it or not, a dash of freshly ground black pepper brings out the natural sweetness of strawberries in this low-fat, low-carb treat.
Let's bake!
Bake Fresh Strawberry Scones on a parchment-lined baking sheet and save the parchment paper to use under a wire rack when you drizzle the scones with the chocolate glaze. I'm all about easy clean-up, what about you?
Please share!
Your shares are how this site grows and I appreciate each one. Do you know someone who would enjoy this recipe? I'd love it if you would share it on Facebook or on your favorite Pinterest board!
First Published: April 2, 2015. Last Updated: April 23, 2020
Yield: 8 servings
Fresh Strawberry Scones with Dark Chocolate Drizzle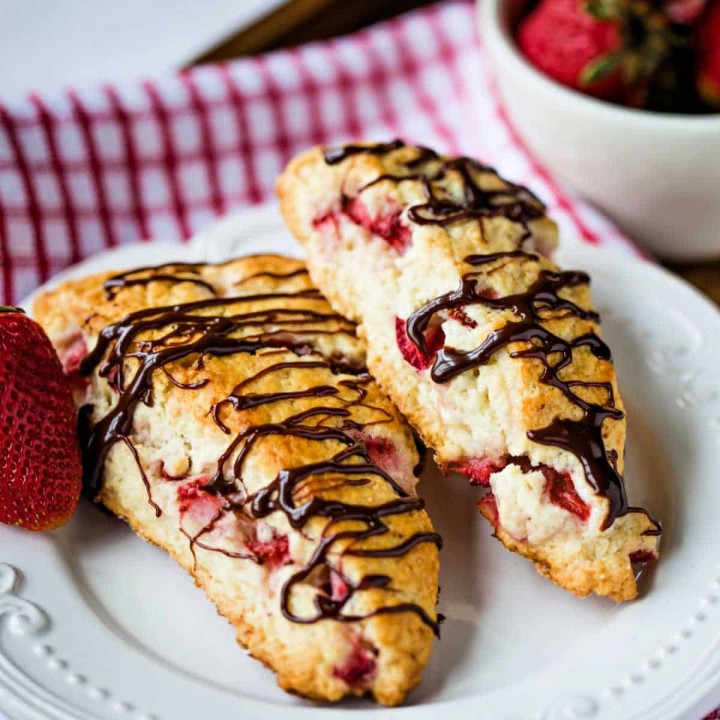 Soft, flaky, and slightly sweet, Fresh Strawberry Scones with Dark Chocolate Drizzle are made from a basic scone recipe that works for all kinds of berries.
Additional Time
5 minutes
Ingredients
Scones
1 cup fresh strawberries, diced
2 cups self-rising, plus more as needed
1/4 cup sugar + 1 tablespoon
1 teaspoon grated lemon zest
8 tablespoons unsalted butter (frozen)
1 cup heavy cream + 1 tablespoon
Dark Chocolate Drizzle
1/3 cup chocolate chips
1 tablespoon milk
Instructions
Scones
Preheat the oven to 400 degrees. Line a baking sheet with parchment paper or a silicone baking mat. Place the fresh diced strawberries in the freezer while you assemble the dough.
Combine the flour, 1/4 cup sugar, and lemon zest in a large bowl. Use a box grater to grate frozen butter into the bowl. Combine the butter and flour mixture with a fork just until the butter is incorporated.
Pour in 1 cup heavy cream and mix until a shaggy dough has formed (not all of the flour will be incorporated).
Turn the dough and loose flour out onto a work surface and knead until most of the flour is incorporated and the dough just holds together (don't over do it!). Roll or pat the dough into an 8-by-10-inch rectangle.
Remove the strawberries from the freezer and sprinkle in a single layer over the lower two-thirds of the rectangle, pressing into the dough.
Starting with the top third, fold the dough lengthwise into thirds, pressing on the layers as you go (use a spatula or pastry scraper if the dough sticks to the work surface).
Flour the rolling pin again and gently roll the dough into an even 1-inch-thick block. If the ends become tapered, square them with your hands. Slice the dough crosswise (do not saw back and forth) into 4 equal pieces. Cut each piece diagonally to form 2 triangles.
Transfer the scones to a floured plate and place in the freezer for 5 minutes.
Remove the scones from the freezer and place on the baking sheet 2 inches apart. Brush tops with the 1 tablespoon cream and sprinkle with 1 tablespoon sugar.
Bake until golden brown on the top and bottom, about 20 minutes. Let cool 5 minutes on the baking sheet, then transfer to a wire rack to cool completely before glazing.
Glaze
Place chocolate chips and milk in microwave-safe bowl and heat for 30 seconds at 50% power. Stir, then heat for 30 more seconds at 50% power. Stir until smooth and drizzle over top of the cooled scones.
Notes
Adapted from recipe by Amy Wisniewski
Bake Fresh Strawberry Scones on a parchment-lined baking sheet and save the parchment paper to use under a wire rack when you drizzle the scones with the chocolate glaze. I'm all about easy clean-up, what about you?
Recommended Products
As an Amazon Associate and member of other affiliate programs, I earn from qualifying purchases.
Nutrition Information:
Yield:
8
Serving Size:
1 Servings
Amount Per Serving:
Calories:

274
Total Fat:

24g
Saturated Fat:

15g
Trans Fat:

0g
Unsaturated Fat:

8g
Cholesterol:

58mg
Sodium:

10mg
Carbohydrates:

17g
Fiber:

1g
Sugar:

16g
Protein:

1g