This post may contain affiliate links. Please read my disclosure policy.
You'll love the heavenly aroma that fills your kitchen while this is baking! It's especially delicious served warm from the oven with a "schmear" of whipped strawberry butter.
Strawberry bread is jam-packed with fresh berries and toasted pecans. Serve up a slice or two with a smear of whipped strawberry butter!
Extremely moist, full of flavor, and super easy to make — this strawberry quick bread recipe is perfect for a weekend brunch or even a simple dessert.
Because quick breads freeze so well and are perfect for sharing with friends, I've come up with quite a few options! Enjoy cranberry orange or cherry chocolate chunk for a burst of tartness, or stick with classics like pumpkin or zucchini.
I also have a delicious blueberry jam recipe that would make a wonderful addition to this loaf. Combine the two flavors for a patriotic look, or swap out the berries entirely!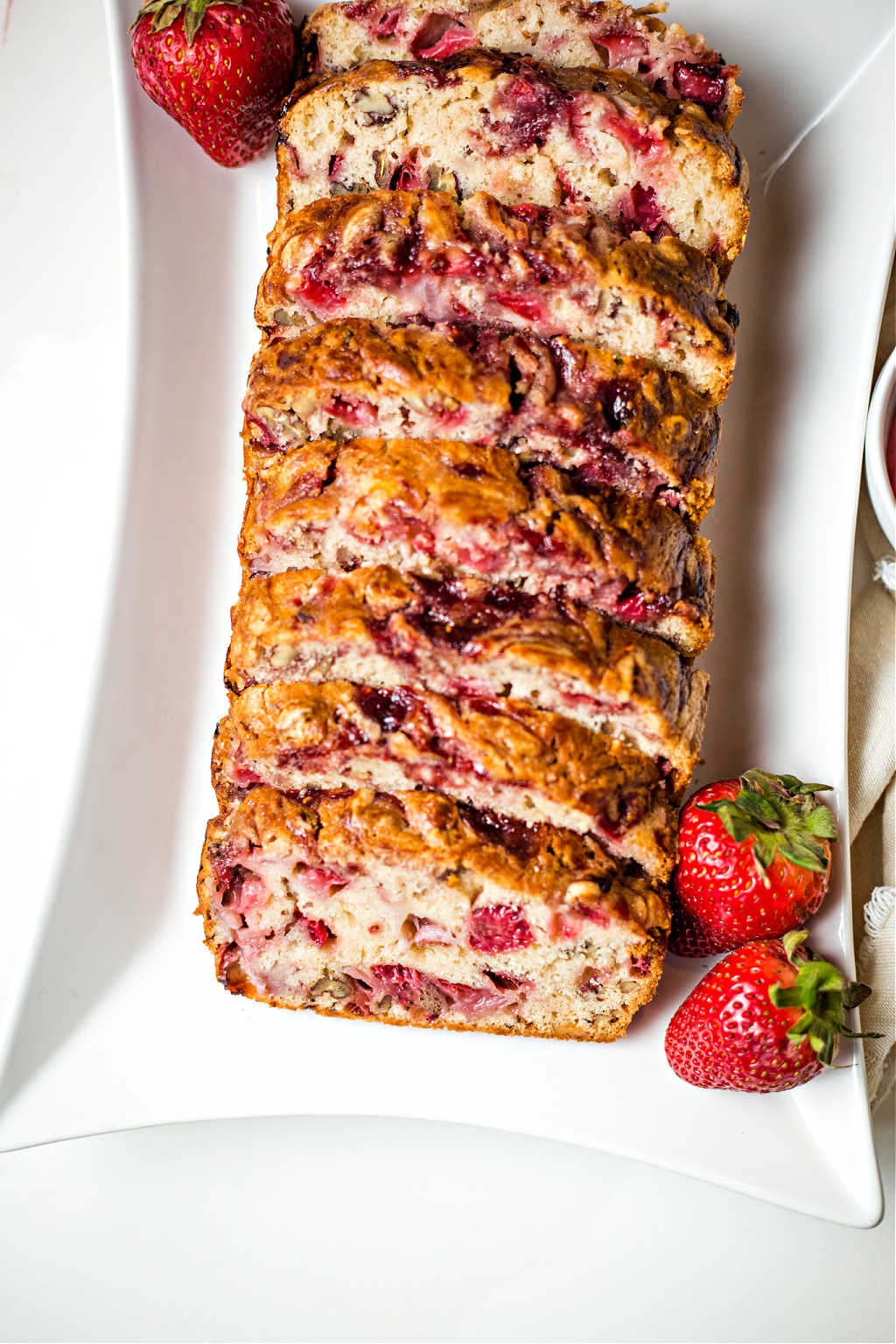 Key ingredients and substitutions
Flour — While I haven't tried it myself, you should be able to use a 1:1 gluten-free alternative without any issues.
Berries — I recommend using fresh since frozen becomes too soggy once thawed.
Jam — Use your favorite store bought or homemade variety, but make sure it's seedless!
Special supplies needed
Loaf pan. Heats evenly, doesn't warp, and the handles make it easy to transfer in and out of the oven.
Mixing bowls. Not only does the simple design complement any kitchen, but these are sturdy with grips on the bottom to hold them in place.
Electric mixer. Since the amounts for the whipped butter are so small, stick with a handheld version instead of lugging out your stand mixer.
How to make strawberry nut bread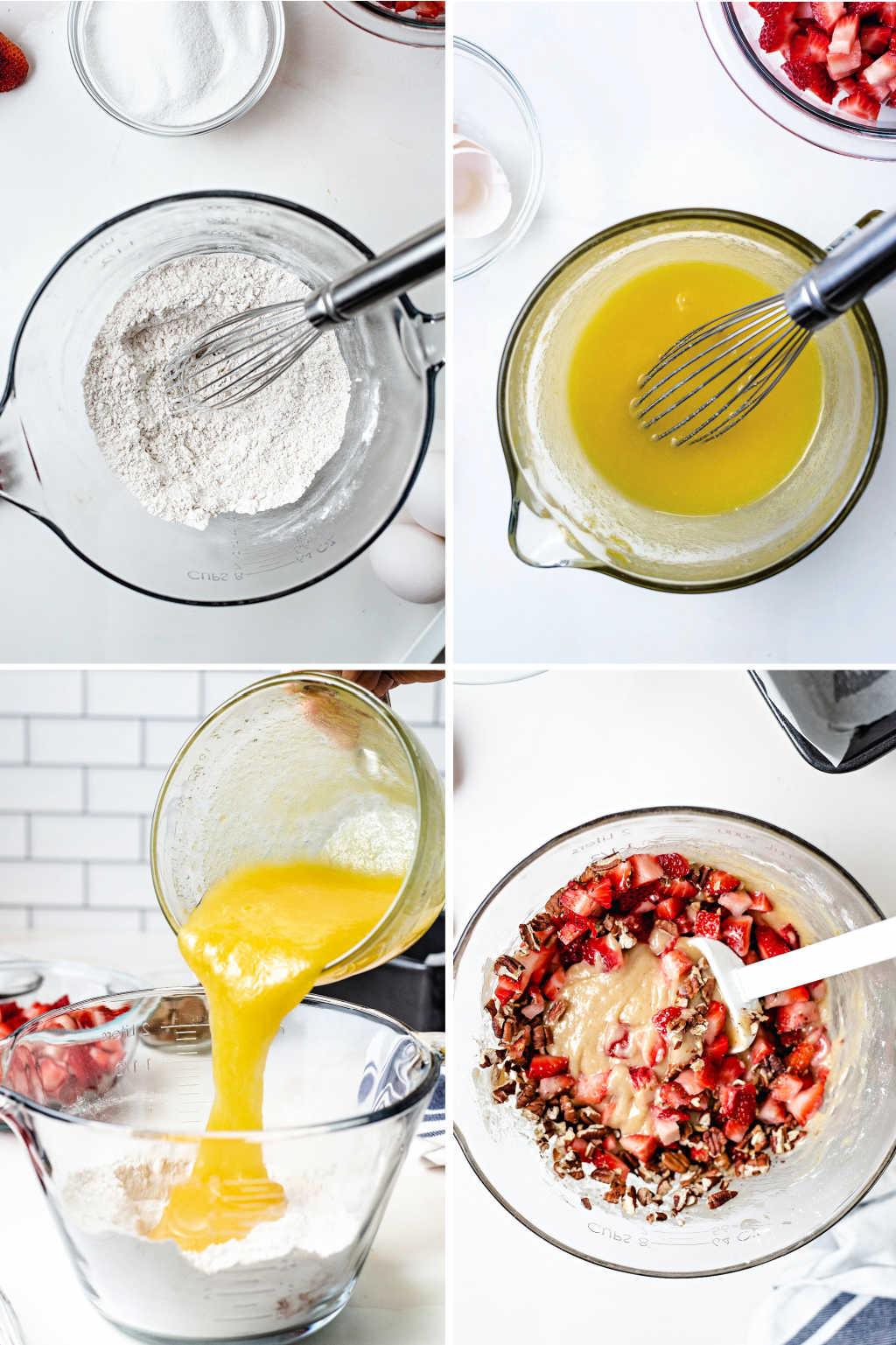 STEP 1 | Prep the pan
Rub a stick of unsalted butter along the bottom of the pan and about ½ inch up the sides, then lightly dust with flour.
This allows for easy removal without the outside of the strawberry bread becoming greasy.
STEP 2 | Mix the batter
Whisk together the wet and dry ingredients in separate bowls, then combine the two.
Stir just until there are no more streaks of flour —- over mixing can result in a loaf that is chewy and tough.
Fold in the berries and nuts until they are evenly distributed throughout the batter.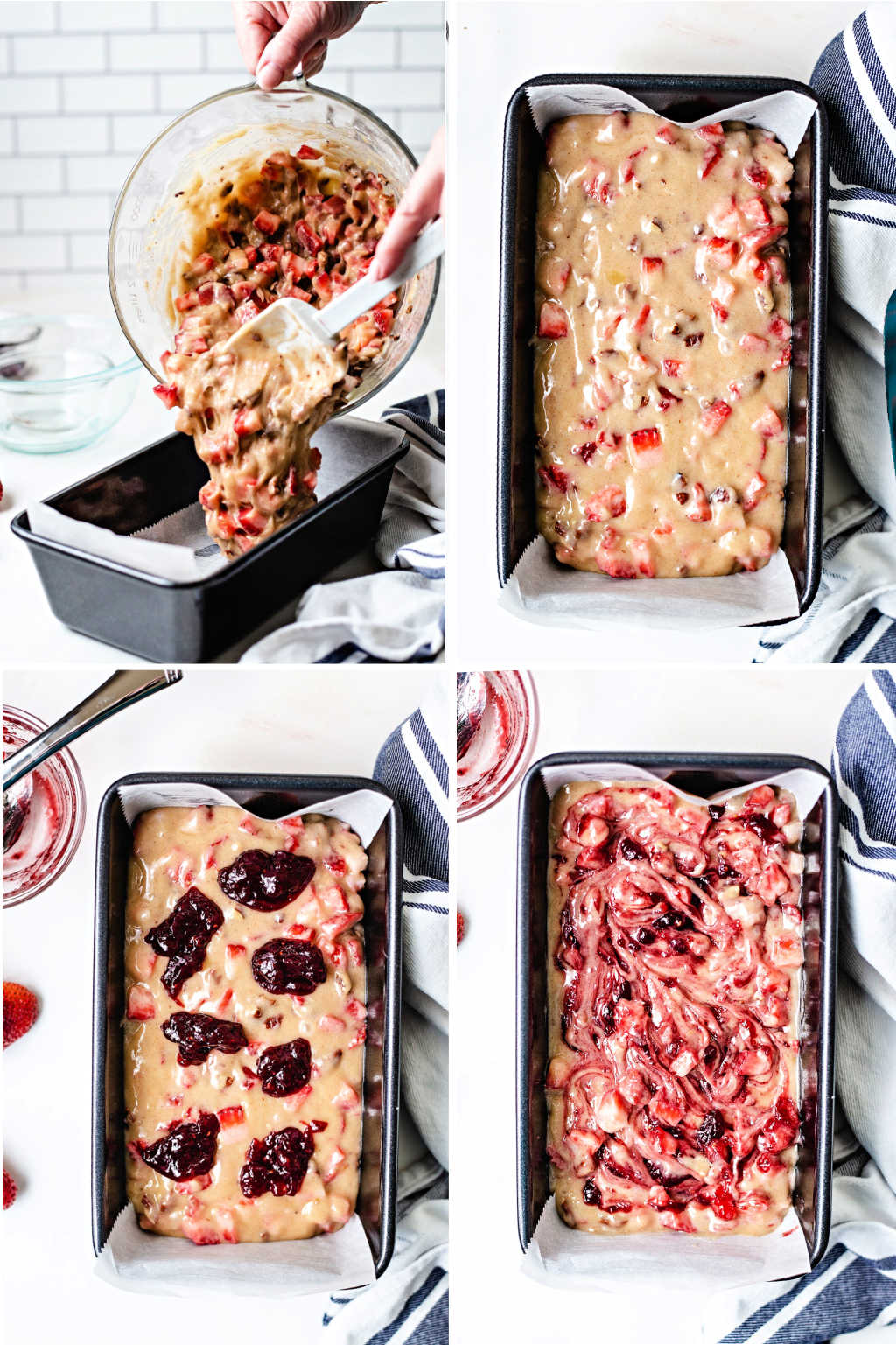 STEP 3 | Swirl the jam
Pour the batter into the greased pan, spreading it out to each corner.
Add dollops of jam all along the surface with a spoon.
Insert the tip of a knife into the batter and create swirls with a back and forth motion.
STEP 4 | Bake
Check for doneness by inserting a wooden toothpick near the center of the loaf. It should come back clean without any wetness or crumbs.
Allow the strawberry nut bread to cool in the pan for at least 30 minutes. It's dense and heavy, so don't rush the process.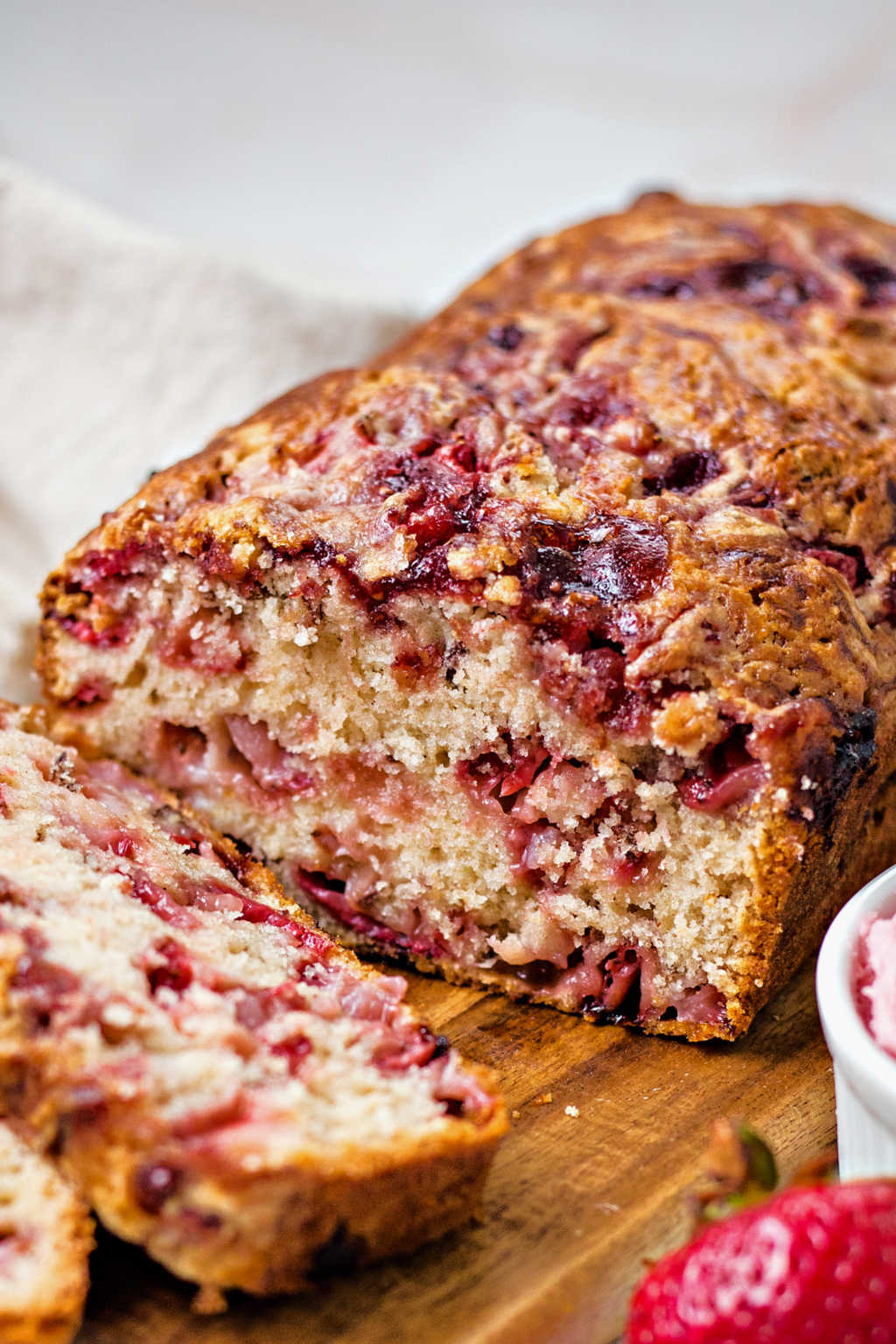 tips
Your oven should be fully preheated before baking to ensure a good rise. Also, place the strawberry bread on the middle oven rack for even cooking.
After greasing the pan, I like to add a piece of parchment paper cut to size in the bottom for guaranteed easy removal.
Slice quick bread with a long serrated knife to avoid crumbling when you run into fruit and nuts.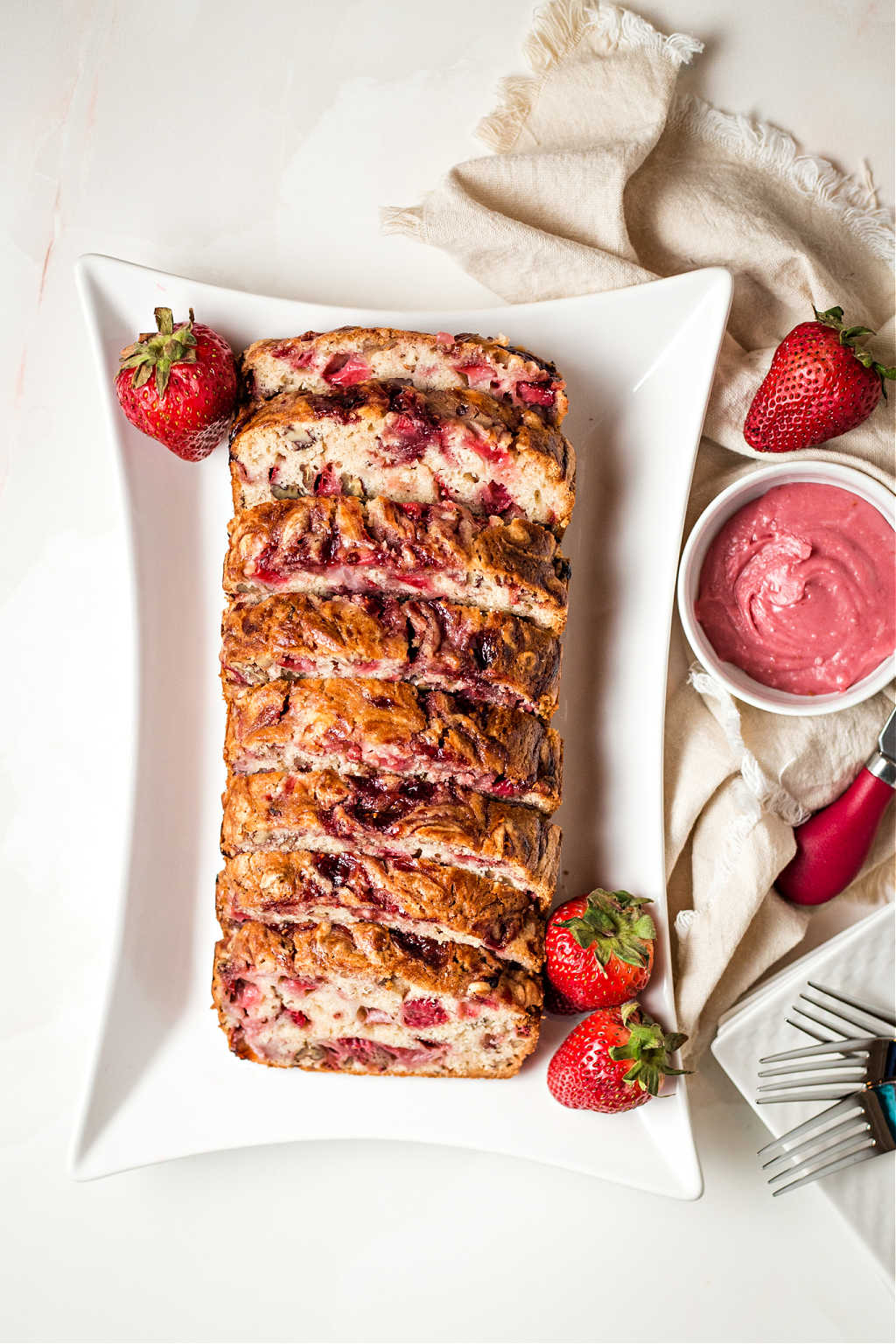 Frequently asked questions
Should I use fresh or frozen berries for strawberry quick bread?
Many recipes allow for either, but my experience is that fresh berries will yield the best results. While they will become soft during baking, they don't release a lot of extra liquid like frozen ones do. 

Strawberries, especially, will turn mushy once thawed and can result in an unpleasant texture and an uneven bake

What's the best way to toast pecans?
For small batches like in this recipe, all you need is a non-stick skillet and a stove. Place the skillet over medium-low heat and cook the pecans until they become fragrant and start to darken, about 5 to 10 minutes.

Be sure to stir them occasionally so they don't burn and allow them to cool completely before adding to the strawberry bread batter.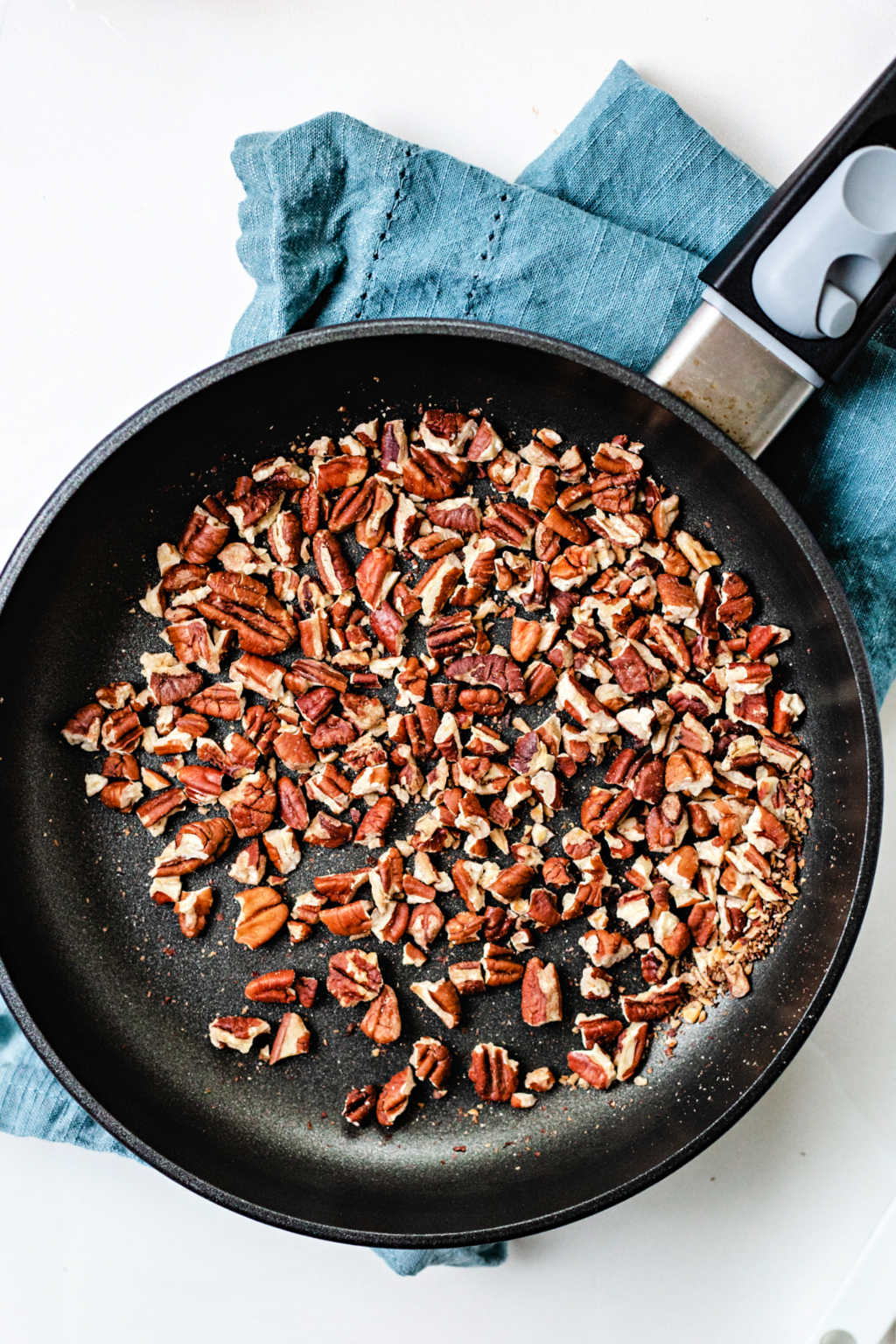 How long does strawberry nut bread last?
Because of the fruit, I like to keep this in the refrigerator. Wrap in a layer of plastic or store in a sealed container so it doesn't dry out, and enjoy it within 1 week for best results.
Serving suggestions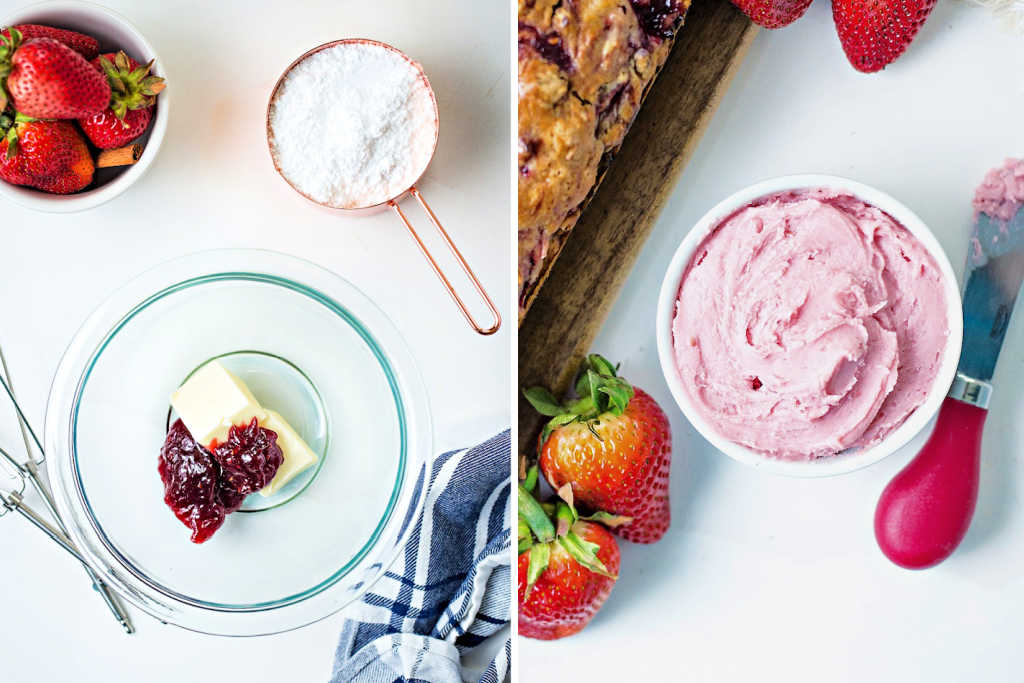 Don't forget the homemade whipped butter! Add softened butter, fresh fruit or jam, and powdered sugar to a medium-sized bowl, then whip until smooth — it's that simple.
You can get creative with the flavors and combinations as well. Orange marmalade, peach preserves, and fresh raspberries are just a few ideas to get you started.
Whichever flavor you choose, store your whipped sweet crème butter in the refrigerator and bring it to room temperature before serving so it's easier to spread.
Strawberry Bread: behind the recipe
Sometimes good things — in this case, delicious things — sort of happen by accident! This yummy strawberry nut bread has dollops of jam swirled into the top of the loaf, so instead of covering it with a glaze, I thought a "schmear" would be a nice addition.
I was first introduced to "schmears" or whipped sweet crème butters at Dame's Chicken and Waffles and I knew I had to recreate my own at home.
Don't stop at this recipe, though! Whipped berry butter can also be spread on toast, English muffins, biscuits, and even pancakes.
Please share!
Your shares are how this site grows and I appreciate each one. Do you know someone who would enjoy this recipe? I'd love it if you would share it on Facebook or on your favorite Pinterest board!
First Published: June 23, 2014. Last Updated: April 20, 2021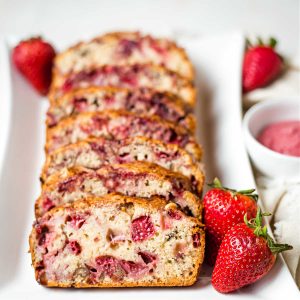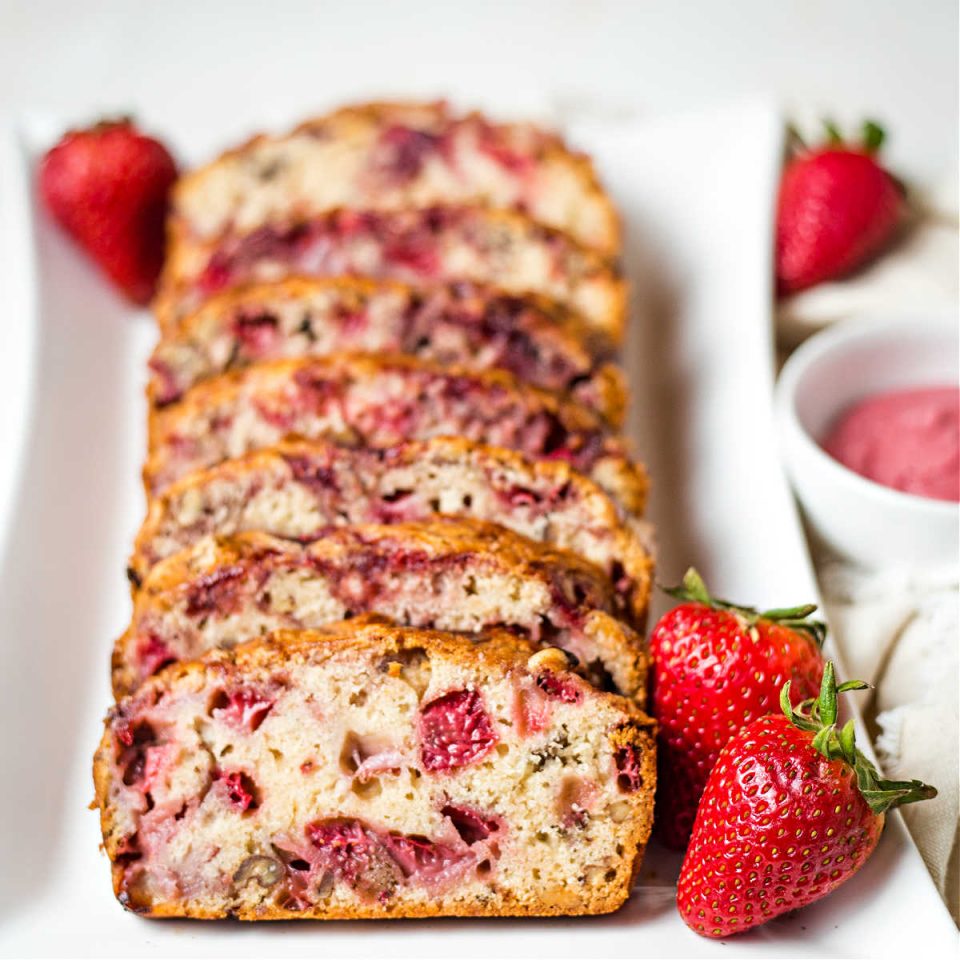 Strawberry Bread & Whipped Strawberry Butter
Strawberry bread is jam-packed with fresh berries and toasted pecans.
Ingredients
Bread
1 1/2

cups

all-purpose flour

1/2

teaspoon

baking powder

1/2

teaspoon

ground cinnamon

1/4

teaspoon

kosher salt

1

cups

sugar

1/2

cup

canola oil

2

large

eggs

2

cups

roughly chopped strawberries

1/2

cup

toasted pecans

1/4

cup

strawberry jam

optional
Whipped Strawberry Butter
2

tablespoons

unsalted butter

softened

1

cup

powdered sugar

2

tablespoons

strawberry jam
Instructions
Bread
Preheat the oven to 350 degrees. Lightly coat a 9 x 5 loaf pan with a bit of unsalted butter and dust with flour.

In a large bowl, whisk together the flour, baking powder, cinnamon, and salt.

In a separate bowl, combine the sugar, oil, and eggs until well combined.

Pour the wet ingredients over the dry ingredients and stir until just combined. Fold in the strawberries and pecans.

Spread the batter into the prepared loaf pan and drop small spoonfuls of jam on top. Use a knife to swirl the jam into the batter.

Bake for 1 hour or until the loaf is golden brown on top and a toothpick inserted in the center comes out clean.

Cool in the pan for 30 minutes, then remove to a cutting board to slice and serve.
Whipped Strawberry Butter
Add the softened butter, powdered sugar, and strawberry jam to a medium size bowl.

Mix on low speed with an electric mixer until smooth. Serve immediately, or cover and refrigerate to use later.
Notes
Store strawberry butter in the refrigerator, but be sure to bring it to room temperature before serving so it's easier to spread.
Original strawberry loaf recipe by Saveur
Nutrition
Serving:
1
Servings
Calories:
501
kcal
Carbohydrates:
50
g
Protein:
4
g
Fat:
33
g
Saturated Fat:
4
g
Polyunsaturated Fat:
29
g
Cholesterol:
42
mg
Sodium:
110
mg
Fiber:
1
g
Sugar:
32
g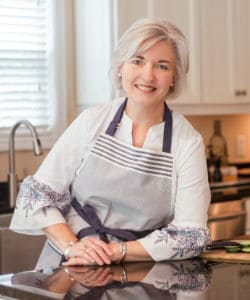 About Sheila Thigpen
Recipe Developer, Food Photographer, Food Writer
Sheila Thigpen is the publisher of Life, Love, and Good Food — a Southern food blog — and the author of Easy Chicken Cookbook and The 5-Ingredient Fresh and Easy Cookbook. After 20+ years in the publishing industry, she retired in 2018 to focus on her own creative endeavors full time. She and her husband live near the beautiful Smoky Mountains and have a precious little granddaughter who has stolen their hearts. As an influencer, Sheila has collaborated with brands like Creamette, Kroger, HERSHEY'S, Hamilton Beach, Garafalo Pasta, OXO, Smithfield, Valley Fig Growers, and more.