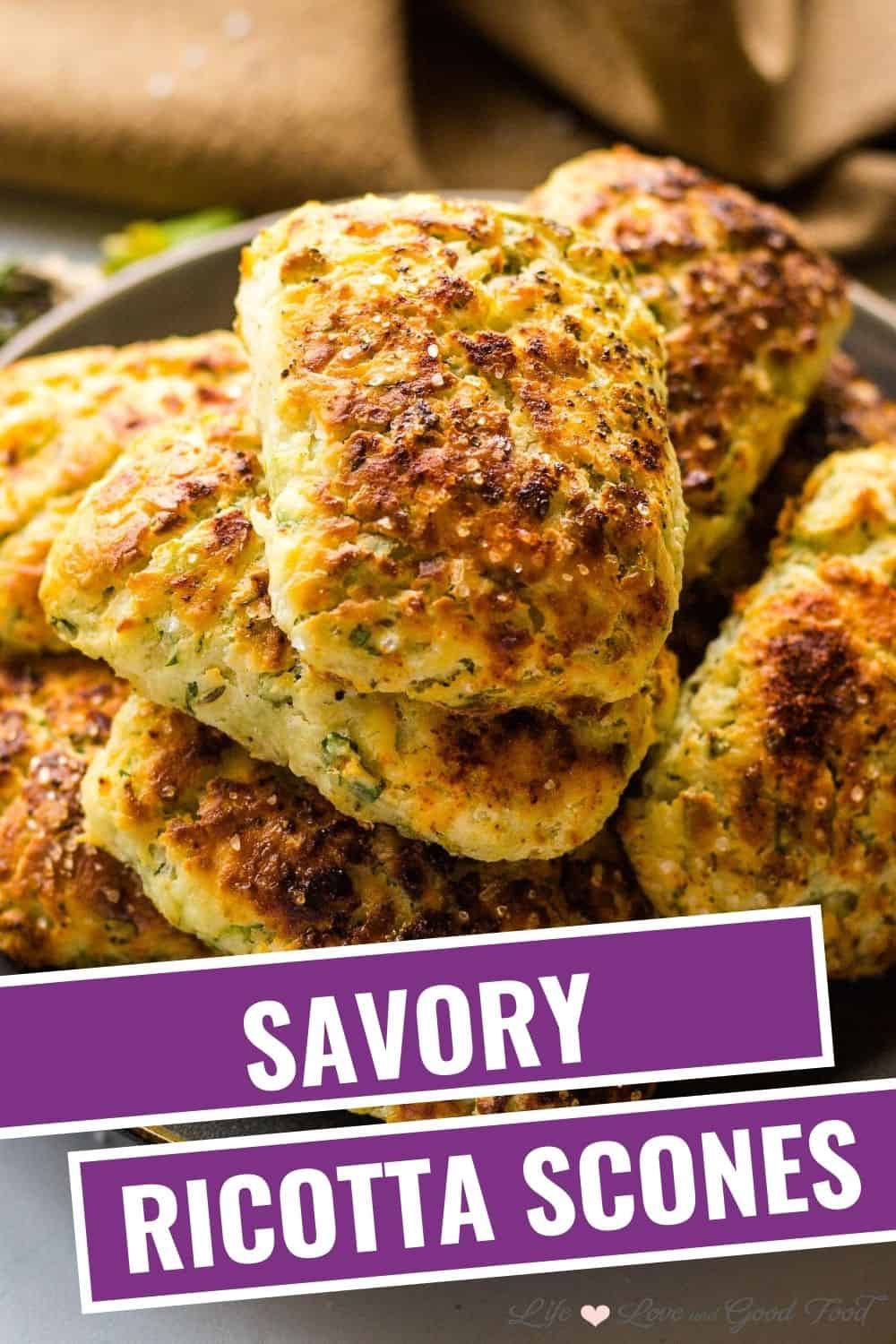 Savory Ricotta Scones are light and fluffy scones that are perfect for breakfast, brunch, or even served in place of dinner rolls. I can't decide if this quick bread recipe should be categorized under scone or biscuit, but either way, these scones made for a tasty breakfast bread enjoyed out on the patio last Saturday.
Made with ricotta cheese—instead of heavy cream—the texture of these scones is so light they practically melt in your mouth!
The savory comes from the chopped scallions (or green onions), fresh parsley, thyme, and rosemary that is mixed right into the dough.
Savory Ricotta Scones
I've come to love cooking with fresh herbs. I love the fresh smell when I chop them up and the extra flavor they bring my home cooked sauces. When I find healthy plants at a good price, it's hard to resist adding them to my shopping cart!
What I'm not so good at is keeping those plants alive once I bring them home. Even though I grew up on a farm, I am not a gardener!
That's why I love finding recipes that feature fresh herbs like today's scones…so I can use up all the herbs!
Disclosure: As a Pampered Chef consultant, I earn from qualifying purchases.
PRO TIP
Use an herb stripper to make easy work of removing stems and leaves from herbs and leafy greens. This herb stripper from Pampered Chef has four different sized holes to accommodate a variety of herbs, so you can remove stems and leaves with one easy swipe!
Cooking tips
As with any scone recipe, the best tip is starting with frozen butter. I use a box grater to shave the butter right into my flour mixture which I think this is much easier than using a pastry cutter.
This scone batter will be very wet, so you will want to use more flour on your work surface, or pastry mat, before kneading and shaping the dough.
Line a baking sheet with parchment paper for easy clean up.
For a flavorful and lightly crisp top crust, liberally brush the scones with an egg wash and sprinkle with sea salt, freshly ground black pepper, and smoked paprika before baking.
So delicious! I'd rather make these than traditional biscuits any day. The sea salt crunch gives them a little added bonus. Thanks for sharing this recipe. It's gone onto my Tried and True Recipes board on Pinterest.

Melissa
For this recipe, you'll need these kitchen tools:
The following are affiliate links. We are a participant in the Amazon Services LLC Associates Program, an affiliate advertising program designed to provide a means for us to earn fees by linking to Amazon.com and affiliate sites.
What else is new? Check out my Life, Love, and Good Food Store on Amazon! Thanks so much for being a part of our community!
Scones or biscuits?
Even though savory scones are typically served for breakfast or brunch, these little "biscuits" would also be delicious served in place of dinner rolls.
For our weekend breakfast, we sliced the scones and used them to make breakfast sandwiches layered with peppered bacon and fried eggs…my hubby loved that combination!
These Savory Ricotta Scones are delicious warm from the oven with or without butter — but who can resist a little more butter?! The scones are best reheated wrapped in foil and warmed in a 350-degree oven for about 10-15 minutes.
Related recipes
Let's bake!
Fresh herbs and ricotta cheese make all the difference in these scones. The dough is a bit sticky to work with, but the result is a melt-in-your-mouth scone that no one can resist!
Please share!
Your shares are how this site grows and I appreciate each one. Do you know someone who would enjoy this recipe? I'd love it if you would share it on Facebook or on your favorite Pinterest board!
Yield: 12 servings
Savory Ricotta Scones
A light and fluffy savory scone that is perfect for breakfast, brunch, or served in place of dinner rolls.
Ingredients
2 cups all-purpose flour
1 tablespoon baking powder
½ teaspoon salt
¾ tablespoons sugar
5 tablespoons chilled unsalted butter
½ cup green onions or scallions,, chopped
1/4 cup fresh parsley,, minced
1 tablespoon fresh thyme leaves
1 teaspoon fresh rosemary,, minced
1 cup ricotta cheese
⅔ cup milk
1 egg,, beaten with 1 teaspoon water (for egg wash)
sea salt
black pepper
smoked paprika
Instructions
Preheat oven to 425 degrees.
Whisk together flour, baking powder, sugar, and salt in a large bowl. Grate butter into the flour mixture and stir with a fork until the consistency of coarse meal.
Stir in scallions and fresh herbs. Add ricotta cheese, then add milk and stir until just combined.
Turn dough out onto a lightly floured surface. Knead 2 to 3 times, then pat dough into a 9-inch rectangle. Dip knife into flour and cut dough into 12 equal pieces.
Transfer scones to a parchment-lined baking sheet. Brush tops liberally with egg wash. Sprinkle tops with sea salt, freshly ground black pepper, and smoked paprika.
Bake for 15-20 minutes or until scones are golden brown.
Notes
Recipe adapted from Girl Versus Dough.
The scones are best reheated wrapped in foil and warmed in a 350-degree oven for about 10-15 minutes.
Recommended Products
As an Amazon Associate and member of other affiliate programs, I earn from qualifying purchases.
Nutrition Information:
Yield:
12
Serving Size:
1 Servings
Amount Per Serving:
Calories:

167
Total Fat:

7g
Saturated Fat:

4g
Trans Fat:

0g
Unsaturated Fat:

3g
Cholesterol:

36mg
Sodium:

295mg
Carbohydrates:

20g
Fiber:

1g
Sugar:

1g
Protein:

6g
ABOUT SHEILA
Sheila Thigpen, author of Easy Chicken Cookbook and The 5-Ingredient Fresh and Easy Cookbook, is a recipe developer, food photographer, and food writer. She spent 20+ years as a business manager in the publishing industry before she retired in 2018 to focus on her passions — cooking, photography, and writing. Living near the beautiful Smoky Mountains, Sheila and her husband have two adult daughters and two fine sons-in-law, are active in their church, love to travel, and have a precious little granddaughter who has stolen their hearts. Follow Sheila on YouTube, Pinterest, Instagram, Facebook, and Twitter!