This post may contain affiliate links. Please read my disclosure policy.
Buttery and flaky, Sweet Potato Biscuits make a lovely addition to any Thanksgiving or Christmas menu. Homemade buttermilk biscuits are a Southern tradition and just by adding mashed sweet potato to the dough you get a sweeter, moister biscuit.
These biscuits are particularly tasty when paired with baked ham or turkey or drizzled with honey.
Sweet Potato Biscuits are made with mashed sweet potato, buttermilk, and butter for extra flavor. Make two batches of this easy homemade biscuit recipe and freeze a dozen to use later for holiday parties.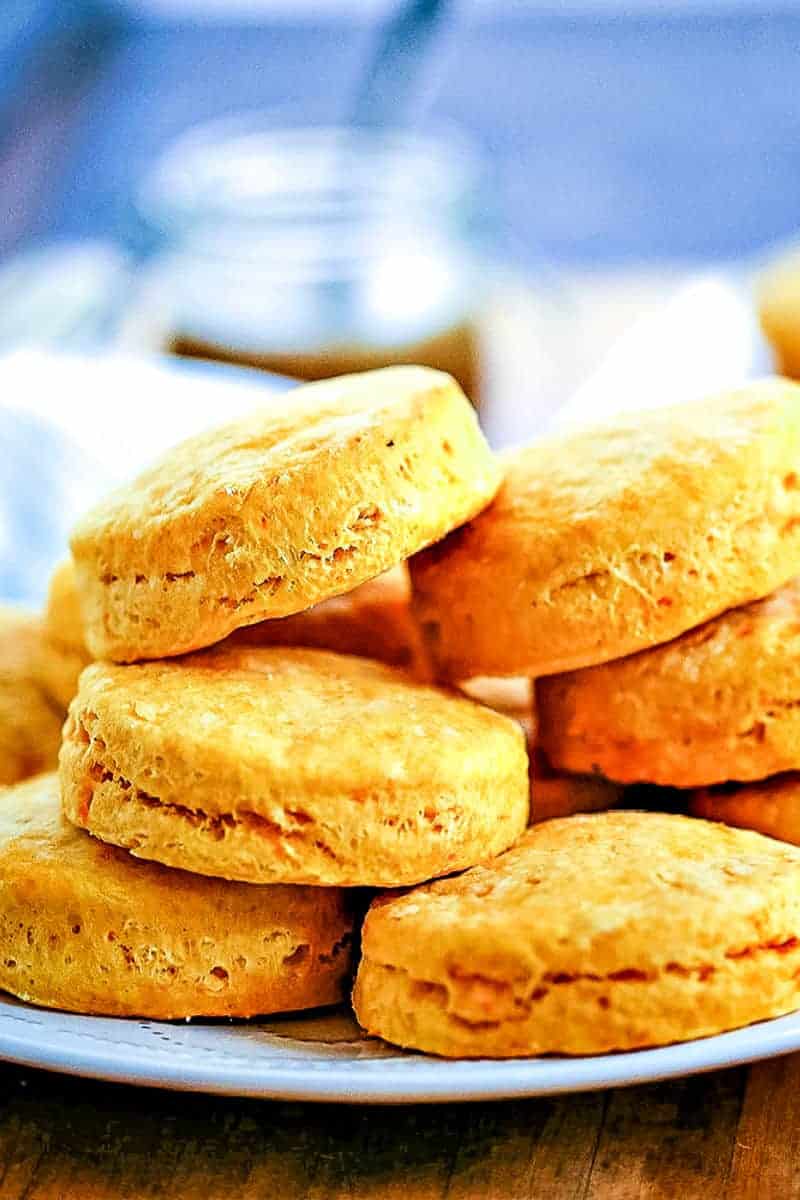 Sweet Potato Biscuits
The first time I ever tried Sweet Potato Biscuits was at a wedding buffet. One of the caterer's signature items was mini Sweet Potato Biscuits split open and piled high with slivers of honey-baked ham and dressed with a honey mustard sauce. Delicious!
More than likely, you're already planning to serve some type of sweet potatoes at your Thanksgiving meal. Whether it's a Sweet Potato Casserole or Mashed Sweet Potatoes, save back a cup of the cooked potatoes to mash up for a batch of Sweet Potato Biscuits.
How do you make Sweet Potato Biscuits?
Start with cooked sweet potato. DO NOT use canned sweet potatoes as they tend to have too much water. Mash the sweet potato with a fork and mix with buttermilk.
Combine flour, baking powder, and salt in a large bowl then add cold, cubed butter.
Mix in the butter until crumbly. You may use a pastry blender, fork, or your fingers for this task.
Add the sweet potato mixture to the flour mixture and mix until just moistened.
Turn the dough onto a lightly floured surface and knead a few times. Just enough until the dough holds together — don't overdo it!
Roll out the dough and cut out biscuits with a biscuit cutter.
Bake at 425-degrees for 10 to 15 minutes or until golden.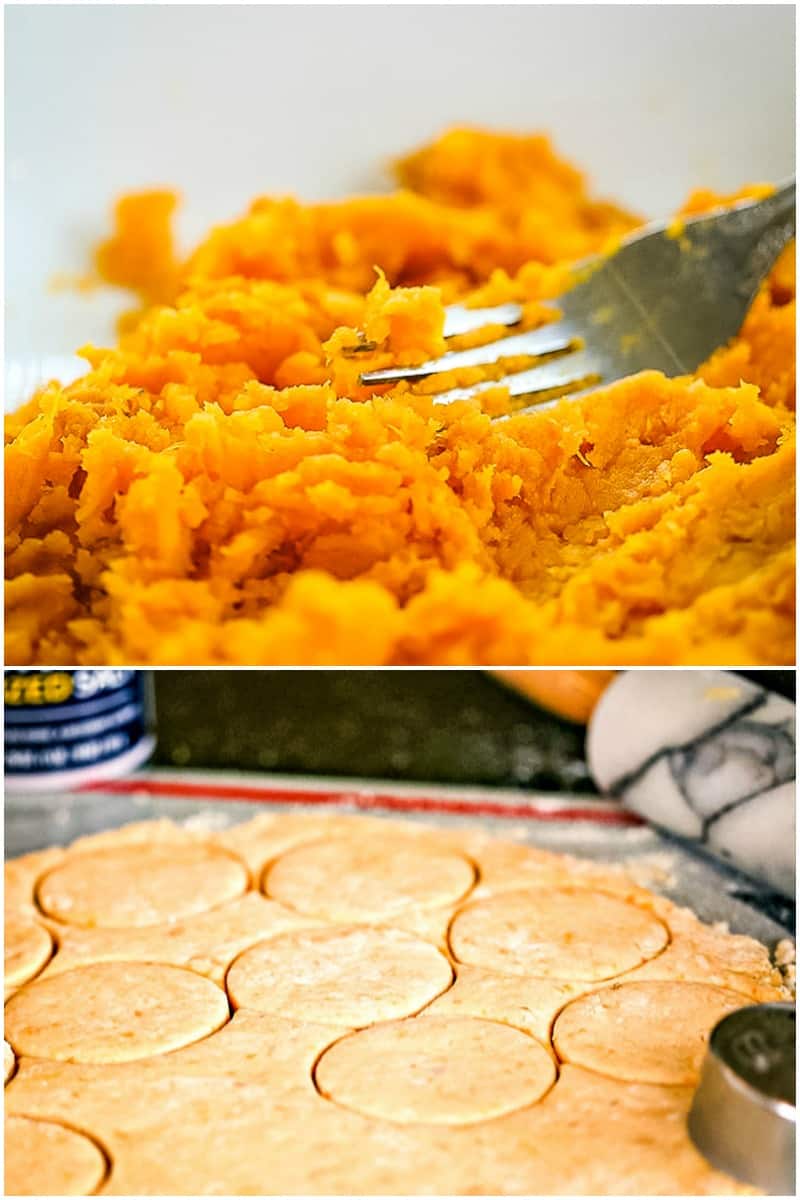 Can you cook sweet potatoes in the microwave to make Sweet Potato Biscuits?
Sure! Instead of peeling, cutting, and boiling the sweet potatoes you can bake a large sweet potato in the microwave until it is good and soft.
Prick the sweet potato several times with a fork and cook on high power for 6 to 7 minutes. Give the potato a squeeze to make sure it is soft (be careful, it's hot! )and cook another minute if needed. Cool until you can handle, then split open the sweet potato and scoop out the pulp.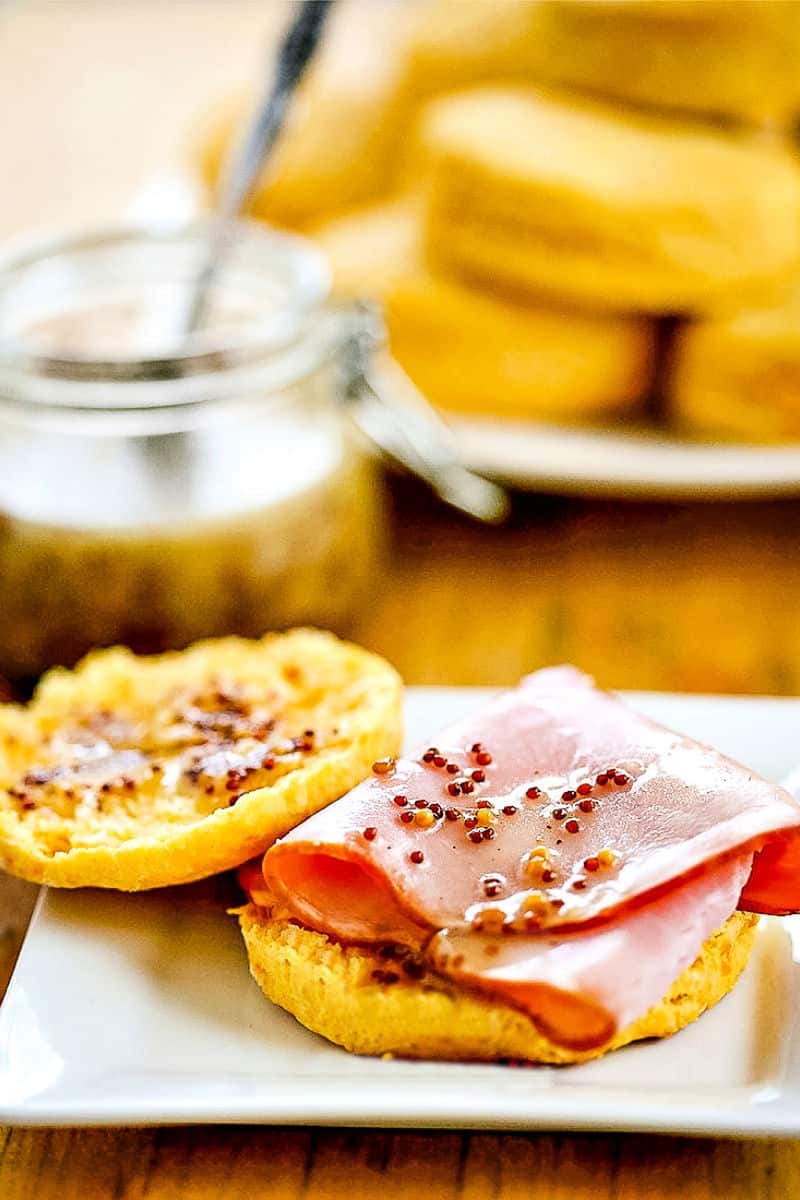 What goes with Sweet Potato Biscuits?
Not only are Sweet Potato biscuits a delicious bread to serve with Thanksgiving or Christmas dinner, they're perfect for breakfasts and luncheons, too. Here are a few ways to serve them:
Serve warm drizzled with honey
Split open and topped with sliced ham and honey mustard or honey Dijon vinaigrette to make party sandwiches
Use Sweet Potato Biscuits in place of buns for BBQ pork sliders
Serve with homemade honey butter or cinnamon butter.
Can Sweet Potato Biscuits be frozen?
Of course! To freeze the biscuits, let them cool completely then place in resealable plastic freezer bags. They will keep in the freezer for several weeks. To reheat the biscuits, wrap frozen biscuits in aluminum foil and place in a preheated 350-degree oven for about 10 minutes or until warmed through.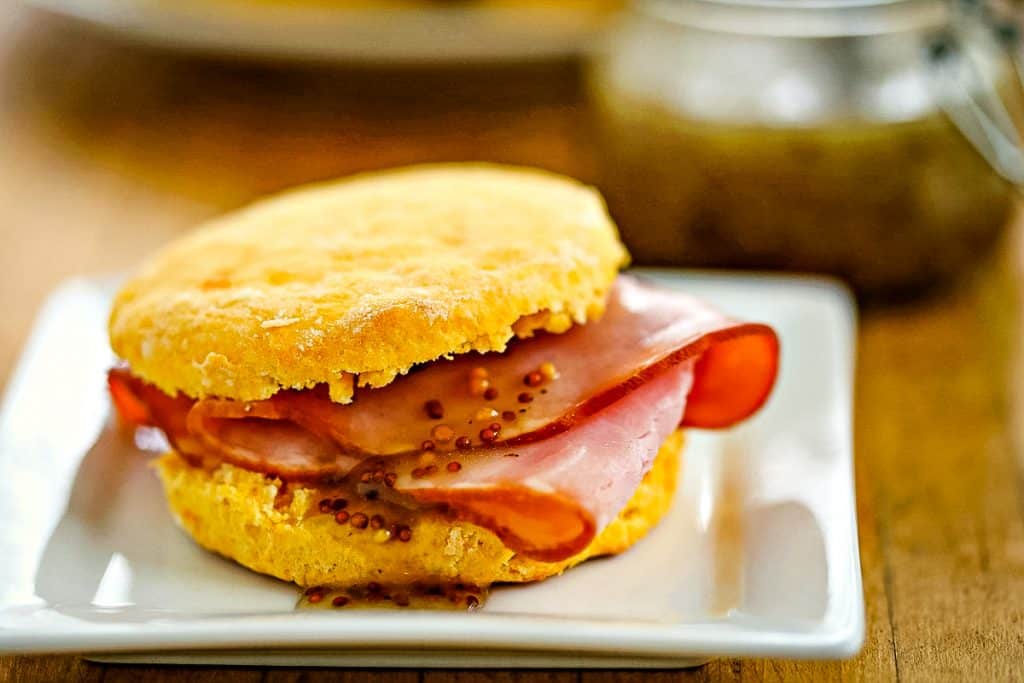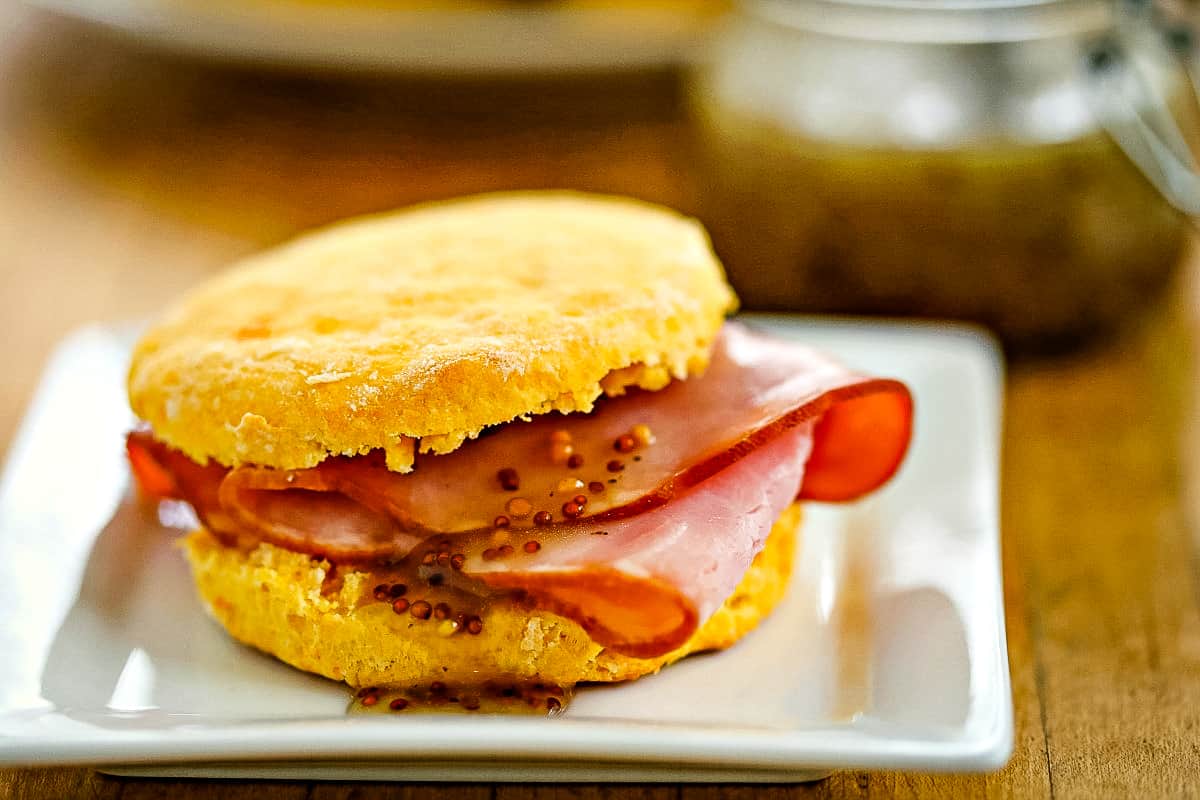 Recipe Ideas for your Thanksgiving Menu
I like to start planning early when it comes to holiday meals. Of course, there are a few traditional dishes that are always on our menu from year to year, but I usually like to add at least one new recipe. Here are a few Thanksgiving recipe suggestions you might like to consider, as well:
To make this recipe, you may need…
I love my vintage biscuit cutter because its sharp edge cuts through the dough easily, plus it has a little handle for holding the cutter. You can always use a drinking glass to cut out biscuits, but the biscuit cutter works best for me.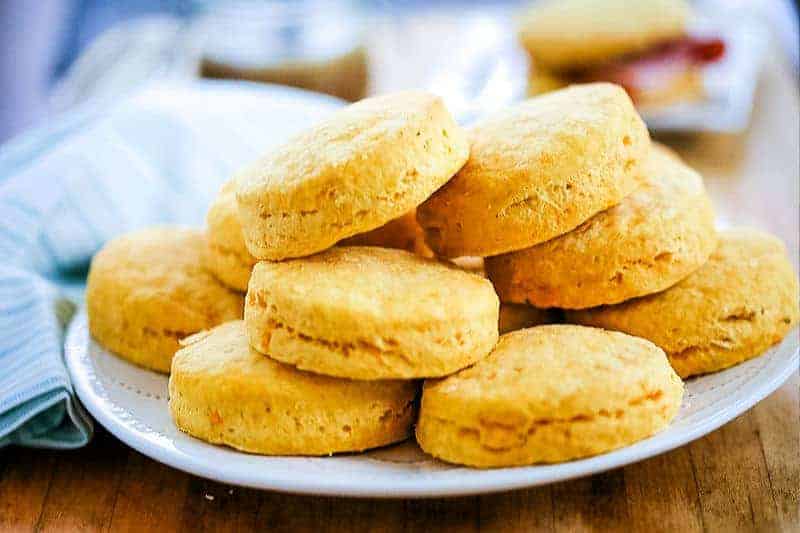 Sweet Potato Biscuits Recipe
When making any kind of Southern biscuits, always remember that you only need to knead the dough 4 to 5 times. More than that and the biscuits will get tough. Also, don't be afraid to get your hands dirty — it's easier to mix the butter into the dough with your fingers!
Please share!
Your shares are how this site grows and I appreciate each one. Do you know someone who would enjoy this recipe? I'd love it if you would share it on Facebook or on your favorite Pinterest board!
Last Updated: 15 Oct 2019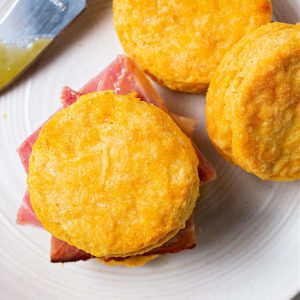 Sweet Potato Biscuits
Make the ultimate Southern biscuit sandwich with Buttery Sweet Potato Biscuits, sliced ham, and a smear of homemade honey dijon vinaigrette.
Ingredients
4

cups

all-purpose flour

2

tablespoons

baking powder

2

teaspoons

kosher salt

1

cup

unsalted butter

2

cups

cooked sweet potato

mashed and chilled

2/3

cup

buttermilk
Instructions
Preheat the oven to 450 degrees. Line a baking sheet with parchment paper.

In a large bowl, whisk together the flour, baking powder, and salt until combined.

Cut the butter into small cubes (or use a box grater to grate the butter) and add to the flour mixture along with the mashed sweet potatoes.

Use a pastry blender, a fork, or your fingers to incorporate the butter and sweet potato until you have a crumbly mixture and all the flour is incorporated.

Make a well in the center of the mixture and pour in the buttermilk. Stir with a fork just until moistened.

Form the dough into a ball in the bowl, then turn it out onto a lightly floured surface. Gently press the dough into a rectangle about 1/2 inch thick.

From the long side, fold 1/3 of the dough over, then fold 1/3 over from the other side so that you have a thick rectangle. Press or roll the dough again into a 1/3 inch thick rectangle and repeat the folding process one more time.

Now, roll the dough a little thicker than you did before and use a 2-inch biscuit cutter to cut out the dough — go straight down, do not twist. Press any scraps of dough together and roll it out again to cut more biscuits, placing the biscuits on the baking sheet as you go.

Bake for 12 to 15 minutes, or until the biscuits are puffed and golden. Serve immediately.
Nutrition
Serving:
1
g
Calories:
136
kcal
Carbohydrates:
17
g
Protein:
2
g
Fat:
7
g
Saturated Fat:
4
g
Polyunsaturated Fat:
0.3
g
Monounsaturated Fat:
2
g
Trans Fat:
0.2
g
Cholesterol:
17
mg
Sodium:
169
mg
Potassium:
196
mg
Fiber:
1
g
Sugar:
2
g
Vitamin A:
3785
IU
Vitamin C:
4
mg
Calcium:
52
mg
Iron:
1
mg