Make the ultimate Southern biscuit sandwich with Buttery Sweet Potato Biscuits, sliced ham, and a smear of homemade honey dijon vinaigrette.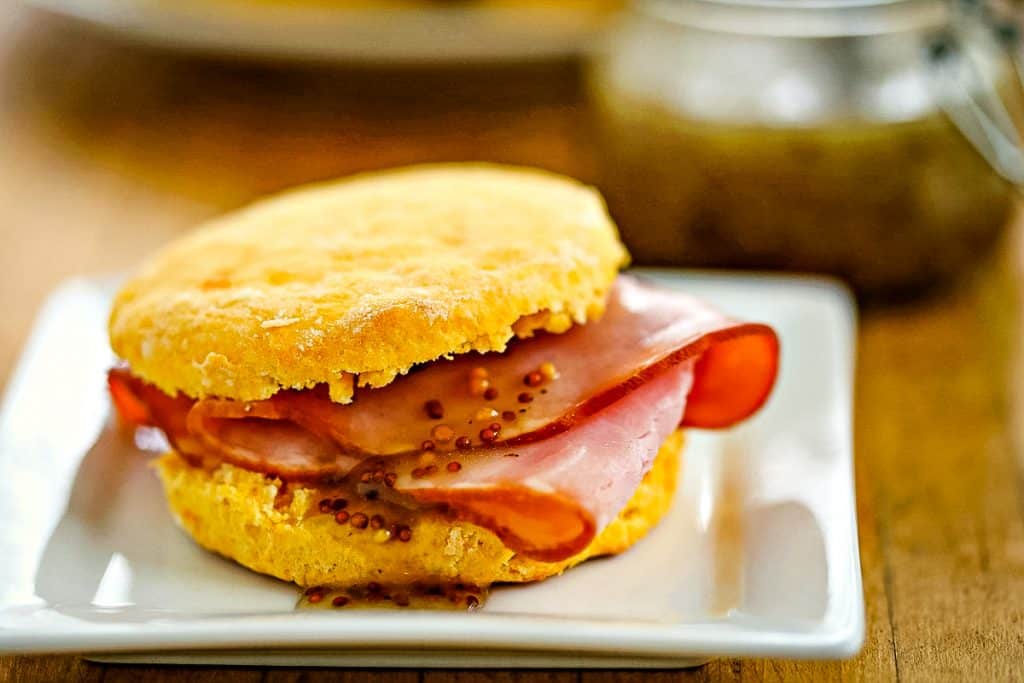 I made the best biscuits this weekend, y'all, and I just had to share them with you right away. These Buttery Sweet Potato Biscuits made with mashed sweet potato, butter, and buttermilk make the best biscuit sandwiches. Split them open while they are hot out of the oven and pile on sliced ham and a smear of honey dijon vinaigrette. Mercy, it's so good!
I don't know where the idea for adding sweet potato to buttermilk biscuits originated, but it's genius and purely Southern! I couldn't help but think about my friend Steve while I was making these biscuits. We were out to dinner at Tupelo Honey Cafe enjoying their famous ginormous biscuits when Steve told me about his Mama's sweet potato biscuits and how he wished he knew exactly how she made them. He did remember that she mixed the sweet potatoes into the dough with her hands, and to him that was pure love and partly what made her biscuits so good.
For my Buttery Sweet Potato Biscuits, I found that it actually was much easier to mix the dough with my hands. I cut the butter into the flour and then added buttermilk mixed with mashed sweet potato to my flour. I started off using a spoon to incorporate it, but soon realized that using my fingers was going to be much easier and faster. The entire time I finished mixing the dough and rolling out these biscuits, I thought of our dear friend Steve and about what a brave warrior he is. You see, Steve is battling a very aggressive and lethal brain cancer known as glioblastoma multi forme.
A few years ago, John and I met Steve at church and quickly became friends— we felt like we'd already known him for years. That's probably because many people in East Tennessee know Steve Phillips from his years as a local television sports anchor—he was welcomed into our living room every time we watched UT sports, after all! Through our friendship, we've witnessed his quick wit, sense of humor, and most importantly his deep faith in God. Please read the rest of Steve's story here and consider giving a gift to help support his growing medical expenses. I know that Steve would appreciate that, but even more he'd appreciate your prayers.
I don't know if these Buttery Sweet Potato Biscuits are as good as Steve's Mama's biscuits, but I can tell you that they got John's approval. Have a great week, friends, and be grateful for every day!
Here's the link to the easy homemade honey mustard vinaigrette that I used on my biscuit sandwiches.
Buttery Sweet Potato Biscuits
Make the ultimate Southern biscuit sandwich with Buttery Sweet Potato Biscuits, sliced ham, and a smear of homemade honey dijon vinaigrette.
Ingredients
4

cups

all-purpose flour

2

tablespoons

baking powder

2

teaspoons

salt

1

cup

butter or margarine

1

cup

cooked mashed sweet potato

1

cup

buttermilk
Instructions
Preheat oven to 425 degrees. Lightly coat baking sheet with cooking spray; set aside.

In a large bowl, whisk together the first 3 ingredients. Cut in butter with a pastry blender or fork until crumbly. (Use your fingers to break up any large clumps of butter.)

Stir together sweet potato and buttermilk, then add to the flour mixture. Stir, or mix with your fingers, until just moistened.

Press dough together in the bowl to form a ball, then turn it out onto a lightly floured surface, and knead 3 to 4 times.

Roll the dough to 1/2-inch thickness. Using a 3-inch round cutter, cut out biscuits and place on baking sheet.

Bake for 10 to 15 minutes or until golden.
Recipe Notes
Original recipe by Southern Living, December 2001