Bursting with fresh berries, these easy Blueberry Scones are a moist and delicious breakfast treat. One of the quickest scone recipes ever, this no-knead batter is made with vanilla yogurt and plenty of cold butter to create a light and flaky scone.
Simply mix up the dough and scoop it out onto a parchment lined baking sheet —no shaping, cutting, or messy counter! Brush the tops with a little milk and sprinkle with turbinado sugar to get a sweet golden brown top.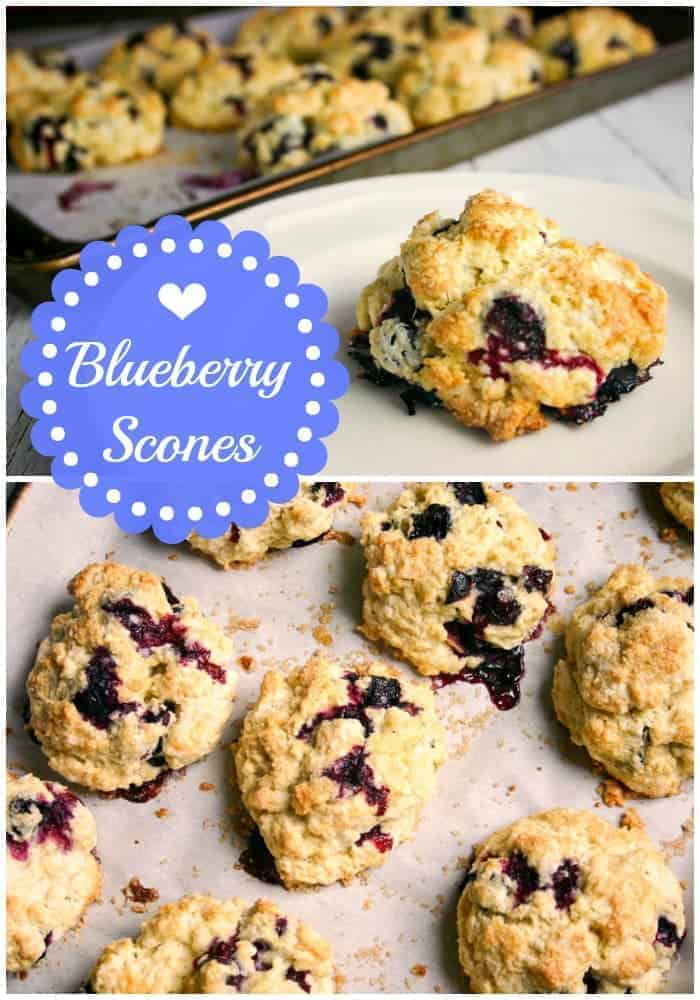 Home Is Where the Heart Is
Today is the beginning of a very exciting week and a new chapter in the journey of the Thigpens. The last few weeks we've been preparing for closing the sale of our house and the purchase of our new condo plus packing for the move…and it's finally here!
We're a bit overwhelmed that things have happened so fast–and a bit exhausted as well–but we feel so blessed to see how God has worked out the plan for our new home. I can't wait to share photos with you of my new kitchen and to do some serious cooking again!
In the meantime, I'll be sharing some recipes this week that I've been saving up for you (since all my kitchen supplies are currently in boxes!) in anticipation of our big move.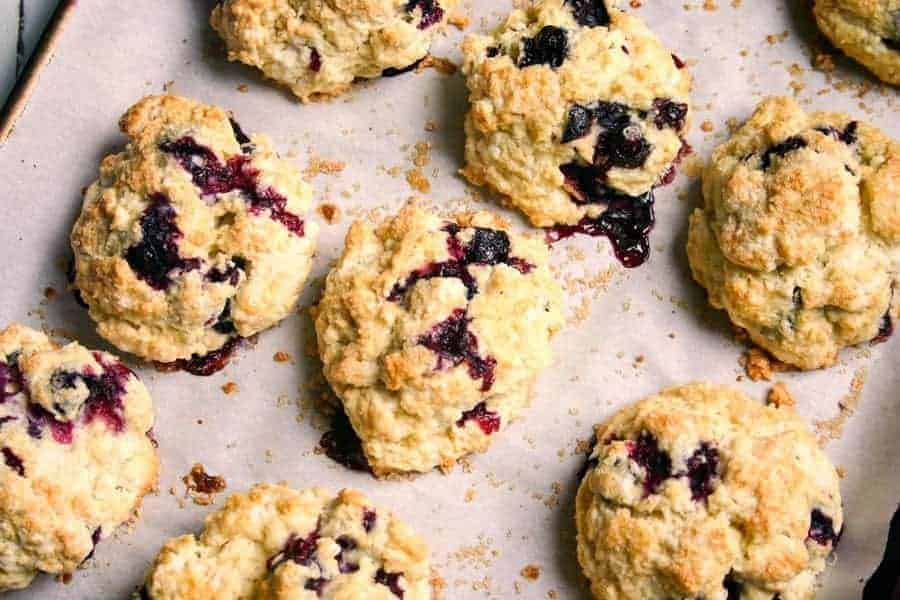 Blueberry Scones
First up are these wonderful "no-knead" Blueberry Scones. They are light and airy and bursting with fresh blueberries—so good!
Instead of kneading and patting out dough, for these scones you simply stir together the dough, scoop, and drop onto a parchment paper-lined baking sheet, making clean-up a breeze.
I baked these scones for a weekend breakfast when the girls came home to go through their closets and help us start the sorting and packing process. We had lots of fun and laughs as we sorted through artwork, toys, trophies, and photos, and often got distracted by some of these treasures.
Getting Ready for the Big Move
We've created lots of memories in this house that we'll carry with us and are excited to create new memories in our new home. The house we are leaving is not our home. For John and I, our home is our family and we take that with us wherever we go.
So although I'm sharing some photos of the house we're leaving behind, there's no sadness here—we're both excited for the future! We built this house 23 years ago when the girls were ages 2 and 4—mere babies!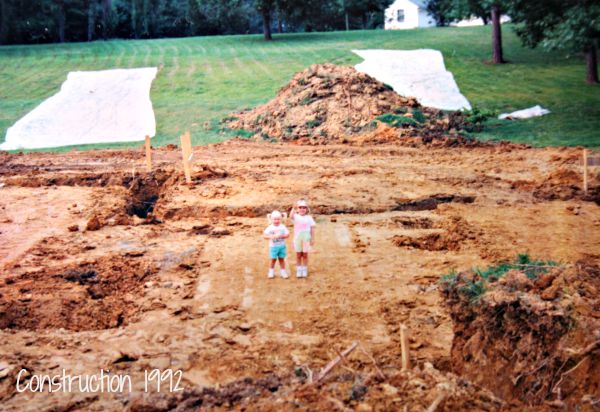 Here they are standing in the midst of the basement and footers that were being dug for the foundation. Just a few minutes after this photo was taken, Lindsay stepped backwards and fell into one of the ditches. It was over her head! She wasn't hurt, just startled, and quickly rescued by her Daddy.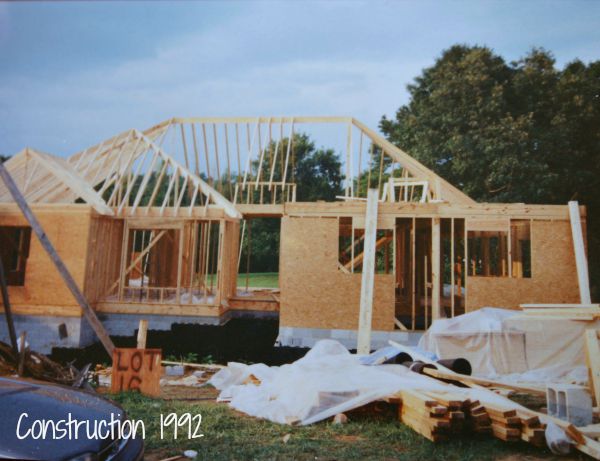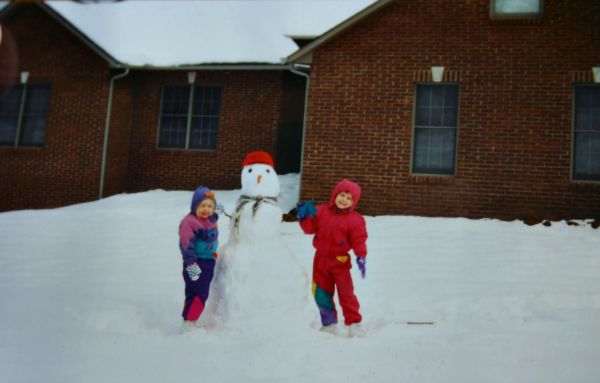 The first snowman a year later. Notice that we didn't yet have shutters or any landscaping.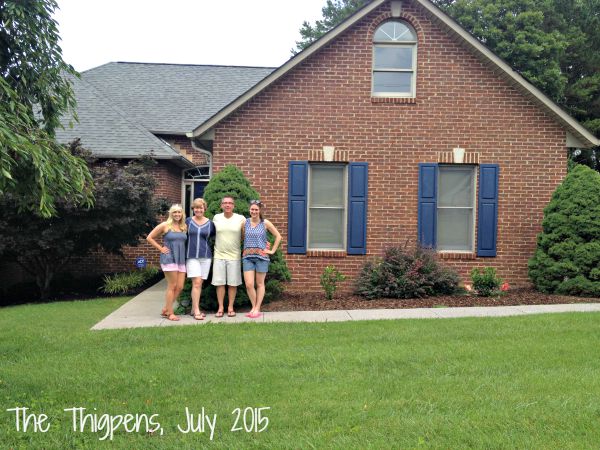 This photo was taken last weekend when the girls were in town for a friend's wedding. As they were getting ready to jump in the car and head back to Nashville, we thought it would be a good idea to take one last family photo outside our house.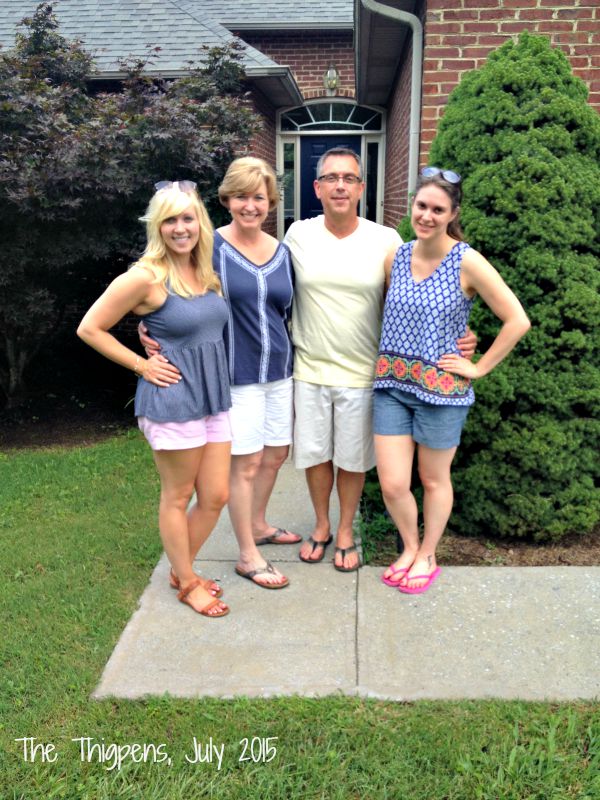 I know it's cliché, but truly Home is where the Heart is, and my heart is with my family. I'm blessed to be on this journey with my best friend and to have two awesome adult daughters, who are now creating adventures of their own. Yay! Moving week is here…we're on to the next exciting chapter!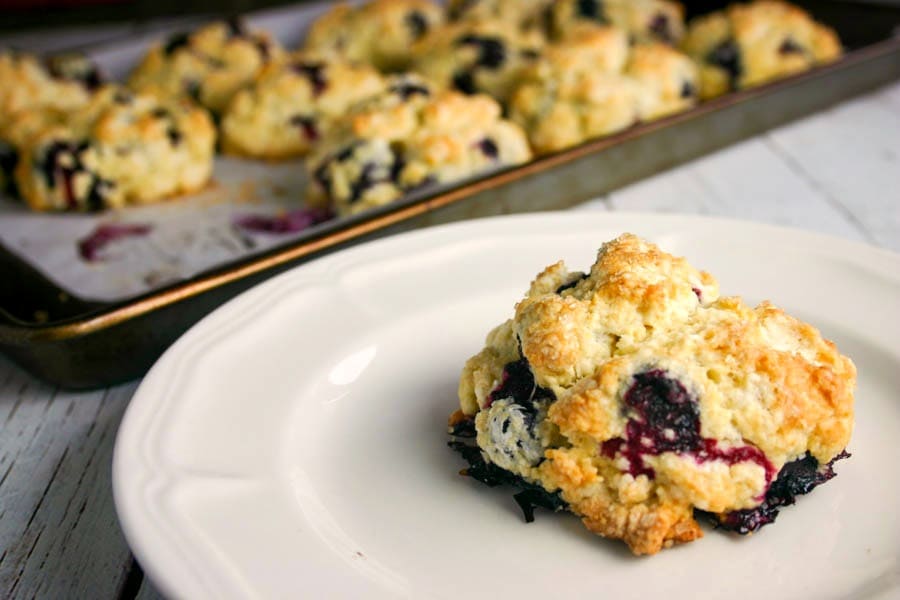 Blueberry Scones Recipe
The finishing touch on these scones is the easy technique of brushing the tops with a little milk and a sprinkle of sugar. This helps the scones to brown on top and gives them a sweet crunch, too.
Please share!
Your shares are how this site grows and I appreciate each one. Do you know someone who would enjoy this recipe? I'd love it if you would share it on Facebook or on your favorite Pinterest board!
Yield: 1 dozen
Blueberry Scones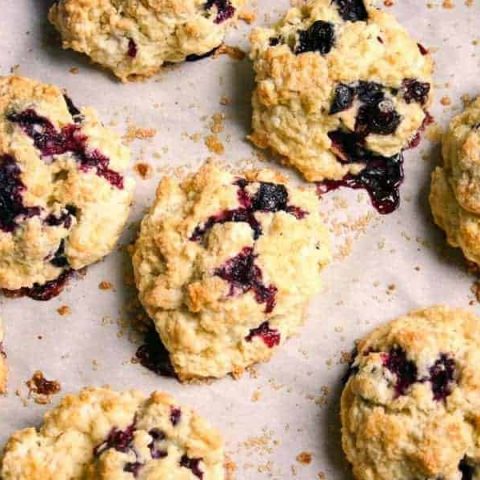 Bursting with fresh berries, easy Blueberry Scones made with yogurt are no-knead, no-fuss, and bake up light and flaky—a delicious breakfast treat!
Ingredients
2 cups all-purpose flour
1/2 teaspoon salt
1/4 cup sugar
1 tablespoon baking powder
6 tablespoons cold butter, cut into pieces
1 cup fresh blueberries
2 large eggs, beaten
1/4 cup vanilla yogurt
1 teaspoon vanilla extract
1 tablespoon grated lemon zest
1/2 teaspoon almond extract
2 tablespoons turbinado sugar, for sprinkling on top
Instructions
Preheat the oven to 375 degrees. Line cookie sheet with parchment paper (or lightly grease).
In a large bowl, whisk together dry ingredients. Cut in butter with a fork, pastry blender, or your fingers until the mixture is crumbly. Gently stir in blueberries.
Stir together eggs, yogurt, vanilla extract, lemon zest and almond extract, then add to dry ingredients, stirring gently, just until combined.
Scoop the dough using a 1/4 cup measure and drop onto cookie sheet 2 inches apart.
Brush the tops of dough with milk or cream and sprinkle with turbinado sugar.
Bake for 20 to 24 minutes, or until lightly browned.
Notes
Recipe by King Arthur Flour
The finishing touch on these scones is the easy technique of brushing the tops with a little milk and a sprinkle of sugar. This helps the scones to brown on top and gives them a sweet crunch, too.
Recommended Products
As an Amazon Associate and member of other affiliate programs, I earn from qualifying purchases.
Nutrition Information:
Yield:
12
Serving Size:
12 Servings
Amount Per Serving:
Calories:

177
Total Fat:

7g
Saturated Fat:

4g
Trans Fat:

0g
Unsaturated Fat:

2g
Cholesterol:

47mg
Sodium:

271mg
Carbohydrates:

25g
Fiber:

1g
Sugar:

8g
Protein:

4g