This post may contain affiliate links. Please read my disclosure policy.
How does Homemade Blueberry Jam with just a hint of cinnamon spread on a hot, buttery biscuit sound to you right about now? If you've never attempted to can or preserve fruits or vegetables at home, let me encourage you to at least give making a batch of homemade jam a try.
Fresh blueberries, sugar, and fruit pectin in this simple jam recipe yield plenty of flavor and a delicious reward for your efforts — eight jars of Homemade Blueberry Jam to enjoy all year long.
Just imagine all the weekend brunches you can enjoy with hot buttermilk biscuits and sweet homemade jam you made yourself!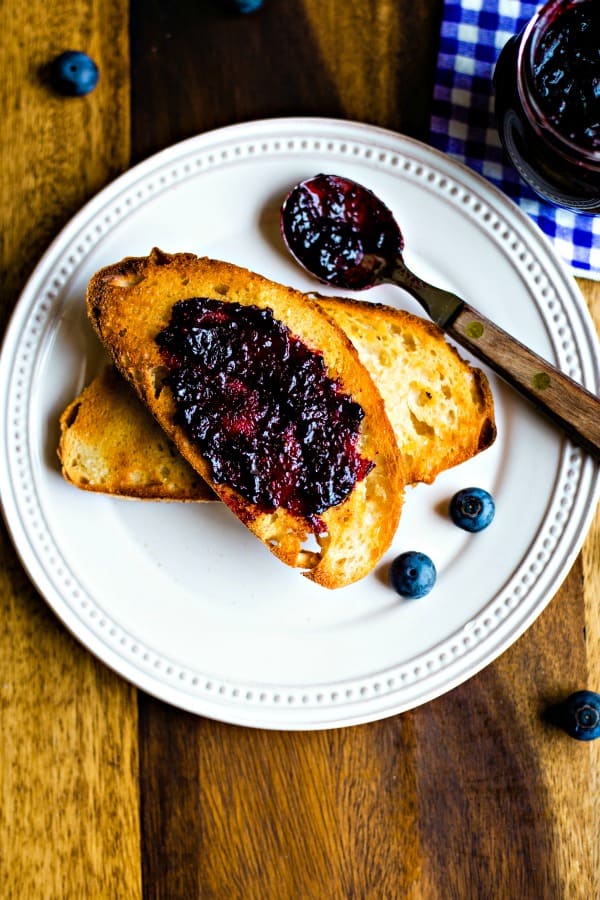 Homemade Blueberry Jam
I was lucky enough to watch my grandmother as she preserved homemade jams and jellies every Summer. Usually, there would be a batch or two of strawberry preserves made from the berries in our garden and plenty of blackberry jam and jelly made from the gallons we picked from a local farm.
We'd store about half the jars on the shelves in our basement and the other half would be lovingly gifted to friends and neighbors.
On occasion, Mamaw B. would also make peach preserves or apple butter from produce the farmer's market. The market was a dark, drive-thru warehouse on Forest Avenue in downtown Knoxville where you'd find flatbed trucks with loads of Georgia and South Carolina peaches, melons, beans, corn, and other summer treats.
When Dad brought home a bushel or two, we'd spend the afternoon under a shade tree peeling and slicing so Mamaw B. could do her magic.
So many delicious memories! I guess that's why I was inspired to make a batch of jam from the fresh blueberries we picked at my in-laws' last week.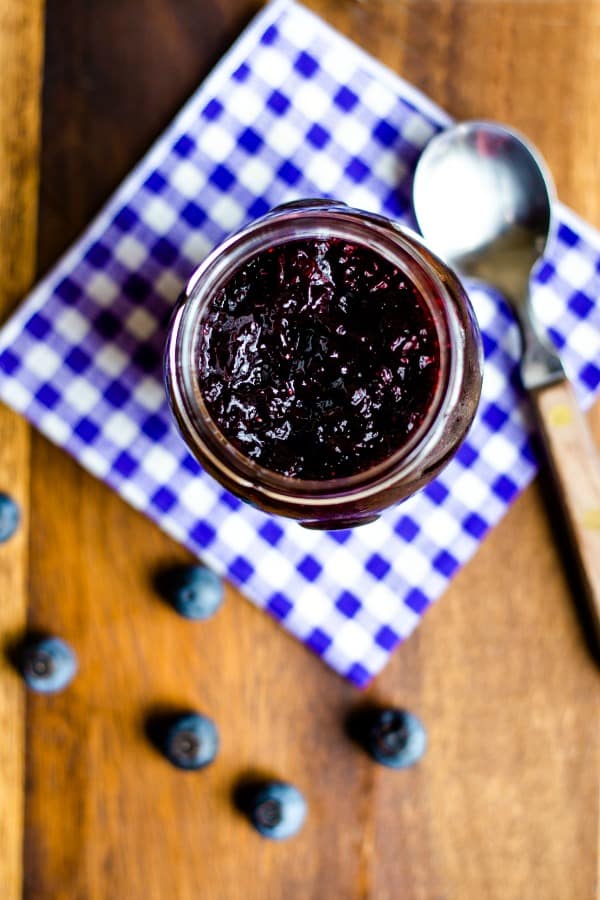 Tools for canning jams and jellies at home:
Canner with a 7-jar rack
Funnel and/or ladle
Jar lifter
Tongs or magnetic lid lifter (nice to have)
Jars with lids and bands
Making jam FAQs
How do you sterilize canning jars?
First, the jars need to be cleaned by washing in hot, soapy water (or by running through the dishwasher). To sterilize jars, they need to be in a boiling water bath for 10 minutes and then kept warm prior to filling with hot jam.
My grandmother always inverted the washed jars on a dish towel on the counter to drip dry and then laid them on a rack in a warm 200 to 250-degree oven. Note: If using a dishwasher, jars can be left in the closed, warm dishwasher after the cycle.
How do you know the canning lids are sealed properly?
Canning lids have a rubber seal that is placed directly on top of the jar's rim and held down tight with a band that is screwed on top. Leave the lids simmering in a pot of water until ready to use so that the seal adheres easily.
Although you can reuse the bands, NEVER reuse canning lids. As the lids seal you will hear a "pop". You can tell that the jar is properly sealed if the lid has a slight indention and when pressed does not pop up.
How long does homemade jam last?
Homemade jam that is sealed properly and stored in a cool, dark, and dry place will retain its flavor up to a year. Jam is safe to eat if the jar seal remains intact and there are no visible signs of mold or spoilage.
What is pectin?
Pectin, or gelatinous polysaccharide, is present in ripe fruits and is extracted for use as a setting agent in jams and jellies, allowing a much shorter cook time. There are longer methods for cooking jam without adding commercially packaged pectin, but the recipe below uses a package of Sure-Jell powdered pectin.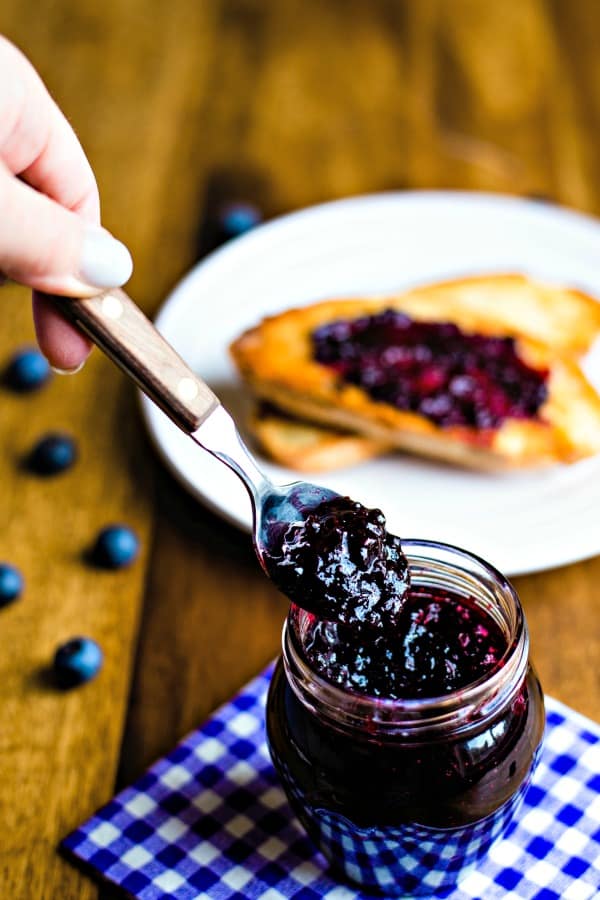 Delicious ways to enjoy homemade blueberry jam!
Now that you've made your own jam, you need something yummy to spread it on, and I just happen to have a few ideas for you: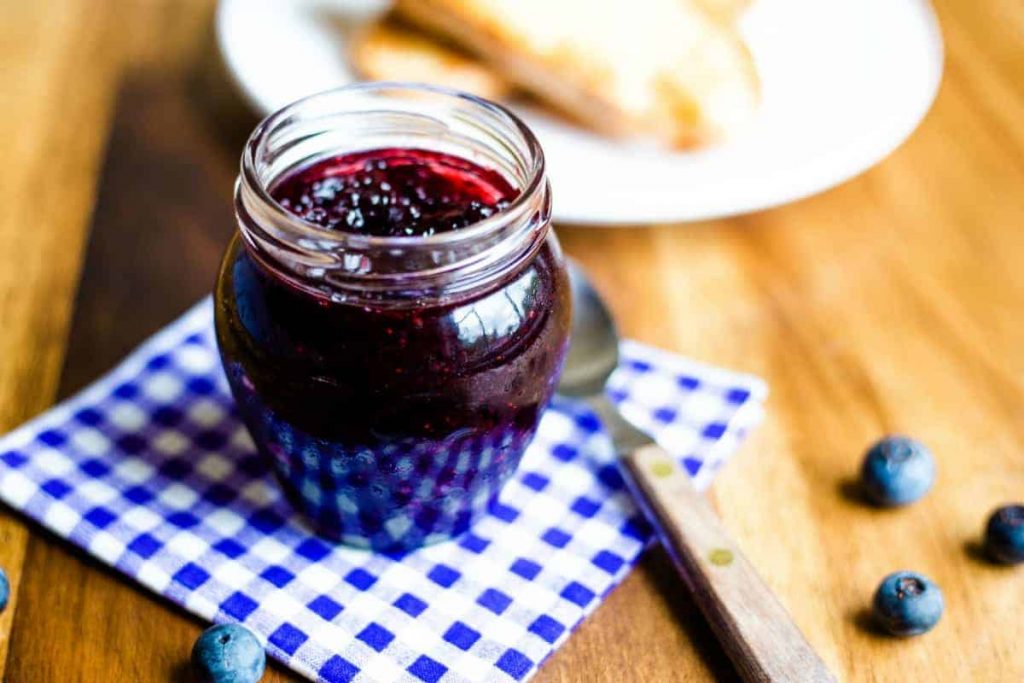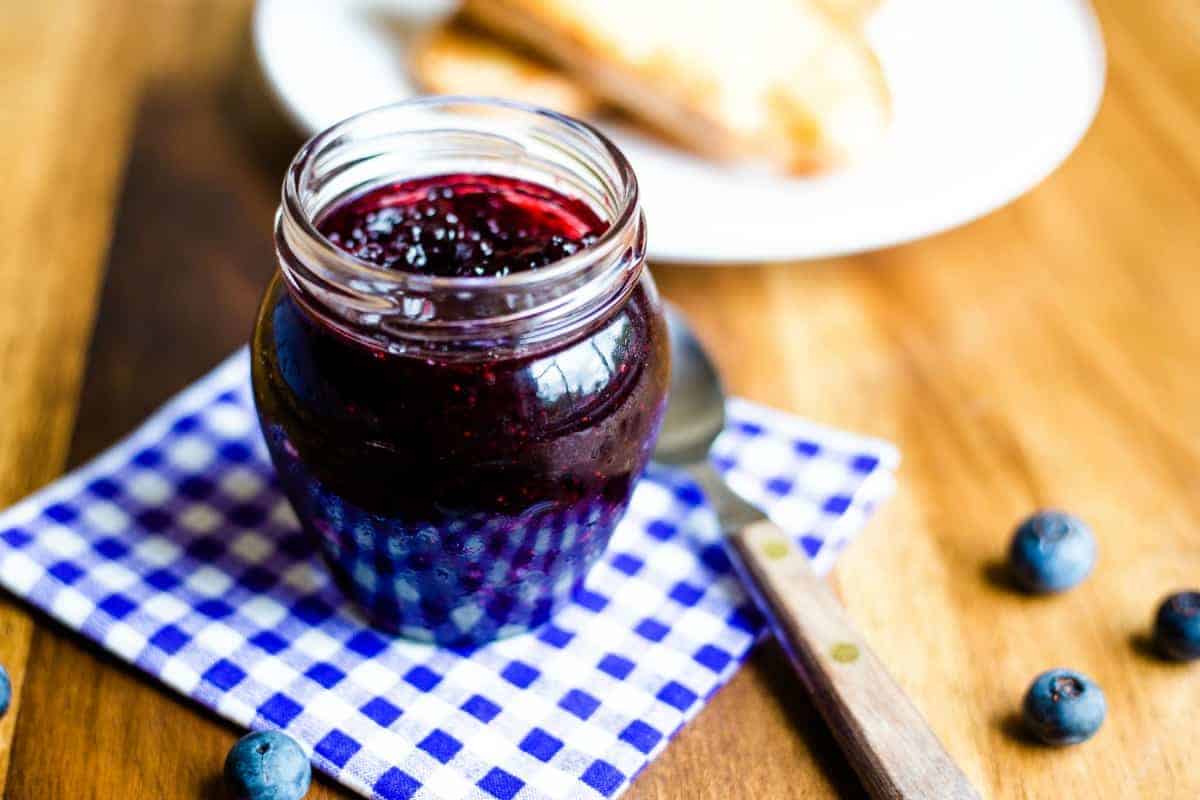 Homemade Blueberry Jam Recipe
Looking back, I wish that I'd taught my girls how to make jam when they were growing up, too. There's nothing more satisfying than making homemade jam from berries you picked yourself, so if you have the time and fresh blueberries, give it a try!
Make a second batch to use as gifts — a gift basket with a jar of homemade jam is always extra special!
Please share!
Your shares are how this site grows, and I appreciate each one. Do you know someone who would enjoy this recipe? I'd love it if you would share it on Facebook or Pinterest!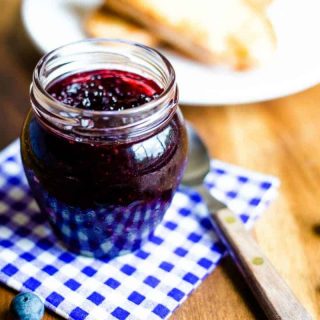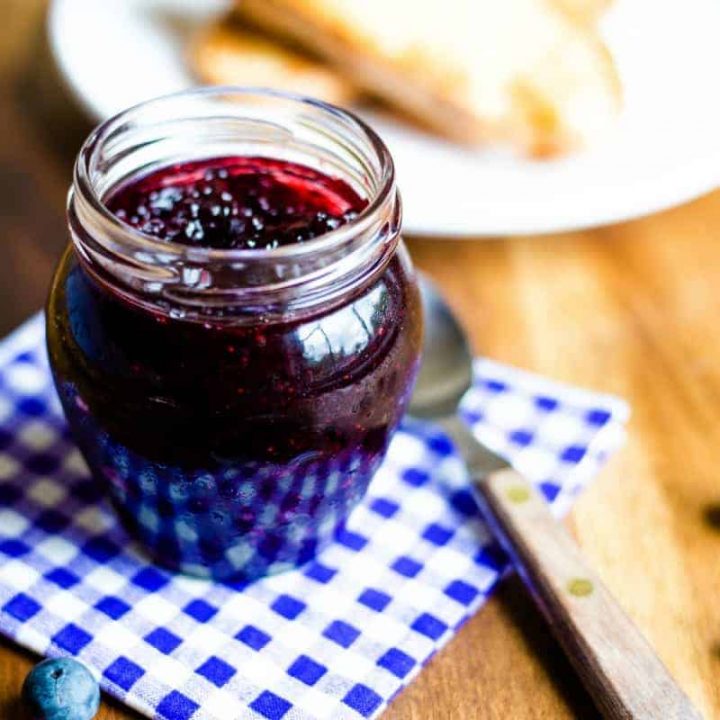 Homemade Blueberry Jam
Blueberry jam with a hint of cinnamon is a delicious breakfast treat!
Ingredients
10

cups

fresh blueberries

4-1/2

cups

sugar

1

1.75-oz. pkg.

Sure Jell Premium Fruit Pectin

1-1/2

teaspoons

cinnamon

zest of one lemon

1

teaspoon

unsalted butter
Instructions
Sterilize jars, bands, and lids.

Working in batches, roughly chop 10 level cups of blueberries using the pulse function of a

food processor

. Place berries in a large Dutch oven or stock pot. Add 1/4 cup sugar, the package of Sure Jell,

lemon zest

, and butter.

Measure out the remaining 4-1/4 cups of sugar and place in a

large bowl

. Stir in the cinnamon.

Bring blueberry mixture to a rolling boil over high heat, stirring constantly.

Add remaining sugar and cinnamon and return to a full boil and cook for 1 minute, stirring constantly.

Remove from heat and skim off any foam with a metal spoon. Ladle jam into sterilized jars, wipe the rims and jars clean, then cover with a lid and screw on the band.

Place jars in the elevated rack of a canner. Once the rack is full, lower it into the canner and cover with water (at least an inch covering the tops).

Cover the canner with the lid and bring the water to a gentle boil. Process for 10 minutes.

Turn off the heat and carefully lift rack to remove jars. Place jars on a dish towel and allow to cool completely. Listen for the seals to pop, If one does not pop, check seal by pressing down in the center of the lid. If it springs back, it is not sealed and must be refrigerated.
Notes
Refrigerate open jams for up to 3 weeks.
Nutrition
Serving:
1
/2 oz.
Calories:
36
kcal
Carbohydrates:
9
g
Sodium:
1
mg
Sugar:
8
g
Life Love and Good Food does not claim to be a registered dietician or nutritionist. Nutritional information shared on this site is only an estimate. We recommend running the ingredients through an online nutritional calculator if you need to verify any information.