This post may contain affiliate links. Please read my disclosure policy.
Use a mortar and pestle to crush whole mustard seeds to make spicy, delicious Homemade Stone-Ground Mustard for sandwiches, burgers, and vinaigrettes.
You may be asking, "Is making homemade mustard worth the effort?" and I'd have to tell you, "Yes, I really think so!"
It does take a little muscle, but it's also kind of fun and the process only takes a few minutes. Once you're all done, this spicy mustard can be stored in the refrigerator for up to a year. That's a really long shelf life!
This mustard is a delicious condiment for burgers or sandwiches. I also like to use stone-ground mustard in my favorite chicken salad and vinaigrettes.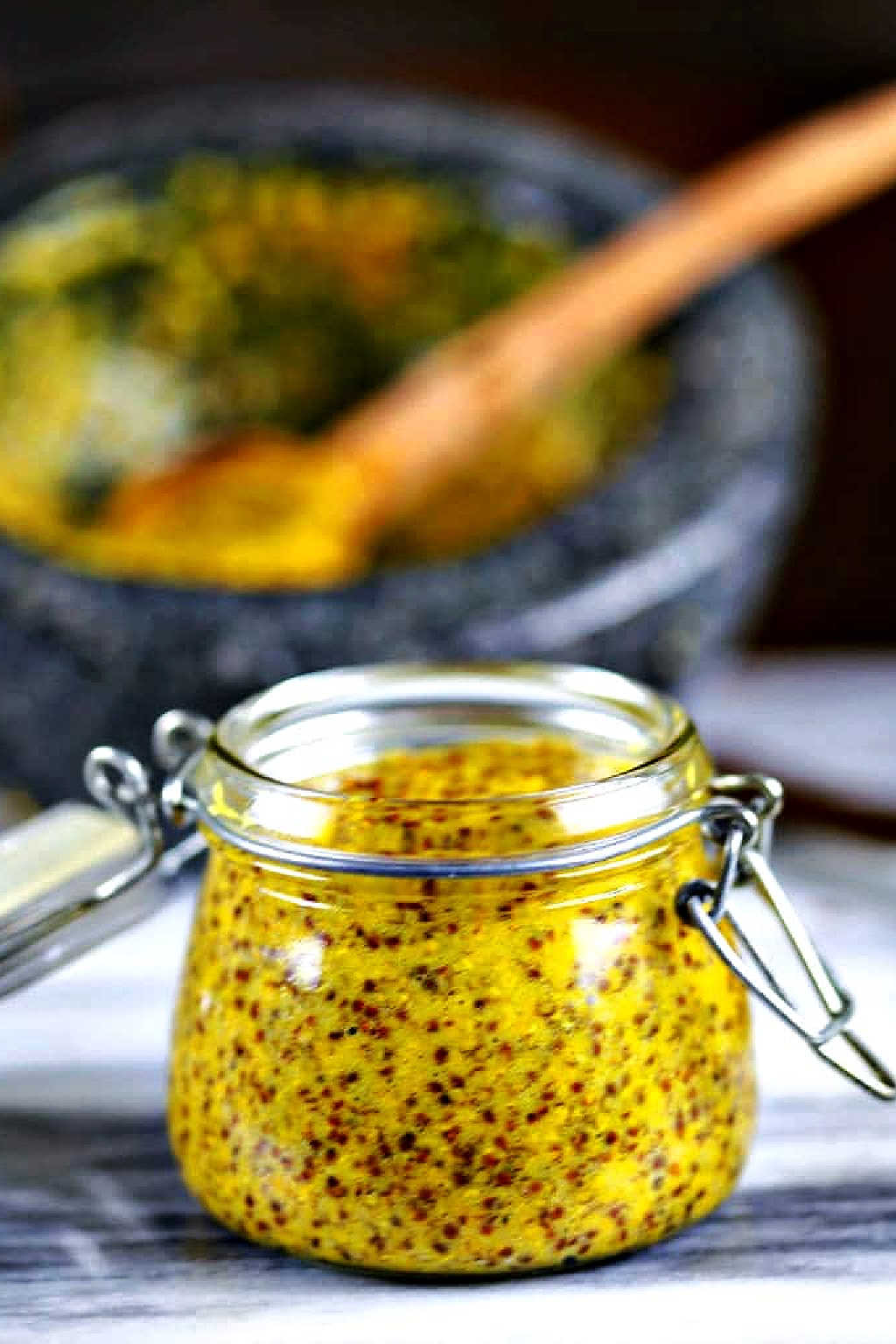 Homemade Stone-Ground Mustard: behind the recipe
I would never have thought about even attempting to make my own mustard until my daughter demonstrated her creative culinary skills using a mortar and pestle (a wedding gift from her mother-in-law) during our visit to St. Louis last weekend.
Although this kitchen device has been used since ancient times to grind spices, I'd never tried it myself. Why bother when you can rely on the convenience of the spice rack?
Watching Allison demonstrate her technique and then tasting that delicious mustard was indeed intriguing. So much so that I ordered my own Granite Angled Mortar and Pestle before I left St. Louis to head home!
I definitely plan to find other fun recipes to make with my new mortar and pestle!
What is stone-ground mustard?
A popular condiment for hearty sandwiches, charcuterie boards, and hot dogs, stone-ground mustard is produced by grinding brown mustard seeds with water and vinegar until it becomes a coarse textured spread.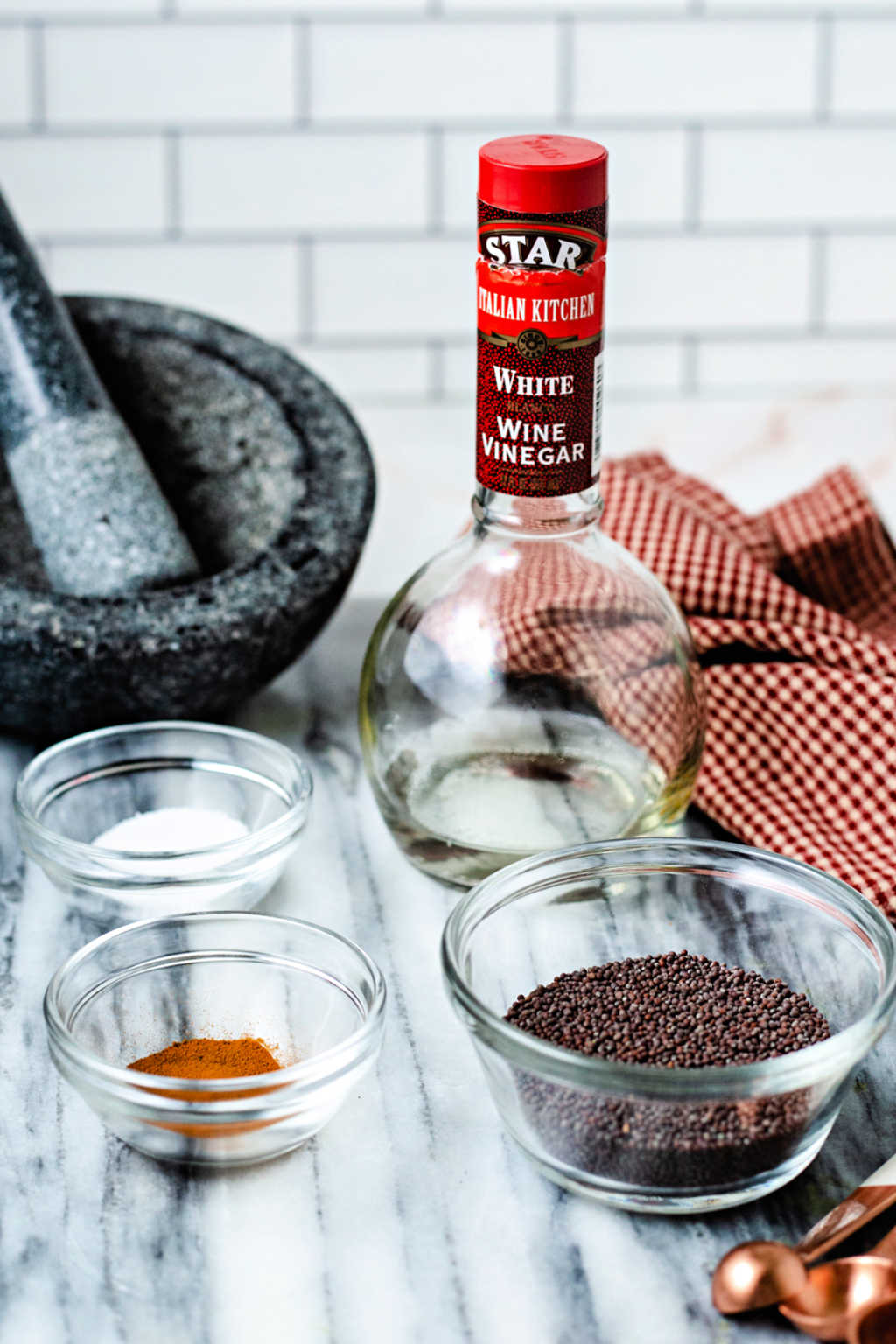 Key ingredients and substitutions
Brown mustard seeds — These tiny brown seeds are more pungent than the yellow variety and are used in this recipe to create a spicy spread. This same technique may be used with yellow mustard seeds, although the spread will have a mild, yet sharp flavor.
Water — As the seeds are crushed, peppery oil is released. Water, either hot or cold, works to stabilize the heat. Hot water will break down some of the pungent compounds, while cold water will keep them intact.
W

hite wine vinegar

— Adding acidity to the mustard makes the pungency last longer during its shelf life. Champagne vinegar is a good substitute.
Turmeric — Besides adding a little bit of spice, turmeric gives the mustard a more pleasing yellow color.
Sugar — Adding a little sugar counteracts the bitterness in the mustard oils when the seeds are crushed.
How to make your own mustard at home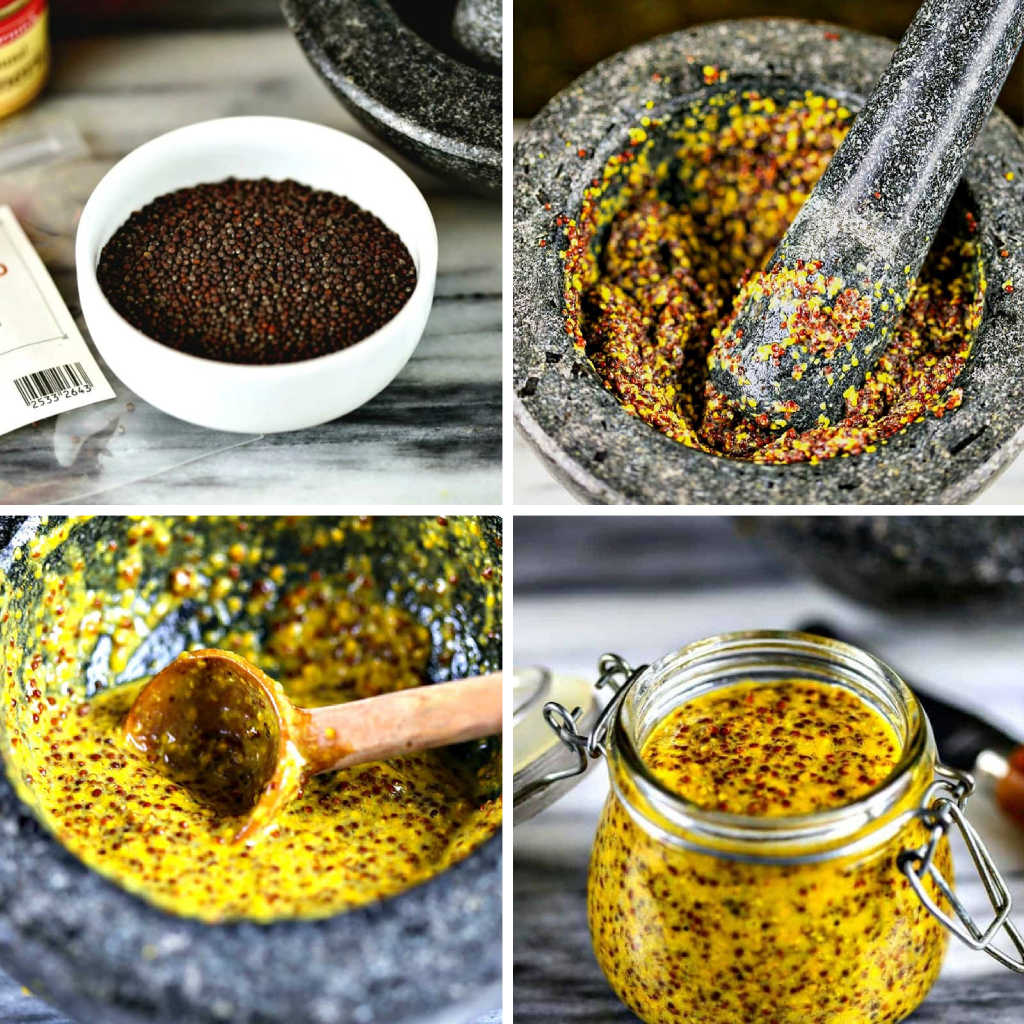 STEP 1 | Crush the mustard seeds
Add mustard seeds into the mortar. Rock the pestle back and forth to grind the seeds. After a few seconds you'll notice a yellow mustard powder start to appear.
My daughter used black mustard seed in her recipe, but I use brown mustard seed that I found at World Market.
This process will require a bit of muscle!
STEP 2 | Add water
Slowly add water, working the seeds into a coarse paste.
The water temperature, whether cold or hot, will create a chemical reaction as you grind the seed that results in how much heat is in the mustard.
Use cold water for a spicier mustard and hot water for a milder mustard.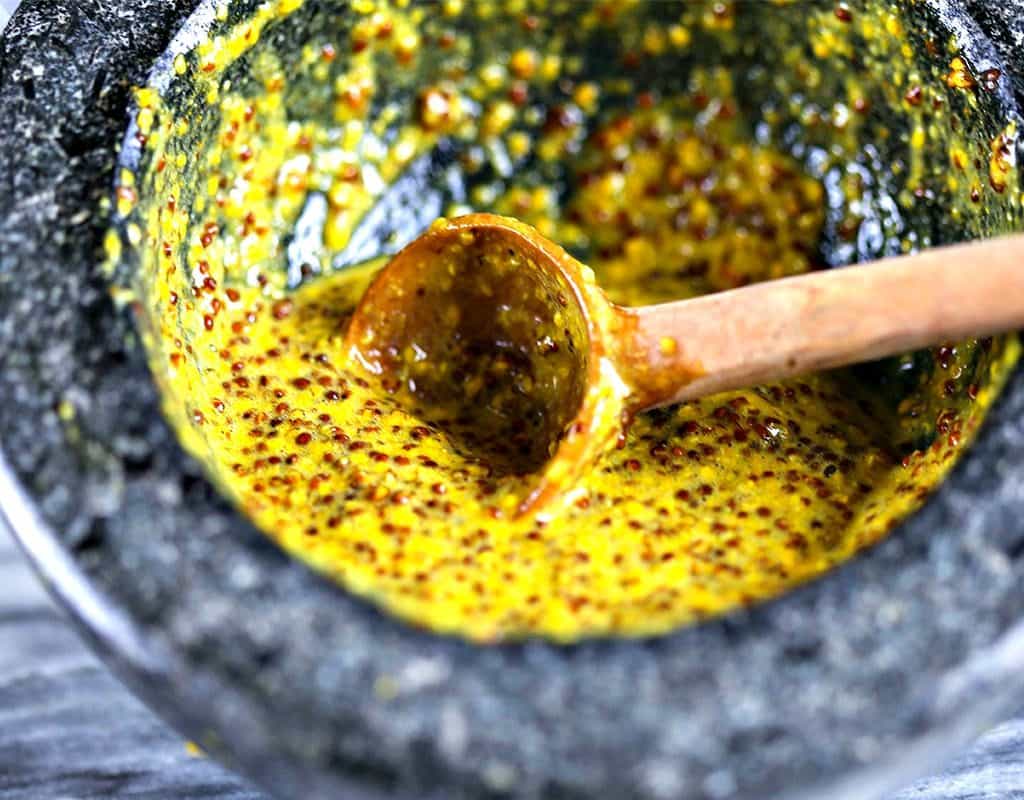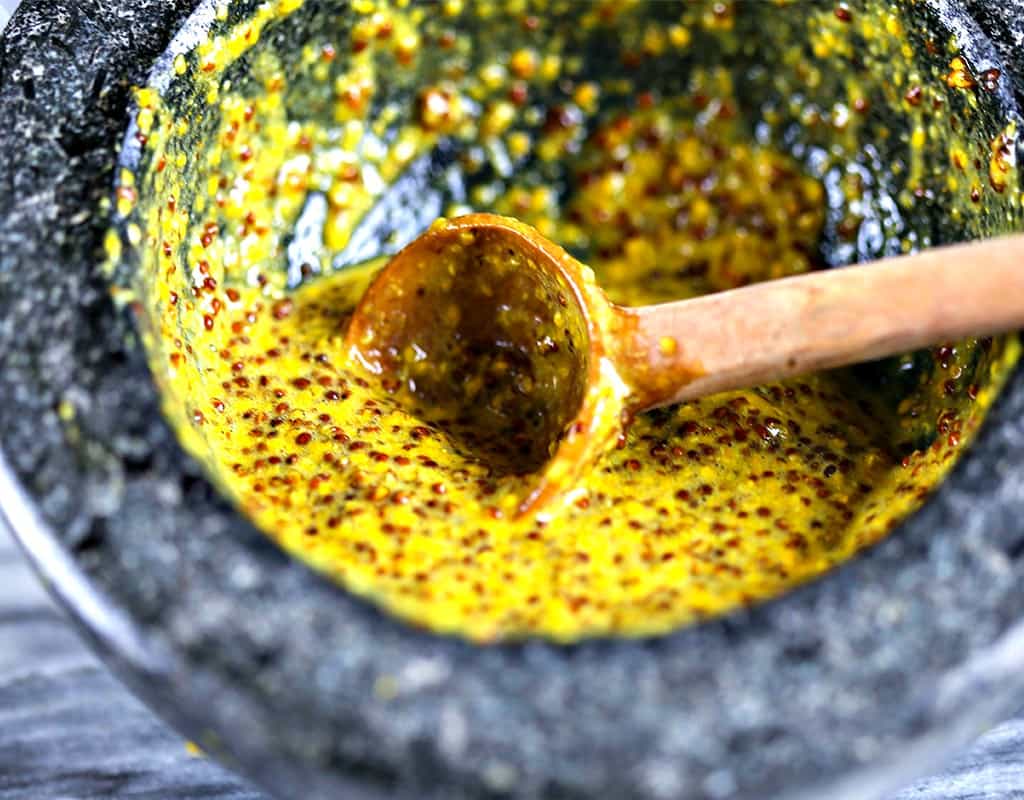 STEP 3 | Add remaining ingredients
Season the mustard with salt and add turmeric and white wine vinegar, continuing to grind until you get the consistency desired.
Leaving some whole seeds creates an interesting coarse texture.
Store the mustard in a glass jar in the refrigerator for 24 hours before serving to allow the flavor to meld.
Related recipes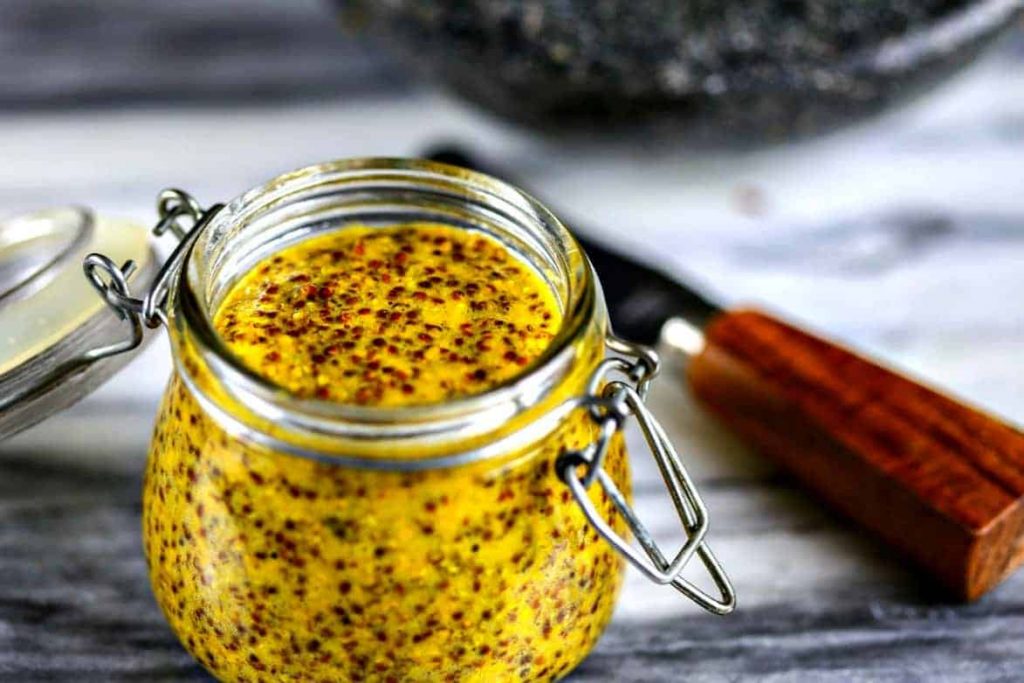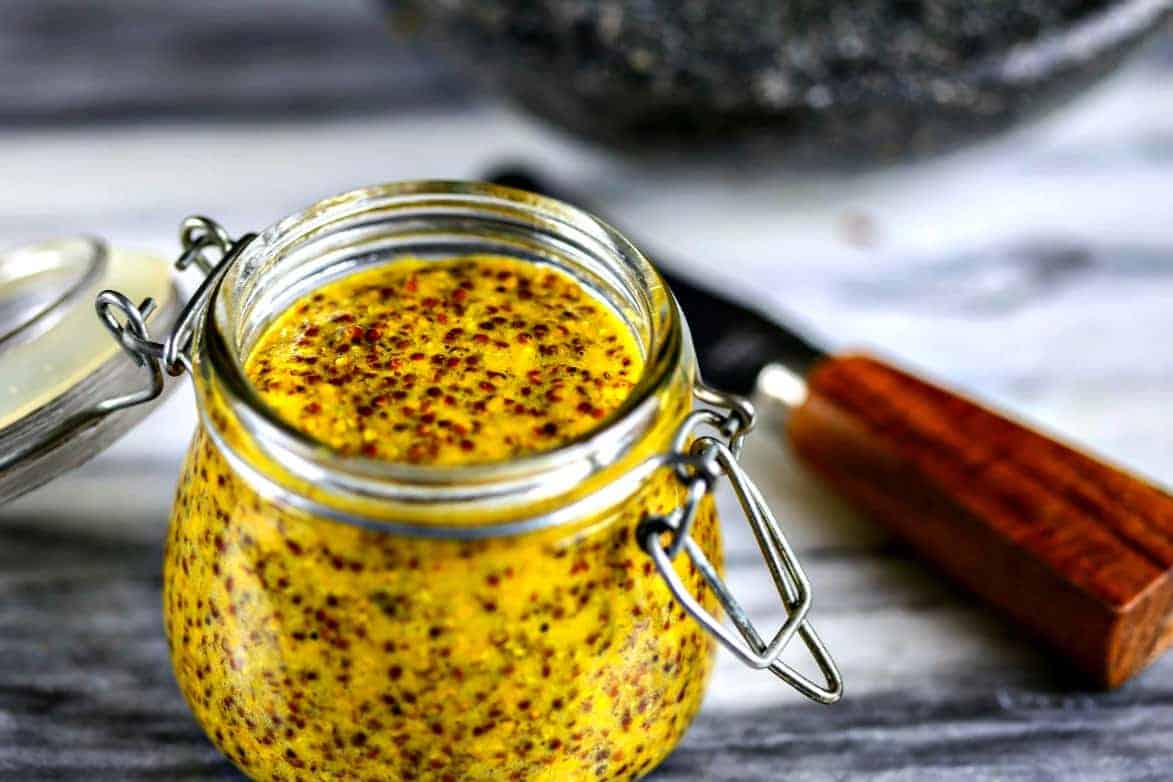 Please share!
Your shares are how this site grows, and I appreciate each one. Do you know someone who would enjoy this recipe? I'd love it if you would share it on Facebook or Pinterest!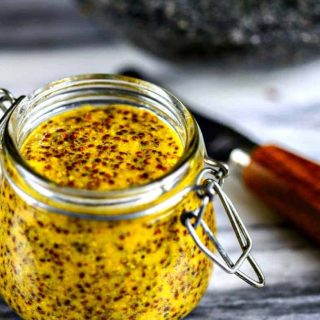 Homemade Stone-Ground Mustard
Use a mortar and pestle to crush whole mustard seeds to make spicy, delicious Homemade Stone-Ground Mustard for sandwiches, burgers, and vinaigrettes.
Ingredients
6

tablespoons

brown mustard seed

1/2

cup

water

(cold or hot)

1 1/2

tablespoons

white wine vinegar

1/2

teaspoon

salt

1/2

teaspoon

turmeric

2

tablespoons

sugar
Instructions
Crush mustard seed using a mortar and pestle for a few seconds.  

Slowly add water and continue grinding the seed. Use hot water for a milder mustard and cold water for a spicier mustard. Grind until the water is incorporated, leaving some seeds whole.

Add the remaining ingredients and continue grinding until the desired consistency is achieved. Store the mustard in a glass jar in the refrigerator for 24 hours before serving. 

Mustard will keep for up to one year in refrigerator.
Nutrition
Serving:
1
Servings
Calories:
16
kcal
Carbohydrates:
3
g
Sodium:
209
mg
Sugar:
3
g
Life Love and Good Food does not claim to be a registered dietician or nutritionist. Nutritional information shared on this site is only an estimate. We recommend running the ingredients through an online nutritional calculator if you need to verify any information.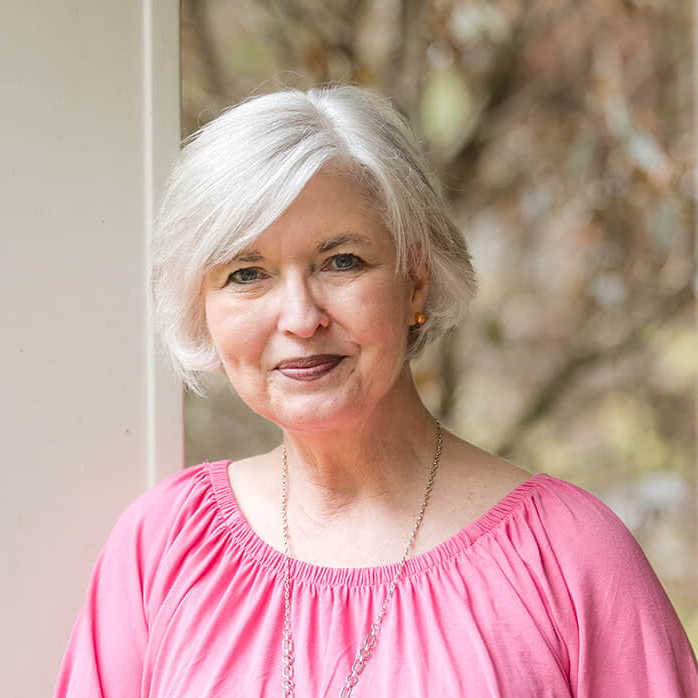 About Sheila Thigpen
Recipe Developer, Food Photographer, Food Writer
Sheila Thigpen is the publisher of Life, Love, and Good Food — a Southern food blog — and the author of Easy Chicken Cookbook and The 5-Ingredient Fresh and Easy Cookbook. After 20+ years in the publishing industry, she retired in 2018 to focus on her own creative endeavors full time. She and her husband live near the beautiful Smoky Mountains and have a precious little granddaughter who has stolen their hearts. As an influencer, Sheila has collaborated with brands like Creamette, Kroger, HERSHEY'S, Hamilton Beach, Garafalo Pasta, OXO, Smithfield, Valley Fig Growers, and more.