This post may contain affiliate links. Please read my disclosure policy.
Grilled Pork Chops with Peach Salsa is a must-try recipe for anyone like me who waits with bated breath for the peak of Summer peach season when peaches taste their absolute finest.
This easy grilled pork chop recipe starts with a simple marinade of balsamic vinegar, fresh lime juice, and fresh thyme leaves and is topped off with fresh peach salsa that's a little sweet with a little heat.
For the peach salsa, I like using freestone Georgia peaches which have a lovely sweetness with just a little acidity. Best of all, the pits remove easily!
Grilling the peaches, sweet Vidalia onion, and jalapeño pepper until they are slightly caramelized adds even more natural sweetness to the salsa. In my opinion, these tender, juicy pork chops topped with grilled peach salsa is a match made in heaven!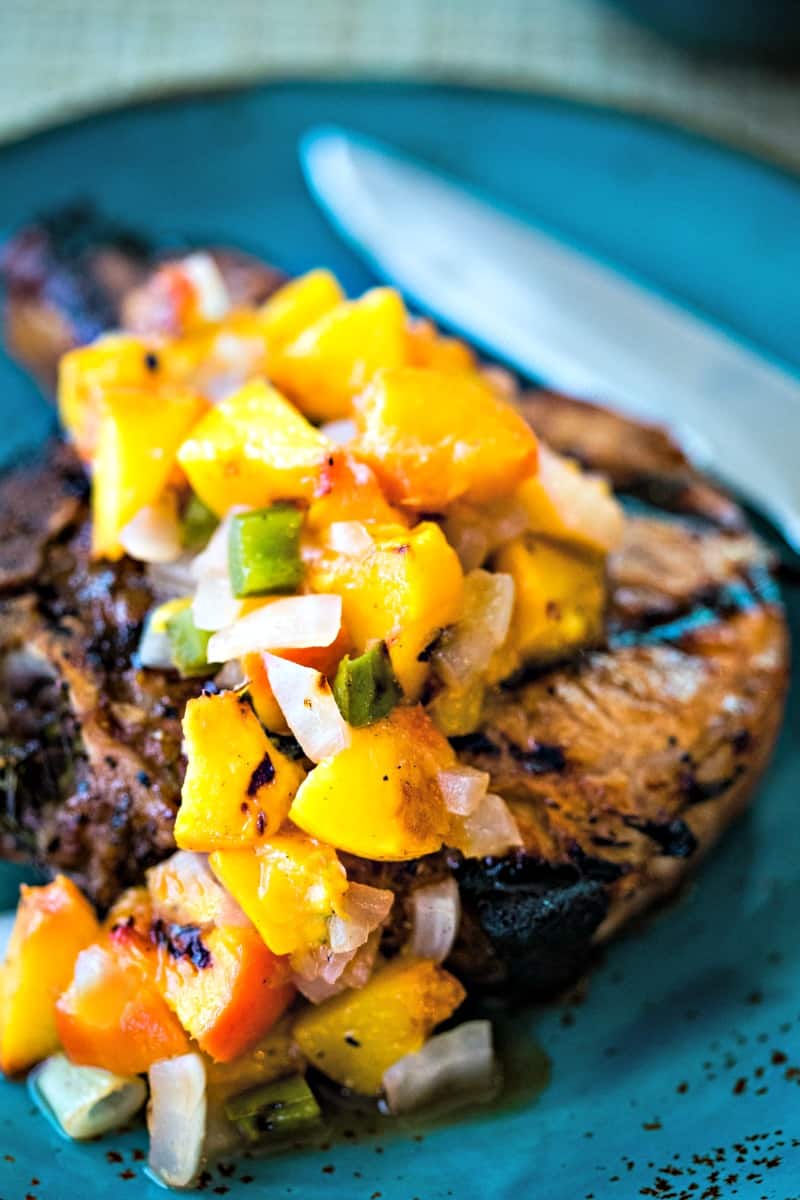 Grilled Pork Chops with Peach Salsa
I guess you could call me a peach snob. For me, there's absolutely no point in purchasing fresh peaches in the South before late July or August.
That's when Georgia peaches are at their peak with full flavor and sweetness and are perfect for making peach pies, ice cream, muffins, and even peach salsa.
Growing up, every Summer my Dad purchased a bushel or two of Georgia peaches. We'd all help to peel and pit them, and my grandmother would can quart jars of peaches to use for pies and cobblers.
Let me tell you, it was always a hard job to keep from eating too many of those juicy slices while we were peeling them out under the big shade trees! Summer peaches are are still one of my favorite fruits and an are absolutely delicious accompaniment to grilled pork!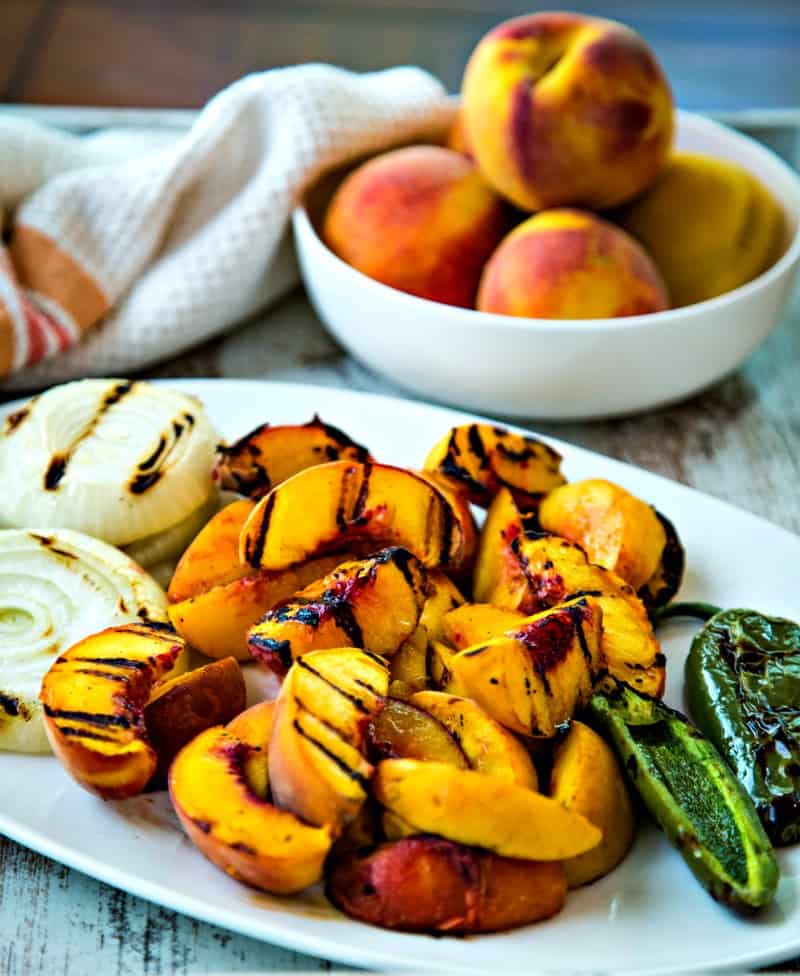 Peaches FAQ
How do I know if a peach is ripe?
If you've ever eaten a peach before it's good and ripe, you know that not only is it too firm, it tastes a bit tart. To choose perfectly ripe peaches, look for peaches that slightly soft to the touch. A quick sniff will signal that there's plenty of goodness within, too. If you don't plan to use the peaches the same day, choose peaches that are firmer as they will ripen quickly. Too soft and they'll spoil quickly.
Should you refrigerate fresh peaches?
Don't refrigerate fresh peaches when you bring them home. Leave them on the counter at room temperature and they should ripen in a day or two. Placing them in a paper bag overnight will speed up the process.
How do you grill peaches?
For this recipe, halve the peach along the peach's seam, remove the pit, and cut into wedges. Cook on a lightly-oiled grill pan (to avoid them falling through the grates) over medium heat for two to three minutes on each side, or until the peaches are slightly soft and lightly charred. Peaches that are too ripe will get too soft and will tend to burn easily because they release more natural sugars.
For balsamic sugar peach halves — which are delicious served with a scoop of vanilla ice cream! — brush the grill grates with oil. Cut the peaches in half and remove the seeds. Drizzle the cut side with a little balsamic vinegar, then grill cut side down for 3 to 4 minutes over medium heat. Flip and grill the skin side another 3 to 4 minutes, or until soft. Sprinkle the cut side with raw (turbinado) sugar and serve — delicious!
Ingredients needed for Grilled Peach Salsa:
Freestone Georgia peaches
Sweet onion
Jalapeño pepper
Fresh lime
Kosher salt
Follow the directions in the recipe card for grilling the salsa ingredients, then simply toss with fresh lime juice and season with salt and pepper to taste.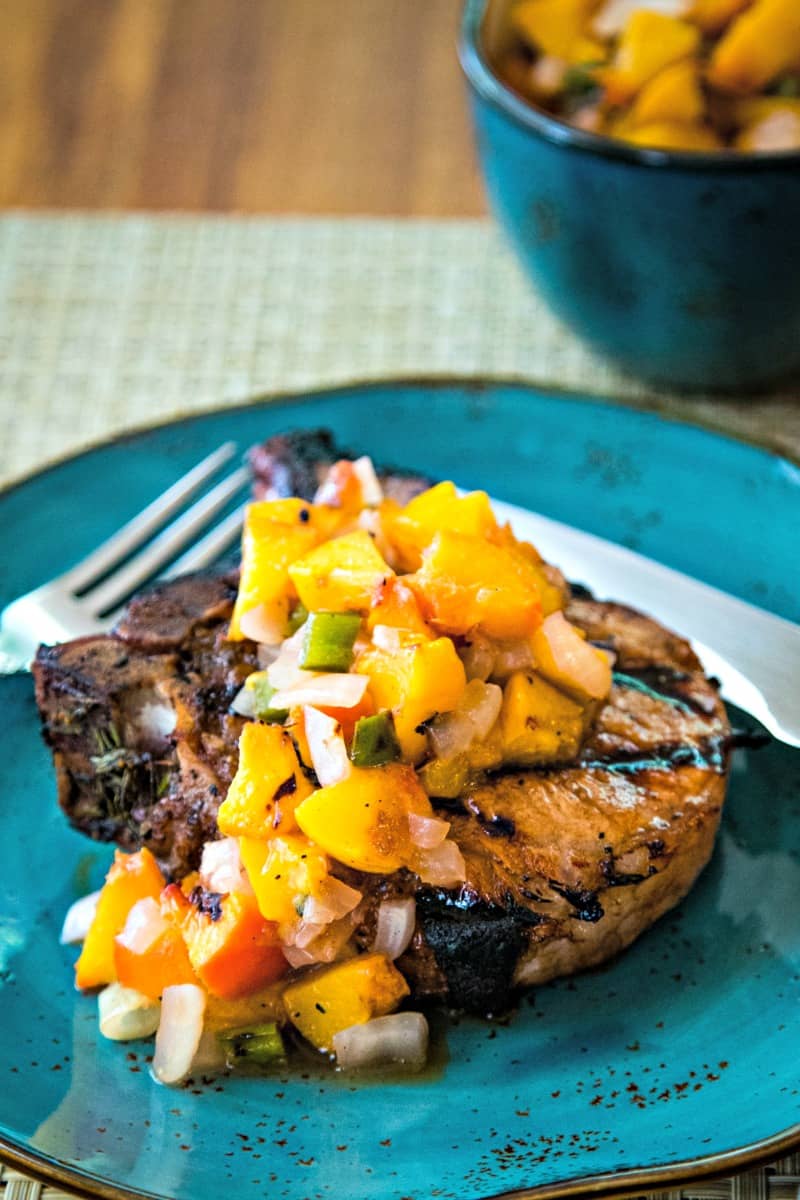 What temperature should I grill pork chops?
Pork chops should be cooked over high heat with the grill lid closed at a temperature of 400 degrees.
How long should I grill pork chops?
Cooking time should be adjusted depending on the thickness of your pork chops and whether is is boneless or bone-in. Follow the list below for perfect grilled pork chops every time!
Boneless or bone-in 3/4-inch thick — cook 8 to 12 minutes
Boneless 1-1/2-inch thick — cook 12 to 20 minutes
Bone-in 1-1/2-inch thick — cook 20 to 30 minutes
How do I know if pork chops are done?
The thing you definitely don't want is a dried out pork chop. At the same time, however, you want to make sure the pork is cooked to a safe internal temperature. Grilled pork chops are done when they are firm to the touch, the juices run clear, and an instant read digital thermometer reads 145º Fahrenheit.
A good practice to avoid over cooking is to remove the pork chops from the grill when they reach an internal temperature of 140º Fahrenheit, then tent the chops with aluminum foil for 5 minutes. The chops will continue cooking and should reach the magic number in that amount of time, but always test with an instant read thermometer to confirm.
How long should I marinate pork chops before grilling?
Pork chops should be marinated a minimum of two hours prior to grilling and up to 24 hours. For thicker chops, pierce the chops several times with a fork before adding to the marinade so that the meats soaks in all the flavor and is tenderized.
Related recipes
Whether it's chops or tenderloin, pork is a delicious choice for outdoor grilling. Here are a few of my favorite pork recipes for the grill: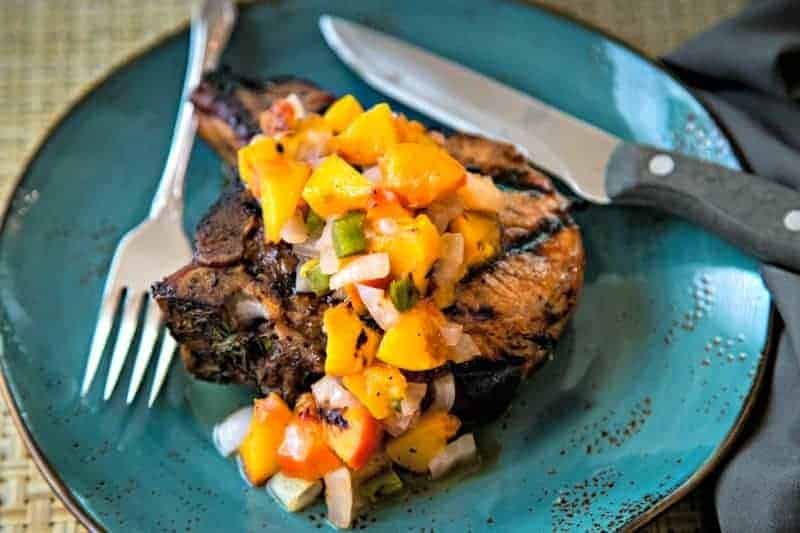 To make this recipe, you may need…
The following are affiliate links. We are a participant in the Amazon Services LLC Associates Program, an affiliate advertising program designed to provide a means for us to earn fees by linking to Amazon.com and affiliate sites.
I love the digital display of my OXO Good Grips Thermocouple Thermometer. It provides temperature readings in just 2-3 seconds with an accuracy of ±0.9°F, so you can ensure perfection in every pork chop you take off the grill!
Grilled Pork Chops and Peach Salsa Recipe
Don't let peach season get away without trying this recipe! Tender, juicy pork chops with delicious fresh peach salsa — all prepared on the grill — are perfect for an end-of-Summer outdoor dinner party.
If you like this recipe, please do me a favor and give it a 5-star rating!
Let's be social! Follow me on YouTube, Pinterest, Instagram, Facebook, and Twitter!
This recipe was originally posted on June 4, 2015, and was updated on August 20, 2019.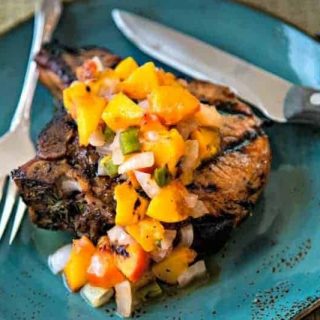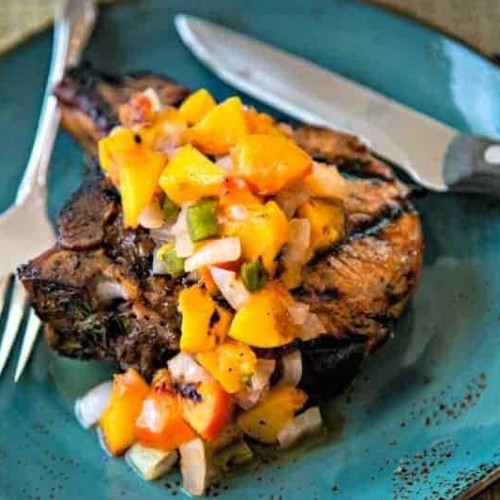 Grilled Pork Chops and Peach Salsa
Grilled Pork Chops with Caramelized Peach-Onion Salsa
Ingredients
Pork Chop Marinade
4

3/4 inch thick

bone-in pork chops

1/4

cup

balsamic vinegar

2

tablespoons

fresh lime juice

3

teaspoons

chopped fresh thyme

1/2

teaspoon

salt

1/2

teaspoon

black pepper
Grilled Peach Salsa
4

medium

peaches

halved with pits removed

1

large

vidalia onion

cut into thick slices

1

medium

jalapeño pepper

halved with seeds removed

1

small

lime

juiced

1/2

teaspoon

kosher salt

1/4

teaspoon

freshly ground black pepper
Instructions
Marinate the Chops
Pierce pork chops liberally with a fork on both sides. Place chops in a gallon-size resealable plastic bag with all marinade ingredients. Seal tightly and shake to coat chops completely. Refrigerate for 2 to 12 hours.
Make Grilled Peach Salsa
Lightly coat grates with oil and heat to 400 degrees.

Slice peaches in half and remove pits; do not peel. Cut each peach into 8 wedges. Cut onion into thick slices and cut jalapeño pepper in half and remove the seeds.

Lightly brush the onion and jalapeño pepper with olive oil. Place the peaches, onion slices, and pepper on a grill pan. Cook on each side 2 to 3 minutes, or until soft. Remove from heat.

When cool enough to handle, remove peels from peaches. Chop peaches, onion, and pepper and place in a bowl. Toss with lime juice and season with salt and pepper.
Grill the Chops
Coat cooking grates with oil and heat grill to 400 degrees.

Remove pork chops from marinade and cook over direct heat with the grill lid closed for 5 to 6 minutes or until they lift easily from grate. Turn the chops and continue cooking another 5 to 6 minutes, or until the juices run clear and the internal temperature reaches 140 degrees.

Remove from heat, tent with aluminum foil, and let rest for 5 minutes. The internal temperature should rise to 145 degrees. Top with grilled peach salsa and serve.
Nutrition
Serving:
1
g
Calories:
443
kcal
Carbohydrates:
28
g
Protein:
43
g
Fat:
18
g
Saturated Fat:
6
g
Polyunsaturated Fat:
9
g
Cholesterol:
132
mg
Sodium:
626
mg
Fiber:
4
g
Sugar:
22
g
Life Love and Good Food does not claim to be a registered dietician or nutritionist. Nutritional information shared on this site is only an estimate. We recommend running the ingredients through an online nutritional calculator if you need to verify any information.