A fresh twist on the French classic, Chicken Dijon is infused with minced rosemary and simmers to perfection in a creamy white wine Dijon mustard sauce. Toss a handful of fresh, whole green beans into the mix and cook an entire delicious gourmet meal in just one frying pan!
Believe it or not, this Chicken Dijon recipe can be prepared and on your dinner table in under 30 minutes. Bon appétit!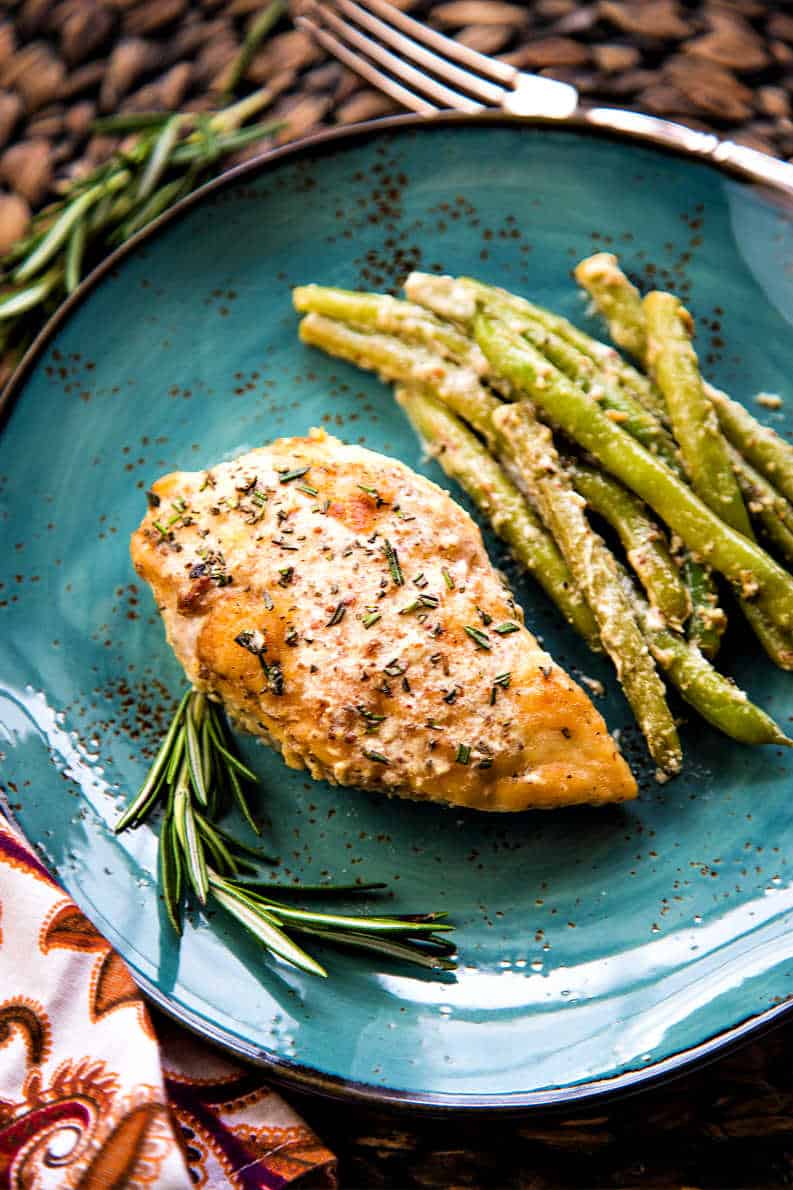 Chicken Dijon
You don't have to be Julia Child to cook a delicious French-inspired chicken dish at home. One of the simple French recipes to perfect is Chicken Dijon.
The secret to this dish is to first properly season the chicken simply with salt and pepper. Then, simmer it in the sauce until it absorbs all the flavors and becomes fork-tender. This white wine Dijon mustard sauce is tangy and a little bit sharp, yet mild enough to be pleasing.
One common technique is frying chicken in two fats — extra virgin olive oil and unsalted butter — for the best flavor. Remember butter begins to smoke at a high temperature, so add it to the pan as soon as the butter is melted and foamy.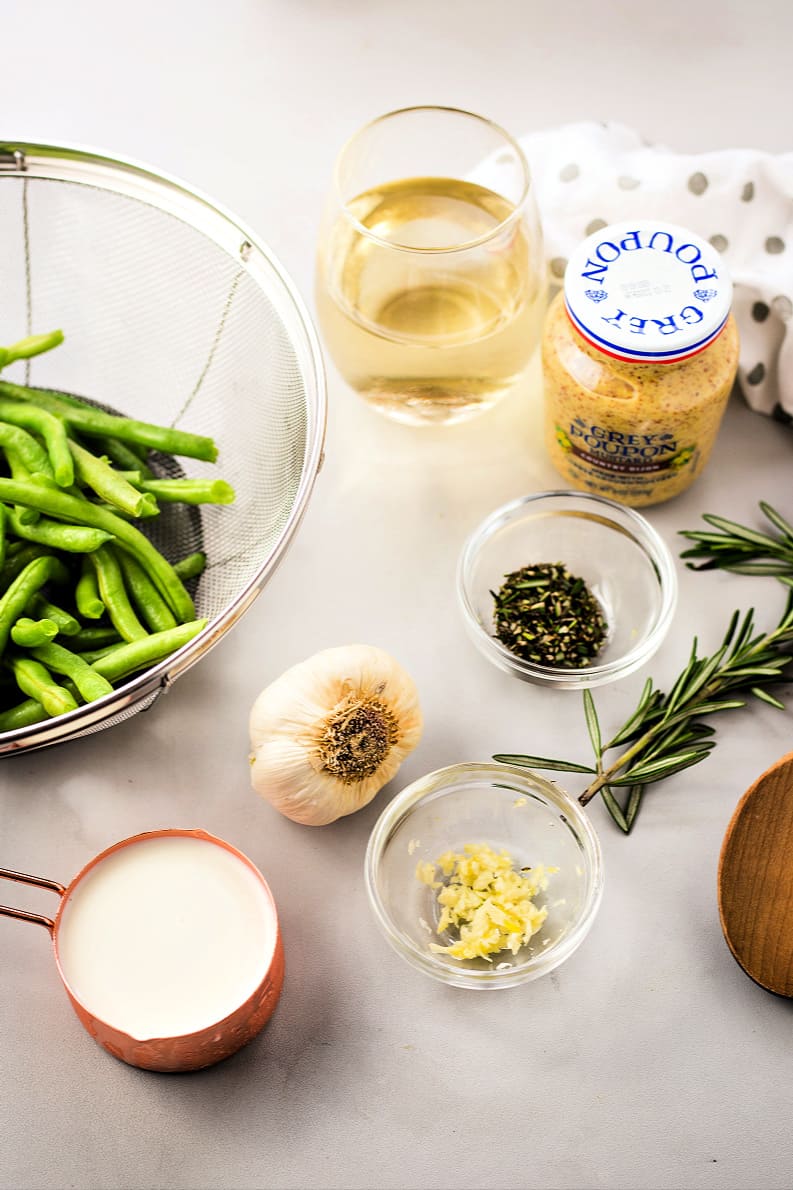 Ingredients
Skinless, boneless chicken breasts (or chicken cutlets) — To make four servings you'll need one pound of chicken. Usually, I cut my chicken breast into smaller pieces so that each serving is 4 to 6 ounces. I also like to flatten the chicken so that it has an even thickness and will cook evenly. Alternately, you could also purchase chicken cutlets.
Flour — For dredging the chicken before frying
Fresh rosemary — Not absolutely necessary, but you don't want to miss out on the added flavor and freshness herbs bring to this dish. Minced rosemary is mixed with the flour for dredging the chicken and is also sprinkled on the dish at the end of cooking.
Butter and extra-virgin olive oil — Using both fats together for frying the chicken adds incredible flavor.
Garlic — Adds even more flavor to this dish.
White wine — Use to deglaze the pan as well as to make the sauce. Don't be tempted to substitute cooking wine because it can sometimes be a bit bitter.
Stone-ground Dijon mustard — Adds a sharp, tangy taste to the sauce. I prefer to use a stone-ground version like the one by Grey Poupon.
Heavy cream or half-and-half —Either will work to add creaminess to the sauce, so why not save a few calories by choosing half and half? For extra richness, though, use the heavy cream.
Salt and pepper — Enhances all the other flavors in this dish.
Whole fresh green beans (optional) — I like tossing green beans into the pan to cook along with the chicken so that I have a complete meal. However, if you leave the green beans out you'll have more sauce to drizzle on top of the chicken or even over a side of pasta or mashed potatoes.
What is in Dijon mustard?
Dijon mustard is a condiment that originated in the city of Dijon, France, and is made from black mustard seeds and white wine or verjuice, the acidic green juice from grapes.
What is the difference between yellow mustard and Dijon mustard?
The main difference between these two mustards is the taste. Yellow mustard is milder, while Dijon mustard is sharper and tangier.
What if I don't have Dijon mustard?
You could substitute regular mustard in this recipe, but you would miss out on all the lovely flavor that comes from Dijon. In a pinch, however, you can make your own Dijon mustard by combining one tablespoon of dry mustard powder with one tablespoon of mayonnaise. To this, stir in a pinch of sugar with a teaspoon each of white wine vinegar and water.
If you're feeling really adventurous — and have some elbow muscle — you may even want to try making homemade Stone-Ground Mustard from scratch by grinding up brown mustard seeds with a mortar and pestle.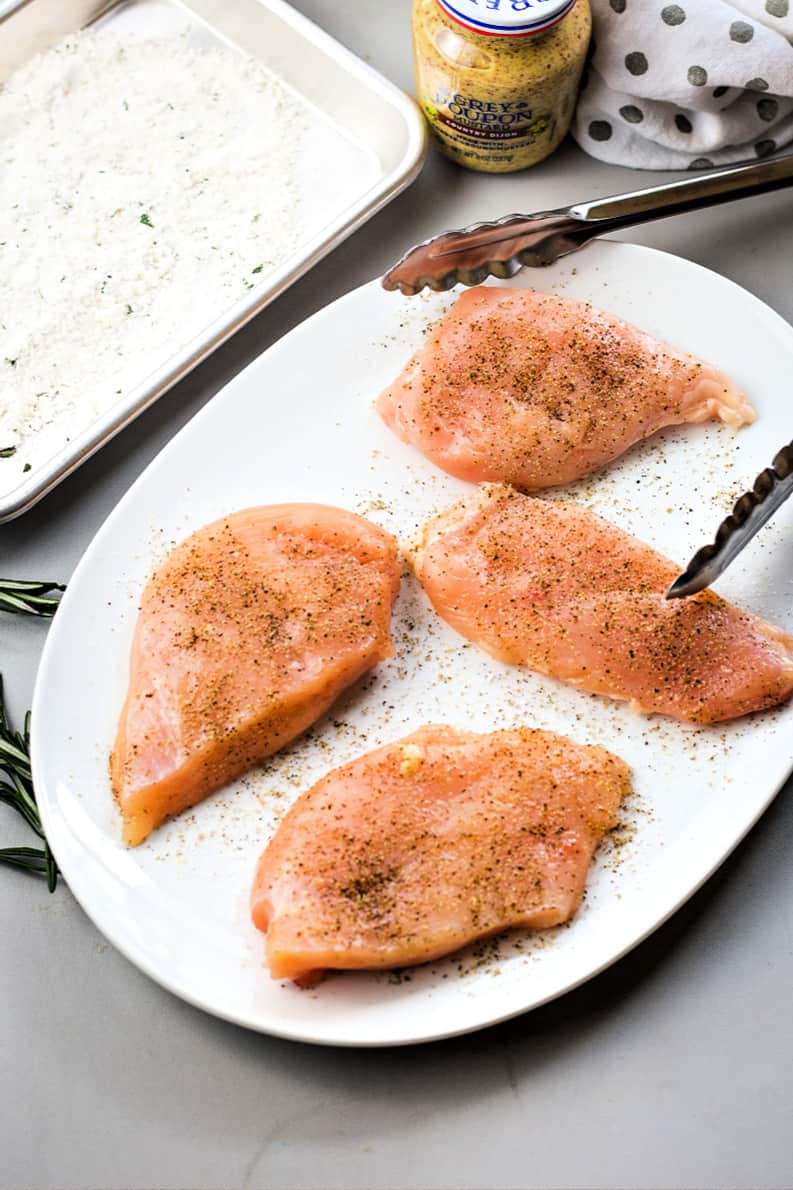 Instructions
First, dredge skinless, boneless chicken breasts (seasoned with salt and pepper) in a mixture of flour and minced fresh rosemary.
Cook the chicken in melted butter and olive oil.
Remove the chicken, then add garlic and white wine to the pan to deglaze the pan.
If cooking green beans with this recipe, add the green beans and the remaining white wine to the pan and simmer until just tender.
Stir in cream and Dijon mustard and return the chicken to the pan to finish cooking.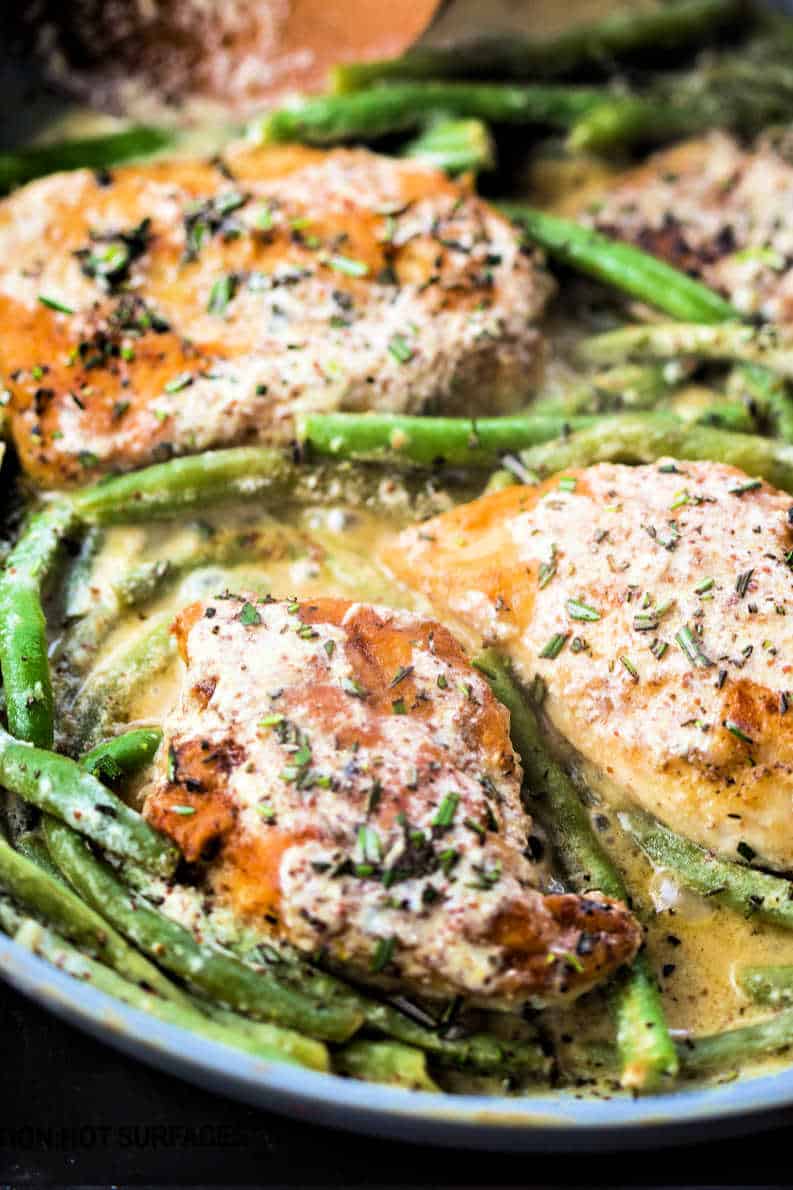 Related recipes
Chicken is probably one of the most versatile proteins you can choose — the recipe possibilities are endless! Here are a few of my favorite ways to serve chicken for dinner at our house: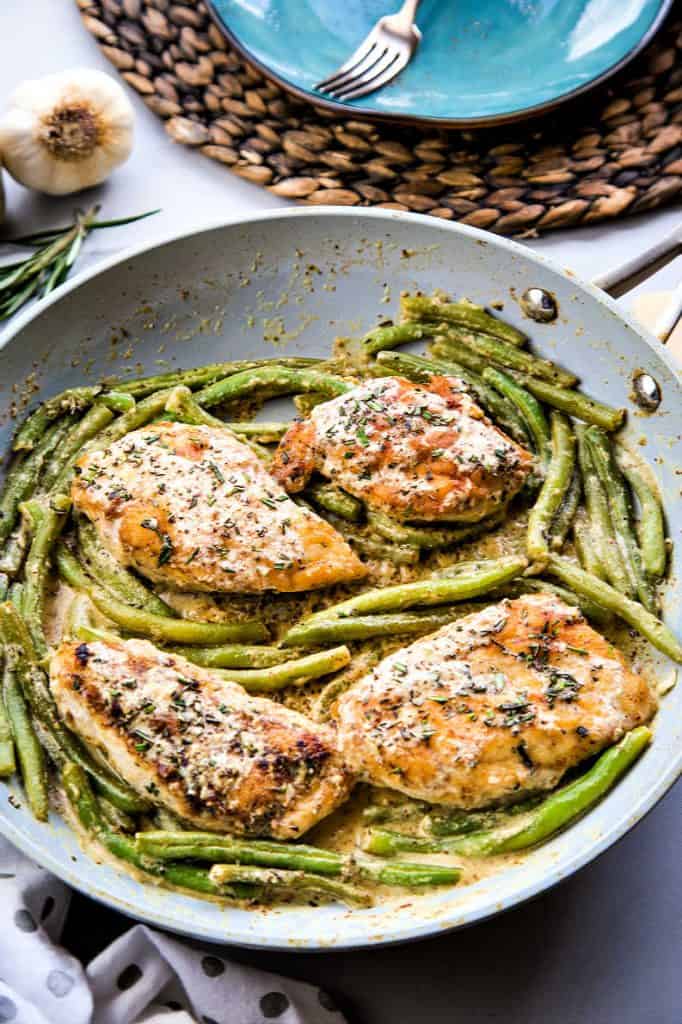 To make this recipe you may need…
I use my Bialetti fry pan ALL. THE. TIME. It has a ceramic non-stick interior surface for easy clean up and is the perfect size for most recipes that I cook at home.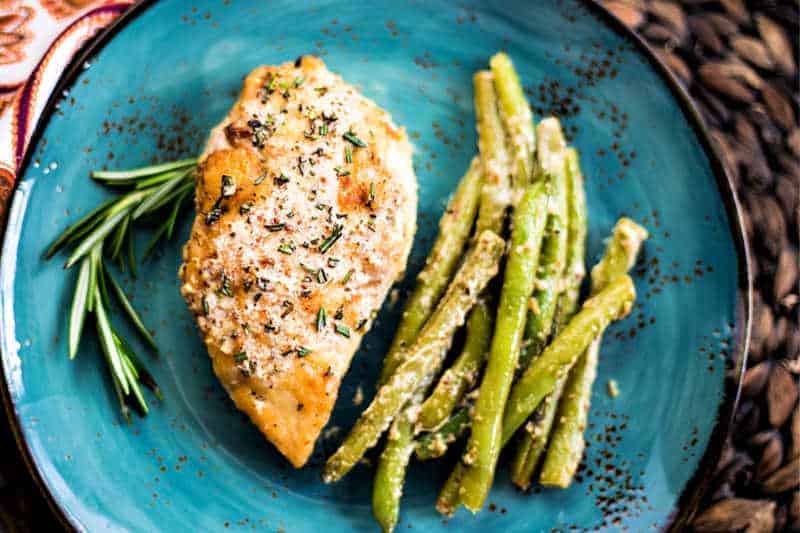 Let's cook!
Give me chicken, green beans, Dijon mustard, and a glass of white wine and in just 30 minutes I can have a delicious dinner ready and on the table!
This fancy-sounding meal is really easy to prepare and will definitely up your weekday dinner game. You'll definitely want to add this Chicken Dijon recipe to your menu for the week.
Please share!
Your shares are how this site grows and I appreciate each one. Do you know someone who would enjoy this recipe? I'd love it if you would share it on Facebook or on your favorite Pinterest board!
Yield: 4 servings
Chicken Dijon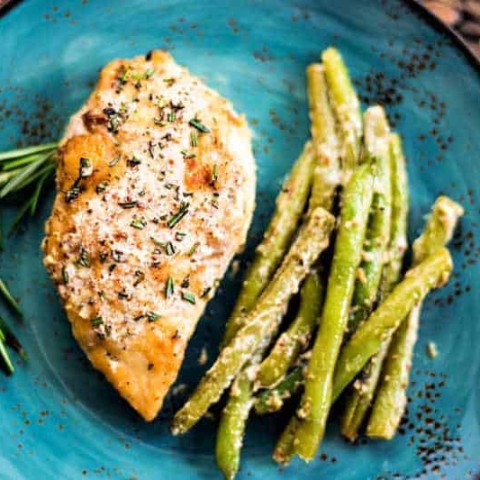 A fresh twist on the French classic, Chicken Dijon is infused with minced rosemary and simmers to perfection in a creamy white wine Dijon mustard sauce.
Ingredients
4 chicken cutlets (1 lb.)
1/4 cup all-purpose flour
2 1/2 teaspoons minced fresh rosemary
2 tablespoons extra-virgin olive oil
1 tablespoon unsalted butter
1 1/2 cups white wine or chicken broth
2 tablespoons Dijon mustard
2 cloves garlic, minced
12 oz. pkg. fresh whole green beans
1/2 cup heavy cream
Kosher salt and freshly ground black pepper
Instructions
Combine flour and 1 1/2 teaspoons rosemary in a shallow bowl. Season chicken cutlets with salt and pepper and dredge in the flour mixture, shaking off the excess.
Heat 2 tablespoons olive oil and 1 tablespoon butter in a large skillet over medium high heat until the butter starts to foam.
Cook chicken 2 to 3 minutes on each side, or until golden brown. Remove to a plate.
Add minced garlic and 1/2 cup of the white wine to the skillet and stir to deglaze the pan. Add the green beans and the remaining wine and stir.
Simmer the green beans for 5 to 6 minutes over medium heat, until crisp tender. Add 1/2 cup cream and the Dijon mustard, stirring to incorporate.
Return chicken to the pan and sprinkle with 1 teaspoon minced rosemary. Continue cooking for 10 to 12 minutes, or until chicken is done.
Notes
For more sauce, double the amount of cream.
Do not substitute cooking wine for the white wine.
Remember that butter will smoke at a high temperature, so it is time to add the chicken to the pan once the butter is melted and foamy.
Recommended Products
As an Amazon Associate and member of other affiliate programs, I earn from qualifying purchases.
Nutrition Information:
Yield:
4
Serving Size:
1
Amount Per Serving:
Calories:

599
Total Fat:

30g
Saturated Fat:

12g
Trans Fat:

0g
Unsaturated Fat:

16g
Cholesterol:

190mg
Sodium:

711mg
Carbohydrates:

33g
Fiber:

4g
Sugar:

6g
Protein:

35g