This post may contain affiliate links. Please read my disclosure policy.
For the Best Chicken Salad recipe, look no further. Using fresh herbs and lemon juice, this one is easy, creamy, and delicious!
Perfect for your next afternoon luncheon or summertime lunch, this easy chicken salad is so good — especially served with buttery crackers and a side of fresh fruit.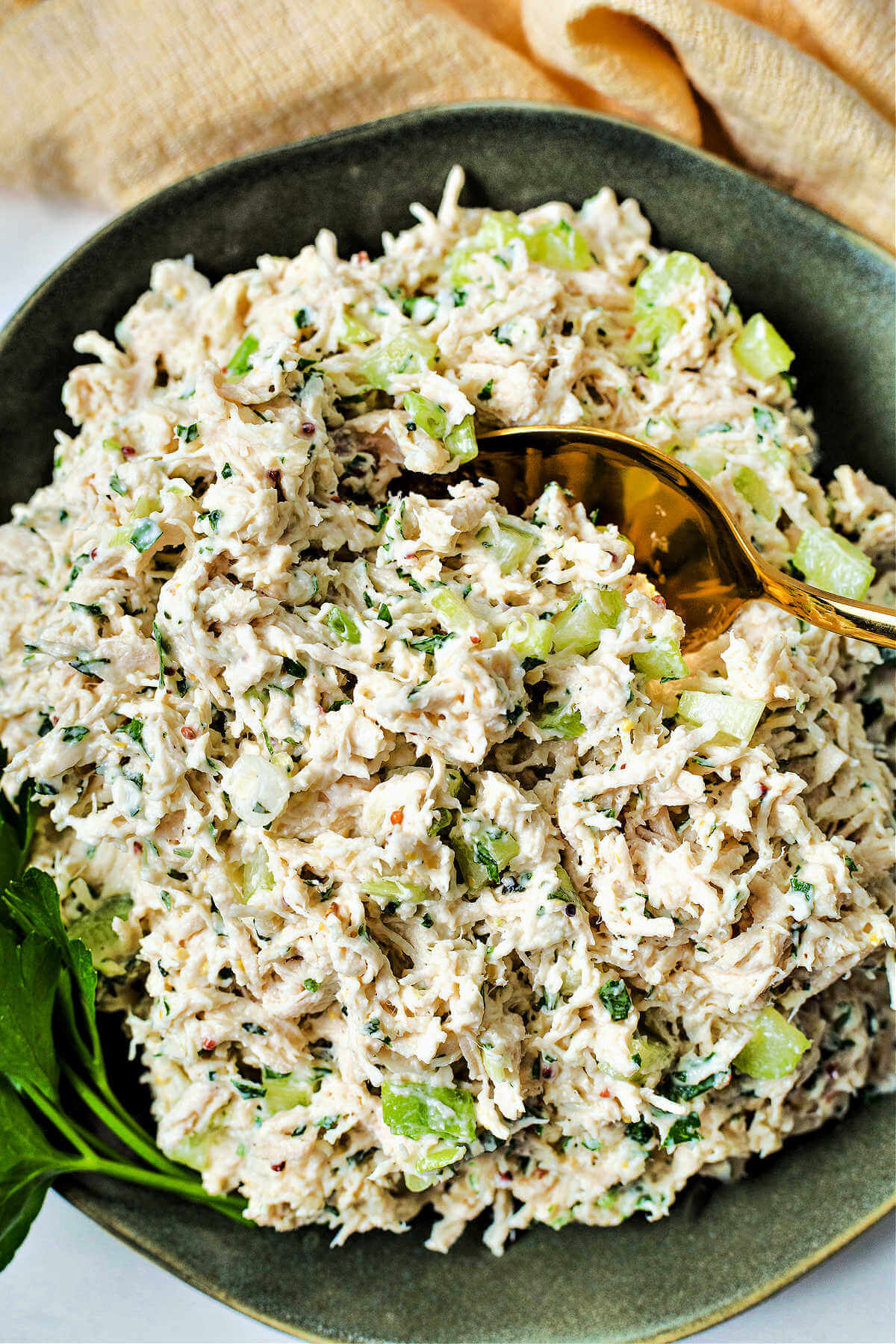 Pile it on a gorgeous flaky croissant for the perfect chicken salad sandwich. I guarantee it is sure to become a new summer favorite!
The secret to what makes this chicken salad recipe so good is using a combination of fresh herbs and fresh lemon juice in the dressing. The fresh herbs and simplicity of mild flavors make this salad so bright, so refreshing, and so delicious.
And the secret to what makes this recipe so easy is using my KitchenAid mixer to shred the chicken in just a couple of minutes. Try it once and you'll be hooked!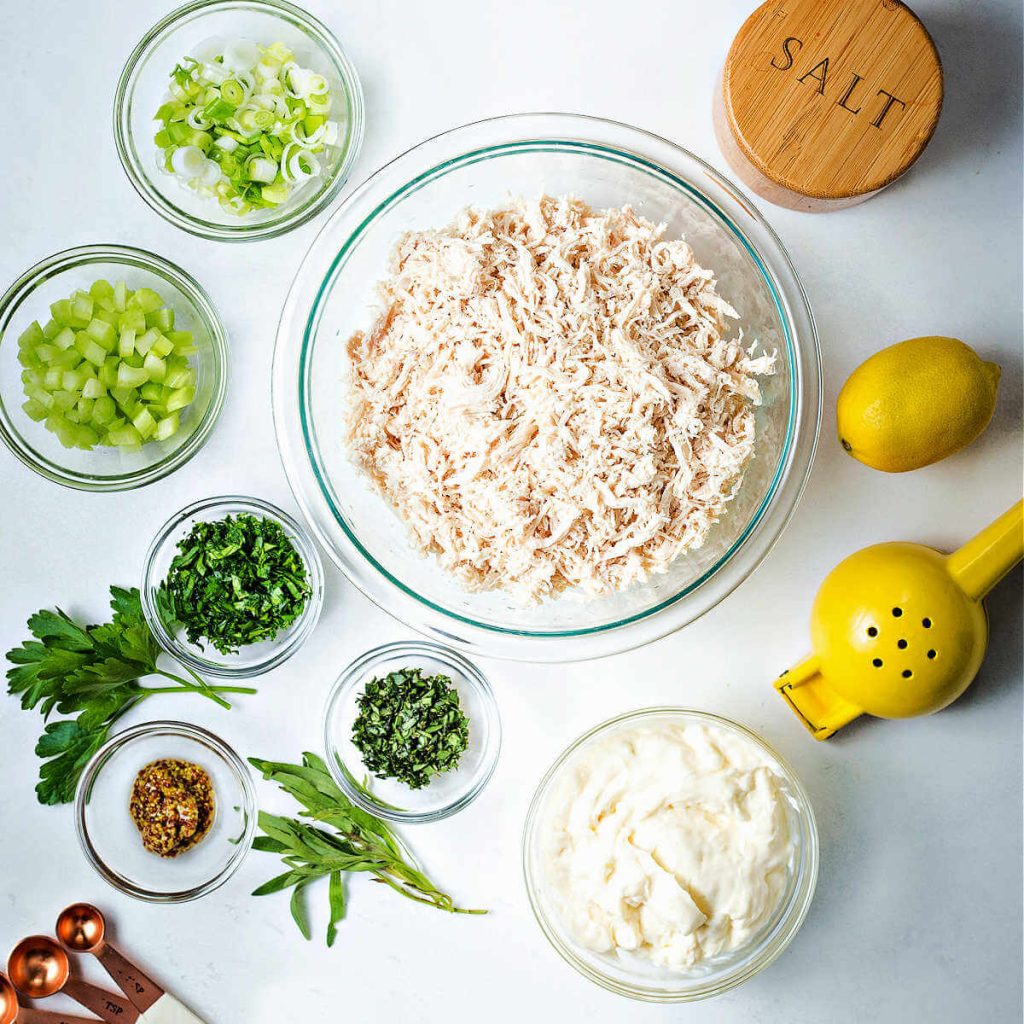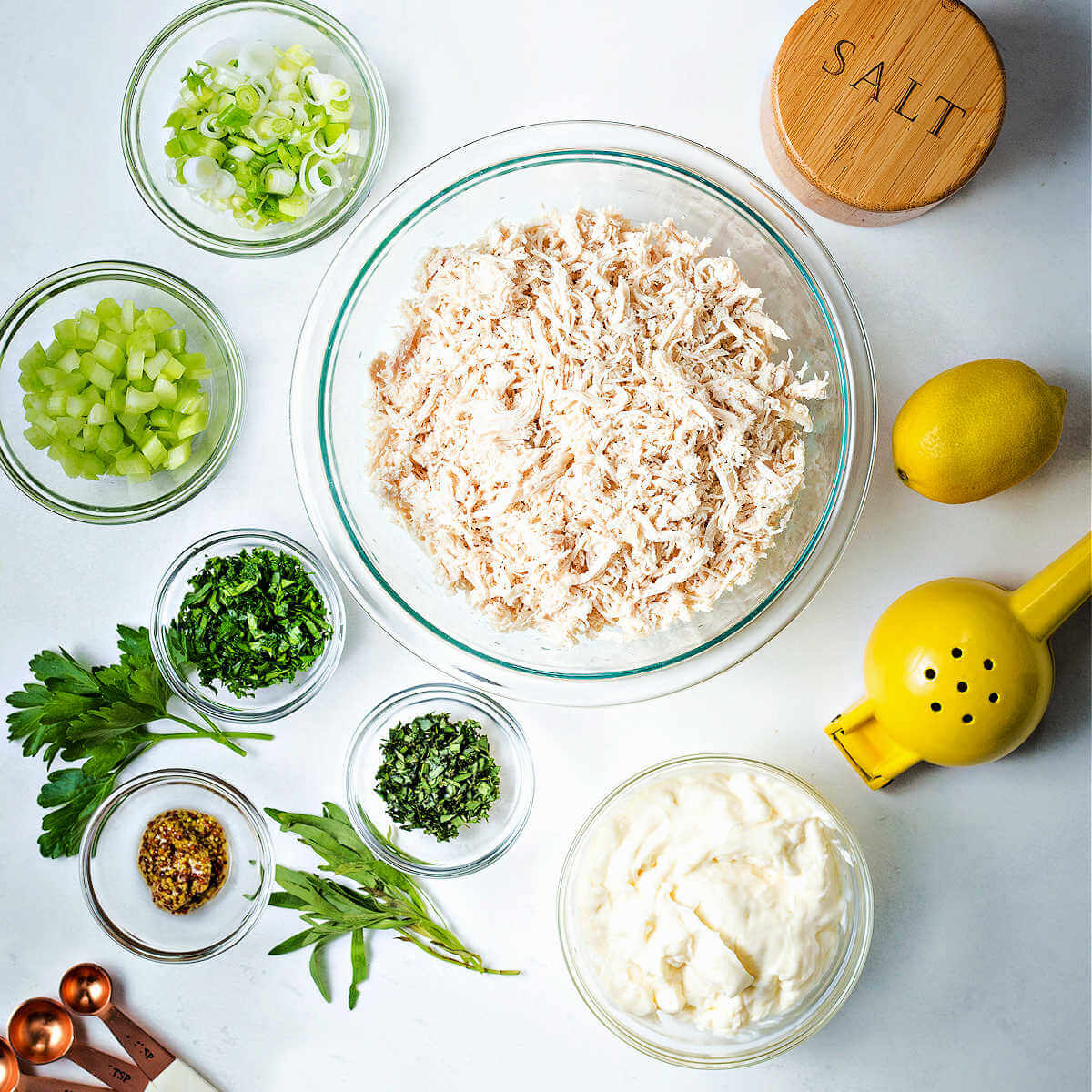 Key ingredients & substitutions for Classic Chicken Salad
Chicken breasts — Baked or poached boneless, skinless chicken works best here. But if you have leftover chicken or rotisserie chicken, those work great too!
Celery — Celery adds color and crunch, perfect for any chicken salad- but this is the best!
Green onions — These darker green onions provide a milder onion flavor and work well as a garnish. Chives, shallots or sweet onion will work here, too.
Italian parsley — The Italian variety is vibrant and light to not overwhelm the other flavors. It plays nicely in this creamy salad. Substitute with cilantro for a bolder flavor.
Fresh tarragon — Surprise! Tarragon is a delightfully aromatic spice with a light licorice taste. And I think it is a bit underused. Fresh out? Try fresh basil in its place.
Mayonnaise — If you are not a fan of mayo, try sour cream or plain Greek yogurt.
Lemon juice — A freshly squeezed lemon has the best flavor and more vitamins. Plus, you can use the rind for zest over the top of the chicken salad. But you can use the store-bought bottled version.
Dijon mustard — Stone ground mustard or yellow mustard works as well.
Kosher salt — Kosher salt has a coarse grain that enhances flavor rather than just making it salty. Use a pinch less if you need to use table salt.
Black pepper — Most kitchens have black pepper, but you can use white pepper too.
How to make the best chicken salad recipe
Good news: This salad recipe takes minimal effort and minimal prep time. And I have included tips on making it even easier and fresher!
STEP 1 | Cook the chicken
As your oven is preheating, begin cooking the chicken. Place the chicken pieces in a baking dish covered with aluminum foil and bake until cooked through.
You could also bring a pot of water to a boil for poached chicken.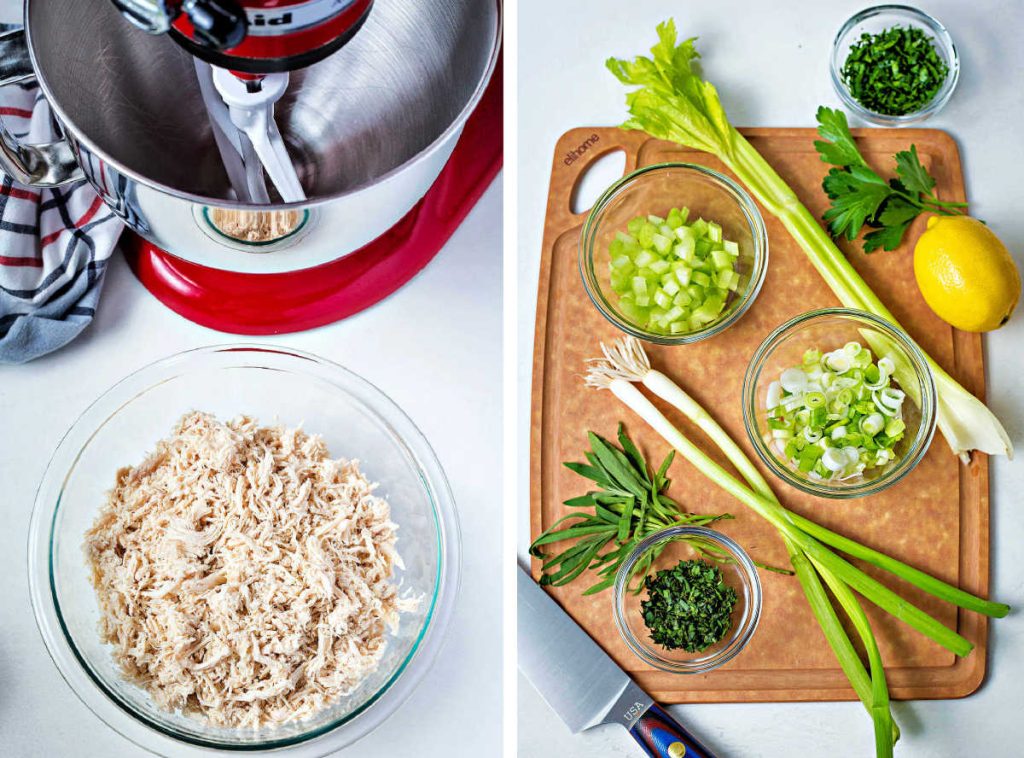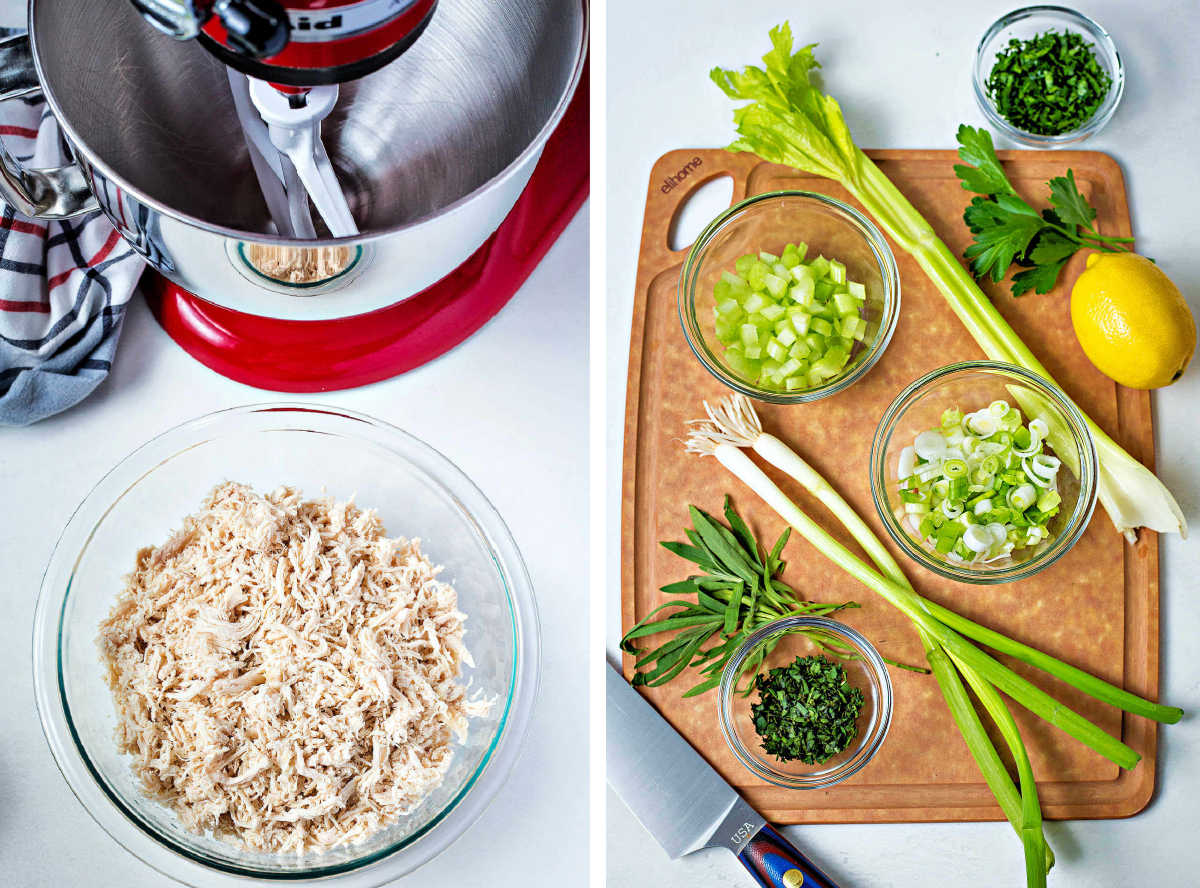 STEP 2 | Shred the chicken & prep the herbs and veggies
When the chicken juices run clear, allow the meat to cool for around 5 minutes before shredding. You can use two forks and pull the baked chicken apart easily. Or try my quick and easy way to shred chicken in your KitchenAid mixer!
tips: shredding chicken with ease
Shred with your KitchenAid mixer! First, cut each chicken breast into 3 to 4 pieces.
Place them into the mixing bowl and insert the paddle attachment.
Mix at the lowest speed for about a minute, then slowly increase the speed and mix until the chicken is shredded evenly.
This process only takes about 1 to 2 minutes.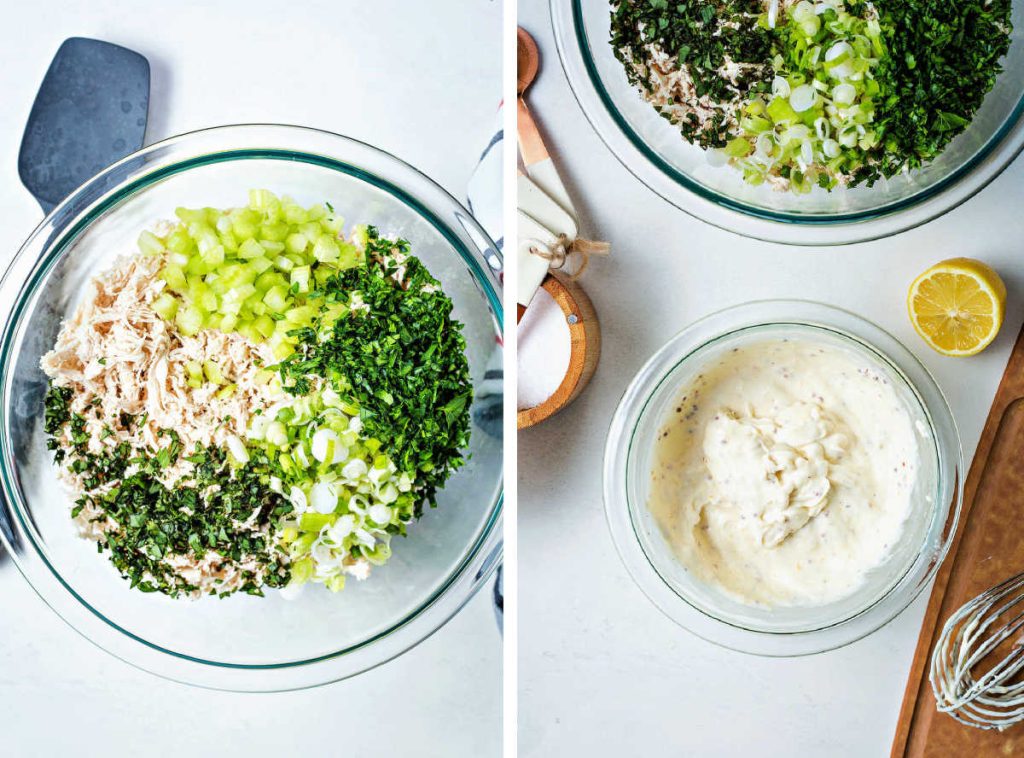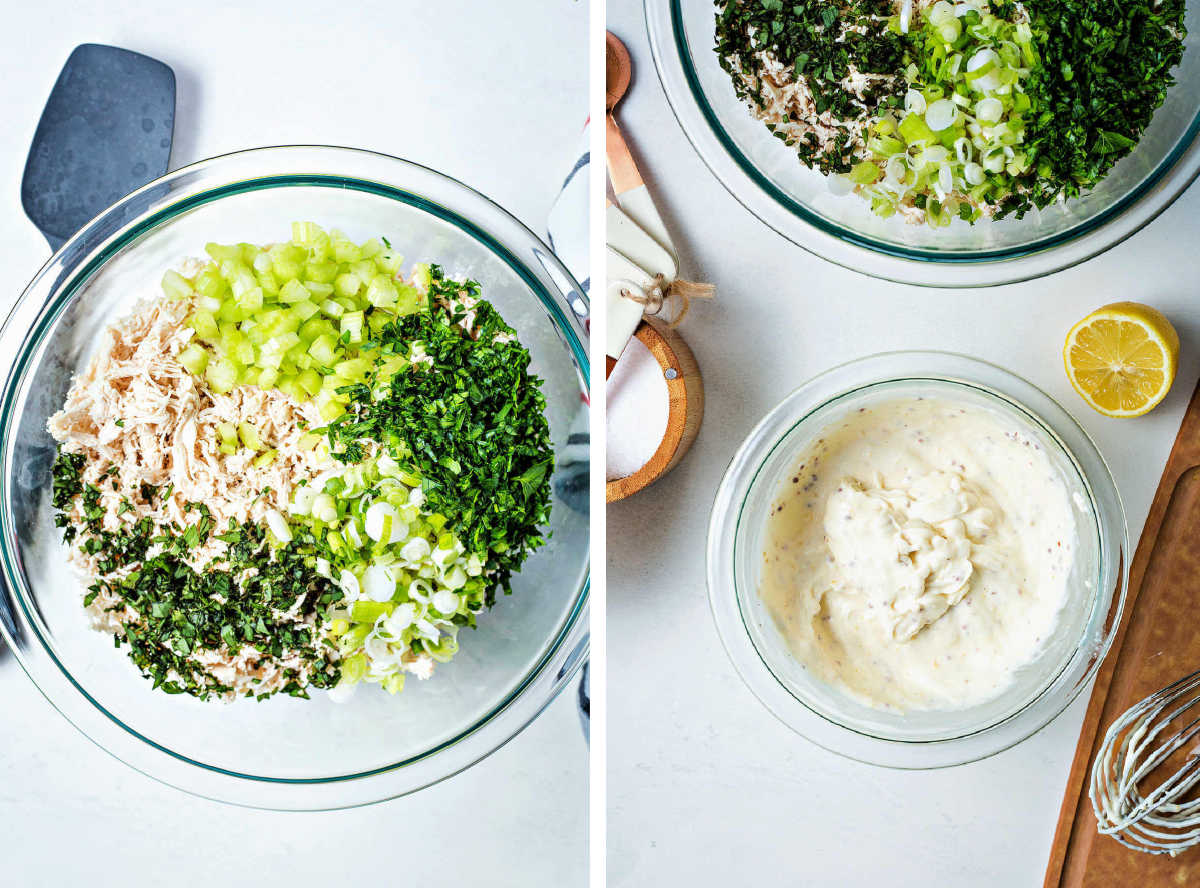 At this point, you will want to chop all your veggies and herbs and get them ready to add to the cooked chicken. Finely chop or dice it all up and set aside until the chicken is cool.
STEP 3 | Whisk the Dressing
Now it is time for the dressing for the chicken salad. Mix the mayo, freshly squeezed lemon juice, and Dijon mustard together and in the salt and pepper. Stir the creamy mixture until nice and creamy smooth.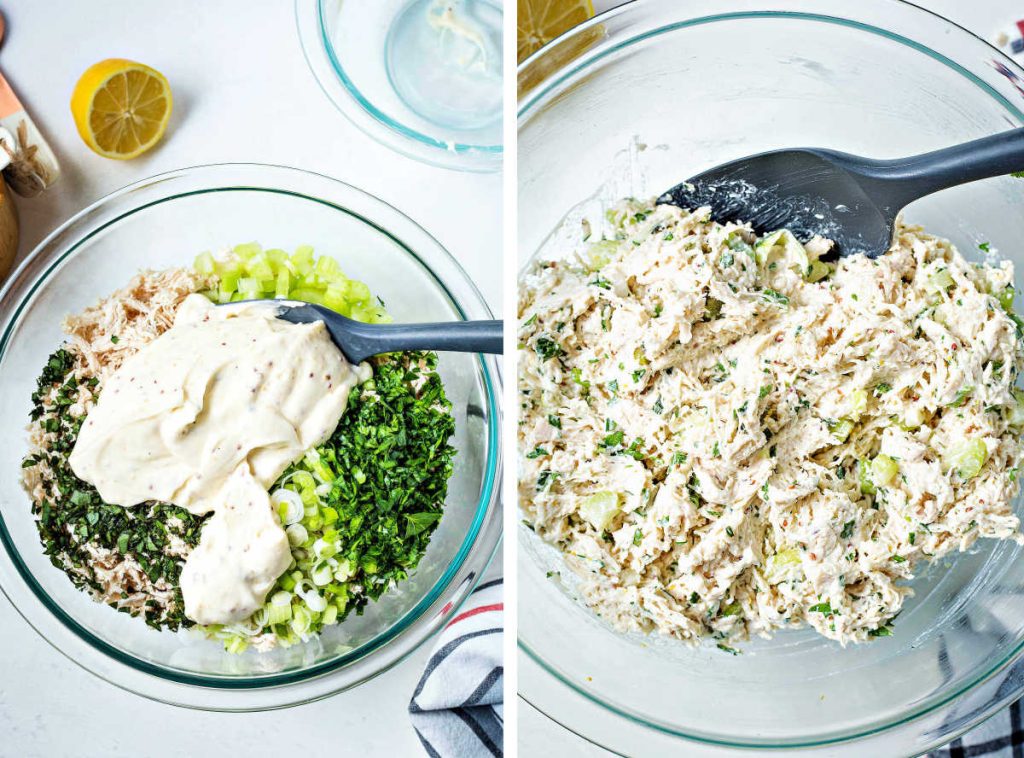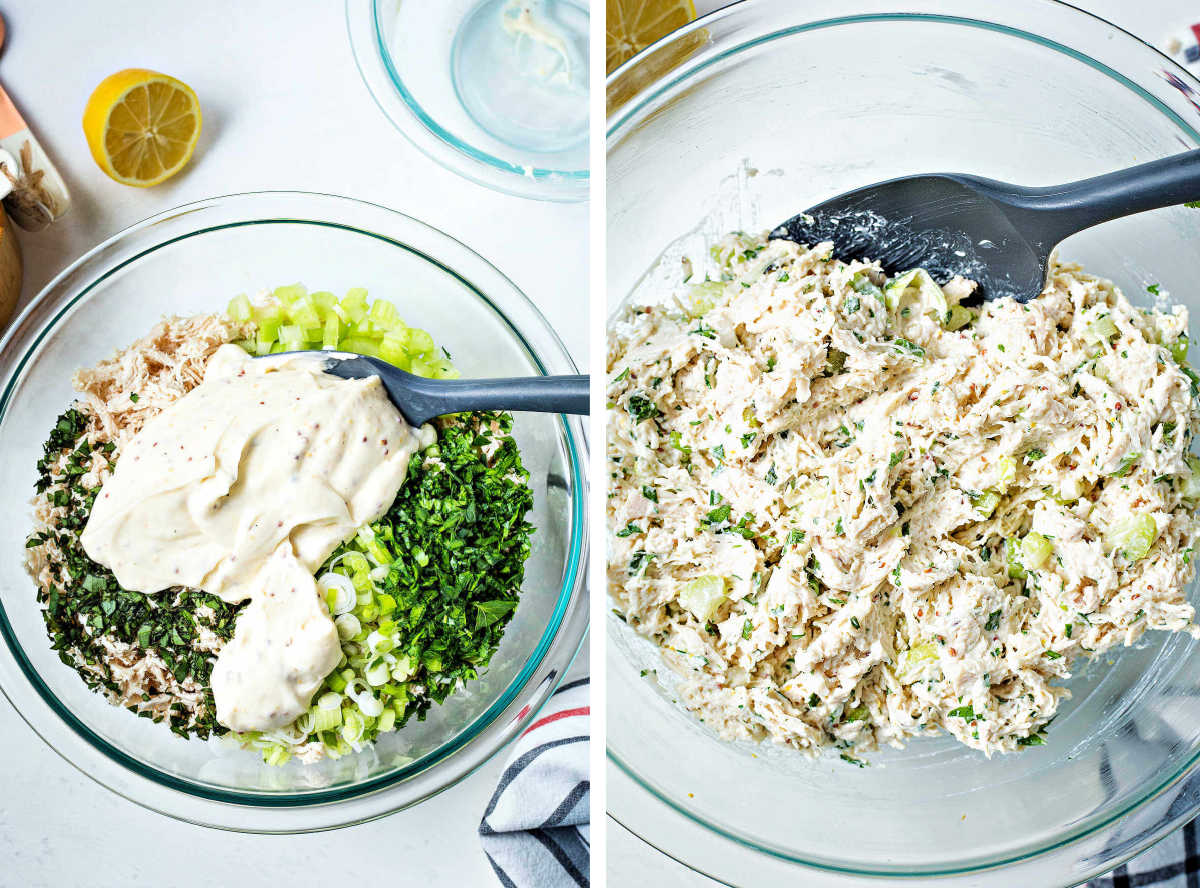 STEP 4 | Coating the Chicken
Pour the dressing all over the bowl of cooked chicken and veggies and stir gently with a rubber spatula until the mixture is completely incorporated and gorgeously creamy good.
Cover the bowl with plastic wrap of a lid and chill in the refrigerator until time to serve. – It is that simple!
tips
Using fresh herbs is best, but dried rosemary or dill will also work in a pinch.
Have you invested in a pepper mill/grinder? Now is the time. You will be amazed at the flavor profile delivered when you use freshly ground pepper in your cooking.
Serving suggestions
Confession time — I can eat this fresh chicken salad right out of the bowl. It is that good! But to share the goodness with others, I suppose it must make it onto the plate. Here are a few suggestions to get you thinking beyond the spoon!
Salad style — Create a beautifully easy plate with a bed of lettuce or baby spinach and a hearty scoop of the salad on top. Then garnish the plate with a fresh sprig of parsley.
Sandwich — Chicken salad makes a great meal between two pieces of buttery bread. Try out different bread choices to vary the sandwich. Whole wheat or multigrain bread lends a nutty flavor to the meal. And a flaky croissant is pure buttery perfection.
Open-faced — An open-faced chicken sandwich is a nice twist. Try this recipe over my Peppery Cheese Quick Bread.
Pair it up — Pair this chicken recipe with a fresh cornbread like my Honey Cornbread with Fresh Sage or Aunt Lucille's Mexican Cornbread. Perhaps you'd like to try Mexican cornbread muffins as an addition to the plate. There are plenty of options to choose from.
Fruity addition — The perfect lunch often includes fresh fruit. Try these sweet new salad recipes on the side of the plate: Fruit Salsa or Tropical Fruit Salad.
Wrap it up — This chicken salad makes a great wrap whether you like flour or corn tortillas, or for a low-carb option, try it on a lettuce wrap.
Add a side of salty potato chips or Air Fryer Sweet Potato Chips, and you have a perfect plate with the Best Homemade Chicken Salad. YUM!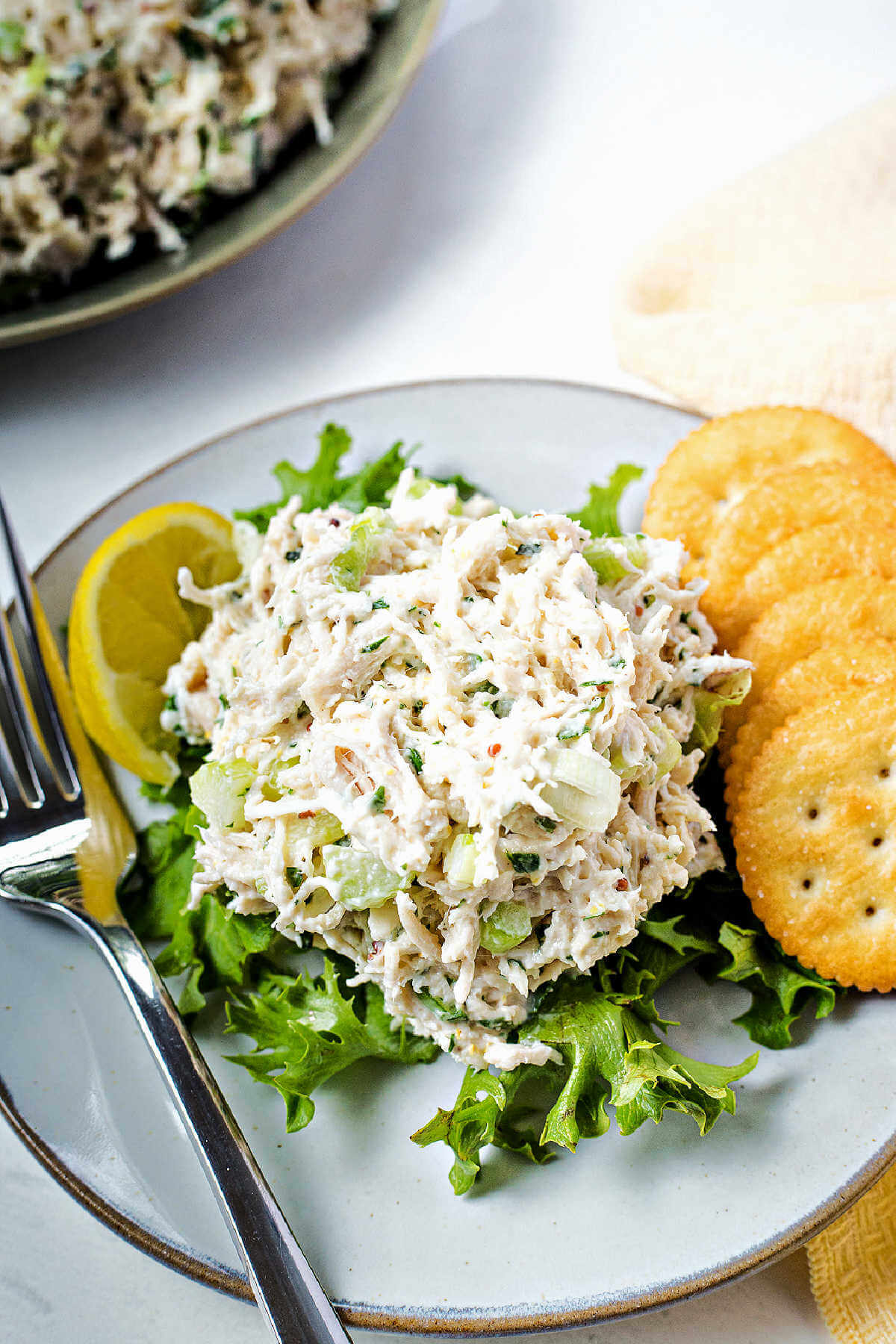 Frequently asked questions
Do you put eggs in your chicken salad?
I do not, in this recipe, anyhow. But I do enjoy a scoop of egg salad on the side. But this is your recipe — make it your own!
Can I substitute the mayo and still have a great flavor?
Of course, you can. Try adding sour cream or Greek yogurt and see what tastes good to you. Or you may want to use lemon juice and olive oil.
Are there other ingredients I can add-in?
There are many other ingredients you can add to make this your new go-to recipe, perfect for the tastes in your home. See some of my suggestions in the u0022fresh chicken salad variationsu0022 section above.
Is this Chicken Salad Recipe gluten-free?
Glad you asked! Yes, this is a naturally gluten-free recipe. So, go ahead and enjoy!
Behind the recipe: The Best Homemade Chicken Salad
When ordering a chicken salad for lunch, you really never know what will end up on the plate. Every chef seems to prepare chicken salad differently.
You may get a finely shredded version or large cubes of chicken. Your plate could include all sorts of ingredients like red onions, seeds, dried cranberries, nuts, and even fruit, like seedless grapes.
Likewise, many families have a time-honored classic chicken salad recipe that has been handed down for generations.
Digging in, I found any quality chicken salad recipe starts with creamy and bright ingredients. From there, you can make it your own with any variation of ingredients you like best. That being said, I think you'll enjoy mine!
Please share!
Your shares are how this site grows and I appreciate each one. Do you know someone who would enjoy this recipe? I'd love it if you would share it on Facebook or on your favorite Pinterest board!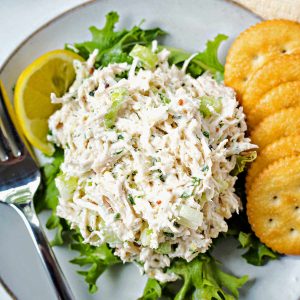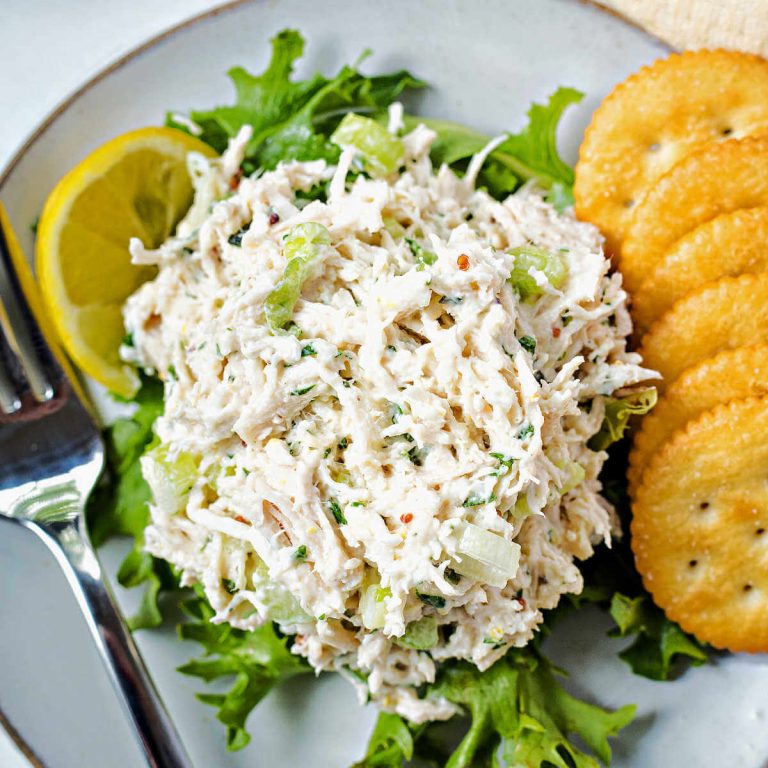 Best Chicken Salad
For the Best Chicken Salad recipe, look no further. Using fresh herbs and lemon juice, this one is easy, creamy, and delicious! Serve with crackers and fresh fruit or as sandwich filling on your favorite bread.
Ingredients
4

boneless chicken breasts

1

stalk

celery

cut into 1/4-inch dice

4

green onions

trimmed and thinly sliced

2

tablespoons

Italian parsley

finely chopped

1 1/2

teaspoons

fresh tarragon

finely chopped

1

cup

mayonnaise

2

teaspoons

freshly squeezed lemon juice

1

teaspoon

Dijon mustard

1/2

teaspoon

kosher salt

Freshly ground black pepper
Instructions
Preheat the oven to 350 degrees. Place chicken in a baking dish lightly coated with cooking spray. Cover tightly with aluminum foil and bake 30 to 35 minutes, or until the chicken is done.

Remove the chicken from the oven and let cool for 5 minutes before shredding using two forks (or see instructions for shredding baked chicken with a KitchenAid mixer in the notes below).

Add the chicken to a large bowl along with the diced celery, green onions, parsley, and tarragon.

In a small bowl, whisk together the mayonnaise, lemon juice, Dijon mustard, salt, and pepper until smooth.

Pour the dressing into the bowl with the other ingredients and stir gently with a rubber spatula until the chicken is coated. Cover tightly and refrigerate until ready to serve.
Notes
To shred with your KitchenAid mixer, cut each chicken breast into 3-4 pieces. Place into the mixing bowl and insert paddle attachment. Mix at lowest speed for about a minute, then slowly increase speed and mix until chicken is shredded evenly, 1 to 2 minutes.
Using fresh herbs is best, but dried rosemary or dill will also work in a pinch. 
Nutrition
Serving:
1
g
Calories:
292
kcal
Carbohydrates:
1
g
Protein:
19
g
Fat:
23
g
Saturated Fat:
4
g
Polyunsaturated Fat:
18
g
Cholesterol:
63
mg
Sodium:
375
mg
Life Love and Good Food does not claim to be a registered dietician or nutritionist. Nutritional information shared on this site is only an estimate. We recommend running the ingredients through an online nutritional calculator if you need to verify any information.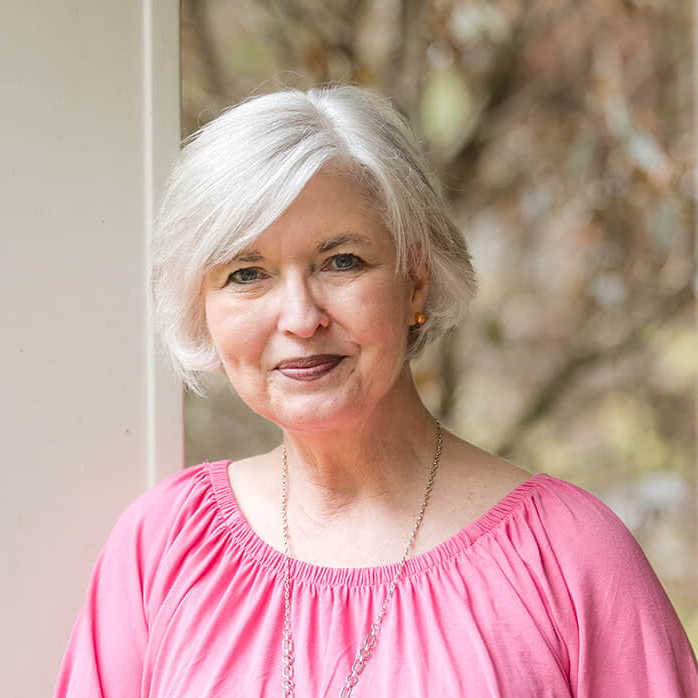 About Sheila Thigpen
Recipe Developer, Food Photographer, Food Writer
Sheila Thigpen is the publisher of Life, Love, and Good Food — a Southern food blog — and the author of Easy Chicken Cookbook and The 5-Ingredient Fresh and Easy Cookbook. After 20+ years in the publishing industry, she retired in 2018 to focus on her own creative endeavors full time. She and her husband live near the beautiful Smoky Mountains and have a precious little granddaughter who has stolen their hearts. As an influencer, Sheila has collaborated with brands like Creamette, Kroger, HERSHEY'S, Hamilton Beach, Garafalo Pasta, OXO, Smithfield, Valley Fig Growers, and more.