This post may contain affiliate links. Please read my disclosure policy.
This yummy Pesto with Walnuts spread is a delicious condiment for grilled mozzarella cheese sandwiches, paninis, and many more irresistible combinations.
An abundance of fresh basil leaves calls for classic—and versatile—Basil Pesto! Most people are already massive fans of the traditional pesto spread. However, my recipe has a twist you might not expect.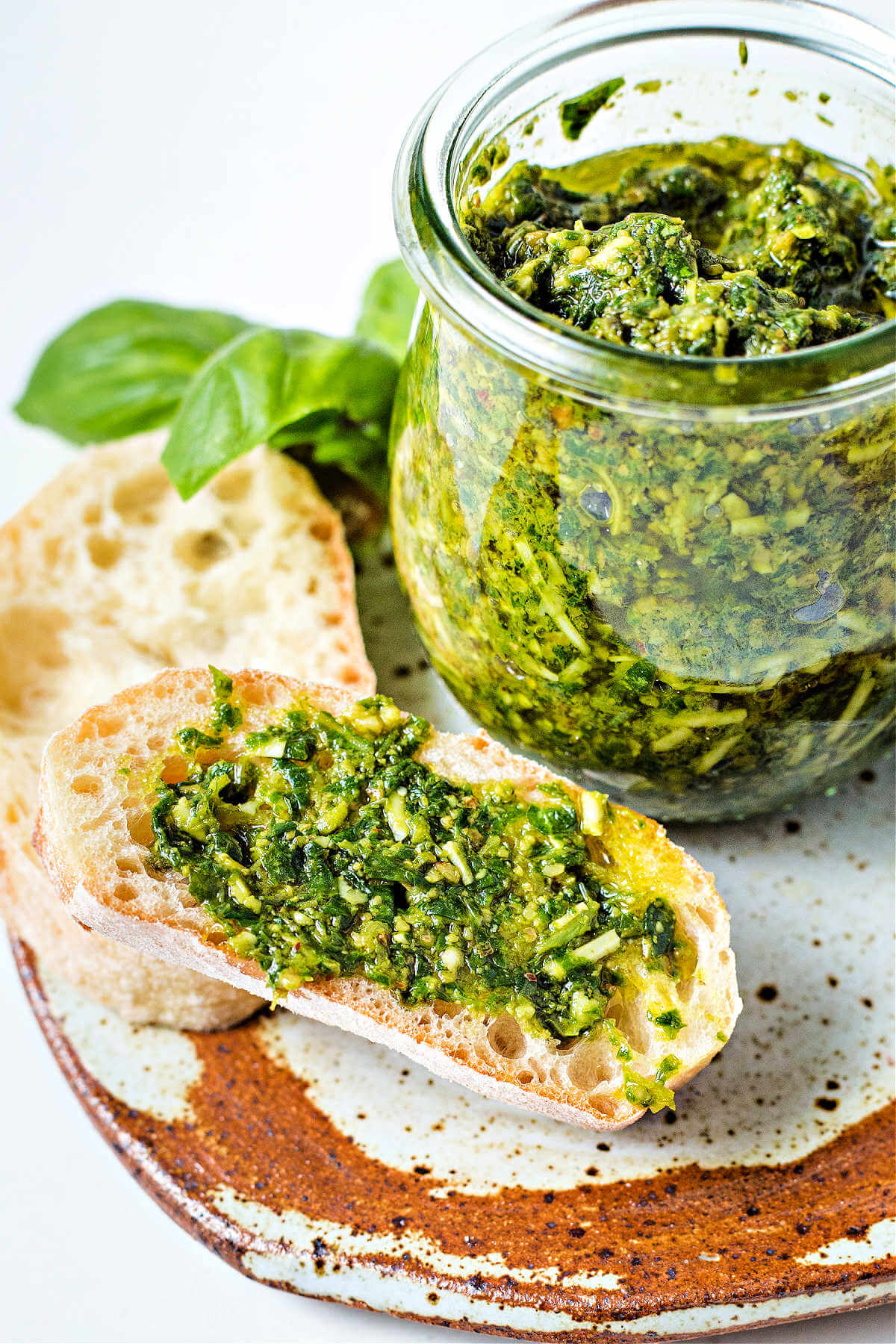 Switch out the typical pine nuts for some mild yet tangy walnuts! Paired with a kick of lemon zest, this pesto is unlike any other you've tried before.
Serve this walnut pesto recipe either as an appetizer on toasted crostini or as the main meal tossed with angel hair pasta. Sometimes, I even use this unique basil pesto with walnuts instead of classic marinara when I make pizza at home.
This delicious pesto spread makes the perfect appetizer for summer dinner parties. Best of all, it comes together in literally five minutes!
Craving more Italian-inspired appetizers? My Roasted Red Pepper and Artichoke Tapenade is a tasty 10-minute appetizer bursting with Mediterranean flavor. Or, you may like this easy Pan-Seared Scallops Seafood Appetizer served with lemon butter — YUM!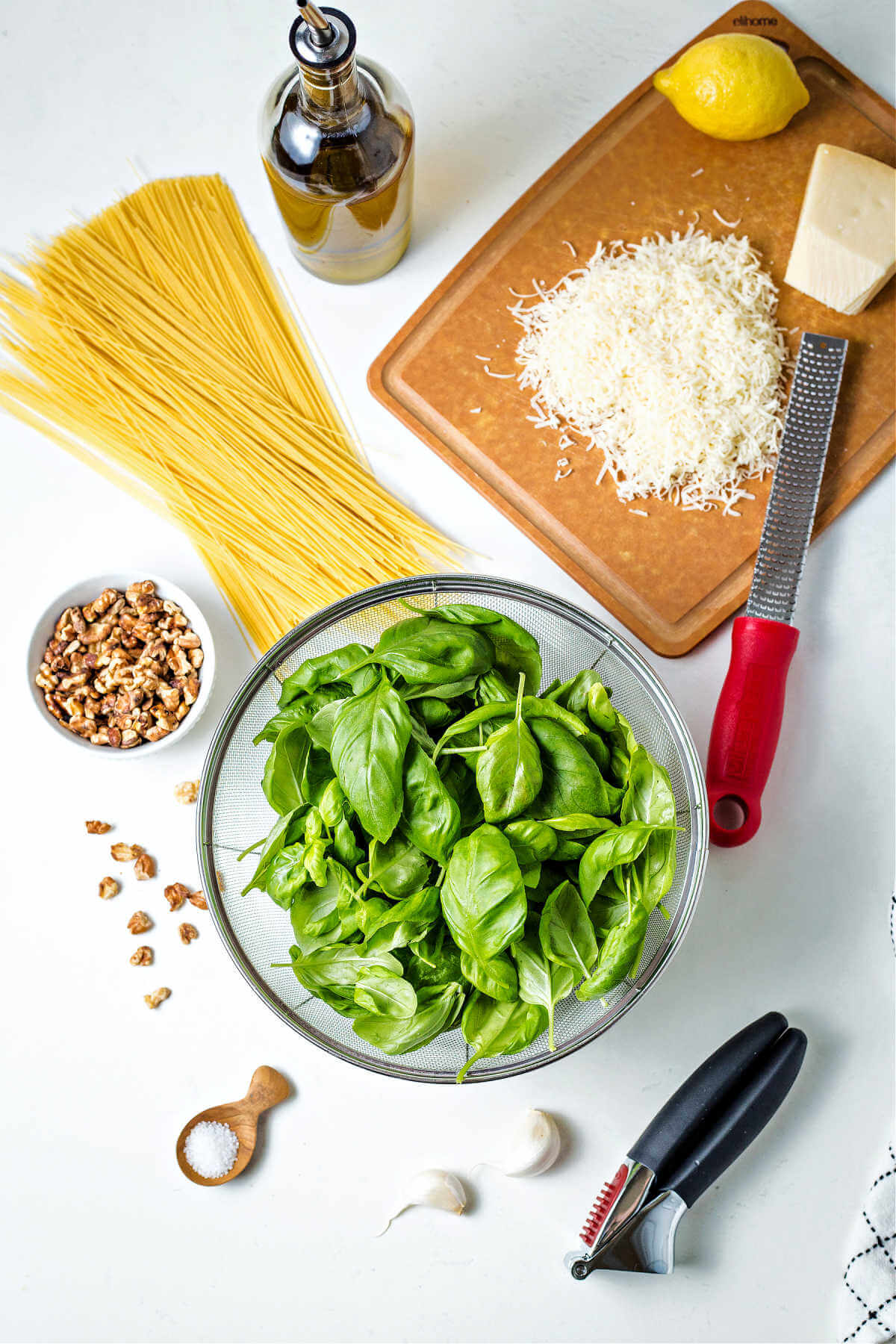 Key ingredients & substitutions for Basil Walnut Pesto
Fresh basil leaves — You can't have pesto without the peppery and minty undertones of basil. However, any green herb may be used to make a pesto, like parsley or cilantro. You can even make pesto with arugula or kale.
Walnuts — Fisher Walnuts are ranked at the top for quality — they're naturally gluten-free, no preservatives, and non-GMO. If you need to go with a substitute, you can use just about any nut, like pine nuts, almonds, pistachios, or almonds.
Olive oil — Don't go with light olive oil in this recipe — extra virgin olive oil has much more depth of flavor! The right olive oil selection will round out the tangy and bold notes of other ingredients.
Lemon zest — Lemon zest adds even more fresh flavor and awakens the other ingredients. If you don't have lemons to make zest, substitute 2 tablespoons of lemon juice for 1 teaspoon of zest.
Special equipment needed
How to make basil pesto spread in a food processor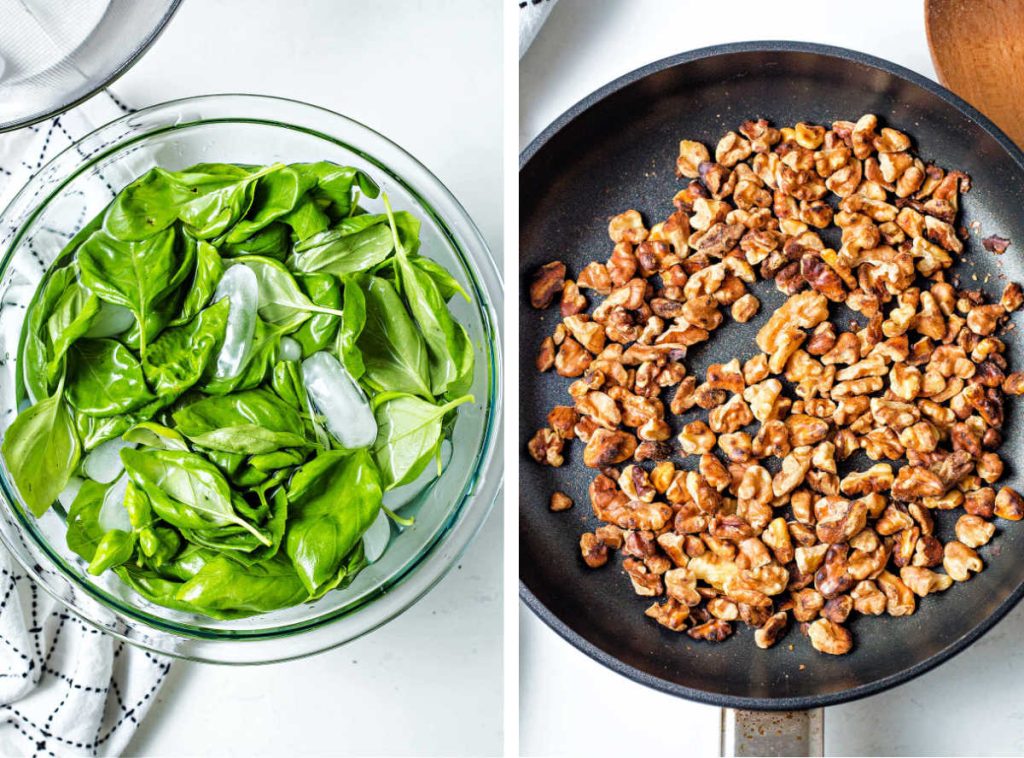 STEP 1 | Shock the basil
Shocking the basil in ice water helps the pesto to maintain a vibrant green color.
First things first, grab your bundle of basil and discard any leaves that have brown tips. Then, remove fresh basil leaves from the stems. Quickly rinse the basil leaves in a bowl of chilly ice water. Then place them in a salad spinner to remove the excess water.
If you don't have a salad spinner, shake off the excess water and use paper towels to pat the leaves dry.
Then, for an extra rich nutty flavor, I like to toast my walnuts in a pan on the stovetop. Toasting walnuts will bring out the natural oils in the nuts and enhance the flavor. Just watch them carefully, so they do not burn.
STEP 2 | Chop ingredients
Making pesto in a food processor results in a smoother spread. Add the garlic and walnuts to the bowl of a food processor and process until it's almost smooth.
Next, add the basil leaves and pulse until you've reached the desired consistency. (See my tips.)
tips
I use the pulse button (instead of the blend) on my food processor to get a pesto texture that still has a few chunks while still being very spreadable.
Do not over-blend, or it may cause the pesto to taste bitter.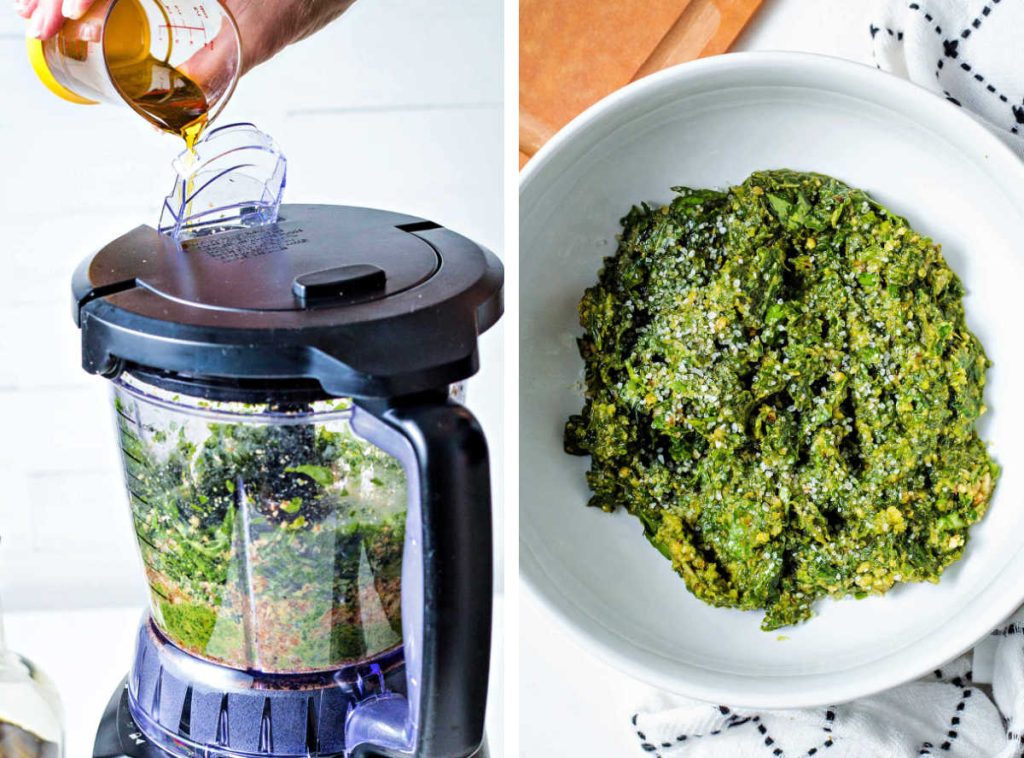 STEP 3 | Add the olive oil
Slowly pour extra virgin olive oil through the food processor chute and process until it's fully and evenly incorporated. Depending on your preference, you may add a little extra olive oil for a more fluid consistency. (See tips if you're not using a food processor.)
STEP 4 | Stir in your final nutty pesto ingredients
Empty the pesto into a charming serving bowl. Then, stir in a pinch of sea salt, lemon zest, and freshly grated Parmesan cheese. Be sure all ingredients are thoroughly combined.
tips
Working without a food processor may make it challenging to pour slowly and blend simultaneously. Try adding the oil a little at a time and then mix, or put the EVOO in a squeeze bottle and add. It will make it a little easier to manage.
Store pesto in a tightly sealed jar and refrigerate for two to three days. It freezes perfectly too. Fill the pesto in ice trays for six months. That way, you can easily pop out a cube for your dish.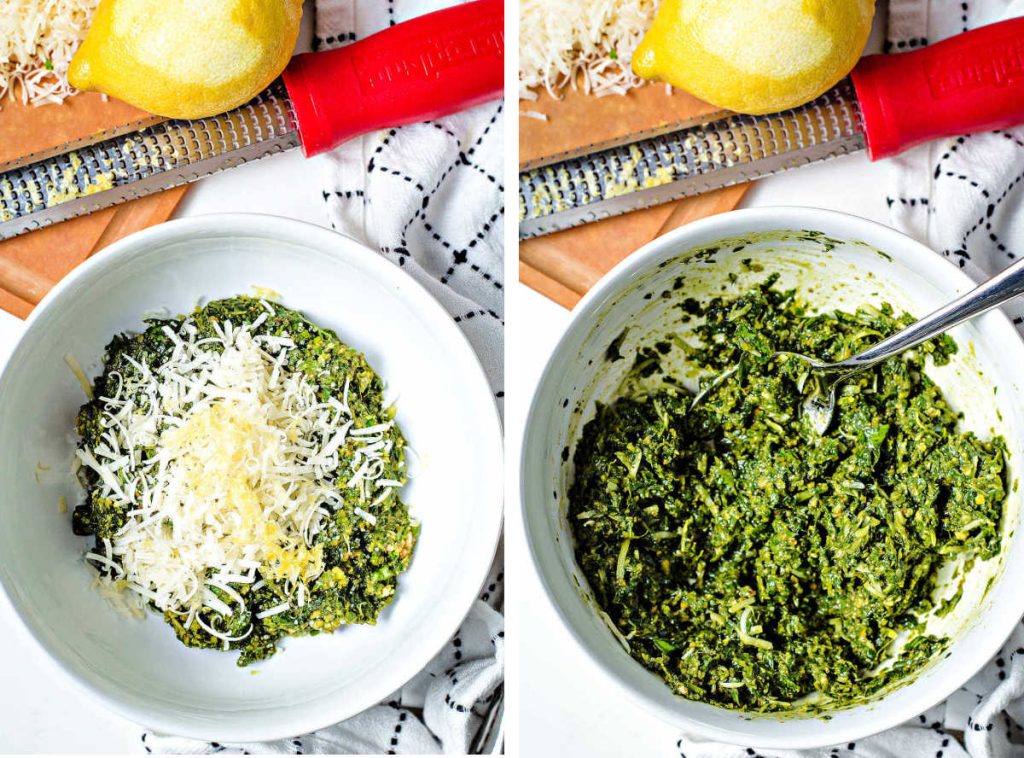 STEP 5 | Serve fresh
For the best flavor, serve your fresh pesto spread as soon as it's completed. Gently smear the sauce onto a crunchy toasted baguette or mix it into buttery pasta noodles. The uses are practically endless, so don't be afraid to get creative!
That's it — presto pesto!
Whether you have a full spread for entertaining guests or you're including this creamy pesto in a weekly family meal, their taste buds will jump for joy from the very first bite.
So, whip up a batch because pesto isn't just for special occasions. It adds the perfect burst of flavor to boost any average meal to the next level.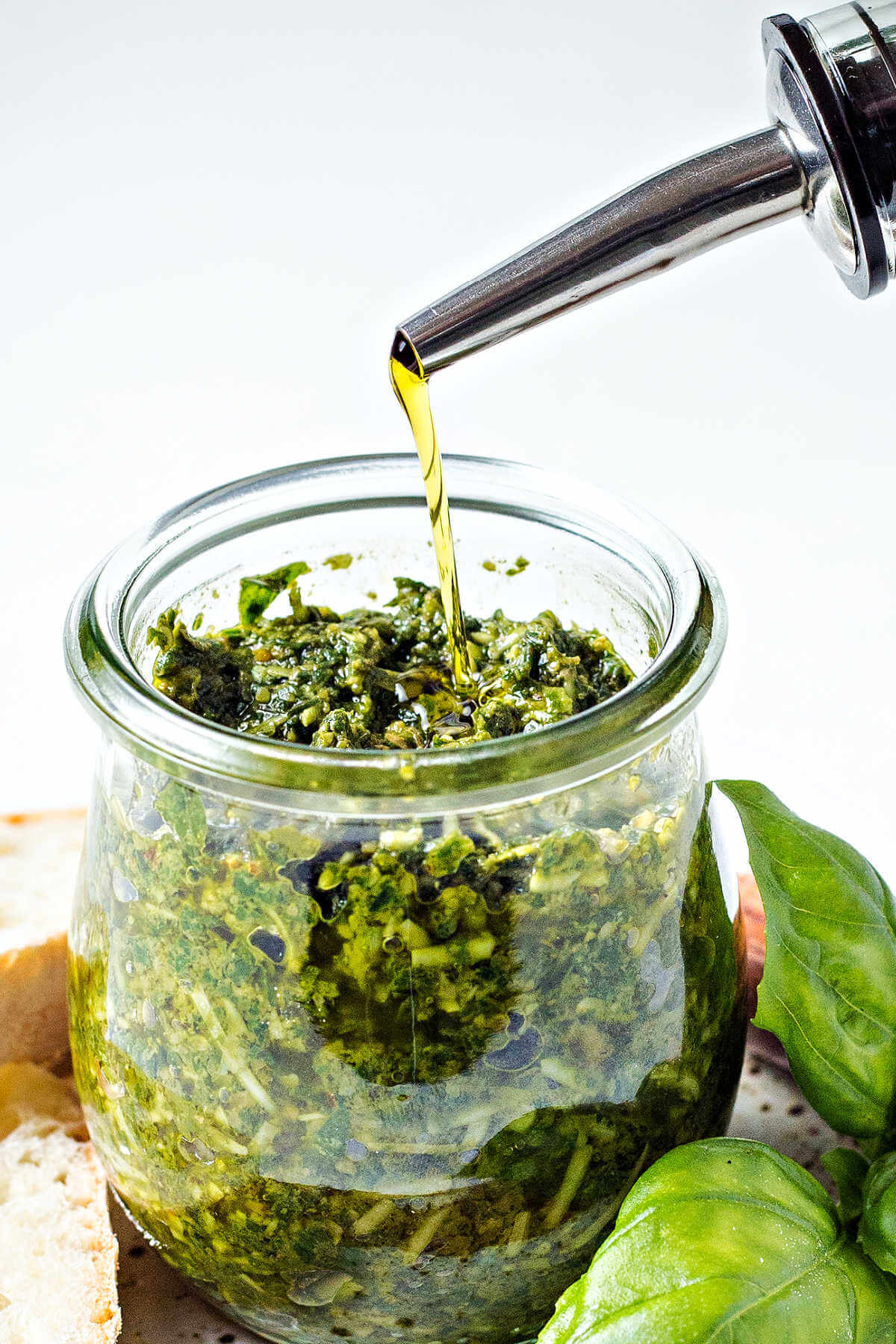 Frequently asked questions
How do you store pesto?
To store the pesto for later use, cover it with a layer of olive oil and refrigerate. Note that pesto is best used within a day or so for the best flavor.
Can you freeze pesto?
You can freeze pesto, but don't add any cheese if you plan to do so. Place pesto in small zip lock bags and squeeze out all the air and freeze for up to a month. To use, thaw at room temperature for 30 minutes, then stir in Parmesan cheese to your liking.
Can you make classic pesto without a mortar and pestle?
Using a mortar and pestle is more authentic, of course, but it takes a while longer and requires a little elbow muscle. For convenience and to save my wrists, I normally opt for making pesto in my food processor.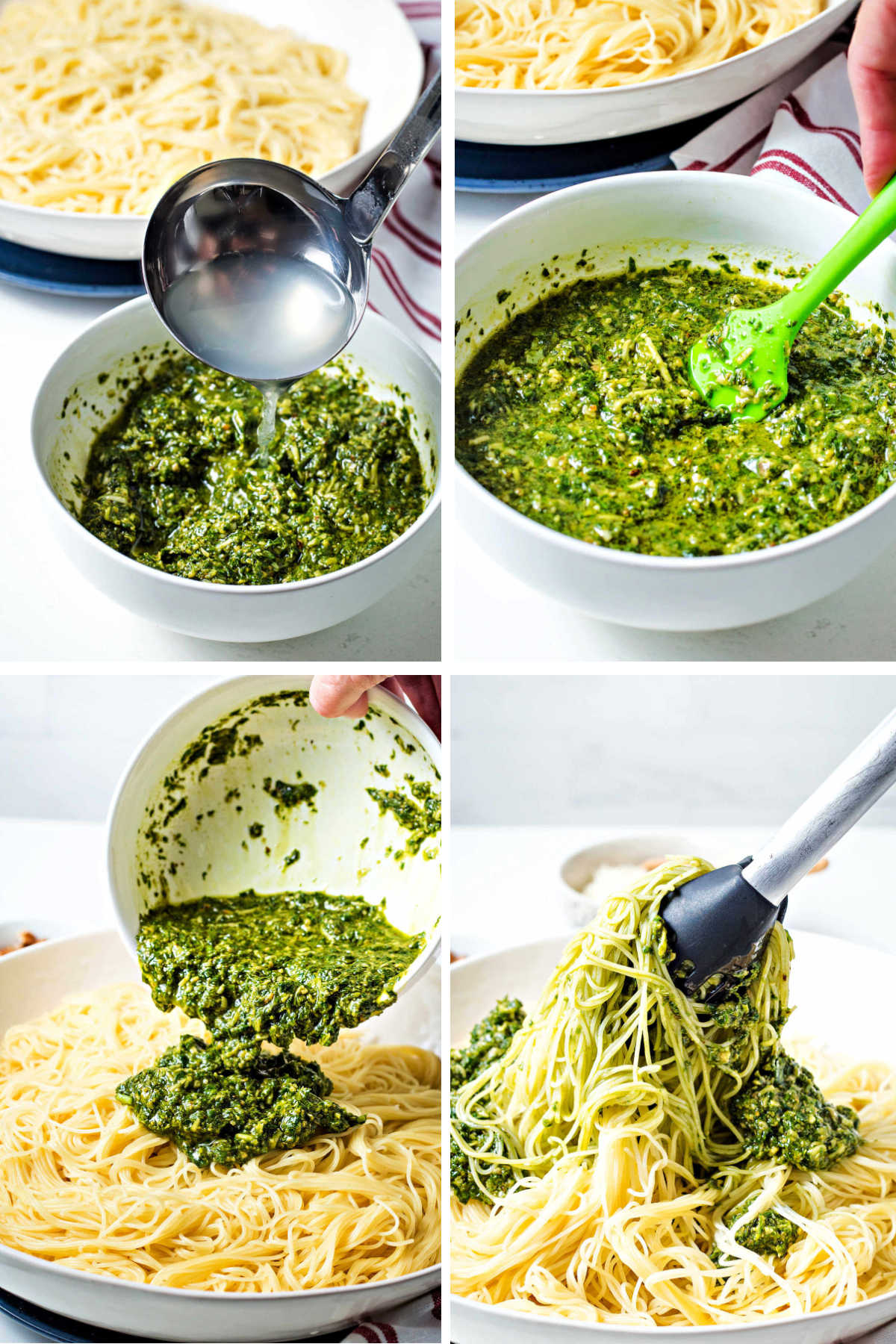 Make easy pesto sauce for pasta
In under a minute, you can turn your basil pesto spread into an herby, nutty pasta sauce!
Start by boiling your pasta. I think thin spaghetti noodles or angel hair pasta pair perfectly with a pesto sauce.
When ready, strain the cooked pasta and collect the water in a pot or bowl.
Then, add the pasta water to the thick spread and stir until you attain a sauce consistency. Pour the sauce over a bowl of hot pasta and toss until all the noodles are coated.
In no time, you're ready to serve the pesto pasta dish garnished with freshly grated Parmesan cheese and delicious toasted walnuts.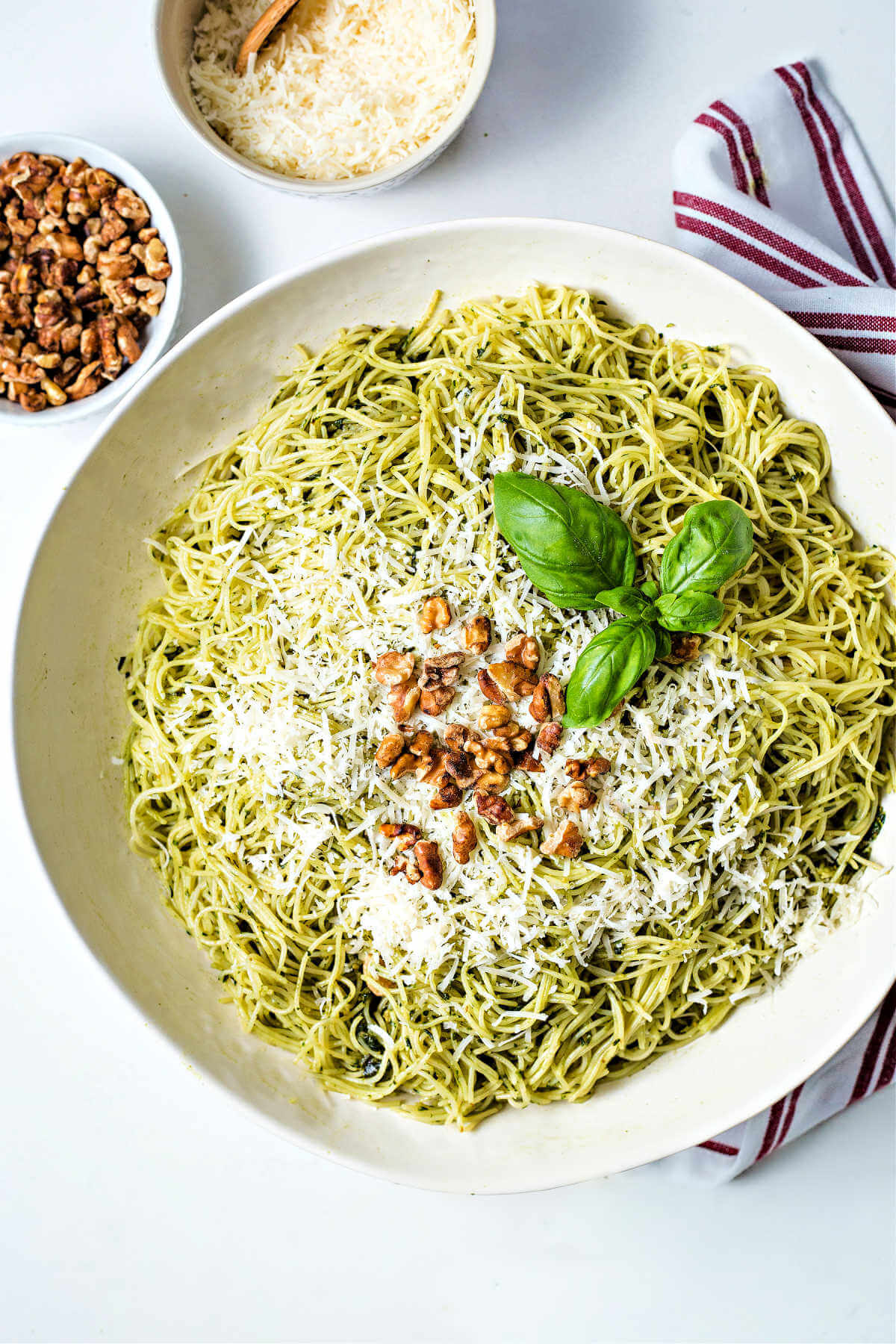 Other serving suggestions
This zesty pesto pairs well with a variety of delicious dishes. You could use pesto every day of the month and never duplicate a dish. Of course, mix it with your favorite pasta dish like this Cherry Tomato Pasta. Pair it with my Shrimp on the Barbie, or include it with a salad like this Espresso Caprese Salad.
Adding it to rice and cauliflower will give these bland foods the kick they need. Enjoy it at your next social event as a veggie dip, or just spread it onto your favorite sandwich.
You can easily alter the recipe for something new by adding garlic or red pepper flakes. (Add to the food processor or blender.)
Behind the recipe: Basil Pesto
You're probably getting tired of hearing me ramble on about our trip to Italy, but I just can't get over all the amazing things we experienced and all the amazing food we tasted during our adventure!
Please bear with me just a while longer as I reminisce and share more Italian-inspired recipes like this classic Basil Pesto made with fresh basil and extra virgin olive oil that I bought in Sicily—fantastico!
Originally known as pesto alla Genovese, pesto is a sauce or spread that originated in the Italian town Genoa. The original version was made with crushed pine nuts, garlic, coarse salt, Parmesan cheese, and of course, fresh basil leaves, using a mortar and pestle.
Pesto in Italian also means to pound (as in the mortar and pestle). A spread using this method may be made from many other leafy foods besides basil, including arugula, parsley, cilantro, kale, and spinach.
Please share!
Your shares are how this site grows, and I appreciate each one. Do you know someone who would enjoy this recipe? I'd love it if you would share it on Facebook or Pinterest!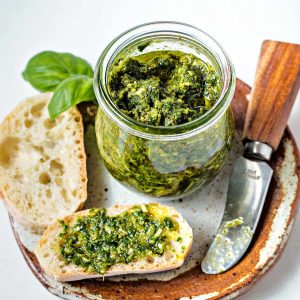 Pesto With Walnuts
An abundance of fresh basil leaves calls for classic—and versatile—Basil Pesto Spread! Serve it as an appetizer on toasted crostini or as the main meal tossed with angel hair pasta.
Ingredients
3

cups

fresh basil leaves

removed from stems

3

tablespoons

toasted walnuts

or pine nuts

2

cloves

garlic

3 – 4

tablespoons

extra virgin olive oil

(plus more for storing)

2 – 3

tablespoons

freshly grated Parmesan cheese

1/2

teaspoon

sea salt

1

teaspoon

lemon zest
Instructions
Remove basil leaves from the stems. Shock the leaves in a bowl of ice water and remove immediately to paper towels to dry. (May also use a

salad spinner

to remove water.)

Place walnuts and garlic cloves in a food processor and pulse until chopped. Add basil leaves and pulse until chopped to desired consistency.

Pour olive oil into the food processor chute while on low to combine with the basil mixture. Add more olive oil if you desire. 

Remove to a bowl and add salt, lemon zest, and Parmesan cheese. Stir until combined. 

Serve immediately on toasted baguette. May store pesto in refrigerator for 2-3 days in a sealed jar. To save for later, cover pesto with a layer of olive oil and refrigerate.
Notes
I use the pulse button (instead of blend) on my food processor to get a pesto texture that still has a few chunks, while still being very spreadable.
Nutrition
Serving:
1
tablespoon
Calories:
47
kcal
Carbohydrates:
1
g
Protein:
1
g
Fat:
5
g
Saturated Fat:
1
g
Polyunsaturated Fat:
4
g
Cholesterol:
1
mg
Sodium:
85
mg
Life Love and Good Food does not claim to be a registered dietician or nutritionist. Nutritional information shared on this site is only an estimate. We recommend running the ingredients through an online nutritional calculator if you need to verify any information.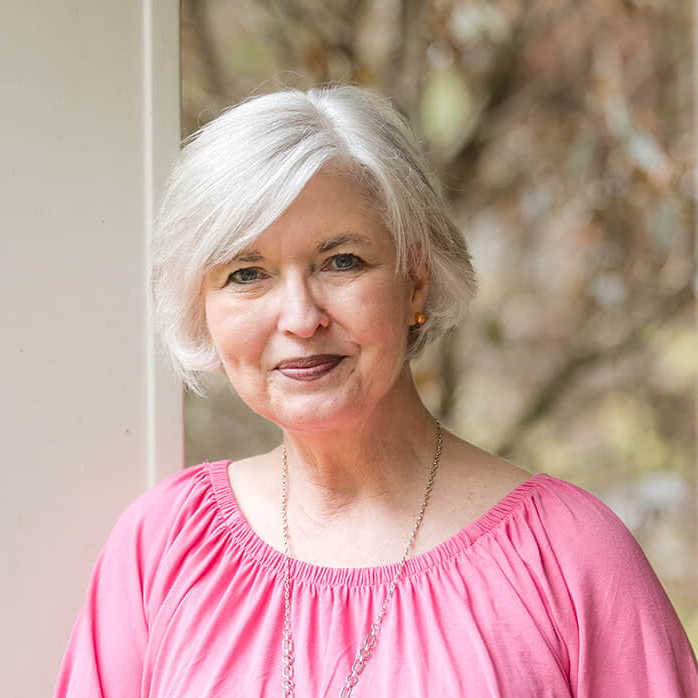 About Sheila Thigpen
Recipe Developer, Food Photographer, Food Writer
Sheila Thigpen is the publisher of Life, Love, and Good Food — a Southern food blog — and the author of Easy Chicken Cookbook and The 5-Ingredient Fresh and Easy Cookbook. After 20+ years in the publishing industry, she retired in 2018 to focus on her own creative endeavors full time. She and her husband live near the beautiful Smoky Mountains and have a precious little granddaughter who has stolen their hearts. As an influencer, Sheila has collaborated with brands like Creamette, Kroger, HERSHEY'S, Hamilton Beach, Garafalo Pasta, OXO, Smithfield, Valley Fig Growers, and more.