An abundance of fresh basil leaves calls for classic—and versatile—Basil Pesto Spread! Serve it as an appetizer on toasted crostini or as the main meal tossed with angel hair pasta. It is also a yummy spread to use on grilled mozzarella cheese sandwiches or paninis.
Sometimes, I even use this basil pesto instead of marinara when I make pizza at home. This delicious spread makes the perfect appetizer for summer dinner parties and best of all, it comes together in literally five minutes!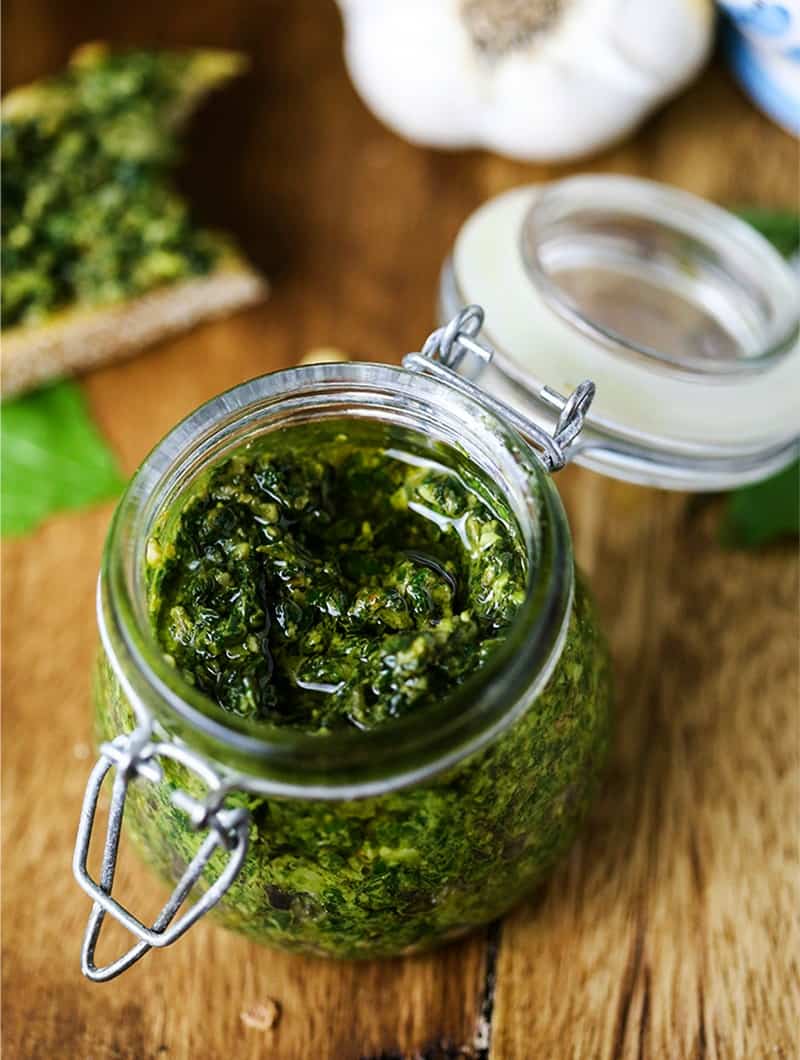 Basil Pesto Spread
You're probably getting tired of hearing me ramble on about our trip to Italy, but I just can't get over all the amazing things we experienced and all the amazing food we tasted during our adventure!
Please bear with me just a while longer as I reminisce and share more Italian-inspired recipes like this classic Basil Pesto Spread made with fresh basil and extra virgin olive oil that I bought in Sicily—fantastico!
There are different methods for making pesto, hand chopping for pesto with more texture or pulsing in a food processor for a smoother spread.
I opt somewhere in between and use the pulse button on my food processor to get a texture that still has a few chunks, but is still very spreadable.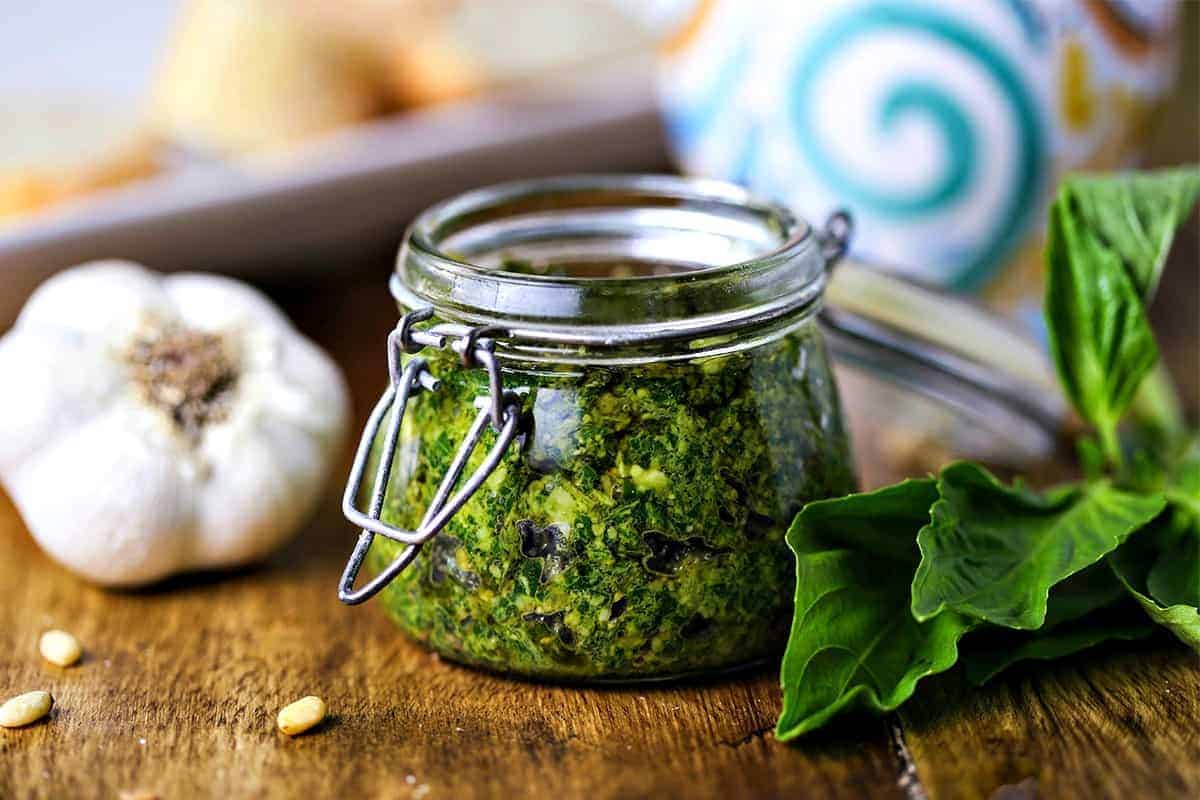 What is pesto?
Originally known as pesto alla genovese, pesto is a sauce or spread that originated in the Italian town Genoa. The original version was made with crushed pine nuts, garlic, coarse salt, Parmesan cheese, and of course, fresh basil leaves, using a mortar and pestle.
Pesto in Italian also means to pound (as in the mortar and pestle). A spread using this method may be made from many other leafy foods besides basil, including arugula, parsley, cilantro, kale, and spinach.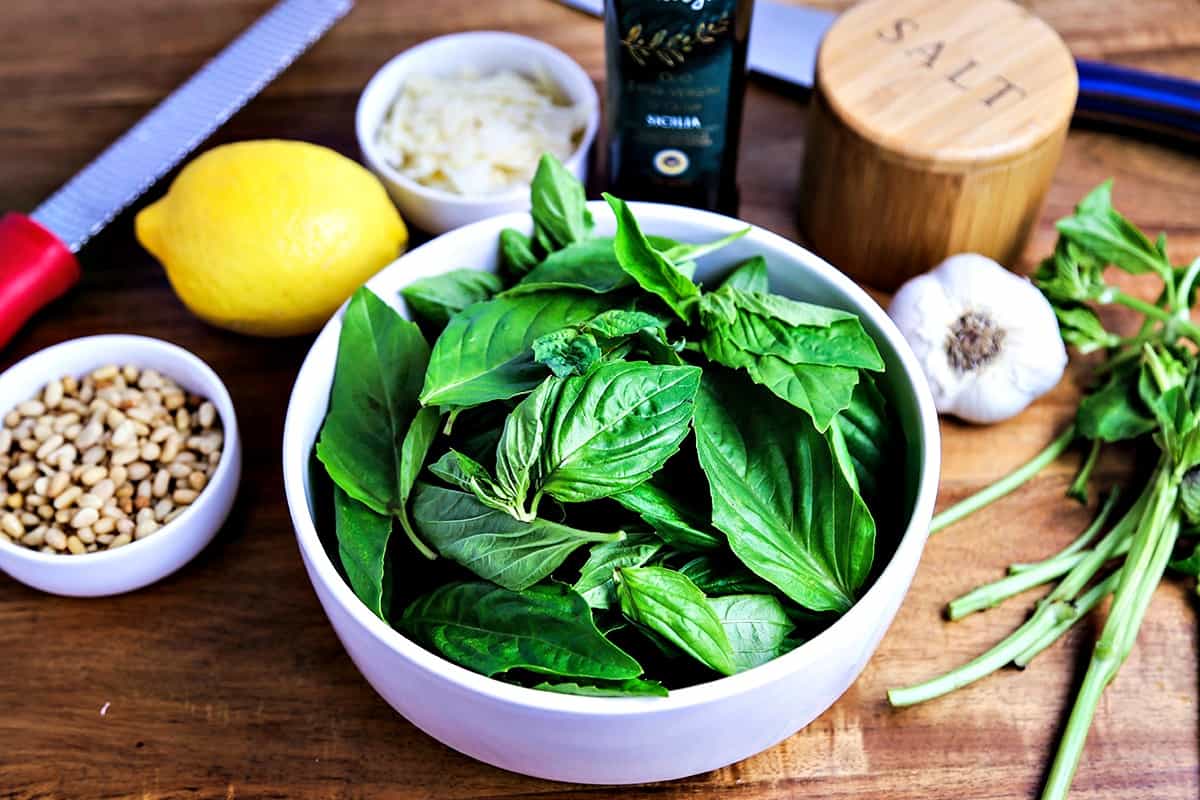 Can you make classic pesto without a mortar and pestle?
Using a mortar and pestle is more authentic, of course, but it takes a while longer and requires a little elbow muscle. For convenience and to save my wrists, I normally opt for making pesto in my food processor. Here's how:
Remove fresh basil leaves from the stems.
Shock the leaves to maintain a vibrant green color by quickly rinsing the basil leaves in a bowl of ice water.
Remove the excess water by spinning the leaves in a salad spinner.
Chop garlic and pine nuts with a food processor until almost smooth.
Add basil leaves with coarse salt to the food processor and pulse until the desired consistency.
Slowly add extra virgin olive oil through the food processor chute and process until incorporated.
Empty pesto into a serving bowl and stir in lemon zest and Parmesan cheese. That's it—presto pesto!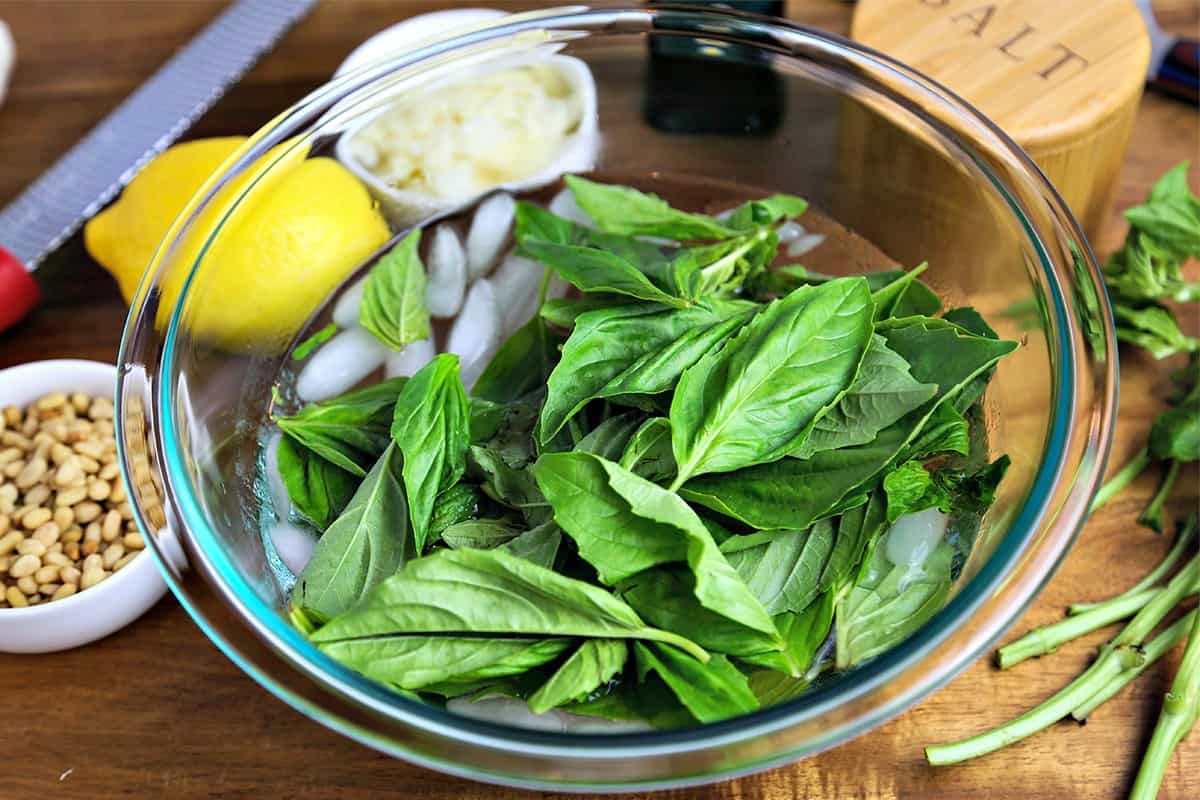 How do you store pesto?
To store the pesto for later use, cover with a layer of olive oil and refrigerate. Note that pesto is best used within a day or so for the best flavor.
Can you freeze pesto?
You can freeze pesto, but don't add any cheese if you plan to do so. Place pesto in small zip lock bags and squeeze out all the air and freeze for up to a month. To use, thaw at room temperature for 30 minutes then stir in Parmesan cheese to your liking.
More appetizer spread recipes!
Below is a list of some of my favorite homemade appetizer spreads, both hot and cold, that you may enjoy. Please check them out!
To make this recipe, you may need…
The following are affiliate links. We are a participant in the Amazon Services LLC Associates Program, an affiliate advertising program designed to provide a means for us to earn fees by linking to Amazon.com and affiliate sites.
What else is new? Check out my Life, Love, and Good Food Store on Amazon! Thanks so much for being a part of our community!
For this recipe I found that the most economical pine nuts come from Trader Joe (you can get them raw or already toasted, too).
Also, I love my Ninja blender! Not only do I use it all the time for making smoothies, it doubles as my food processor, too.
Let's cook!
Every year I promise myself that I'm going to grow my own herbs so that I can step outside my kitchen door and enjoy the smells and tastes of fresh basil, thyme, and rosemary whenever I wish.
Somehow, that hasn't happened just yet, but I guess there's always next year! In the meantime, I'll keep stocking up on basil from the farmer's market so that I can keep enjoying this fresh basil spread all Summer long!
Please share!
Your shares are how this site grows and I appreciate each one. Do you know someone who would enjoy this recipe? I'd love it if you would share it on Facebook or on your favorite Pinterest board!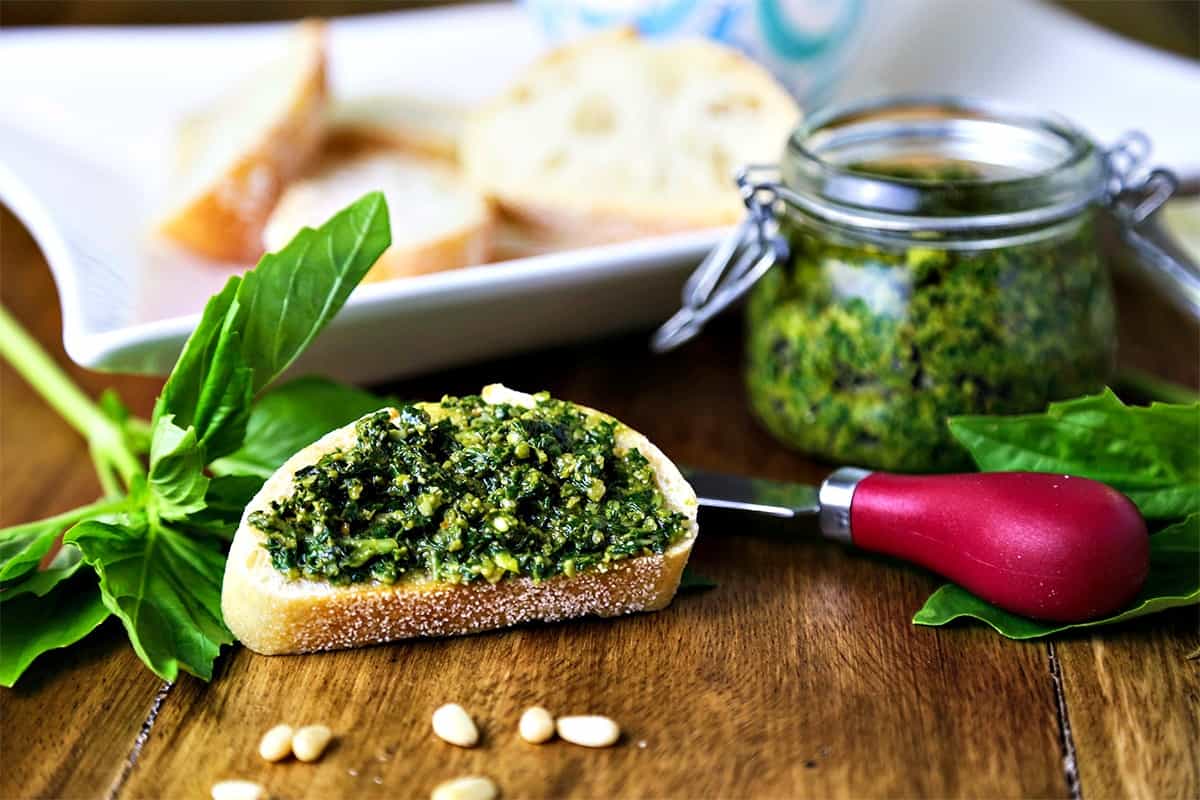 Yield: 1 cup
Basil Pesto Spread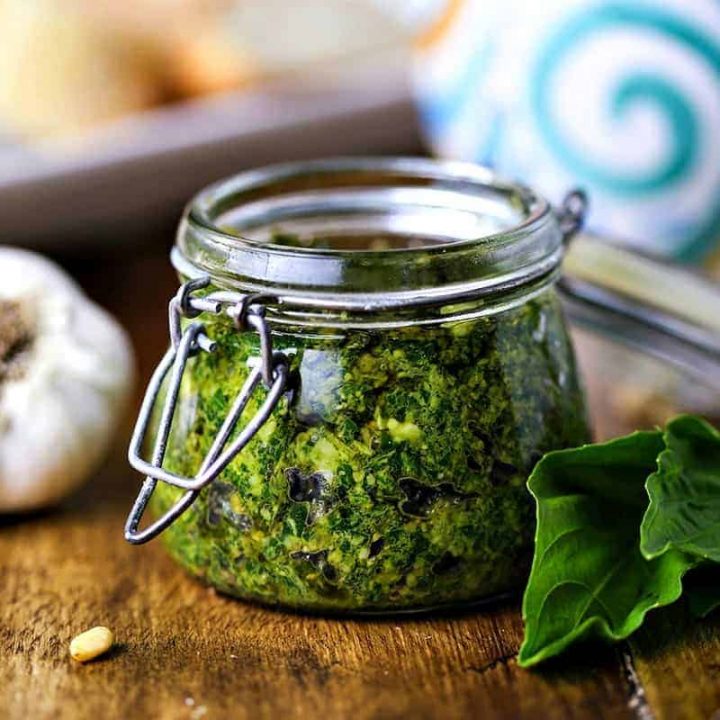 An abundance of fresh basil leaves calls for classic—and versatile—Basil Pesto Spread! Serve it as an appetizer on toasted crostini or as the main meal tossed with angel hair pasta.
Ingredients
3 cups fresh basil leaves, removed from stems
3 tablespoons toasted pine nuts
2 cloves garlic
3 - 4 tablespoons extra virgin olive oil, (plus more for storing)
2 - 3 tablespoons freshly grated Parmesan cheese
1/2 teaspoon sea salt
1 teaspoon lemon zest
Instructions
Remove basil leaves from the stems. Shock the leaves in a bowl of ice water and remove immediately to paper towels to dry. (May also use a salad spinner to remove water.)
Place pine nuts and garlic cloves in a food processor and pulse until chopped. Add basil leaves and pulse until chopped to desired consistency.
Pour olive oil into the food processor chute while on low to combine with the basil mixture. Add more olive oil if you desire.
Remove to a bowl and add salt, lemon zest, and Parmesan cheese. Stir until combined.
Serve immediately on toasted baguette. May store pesto in refrigerator for 2-3 days in a sealed jar. To save for later, cover pesto with a layer of olive oil and refrigerate.
Recommended Products
As an Amazon Associate and member of other affiliate programs, I earn from qualifying purchases.
Nutrition Information:
Yield:
16
Serving Size:
1 tablespoon
Amount Per Serving:
Calories:

47
Total Fat:

5g
Saturated Fat:

1g
Trans Fat:

0g
Unsaturated Fat:

4g
Cholesterol:

1mg
Sodium:

85mg
Carbohydrates:

1g
Fiber:

0g
Sugar:

0g
Protein:

1g
This recipe was originally posted on June 4, 2015, and was updated on August 20, 2019.