This post may contain affiliate links. Please read my disclosure policy.
Serve Nikki's Pasta e Fagioli Soup — or Italian pasta and bean soup — with a loaf of warm, crusty bread or Italian bread sticks in order to soak up every last drop of the delicious, savory broth.
This easy Italian soup starts with ground beef cooked with diced onions, carrots, and celery which add a very pleasing depth of flavor. Two kinds of beans, tomatoes, and small ditalini pasta (or small elbow or shell macaroni noodles) make this delicious dinner soup hearty and filling. T
he recipe also includes instructions for making this dish either on the stove or in a slow cooker.
FREAKY FRIDAY Blog Hop
Today is FREAKY FRIDAY, y'all! That may not mean a thing to you, but it's pretty exciting for me. Freaky Friday is a fun blog project (the brainchild of Michaela from An Affair From the Heart) where a group of food bloggers secretly cook or bake a recipe from another blog they were assigned and then reveal the recipes at the same time on one Freaky Friday morning — that's TODAY!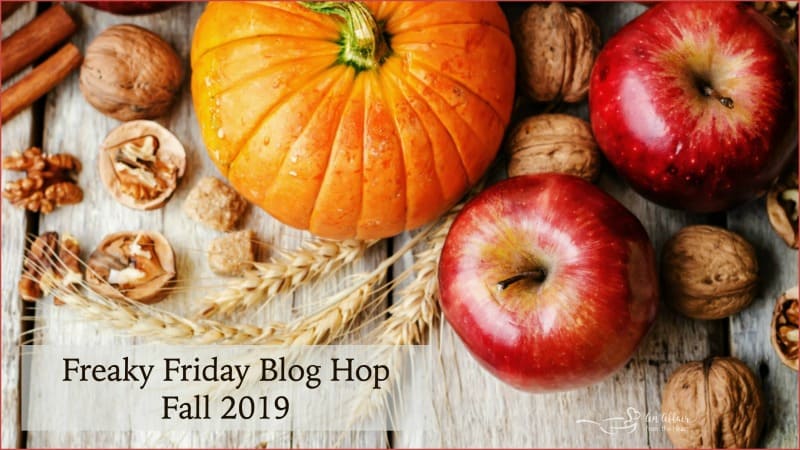 Meet Nikki Lee from Soulfully Made
I've been busting at the seams for this big reveal because I was assigned Soulfully Made, an awesome blog created by my awesome friend, Nikki Lee! I met Nikki in 2017 at a food blog conference in Florida (her home state) and we immediately became fast friends. Nikki loves Jesus, her family, Southern food, and Southern hospitality — she's a girl after my own heart.
Not only that, Nikki is an amazing cook. At Soulfully Made, Nikki features lots of delicious family recipes for the Instant Pot like her Southern Style Green Beans and Bacon, hearty Keto Low Carb Beef Chili (which can also be made in a slow cooker), and old-fashioned Apple Butter. YUM!
It was really difficult to choose which recipe to feature today because so many sounded so good. I finally decided on Pasta Fagioli Soup, a traditional Italian soup that my family absolutely loved! Although Nikki is a Southern food blogger, many of her recipes are influenced by the diverse culture in the Tampa Bay area where she lives. Please be a dear and hurry on over to Soulfully Made and check out Nikki's other delicious recipes. But first, let's chat more about this Pasta Fagioli Soup.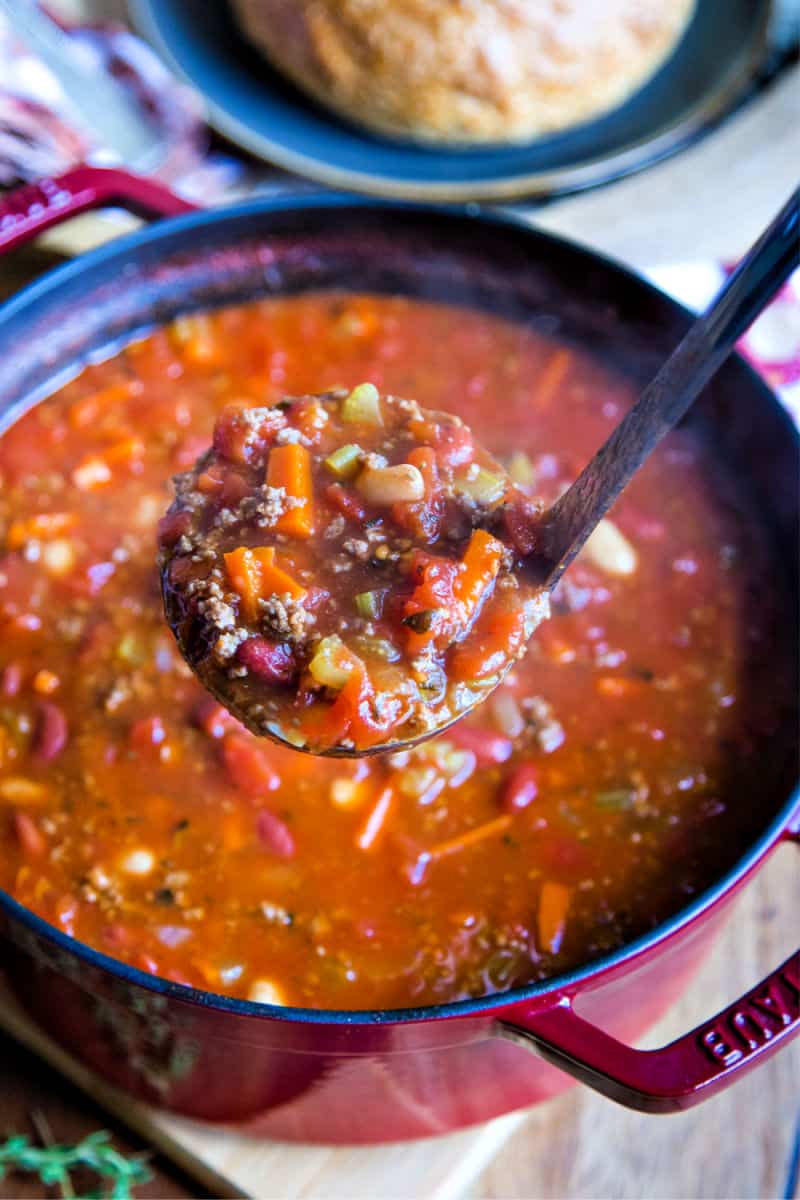 When the stars make you drool, just like pasta fazool, that's amore.

Lyric from That's Amore by Warren and Brooks, a song made popular by Dean Martin
Pasta e Fagioli FAQs
What does Pasta e Fagioli mean?
Literally translated, "pasta e fagioli" means "pasta and beans". Like pizza, this Italian soup became a popular peasant dish due to the fact that it was quite filling and was made with inexpensive ingredients.
What's the difference between Minestrone and Pasta e Fagioli?
Minestrone is usually prepared with more vegetables than Pasta e Fagioli. Besides beans, Pasta e Fagioli may include sofrito (caramelized onion, celery, and carrots) for flavoring, while Minestrone may include peas, green beans, potatoes and even zucchini.
What do you serve with Pasta e Fagioli?
This is a hearty soup that is a meal in itself. You can serve a green side salad if you like, but definitely plan to have Italian breadsticks or a crusty loaf for dipping into the delicious broth. Also, serve the soup garnished with freshly grated Parmesan cheese on top.
What is Pasta Fazool?
The Neopolitan name for Pasta e Fagioli is Pasta e Fasule which became known as Pasta Fazool in America in the 1920s.
What kind of pasta is in Pasta e Fagioli?
Small pasta is preferred in this soup, like the ditalini pasta pictured below. However, small elbow macaroni may be substituted as well.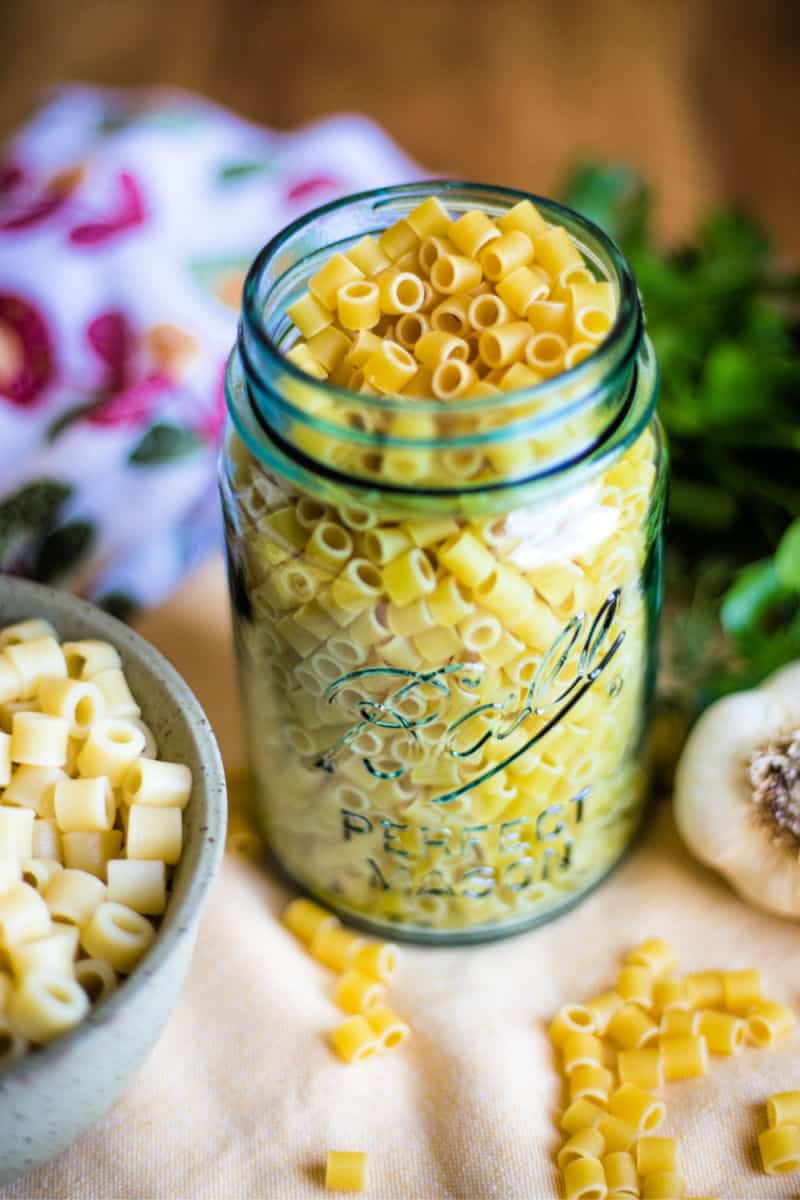 Making Pasta e Fagioli Soup is as EASY as 1-2-3!
Start by browning ground beef in a large Dutch oven or soup pot.
Add chopped onion, celery, carrots, and garlic and cook until tender.
Stir in beans, tomatoes, V8 juice, and spices, then simmer on the stove (or in the slow cooker) to allow flavors to meld. Soup's on!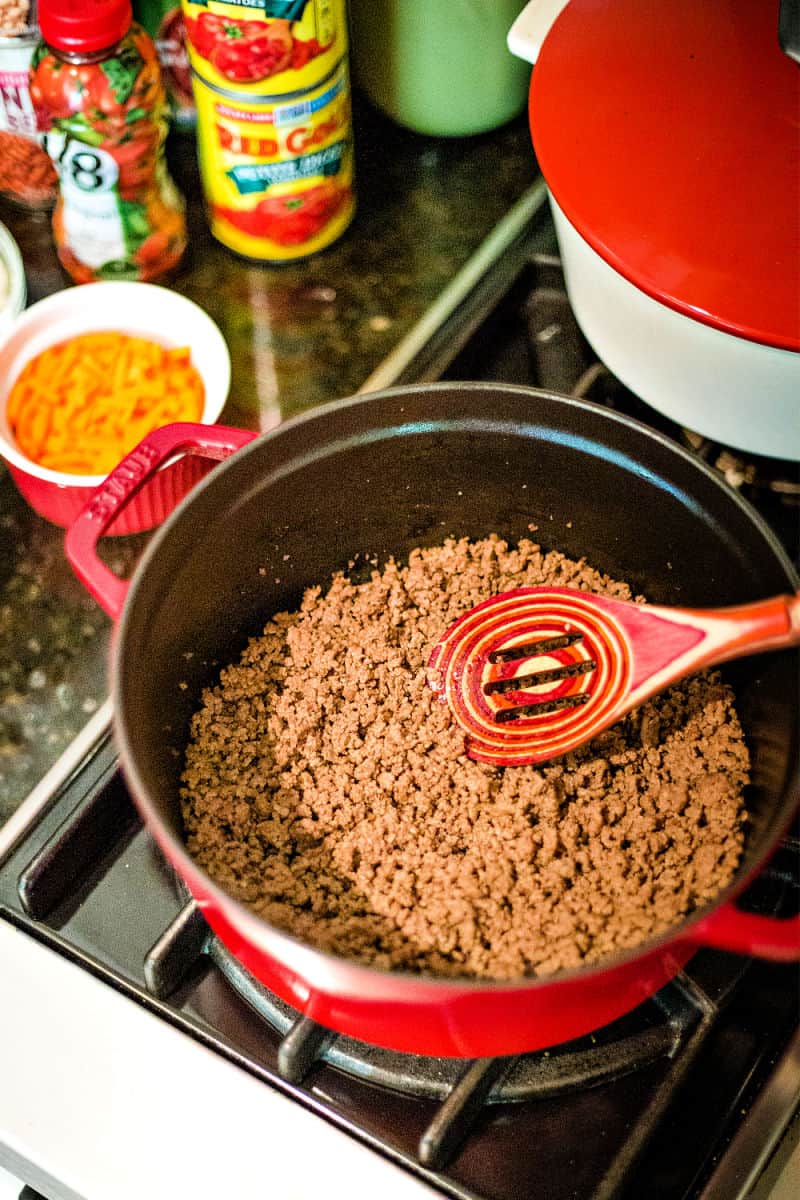 Soup Making Secrets
There are several tried and true "secrets" to making a soup that is extra flavorful and delicious. These "secrets" are included in the recipe instructions for Nikki's Pasta e Fagioli Soup, but I'm spelling them out here as well since they will make a difference when you're cooking other soup recipes.
Cook soup in layers. For example, brown or sear the meat first. Add vegetables in order based on which ones will require more time for cooking so that you don't over cook vegetables that are more delicate, like spinach or zucchini.
Sauté aromatics. Slowly cook onions or garlic in olive oil or butter until very tender and caramelized to release their best flavor. PRO TIP: Some chefs make sofrito — a mixture of slow-cooked, caramelized onions, carrots, and celery — and store it in the refrigerator or freezer to use as a jump start when making soups or stews.
Add a splash of vinegar. The acidity of vinegar gives soups a punch of flavor and brightness, but don't do this with cream-based soups.
Simmer, simmer, simmer. It's best to let soups simmer at least an hour on the stove (or two to four hours in a slow cooker) to allow the flavors of all the ingredients to meld together for richness in the broth.
Use salt sparingly. Many canned beans or vegetables already have been salted, so be careful when adding more to your soup.
Add freshness. It's a little thing, but garnishing a warm bowl of soup with fresh herbs definitely ups the ante. Imagine raising that first spoonful toward your mouth and getting a whiff of freshly chopped herbs along with the soup's savory aroma. JUST. YUM.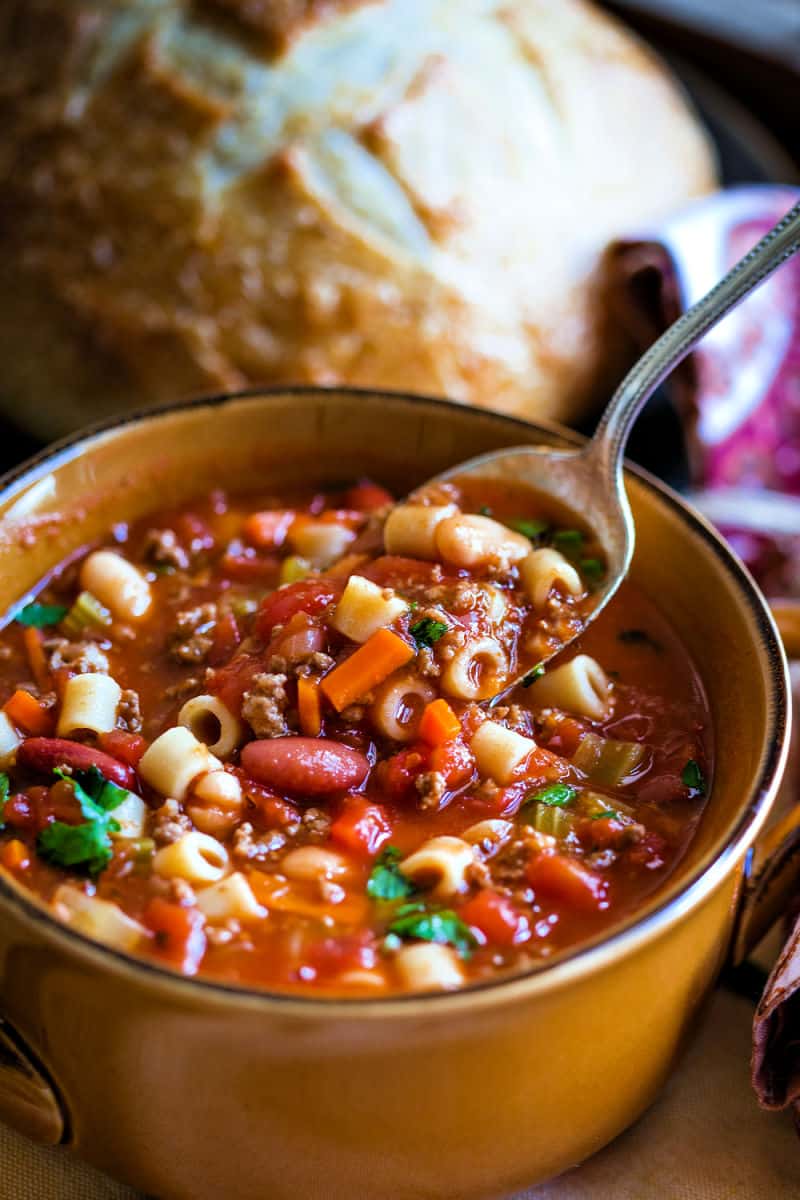 More delicious soup recipes!
There's nothing better than a bowl of hearty soup on a chilly day to fill your tummy and warm your soul. Here are just a few of my favorite that I hope you enjoy:
Pasta e Fagioli Soup Recipe
One genius tip Nikki gives for making this soup is to cook the pasta separately and then stir in a handful into each bowl as you serve the soup. This ensures the pasta is a nice al dente and that it doesn't bulk up by absorbing all that broth. However, if you prefer you may cook the pasta with the soup — just add it during the last 10 minutes of cooking.
Garnish Pasta e Fagioli Soup with chopped Italian parsley and freshly grated Parmesan cheese and Italian breadsticks or a warm and crusty loaf of bread. Delizioso!
Please share!
Your shares are how this site grows, and I appreciate each one. Do you know someone who would enjoy this recipe? I'd love it if you would share it on Facebook or Pinterest!
Take a look at all of our Fall 2019 Freaky Friday Recipes:
An Affair from the Heart – Instant Pot Vegetable Beef Soup
A Grande Life – Easy Beer Cheddar Dip
Aunt Bee's Recipes – Three Cheese Roast Beef Sliders
Bowl Me Over – Crock Pot Pumpkin Butter Recipe
Healing Tomato – Stuffed Acorn Squash
Hostess at Heart – Caramel Apple Pie Snack Mix
House of Nash Eats – Slow Cooker Applesauce Pulled Chicken Sandwiches
LeMoine Family Kitchen – White Cheddar Broccoli Stuffed Baked Potatoes
Lemon Blossoms – Maple Oven Roasted Carrots
Life, Love & Good Food – Pasta Fagioli Soup Recipe
Mildly Meandering – Saffron Rice
Soulfully Made – Salted Dark Chocolate Orange Cookies
Take Two Tapas – Margarita Pizza Pull Apart Bread
The Speckled Palate – Halloween Peanut Butter Chocolate White Chocolate Chip Cookies
West Via Midwest – Easy Garlic Parmesan Chicken Wings
Who Needs a Cape? – Roasted Red Pepper and Artichoke Tapenade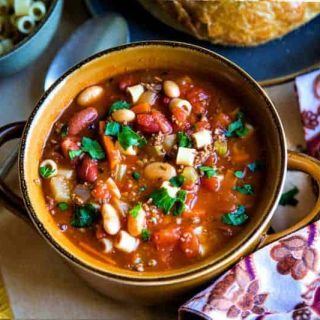 Pasta e Fagioli Soup
Hearty and filling, this pasta and bean soup is delicious served with Parmesan cheese and fresh chopped Italian parsley on top.
Ingredients
1

lb.

ground beef

1

small

onion diced

1

large

carrot julienned

3

stalks

celery

chopped

2

cloves

garlic

2

14.5 oz. cans

diced tomatoes

1

15 oz. can

red kidney beans

with liquid

1

15 oz. can

great northern beans

with liquid

1

15 oz. can

tomato sauce

1

12 oz. can

V-8 juice

1 1/2

teaspoons

salt

1

teaspoon

oregano

1

teaspoon

basil

1/2

teaspoon

pepper

1/2

teaspoon

thyme

1

tablespoon

white vinegar

1

8 oz. pkg.

ditalini pasta

1/2

cup

freshly grated Parmesan cheese

optional

1/2

cup

freshly chopped Italian parsley

for garnish (optional)
Instructions
Crumble ground beef into a large Dutch oven and cook over medium heat until no longer pink. Drain off most of the fat.

Add the diced vegetables — onion, carrot, celery, and garlic — to the Dutch oven and sauté for 10 minutes, until the vegetables are soft.

To the meat mixture, add the red kidney beans, northern beans, tomato sauce, V8 juice, and spices — do not add the vinegar or pasta. Bring to a boil, then reduce heat and simmer for 1 hour.

About 15 minutes before serving, stir the vinegar into the soup. Bring 6 cups of water to a boil and cook the pasta for 9-10 minutes or just until pasta is al dente. Drain and rinse the pasta, then stir in a handful of pasta into each serving as you ladle soup into bowls.

Garnish with freshly grated Parmesan cheese and chopped Italian parsley and serve.

*See slow cooker instructions in the notes section.
Notes
Original recipe by Soulfully Made
If you prefer, you may cook the pasta in the soup. To do so, just add it to the soup during the last 10 minutes of cooking.
To store the leftovers, allow the soup to cool completely before refrigerating. Once chilled, portion the soup into resealable freezer bags and lay flat in the freezer. Soup may be frozen for up to two months. To thaw, place in the refrigerator overnight.
FOR THE SLOW COOKER: Follow the instructions through step 3. Add soup to a slow cooker and cook for 2 to 4 hours on HIGH, or for for 4 to 8 hours on LOW.
Nutrition
Serving:
1
g
Calories:
372
kcal
Carbohydrates:
41
g
Protein:
28
g
Fat:
11
g
Saturated Fat:
4
g
Polyunsaturated Fat:
5
g
Cholesterol:
50
mg
Sodium:
885
mg
Fiber:
11
g
Sugar:
6
g
Life Love and Good Food does not claim to be a registered dietician or nutritionist. Nutritional information shared on this site is only an estimate. We recommend running the ingredients through an online nutritional calculator if you need to verify any information.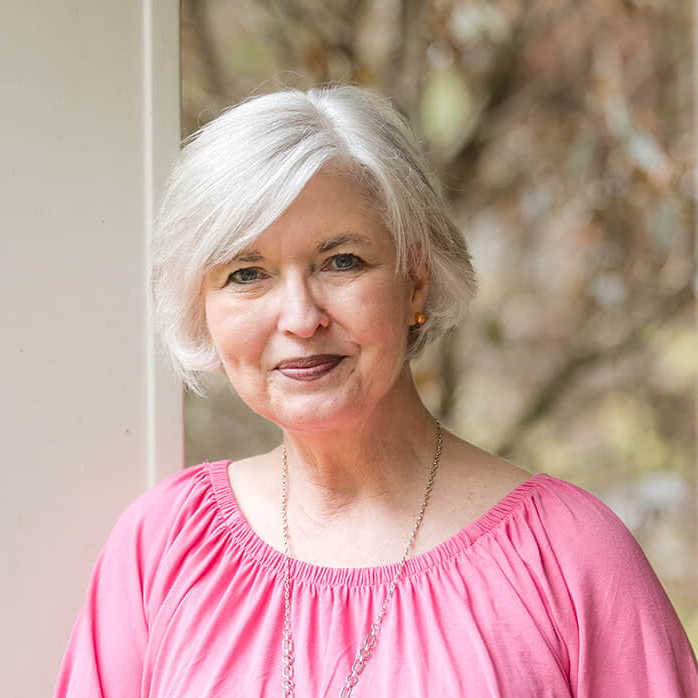 About Sheila Thigpen
Recipe Developer, Food Photographer, Food Writer
Sheila Thigpen is the publisher of Life, Love, and Good Food — a Southern food blog — and the author of Easy Chicken Cookbook and The 5-Ingredient Fresh and Easy Cookbook. After 20+ years in the publishing industry, she retired in 2018 to focus on her own creative endeavors full time. She and her husband live near the beautiful Smoky Mountains and have a precious little granddaughter who has stolen their hearts. As an influencer, Sheila has collaborated with brands like Creamette, Kroger, HERSHEY'S, Hamilton Beach, Garafalo Pasta, OXO, Smithfield, Valley Fig Growers, and more.