This post has been sponsored by Uncle Ben's®. All opinions are my own.
Homemade Pork Meatball and Wild Rice Soup is a delicious, hearty Winter soup that's much easier to prepare than you might think!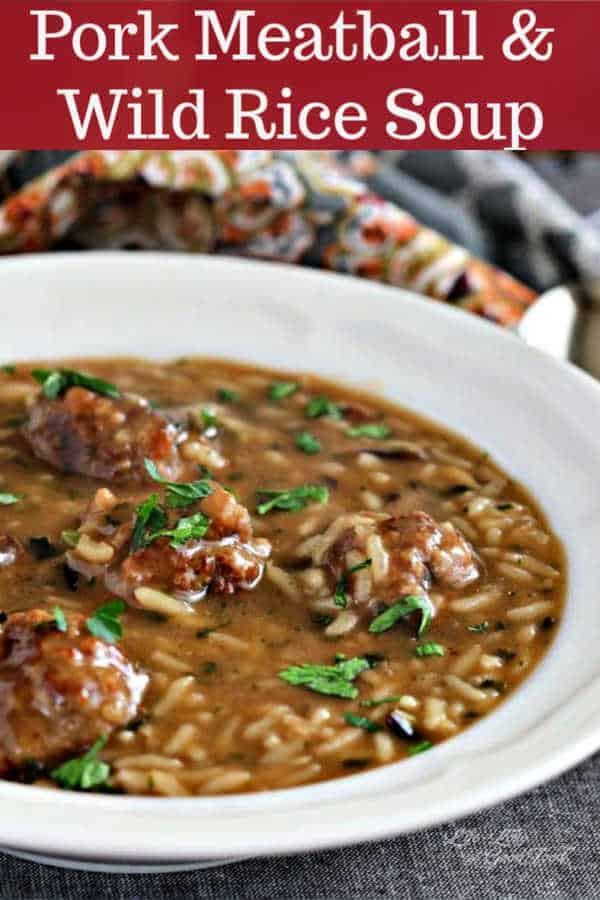 Being a working girl, I'm all about using shortcuts when it comes to preparing weeknight dinners. Sometimes that means a little extra pre-planning and sometimes it means incorporating wholesome convenience products like Uncle Ben's® Long Grain & Wild Rice into my meal plans.
When I'm at a loss for what to cook for dinner, my usual go-to menu is either baked chicken or fish over Uncle Ben's® Long Grain & Wild Rice with a side of steamed broccoli—quick, healthy, and always satisfying.
On these colder, drearier days though I'd much rather warm up with a bowl of piping-hot, homemade soup or stew, wouldn't you? Pork Meatball and Wild Rice Soup can be easily prepared after work, only requires a few basic ingredients, and is a really economical meal, as well!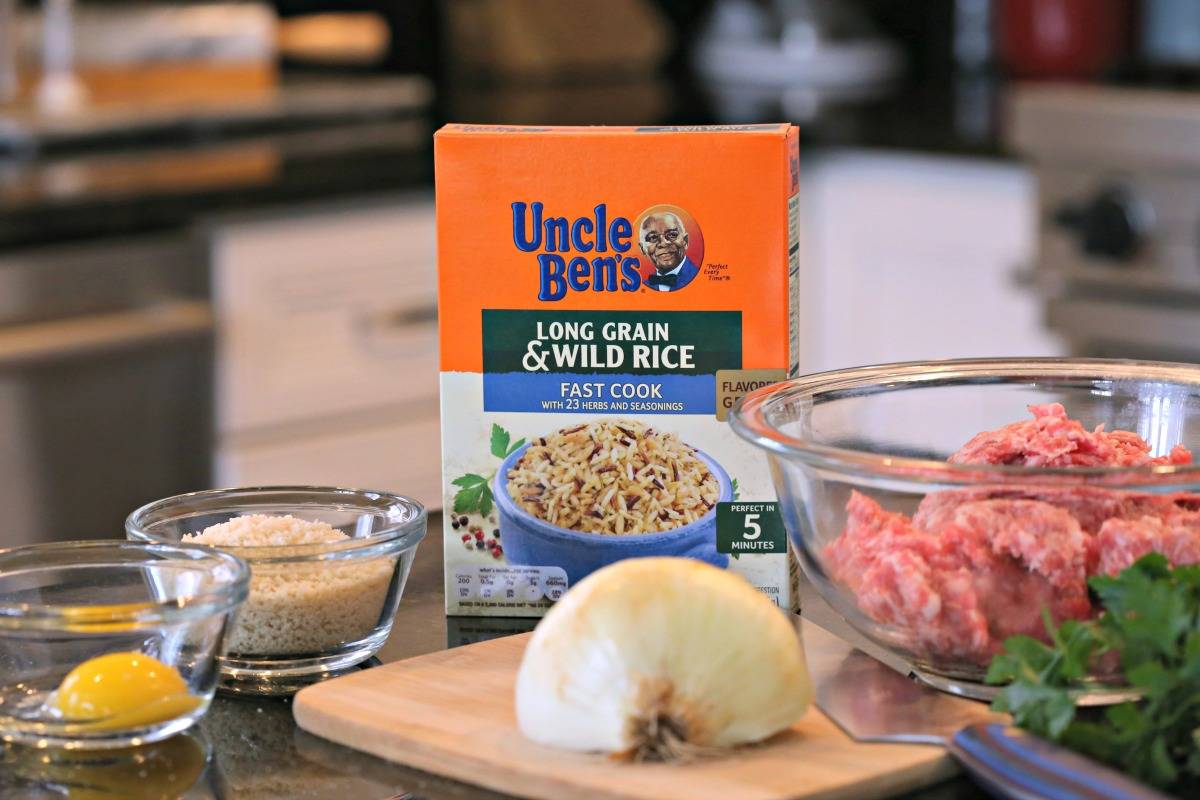 How to Make Pork Meatballs
The first step in making this soup is to prepare the pork meatballs. If you want to do some of that pre-planning that I mentioned, then making the pork meatballs ahead of time could save you a few minutes.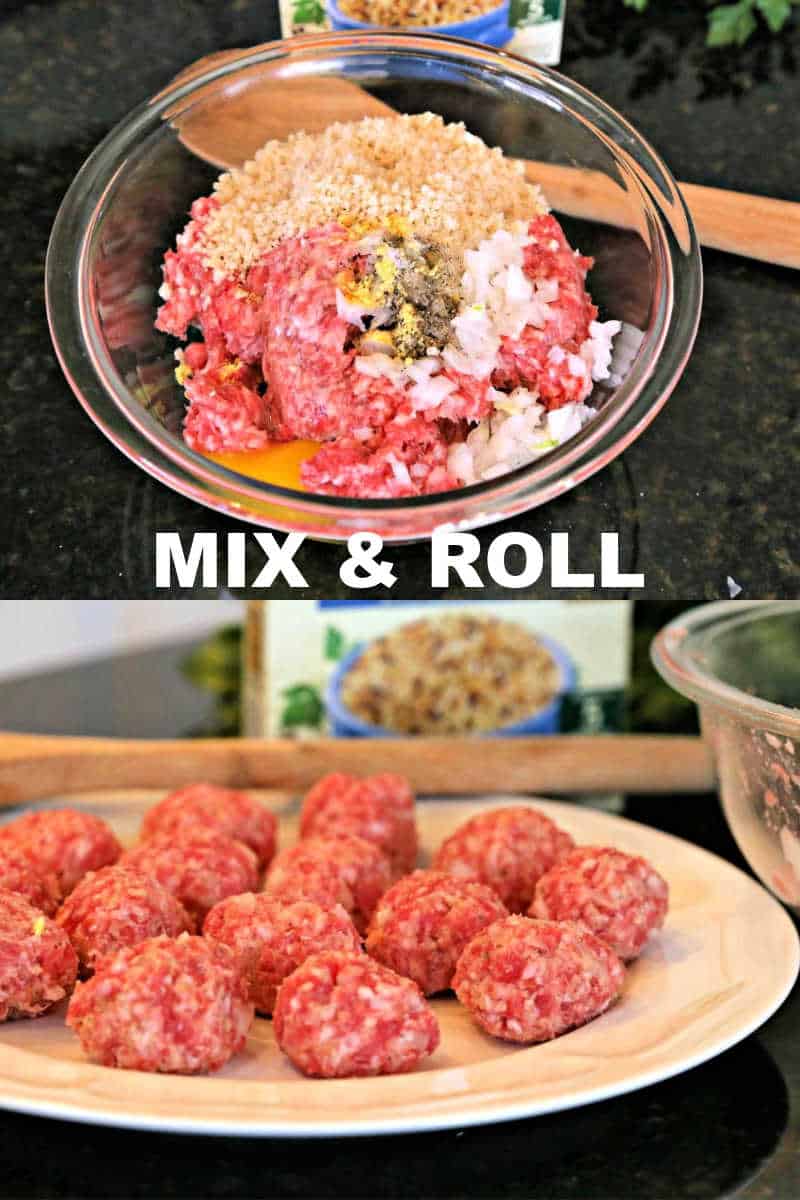 Start with a pound of ground pork, some finely diced onion, panko bread crumbs, and an egg yolk. Mix this together along with a bit of milk and Worcestershire sauce, dry mustard, and salt and pepper.
You can use a wooden spoon to incorporate all the ingredients evenly. Since you're going to need to get your hands dirty anyway when you roll the mixture out into meatballs, you might as well just mix it all up with your fingers from the start and pour a little love into the mix!
This recipe should make about 24 meatballs, give or take. If you're pre-planning and prepping to cook the soup later, at this point you can cook the meatballs and then refrigerate them over night which will save a little time if you're cooking after a busy day at work.
Make a Roux for Pork Meatball Soup
To prepare the roux for this soup, melt the butter and stir in the flour PLUS the seasoning packet from the Uncle Ben's® Long Grain & Wild Rice and cook just a couple of minutes.
Gradually add the low-sodium beef broth and cook until just slightly thick. Next, stir in the cooked meatballs and the uncooked rice and let the whole batch simmer for about 20-25 minutes.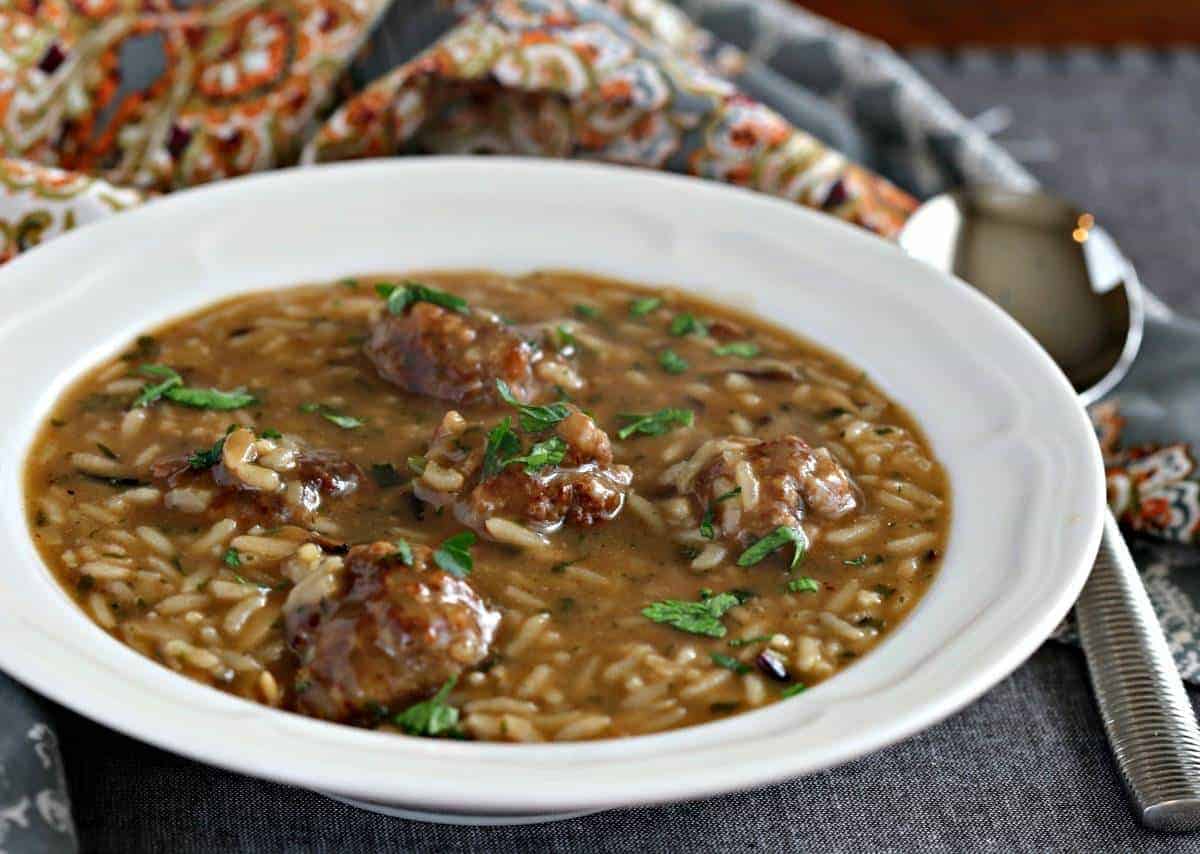 It just makes sense to me to keep my pantry stocked with Uncle Ben's products so that I can make easy, delicious dinners any night of the week. It also makes perfect sense to take advantage of saving money wherever I can, so here's a FREE tip for you: Go right now and download the Target Cartwheel app to your phone! Target Cartwheel allows you to download special offers and then scan a single barcode at checkout. I have some insider info that a special offer will be running from 2/12/17 to 3/11/17 and you can save money on all Uncle Ben's Products at Target! You're welcome!
More hearty soup recipes!
Pork Meatball & Wild Rice Soup Recipe
Serve the soup topped with chopped fresh parsley and a side salad and you've got a delicious, wholesome dinner that tastes like it simmered hours on the stove!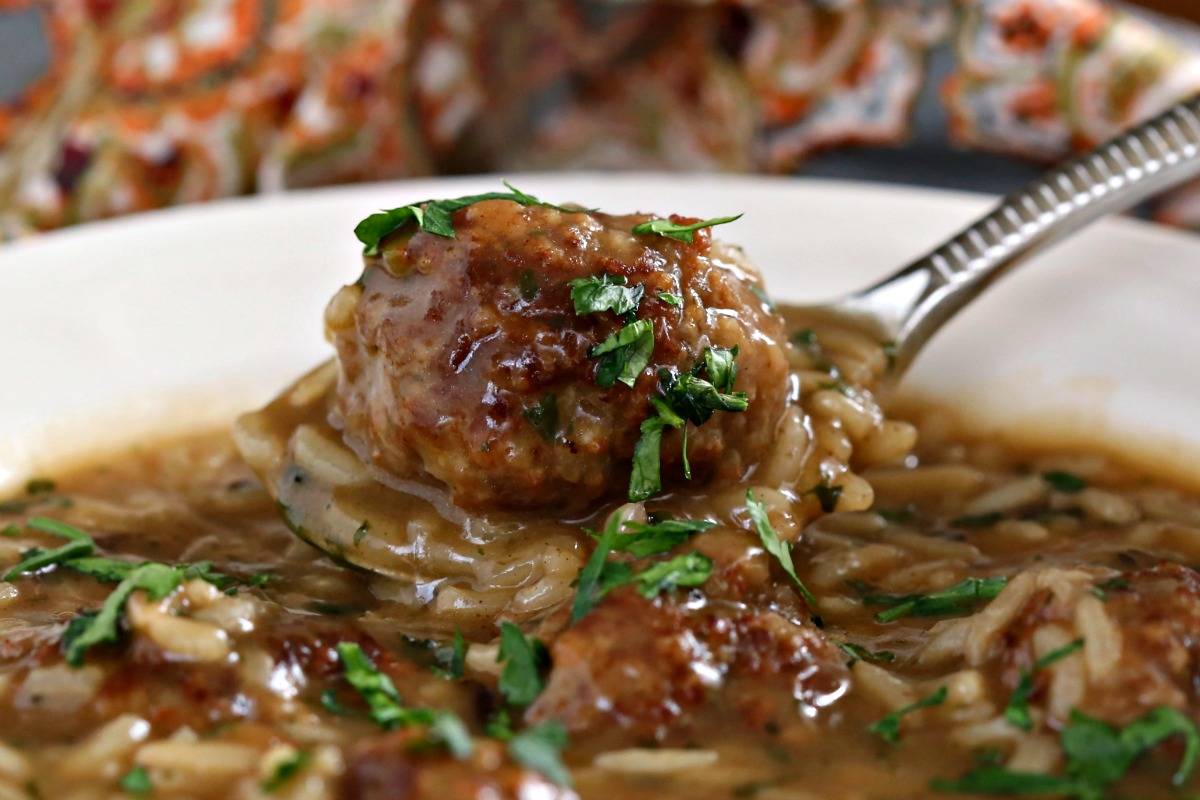 Yield: 6 servings
Pork Meatball and Wild Rice Soup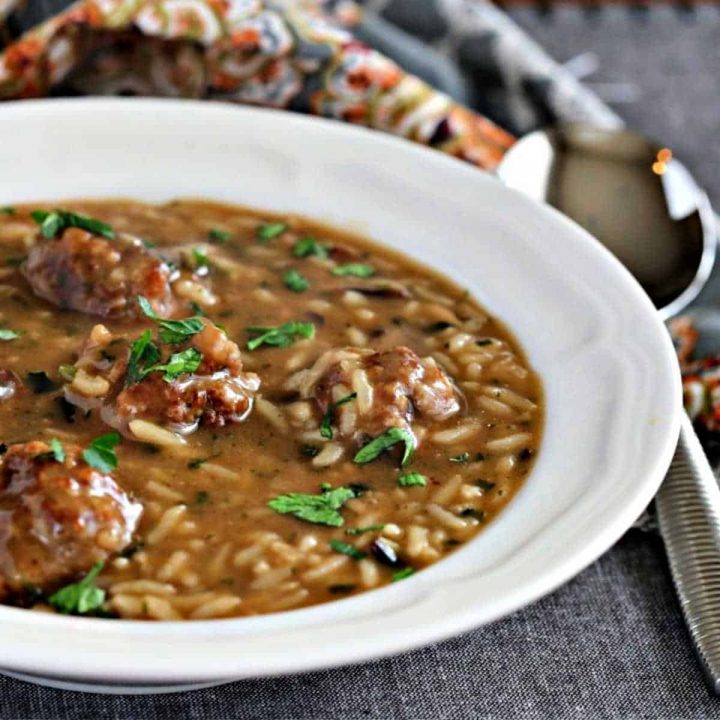 Homemade Pork Meatball and Wild Rice Soup is a delicious, hearty Winter soup that's much easier to prepare than you might think!
Ingredients
Pork Meatballs
1 pound ground pork
1/3 cup finely minced onions
1/2 cup panko breadcrumbs
1 beaten egg
2 tablespoons milk
1 tablespoon Worcestershire sauce
1/4 teaspoon dry mustard
1/2 teaspoon salt
1/2 teaspoon pepper
1-2 tablespoons olive oil, for frying
Soup
Pork meatballs
UNCLE BEN'S® LONG GRAIN & WILD RICE FAST COOK RECIPE
1/4 cup unsalted butter
1/3 cup all-purpose flour
4-6 cups low-sodium beef broth
2 tablespoons chopped fresh parsley leaves
Instructions
Gently combine ground sausage, minced onions, panko breadcrumbs, egg, milk, Worcestershire sauce, and spices. Form into 3/4-inch meatballs.
Over medium heat, fry meatballs in a little olive oil until golden brown (they will finish cooking in the soup). Drain on a paper towel lined plate.
In a large soup pot, melt butter over medium heat. Whisk in flour and UNCLE BEN'S® LONG GRAIN & WILD RICE seasoning packet until lightly browned, about 1 minute. Gradually whisk in 4 cups beef broth and cook, whisking constantly, until slightly thickened, about 1-2 minutes.
Add meatballs and uncooked UNCLE BEN'S® LONG GRAIN & WILD RICE FAST COOK RECIPE. Reduce heat and cook, covered, for 20 minutes, or until rice is tender. Add more beef broth if needed to thin soup. Serve immediately, garnished with parsley, if desired.
Notes
Toss in extra sautéed onions or mushrooms to the soup when you add the meatballs and rice, if you like.
Recommended Products
As an Amazon Associate and member of other affiliate programs, I earn from qualifying purchases.
Nutrition Information:
Yield:
6
Serving Size:
1
Amount Per Serving:
Calories:

505
Total Fat:

31g
Saturated Fat:

12g
Trans Fat:

0g
Unsaturated Fat:

16g
Cholesterol:

127mg
Sodium:

2340mg
Carbohydrates:

22g
Fiber:

1g
Sugar:

3g
Protein:

35g
ABOUT SHEILA
Sheila Thigpen, author of Easy Chicken Cookbook and The 5-Ingredient Fresh and Easy Cookbook, is a recipe developer, food photographer, and food writer. She spent 20+ years as a business manager in the publishing industry before she retired in 2018 to focus on her passions — cooking, photography, and writing. Living near the beautiful Smoky Mountains, Sheila and her husband have two adult daughters and two fine sons-in-law, are active in their church, love to travel, and have a precious little granddaughter who has stolen their hearts. Follow Sheila on YouTube, Pinterest, Instagram, Facebook, and Twitter!