Adults and kids alike will love these Sausage Mushroom Pizzadillas (a.k.a. pizza quesadilla) served with a warm marinara dipping sauce. This easy recipe is a great weeknight dinner option as well as a fun party appetizer that your guests will love.
Stuff flour tortillas with a mixture of Italian sausage, mushrooms, and mozzarella cheese and pan fry until golden brown. Cut each pizzadilla into triangles and serve with a bowl of heated-up jarred marinara sauce.
Customize this recipe with your favorite pizza toppings like pepperoni, peppers, onions, or even ground beef. Your family will love this Italian spin on traditional Mexican quesadillas!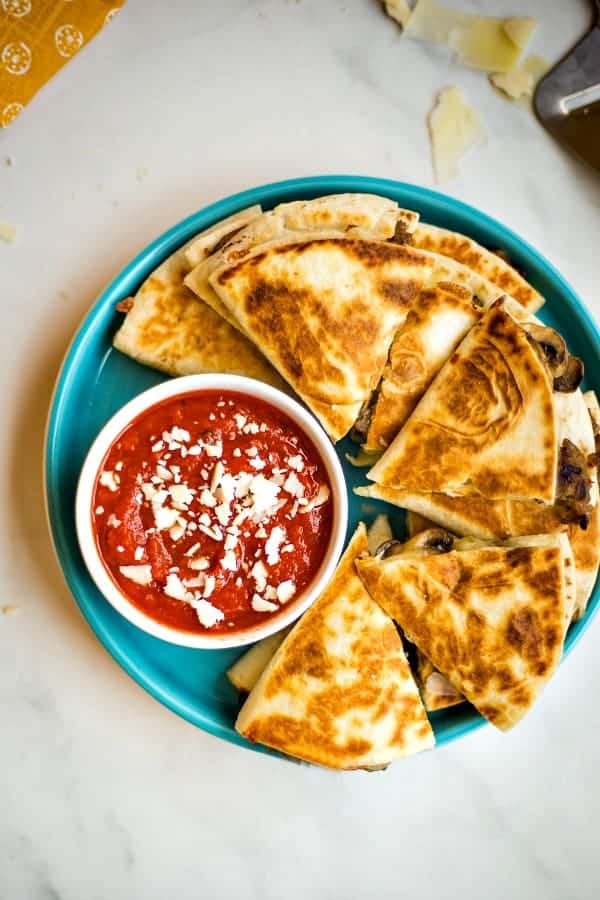 5 reasons you're gonna love Sausage Mushroom Pizzadillas
Pizzadillas are quick and easy to make

.
Just a few ingredients are needed.
You can mix and match pizzadilla topping ingredients to make the recipe your own.
It's a great recipe to make with the kids, and they love them!
Pizzadillas make a fun party appetizer, too!
Behind the recipe
When our girls were growing up, on any given Sunday our family was running from morning church to afternoon visits with grandparents to Sunday evening choir rehearsals which meant our lazy Sundays weren't so lazy! Don't get me wrong, we loved those busy days!
But, busy Sundays called for an easy Sunday night dinner. We'd often grab a pizza or make a quick sandwich, or grill cheese quesadillas topped with whatever leftovers were in the fridge.
Today's Sausage Mushroom Pizza-Dillas are a fun twist on traditional Mexican quesadillas.
Make the Italian sausage and mushroom filling ahead of time and store it in the fridge and then make as many or as few quesadillas as you like at a time.
Use your favorite marinara sauce for dipping and you've got a fun, quick dinner for everyone!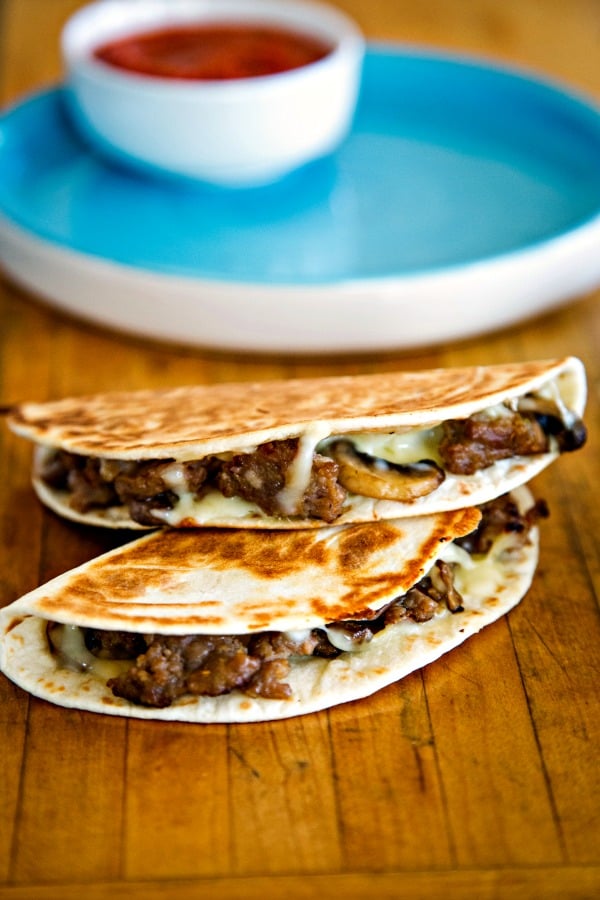 Ingredients
Ground Italian sausage — mild or spicy, cooked and crumbled
Mushrooms
Unsalted butter
Kosher salt
Four tortillas — or substitute gluten-free
Mozzarella cheese
Marinara sauce
Other pizzadilla topping ideas
Pepperoni
Sautéed veggies — bell peppers and onions
Spinach
Ground beef or chicken
How to make Sausage Mushroom Pizzadillas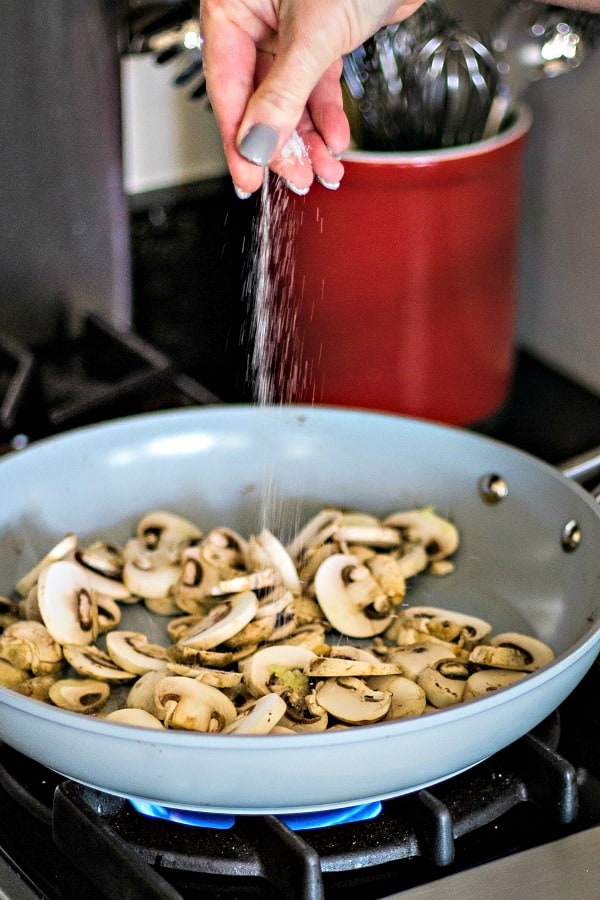 Start by cooking the Italian sausage until it is no longer pink, breaking it up into crumbles. Remove the cooked sausage from the skillet and drain on paper towels.
Wipe the skillet clean, then add a tablespoon of olive oil and the sliced mushrooms to the pan. Season with salt and sauté for about five minutes, or until the mushrooms are tender and no liquid remains.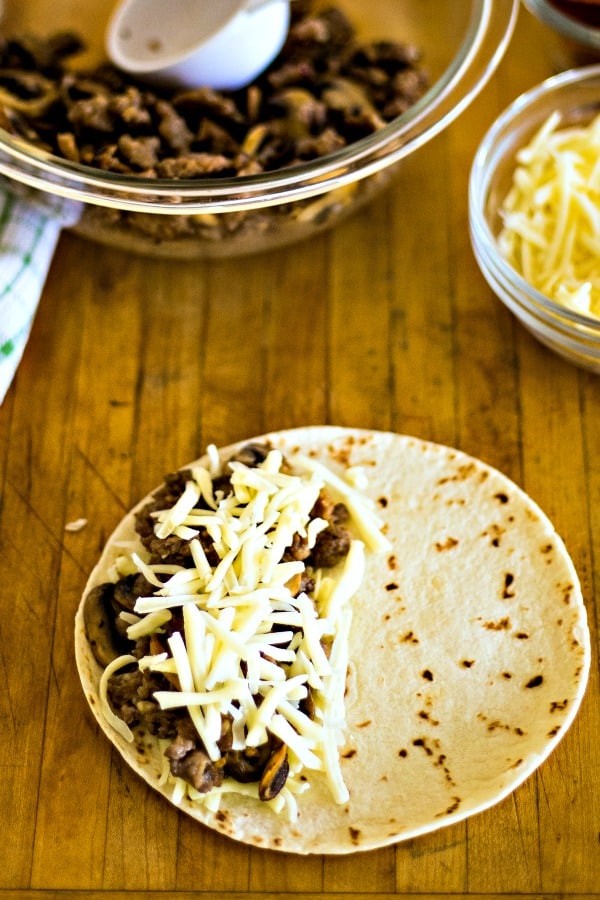 Combine the cooked sausage with the mushrooms in a large bowl. At this point, you can cover and store the pizza-dilla filling for use later or start to assemble the pizza-dillas to cook immediately.
Lightly coat one side of the tortilla with cooking spray. Flip it over and layer a couple tablespoons of mozzarella cheese, the sausage-mushroom filling and more cheese on one half.
Fold the tortilla over the filling and carefully place into a nonstick skillet over medium high heat.
Cook on each side for one to two minutes, or until golden brown.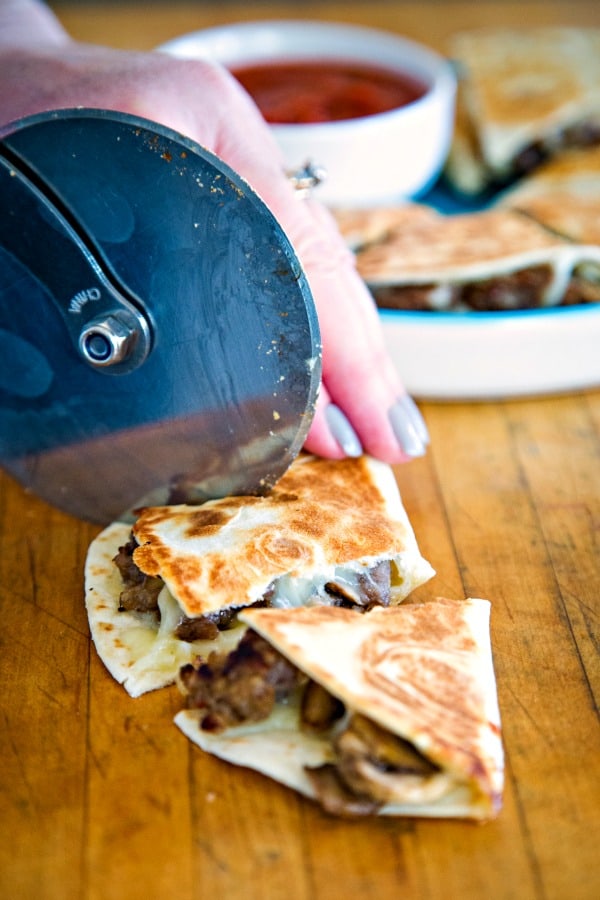 In the meantime, heat a cup of marinara sauce in the microwave. If desired, sprinkle the warmed sauce with Parmesan cheese.
Cut each pizzadilla into thirds and serve with the dipping sauce. Simple, easy, tasty, and fun to eat!
To cook this recipe, I used…
My new Bialetti Titanium Infused Ceramic Nonstick 12-inch skillet and I'd love to gift one to one lucky reader! Bialetti's Silver TI cookware features a titanium-infused ceramic nonstick interior for superior release and durability and a riveted stainless steel handle.
Made without PTFE & PFOA, it's oven safe up to 400F. The heavy gauge aluminum construction allows for superior heat distribution. Silver TI's interior and exterior are easy to clean. Available now exclusively at Bed, Bath and Beyond in an 8-inch sauté pan for $19.99, 10-inch sauté pan for $29.99 and 12-inch sauté pan for $39.99.
The lucky winner will be randomly selected from my email subscriber list on Friday, April 12, 2019, so be sure you're on the list!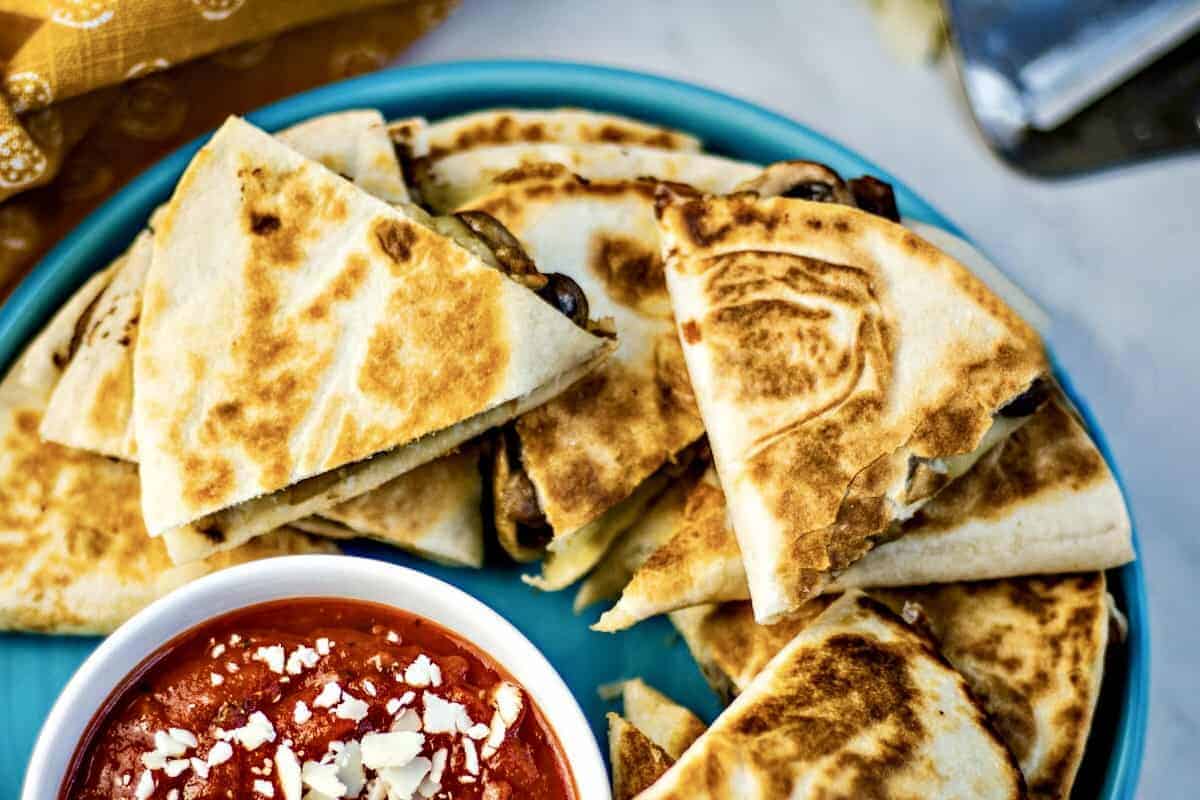 More kid-friendly recipes!
Did you make this Sausage Mushroom Pizza-Dillas recipe?
Please share!
Your shares are how this site grows and I appreciate each one. Do you know someone who would enjoy this recipe? I'd love it if you would share it on Facebook or on your favorite Pinterest board!
Yield: 6 servings
Sausage Mushroom Pizza-Dillas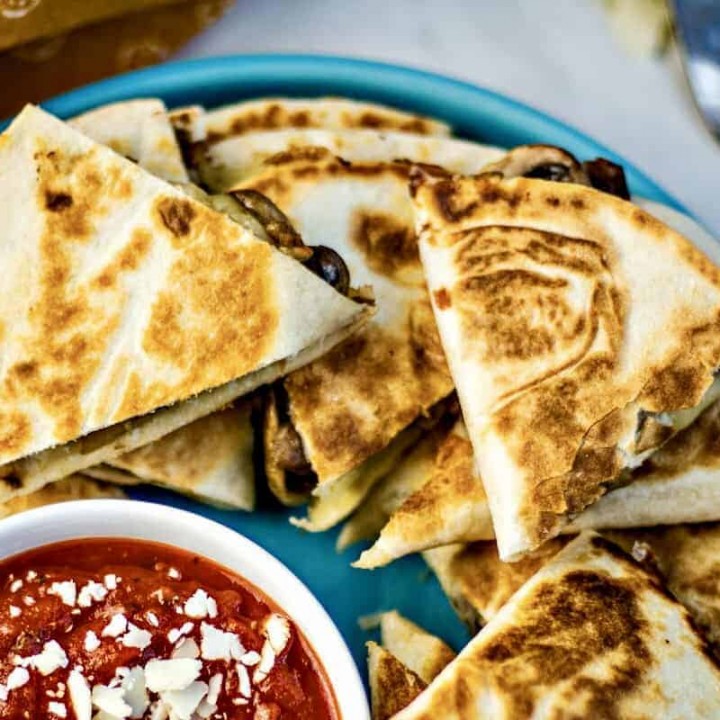 Adults and kids alike will love these Sausage Mushroom Pizza-Dillas (a.k.a. pizza quesadilla) served with a warm marinara dipping sauce. This easy recipe is a great weeknight dinner option as well as a fun party appetizer that your guests will love.
Ingredients
8 oz. ground Italian sausage, cooked and crumbled
8 oz. mushrooms, sliced
1 tablespoon butter
1/4 teaspoon salt
6 8-inch flour tortillas
8 oz. mozzarella cheese, shredded
1 cup jarred marinara sauce
Instructions
Cook Italian sausage in a nonstick skillet over medium high heat until no longer pink, about 5-7 minutes. Remove to a paper towel lined plate to drain.
Wipe out the skillet. Reduce heat to medium and add 1 tablespoon butter, sliced mushrooms, and salt. Cook and stir until the mushrooms are tender and no liquid remains, about 5 minutes. Place mushrooms and sausage in a bowl and stir to combine.
Spray each tortilla with cooking spray on one side. Flip the tortilla over and one one half layer about 2 tablespoons of cheese, 1/4 cup of the sausage mixture, and another 2 tablespoons of cheese. Fold the tortilla in half over the mixture.
Place two pizza-dillas in the pan and cook on each side for 1-2 minutes or until nicely browned. Repeat with remaining pizza-dillas.
Using a pizza cutter, cut each piece into thirds. Serve with warmed marina sauce (garnished with Parmesan cheese, it desired).
Recommended Products
As an Amazon Associate and member of other affiliate programs, I earn from qualifying purchases.
Nutrition Information:
Yield:
6
Serving Size:
1
Amount Per Serving:
Calories:

452
Total Fat:

25g
Saturated Fat:

11g
Trans Fat:

0g
Unsaturated Fat:

14g
Cholesterol:

57mg
Sodium:

1048mg
Carbohydrates:

35g
Fiber:

3g
Sugar:

4g
Protein:

21g
ABOUT SHEILA
Sheila Thigpen, author of Easy Chicken Cookbook and The 5-Ingredient Fresh and Easy Cookbook, is a recipe developer, food photographer, and food writer. She spent 20+ years as a business manager in the publishing industry before she retired in 2018 to focus on her passions — cooking, photography, and writing. Living near the beautiful Smoky Mountains, Sheila and her husband have two adult daughters and two fine sons-in-law, are active in their church, love to travel, and have a precious little granddaughter who has stolen their hearts. Follow Sheila on YouTube, Pinterest, Instagram, Facebook, and Twitter!