This post may contain affiliate links. Please read my disclosure policy.
Bacon Wrapped Green Bean Bundles make an impressive and elegant side dish for special dinners and are made with just three ingredients! Even though they require take a little prep time, you won't believe how easy these bacon wrapped green beans are to make!
The secret is blanching the green beans before roasting and partially cooking the bacon before assembling the bundles. Other green bean bundle recipes are tied with chives or wrapped in prosciutto, but I think bacon makes the best wrapped green beans!
The third ingredient for this side dish is a Catalina or Honey French bottled salad dressing and it makes this simple recipe absolutely delicious!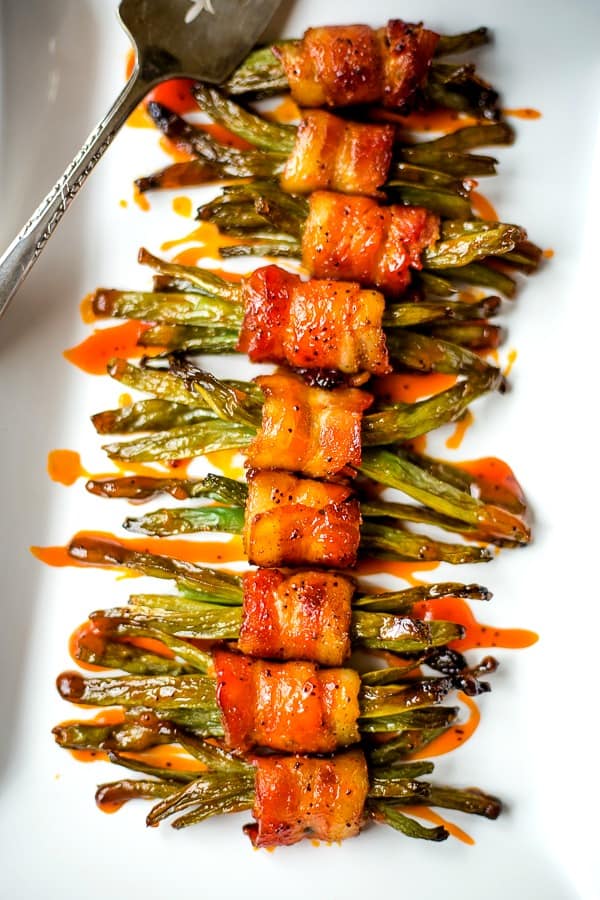 Traditional Southern style green beans with bacon
I spent many Summers breaking (snapping) bushels of green beans — which I'd helped pick from our garden — with my grandmother under the shade trees in our front yard.
We were preparing the beans for canning, of course, but we'd always save some so that we could cook a "mess" of beans for supper.
My grandmother would simmer the green beans with a piece or two of thick bacon or salted fatback for a couple of hours, until they were good and tender.
I can almost smell those beans cooking now and hear my Mamaw chatting and laughing about the latest family news. We didn't gossip, of course, so it was just news. 😉
As for those beans, it was the bacon, of course, that made them taste so very good!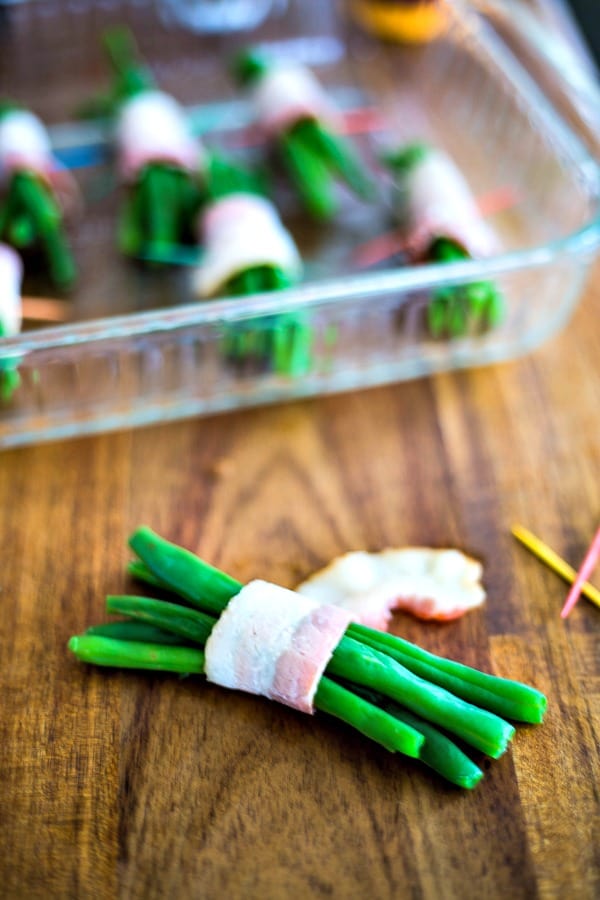 Making Bacon Wrapped Green Bean Bundles with fresh green beans:
Wash and drain the green beans, snipping off the tips. Blanch the green beans in a large pot of boiling water for 3-5 minutes or until bright green in color.
Drain the beans and rinse in cold water to stop from cooking. Dry the beans with a paper towel to make them easier to assemble.
Partially cooking the bacon before rolling the bundles will cut down on the baking time. Do not cook until crisp or you won't be able to wrap the bundles! To do this, lay the bacon slices on a baking sheet and bake at 375 degrees for 8-10 minutes. Drain on paper towels.
Cut each bacon slice in two pieces, then wrap around a bundle of 5-7 whole green beans and secure with a toothpick.
Place the green bean bundles in a glass baking sheet and drizzle with the dressing, being sure to coat the bacon. Sprinkle with freshly ground black pepper.
Bake the bundles at 375 degrees for about 45 minutes, turning midway through, until the bacon is crispy.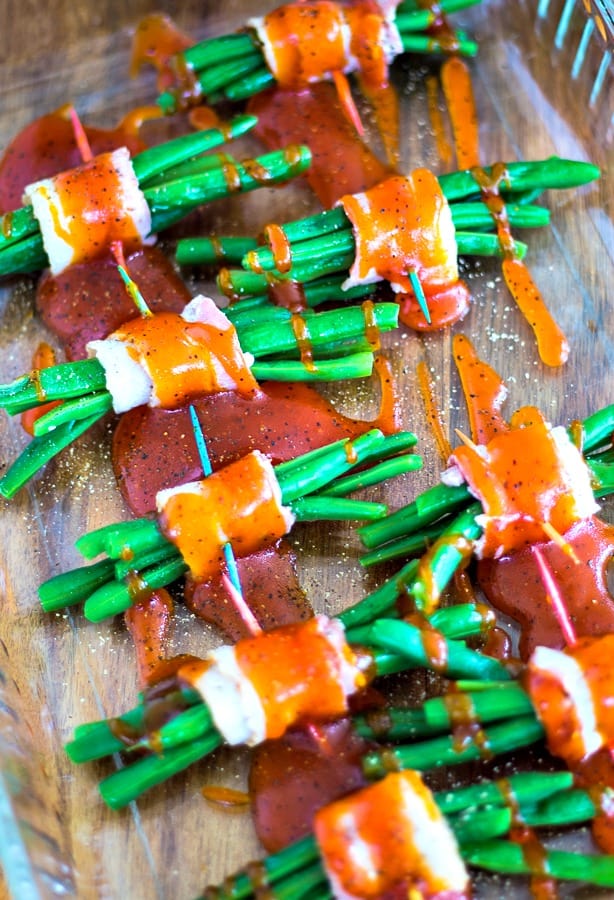 How many green beans should I buy to make this recipe?
Three bundles of bacon wrapped green beans make a good individual serving, although I could probably eat several more!
When I made these green beans, I used one-half pound of beans which made 12 bundles with 5-7 whole green beans each (four servings).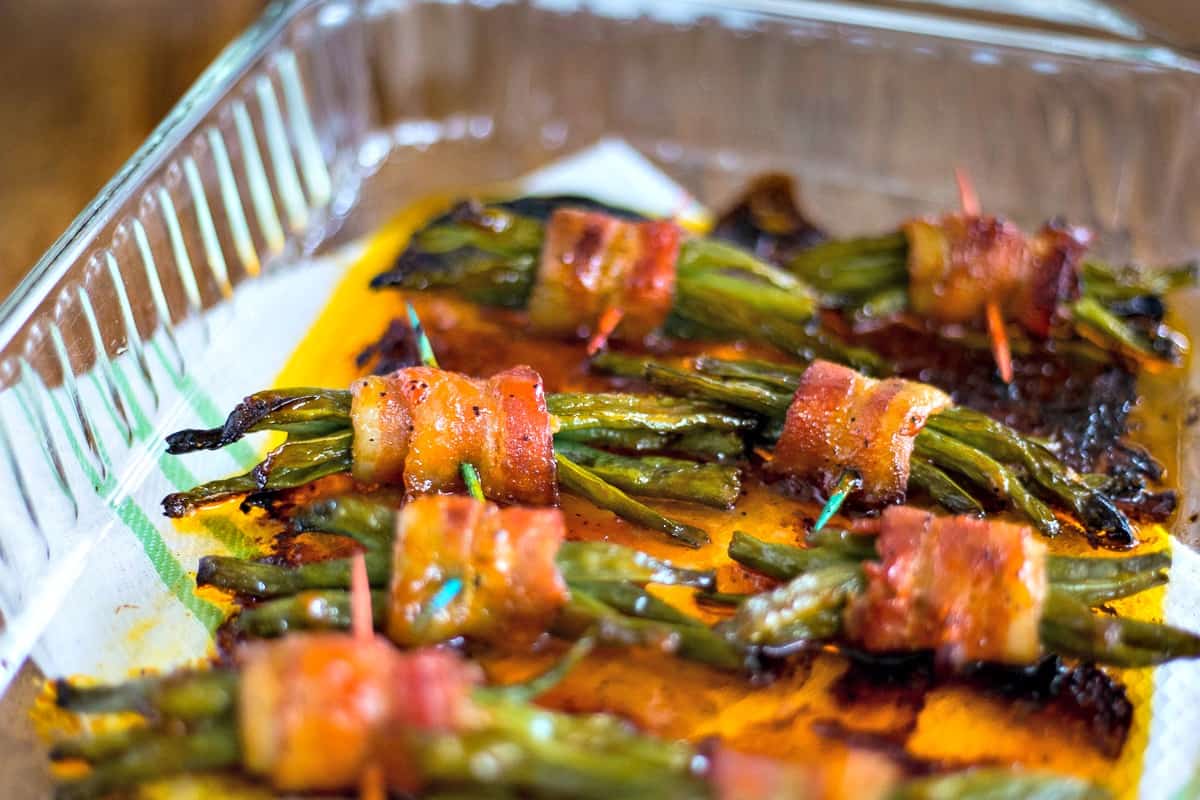 More bacon recipes!
Bacon Wrapped Green Bean Bundle Recipe
Please share!
Your shares are how this site grows, and I appreciate each one. Do you know someone who would enjoy this recipe? I'd love it if you would share it on Facebook or Pinterest!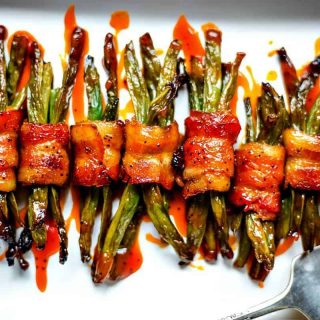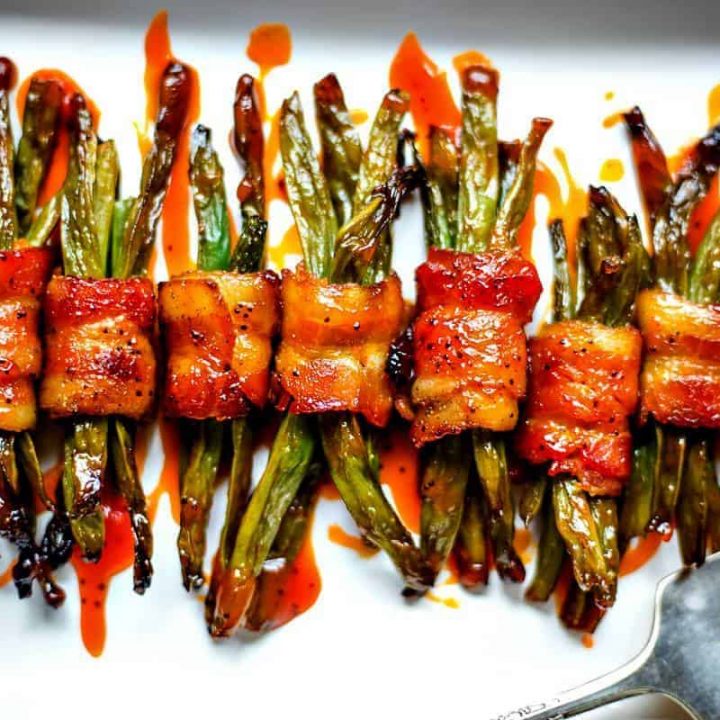 Bacon Wrapped Green Bean Bundles
Bacon Wrapped Green Bean Bundles, an elegant side dish for special dinners, are made with just three ingredients!
Ingredients
1/2

pound

fresh green beans

6

slices

thin-sliced bacon

1/2

cup

honey French salad dressing
Instructions
Preheat oven to 375 degrees. Partially cook bacon by lying slices on a rimmed baking sheet and baking for 8-10 minutes. Remove from oven and drain on paper towels.

In the meantime, rinse green beans and snip off the ends. Bring a large pot of water to a boil, then add the beans. Blanch the beans for 3-5 minutes until they turn a bring green. Drain the beans and rinse with cold water to stop the cooking.

Divide the beans into bundles of 5-7 beans each. Cut the bacon slices in half. Wrap one-half around a bean bundle, securing with a toothpick, and place in a glass baking dish.

Bake at 375 degrees for about 45 minutes, turning midway through, until the bacon is crispy. Remove from the baking dish to a serving platter and serve immediately.
Nutrition
Serving:
1
g
Calories:
261
kcal
Carbohydrates:
40
g
Protein:
7
g
Fat:
10
g
Saturated Fat:
3
g
Polyunsaturated Fat:
6
g
Cholesterol:
19
mg
Sodium:
363
mg
Fiber:
2
g
Sugar:
37
g
Life Love and Good Food does not claim to be a registered dietician or nutritionist. Nutritional information shared on this site is only an estimate. We recommend running the ingredients through an online nutritional calculator if you need to verify any information.