This post may contain affiliate links. Please read my disclosure policy.
30 Delicious Dishes to Eat with Potato Salad — more than just burgers? Join me on a journey to find the perfect match for your summertime BBQ parties and more, with homemade potato salad as the star!
Prepare for a feast of flavors that will elevate your potato salad game with the FIVE best potato salad recipes, each boasting its unique twist and flavor profile.
But that's not all — we've also collected mouthwatering meat dishes and classic side dish recipes that perfectly complement the creamy goodness of a side of potato salad and make for a great meal!
5 Best Potato Salad Recipes
Any summer gathering begs for a hearty plate of potato salad. That is why I have decided to upgrade your traditional potato salad recipe with this 5 Best Potato Salad Recipes selection!
This isn't your ordinary side dish — from zesty and tangy twists to creamy variations, these recipes guarantee a whole new level of potato salad bliss.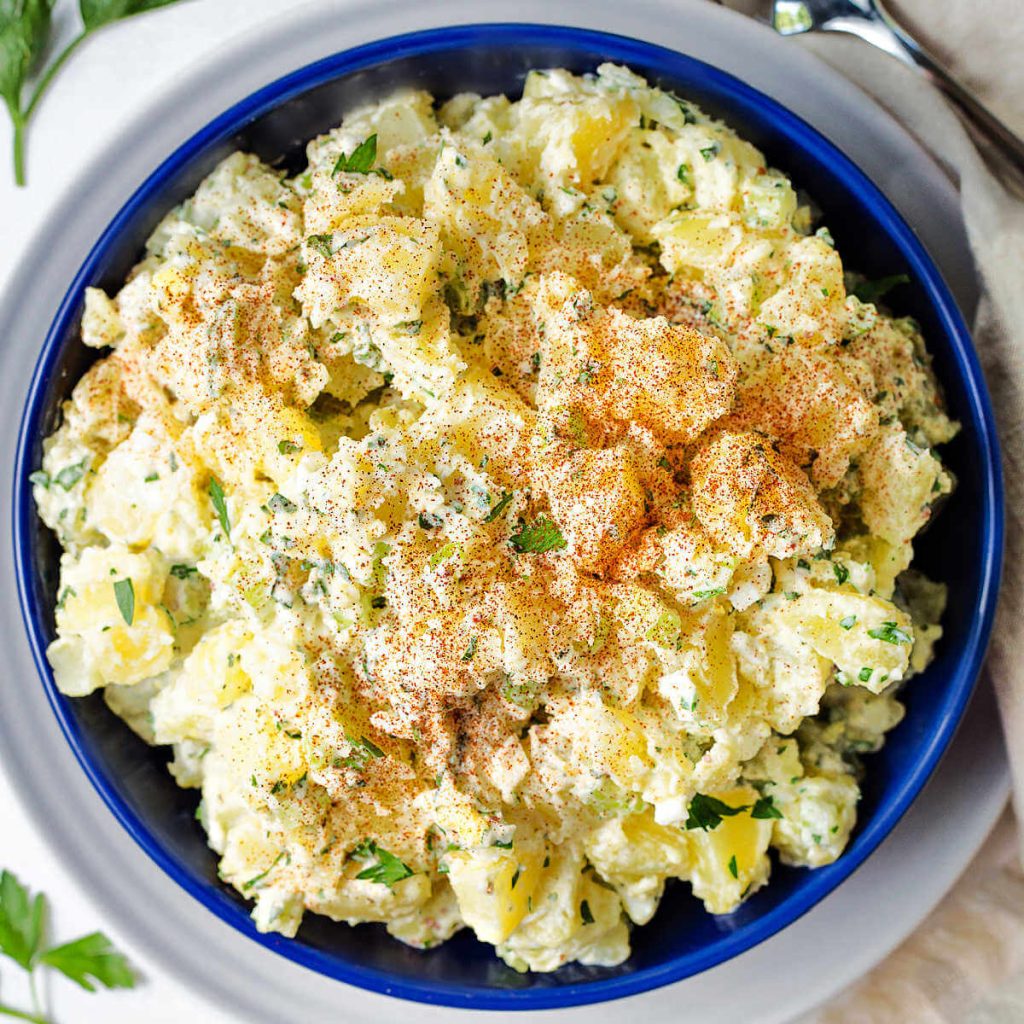 The tangy flavor of this classic creamy potato salad is made with fresh herbs and minced garlic in the mayonnaise and sour cream-based dressing. Read more…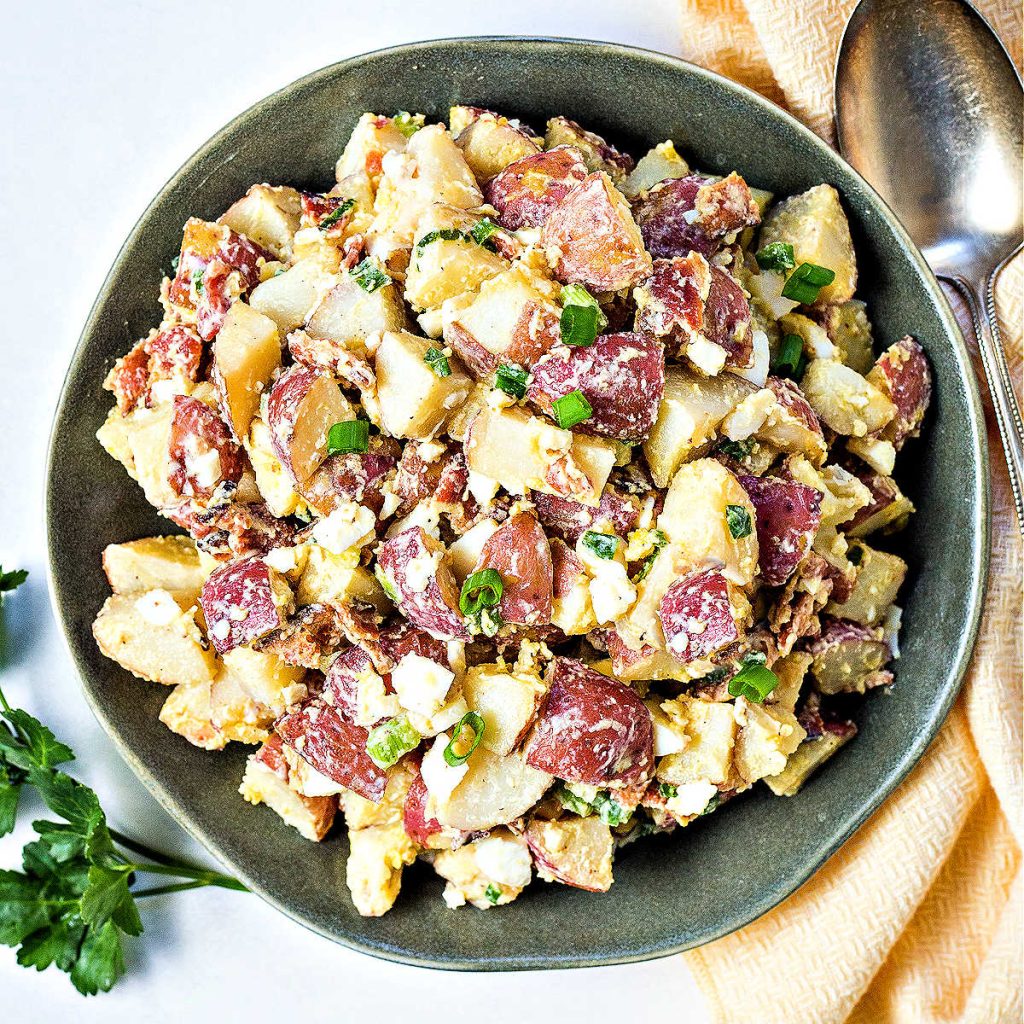 This Roasted Red Potato Salad combines roasted spuds with crispy bacon, green onions, and hard-boiled eggs for a creamy potato salad side in just 30 minutes! Read more…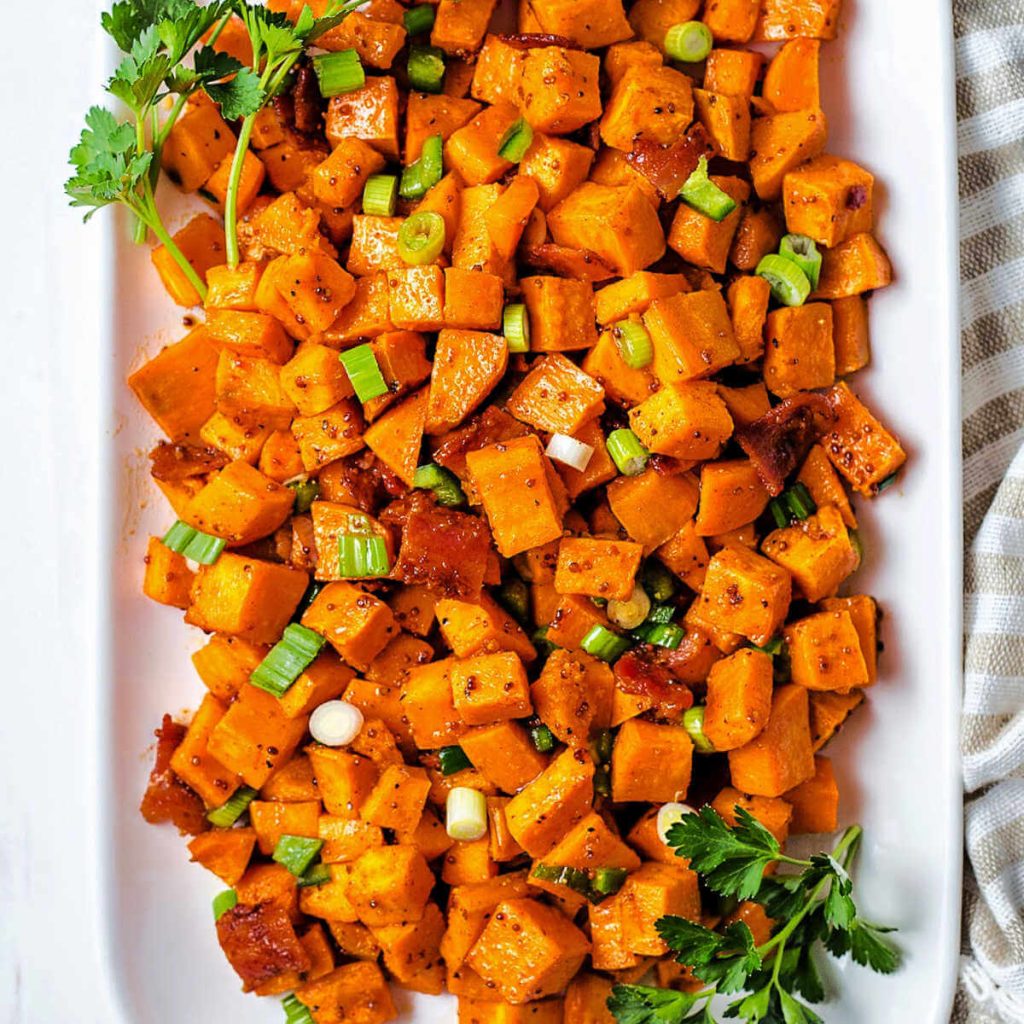 This delicious recipe is not your classic potato salad but is both sweet and spicy. My Sweet Potato Salad gets spice from diced fresh jalapeño and sweetness from a simple maple syrup vinaigrette! Read more…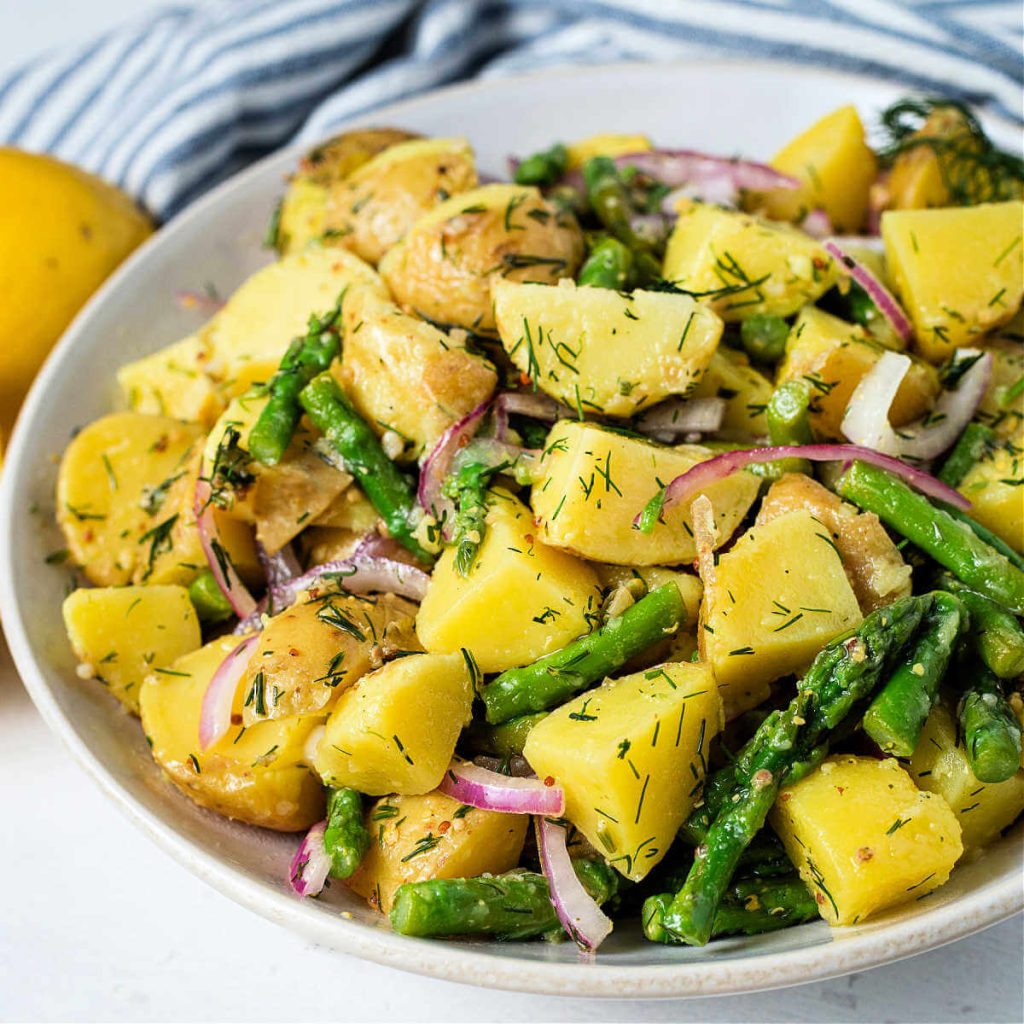 No Mayo Lemon Dill Potato Salad with Asparagus is refreshingly well-seasoned with fresh dill tossed in an olive oil and mustard-based dressing that is simply fantastic! Read more…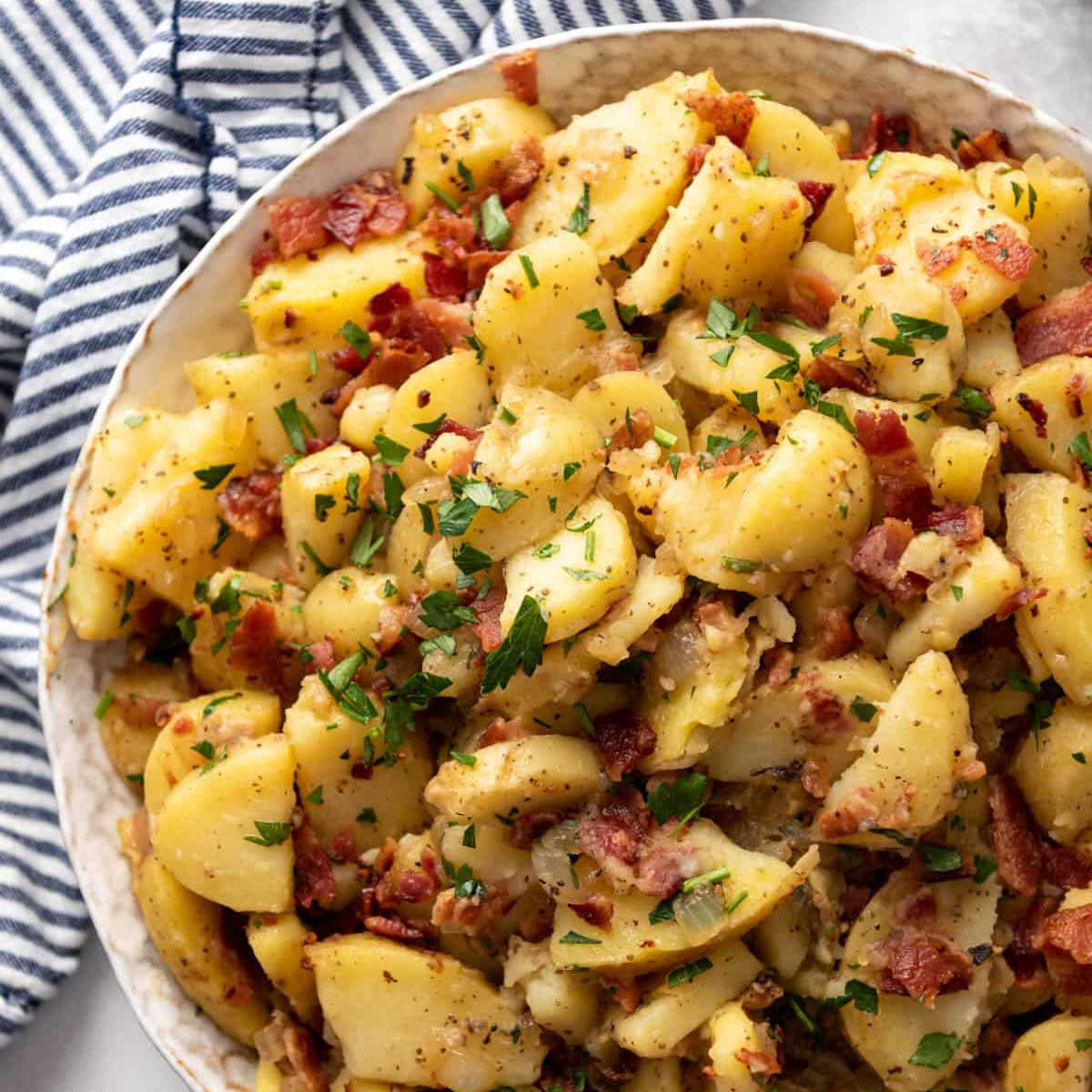 A great side dish to add to any meal is this authentic German Potato Salad served hot! Rich flavors from the bacon, onions, and vinegar meld delightfully with the creaminess of Yukon Gold potatoes. Read more…
Frequently Asked Questions about Potato Salad
How long should you cook potatoes for potato salad?
That all depends on the size you cut your potatoes into. For instance, large cubes may need up to 15 minutes. Baby potatoes take 10 minutes. Whole potatoes boil for 20 minutes. No matter the size, if they are fork-tender, they are ready!
How long does potato salad last?
Potato salad stored in the refrigerator in an air-tight container lasts up to 5 days.
Can you freeze potato salad?
Yes, you sure can. Potato salad is best stored in a plastic bag with the air pushed out. Then, if the mayo separates when thawing, add a bit more or warm the salad a bit and give it a good stir.
What are the best potatoes for potato salad?
The best potatoes for the salad often depend on the type you are making. Waxy potatoes like red, fingerling, and new potatoes are perfect for sliced potatoes in potato salad and do not easily fall apart. 

On the other hand, American versions of the side dish use starchy potatoes like Russet and Idaho. However, don't overcook them, or they turn to mush!
 
15 Meat Dishes that go with Potato Salad
Along this spuds journey, I have found a scrumptious selection of 15 meat dishes that go flawlessly with the popular side dish.
From the main course, recipes like barbecue ribs and pulled pork to tender chicken and mouthwatering pork chops, prepare to satisfy your meat lover's cravings.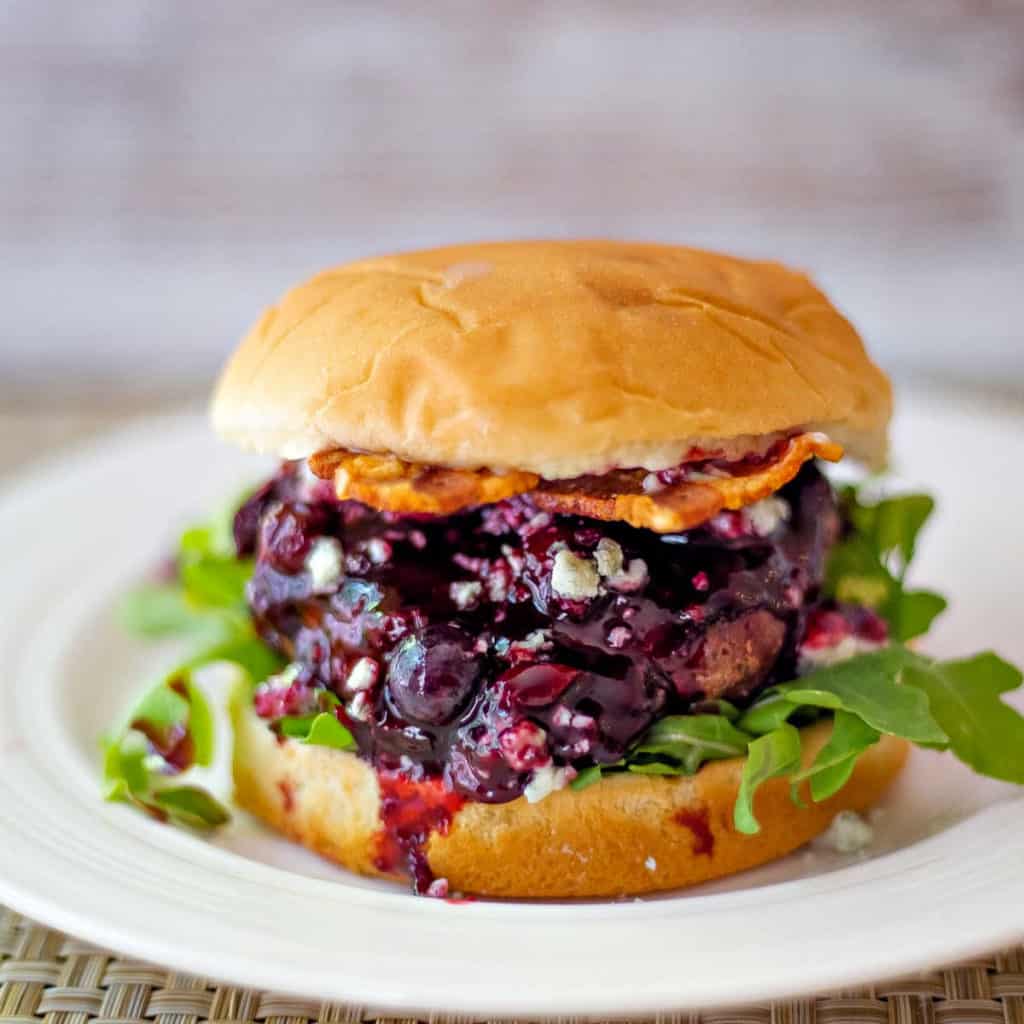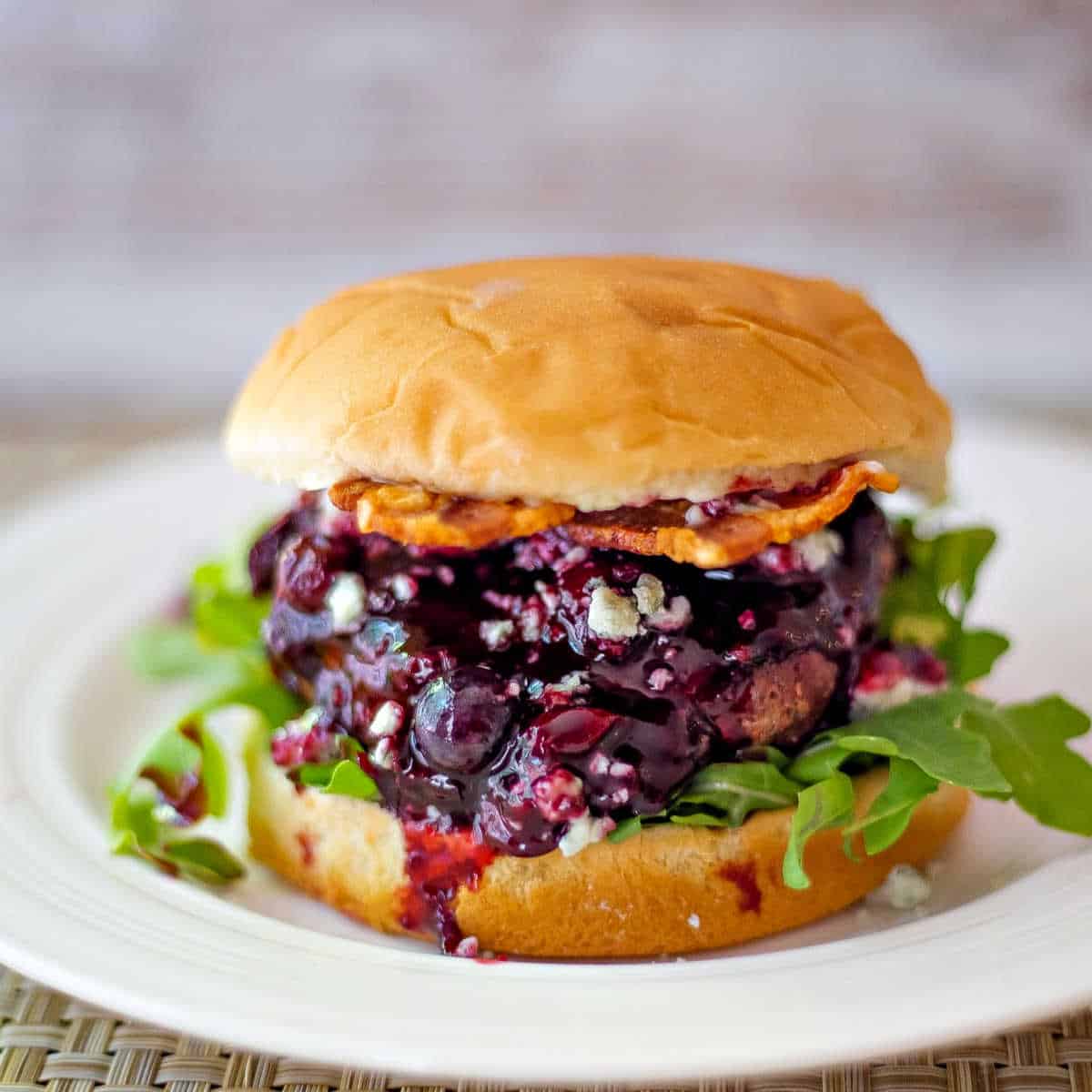 Blueberry Blue Cheese Bacon Burger? That's right, BLUEBERRIES on grilled hamburgers. It's a surprising and fantastic ground beef burger mashup that is perfect for picnics and barbecues all Summer! Read more…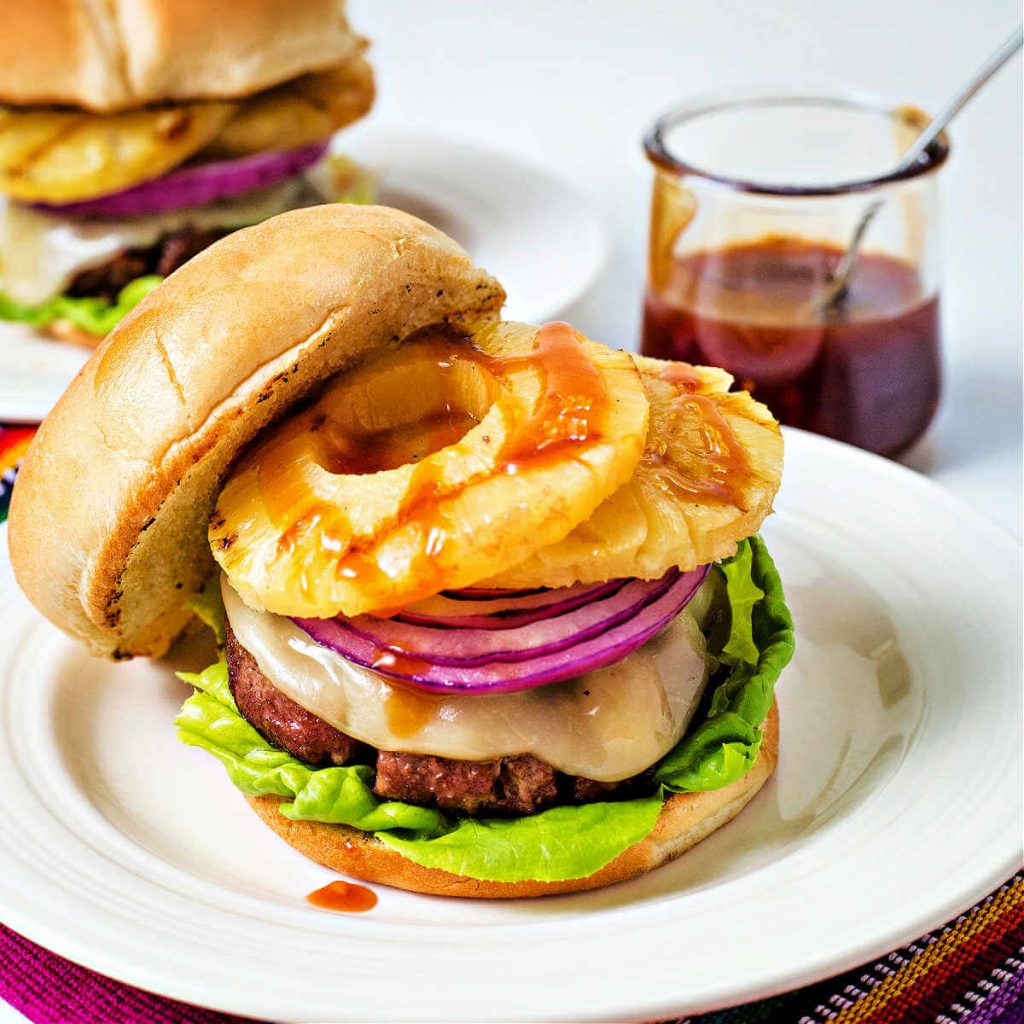 Let the delicious, savory, sweet taste of this juicy Hawaiian Burger with grilled pineapple transport you straight to the sights and sounds of the Hawaiian islands. Then, add a flavorful side dish of potato salad, and you have a vacation on a plate. Read more…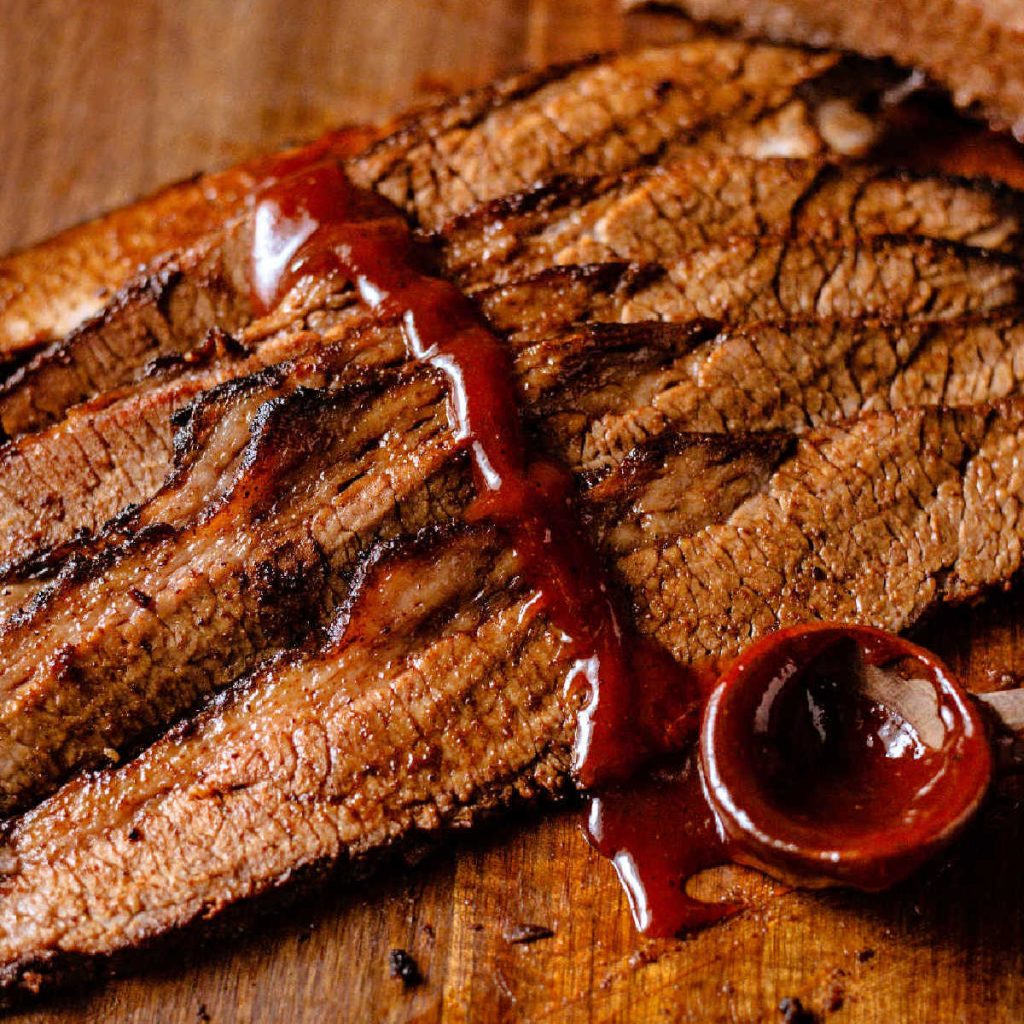 Well worth the wait, tender, juicy Smoked Brisket is one of the best potato salad pairs that will impress. It is succulent meat covered in a spiced bark with just a hint of apple-smoked flavor, and it's just what your summer cookout needs! Read more…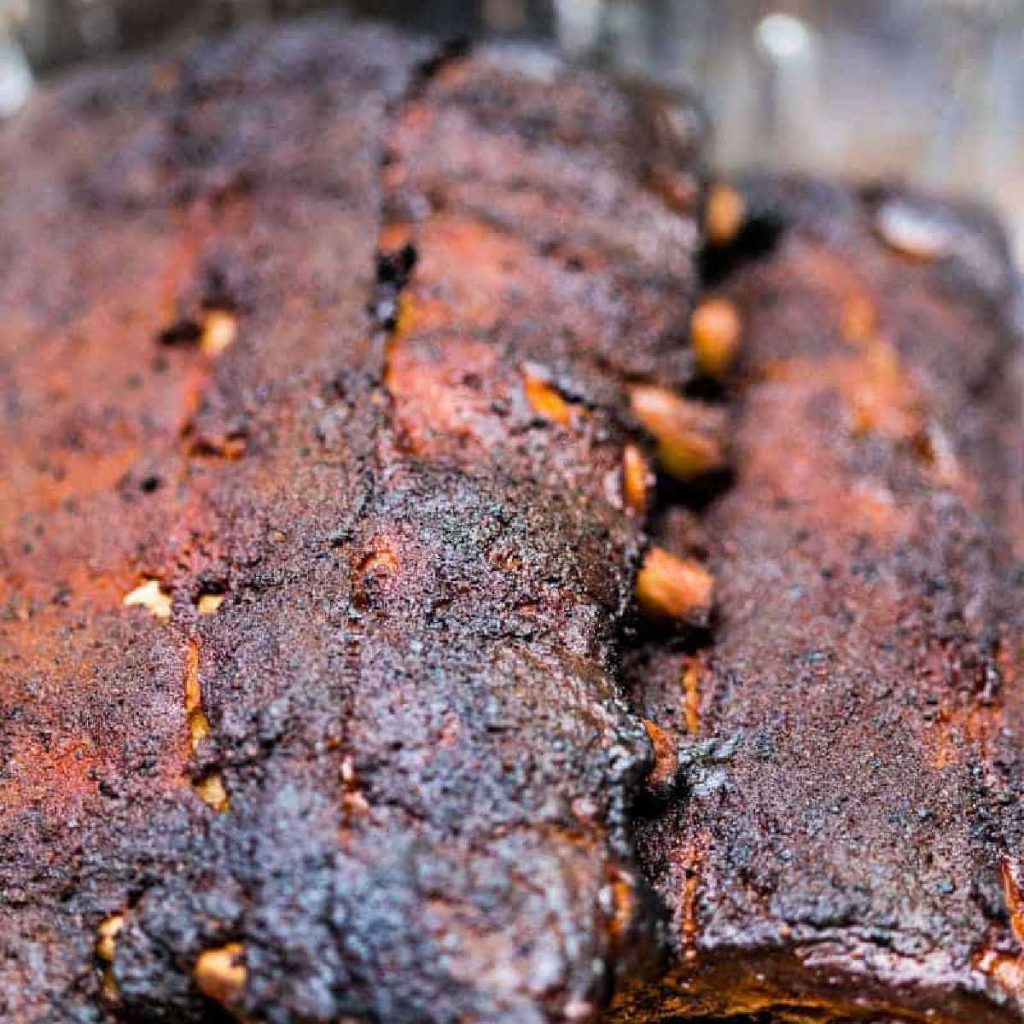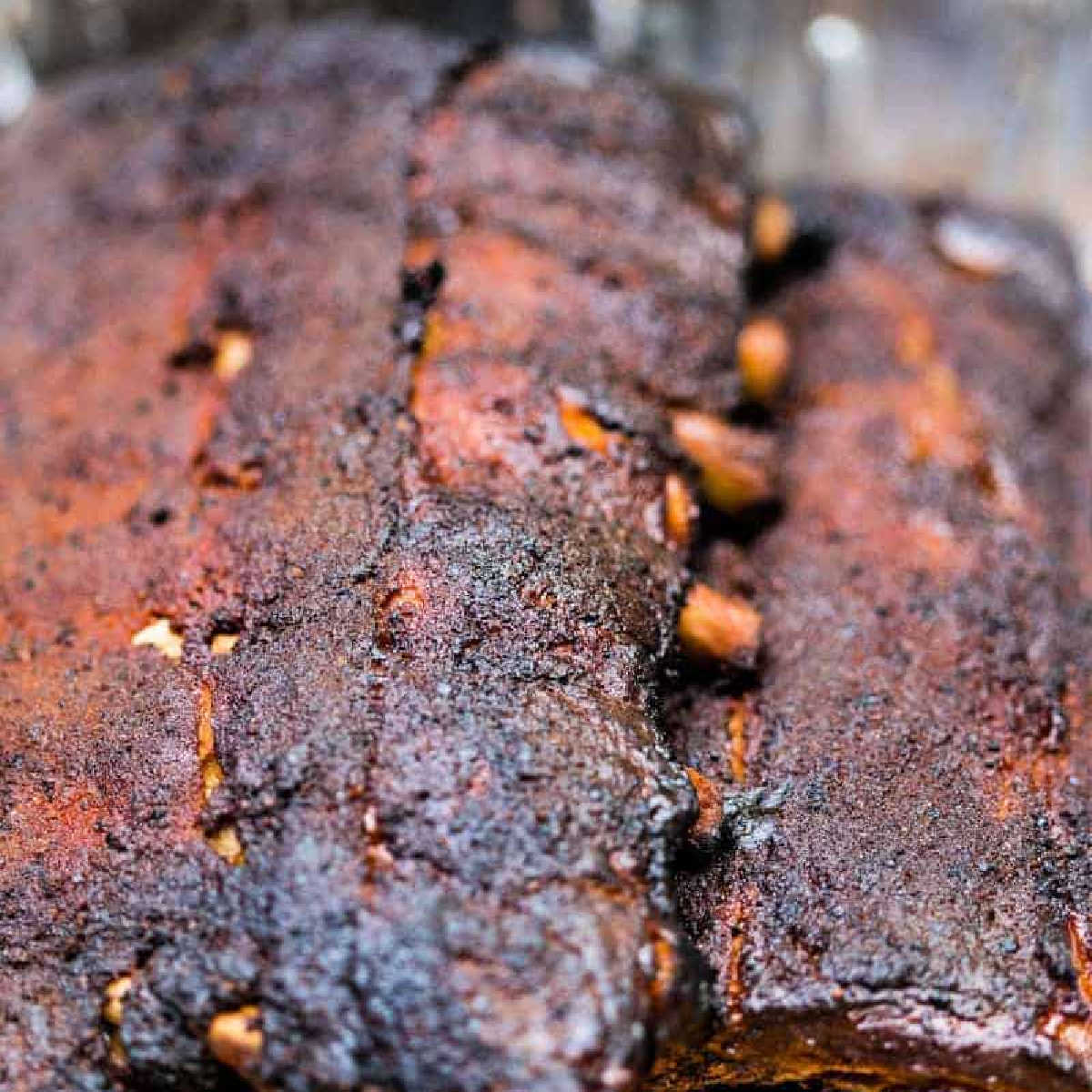 Get smoked ribs that are delicious, juicy, and fall-off-the-bone tender in an electric smoker? You betcha! Scoop a helping of simple potato salad on the side of your plate and make the BEST Electric Smoker Ribs in your backyard. Read more…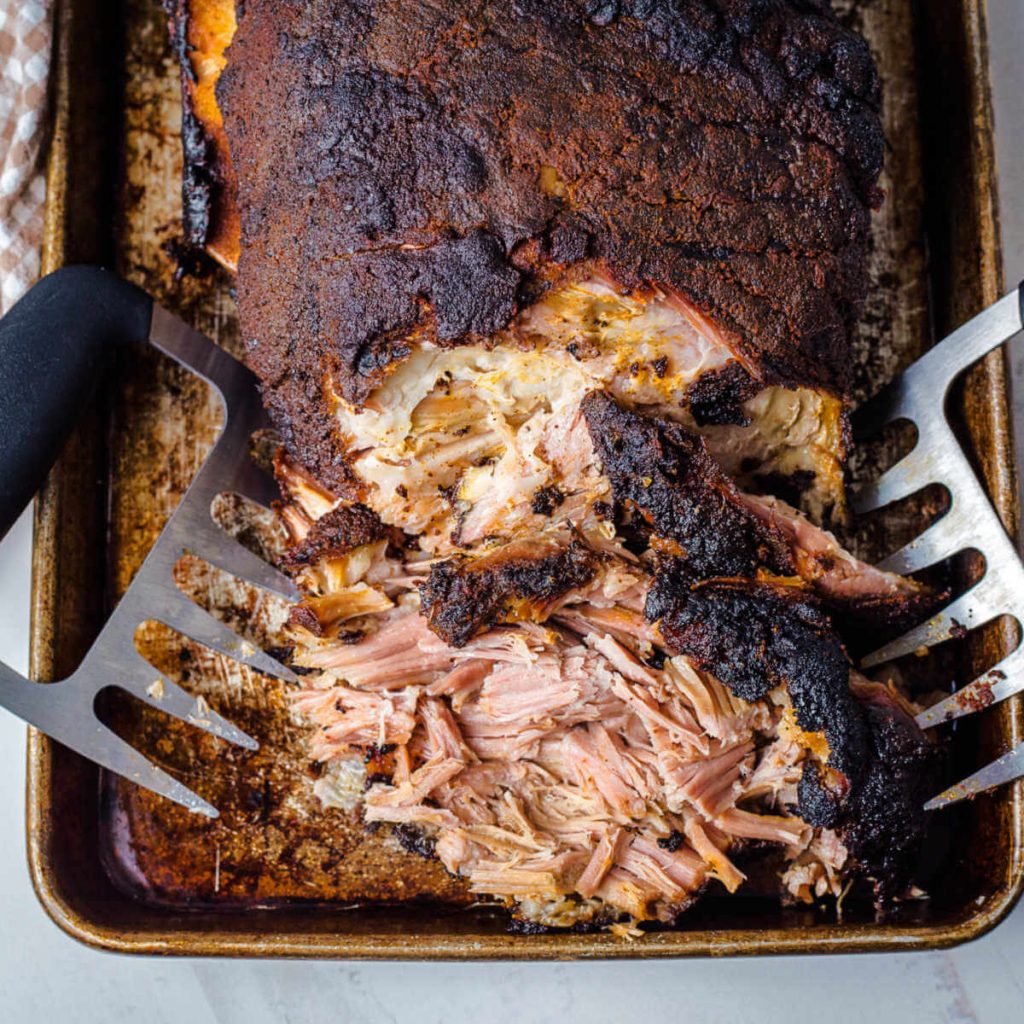 For the absolute best Smoked Boston Butt (BBQ pulled pork) you've ever tasted, fire up your electric smoker, slather that beauty with my savory homemade dry rub, and let it cook low and slow until it is melt-in-your-mouth tender. Read more…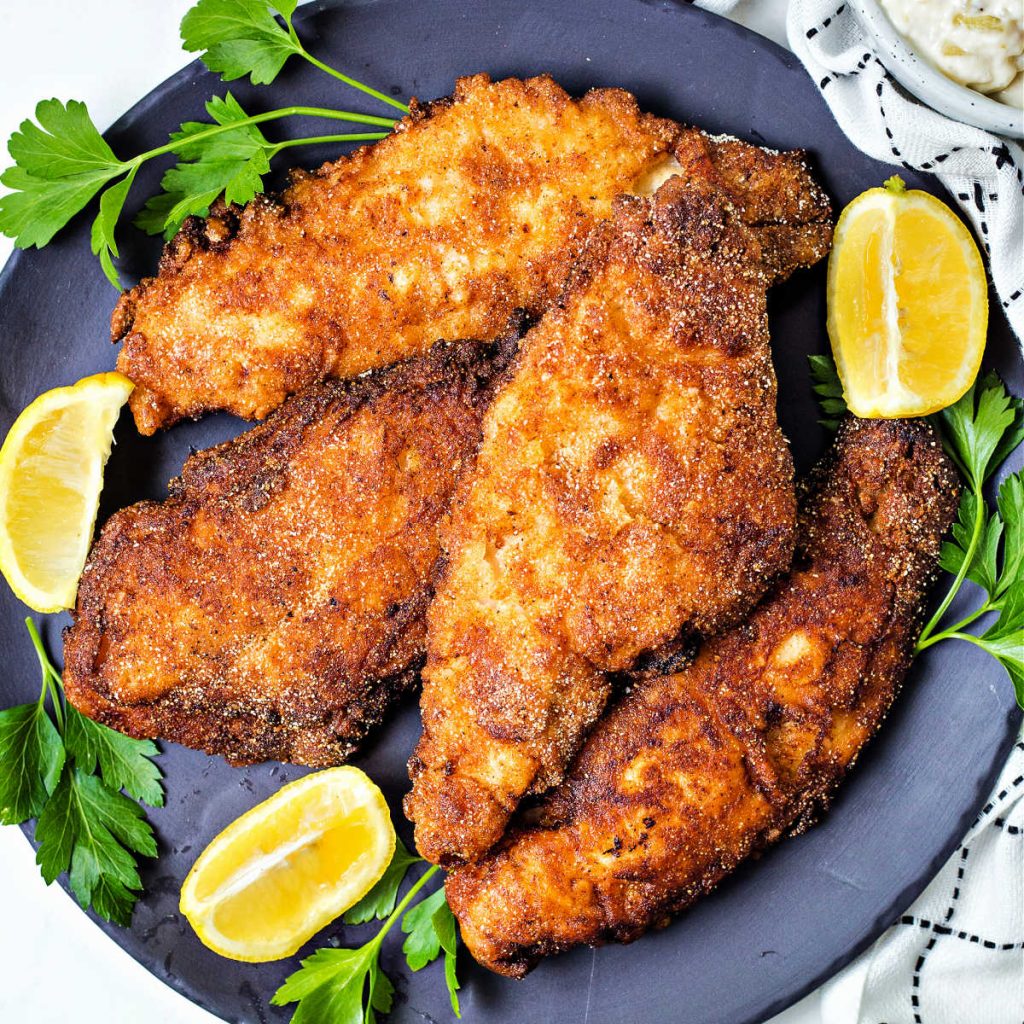 Enjoy fried fish fillets at home with this recipe for restaurant-quality fried fish made in a cast iron skillet. The delicious homemade tangy tartar sauce pairs wonderfully with a tangy potato salad. Read more…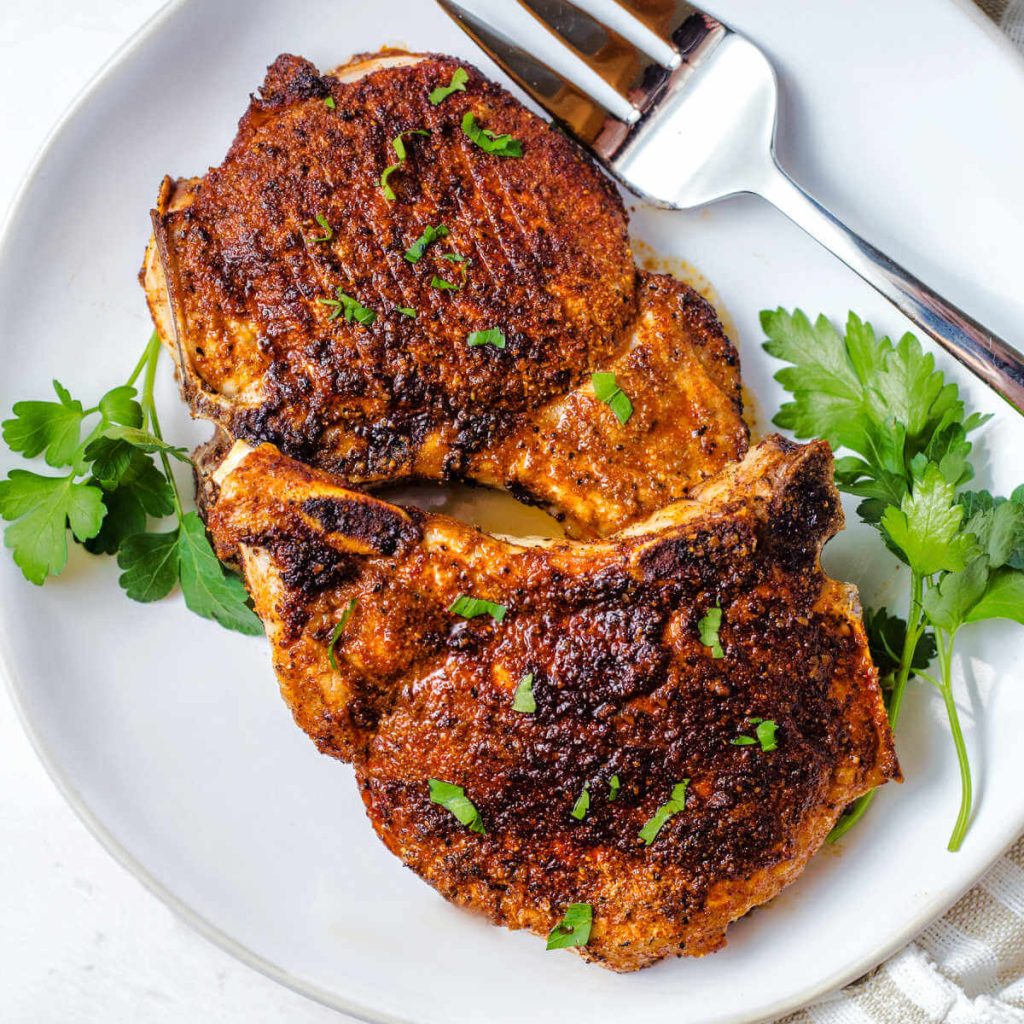 Never eat dry pork again! Made quickly in the air fryer, these juicy pork chops are crispy on the outside with a smoky flavor that works well with your favorite classic potato salad dish. Read more…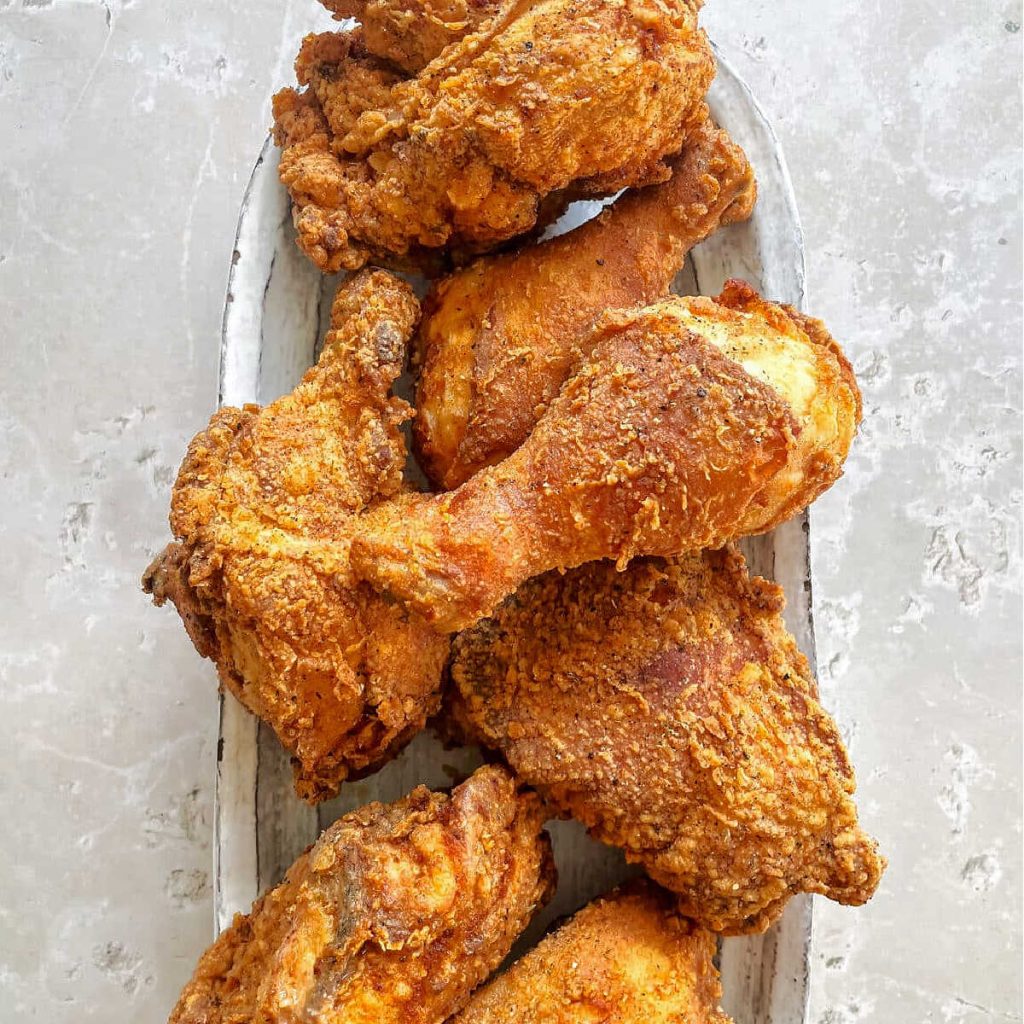 Make this copycat Fried Chicken recipe with that iconic crunchy skin you love right at home! With 11 spices and that KFC vibe, you'll love knowing what is going into these slightly healthier fried chicken pieces. Read more…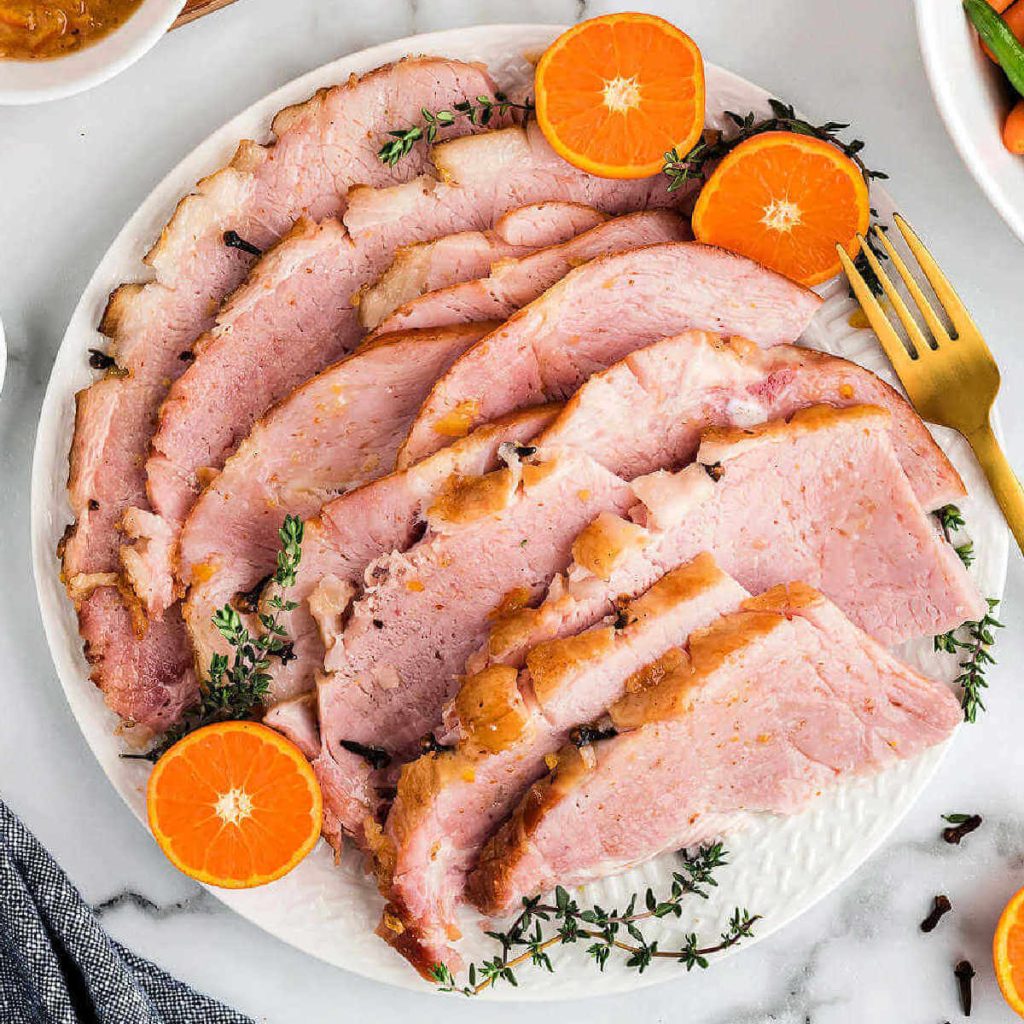 This baked ham recipe with an orange mustard glaze is sweet, tangy, and easy to make with just three simple ingredients. A salty ham steak is the perfect main dish for your summer potluck, especially with potato salad. Read more…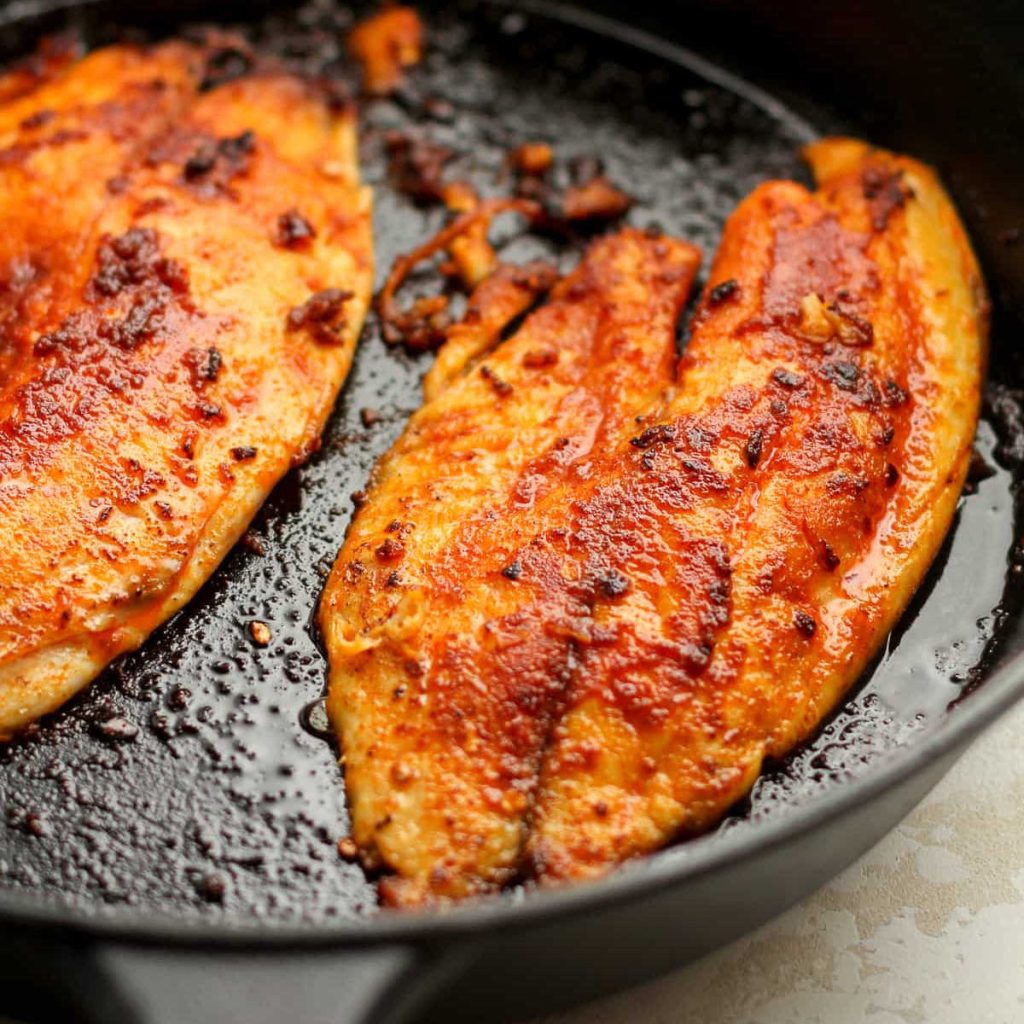 Cast Iron Tilapia is a quick and healthy weeknight delight. Seasoned with a savory blackened blend, the fillets sizzle to perfection and pair well with an array of delectable side dishes, including your favorite potato salad. Read more…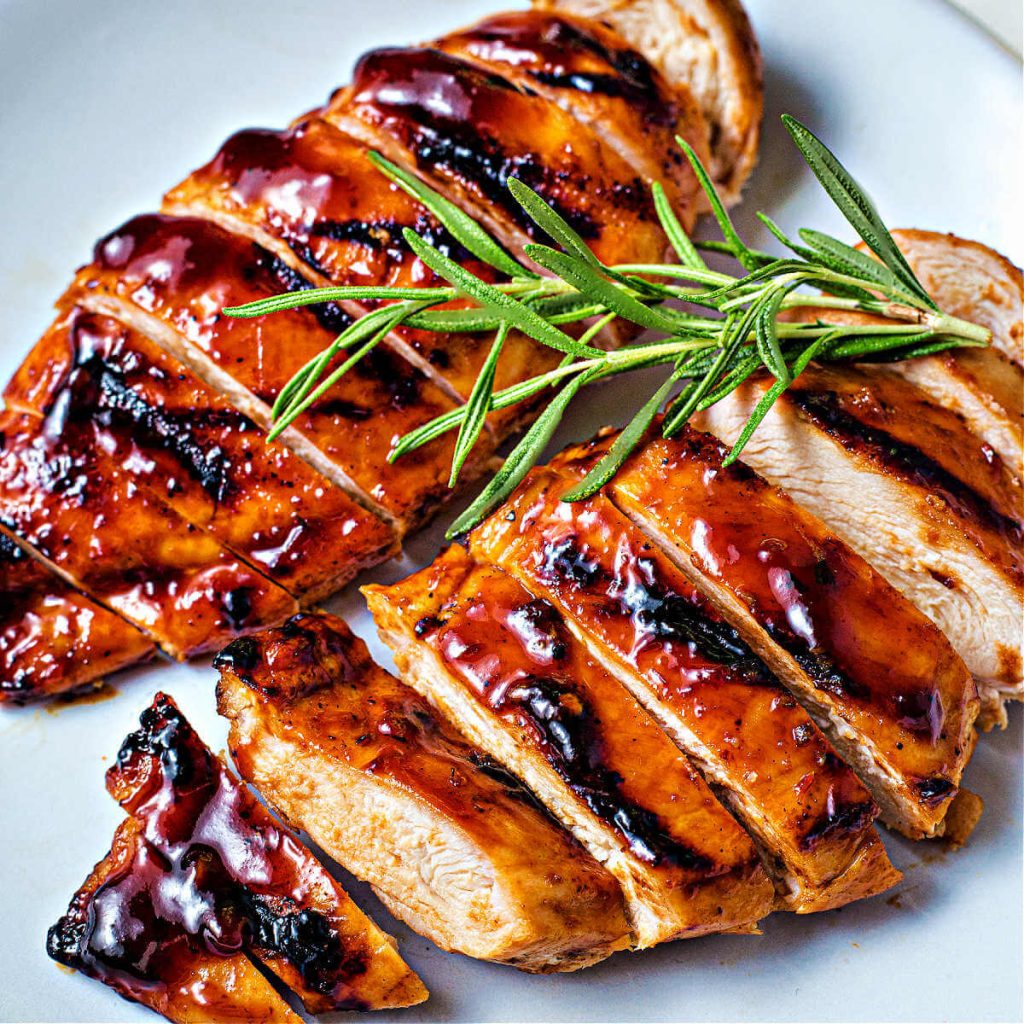 Glazed with homemade thick and tangy balsamic vinegar barbecue sauce, this tender grilled chicken recipe is a tasty way to spend time outdoors. Scoop up the potato salad and enjoy! Read more…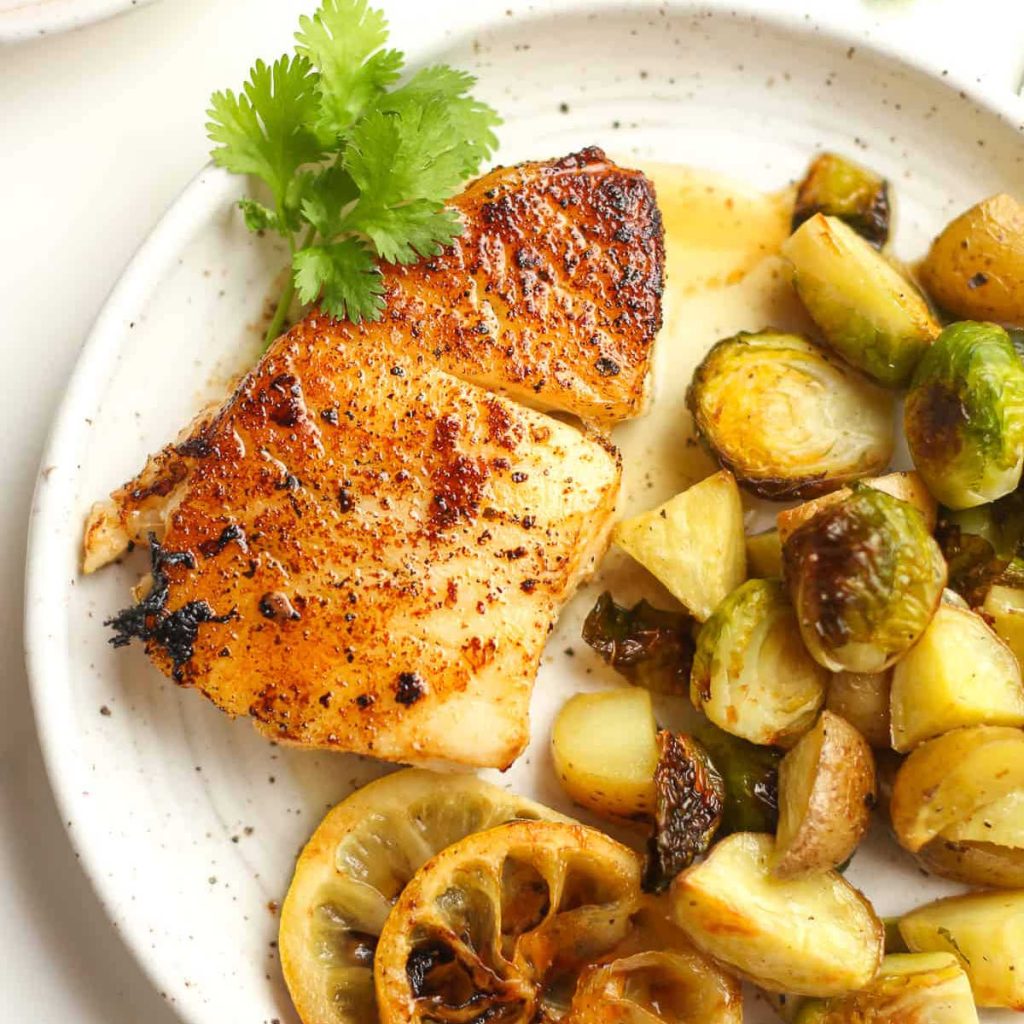 Pan Seared Sea Bass is a wholesome seafood dinner featuring succulent Chilean sea bass and a luscious lemon butter sauce. Whether you're hosting a memorable gathering or enjoying an intimate dinner for two, this restaurant-quality pan-seared fish promises to impress. Read more…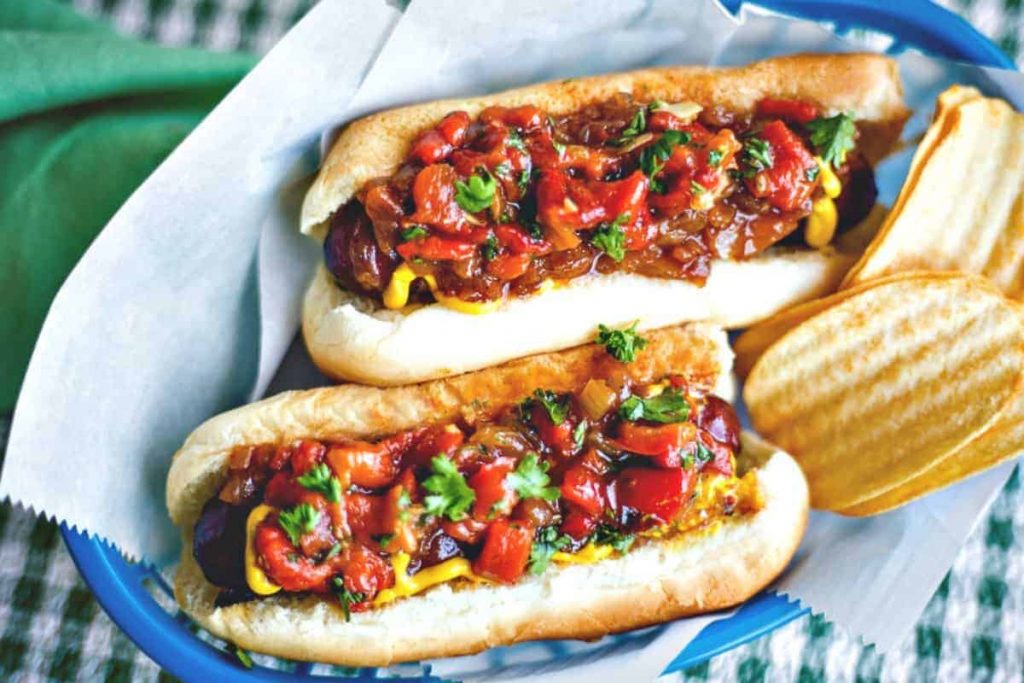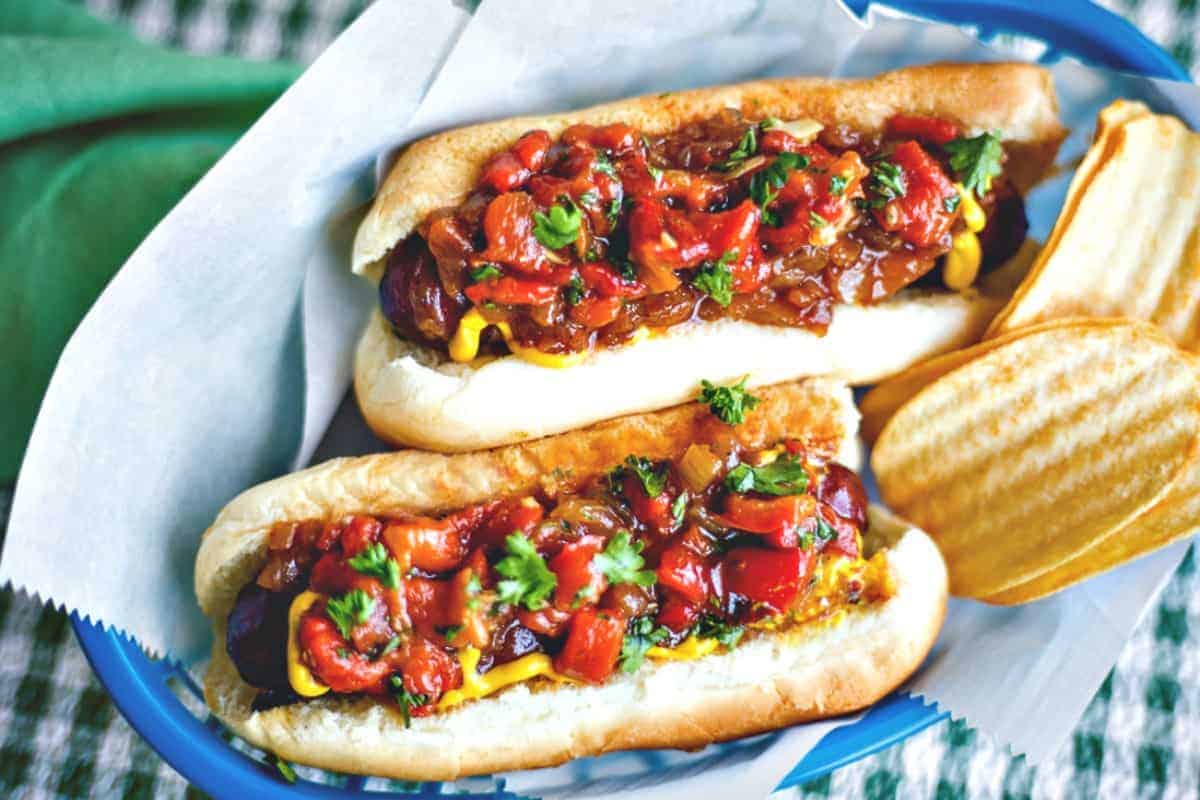 Hot dogs and potato salad? Of course! Grilled all-beef hot dogs dressed in stone-ground mustard are smothered in a tangy tomato onion sauce and topped with a roasted red pepper relish. I say add Hot German Potato Salad to this lunch or dinner recipe. Read more…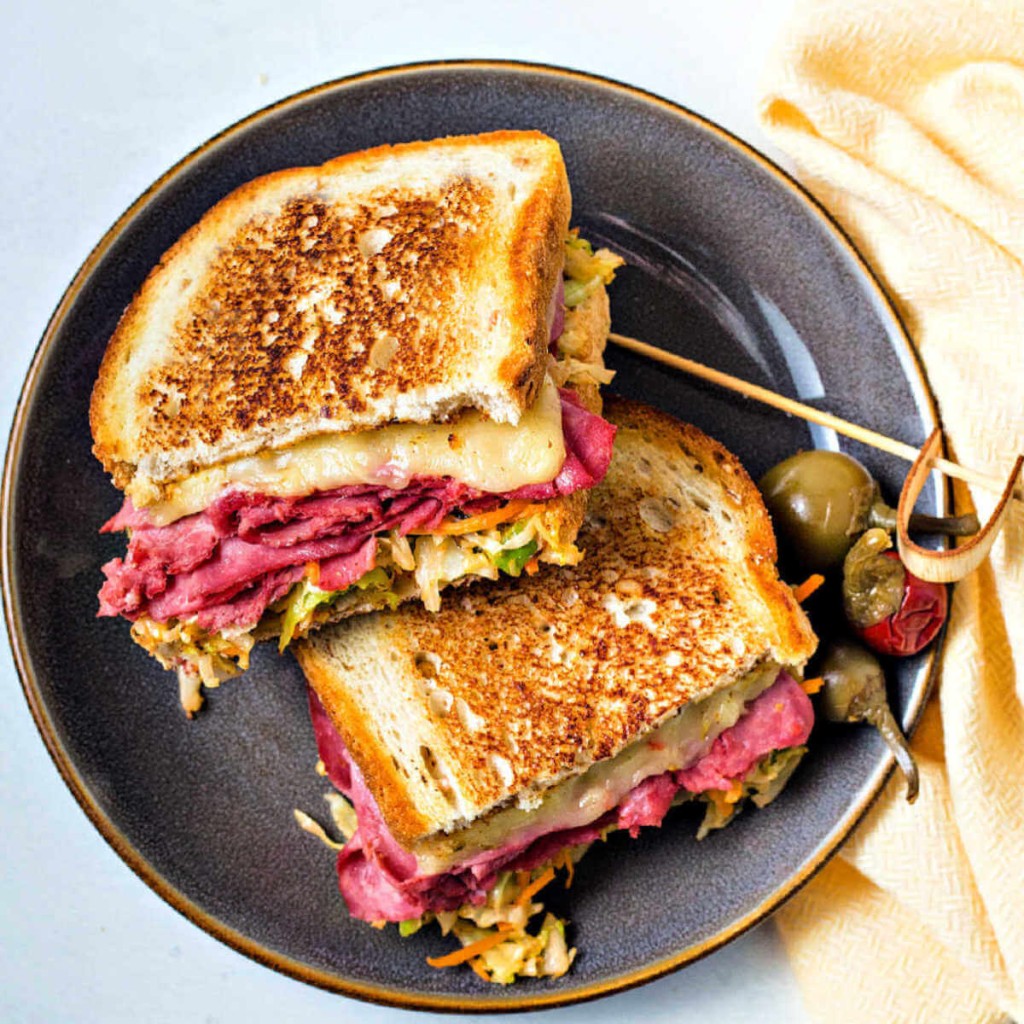 Layer your Corned Beef Reuben on toasted sourdough with spicy brown mustard, Pepper Jack cheese, tangy coleslaw, green onions, and Thousand Island dressing. Just add the potato salad of your choosing, and you have a fine German meal! Read more…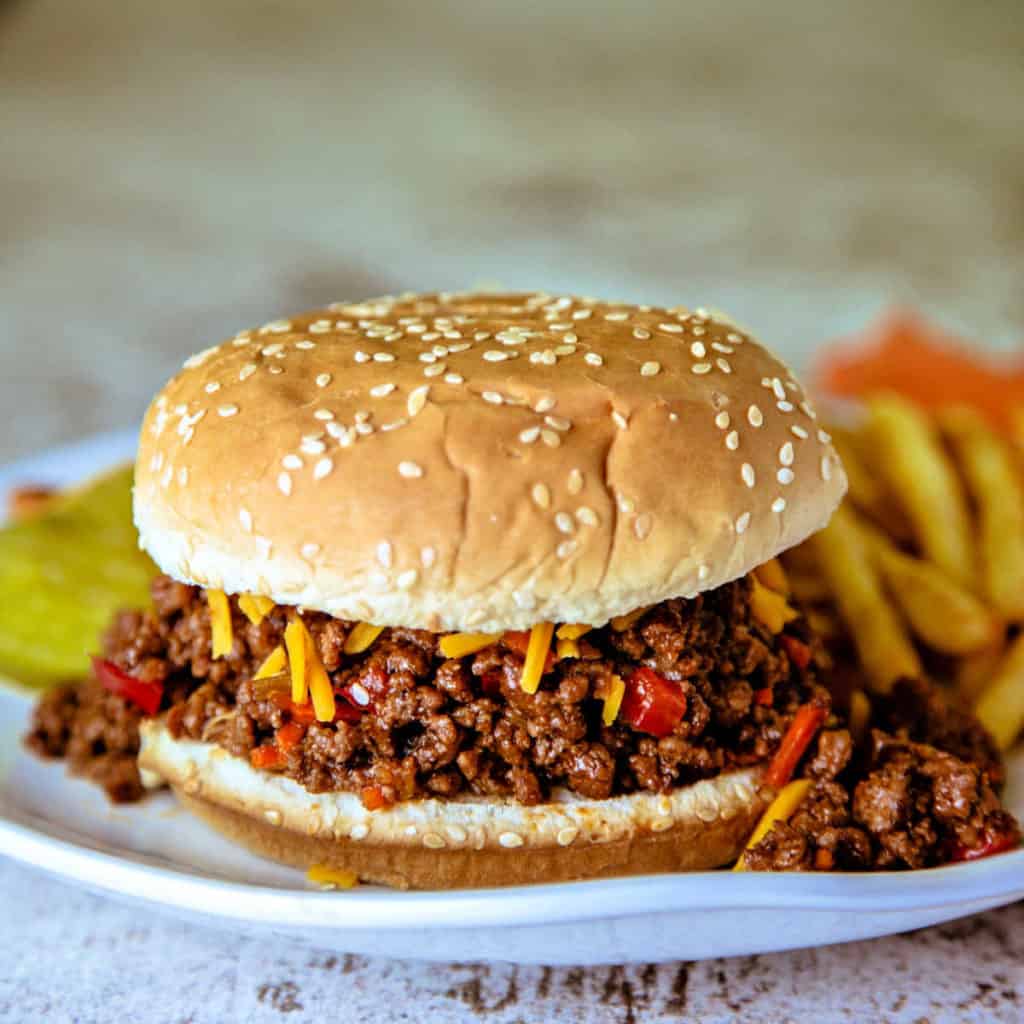 Ready in just 30 minutes, serve potato salad with your Sloppy Joes ladled on top of sesame seed hamburger buns and topped with shredded cheddar cheese and dill pickles for a nostalgic homemade dinner. Read more…
15 Best Side Dishes to Eat with Potato Salad
In this section, feast your eyes on 15 sensational side dishes that perfectly complement any variety of potato salad. Whether you're planning a family picnic, a backyard BBQ, or a casual weeknight dinner, these side dishes are guaranteed to add a burst of flavor and excitement to every plate.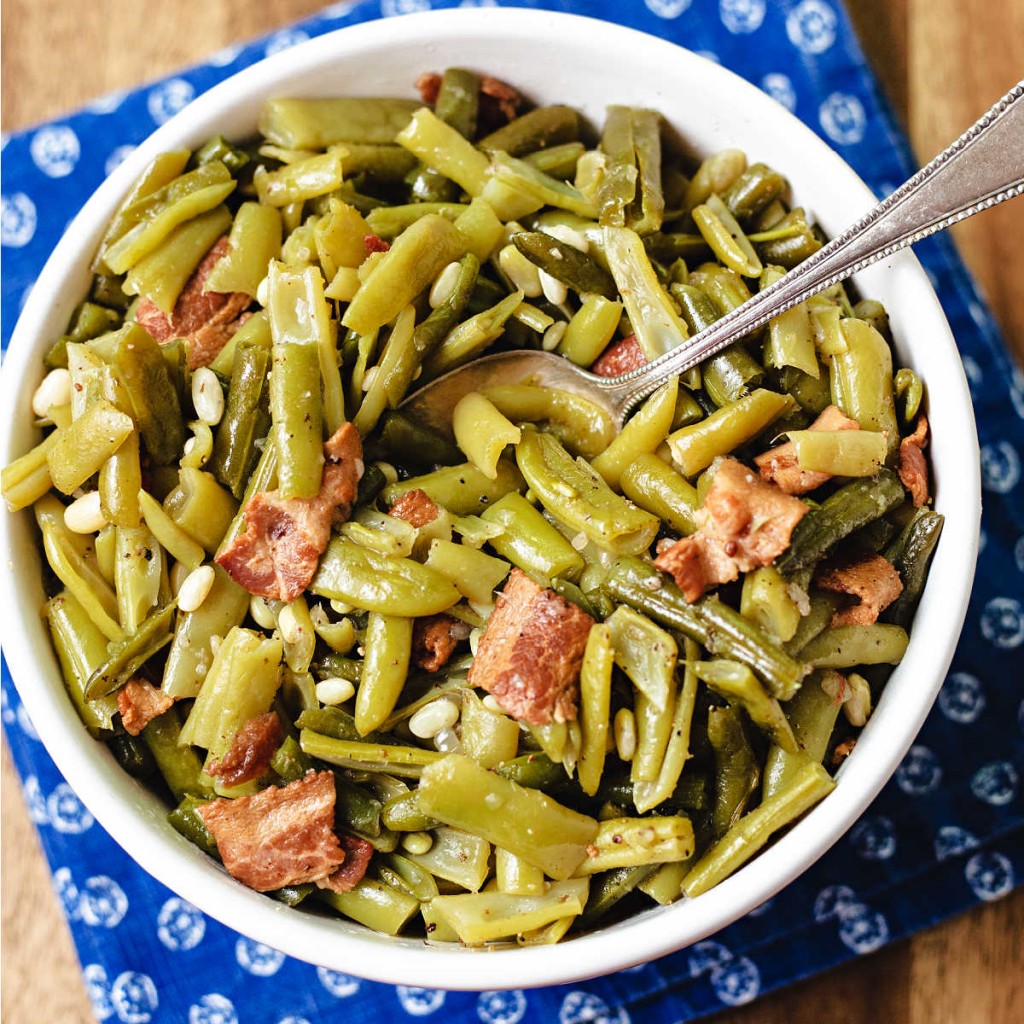 Fresh green beans and bacon meet up in your Instant Pot to make this traditional, farm-style favorite quick and delicious. That way, you can use the stove and grill for the rest of the meal! Read more…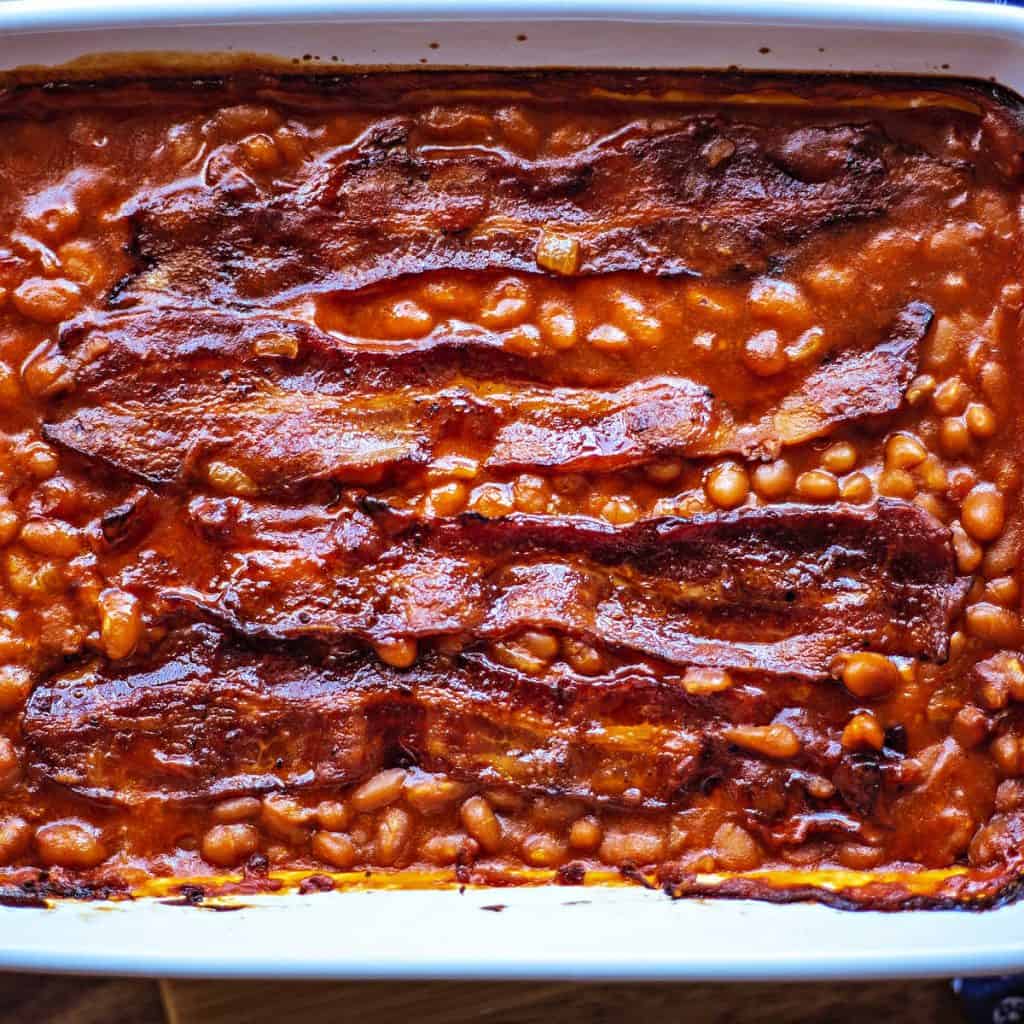 Seasoned with bacon and onions, these baked beans are my go-to side dish with creamy potato salad and any protein like grilled burgers, barbecued chicken, or pulled pork. Read more…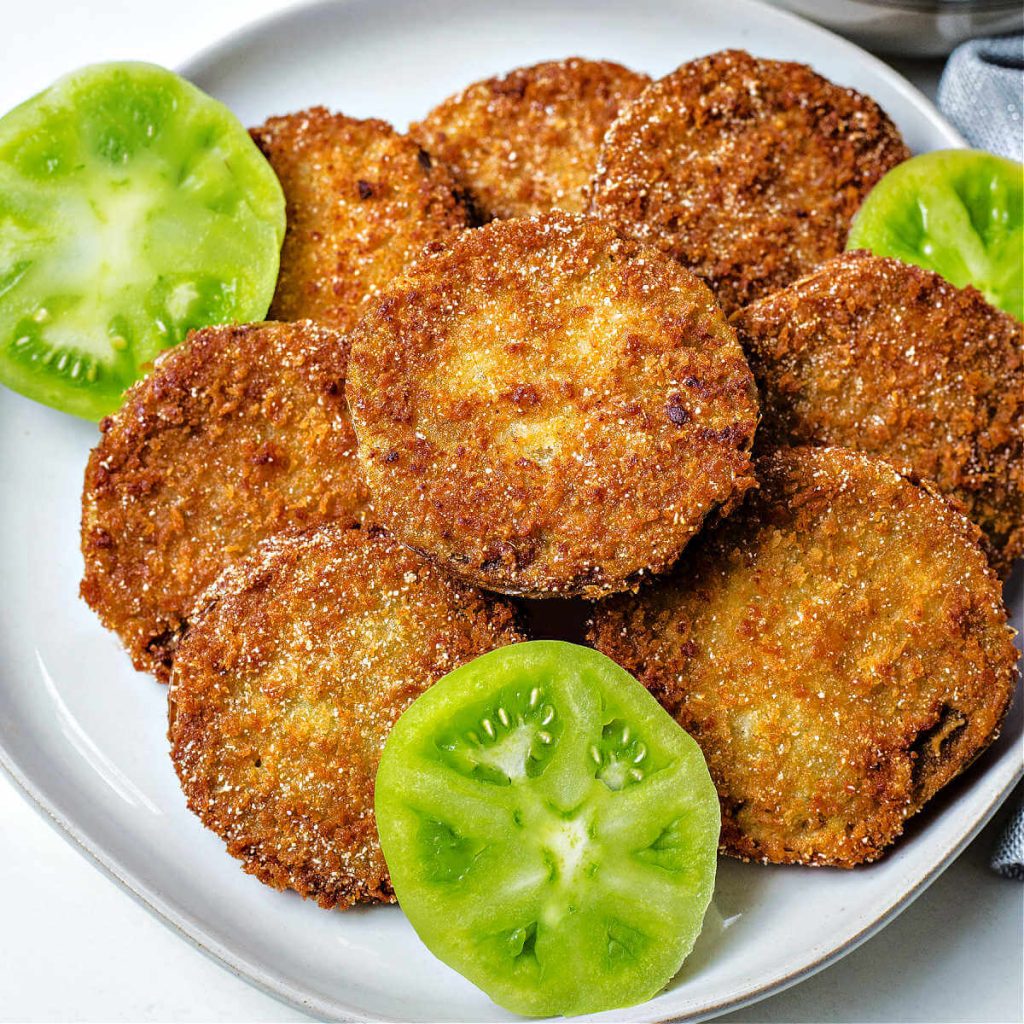 Not only in the movies, but this southern treat is fried golden brown and paired with a Creole Mustard Dipping Sauce that plays well with any potato salad and grilled meat. Read more…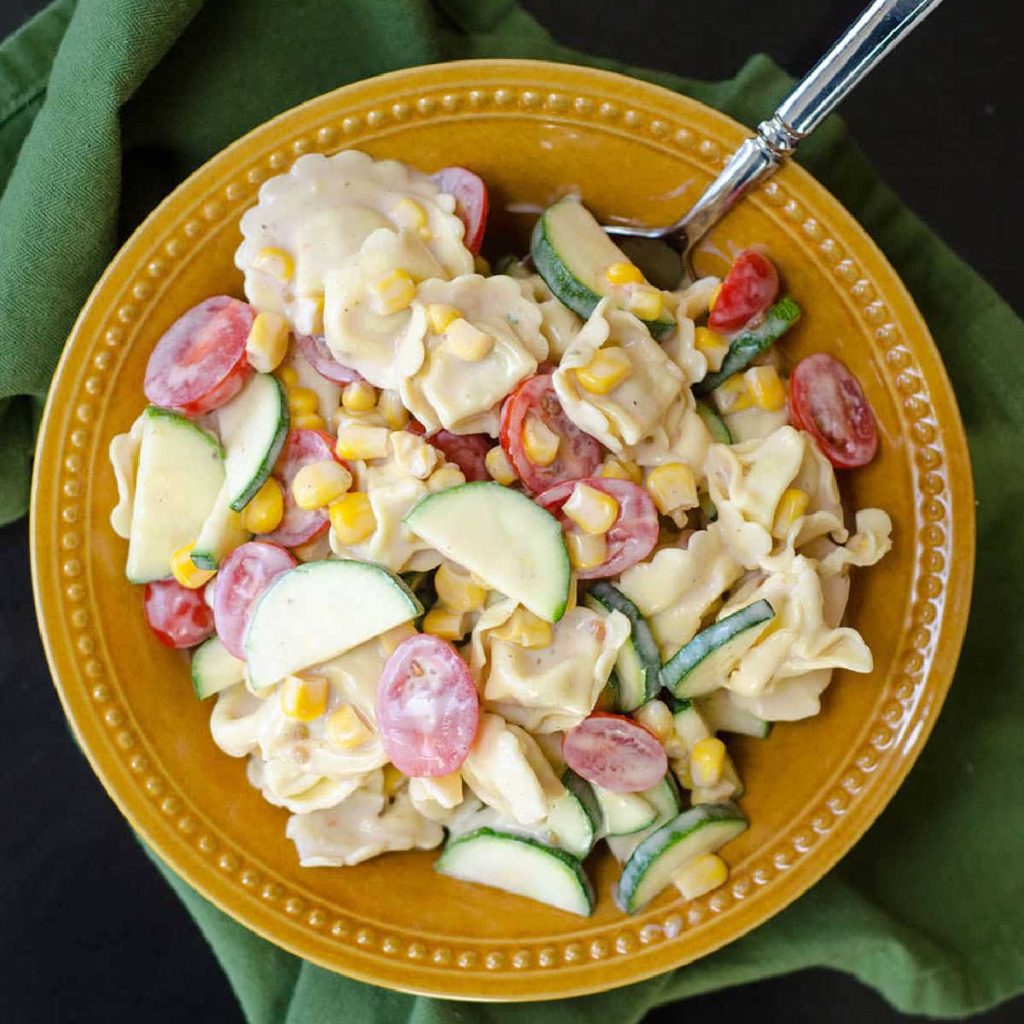 Full of juicy tomatoes, crunchy zucchini, and golden sweet corn, this cold tortellini pasta salad is perfect for summer grilling nights. Make pasta and potato salad ahead and serve when the meat is perfectly grilled and piping hot. Read more…
A favorite at potlucks and family picnics, this Broccoli Salad recipe is chock full of crispy bacon, sweet golden raisins, and toasted pecans. It is another great option to keep cold in the fridge or cooler until ready to devour. Read more…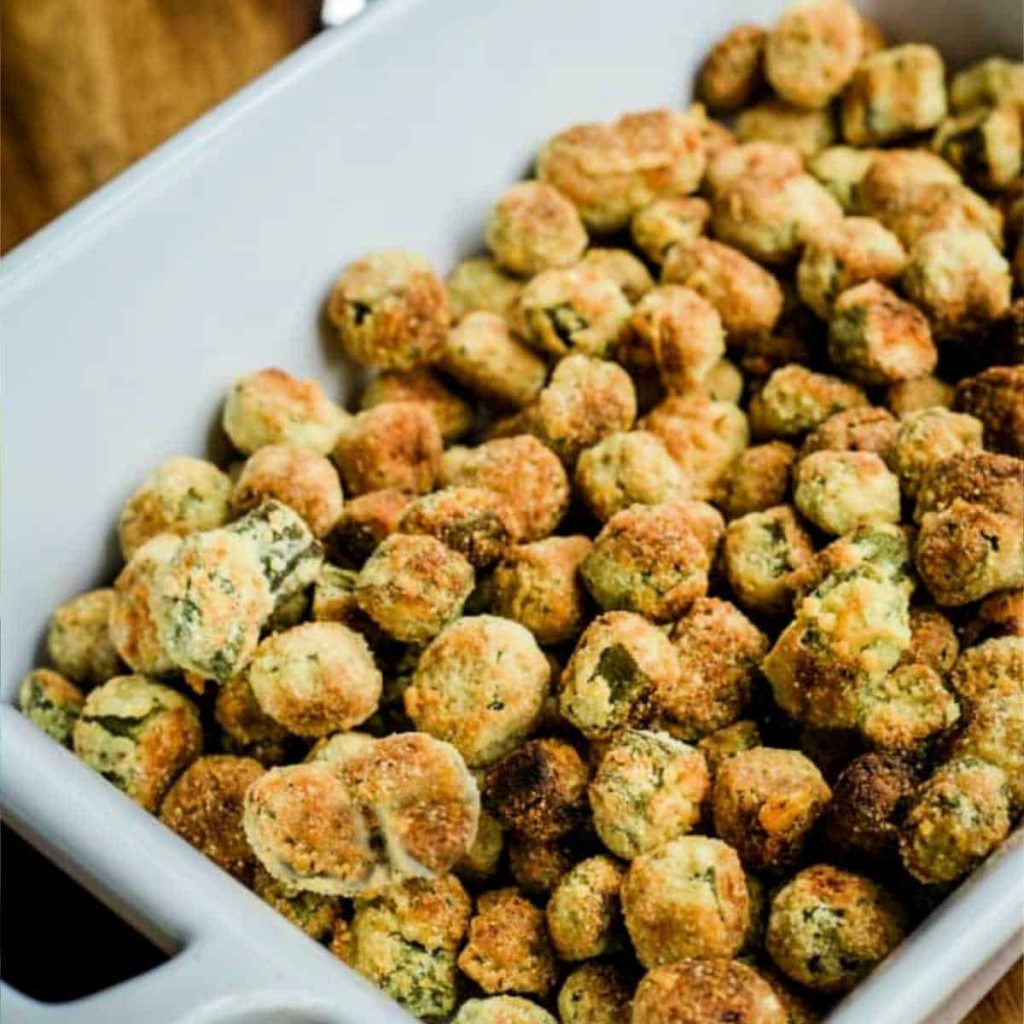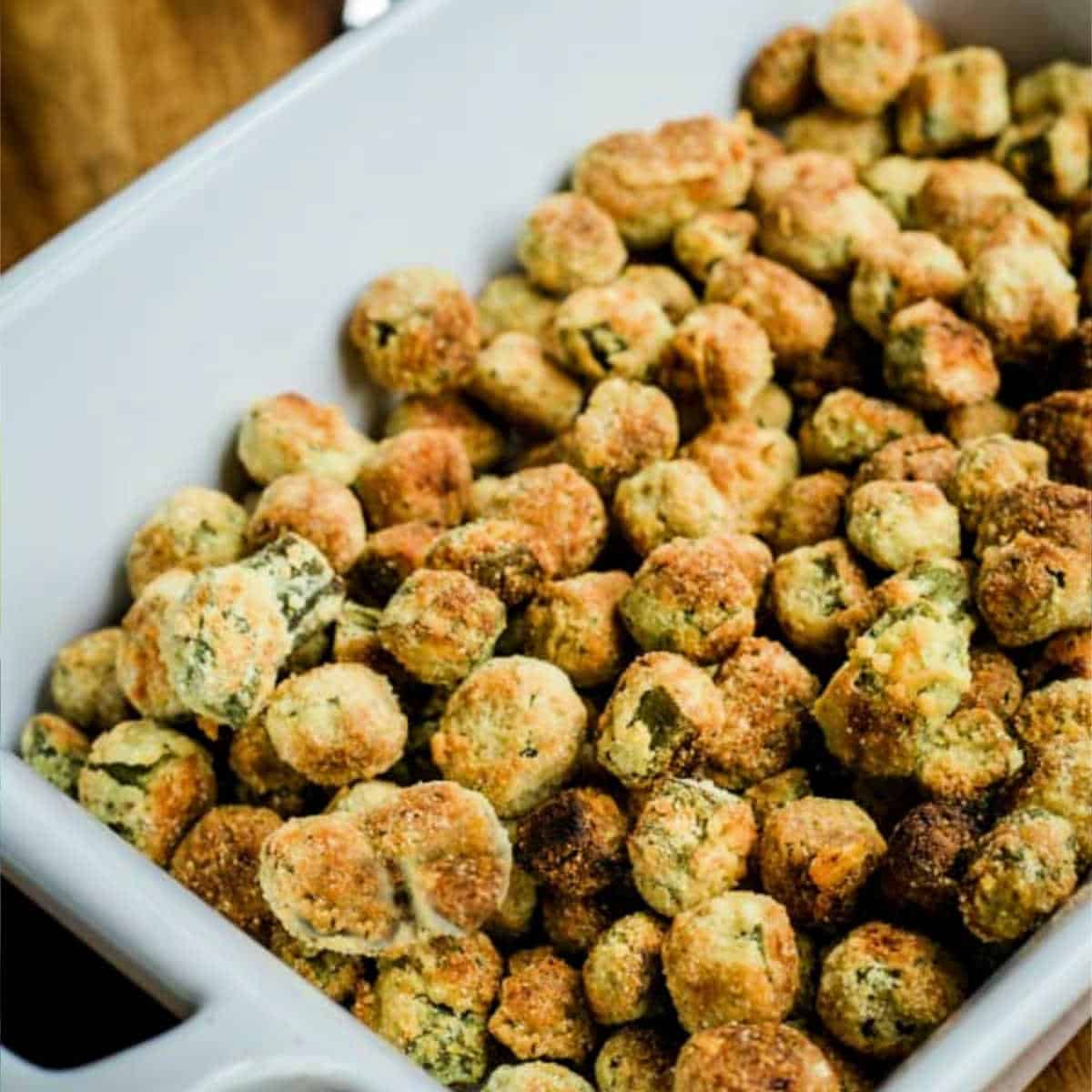 Make this delicious and crunchy Oven-Fried Okra just once, and you may never go back to cooking fried okra on the stove! My "fried" okra recipe uses a fraction of the oil used when pan-frying, an added health benefit! Read more…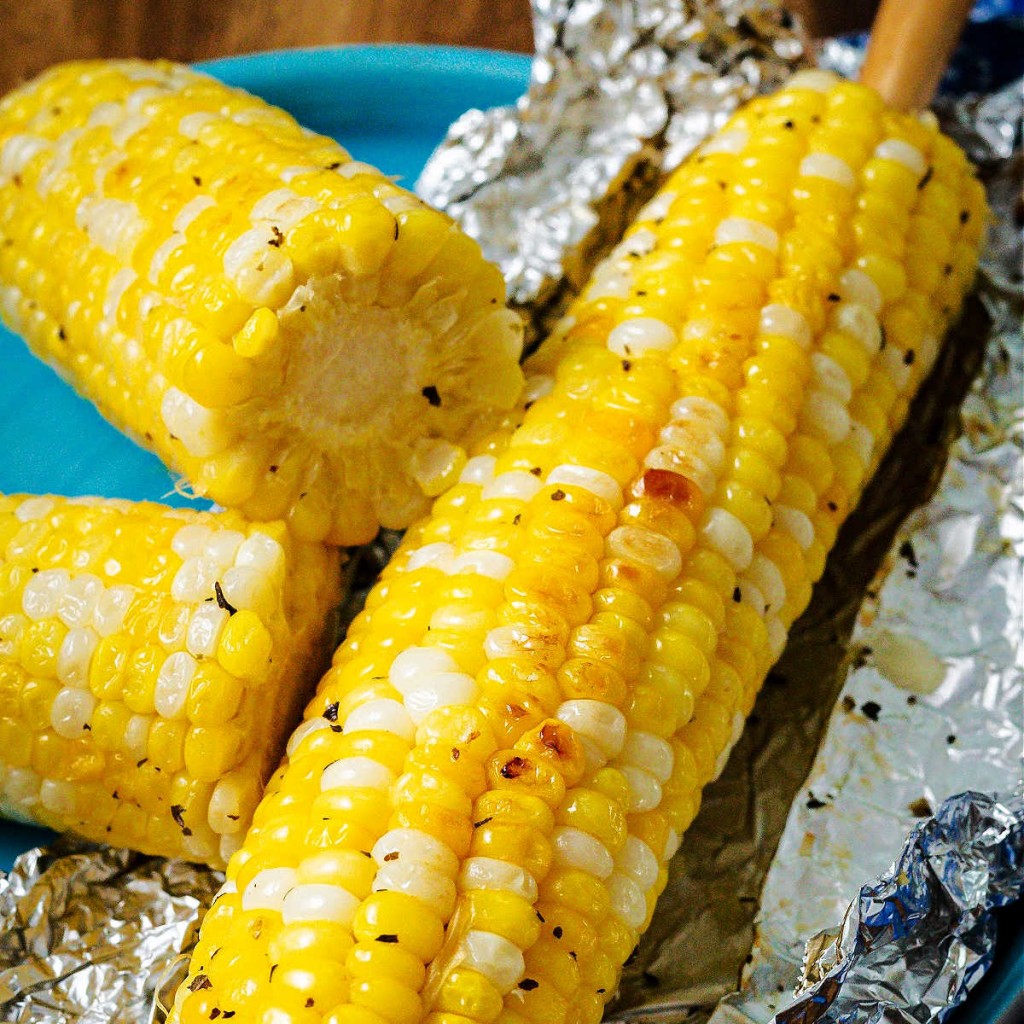 Slather fresh ears of corn on the cob with my simple Parmesan herb butter, wrap them in foil, and toss them on a hot grill. Twenty minutes later, you'll enjoy some of Summer's best flavors alongside your favorite potato salad. Read more…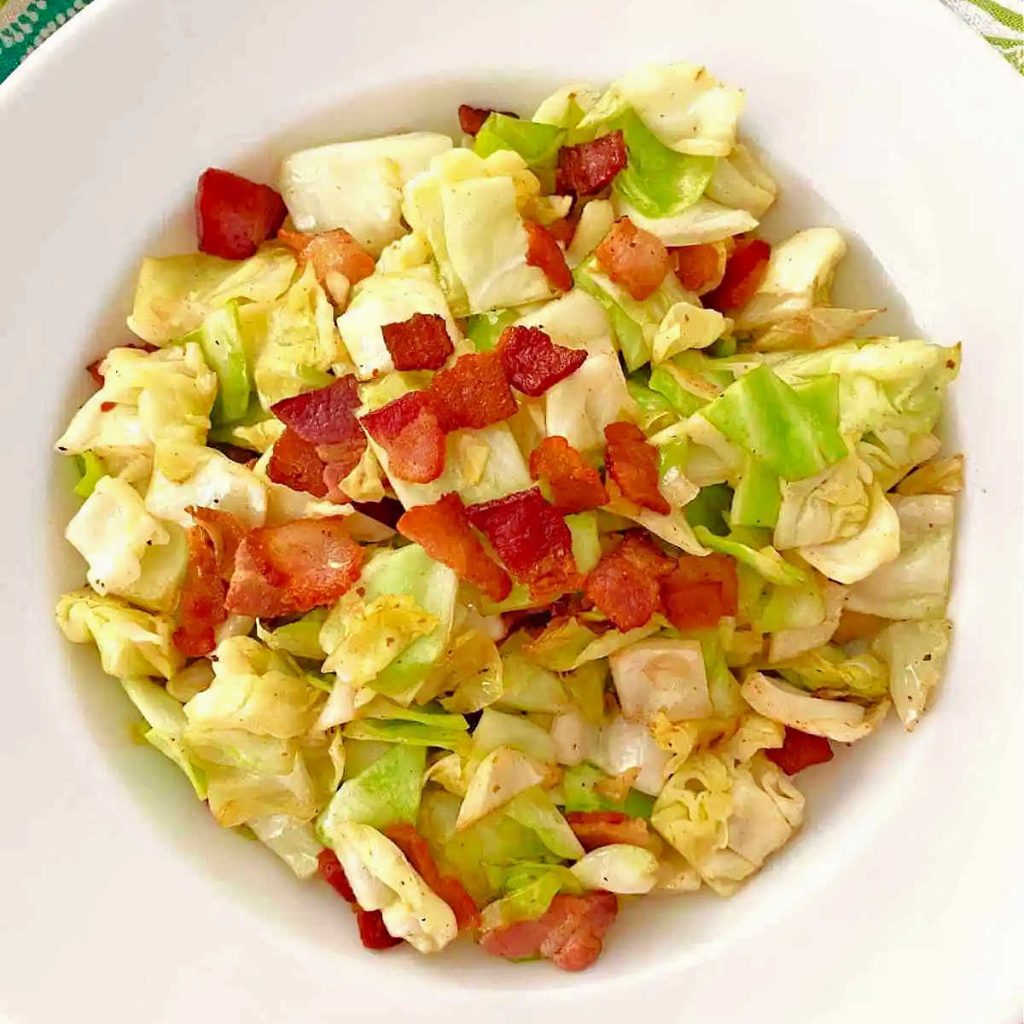 Fried Bacon with Cabbage is another side dish that pairs well with potato salad. What I love about this recipe is that the cabbage is quick-fried and stays tender and green. Read more…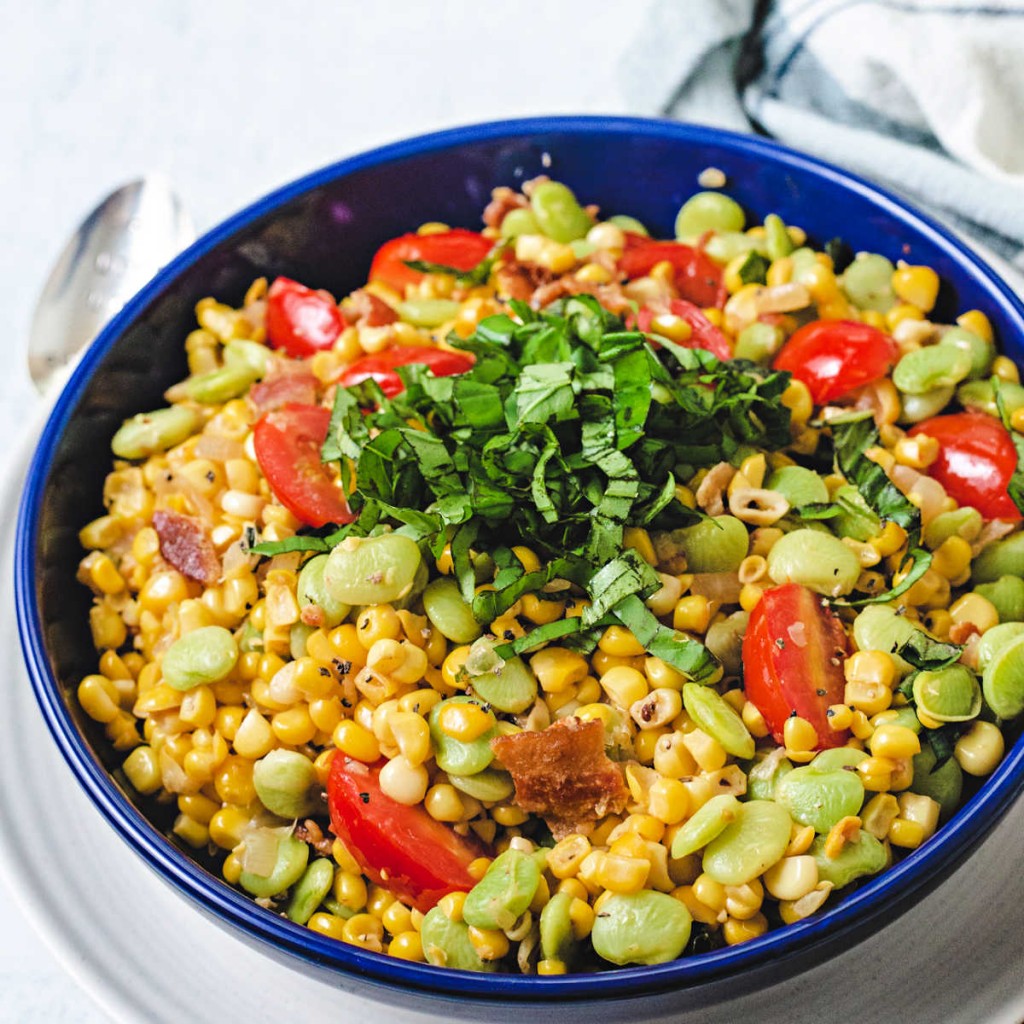 Corn succotash combines all the goodness of Summer — sweet corn, lima beans, and cherry tomatoes — into one colorful dish that's equally tasty, served hot or at room temperature, and, of course, with your choice of potato salad. Read more…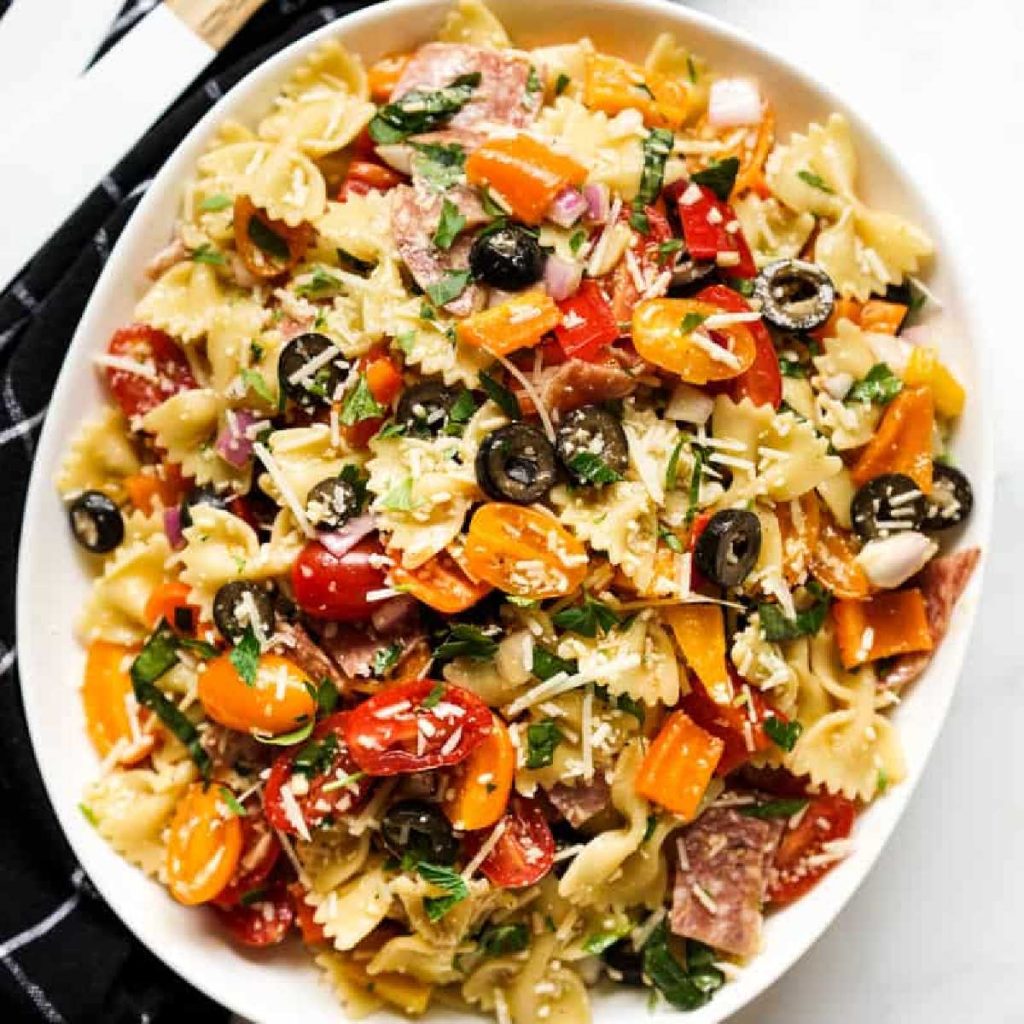 This Italian-inspired bow-tie pasta salad is brimming with cherry tomatoes, olives, bell peppers, red onions, salami, parmesan cheese, and fresh basil. All these scrumptious ingredients blend together in a tangy and homemade Italian vinaigrette. Read more…
No-mayo coleslaw comes together in just minutes for an easy BBQ accompaniment to potato salad. Enjoy a refreshing combination of crunchy veggies and tangy dressing! Read more…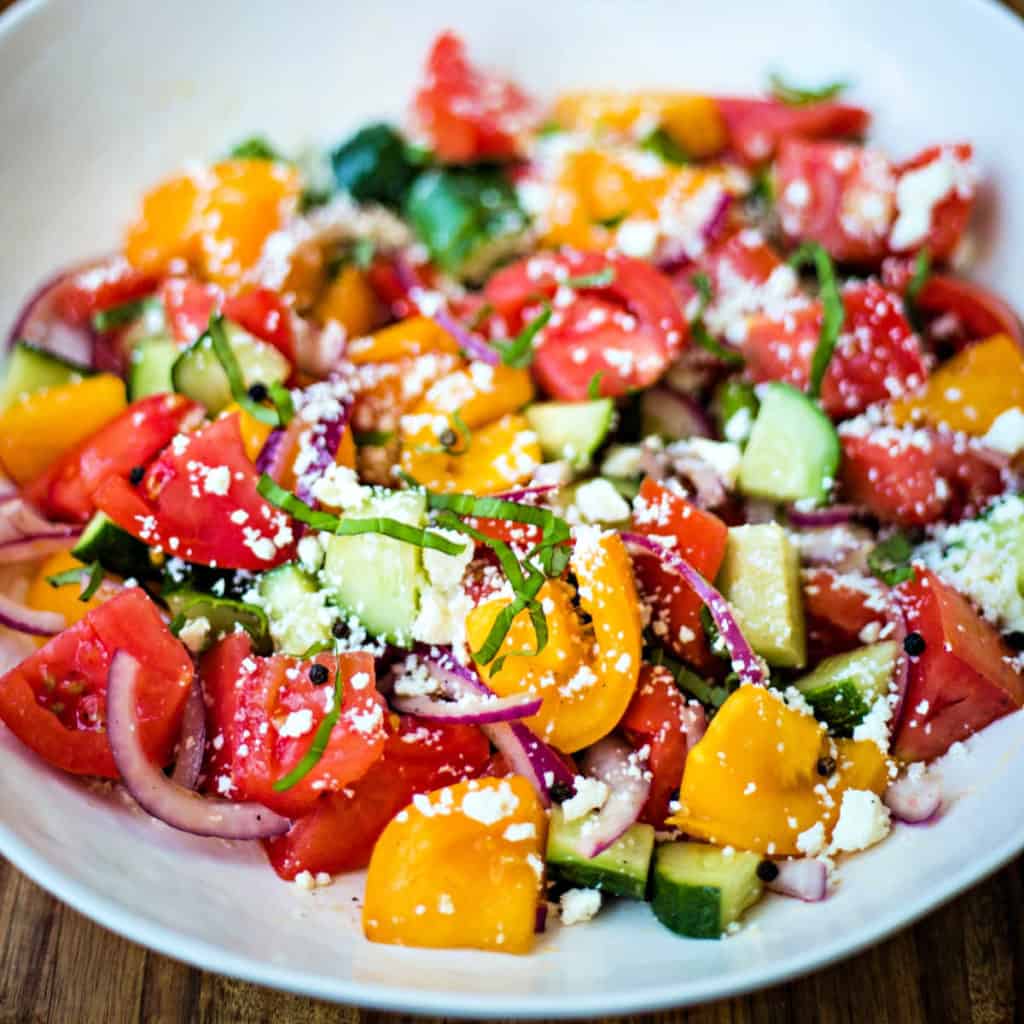 Add some color to the plate with this recipe. Simple ingredients like marinated veggies, fresh herbs, and tangy cheese come together to create a truly amazing flavor in this Cucumber Tomato Feta Salad. Read more…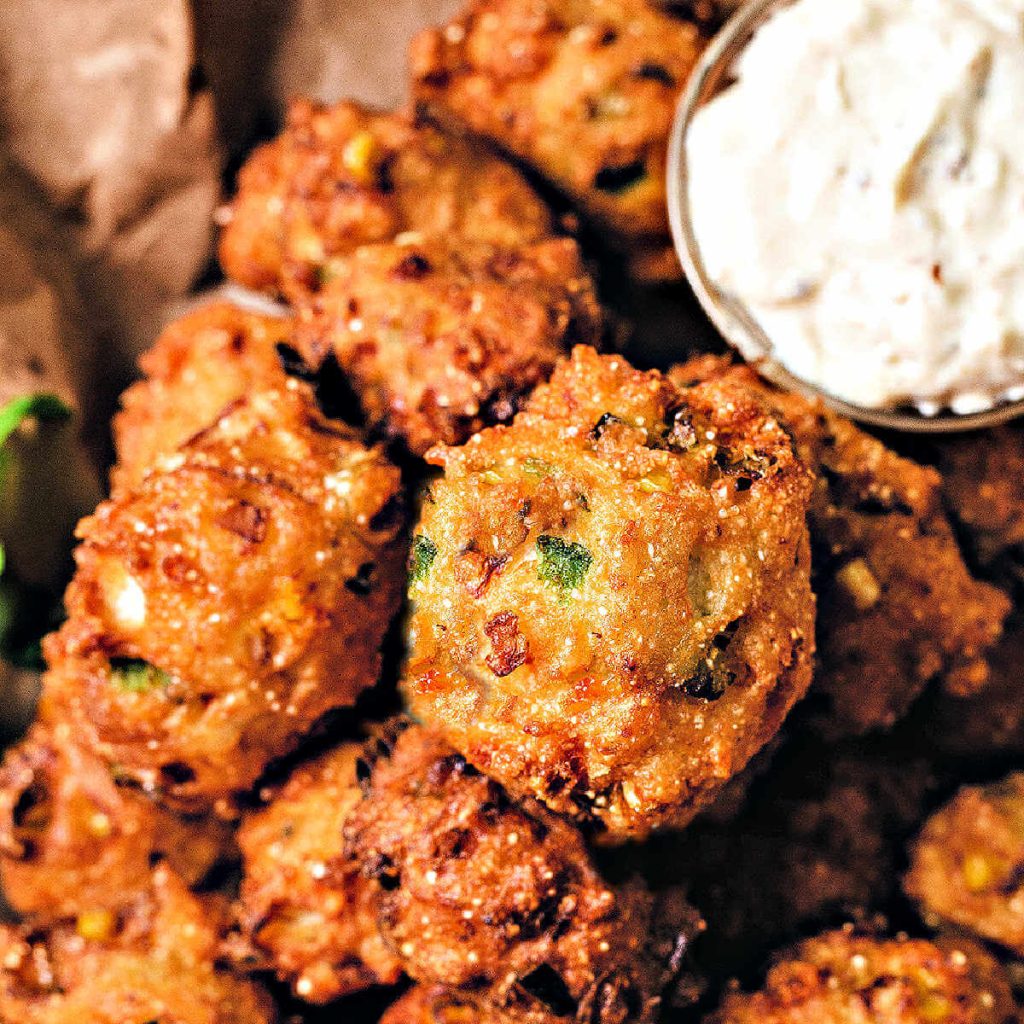 These golden-brown hush puppies are crispy on the outside and moist, buttery inside. Made with buttermilk, this recipe has sweet Vidalia onion and fresh summer corn, plus a little chopped green onion and diced jalapeño for extra flavor! Read more…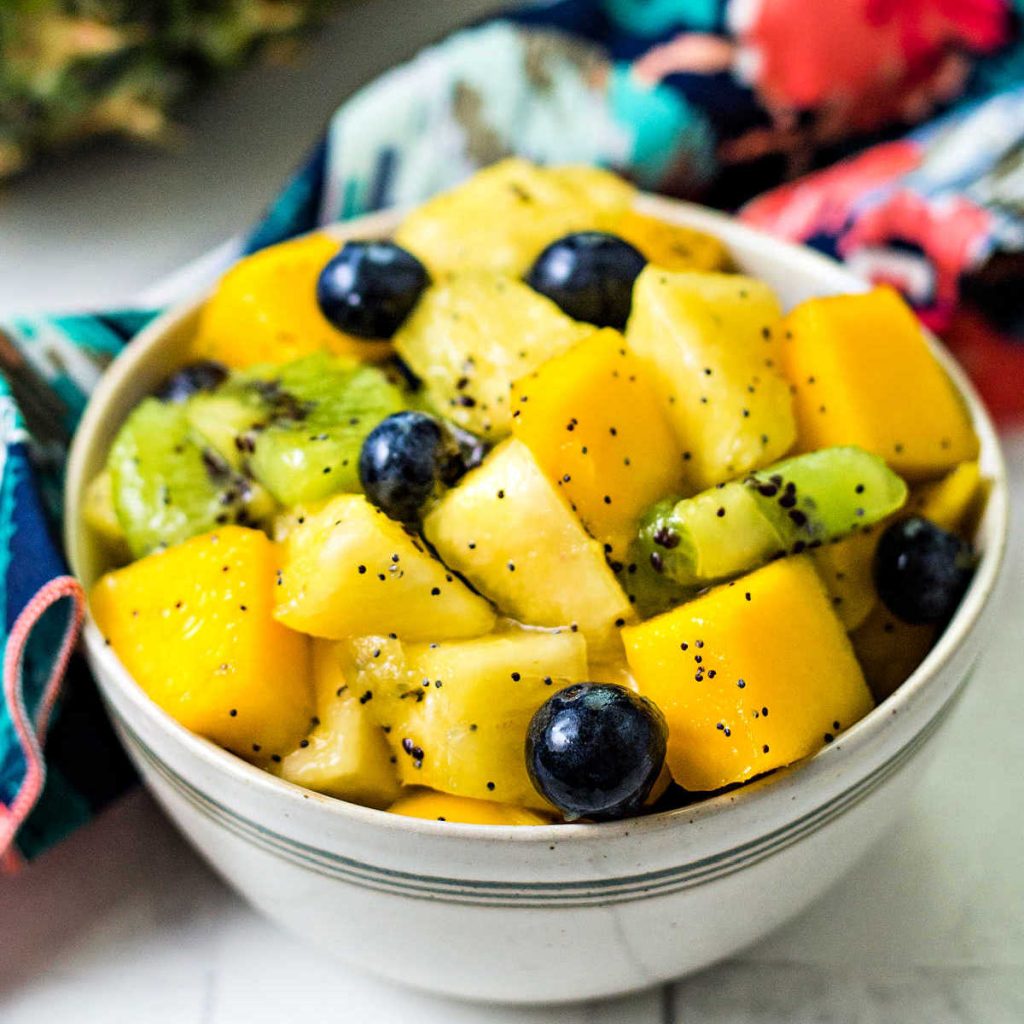 What could be more refreshing than savory potato salad with a sweet fruit salad? Not to mention, this tropical fruit salad features a honey lime dressing that makes the flavors really pop! Read more…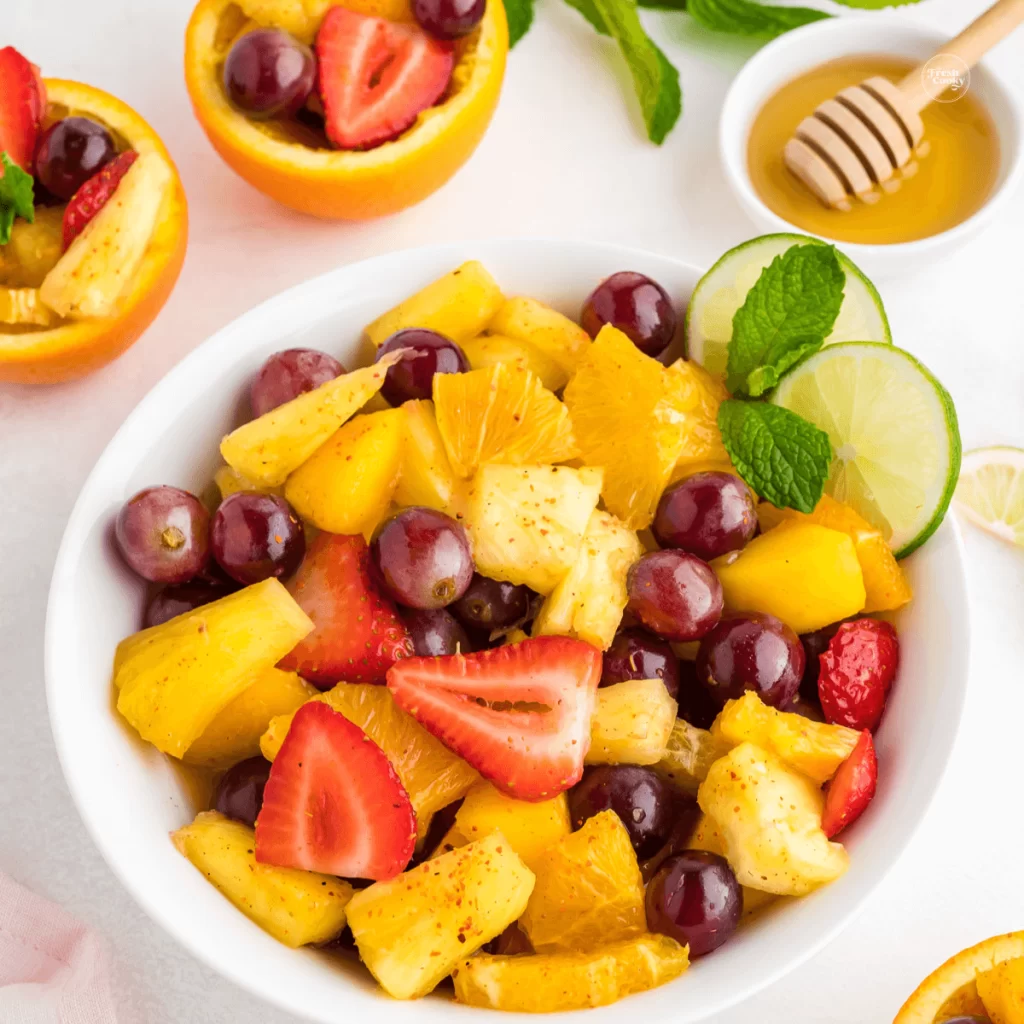 This Mexican fruit salad recipe is refreshing and bursting with juicy and sweet fruits paired with citrus, strawberries, and grapes in a light honey-lime Tajin dressing. And they make the most adorable little servings when scooped into orange rinds! Read more…
Please share!
Your shares are how this site grows, and I appreciate each one. Do you know someone who would enjoy this recipe? I'd love it if you would share it on Facebook or Pinterest!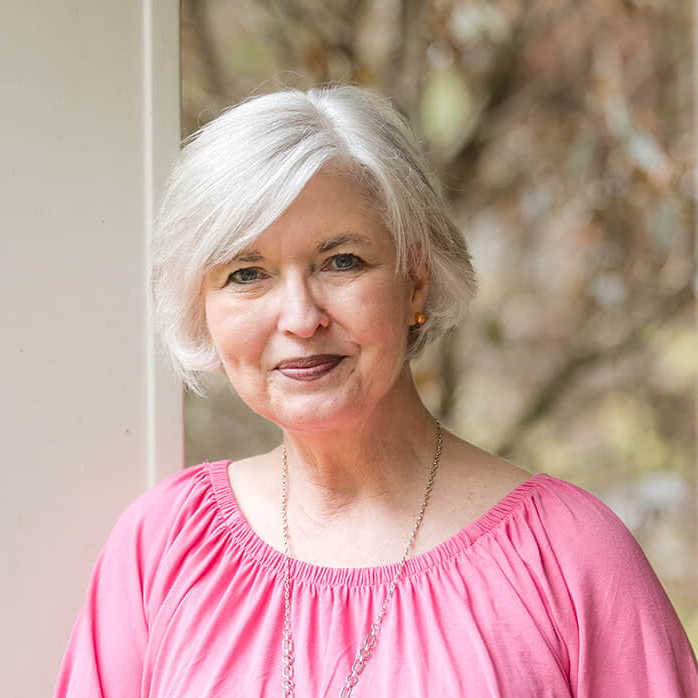 About Sheila Thigpen
Recipe Developer, Food Photographer, Food Writer
Sheila Thigpen is the publisher of Life, Love, and Good Food — a Southern food blog — and the author of Easy Chicken Cookbook and The 5-Ingredient Fresh and Easy Cookbook. After 20+ years in the publishing industry, she retired in 2018 to focus on her own creative endeavors full time. She and her husband live near the beautiful Smoky Mountains and have a precious little granddaughter who has stolen their hearts. As an influencer, Sheila has collaborated with brands like Creamette, Kroger, HERSHEY'S, Hamilton Beach, Garafalo Pasta, OXO, Smithfield, Valley Fig Growers, and more.