Bake up a batch of Easy Homemade Granola with Nuts and serve with assorted dried fruits for a delicious and quick weekday breakfast!
Like most people, we only cook a full breakfast on the weekends and opt for something a little quicker and easier for weekdays. Once I started making my own granola, boxed cereals lost a lot of their appeal.
This easy granola recipe is sweetened with honey and is made with old-fashioned rolled oats and three different kinds of nuts — walnuts, almonds, and pecans. I love nuts and buy them in bulk!
My recipe works just as well with one or all three types of nuts and is delicious served as cereal or as a crunchy topping for yogurt.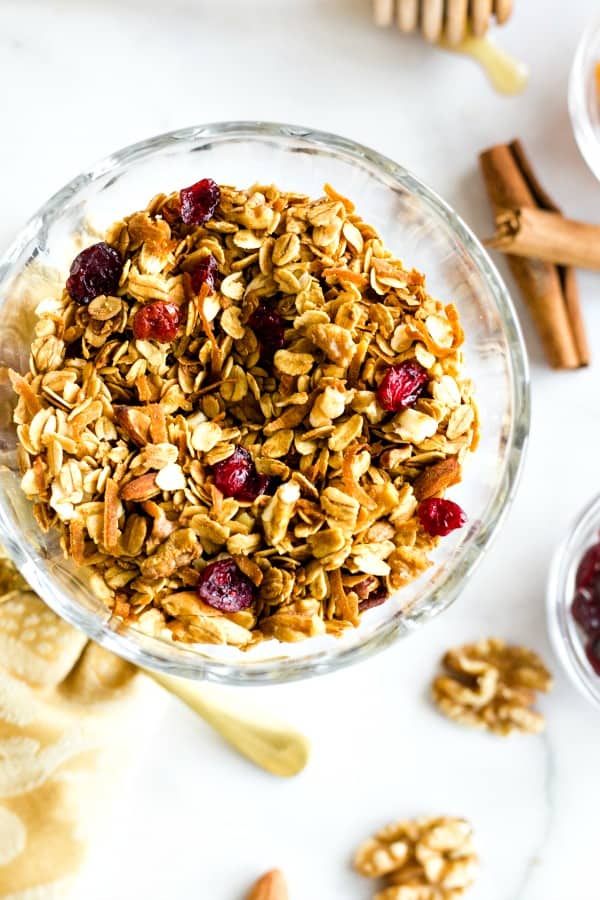 Easy Homemade Granola with Honey and Nuts
Over the years, I've tried a lot of different granola recipes. I finally came up with one I like using butter and honey — not vegetable oil or brown sugar. Since I tend to buy huge boxes of oats and nuts in bulk, I usually have everything I need in the pantry.
On any lazy Sunday afternoon, I can have the granola ingredients mixed up and ready to pop into the oven in just 10 minutes. The reward is a batch of delicious, crunchy granola that will last us the entire week. That's a big win!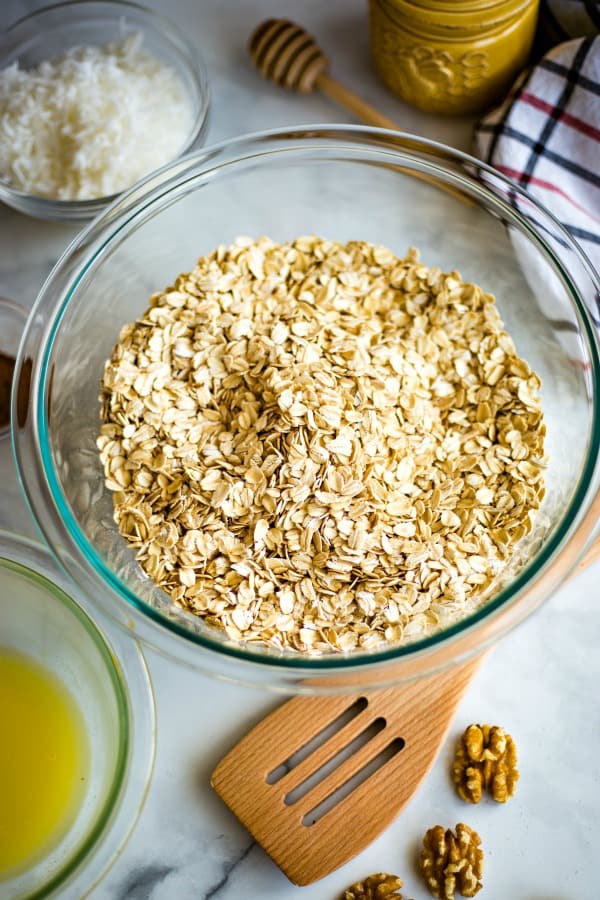 How to Make Your Own Granola
First, start with old-fashioned rolled oats and a cup of unsweetened shredded coconut. My Homemade Granola with Nuts recipe is really pretty basic — oats, coconut, and nuts — but feel free to add other ingredients like flax seeds or wheat germ.
Add all this to a large bowl with one-third cup each of walnuts, almonds, and pecans.
Use any combination of the nuts that you have on hand — all walnuts, or half walnuts and pecans, etc. — just as long as you use one full cup of the nuts.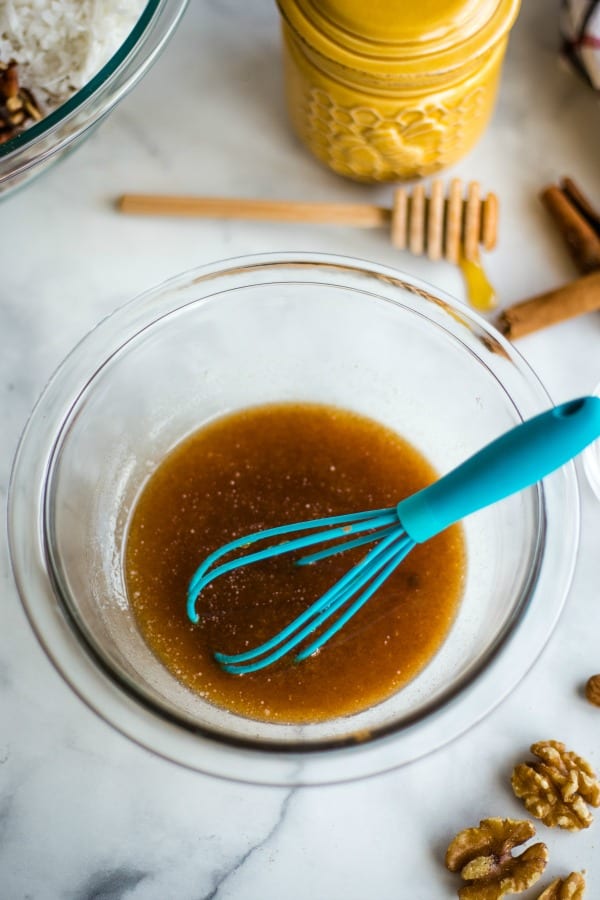 Next, combine melted butter with the honey and a teaspoon of cinnamon and whisk until smooth. Pour this buttery mixture into the bowl of dry ingredients and mix gently with a spatula until ALL the oats are coated.
This may take a couple of minutes, but you want to make sure the oats are moistened.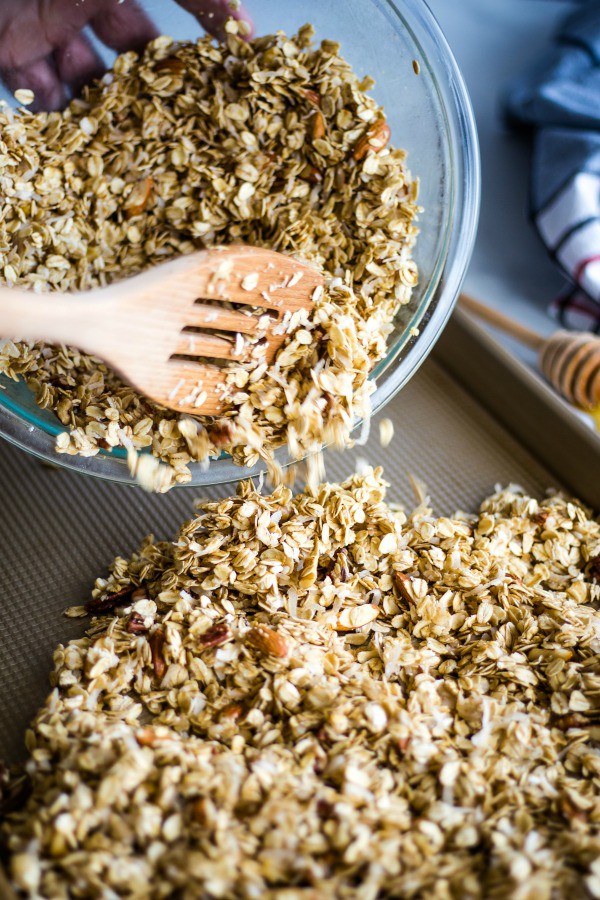 Last, evenly spread the oat mixture onto a rimmed cookie sheet and bake for one hour at 275 degrees, stirring every 15 minutes. Don't skip on the stirring or the oats will burn.
Trust me, I've been there and done that! Your oven may bake differently than mine, so just watch carefully during the last 15-minute round of baking. Remove the granola once it is as golden brown as you like and cool completely.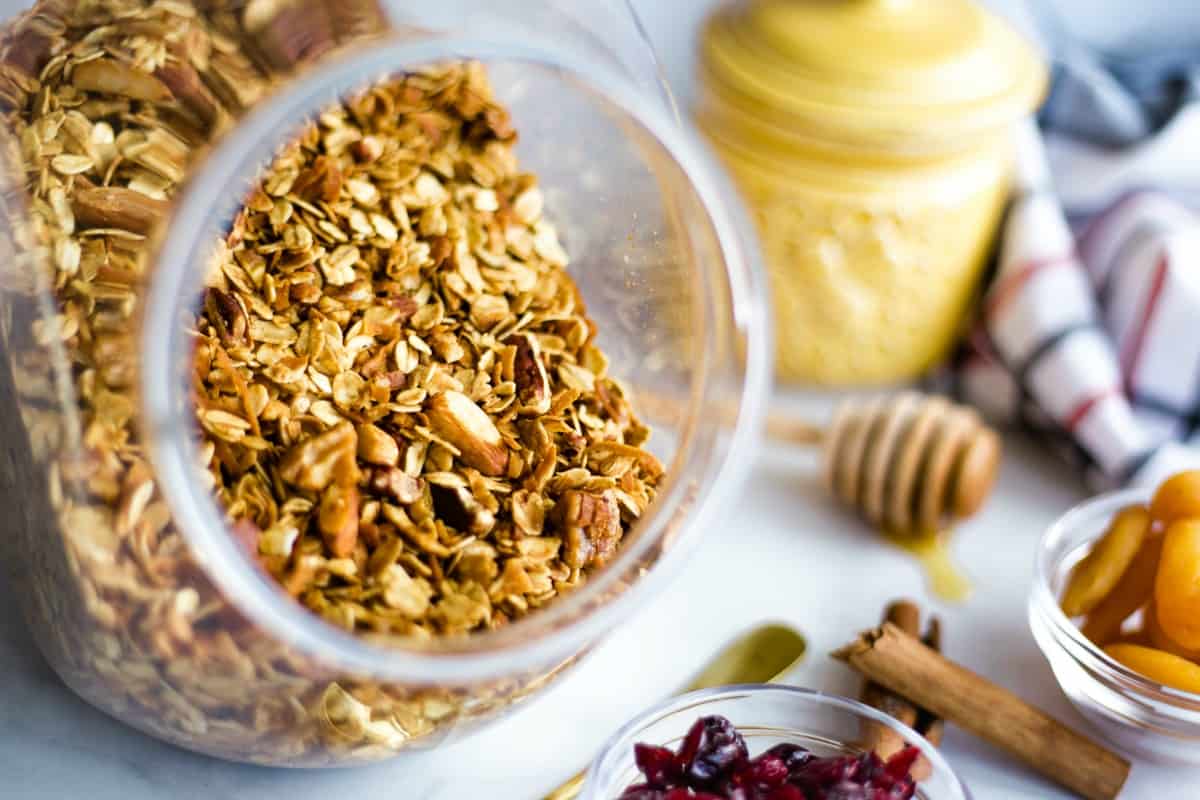 How long can you store granola?
One batch of this recipe will make about 10-12 servings, so with the two of us the granola is usually gone by the end of the week.
However, this homemade granola will stay fresh if stored in an airtight container for two to three weeks. Be sure to let the granola cool completely before sealing the container so that it does not sweat and create moisture.
This cookie jar by OXO with an airtight pop lid works great for storing the granola. A one-third scoop like this one is perfect for portioning into cereal bowls, too.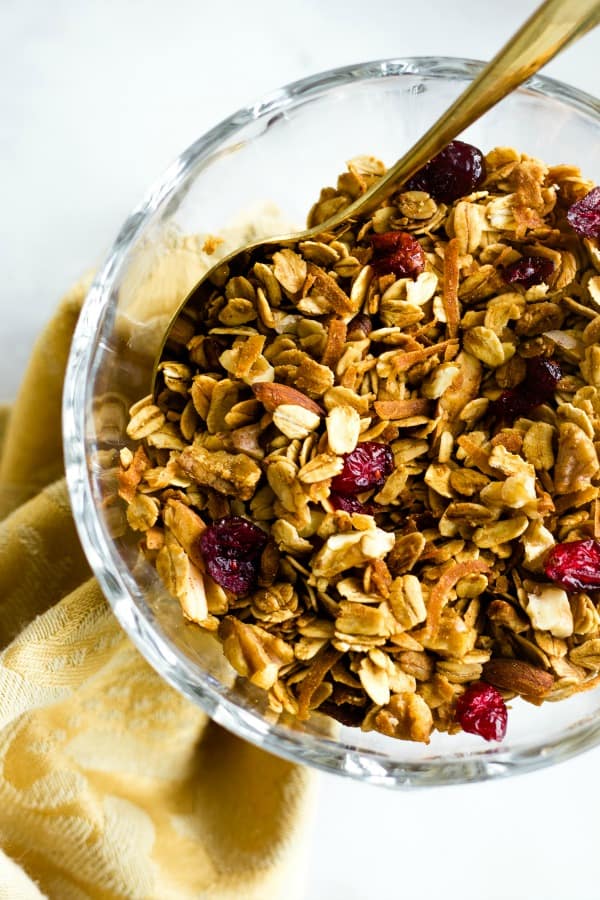 Serving Ideas for Easy Homemade Granola with Nuts
With Milk and Fruit. We like eating this granola just like cereal with milk, but I'll often add a few dried cranberries or apricots and sometimes even fresh blueberries when we have them.
As a Breakfast Yogurt Parfait. Place your favorite yogurt in a bowl and top with a spoonful or two of granola and a drizzle of honey.
On Nut Butter Toast. Toast a slice of whole wheat bread and spread with peanut butter or almond butter. Top with sliced bananas, a spoonful of granola, and a drizzle of honey.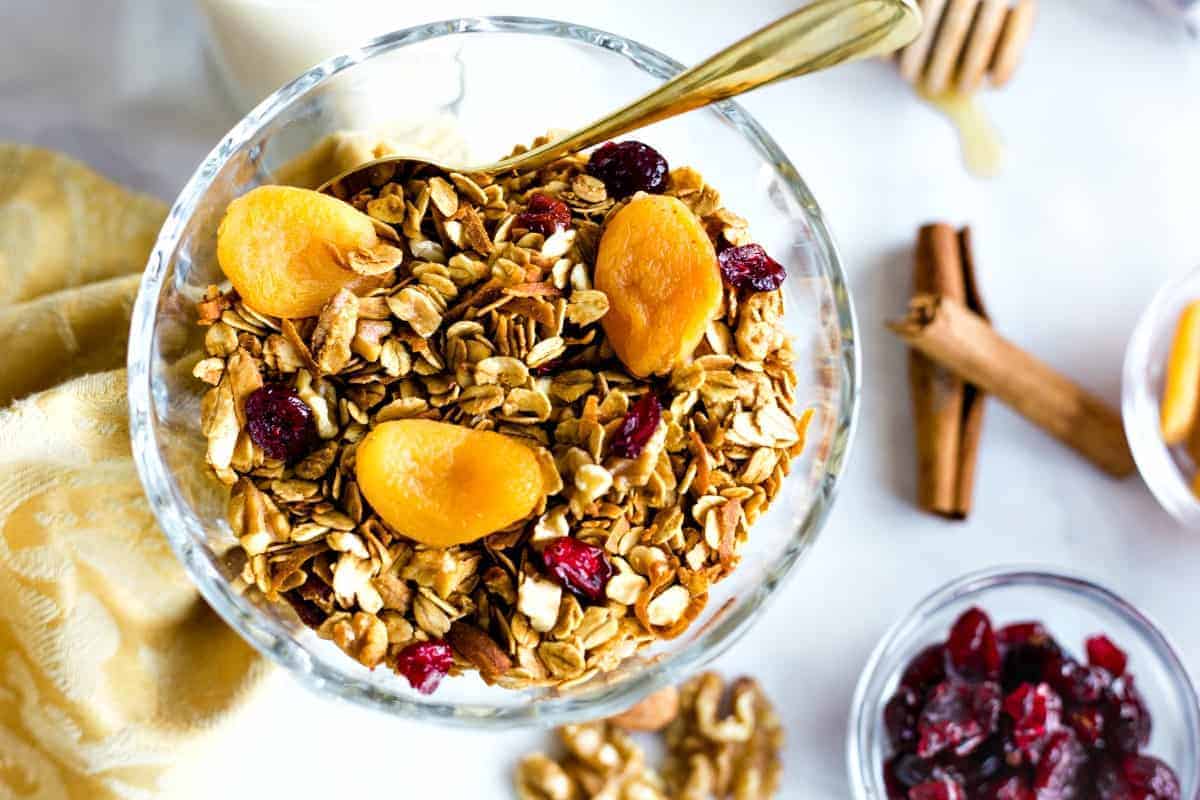 You may enjoy these other recipes made with old-fashioned oats:
Easy Homemade Granola with Nuts Recipe
Please share!
Your shares are how this site grows and I appreciate each one. Do you know someone who would enjoy this recipe? I'd love it if you would share it on Facebook or on your favorite Pinterest board!
Yield: 12 servings
Easy Homemade Granola with Nuts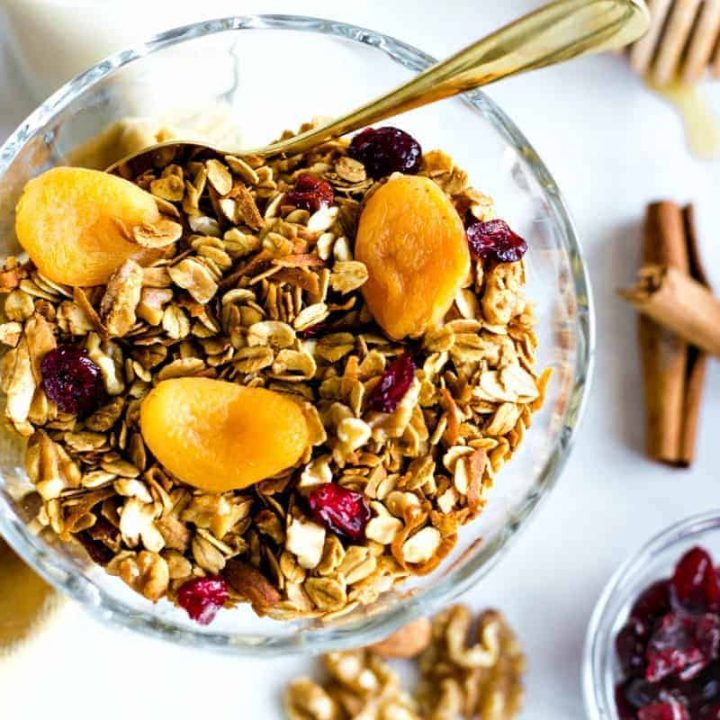 Bake up a batch of Easy Homemade Granola with Nuts and serve with assorted dried fruits for a delicious and quick weekday breakfast!
Total Time
1 hour
10 minutes
Ingredients
4 cups old-fashioned oats
1 cup shredded coconut
1/3 cup pecans, coarsely chopped
1/3 cup walnuts, coarsely chopped
1/3 cup almonds, sliced
4 tablespoons unsalted butter, melted
1 teaspoon cinnamon
1/4 cup honey
Instructions
Preheat oven to 275 degrees.
In a large bowl combine all dry ingredients. Combine butter, honey, and cinnamon and pour over all. Stir to coat; then pour into a 10" x 15" jellyroll pan. Bake for one hour at 275 degrees, stirring every 15 minutes.
Allow to cool completely before storing in an airtight container. Will keep well for two weeks.
Recommended Products
As an Amazon Associate and member of other affiliate programs, I earn from qualifying purchases.
Nutrition Information:
Yield:
12
Serving Size:
1
Amount Per Serving:
Calories:

252
Total Fat:

14g
Saturated Fat:

5g
Trans Fat:

0g
Unsaturated Fat:

8g
Cholesterol:

10mg
Sodium:

42mg
Carbohydrates:

30g
Fiber:

4g
Sugar:

9g
Protein:

5g
ABOUT SHEILA
Sheila Thigpen, author of Easy Chicken Cookbook and The 5-Ingredient Fresh and Easy Cookbook, is a recipe developer, food photographer, and food writer. She spent 20+ years as a business manager in the publishing industry before she retired in 2018 to focus on her passions — cooking, photography, and writing. Living near the beautiful Smoky Mountains, Sheila and her husband have two adult daughters and two fine sons-in-law, are active in their church, love to travel, and have a precious little granddaughter who has stolen their hearts. Follow Sheila on YouTube, Pinterest, Instagram, Facebook, and Twitter!